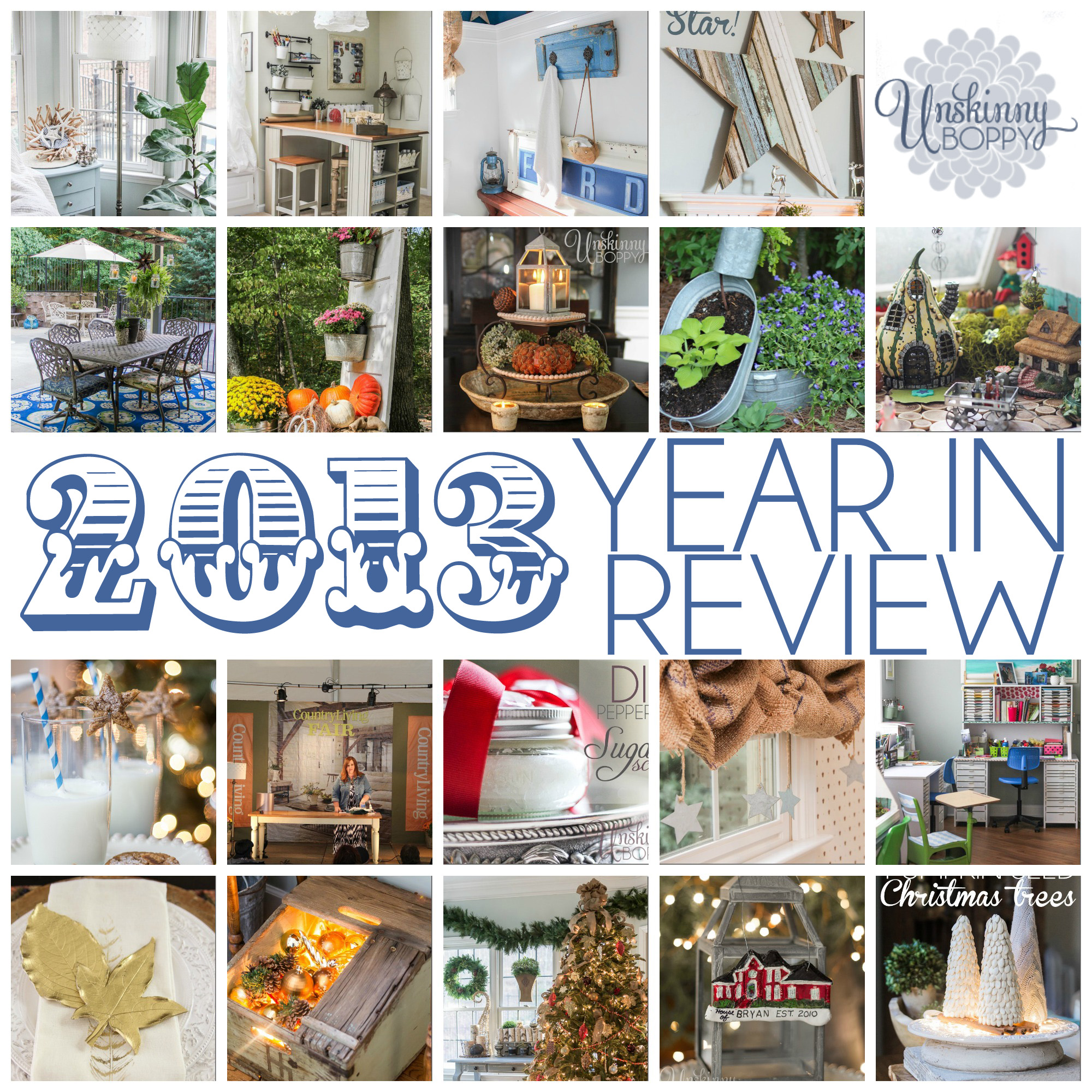 It is always fun for me to go back through the year and create a post that shows all the projects we completed during the year.  It's like a big virtual pat on the back to look back at what all has been accomplished.  Here is my 2013 year in review, starting in January.
My first big project of the year was one of my most popular projects ever (and it also won the Lamps.com contest and got me featured for the first time on Apartment Therapy, Good Housekeeping and MSNLiving!)  The DIY Sweater Lampshade tutorial was a big hit to kick off the year 2013: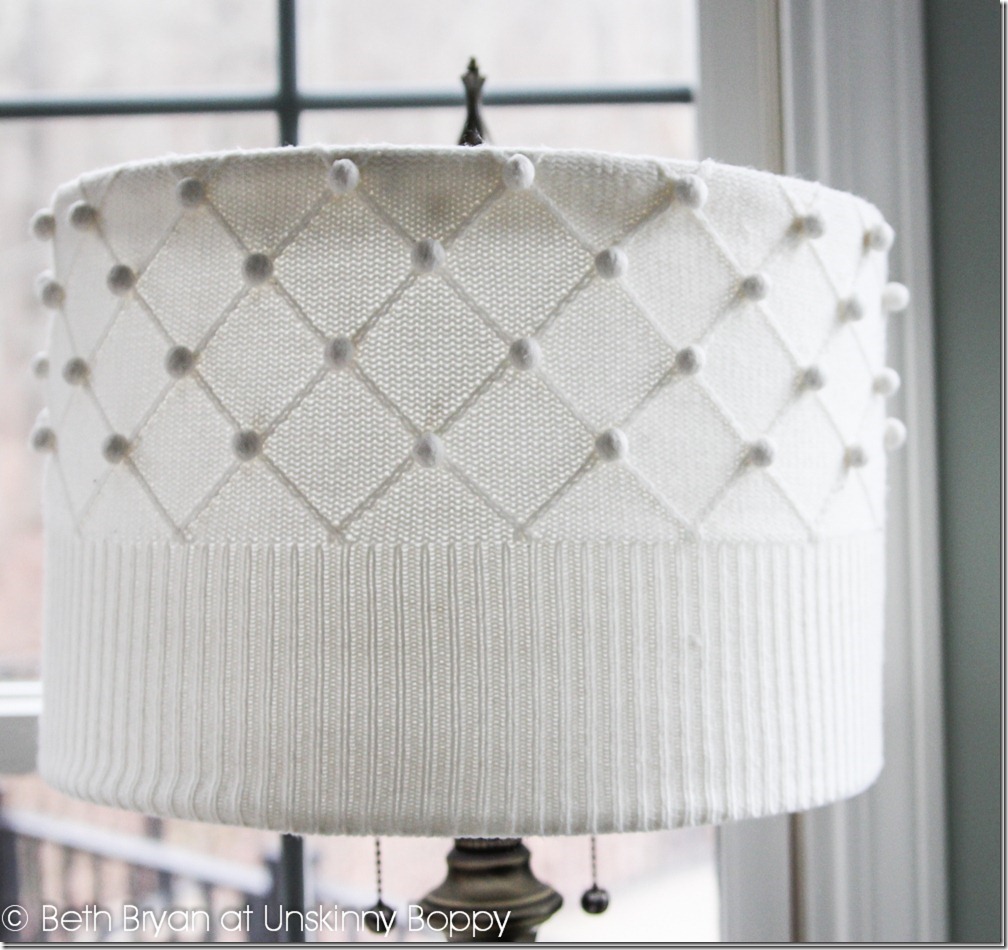 Click here to read about the DIY Sweater Lampshade Makeover tutorial.
In February we took a family vacation to Disney World to celebrate G's 5th birthday, so my month was slow on DIY projects.  I did create these cute non-candy Valentines gifts for his preschool classmates. Click here to read the non-candy Valentine's idea post.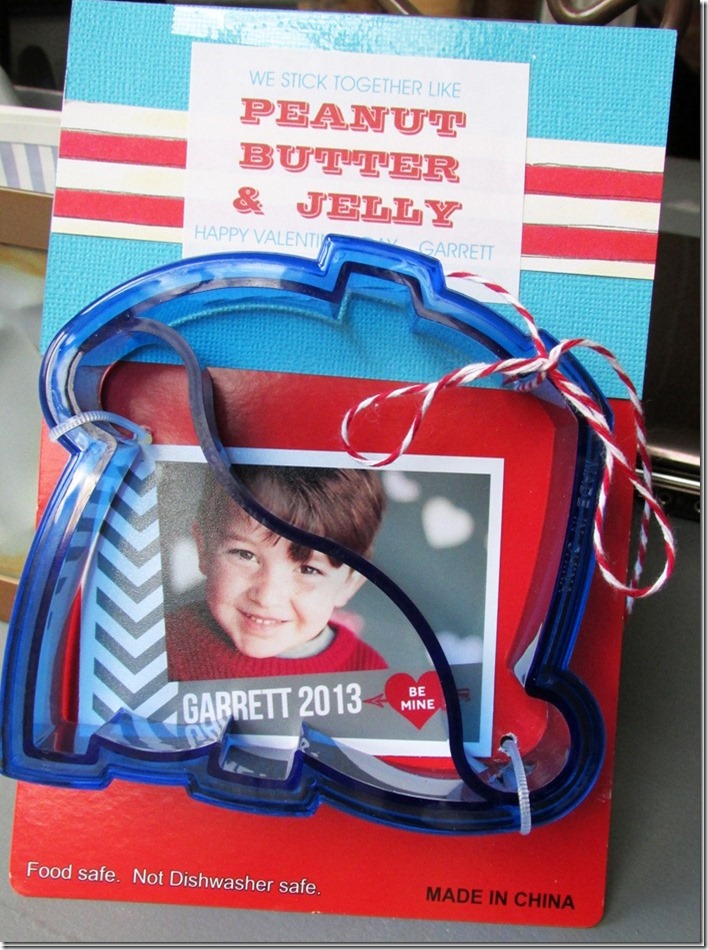 Late winter is my most slothful time of year, so February, March and April resulted in exactly ZERO DIY projects, but I did give you some great tips on how to quickly edit your interior photos with Lightroom. 

In March I also decorated my Spring mantel.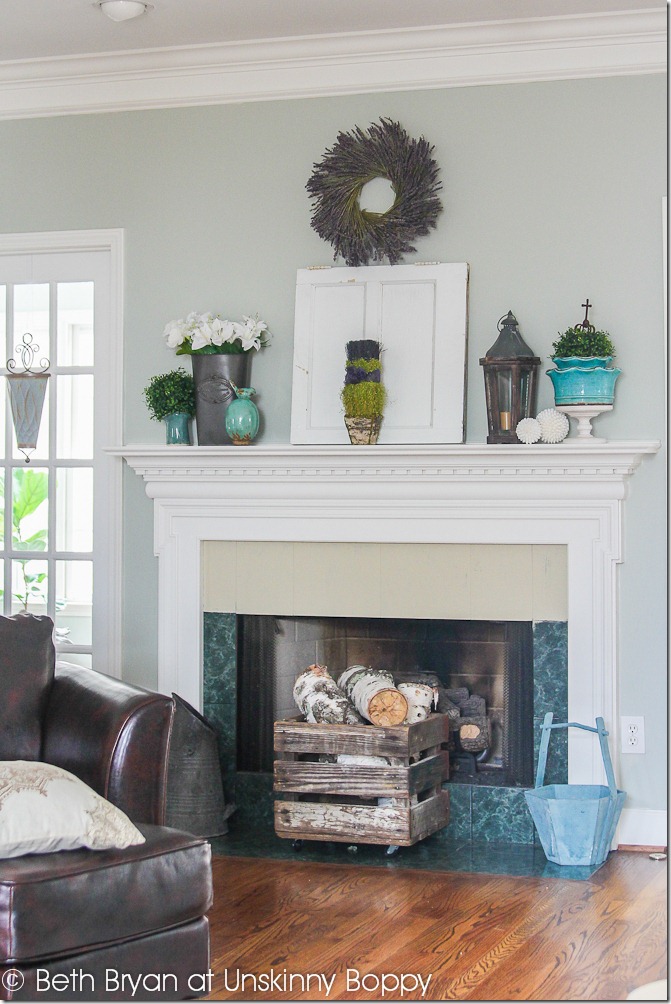 By May the sun was shining again, and I was getting back in the power-tool saddle by making these reclaimed wood signs with scrap wood from my Granny's house. I gave my mom, sister and aunts one of these signs for Mother's Day in remembrance of my Granny.  Very special project!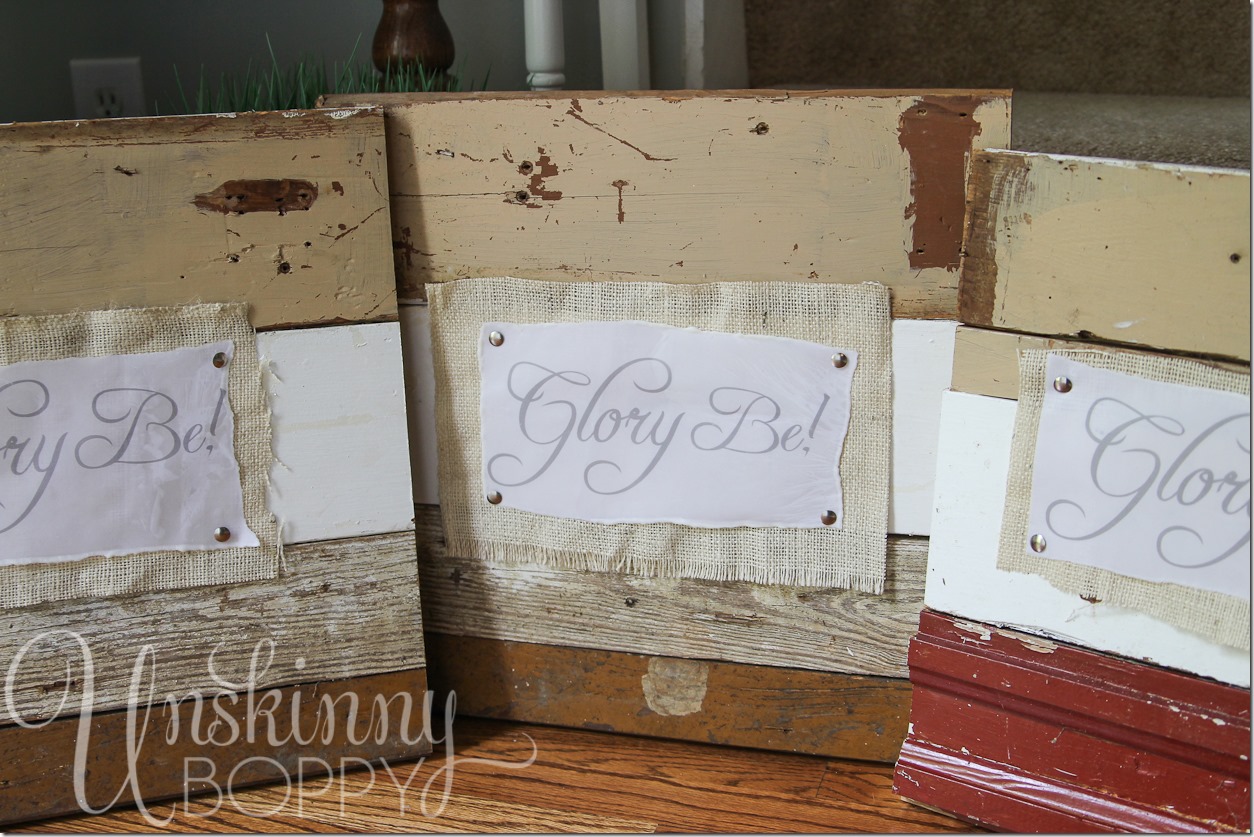 That same month the gardening bug struck, so I made these stacked galvanized bucket planters for my yard.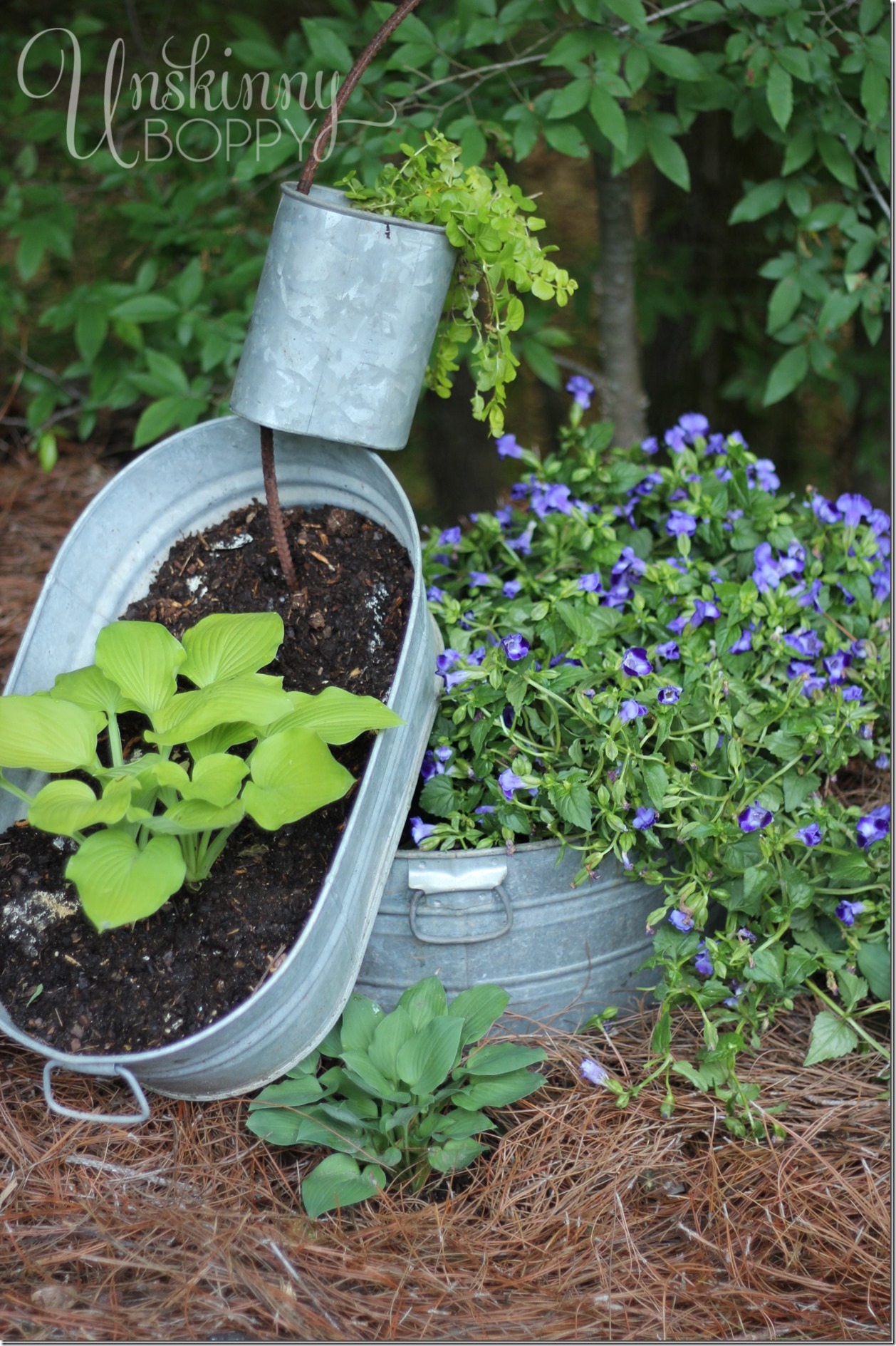 April and May were the months I got to see my name published in not one but two magazines!  So exciting, and definitely something to mark off the old bucket list.  Thanks to Yum Food and Fun and Celebrating Everyday Life and all the other publications I've been featured in for letting me be a part of your beautiful magazines this year!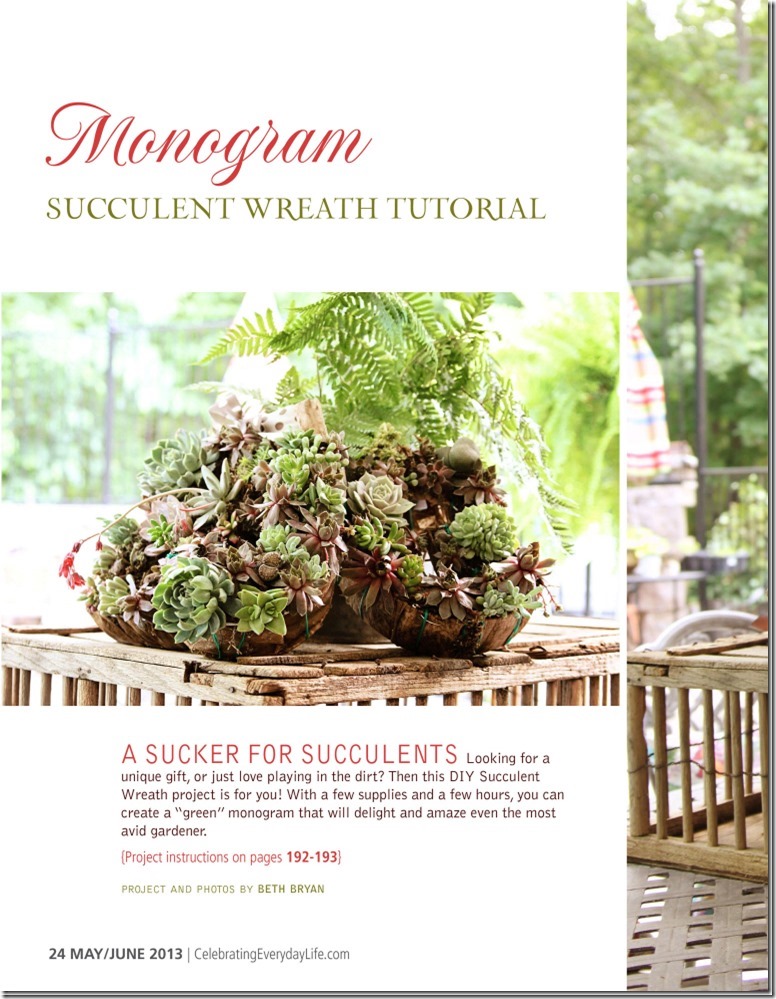 June was all about outdoor activities including cleaning up the back porch and introducing a beautiful new rug and furniture to the pool patio, and also taking family portraits.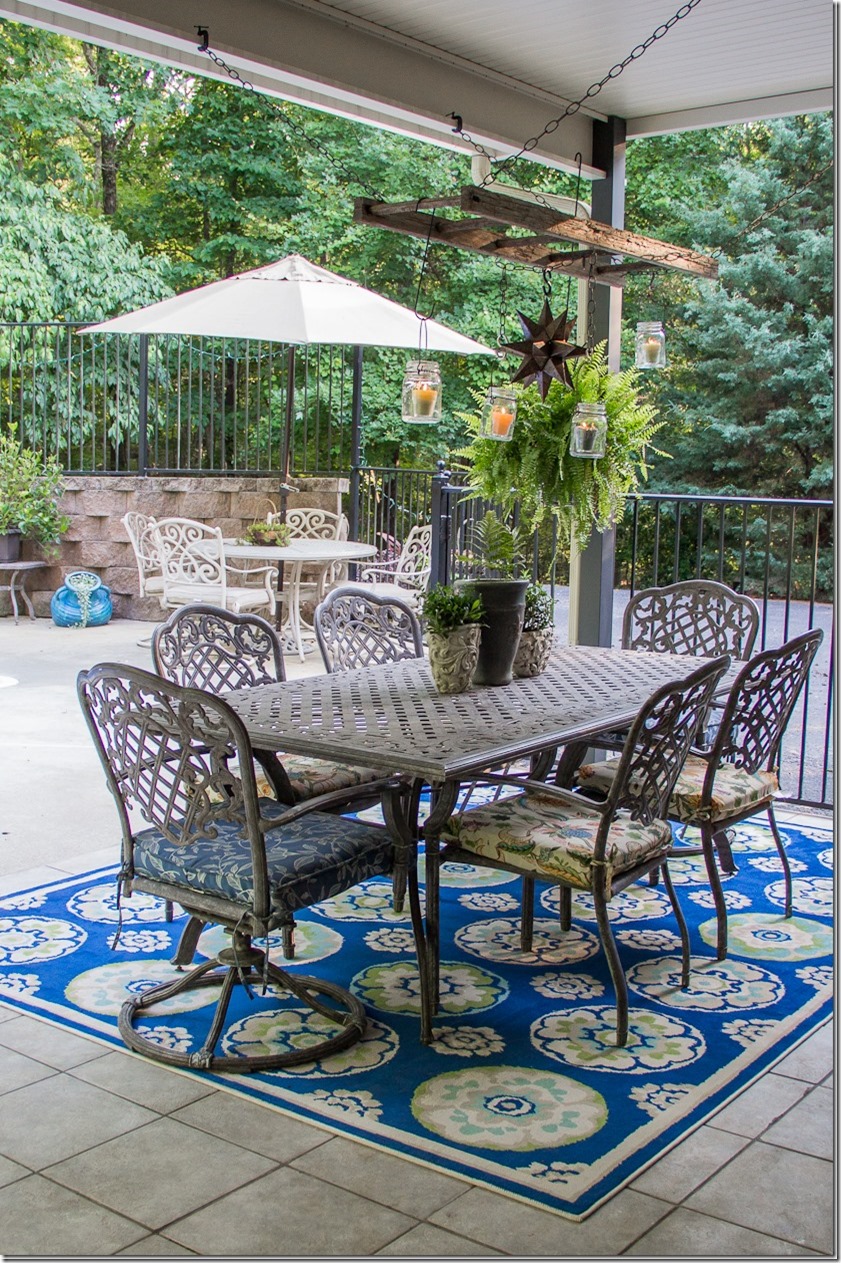 June was also the month I told you how to clean your grill for an impressive Father's Day gift.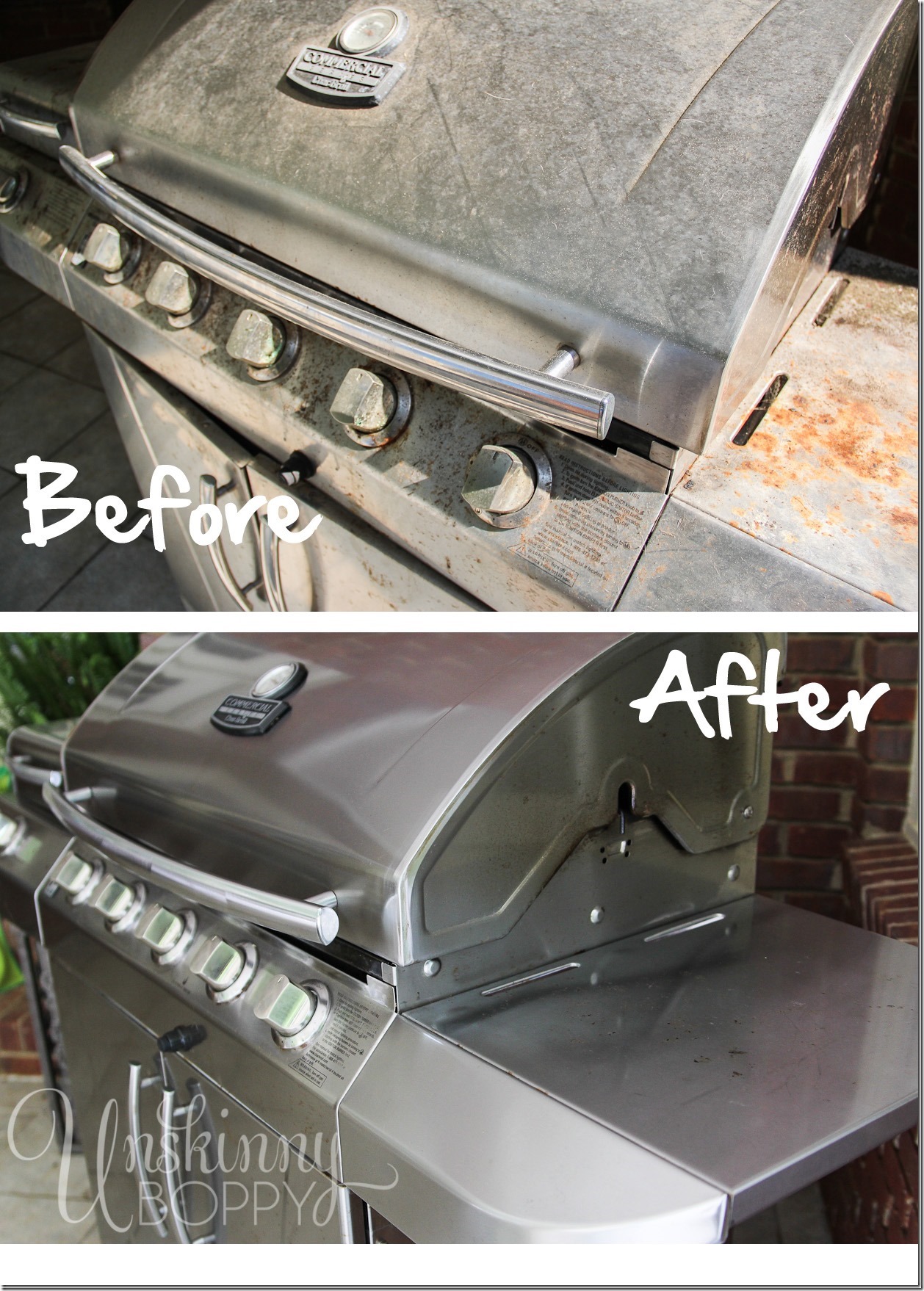 My summer mantel decor went up in June, as well, featuring this vintage fireplace that I scored for only $35.00!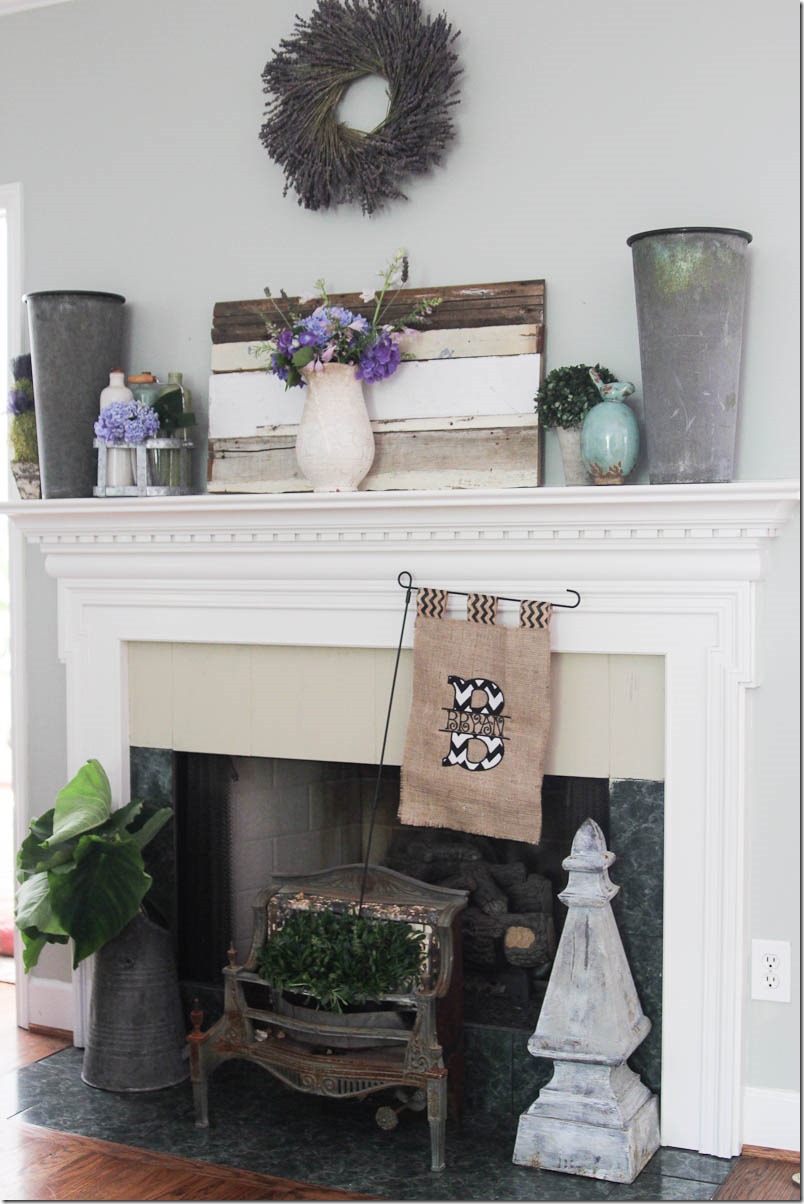 After six months of virtually zero DIY projects in 2013, an email came to my inbox in July that would rock my little blogging world.  I was asked to join the True Value DIY Blog Squad.  From that point forward, my game was considerably stepped up.  It was on like Donkey Kong, Jack.   The projects started rolling in after I made this announcement.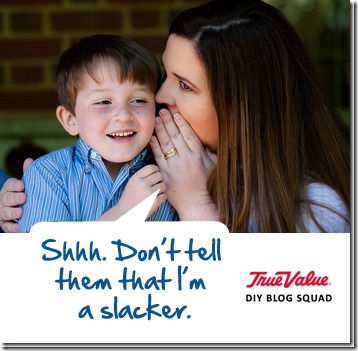 We also took a Granddaddy/ Daughter/ Grandson vacation to Niagara Falls in July, where Garrett lost his first tooth while eating a grilled cheese at the Hard Rock Café!  I also attended the Haven Conference in Atlanta where I was inspired to Do Good on a Grand Scale.  Great conference!
August came and I presented my first True Value post about curtain solutions for small windows.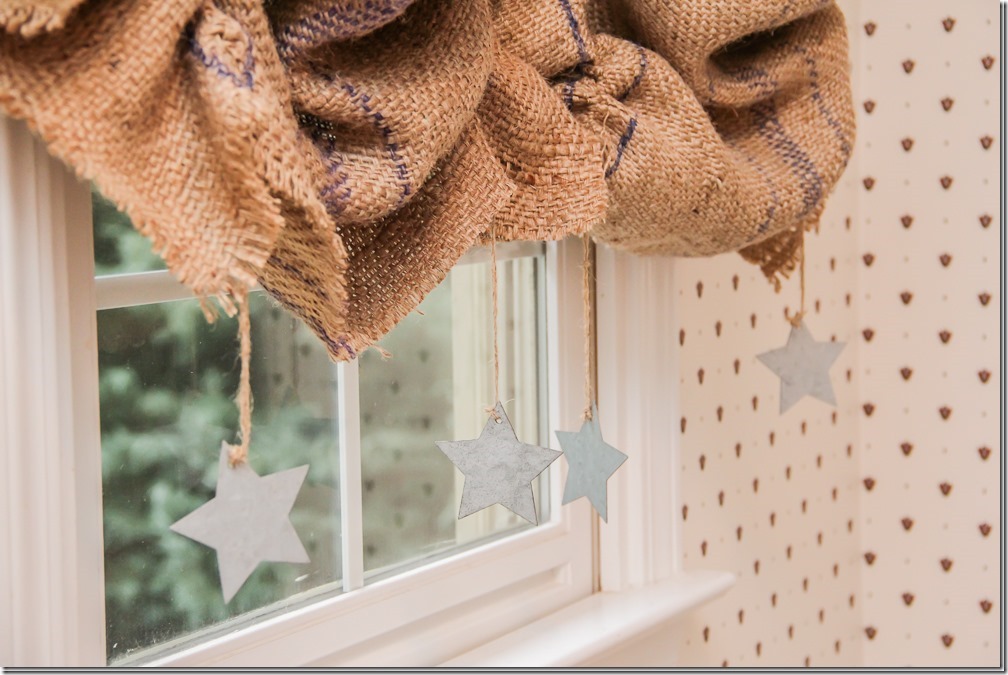 I also added the Family Rules sign to my late summer mantel.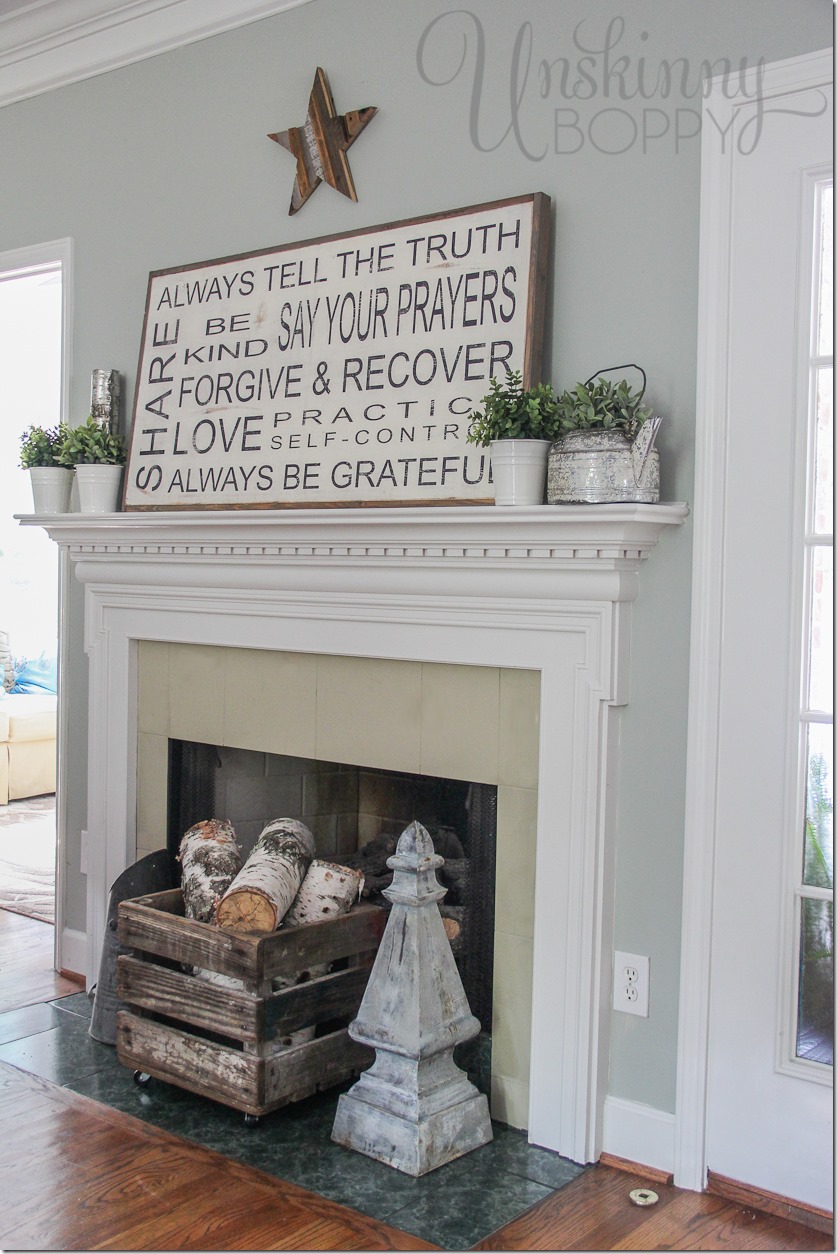 September was full of great posts, including my organized craft room reveal, which has been pinned over 12,000 times to date!  I just wish this room stayed so nicely organized.  Instead it became the dumping ground for Christmas wrapping paper and junk.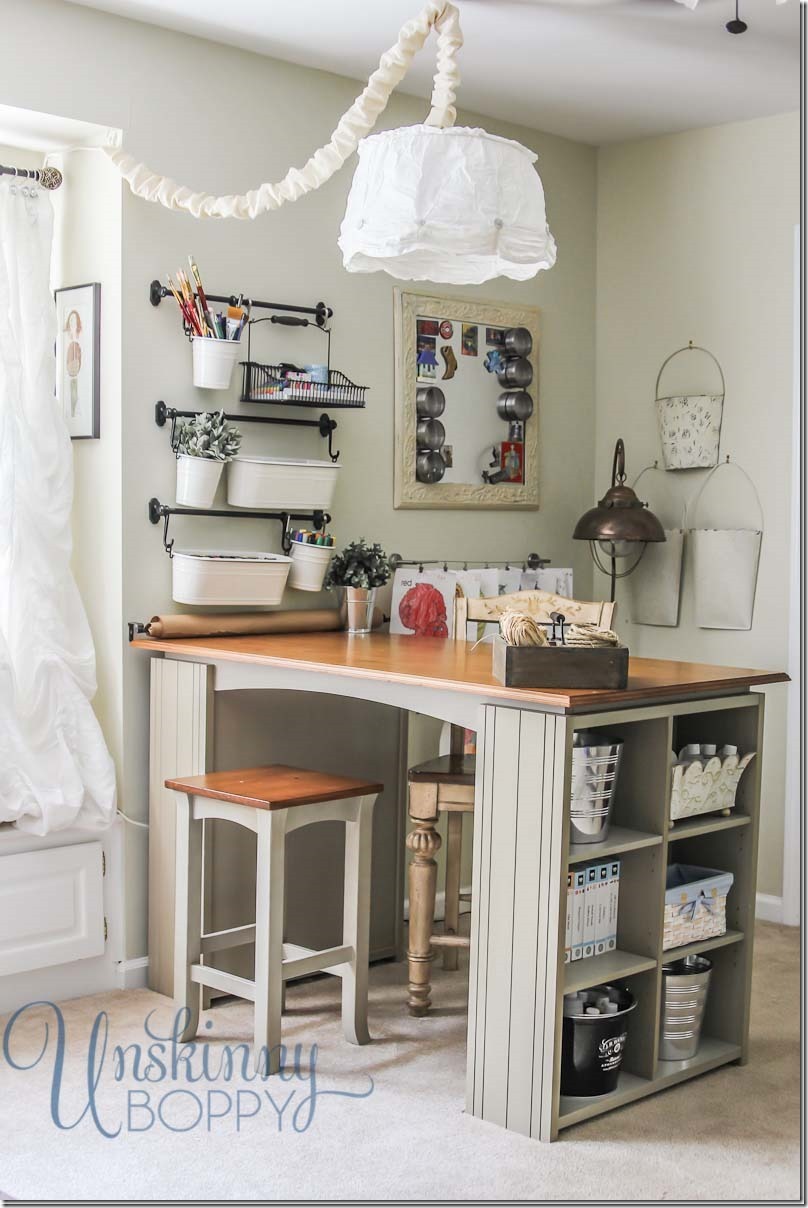 In September I turned 36 years young.  I also began my essential oil journey when I became a distributor for Young Living and introduced my DIY Peppermint Sugar Scrub.
I also teamed up with some of my favorite bloggers for a nature-inspired fall decorating party.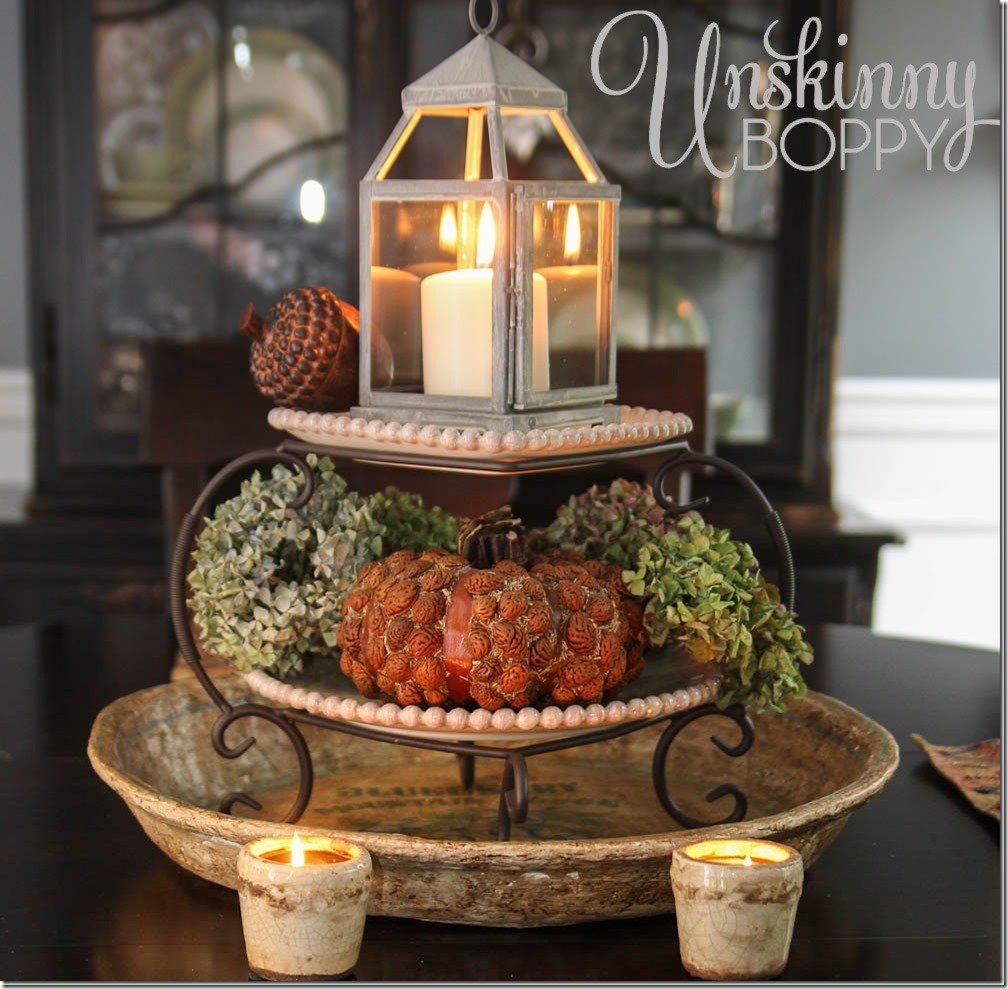 This post included my Fall mantel decor with tons of nature brought indoors.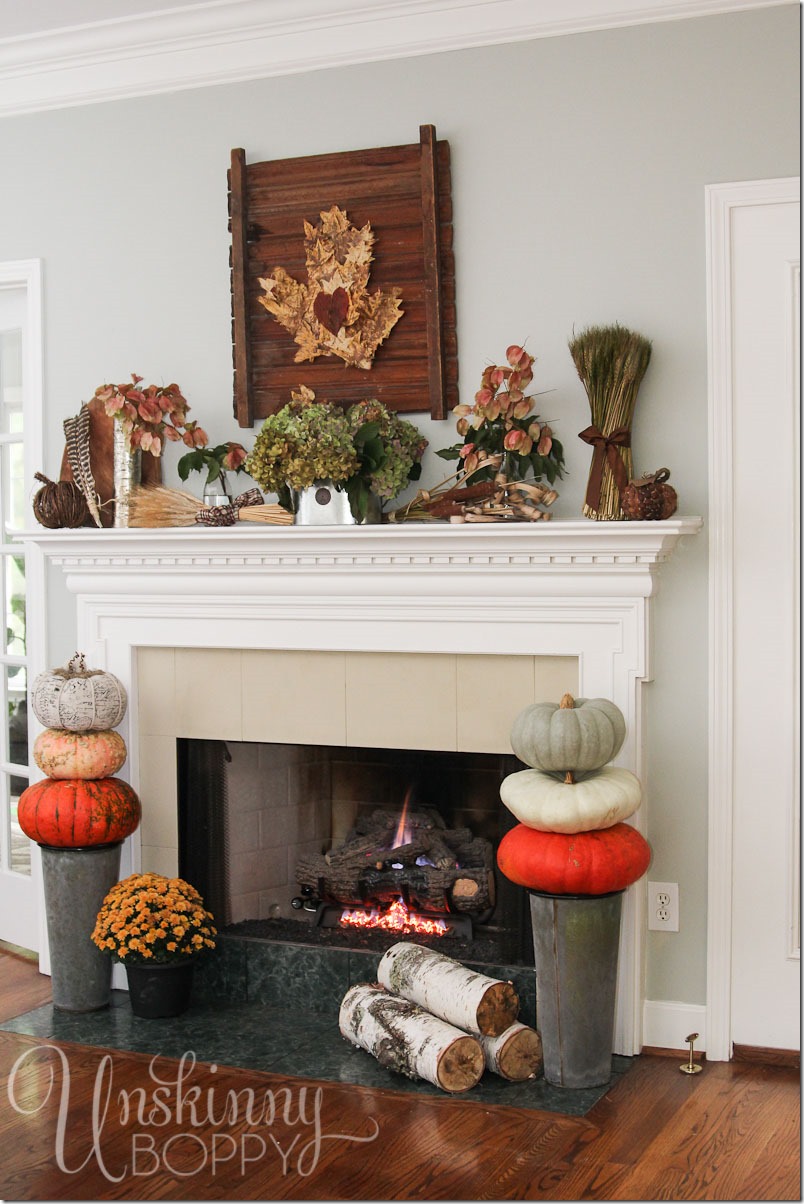 Then I showed you how to make golden leaves from polymer clay.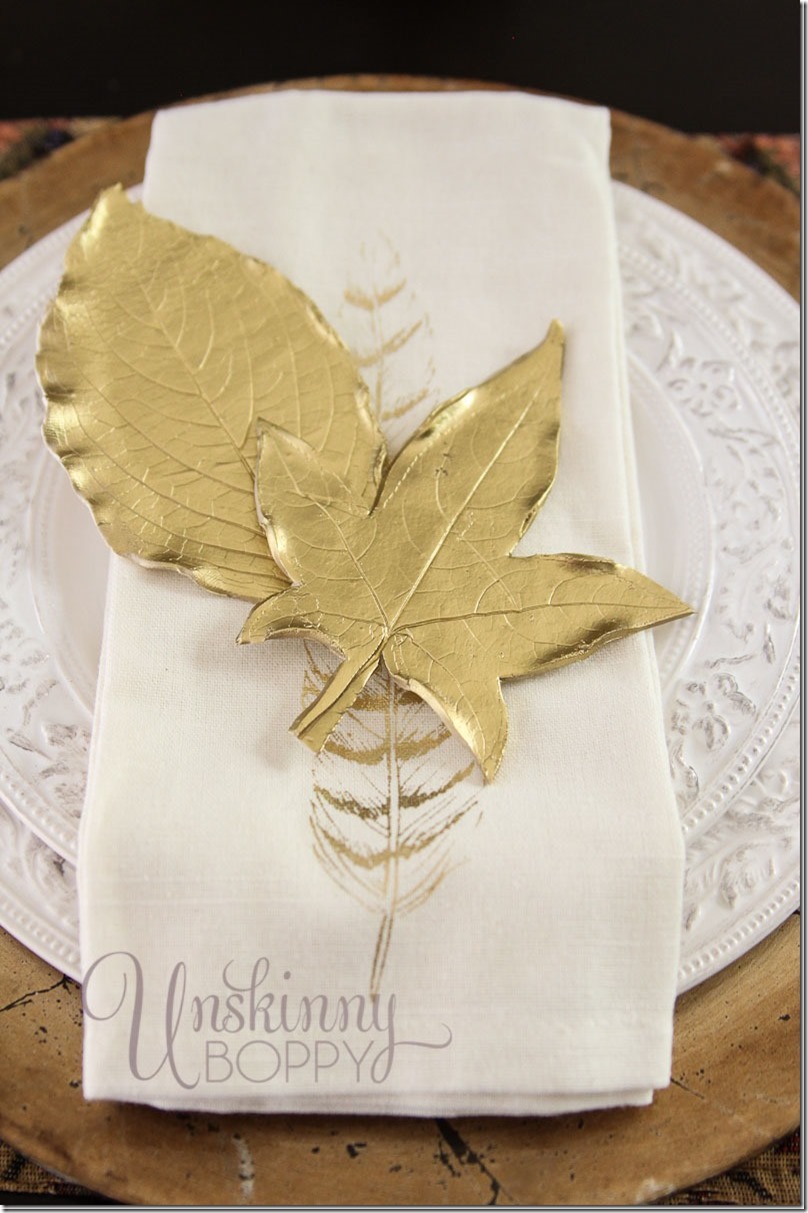 October brought many exciting projects and experiences for me, including the makeover of this cute vintage student desk that's been repinned 13,500 times in just a few months. I also showed you my mom's amazing scrapbooking room where this little desk sits now.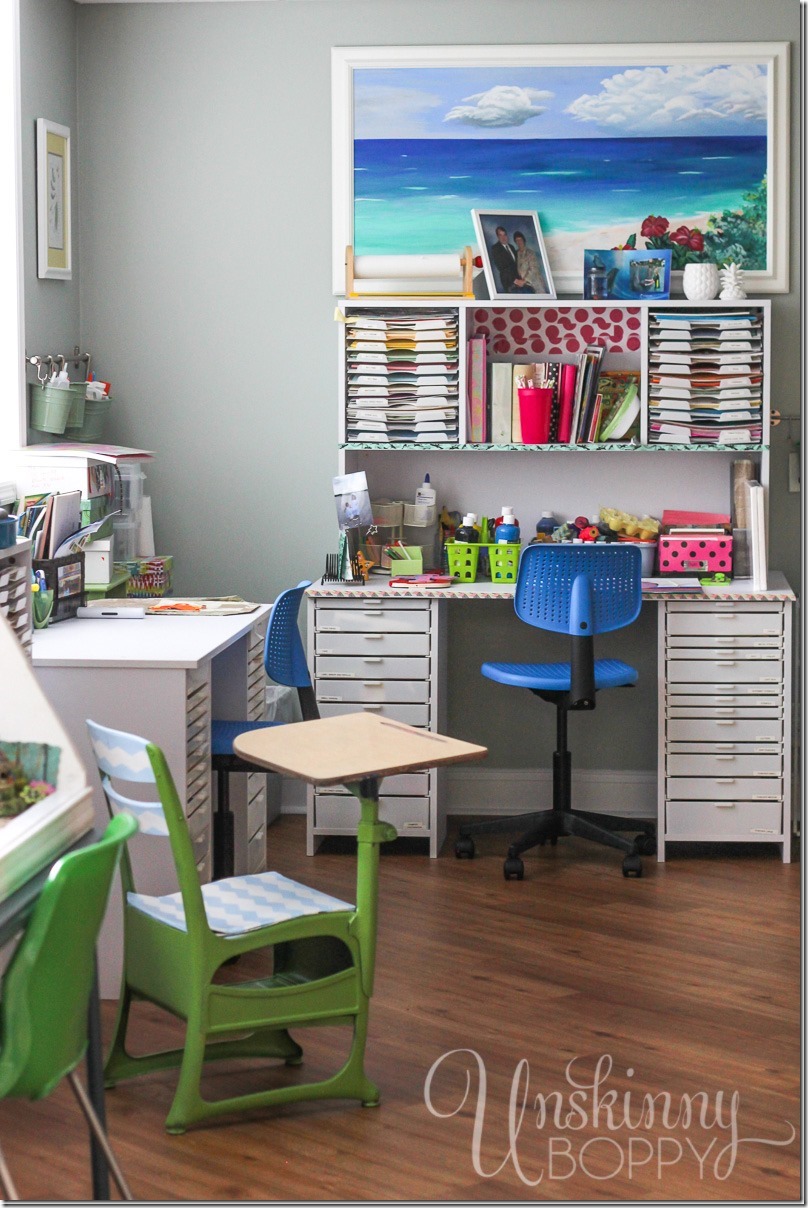 Outdoor fall decorating began with this DIY Door planter with galvanized tubs.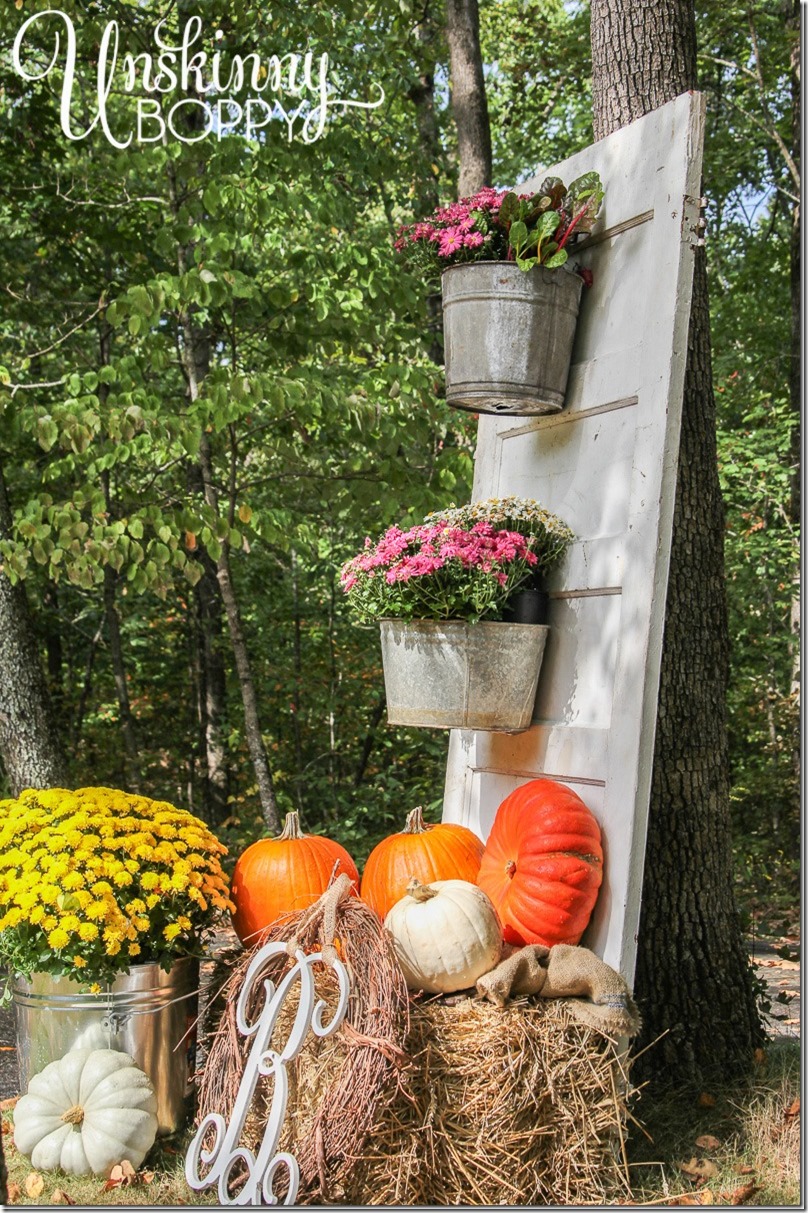 But the biggest news from October?  Me conquering my fear of public speaking and having the most exhilirating time of my life speaking on the Main Stage of the Country Living Fair!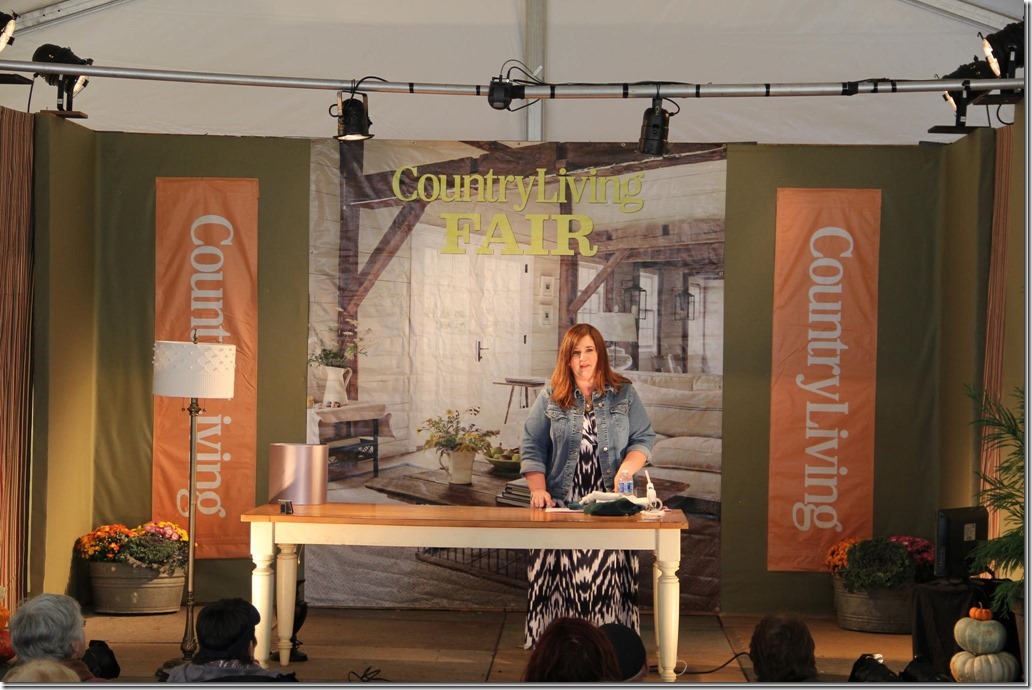 November brought with it the construction of an epic fairy garden made from an old wooden window.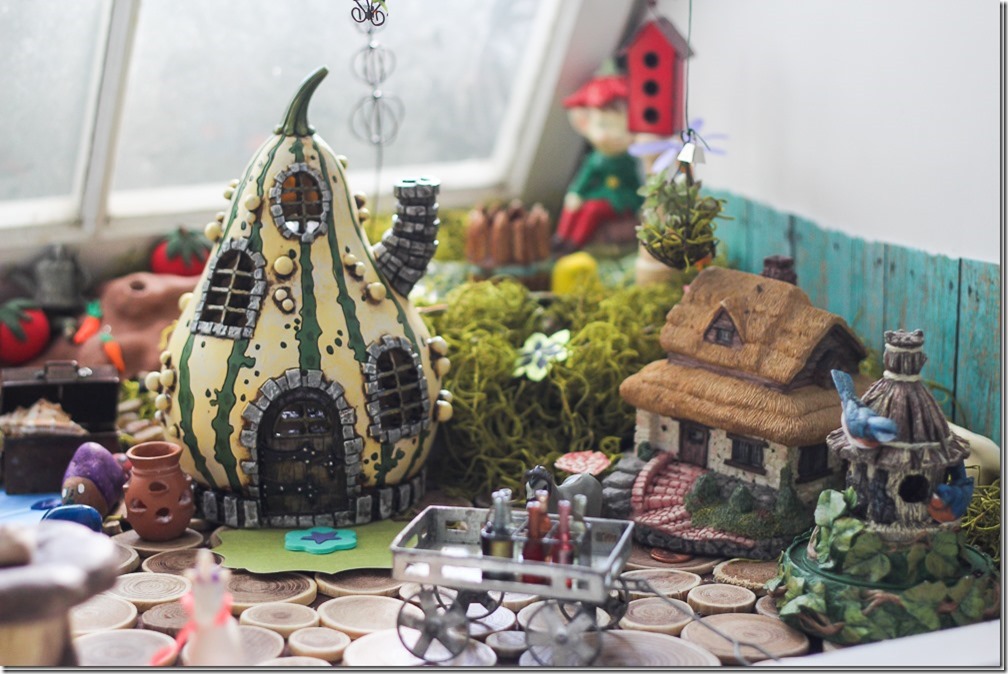 It also was the month that I shared how to strip wallpaper like a pro…

…and revealed the rusty, junky, gorgeous boys bathroom makeover with the now-infamous Ford tailgate as artwork.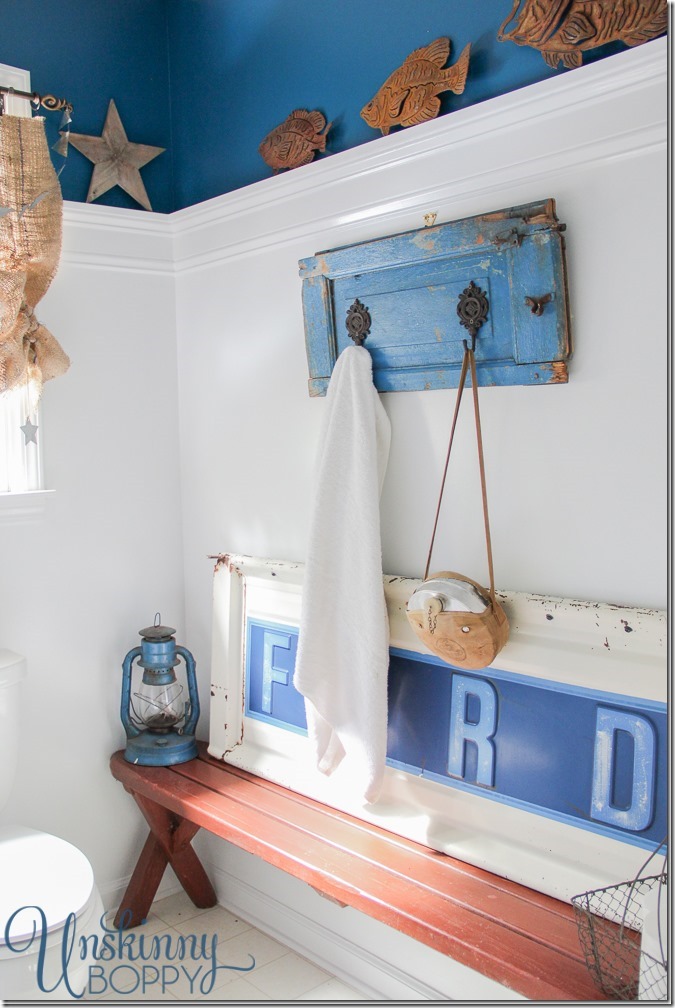 Christmas projects began rolling in, beginning with this pumpkin seed Christmas tree tutorial.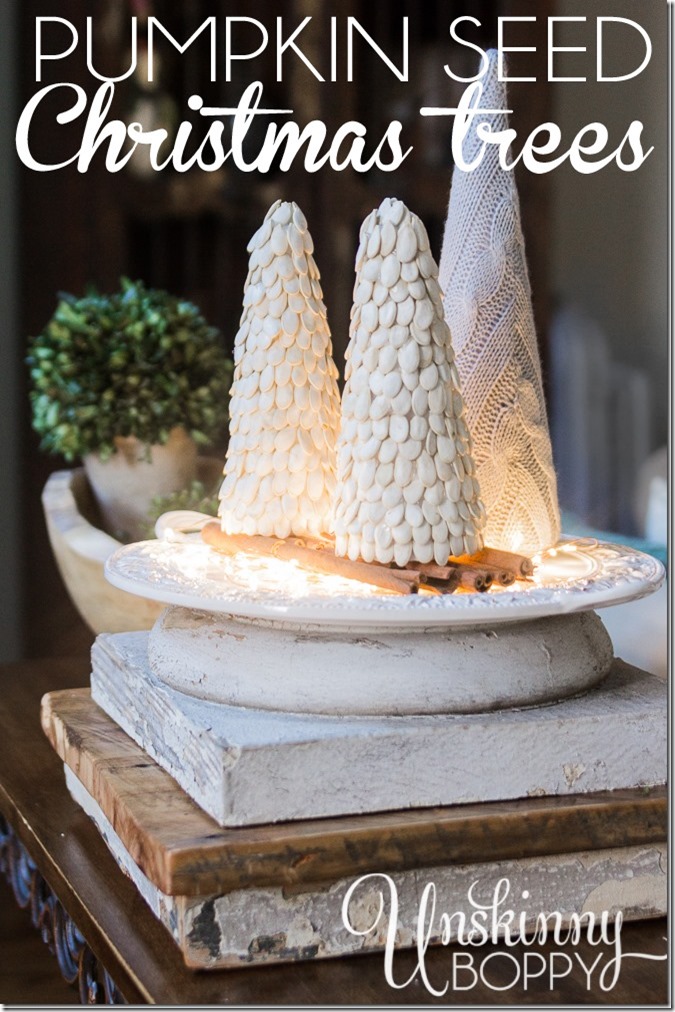 December is always my biggest month for blogging, with higher pageviews during one month than I see at any other point during the rest of the year.  It's my favorite time to be a blogger, even though it's completely exhausting at times.  Here is the wrap up of my top December 2013 posts. 
How to make a personalized Christmas ornament that is a replica of your home: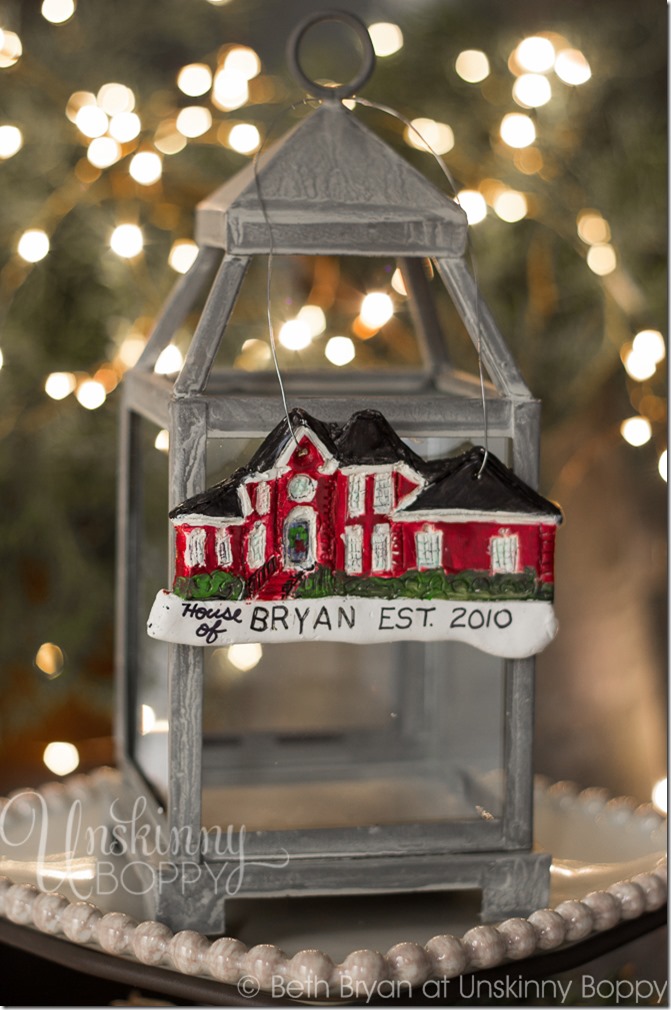 We chowed down on these Gingerbread star cookies for Santa.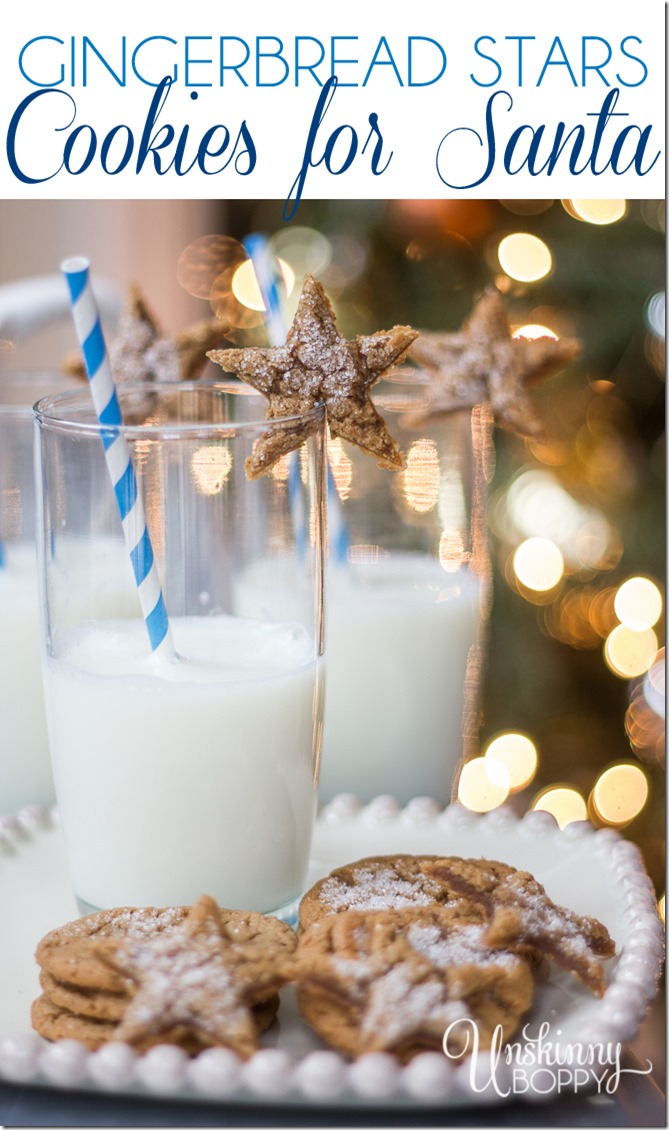 My 2013 Christmas mantel was a huge hit, with my DIY reclaimed wood star as the star of the show.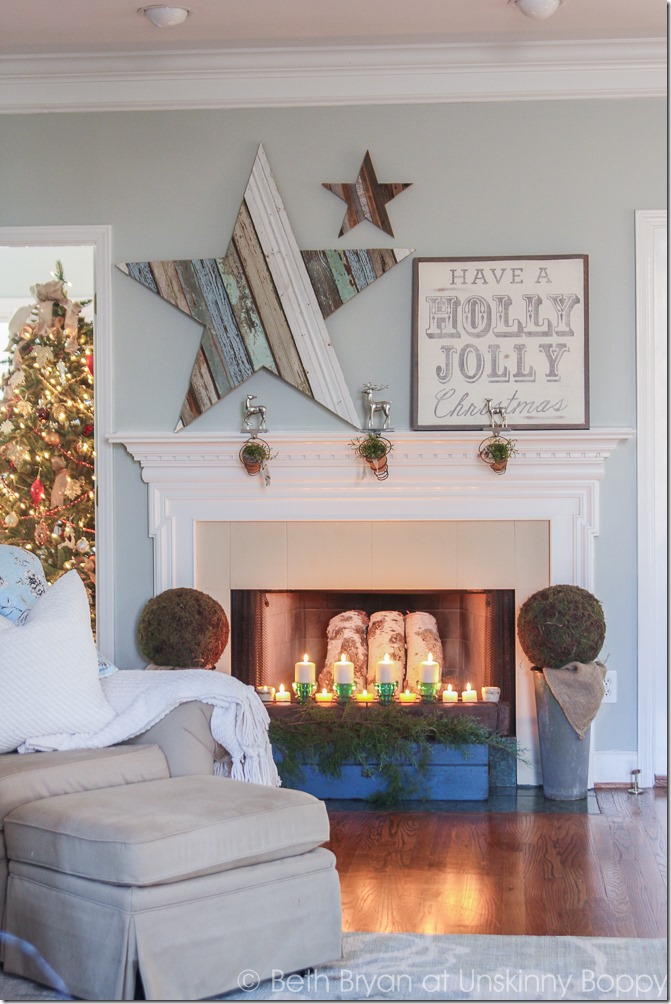 How to DIY a Giant wooden star for the Christmas mantel.  This post was so popular, and I think this star will get a full time display somewhere in my home. I love it so much.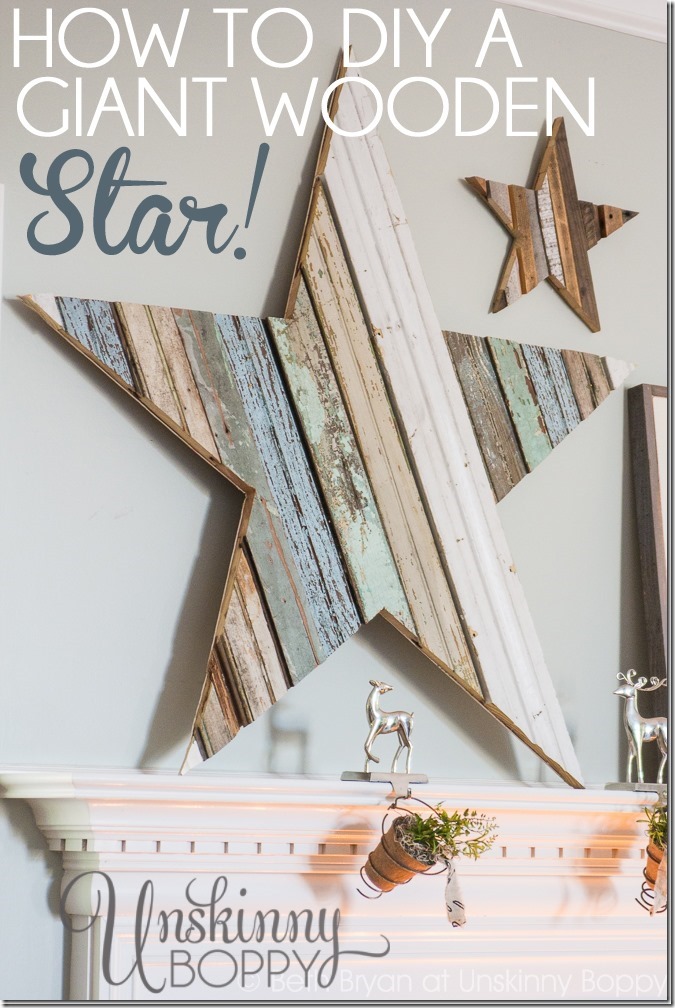 I had myself a junky little Christmas and discovered that this box was actually a telephone linemans tool box, not a shoe-shine box! Either way, Pinterest loved this "box-o-magic".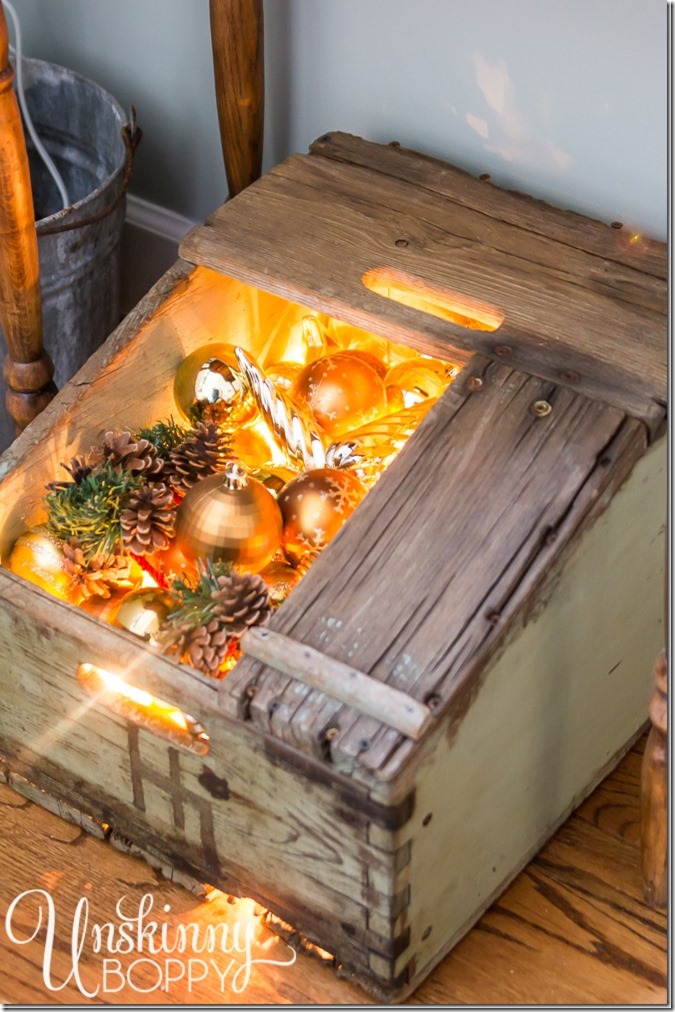 And finally, my 2013 Holiday Housewalk tour of my Christmas decorations, including my new Balsam Hill shasta fir tree.  This was by far my most popular post this year, with 20,700 repins and countless pageviews.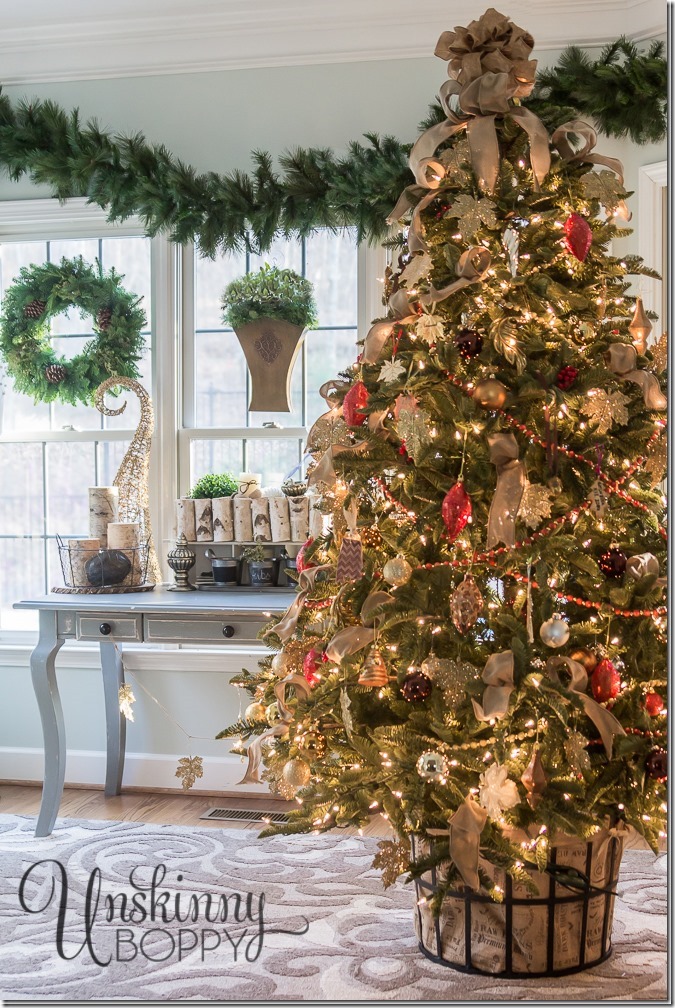 Wow, what a great year it has been!  With all that action in December, it's no wonder that it takes me six months to get my stamina back up to go at it again!  This past week I have taken some time off from work (both blogging and my real job) to enjoy my son's Christmas break and get some important things done around the house like taking long leisurely naps and making a dent in reading the entire Outlander book series before the new tv show comes out in '14.  Whew, it feels great!
I hope that you are assembling your 2013 Year in Review post to get ready to add them to the big link party I am cohosting on Monday morning!
See you guys back here then!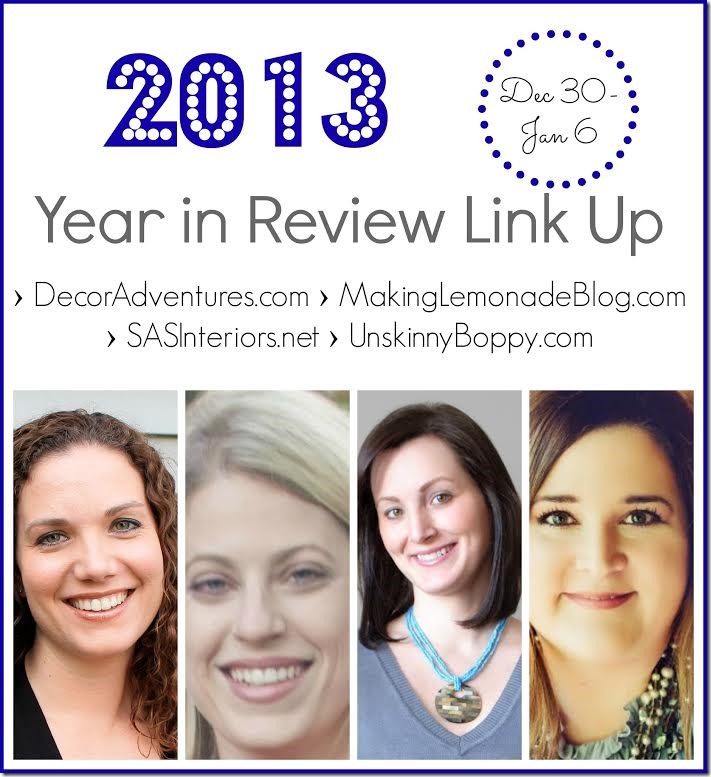 I'm also linking up to these great Year end parties!