In October 2012 my husband and I decided that before we have to spend the next 13 years of our lives planning our vacations around public school breaks that we were going to take a Last Hoorah Anniversary trip together.   When I was pregnant with Garrett in 2007 I toured New England in the Fall with my mother, and then in 2010 traveled to Vermont and New York with my husband, so for this trip I wanted something different, but still craved that New England in the fall experience.  In true Beth fashion I am once again a whole year late in posting about this vacation, but now that autumn is in the air again my mind keeps drifting back to the beauty that we witnessed on that trip, and I know it's time to get a post up about it.  I'm planning this vacation as a blog series this week, so each day I'll be highlighting different parts of the trip.
We began our five day long adventure with a trip along the back roads of Lancaster County, Pennsylvania soaking in Amish Country and ended our journey in The Hamptons on Long Island.  Talk about a polar opposites on the tourist destination scale, huh?    The Amish part was my idea.  The Hamptons were his.  Over the next few days on the blog I'm going to show you my favorite spots of both places.  To give you a bit of background, I became inexplicably enamored with all things Amish after watching Mose Gingerich's tv show Amish: Out of Order.  (Not to be confused with the disgustingly fake and degrading TLC freakshows that are Breaking Amish or Amish Mafia.)  If you're not familiar with Mose's show, it took an honest look at ex-Amish teens trying to make it in the outside world. I could relate a bit to Mose's story after growing up in an extremely strict religion with a lot of rules and Old Testament laws, then facing the guilt of leaving it all behind in my adult years.  I'm not saying my life was anything like Mose's life, but there were a few striking similarities that drew me to his story.  And so began my Amish infatuation.  I needed to see it for myself, so off we went to Intercourse, PA, for the first few days of our vacation.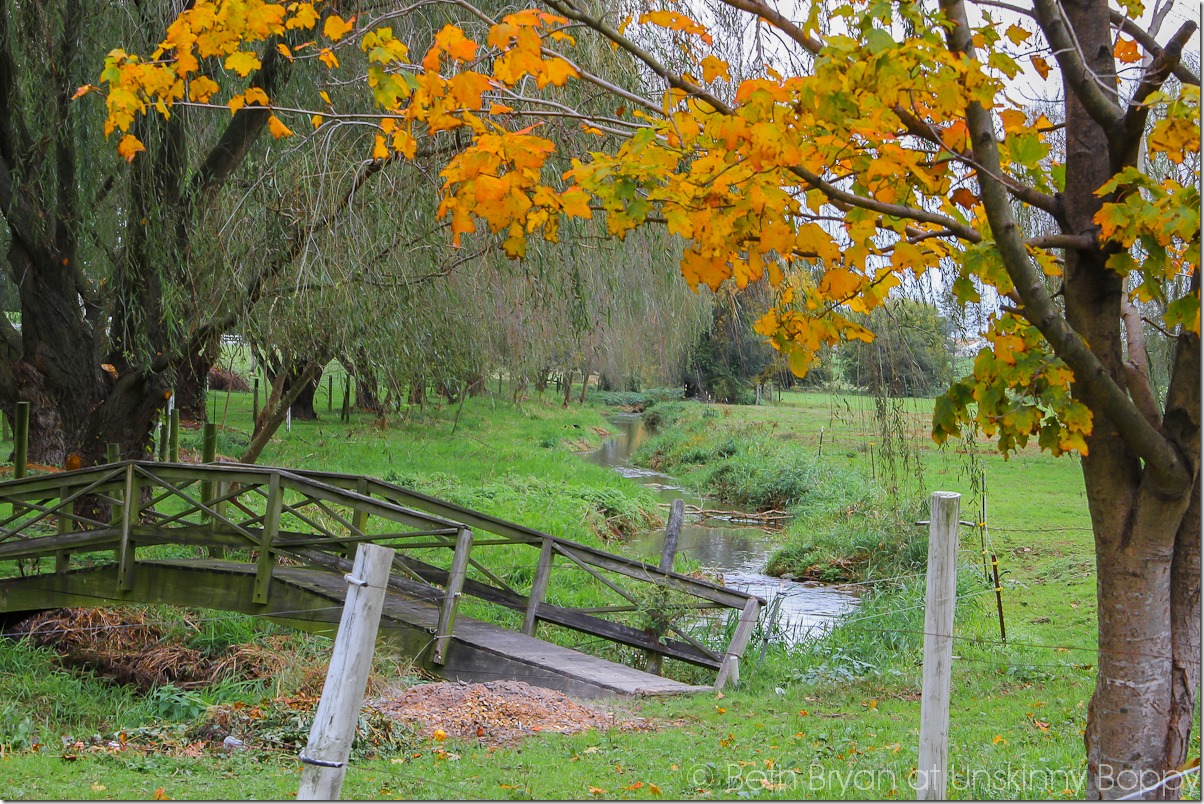 I did a whole bunch of research on the best places to stay in Intercourse, PA and finally settled on The Inn at Kitchen Kettle Village.  This turned out to be a wonderful decision!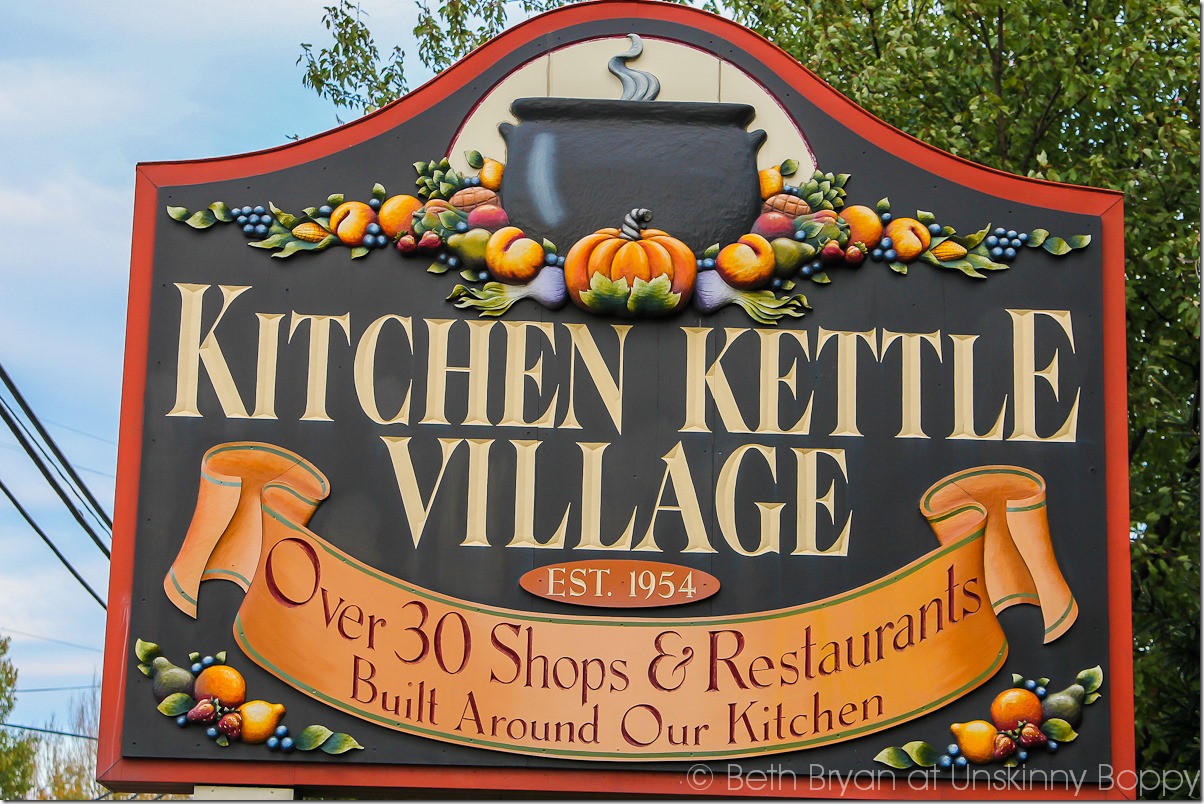 I was able to book the Strawberry Street Guest Quarters for us, which had a private entrance just steps away from the Kling House restaurant.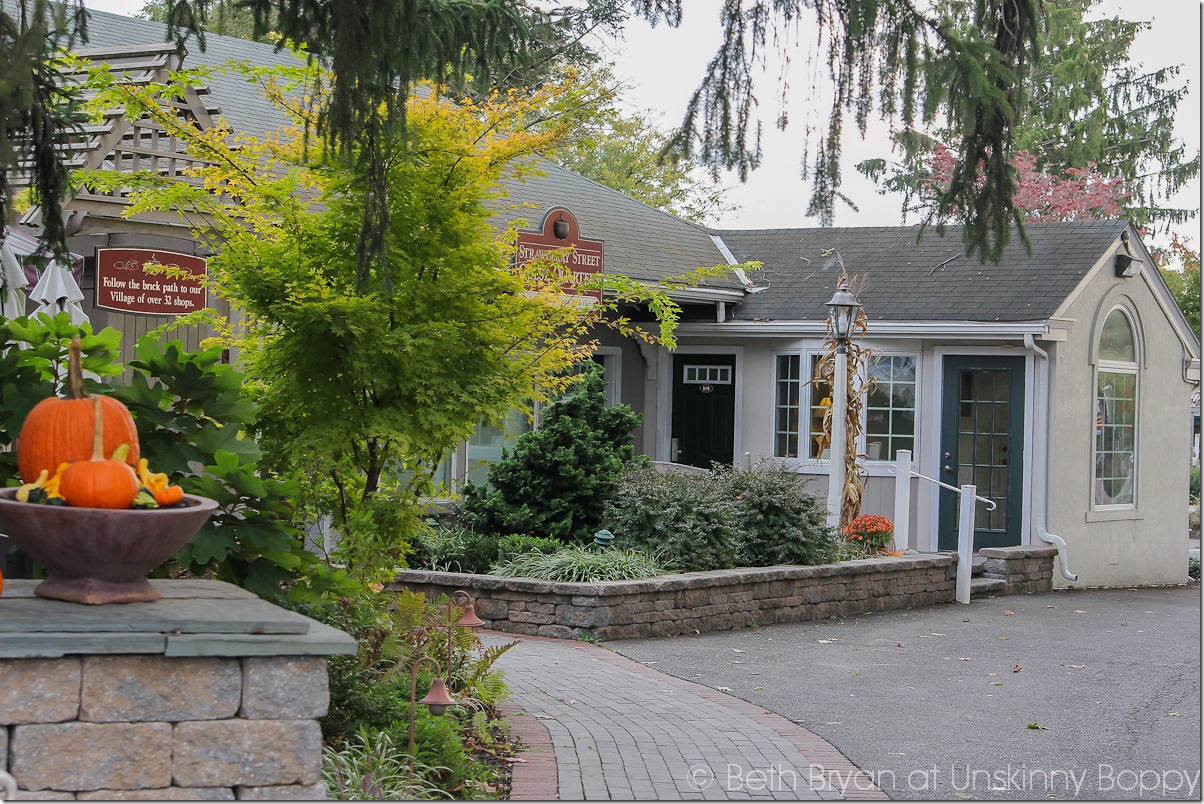 We arrived on a Saturday along with busloads of tourists and an extremely full parking lot, but on Sunday the entire place is closed.   When I booked the room this concerned me because I was worried there would be nothing for us to do, but it turned out to be an excellent decision.  We were able to shop on Monday morning after the crowds had cleared out, but on Sunday it was completely quiet and empty.  One of the stand-out moments of the trip for me was waking up early Sunday morning and walking around the empty streets of the village all alone, with nothing but the sound of the birds chirping and the clippity-clop of the Amish buggies driving past on their way to church.  I walked around with my giant camera, which I came to realize was like an Amish repellant, snapping photos of the village.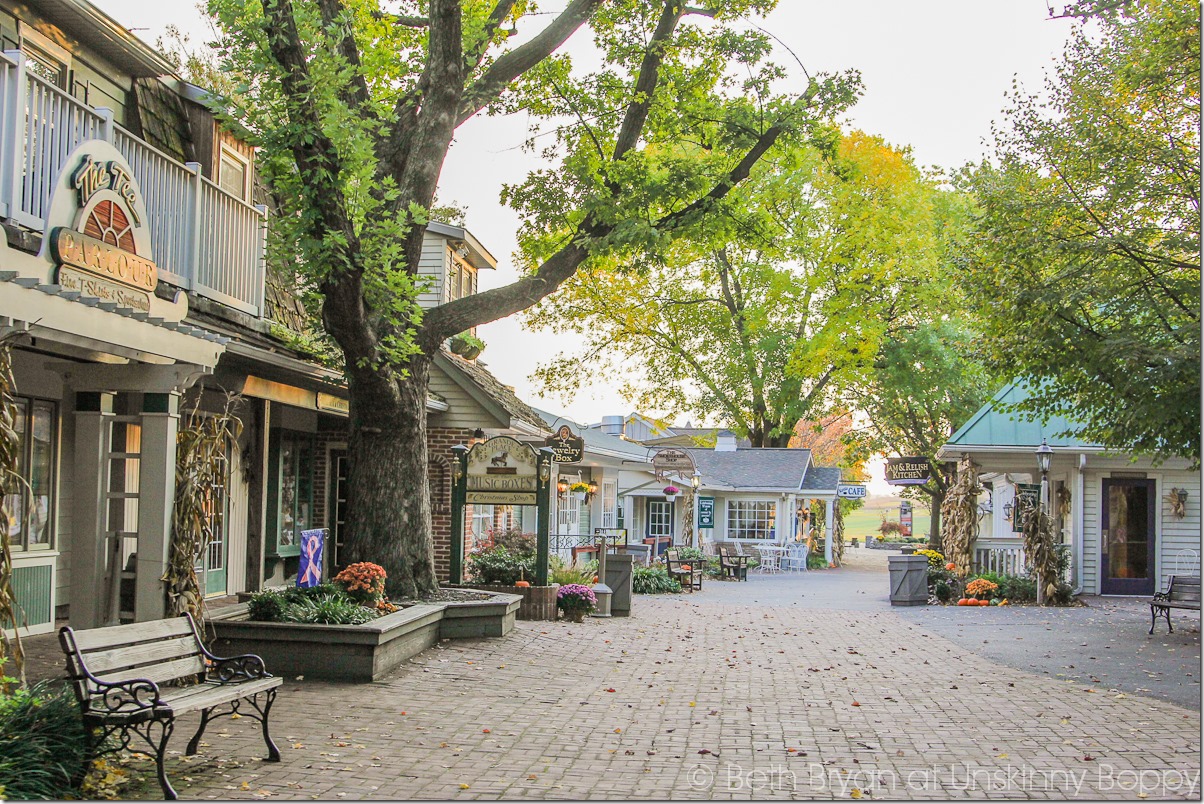 The entire village is just beautiful. The little shops lining the cobble stone streets sell everything from cookies to pottery to leather belts and more.  Lots of handmade stuff, but plenty of Made in China trinkety commercialism, too.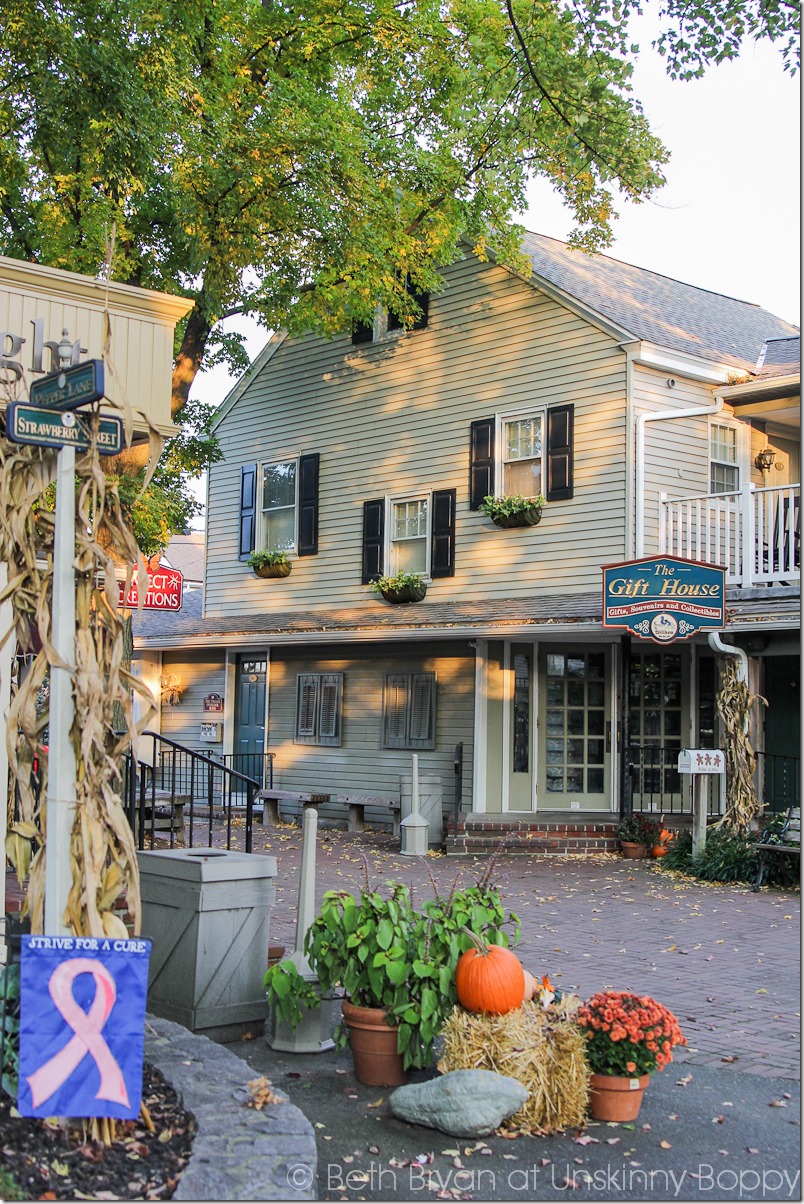 It's definitely a tourist trap, but I am not one to shy away from a good fudge shop, so it was right up my alley.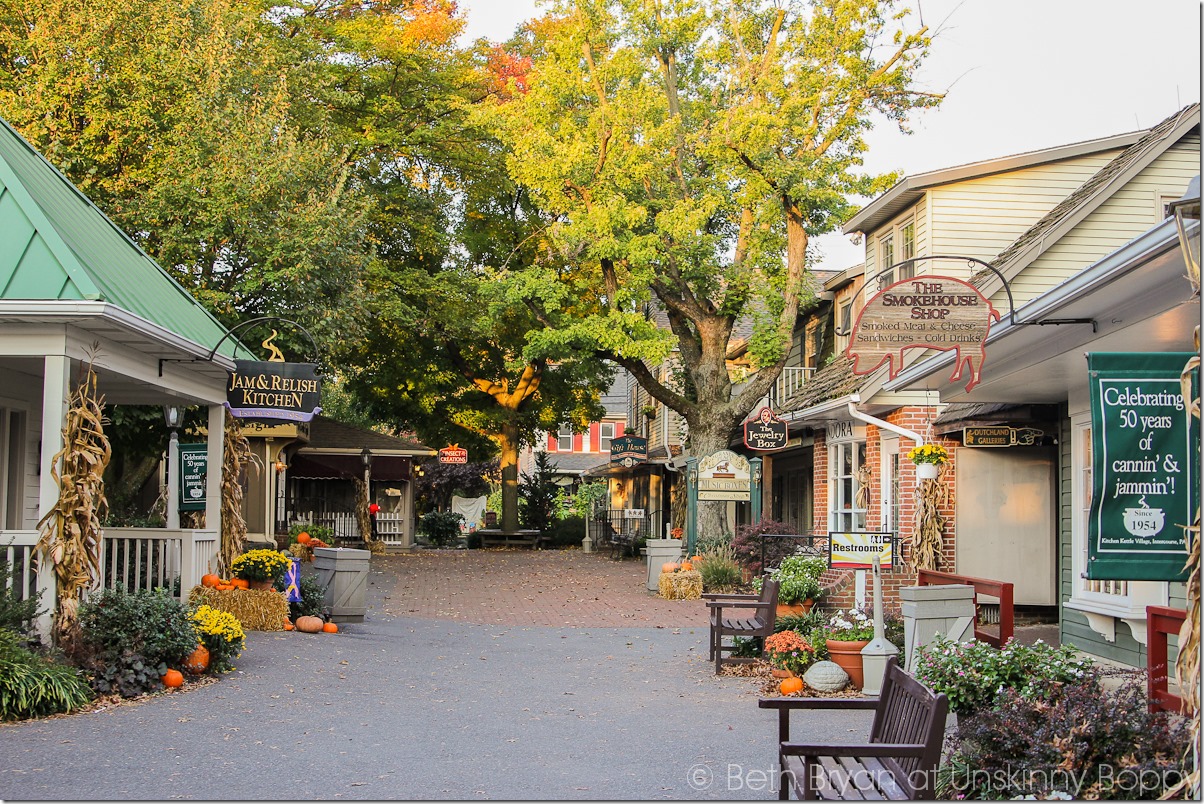 And the view from the parking lot is amazing.  The green fields spread out and I watched the sunrise over the Amish farms and silos that dot the landscape.  This is pretty much the view from every direction in the town of Intercourse.  Rolling hills, fields, farms and silos.   It is GORGEOUS.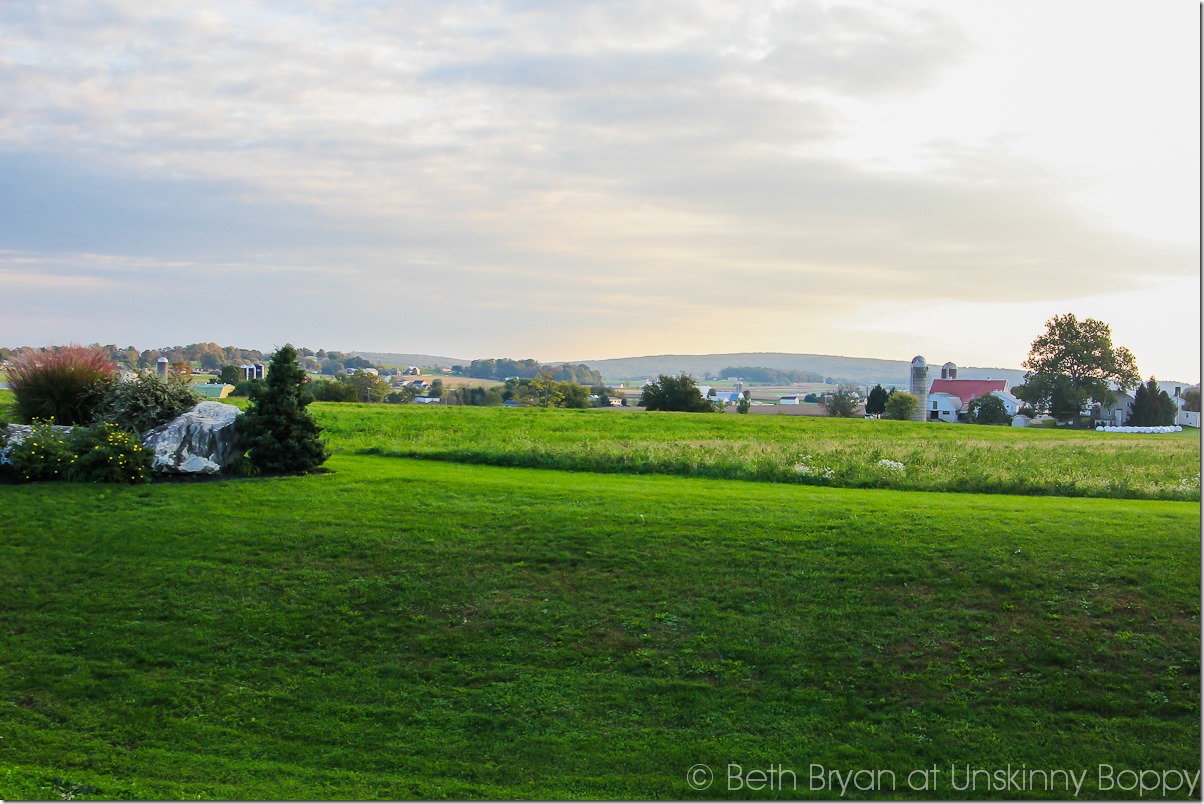 Even their ditches were nice!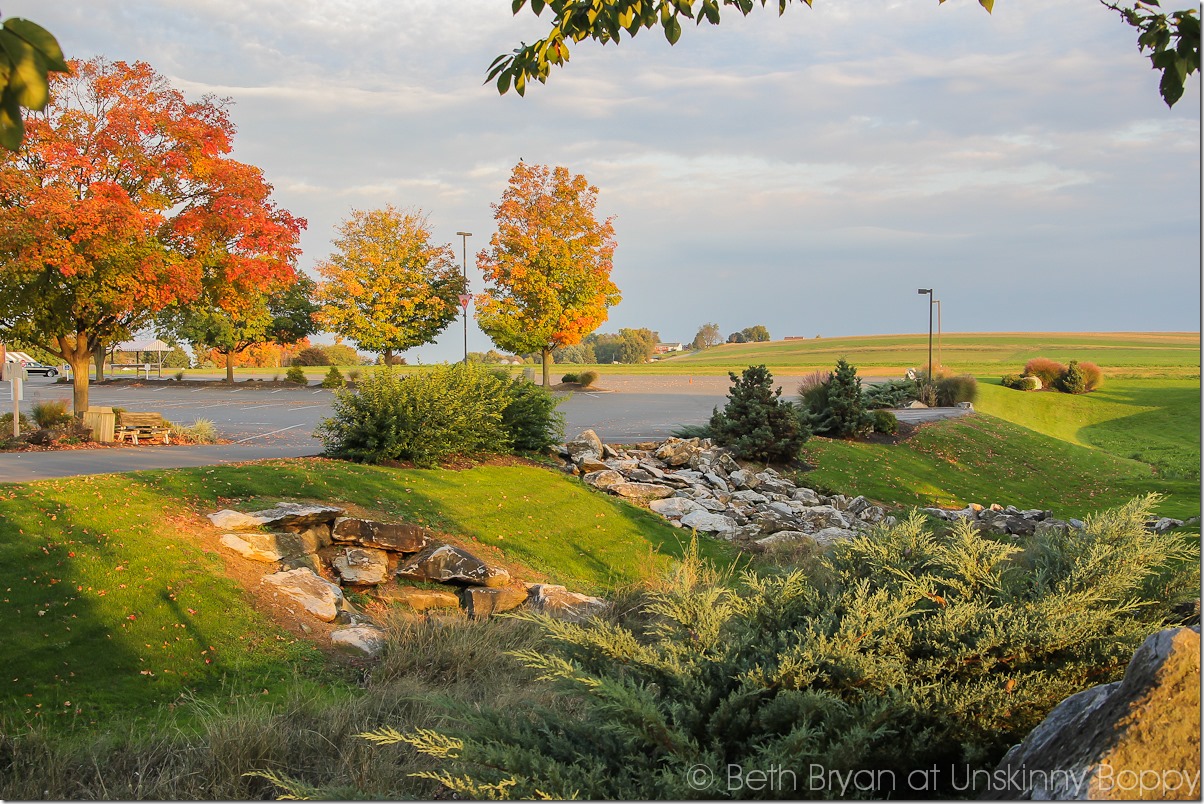 I attempted to make friends with this baby goat who stared at me with indignation and bleated at me repeatedly.  Even he didn't like my dSLR pointed in his direction.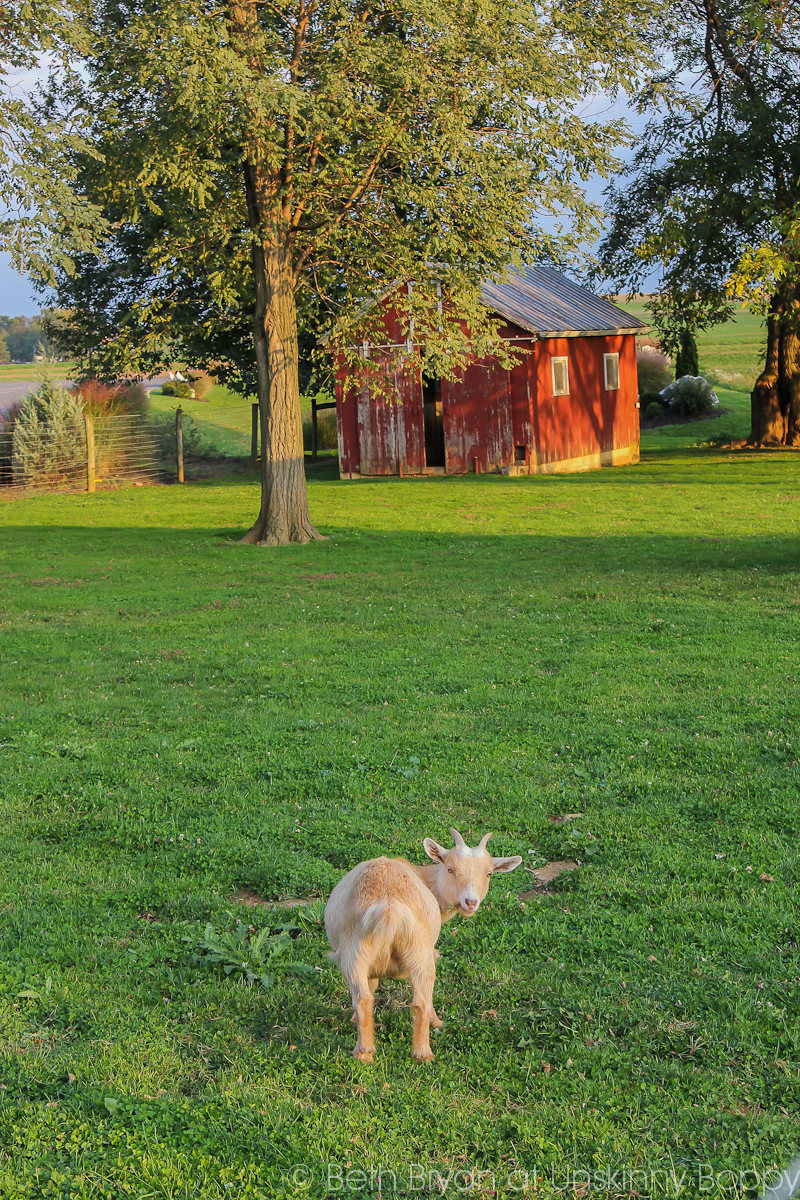 We arrived on October 13th, and the leaves were just beginning to change. That is the tricky part of planning a leaf-peeping vacation. Trying to time it perfectly is nearly impossible, so we just have to book a vacation and hope for the best. Most years we've gotten lucky but when you miss the peak fall color and arrive in time to see nothing but sticks it can be a little depressing.  I am so happy that we got to see some spectacular fall color on this trip, though.  Trees blazing with color is one of my most favorite parts of fall.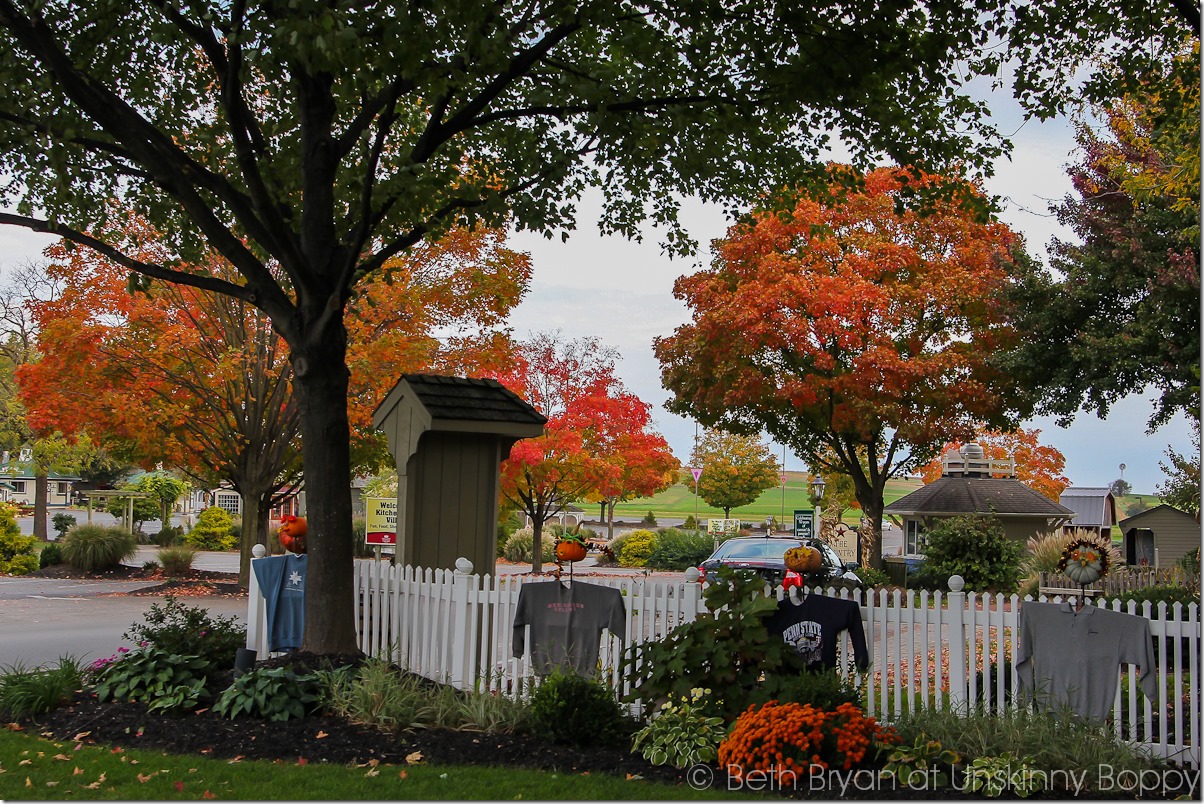 To avoid the tour bus crowds at the Kitchen Kettle Village on Saturday we drove around to the neighboring towns and explored some of the junk stores that were calling my name.  I am a huge sucker for a weathered, rustic looking building full of junk, and there was a PLETHORA of them in Amish country.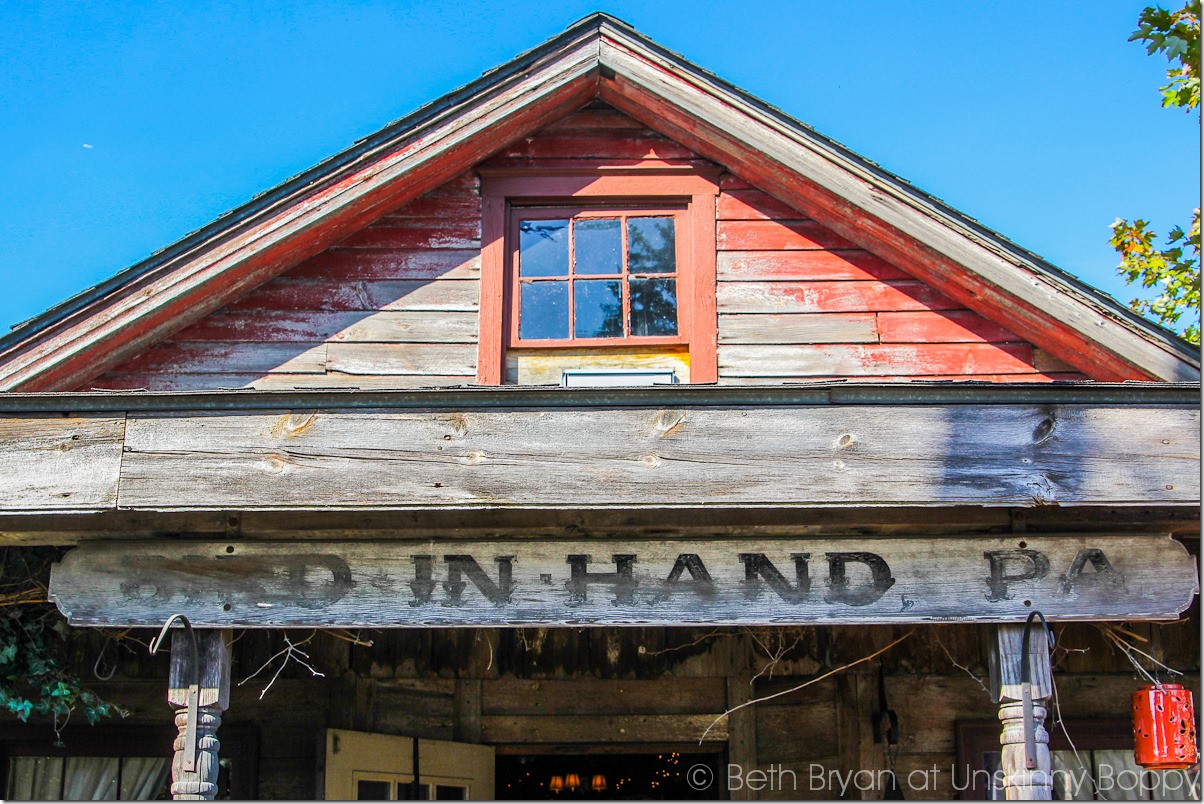 And lemme tell ya… the picking opportunities were abundant.  This is just one aisle in the basement of ONE of the stores.  There was more awesome stuff than I've ever seen crammed into one tiny room.   It reminded me of the storeroom from the Store Stump where the mice of Brambly Hedge fritter away all of their belongings.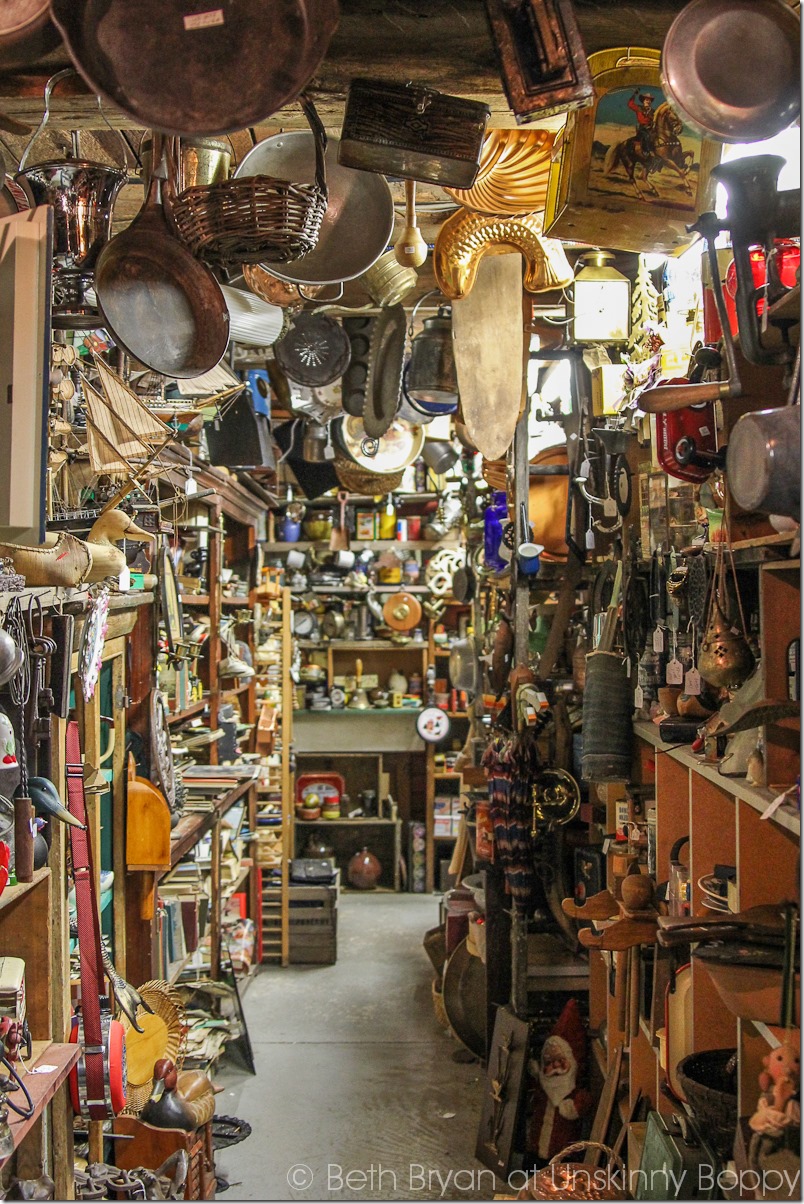 I really, really, REALLY wanted to bring home this long strap of sleigh bells, but I couldn't bring myself to pay what they were asking for something I would only pull out at Christmastime.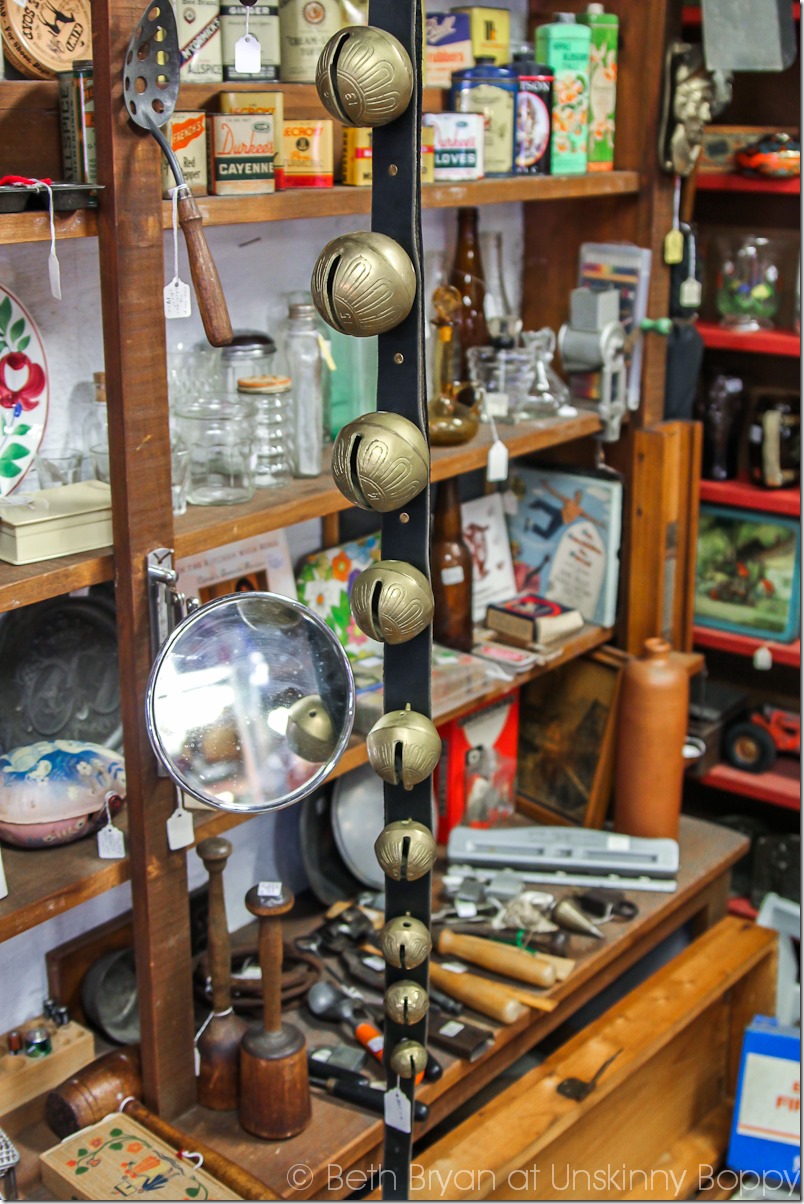 I settled on a photo of them and kept moving.  It is probably a very good thing that I took an airplane to go on this trip, because I could have easily filled two U-Hauls with all the things I wanted to buy on this trip. 
The Vermontophile in me loved The Old Village Hardware store and the Village Antique Market with their barn red paint and pumpkins scattered all over.  I felt like I was right back in Weston, VT at the Vermont General Store.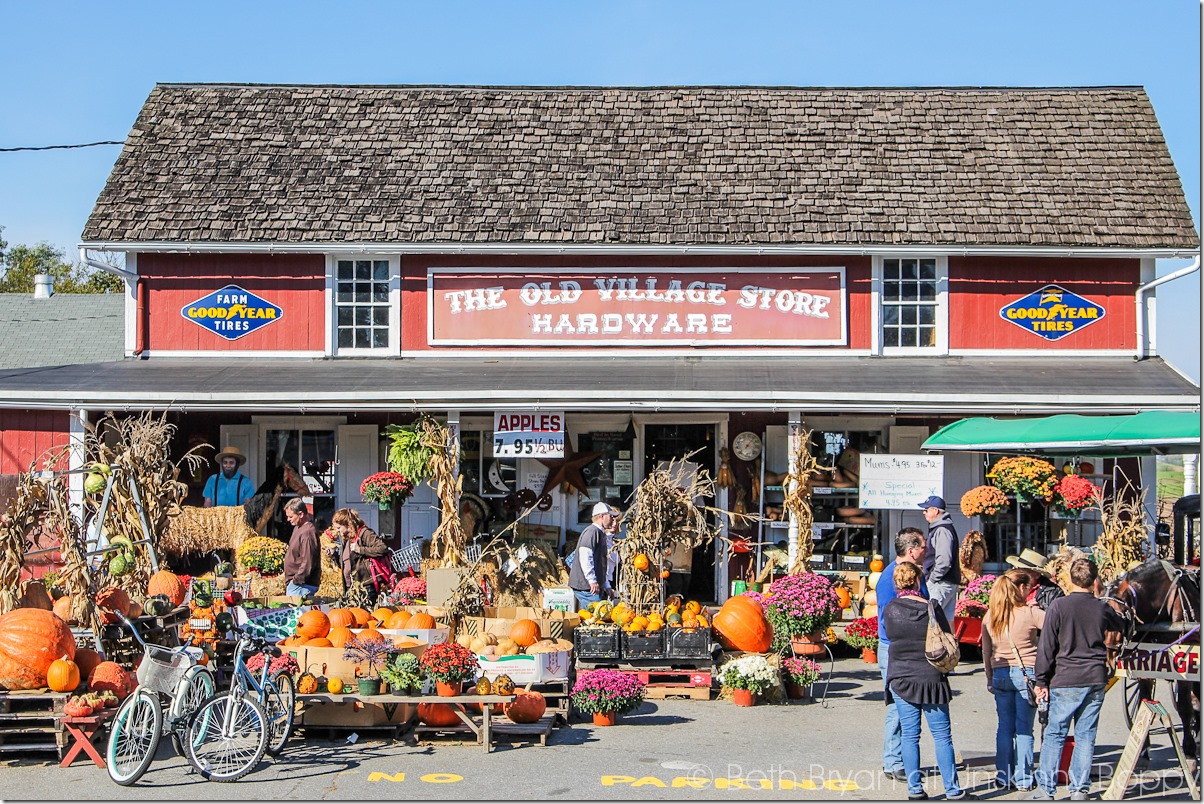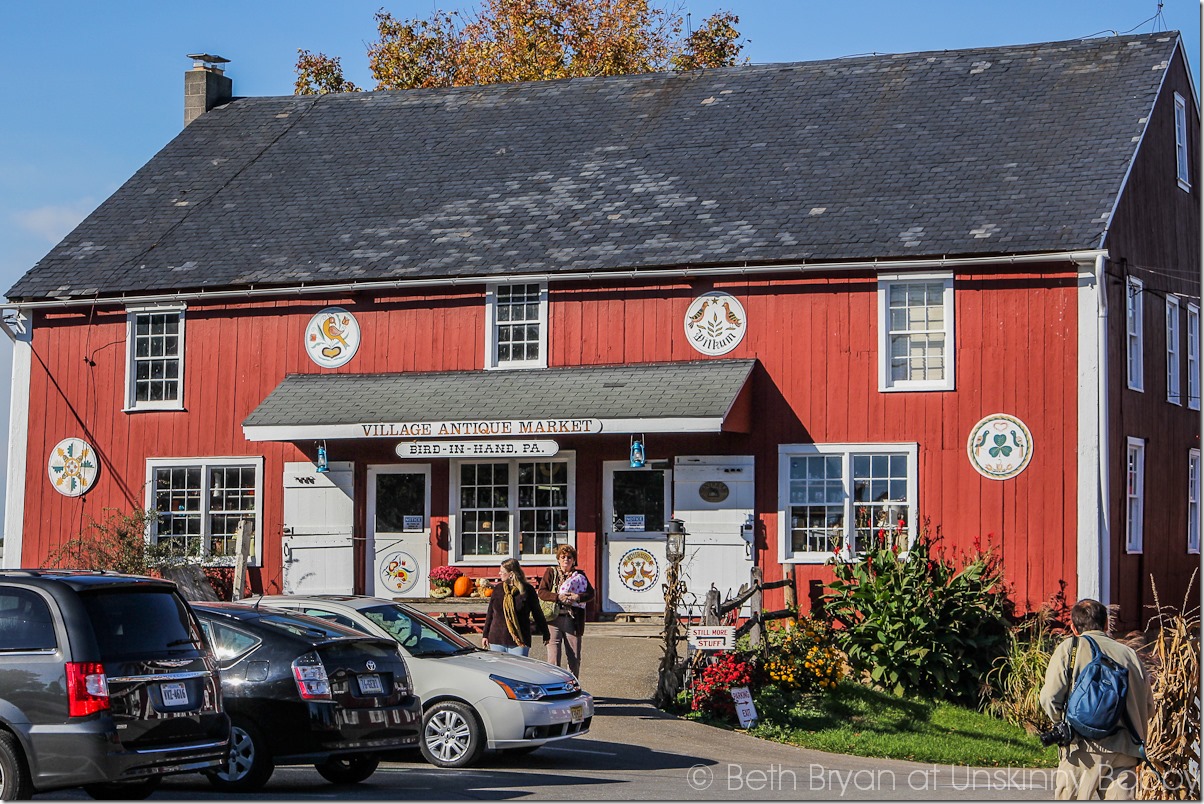 Inside there were acres of amazing things to be found. A shelf full of Coleman lantern parts caught my eye, along with the obligatory honeybees behind glass photo that I have to take any time I am lucky enough to find a honey bee hive on display.  Whoopie Pies were sold EVERYwhere in Amish Country.  I bought one but I cannot say that I loved it. My Krispie Kreme loving taste buds thought they needed more sugar.

The town names around Pennsylvania Dutch country are certainly interesting.  With names like Intercourse, Bird-in-Hand, Peach Bottom and Fertility, it's no wonder those Amish folks are having so many kids! We can tell what was on their mind when the founding Fathers got their towns on the map.  And after they finished naming all those innuendoed towns they must have headed over to Smoketown to unwind.
That is one thing the Amish do love is a good smoke.  I believe there was tobacco hanging from nearly every rafter in town. I had to explain what it was to a group of Jerseylicious tourists where were shopping with me in one of the antique stores.  A perplexed bunch of ladies were arguing over what this weird looking stuff was hanging everywhere, and my Kentucky roots started showing when I explained it was tobacco. Cotton and tobacco are two crops any good Southerner can spot from a mile away.  The Jersey girls had never seen it before in their lives.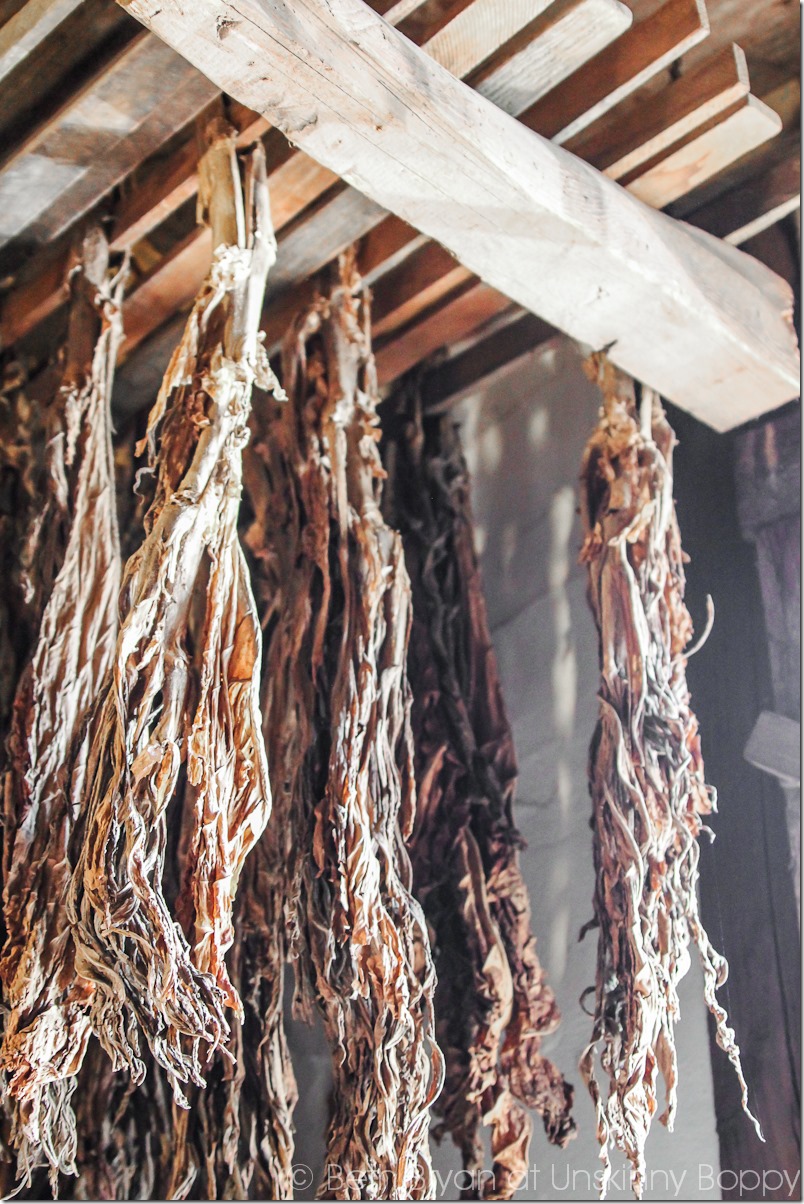 There were barns full of drying tobacco.   I'm tell ya, it was everywhere.  Those CDC anti-smoking campaigns have obviously not made their way into the Amish communities yet.  I guess it's hard to advertise to the Amish folk, though.
Amish country certainly left an impression on me.  This store display in one of the few true "retail" type stores I found around town inspired me to create the galvanized metal bunting that is featured in this month's issue of Celebrating Everyday Life magazine.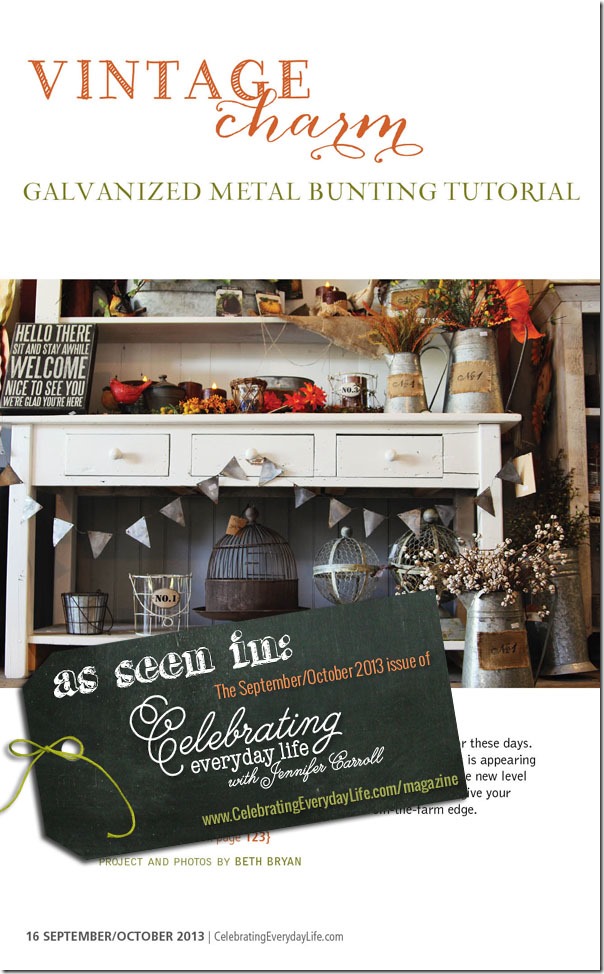 And then there were the pretzels.  Oh man.  Those Amish pretzels.   I bought them by the bagful at the Amish market and inhaled them faster than Uncle Si at a hot doughnut stand.  They were delicious, so as soon as I got home from this trip I tried to make them myself.  My recipe for homemade soft pretzels turned out ok, but they were nothing like the ones straight from the source where they have years of practice flipping and pitching those soft pretzel-y delights.   I could have watched that girl spinning that dough all day long.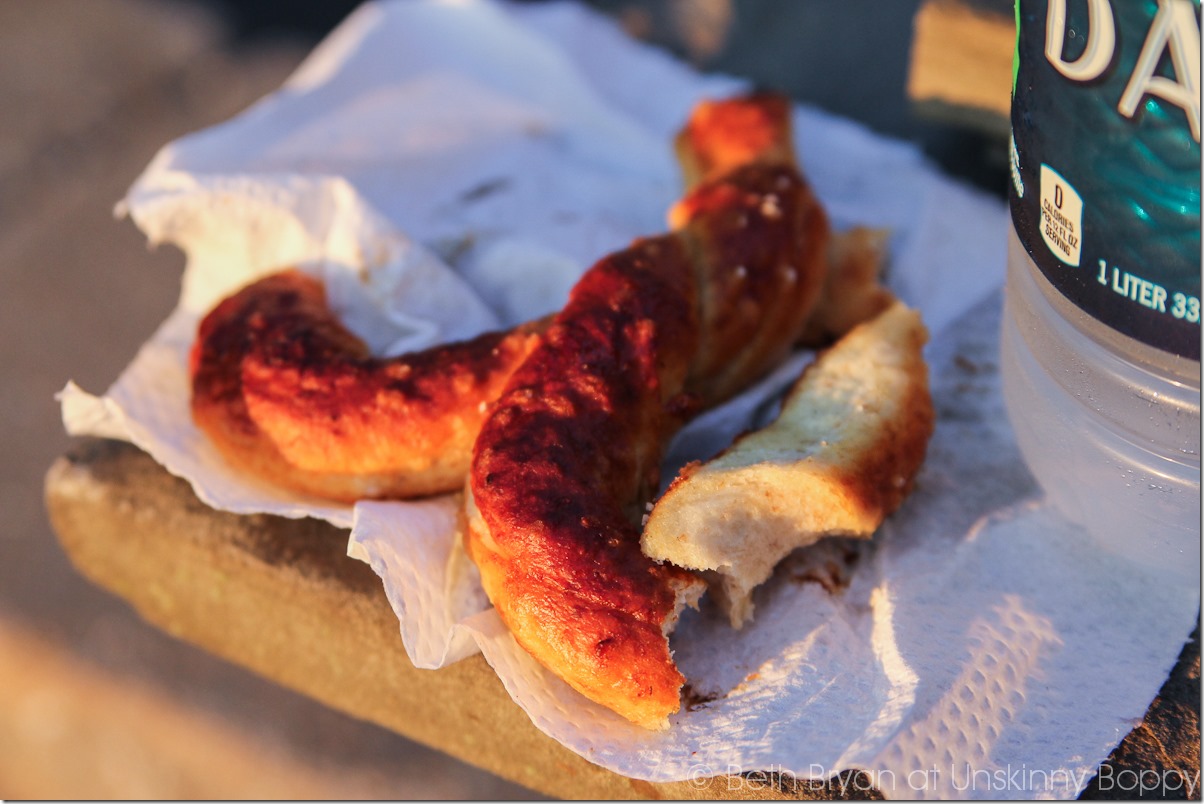 Get Immergut, pretzels.  I could eat them day and night.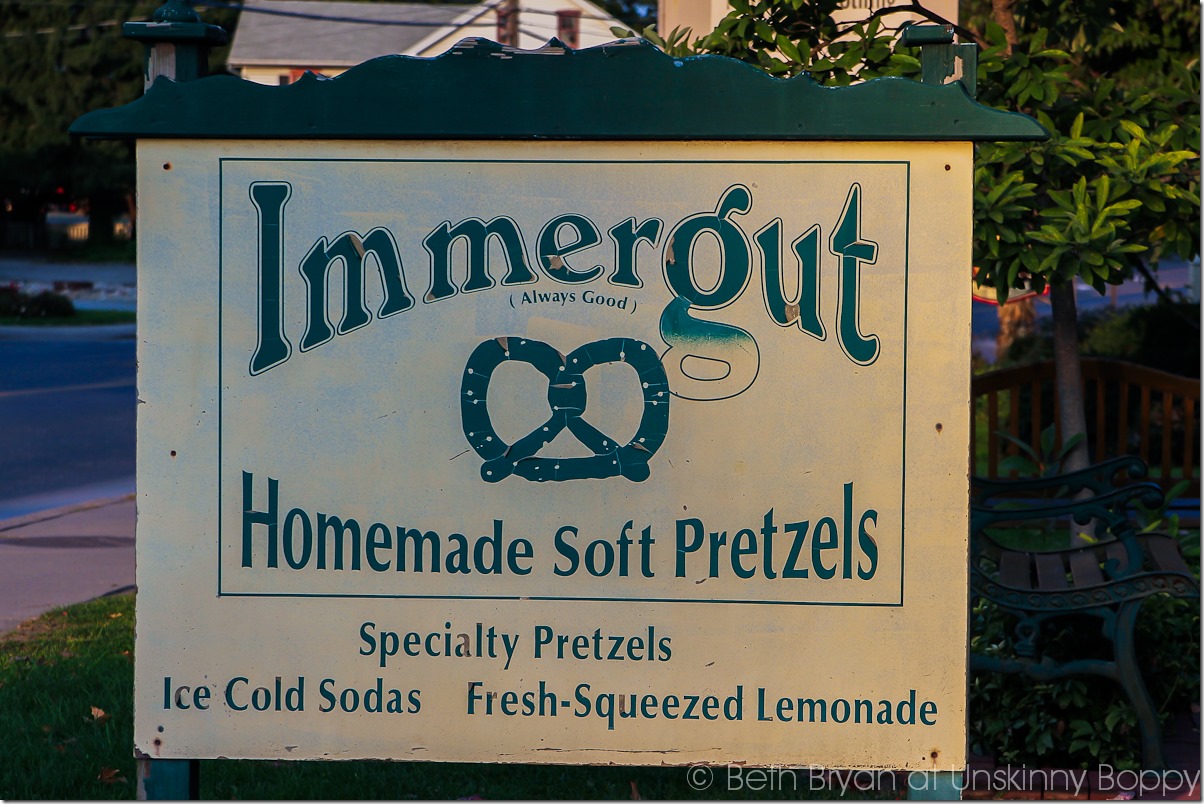 But the most memorable part of this trip was the sound of those Amish buggies coming down the streets at all hours of the night.  As I laid in the bed at midnight on Sunday night the sound of horse shoes on asphalt kept me awake.  It was SO awesome.   They were up LATE, y'all!   you'd think without electricity they would want to get home earlier, but I kept hearing them trotting past our Inn well past 1 or 2 o'clock in the morning.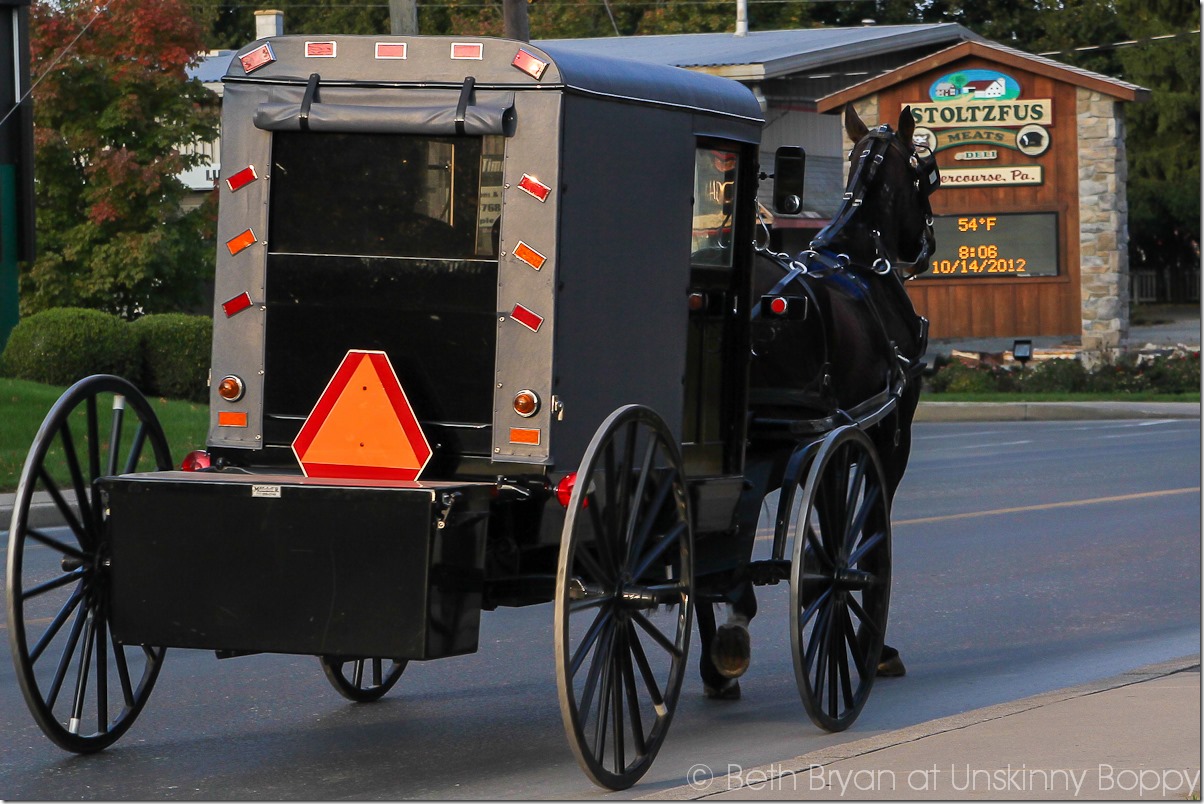 The sight (and smell) of so many horse drawn carriages running up and down the roads was something I'll never forget.  Since we were in town on a Saturday through Monday, we got to experience Sunday in Amish country.  When we arrived on Saturday every farm had a long clothesline filled with colorful clothing in all shapes and sizes.  When we left on Monday, every clothesline was filled with solid black clothing, because the Amish dress in black from head to toe to go to church. Women, men, kids, babies… all in black.  You'll notice that I have not posted any images of the Amish people.  I respect their feelings about being photographed so I will not be putting any photos of Amish folks here on my blog.  Here is why. We spent some time Sunday morning driving around the back roads just watching all the families headed to church.  I kept looking for the actual church, but never could find one anywhere.  Where were all these people going??  Finally we passed one house that had 50-60 horses and buggies parked in the field, so we finally realized they meet for church in people's houses or barns.  I was sooooooooo tempted to try to get a photograph of all the buggies lined up together that I actually made my husband stop the car in someone's driveway so I could take a picture.  But right before I started to snap a photo of all the buggies a young Amish girl walked around the side of the barn unexpectedly and looked right at me through the lens of my big black Canon camera.   The look of horror and fear that I saw on her face in that moment made me quickly lower my camera and run back to the car in shame.  I said a little prayer of repentance for ruining her perfectly good holy day and vowed to not make any more Amish people feel objectified like a circus side show while they were just trying to go about their daily lives.    So, no, I don't have any pictures of the Amish people to share. HOWEVER, I didn't hear anything said about not taking photos of their horses and buggies, so I was a like an Amish pony paparazzi whenever the drivers were out of my line of sight!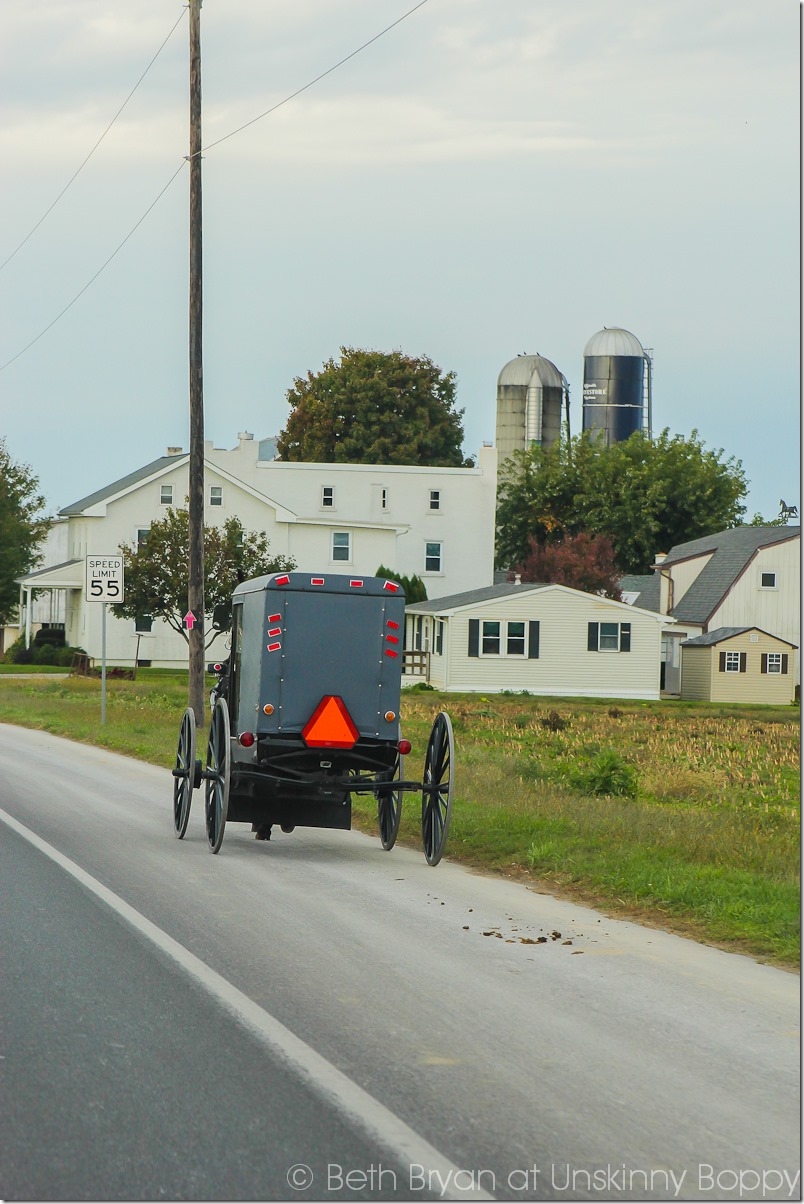 And while they were all away at church I felt like I had a free pass to snap, snap, snap photos of their sprawling homes and barns.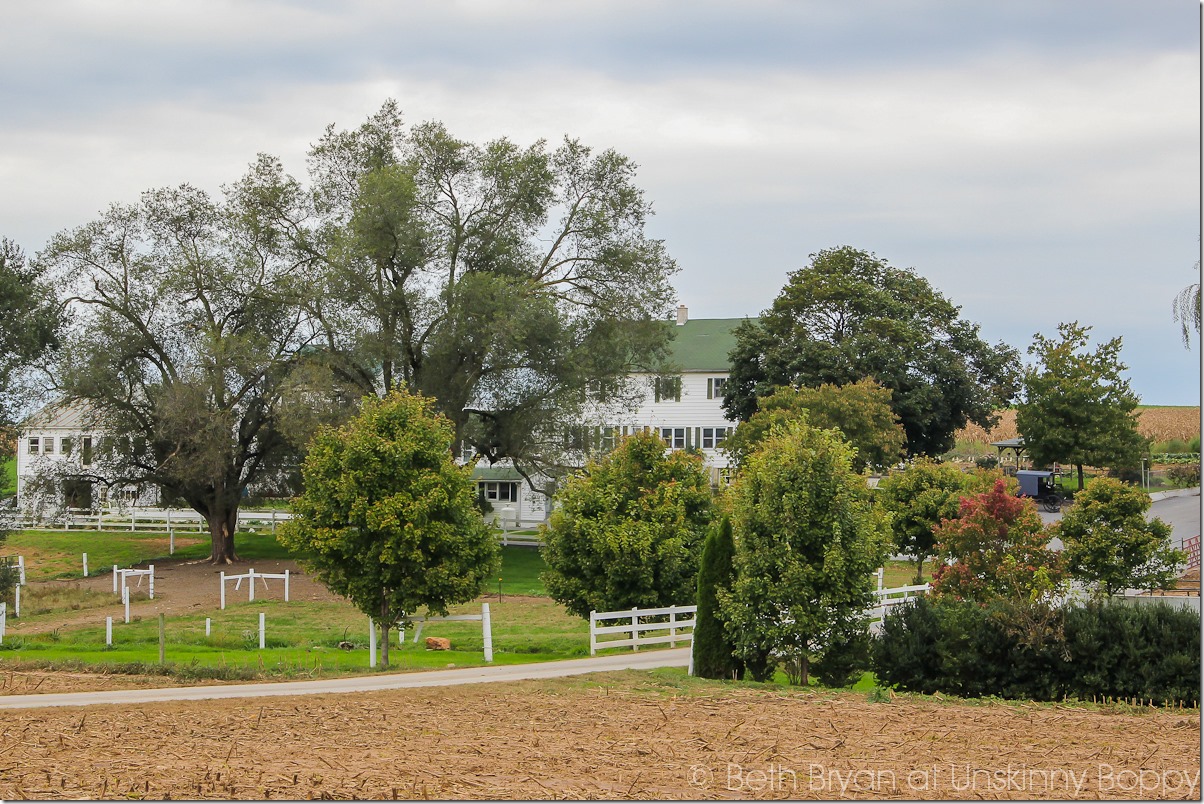 This was just one homestead out of MANY beautiful ones that we saw on this trip.  I could have spent hours taking pictures of their barns. They were simply incredible.  Every farm had a big rambling barn with multiple outbuildings and silos.  I cannot even begin to imagine how much work it takes to run a household of this size without any electricity.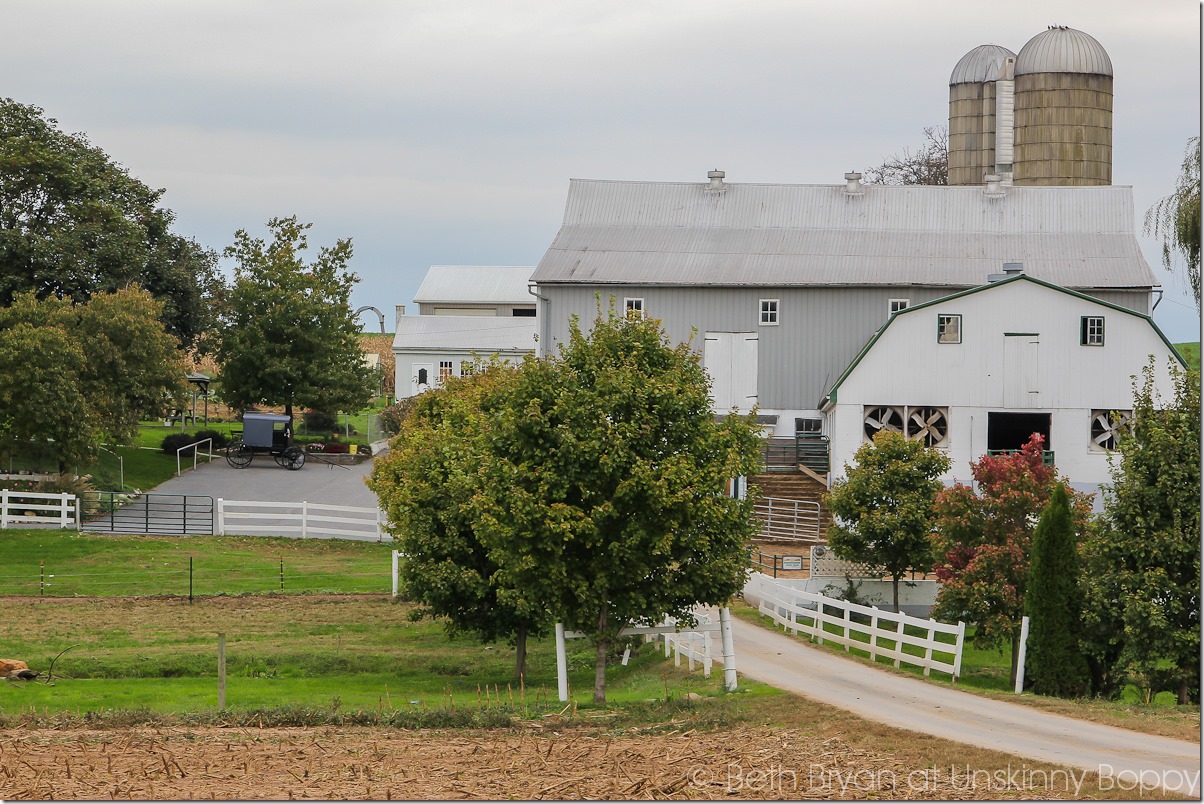 At night we spent more time driving around the back roads just looking at the inky blackness of the countryside in amazement.  The giant farmhouses would be lit by a single Kerosene lantern in a central part of the house.  Another unique thing we noticed about the residences of Lancaster County was the non-Amish homes had electric candles in their windows.  I am not sure WHY they all had electric candles in their windows in the middle of October (because they were not Christmas decorations).  If anyone can answer this mystery I would love to know!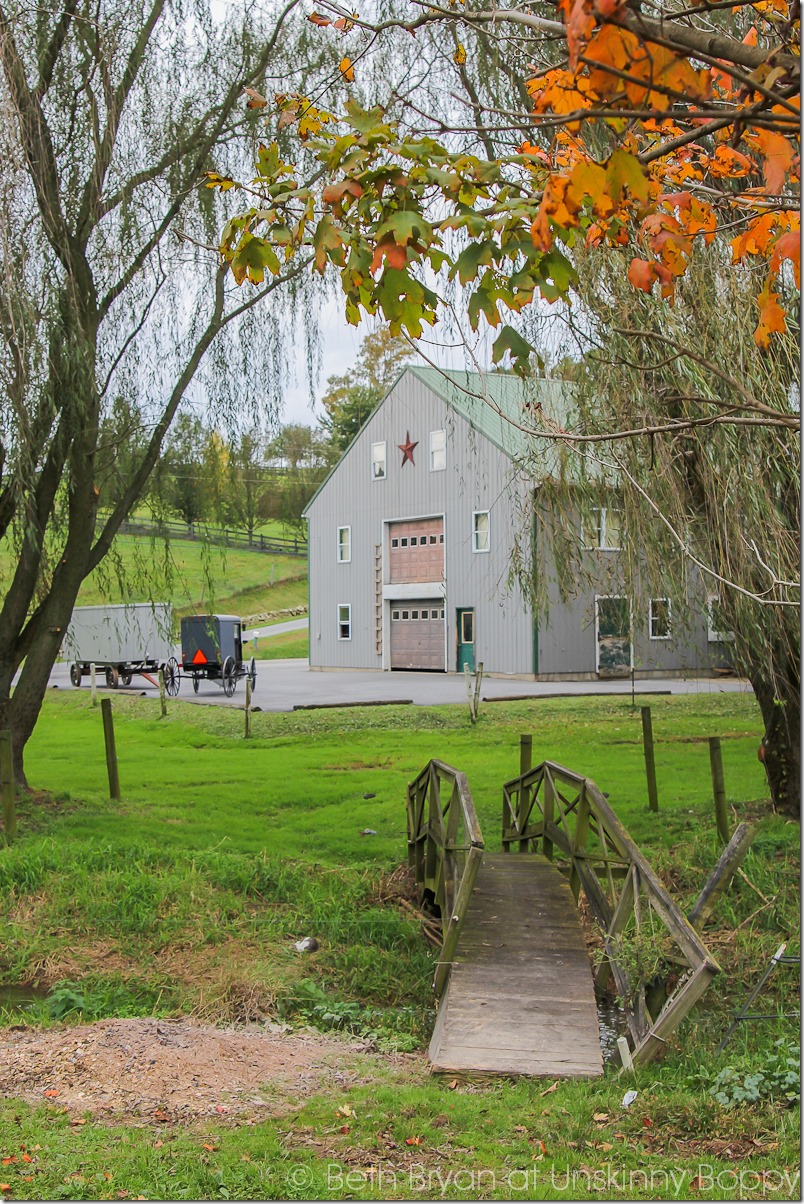 Here is another sight that I've never seen before—this is an Amish phone booth!  I had gotten out of the car to take more pretty pictures when I walked past this ramshackle shed on the side of the road.  I didn't even realize what this was until my husband pointed out that there were telephone lines running to the back of it!
Sure enough, when I took a quick peek inside, I saw a telephone, notepads, a calculator and a bunch of pens just sitting there out in the middle of nowhere.  Here is a terrible blurry photo I snapped quickly since I felt like an intruder and didn't want to offend anyone.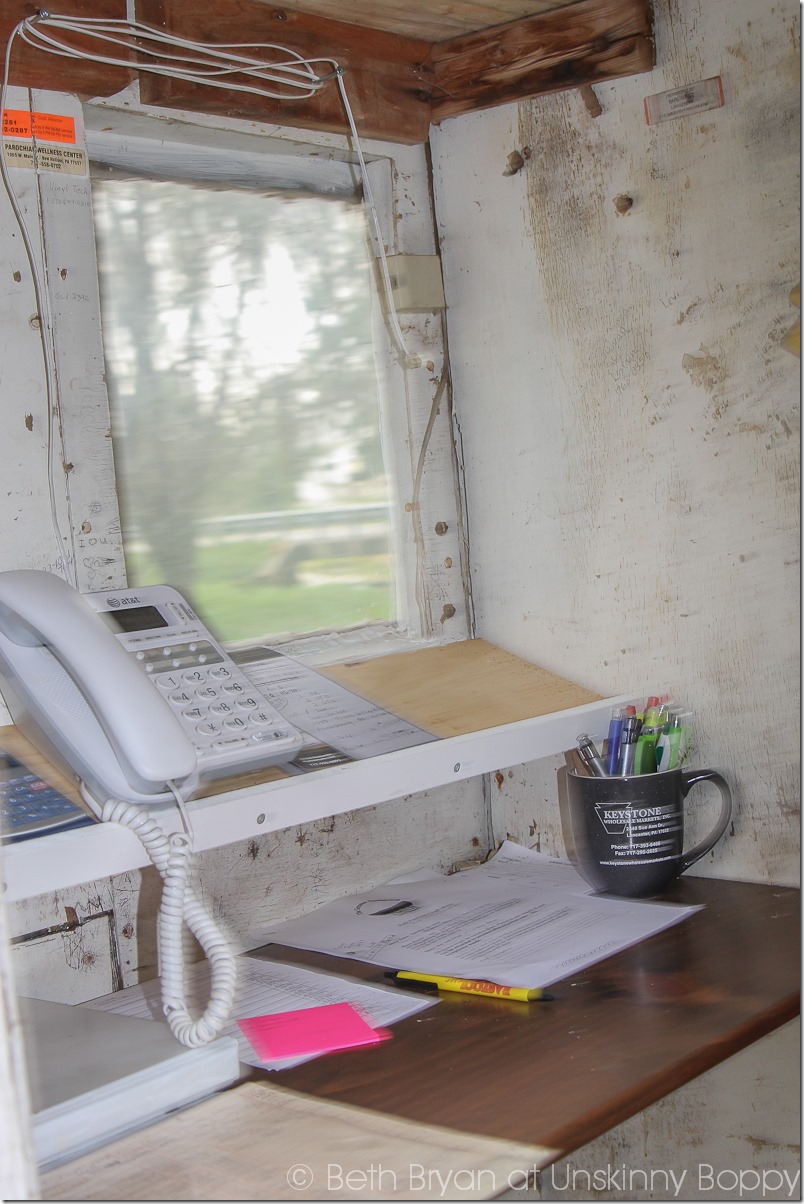 According to Wikipedia the Amish don't have telephones inside their homes, but they are allowed to use these phone shanties on the side of the road to order supplies or conduct business transactions.  Having a phone booth down the road keeps the telephone out of their house and makes it inconvenient enough that Amish folks won't be gabbing it up on the telephone all day and night.  And they can forget about texting and driving.
Outside of the stores and public places there were places to tie up their horses.  This one was located outside the library.  The signs say "Please clean up after your horses."  Shovels, brooms and trash cans are provided.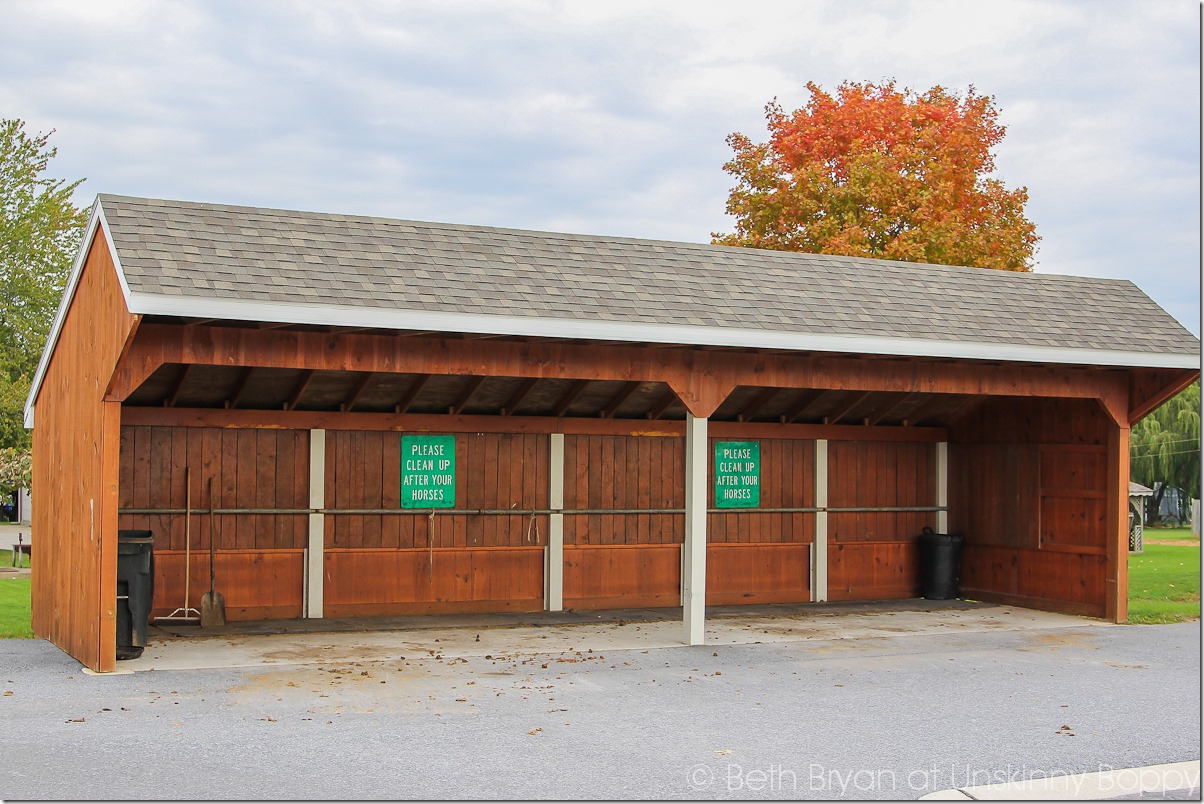 I fell completely in love with Amish country.  It was unlike any other place I have ever visited.  The sound of horse hooves prancing by our bedroom window late into the night and early in the morning was melodic.  Some of the horses wore sleigh bells that jingled past and felt I was transported to another era.  I loved it all, right down to the smell of horse manure that littered the side of the road.   It reminded me of my childhood spent in 4-H club and cattle barns.
The sprawling farms being plowed by Amish men behind mule teams were scenes I have never experienced before.  I loved every minute of our time spent in Lancaster County and Pennsylvania Dutch Country.  It is a peaceful, picturesque kind of place that everyone should add to their bucket list!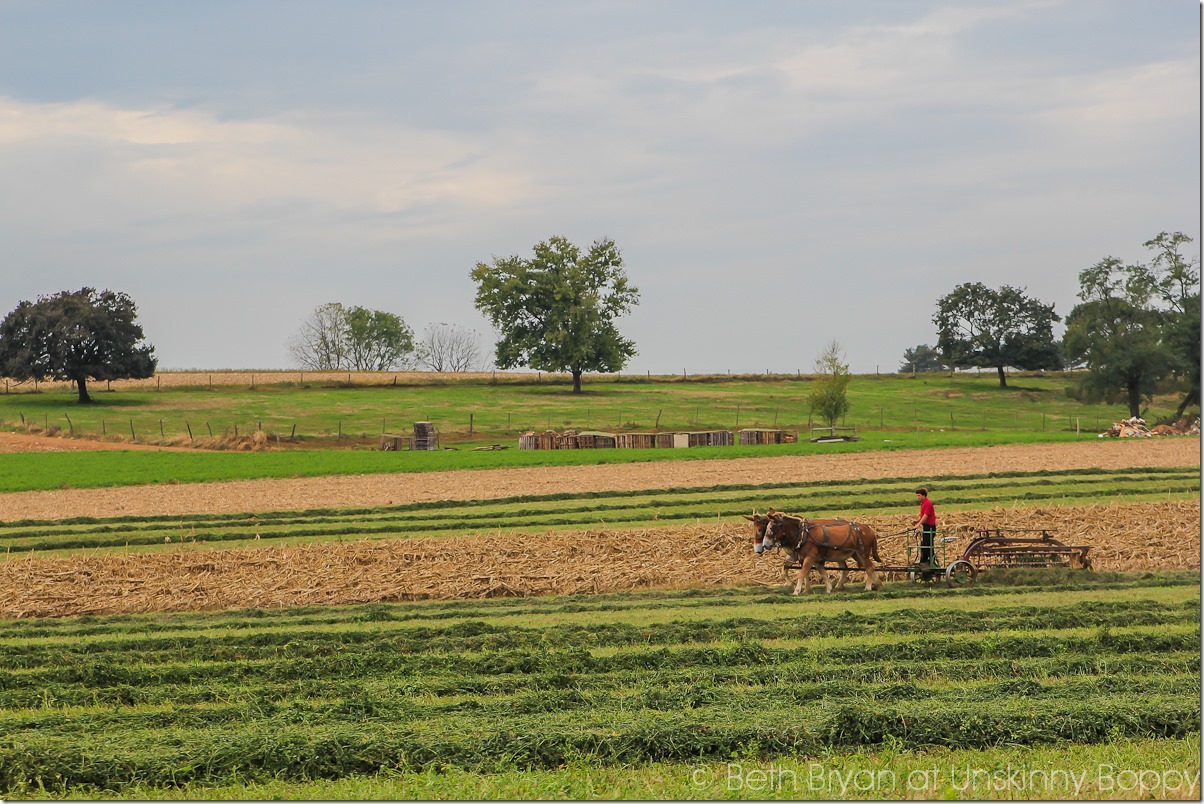 Ok, so I know I said I wasn't going to include any pictures of any Amish people, but I can't resist this one shot!  Besides, according to the Lancaster County  tourist website this is ok to post because his face is unrecognizable.  Hopefully I'm not breaking any rules with this shot!
If you'd like to come along on a tour of our 2012 Pennsylvania Dutch Country Vacation, you can click any of the posts or photos below:
Autumn in Amish Country Part 1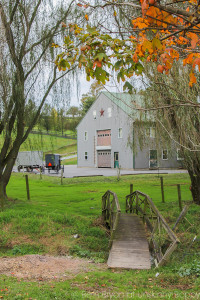 Amish Country Vacation Part 2 (Ephrata Cloister):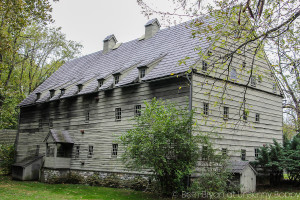 Amish Country Vacation: Part 3 (Landis Valley and Hershey, PA)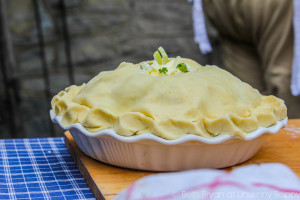 Homemade Amish Soft Pretzel Recipe