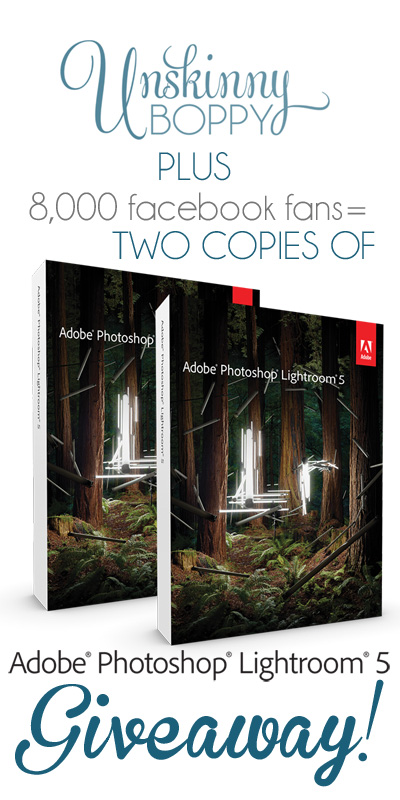 It's been a while since we had a good giveaway around these parts. I think it's time to do something about that. So when Adobe reached out and asked me if I would be willing to review the new features of Lightroom 5 for them I wrote them back and said "Hey, Adobe!  That's great, but what about my readers?"  After a bit of arm twisting and hair pulling, (ok, not really) they agreed to provide not one but TWO COPIES of Lightroom 5 for me to giveaway to two lucky winners! Woot!
But first, there is a small catch.   Here is the deal.  I am oh-so-close to hitting 8,000 facebook fans.  I sure would love to get above that number and on towards the quadruple digits soon!  So, I'll make you a deal.  If I can reach 8,000 facebook fans by Thursday, October 24th, I will give away these two free copies of Adobe Lightroom 5 and tell you about all the exciting new features of the latest version.  How's that for dangling a carrot?
So, be sure to go LIKE MY FACEBOOK PAGE, and tell your mama and your cousins and your BFFs to like it, too.   While they're at it, I'd love for them to follow me on Pinterest, Instagram, Twitter, and Google+ as well!  I'll even give you bonus points for all the follows in the giveaway Rafflecopter!
Ok, ready?  On your mark… get set…. GO!   See you guys back here next Thursday for a huge giveaway!
Like Garth says, I'm shameless.