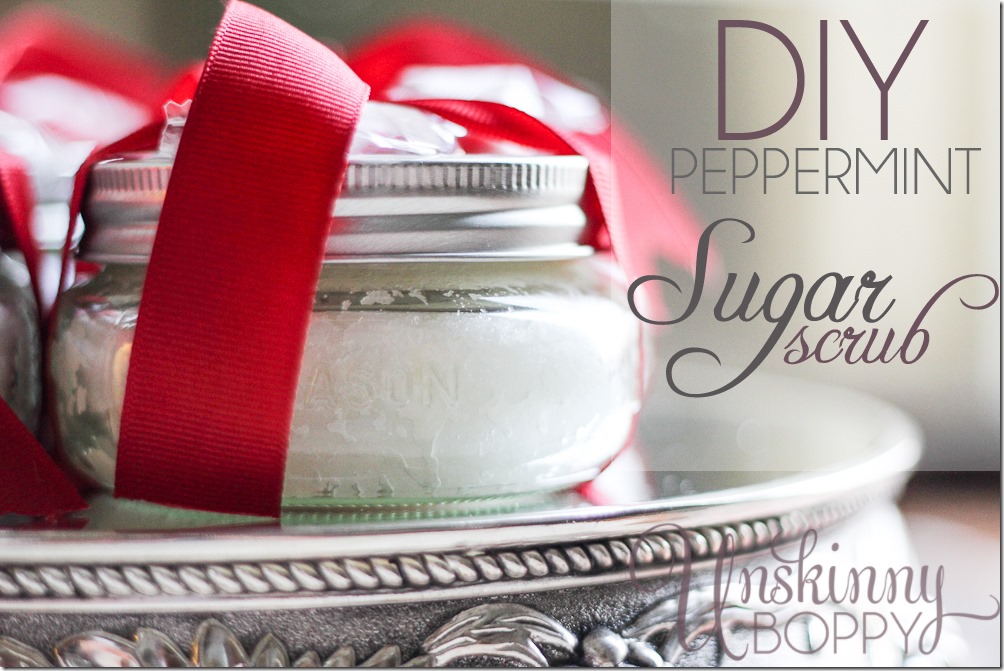 For years I have been buying sugar scrubs from the bath and body aisle of various big box stores, but one day I decided to read the ingredients list on the back.  That list went on and on with super long hard to pronounce chemically sounding words.  WHAT was I putting on my body?  I wasn't really sure.  I realized that doesn't have to be the case, though.  A quick and easy sugar scrub recipe really only needs three ingredients.
Are you ready for the ingredient list? Don't blink, you might miss it…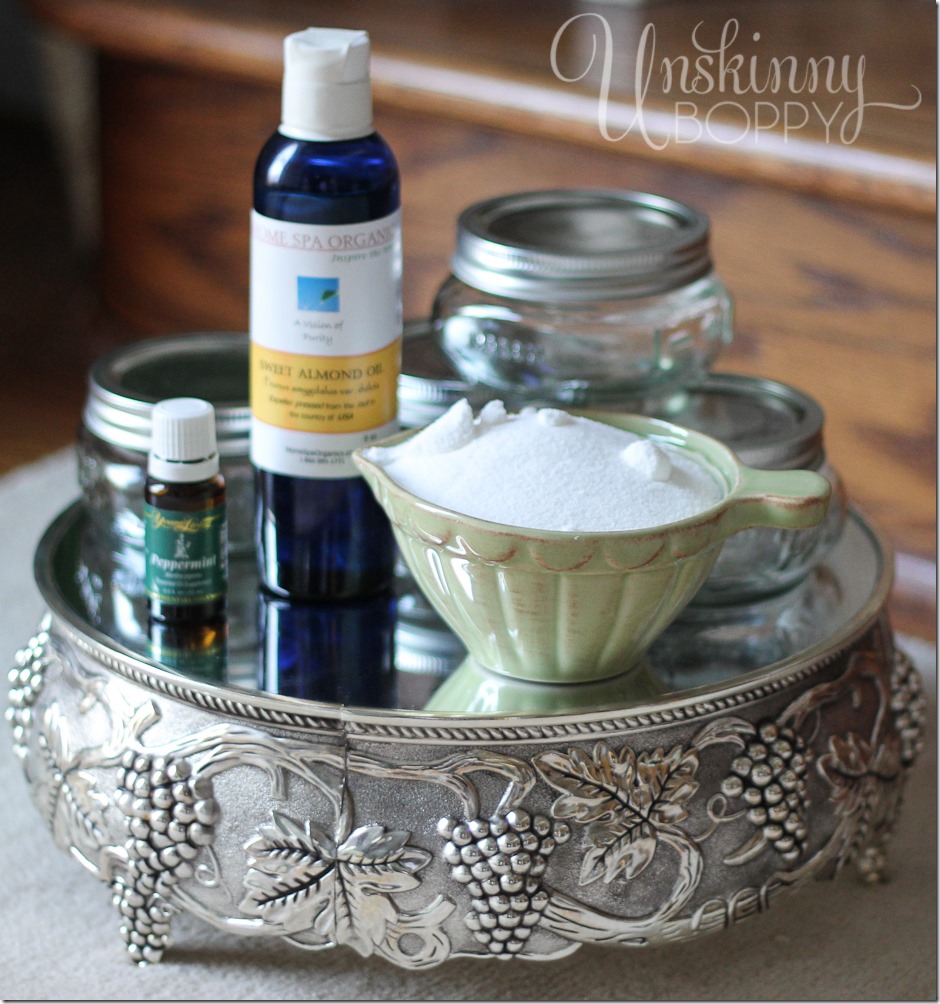 INGREDIENTS:
2 1/2 cup Sugar (white or brown)
8 fluid ounces unscented oil (organic is a bonus) such as sweet almond oil or grapeseed oil
25-30 drops of Young Living Peppermint essential oil.  To order any essential oil products, please click here to visit my Young Living customer signup page. (member #1516864)
You'll also need some wide mouth jars. I used these cute little half pint Ball jars. If you don't want to use glass in your bathroom, you could reuse a plastic container.  Recycle an old sugar scrub container, maybe? Just be careful with citrus essential oils in plastic– they will eat through it!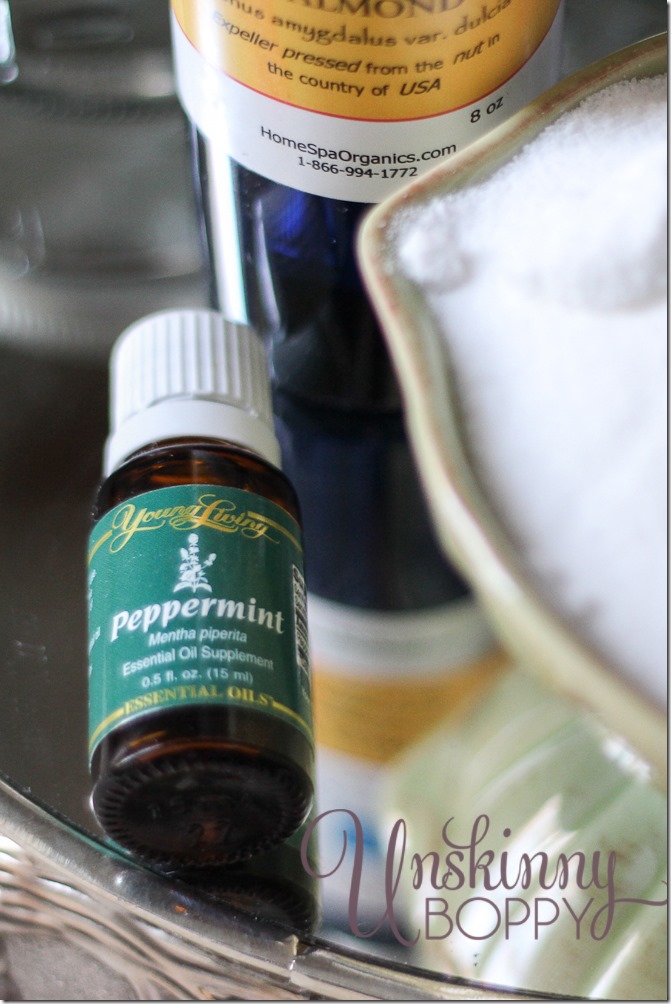 The steps to create this are super simple, but I'll show you really quickly how to do it since I'm a visual learner and I assume everyone else is, too.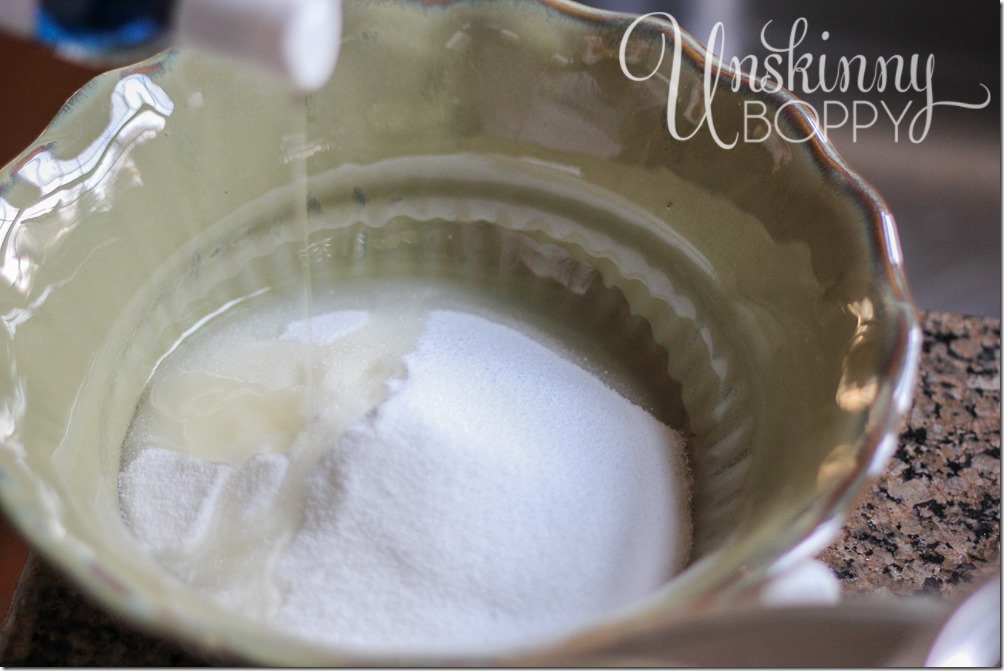 First, mix up the almond oil with the sugar in a big bowl, mixing with a fork until the sugar becomes the consistency of really good sand-castle building sand.  If it's too dry after 8 ounces, add another few tablespoons until it starts to come together.   You should be able to pinch it between your fingers and mold it.  Once you get to that consistency, add in the essential oil.  You could use Peppermint, Lemon, Thieves, Lavender, or so many others!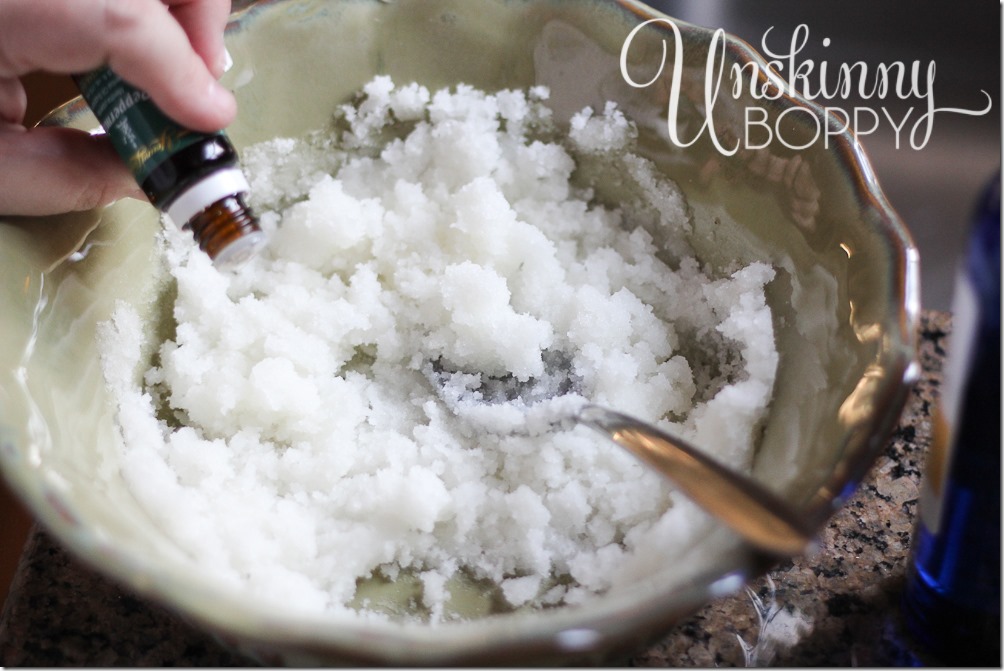 Fill up your mason jars until they are overflowing, the pack all the sugar down into the sides as best you can.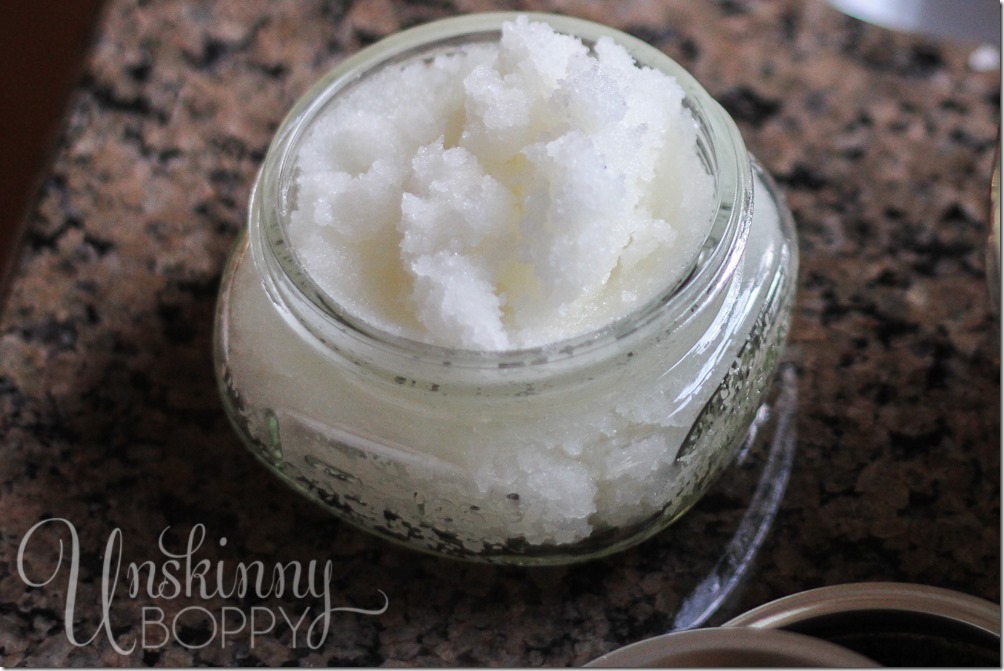 Once the sugar is packed in tight, drizzle a few more tablespoons of the almond oil on top to keep it from drying out on top.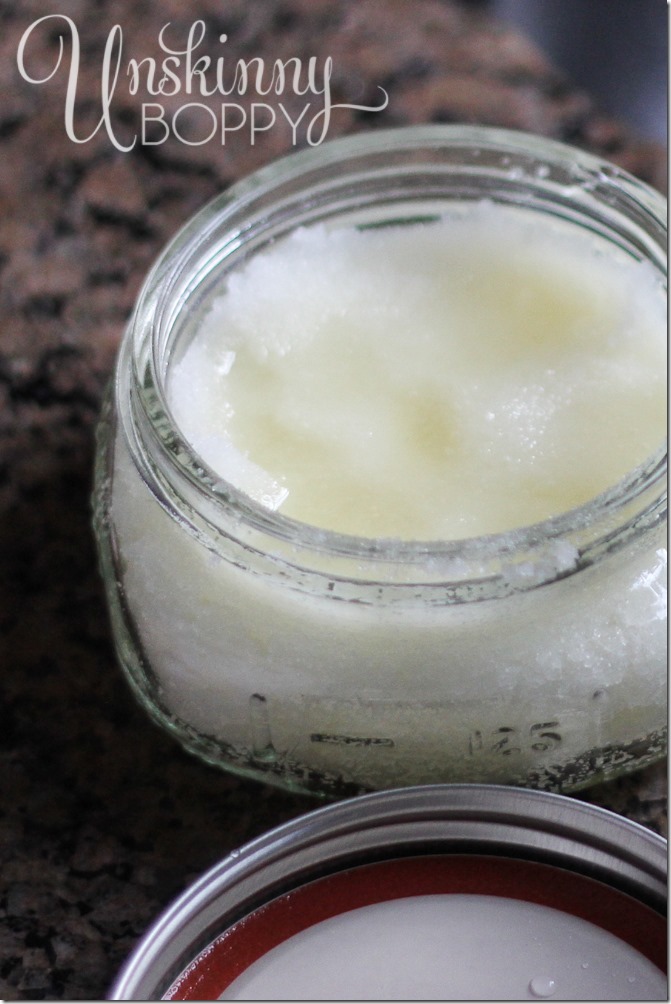 And that is it!  How simple, huh?  Wrap a pretty ribbon around the jars and they will make an excellent DIY Christmas, birthday or Mother's Day gift!  I stuck a candy cane under the ribbon so people would know they were peppermint before they even opened the package.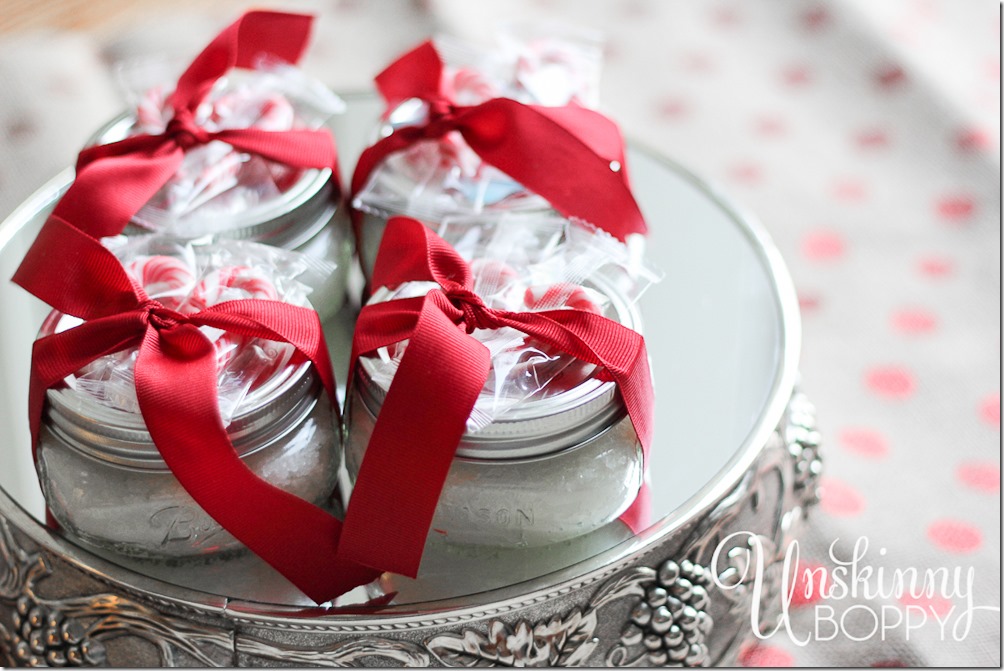 Edited 11/17/2013:  Folks keep asking how many jars my homemade sugar scrub recipe will fill.  Since they sell these Ball half pint mason jars in a 4 pack (at Walmart!), I decided to instead measure how much it would take to fill four jars.  These numbers are still a bit approximate, but here is my unscientific results.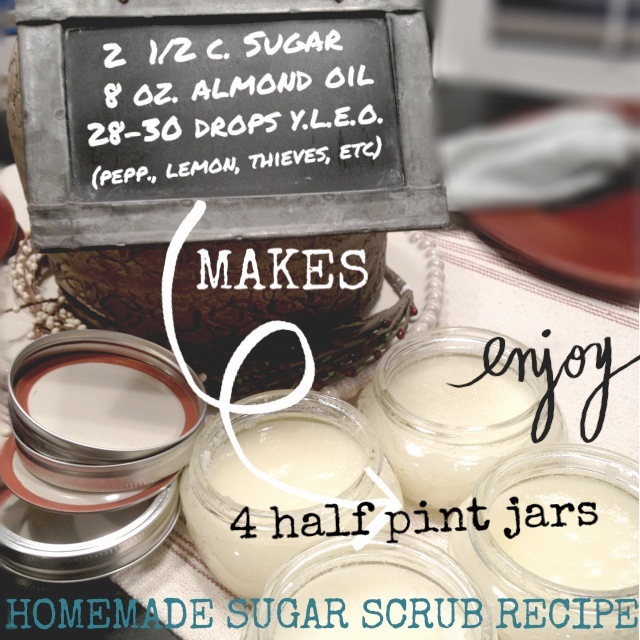 Enjoy!