As promised in yesterday's vintage student desk makeover tutorial, I'm back today with a tour of The Most Amazing Scrapbooking Room You Ever Did See. Here is the new home of the little chevron desk… my mom's craft room that we recently made over: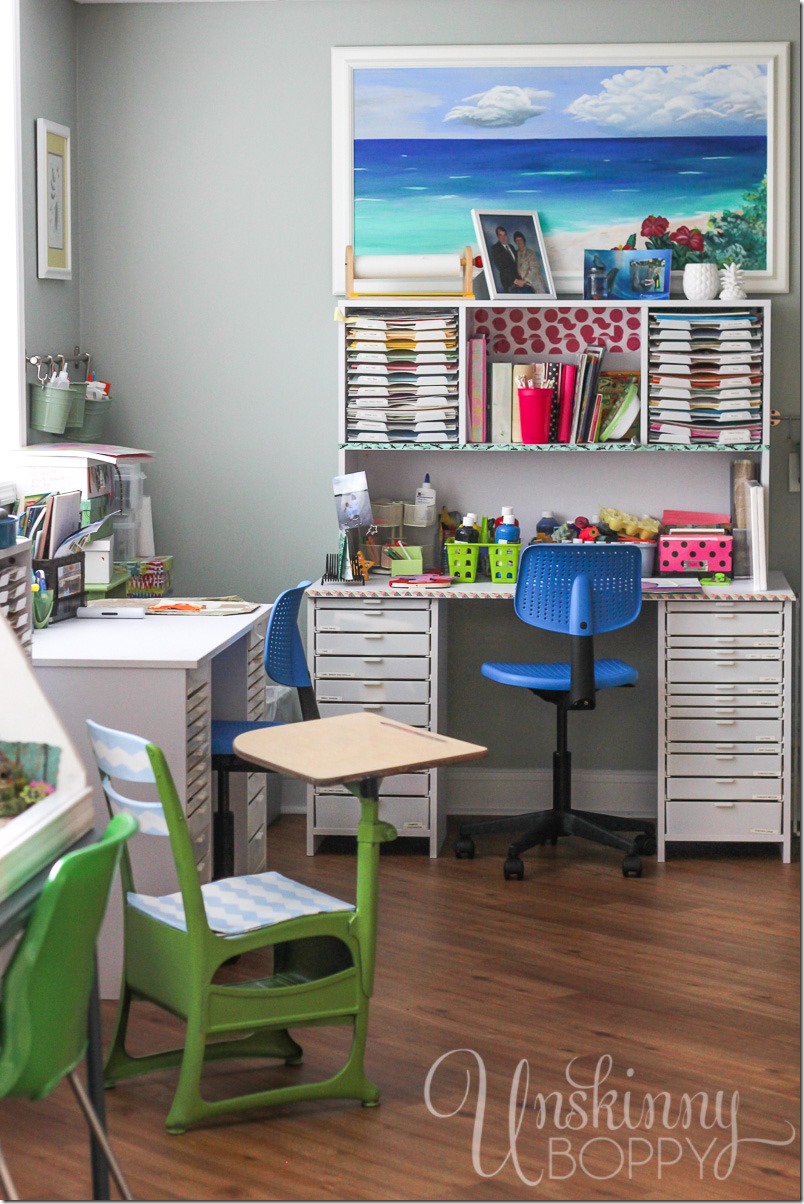 My mom is a lover of all things crafty.  Y'all know I had to get all this creativity from somewhere, right?  Well, my mother gave me a healthy dose of it for sure.  Ever since I can remember, she has been sculpting or painting or hot-gluing something and turning it into a fun craft.  She transformed her basement into a gigantic scrapbooking heaven, with more storage drawers than you've probably ever seen.  The scrapbook paper organizers are from Best Scrapbook company.  And no, they are not paying me to say that. Just heading that question off at the pass.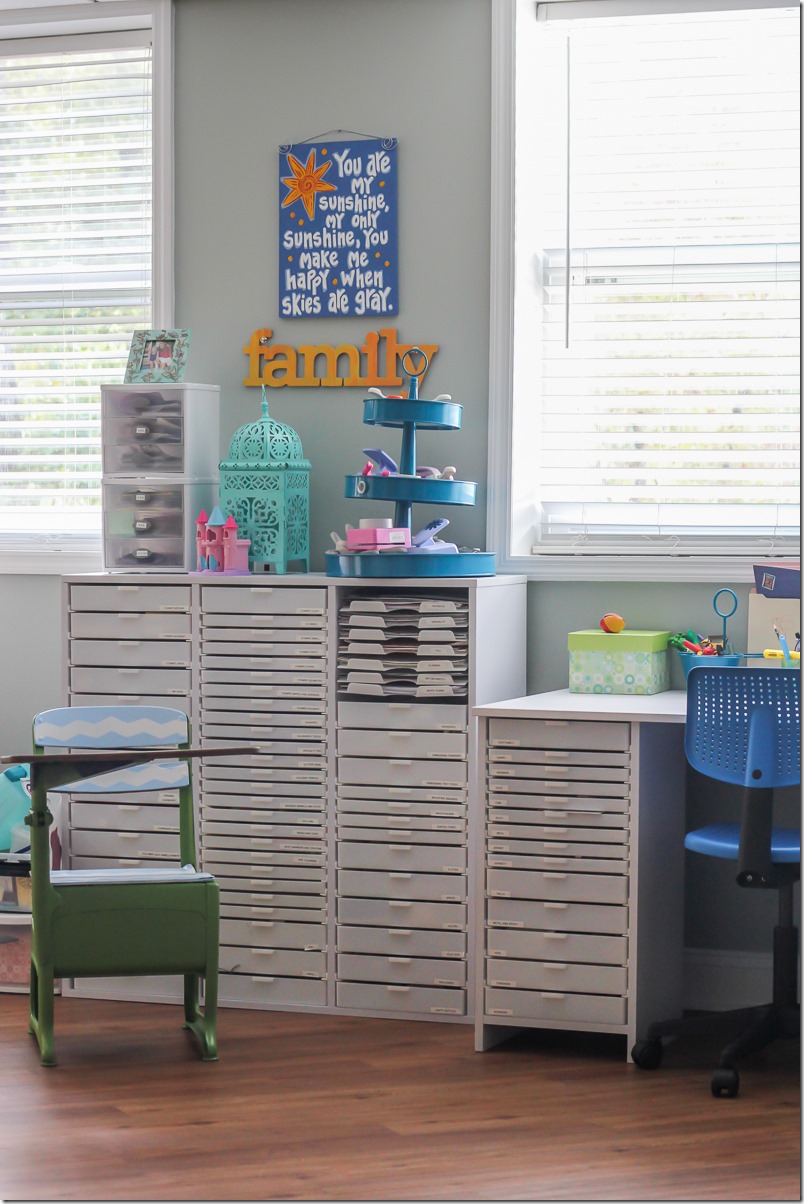 She has a desk for herself, a desk for my niece, and another desk for Garrett so that they can all have their own place to create artwork when the kids come to visit.  And now they also have the little student desk in case a friend comes to visit!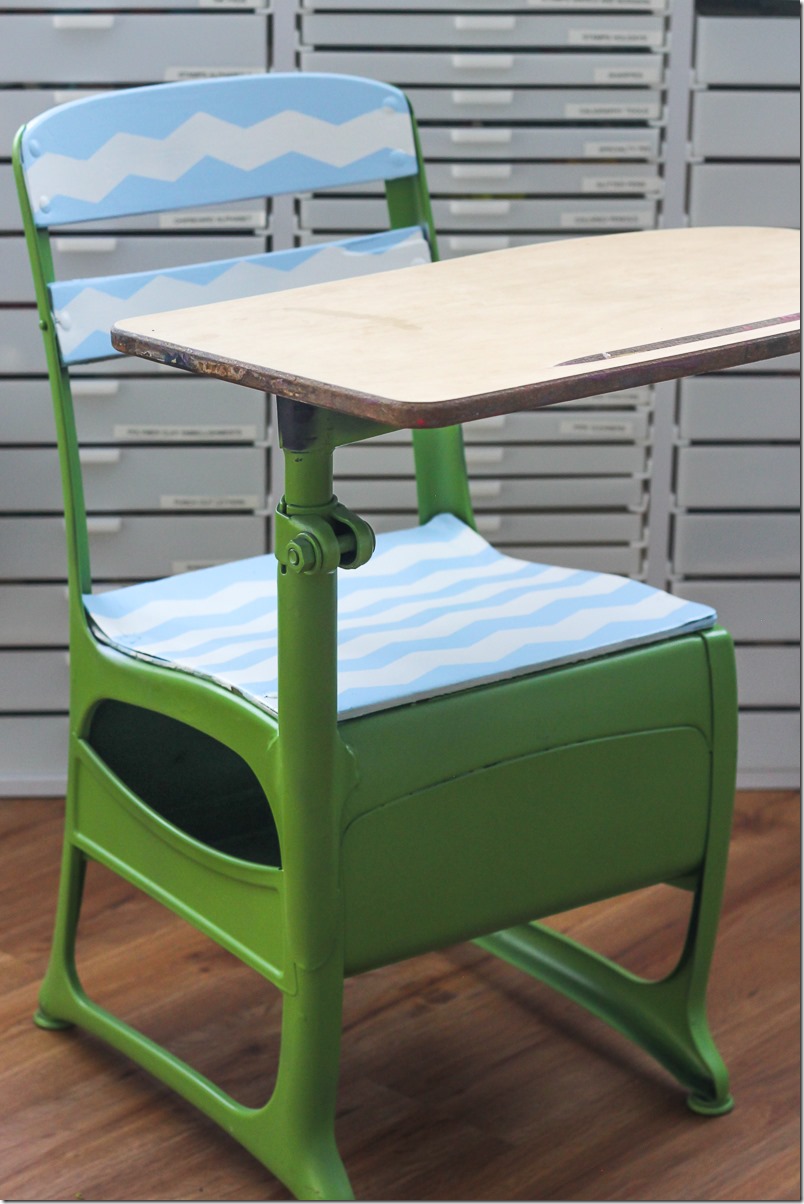 The kids LOVE having their own craft spaces where there is a strict "no touching" rule if something is under construction on another person's desk. That "no-touch" rule is very important when it comes to kids and their masterpieces, right?  And Grandma's too, for that matter.  This space is absolutely jam-packed with any kind of material  you could ever need to get your creative juices flowing. From paper to play-doh, she's got you covered.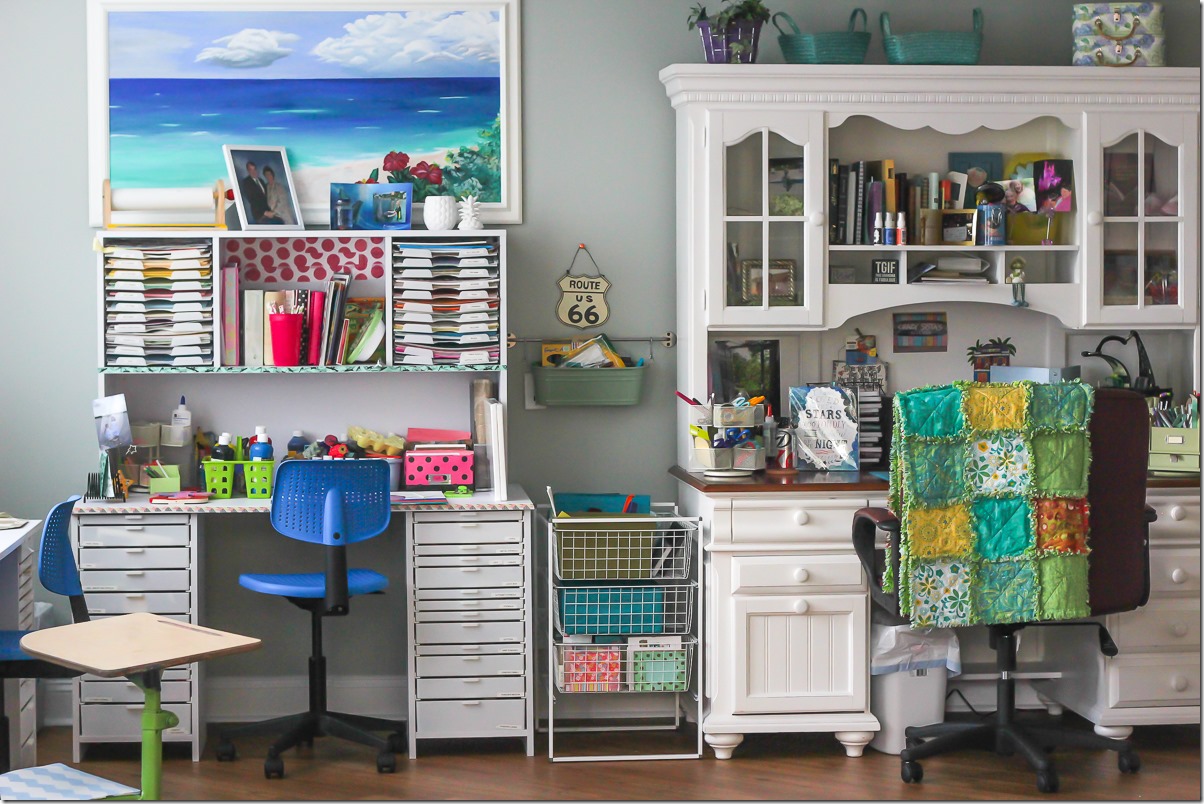 Everywhere you turn there are stacks of pretty colored paper organized by color or holiday or size…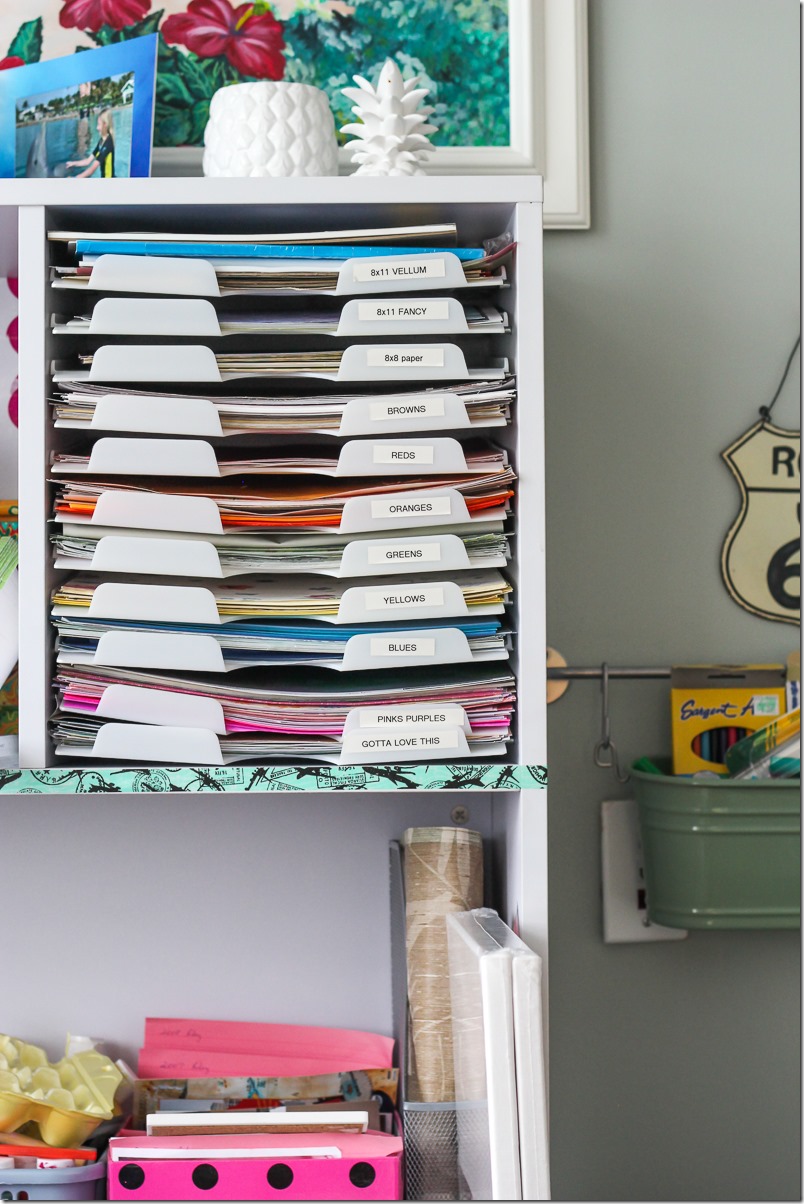 There are containers of artsy-craftsy stuff sitting everywhere, all within arms reach of a desk. Check out her assortment of paper punches stacked up on the tiered stand! Love that idea.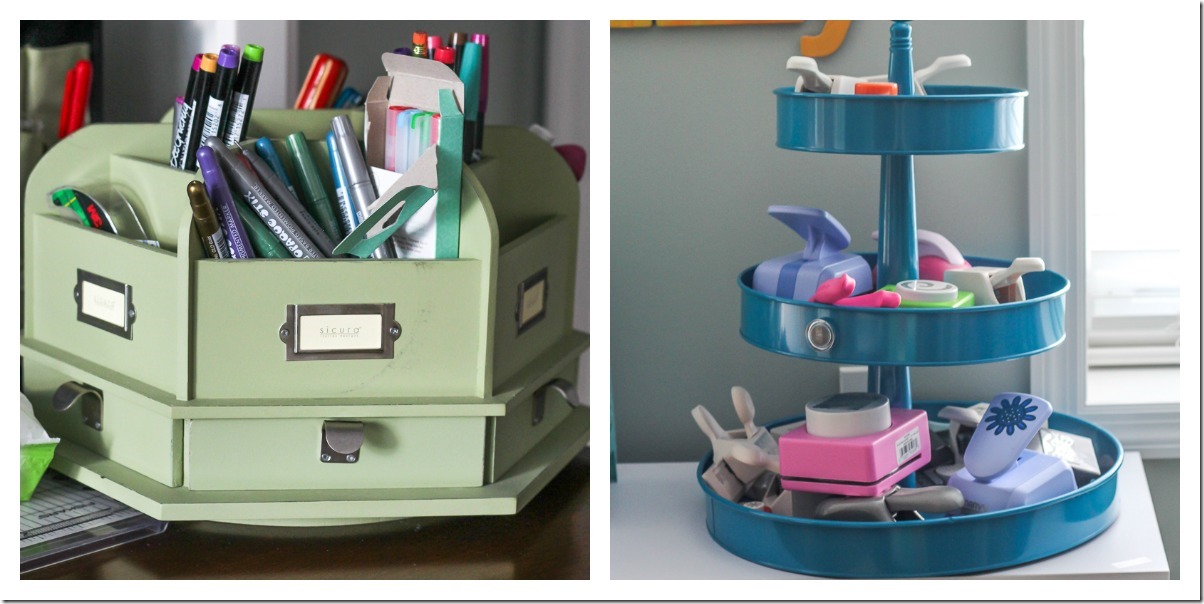 And, do you recognize this setup?  She used the same IKEA Fintorp storage racks and buckets in her craft room just like mine. I have to give credit to my mom for finding these awesome containers and sending me on a mission in IKEA to find them for us.  They are perfect for both of our craft rooms!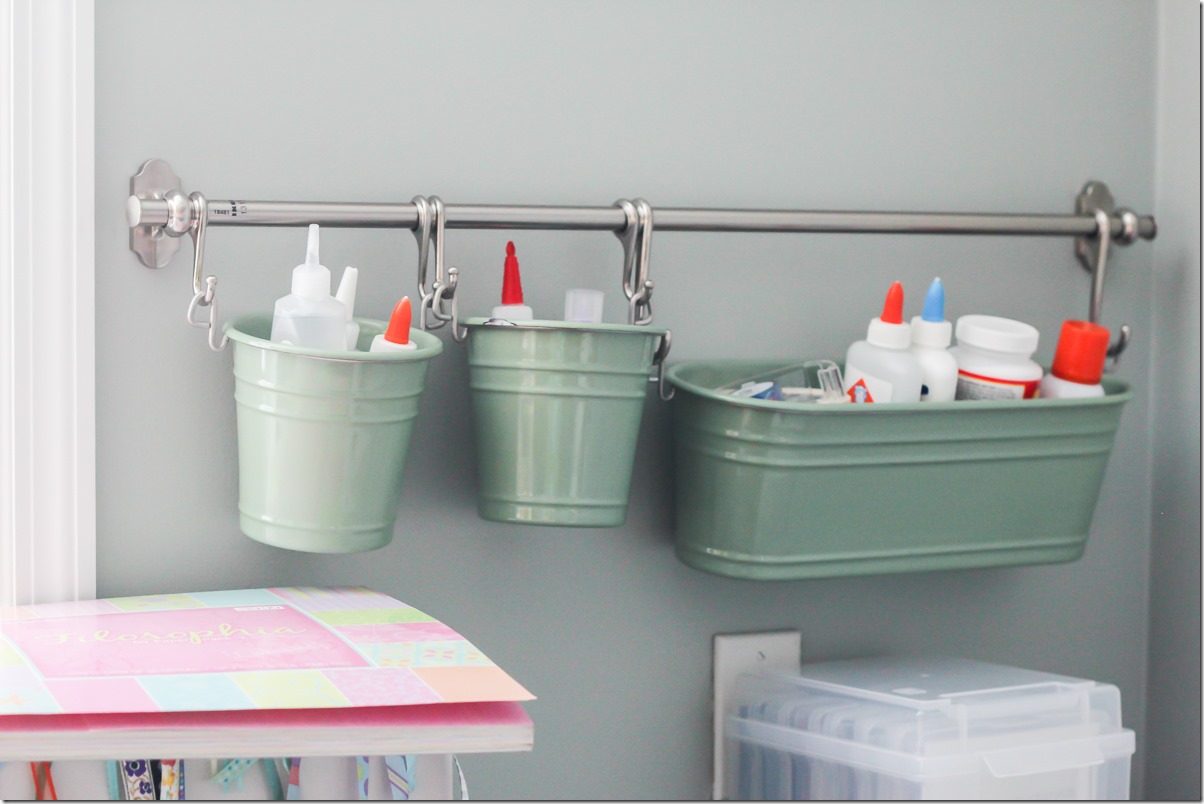 Isn't this a happy room?  I could spend hours in here playing.  Oh, and before I forget, you gotta check out this Beth Bryan original painting circa 1999.  I painted this for my mom many moons ago and she still has it framed in her house.  I think that might beat my cheapo wire curtain rod that I strung up to hang Garrett's artwork in the Motherly Love Artwork Displaying department.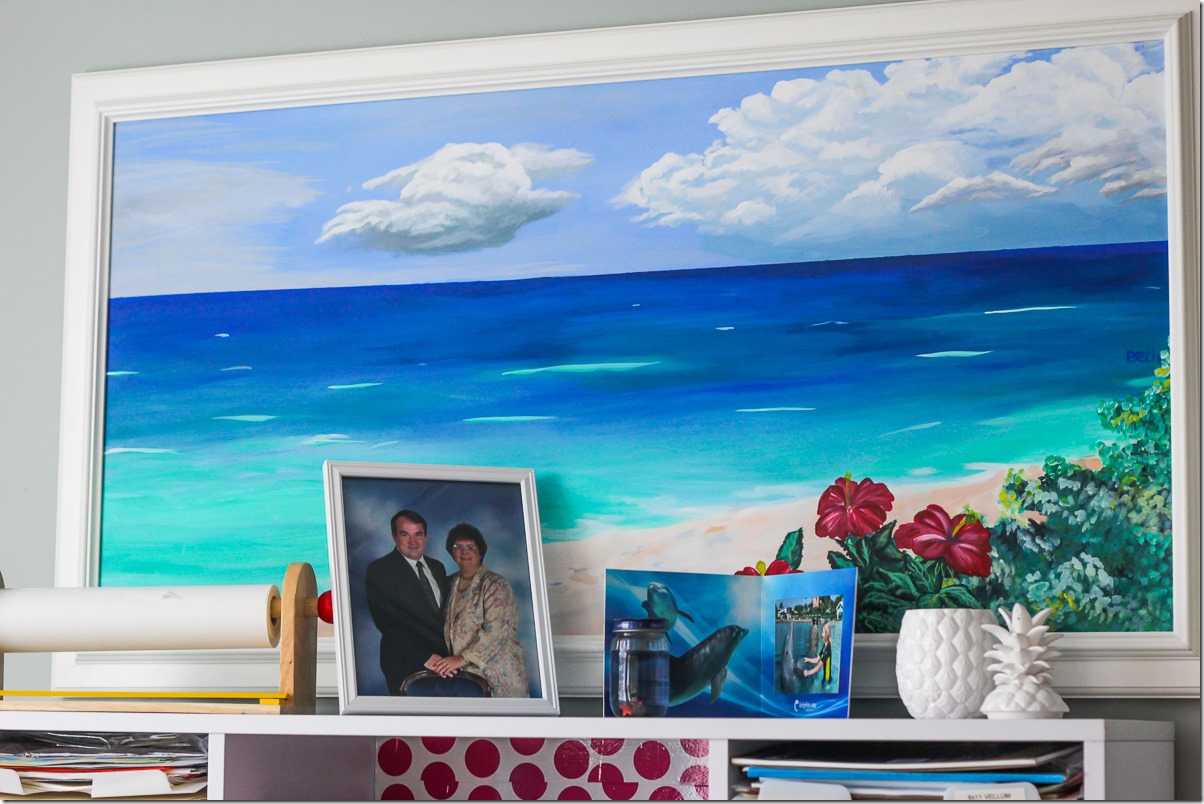 I bought this watercolor artwork for my mom for Mother's Day 2011, but I totally forgot to give it to her until last week.   Better late than never, I guess.  My mom and I have a long standing tradition of star-gazing together, so this was the most perfect gift I've ever seen for her.  I bought one for her and one for me, so we have a matching pair. I got this Galileo print about the stars from etsy seller thewheatfield.  (Again, not paying me.)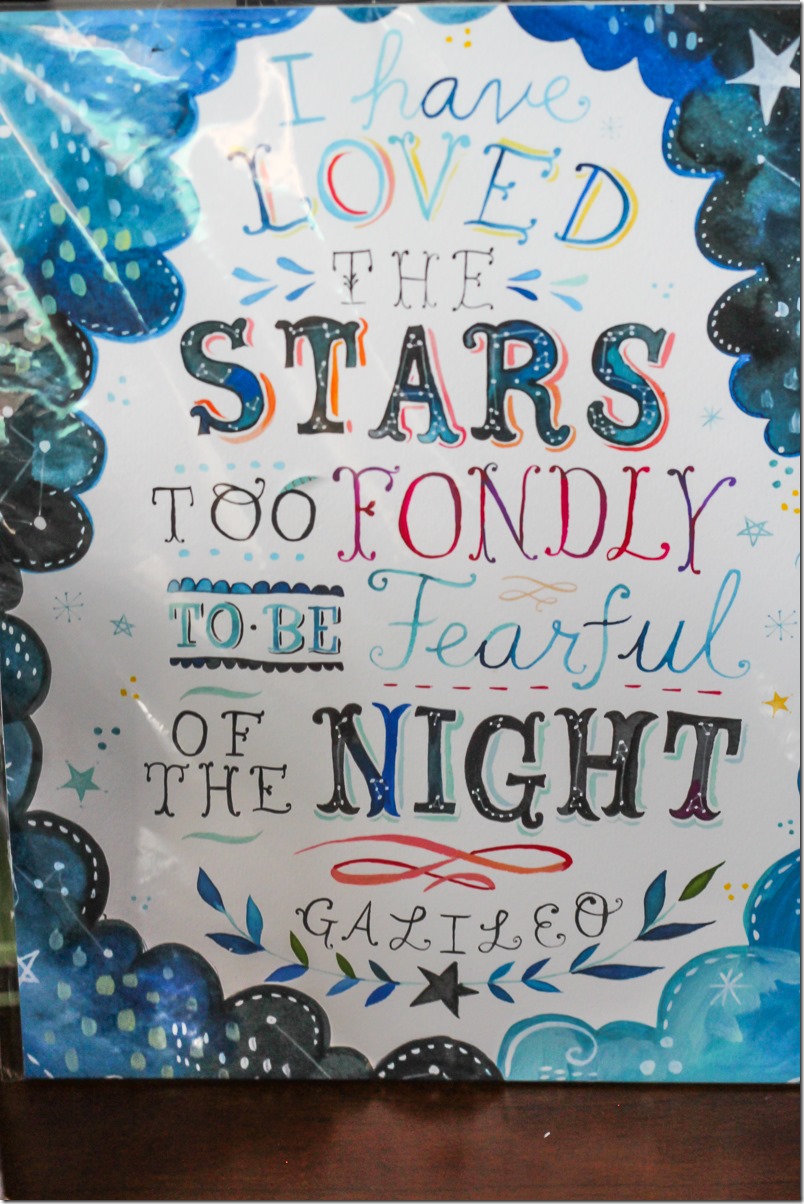 Over in the other corner of the room sits a very special project that my mom, Garrett and I have been working on lately.  We have slowly been gathering materials to construct the ultimate Fairy Garden, and finally it all came together last week.  Here is a peek into the Garden!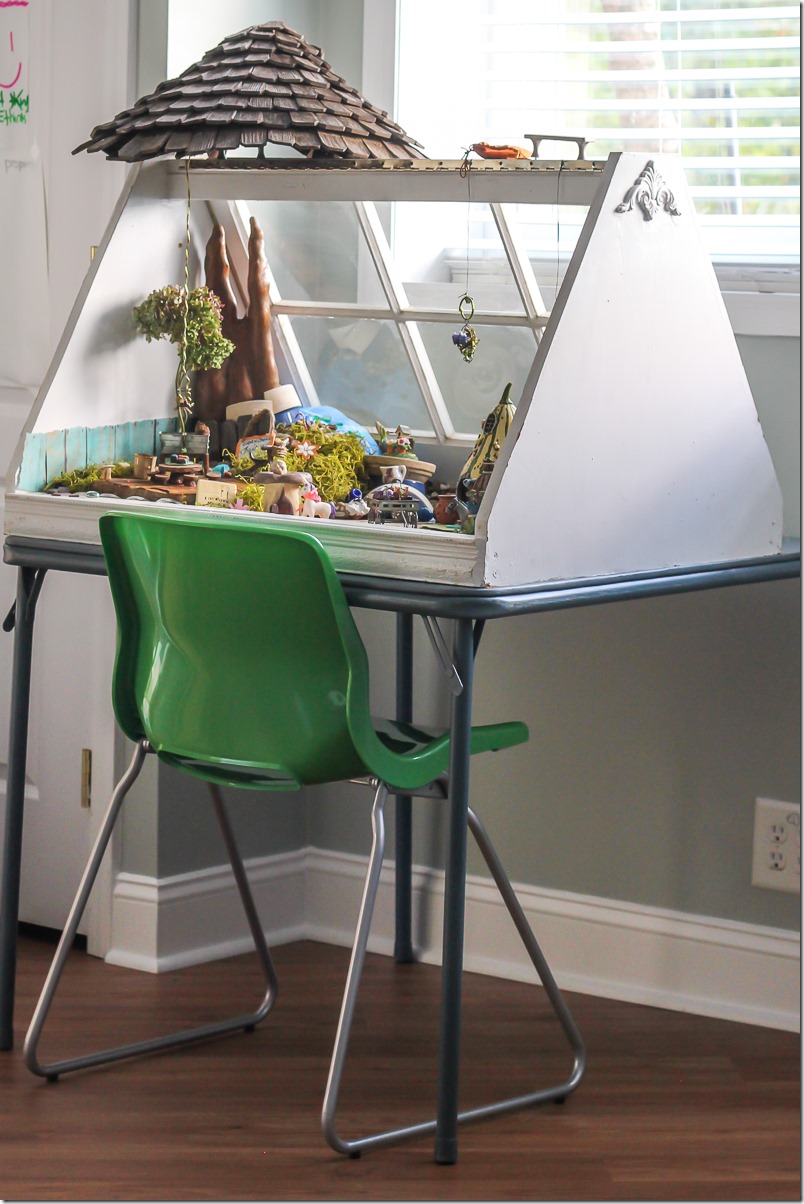 I'll leave you with that cliffhanger for another day.  The tour of Grandma's Fairy Garden is definitely going to take a post all by itself.
Hope you enjoyed the craft room tour!  Previously the basement had ugly cheap carpeting and was painted a safe beige color that wasn't doing that fluorescent lighting any favors. But, after my parents gave it a facelift with some luxury vinyl tile plank wood flooring similar to to this product (and also similar to the LVT flooring I used in my basement), the floors look outstanding! If you're wondering, the paint color we chose for the room is Sherwin Williams Comfort Grey.  It totally transformed her dreary basement to such a bright, happy space. 
Love.