So earlier this week this happened…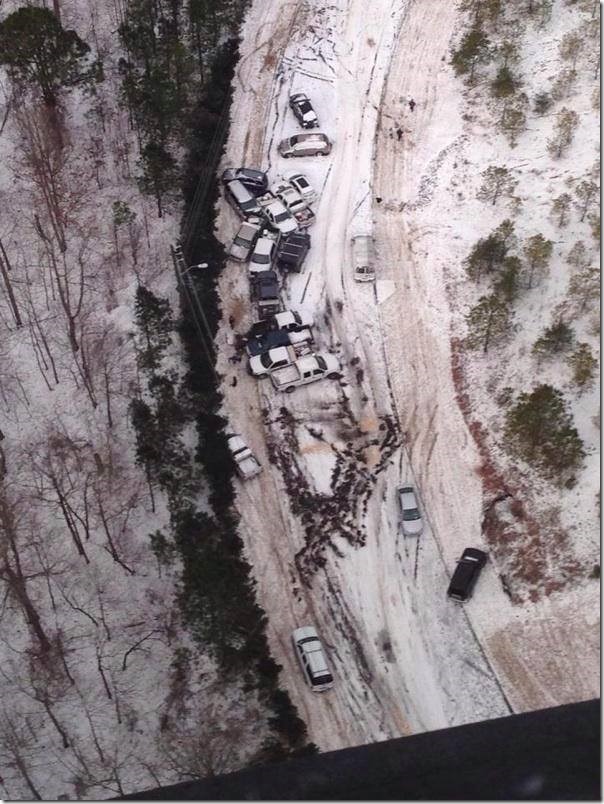 And this….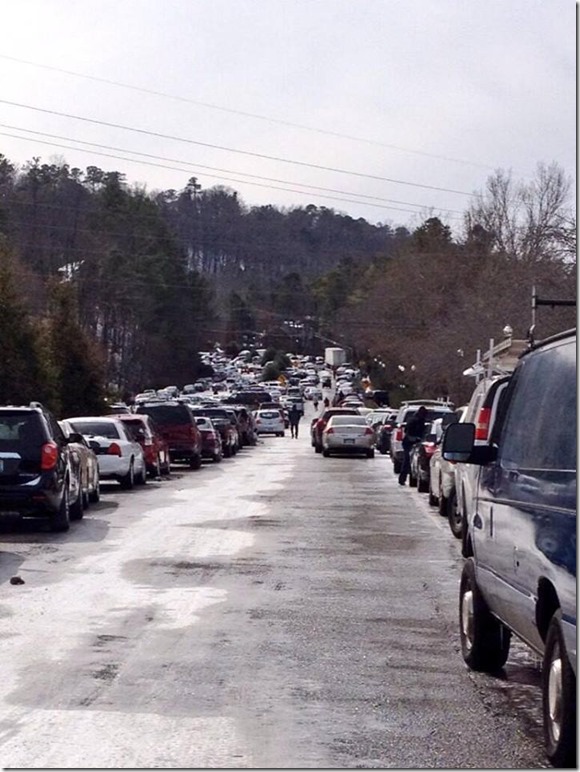 And this.

Now before you start making jokes about how southerners can't drive the snow, let me try to paint a picture of just how quickly things deteriorated here over the course of just MINUTES on that day, when a city with over a million people became completely paralyzed by icy roads, unable to get home to their families. And these are just pictures from Birmingham, Alabama.  This same winter weather event happened across the entire Southeast from Atlanta to New Orleans!  Maybe after you hear our stories you'll understand exactly what we were dealing with down here in the South this past week. Warning, this is going to a very long blog post, but it's therapeutic for me to get all of this out here, so bear with me.  When I stop to think of all the "what ifs" that could have happened that day, I get kind of shaky.
I was at my house on Tuesday morning, January 28th, 2014. Actually I was sleeping late, if I'm being honest, after I begged my husband to drop our son off at school on his way to work because I had stayed up way too late the night before finishing a blog article that was due. In this case, procrastination had it's advantages, since this put me closer to my son than if I had been sitting at work when the ice and snow started falling.  Around 9:30 am I called in to work and told them I'd be working from home and watching the weather. The weather man had predicted that some snow was possible, but as of 10 pm on Monday night when I checked the weather blog it still said that the storm would be far south of us and Birmingham metro would only get a light dusting that would not affect travel. 
Unfortunately, our weather man has never been more wrong.  His humble apology here brought tears to my eyes.
Light snow began falling at our house around 10:10 am, so I moved my car down to the lower basement side of the house since there is a steep hill where I park. The temperature was hovering about 20 degrees.  I got a call at 10:30 that schools would be closing at 11:30 due to the weather. Snow came down harder, and I sent a text message to my coworkers with a picture of our driveway starting to get covered in snow saying I was going to get Garrett soon.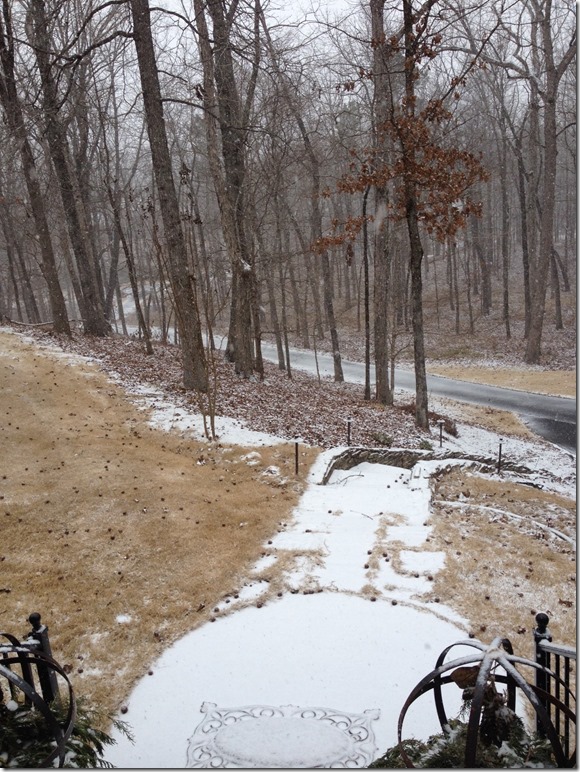 Seriously, have you ever seen such a pitiful snowfall as this?  Usually when Alabamian hear the word "snowflake" they flock to the stores for bread and milk and get ready to hunker down for days, but we didn't this time because it wasn't supposed to get bad here. How could anyone have predicted this pitiful amount of snow would turn into the biggest icy nightmare Birmingham has seen in decades?  Nobody could have known what was about to happen, not even our most trusted local weather man, James Spann, who serves as a father-figure for most of Birmingham.  Locals have spent our entire lives hanging on his every word during every tornado that has ever touched down here, including the terrible April 2011 tornado outbreak. He is arguably the best weatherman in the business.  We trust this dude with our lives during each tornado outbreak, which come much more frequently than snow outbreaks ever will.  If he didn't think that this snow event was going to be a big deal, then neither did we. We had no reason to suspect otherwise. So, that's why we all went on about our business and didn't shut things down like we normally would even though he predicted this was coming well over a week in advance. He just thought it would hit a lot further south than it did. But he is as human as the rest of us, and sometimes he gets things wrong.
Finally by 10:35 am I got ready to leave, then farted around for a bit while taking a phone calls and text messages from my husband, coworkers and mother-in-law about the snow.  I wasted a few minutes snapping this pic of the dogs out the kitchen window with the intention of posting it while I waited in the carpool line with the caption "Lemme in!".  Then I actually DID let them in and put them in their crates where they were warm and safe.  I'm so glad I had this forethought now, because at least they were off my worry-radar for the rest of the day.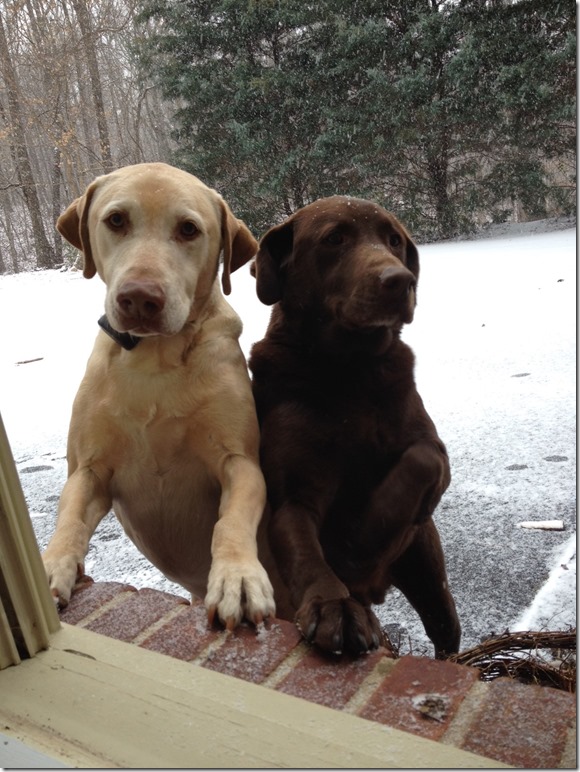 The snow came down harder, and I got nervous that the roads would be slick and carpool would be hectic, so I headed out a little early (or so I thought) at 10:45 to pick up G from school.  I took precaution and actually wore a pair of thick socks under my thin leather mary-janes. This was the extent of my emergency preparedness, since it's typically only a 10-15 minute drive to school, depending on traffic. I thought I'd be back home in no time. 
As I exited my neighborhood I decided to take the more heavily traveled interstate route instead of the back roads, thinking it might be safer since there was more traffic keeping the snow slushier.  I got stopped by a line of traffic almost immediately because the interstate bridge had already frozen over. I watched the tires of the cars in front of me spinning helplessly as people tried to drive forward.  And that's when I realized that I was in a very dangerous situation.  This was about 35 minutes after I saw the first flake fall.  I made a quick decision that the back roads would be safer since there were no bridges to cross, so I made an illegal U-turn and headed back in the other direction, nearly losing control of my rear end in the process.  I started praying out loud at this point, asking God to please get me to Garrett safely. 
By the time I made it less than 1/2 mile down to the first stop sign, the roads were like an ice skating rink.  Thankfully I know a little bit about driving on slick stuff from my redneck mud-riding days in high school.  Driving in slippery Alabama red clay is not much different than driving on ice, so I have had a little experience with maneuvering a fish-tailing vehicle.  I'm thankful to all the guys I hung out with in high school for teaching me how to turn left to go right, just like Lightning McQueen on the dirt track.  It's counter intuitive, but once you get the feel of it it's something you don't forget, apparently, since I haven't been mud-riding since the late '90's at least. I also towed my boat with an old Ford truck that had nearly bald tires, so burning rubber up a slick boat ramp teaches you how to go easy on the gas pedal.  Whatever instincts I have ever learned about defensive driving immediately kicked in and I was clinging to the wheel and driving like an ice-road trucker by that point.
I kicked my SUV in low gear and slowly followed another SUV's tire tracks for a short distance until we rounded a curve and saw a car stopped completely in the middle of our lane. The car had spun out on the ice and couldn't make it up the VERY slight incline of the road in front of us.  The person in front of me didn't even stop–they just kept slowly rolling right off the road and into the grassy median and passed the car.  I am so thankful to this person for being brave enough to do this, because I followed right behind them without a second thought, giving the scared girl in the stopped car a thumbs up as I passed by her.  In doing this, I realized that the grass had a lot more traction than the slick asphalt. Thankfully it hasn't rained here in a long time, so the ground was frozen solid without a chance of getting bogged down in mud. This was a very useful piece of information to learn, since I drove the next few miles half off the road, with my passenger side tires in the grass and the driver's side tires in the tracks of the car in front of me. 
Time stood still for the next few miles, as I gripped the steering wheel, prayed out loud and tried to slow my racing heartbeat to keep calm so I could get to my baby.  All around me people were losing control of their cars, tires sliding across the ice without any control, narrowly missing other cars and even people who had abandoned their vehicles and were walking up the road to help others who were stranded.  It took me an hour to drive 4 miles, creeping and stopping, sliding and praying for a hedge of protection around my car the whole way. Finally at 11:33, while I was stopped and waiting for people to push a car over to the side of the road,  I sent a quick text message to the principal of my son's school that said "Please do NOT send buses out in this!!! Gridlocked in ice."  She wrote me back immediately and said "They are being held." and I breathed a huge sigh of relief knowing that all the 700+ kids were still safe at school. 
I finally came to a crucial part of my drive, where I knew I would have to climb a big hill and drive on a road had NO shoulder at all, only a steep ditch in some parts. Thankfully I somehow managed to get out of traffic for a bit and was able to keep up my momentum enough to make it up the big hill without sliding back down.  I knew I couldn't stop, no matter what, because that is what got all the others around me in trouble.  Stopping meant they lost traction and had to use their gas pedal which caused the car to fishtail all over the place.  But by keeping it in low gear and coasting up the hill with momentum, I was able to make it.  Unfortunately as I topped the hill I saw the line of cars trying to make it up the other side had less luck than me.  Some of them had slid into my lane, and there was a wrecker parked in a driveway blocking half of my lane.  People were milling about the middle of the road, but I knew I was not able to touch my brakes without sliding into something, so I honked my horn, waved like crazy for them to move, and slid in slow motion right between a parked car and the back end of the wrecker.  The man who was in the middle of the road flattened himself up against the car with his eyes and arms spread wide as my tires rolled within inches of his toes.  My brain didn't have time to process what nearly happened right there, as I just kept coasting and sliding toward my destination.  I was less than a mile away at this point.  Adrenaline was flowing and I have NEVER been more focused in my life. "Get me to Garrett. Get me to Garrett.  Get me to Garrett." I just kept praying.
I finally made it into the parking lot of a store just down the street from the school, where I parked and breathed for a few minutes and calmed myself down enough to figure out what to do.  I was so close, but I still had to cross a major 4 lane road that was gridlocked with bumper to bumper traffic in both directions to get to the school.  I considered trying to walk it, but I knew my thin soled shoes were slippery and not made for hiking in the snow and ice.  I would be in big trouble if I fell and hurt myself before I got to Garrett, so I decided to stay warm and dry in the car and try to brave the traffic and ice to get to the school.  As soon as I made that decision, I swear to you guys, it was like God just parted the Red Sea of cars and I was able to drive right across the two north bound lanes, wait for a bit, then the cars parted again and I had a clear shot to the school parking lot from there.  It was nothing short of a miracle that I made it into a parking spot in front of the school unharmed, aside from my traumatized nerves and knuckles.  I got inside the school and hugged Garrett SO tightly I thought I might break him.  I have never been so happy to see my child and to get out of my car away from the insanity that was happening on the roads. 
As I looked around at all the anxious faces of the kids waiting in the hallway, though, my stomach knotted at the thoughts of all the other parents who were still out there trying their best to get to their babies.  Chaos was all around me as teachers and staff ran around taking messages about parents who were calling in and trying to figure out what to do. We headed down to G's kindergarten class, where half the class who were bus-riders still sat watching a movie because their parents had not yet been contacted to come pick them up. The teacher was frantically trying to reach parents on her cell phone, and even gave me a few numbers to dial to try to contact parents without any luck.  Phone service was sketchy- most of the calls wouldn't even go through since everyone in  Birmingham was trying to contact loved ones.  Text messages and facebook were our best means of communication.  G's teacher told me that she had not heard from her own kids yet, and had no way to reach them. I could see that she was extremely worried about them, but she also had to stay with her students and keep them safe.  She was so torn between wanting to leave and get to HER babies but being forced to stay and protect other people's children. I've said it before, but I'll say it again… our teachers need a raise of volcanic proportions. Ugh, it was heartbreaking to watch her inner struggle in her eyes. 
By this point it was 12:00 noon.  School had officially been "out" for a half hour, and the majority of kids still sat there waiting for their parents to get to them.  Half the state was shut down under a blanket of ice so thick you could literally ice skate on it.  Seriously, when you get a second, check out this video of a girl ICE SKATING on the streets of Birmingham.  It was insane, y'all.  Just crazy how fast it all happened.  Then the thought of leaving that school with Garrett in the backseat struck me with fear.  After that pants-shatting, white knuckle drive to the school, and then the flood of relief to actually BE there,  I was quickly losing my calm composure. I didn't want to put him in danger by taking him out on those icy streets without knowing if we could get home or not.  I honestly wanted to just stay where we were safe and warm with food and restrooms nearby.  I have heard of too many people getting stuck in their cars overnight in ice lately, and the thought of that made me want to vomit.  Plus I couldn't even imagine driving in that mess when I had just.gotten.out.of.it.
I called my husband and tried to figure out what to do.  He was staying at work because he couldn't even get out of his parking deck. I was relieved that he was safe, but still worried about what I should do for myself and Garrett.  I called my friend who lives close to the school and she offered her home to us.  I debated and prayed and hem-hawed around, watching traffic just continue to creep along the road in front of the school.  I finally pulled the vice principle aside and asked if we would be able to sleep at the school.  He gave me a grim look, and said that he had been told to direct anyone who was not staff to go to the local shelter.  So, just like that, my decision was made for me.  If I was going to be forced to leave and get back on the roads I was going to head for my friend's house, not a shelter!  I called my friend to let her know my decision, and she asked me to bring another little boy with me to her house, since his parents were stuck and not able to reach him.  While I was checking him out of school I saw Garrett's buddy Griffin wandering in the hallway, so I texted his mom to ask if I could take him with us too.  She wrote me back immediately and said yes, please.  She planned to meet me and pick him up.  She was stuck in traffic but slowly making her way towards the school.
So, after making all three boys use the restroom and get bundled up, I headed out into the icy parking lot with not only my child to take care of, but also the precious cargo of two other panic-stricken mothers who were not able to get to their babies in time.  It was time to put my game face back on and brave Round Two of driving on the ice to make the trip home. 
To Be Continued…