When you guys last saw my Master Bathroom, we had just moved into our house in 2010 and I had slapped some paint on the walls just to cover up the faux finish treatment that the previous owners had left behind.  Over the years I have dreamed about what my perfect bathroom would look like, specifically this Pottery Barn bathroom that I featured here: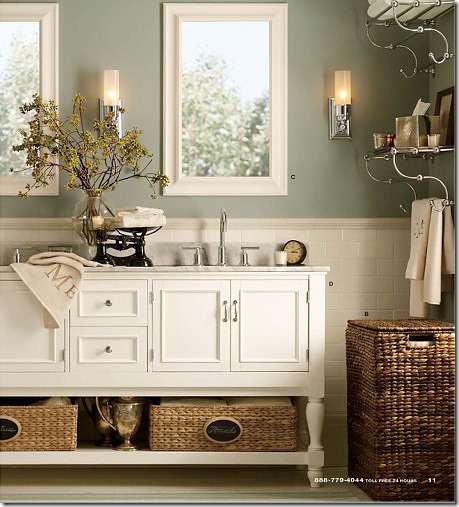 Oh, how I love that bathroom!
As a reminder, here is the before photo with the brown faux finish when we bought the house in 2010: 
And here is the mossy green color that we painted it in 2010 (This is Sherwin Williams Connected Grey, in case you were wondering).  So this would be the "During" phase:
After nearly four years of living in a dark cave of a bathroom that left me squinting in the mirror to apply my eye makeup, I finally have completed Operation De-Darkify the Bathroom!  Are you ready for the big reveal?  I'm SO excited to present to you my new light and bright Master Bath!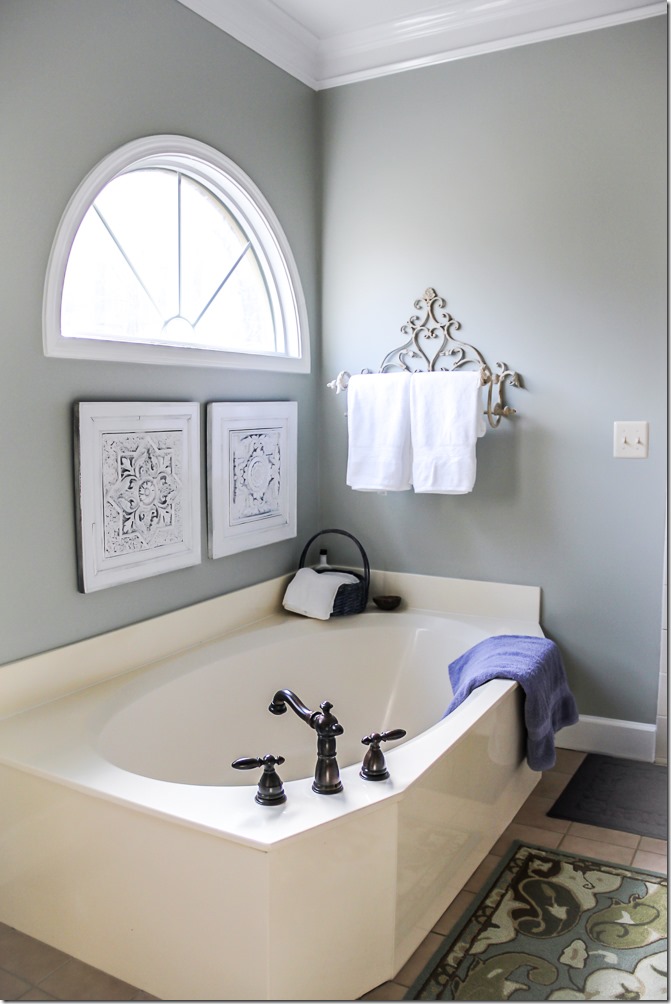 Isn't it much happier?
Much to the chagrin of the neighbors and local wildlife, I took down the blinds in the arched window to let the light shine in as much as possible. I'm pretty sure nobody can see in, but I apologize to anyone who might get flashed while taking a nature walk in the woods behind our house. The walls got a fresh coat of Restoration Hardware Silver Sage paint. I know I've used this color in like 99.92 percent of my home, but I HATE picking paint colors with a fiery passion, so when I find one I love I stick with it.
If it ain't broke, don't break it, right?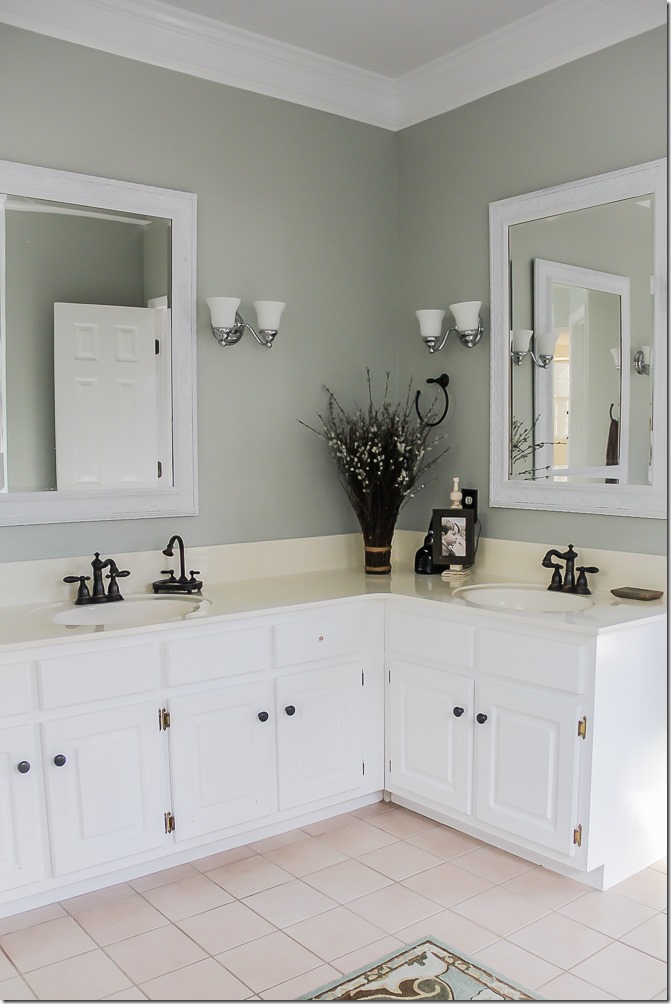 We also took down the dim wall sconces that penetrated the darkness about as well as the candlestick that Abraham Lincoln studied by, and replaced them with four brighter, happier wall sconces.  I realize that I have about forty-leven different types of mixed metals in this room now (and not in a trendy modern way) but I don't care. I love the look of the shiny nickel fixtures.  The bright brass and oil rubbed bronze came with the house.  Honestly, it doesn't really bother me.  The brass shower door annoys me the most, but that's going to require a full tile renovation which I'm not prepared to do just yet. And hey!  It only took me four years to fix the things about the room that really annoyed me, so check back again in 2020 to see if I finally get all the metals to match. 
Besides, this post is called Operation De-Darkify, not Operation Matchy Metalify.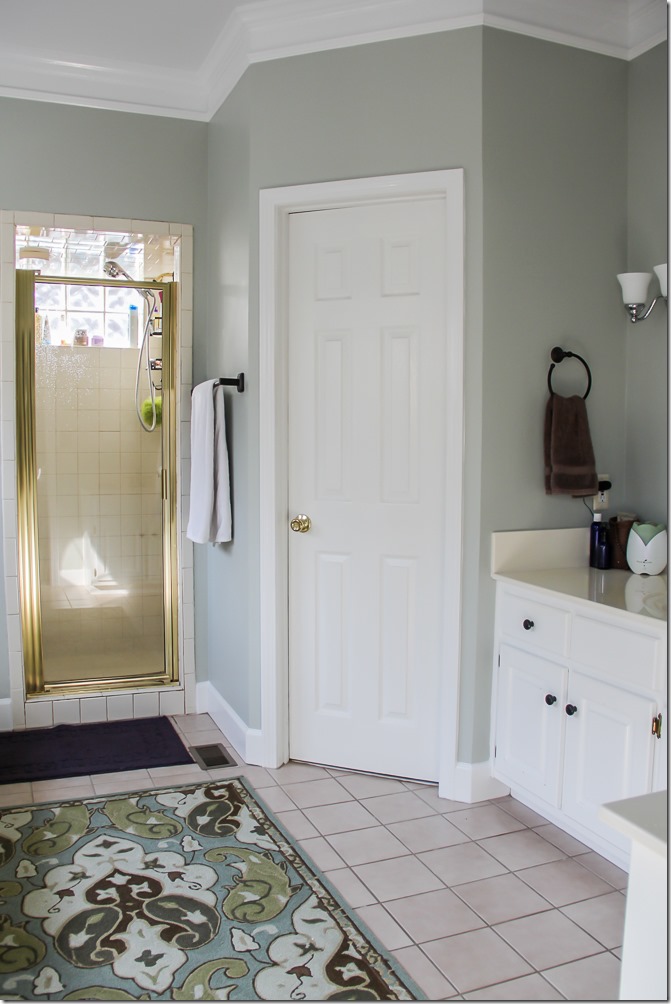 Another huge improvement is the lightening of the mirrors.  I spray painted the old black and gold mirrors a simple high gloss white, and improved the look of them by about a million percent.
I'll leave you with these good old fashioned B&A pics, since everyone loves them and they are so dang Pinnable!


There are still plenty of things I'd love to change in the bathroom, like removing that pinkish-beige tile or raising the vanity height up about 6 inches, but for now my main objective is complete.  I no longer feel like I'm getting ready in a cave!  It's amazing what a little paint and light fixtures can do for a room. 
PS– I've got a great post coming soon telling you all my best spray painting advice, so be on the lookout for it!