Sorry to leave you hanging on the edge of your seats!  I was interrupted by a little thing this weekend called a certain 6 year old's birthday party. If you missed my first post about the scariest drive I've ever made in my life, be sure to read Part One of this story here.
In my cliffhanger post, I had just strapped three five year old boys into my car and was heading back out onto the icy streets with this extremely precious cargo in the back of my SUV. As a mother I cannot imagine trusting another person with my child in these road conditions, but two people trusted me enough to bring their children to them from school.  One of them was a friend of a friend, but a perfect stranger to me.  The weight of this responsibility settled in on me as I cranked my car and backed out of the parking space and gripped the wheel firmly again. There was a very small hill out of the parking lot of the school, and after making a few unsuccessful attempts to drive up and out onto the main road I saw three men coming to help push my car up the hill.  I prayed that I would not slide backwards and flatten one of them in the process.  Finally on the third try they were able to push me up and out of the parking lot on to the main road that was gridlocked with traffic. I narrowly missed hitting a pedestrian as my car slid out onto the icy road.   I told the boys that I was going to say a prayer for us to be safe, and I glanced in the rear view mirror to see a sweet five year old bow his head and close his eyes while I prayed out loud for God to protect us and get us all home safely.  It helped me feel secure and gave me confidence to get them home safely, no matter what. 
Even though I had been dreading getting back on the icy roads after a heart thumping drive to school earlier that morning, the traffic on this major highway was moving at a snails pace.  All I had to do was put the car in low gear and take my foot off the brake to be able to keep up with traffic.  I didn't have to touch my gas pedal hardly at all, which was so much safer than the fish-tailing craziness I had witnessed earlier in the day.  The majority of other people in the cars around me understood this concept of not touching their gas pedals, except for one teenage boy in a big pickup truck who had his phone glued in front of his face the entire drive.  With every start and stop of traffic, he would hit the gas, spin out, lose control, nearly slide sideways, regain control, then slam on the brakes and slide to within inches of the car in front of him.  I watched this happen for about 30 minutes over and over again until finally he pulled over at a gas station.  I was rejoicing to watch him leave the line of traffic because he was about to give me a panic attack. 
Finally after about 45 minutes of creeping along at a snails pace I made it to the restaurant where I was planning to meet the other parents.  By some kind of miracle we arrived at exactly the same moment, so we did a quick kid-exchange in the freezing parking lot and said our goodbyes.  I told  my friend Stacey to come to my house if she was not able to make it home.  The entrance to her subdivision has a huge hill that I knew would be impassable.  But, she is a recent transplant from Toronto, so she was determined to try to get home in the ice. Plus she still had to go pick up her daughter from the Intermediate school, so I didn't try to persuade her otherwise. 
I told my other friend that I was going to try to get home since I had determined that the main road was sufficient enough for travel.  It seemed like the heat from the exhaust pipes of all the slow moving cars melted the ice just enough to cause a tiny bit of slush for traction. There were no major hills to climb, so I thought I could make it home. I was mainly concerned about the interstate bridge still being iced over since I had to cross it to get back to my house.  But, I felt confident that I could make it home after seeing how slow and steady I could travel on the main road. This was my view the entire time:
It took a painfully long amount of time to get there, but finally by 3:00 pm I had crept up to where I could see the intersection where I had to turn towards the interstate and my house. I had let Garrett play on my phone in the backseat to keep him occupied, so he was fine, but getting a little restless and hungry.  There was a slight incline on the road ahead and people were having to get out of their cars and push other cars up the hill one at a time.   I finally saw the very first sand truck of the day at 3:45 pm.  It was just a dump truck full of sand tilted back with guys walking behind it pitching shovelfuls out onto the road underneath our cars.  When we say that we don't have the equipment to handle icy roads here in the south, we really, truly mean it.  There are no snow plows here.  There are not many sand trucks that spin sand out underneath.  Just three men with shovels and a dump truck.  As I passed by Home Depot I saw the workers rolling cart loads of salt and sand out to the intersection and spreading it out by hand to help cars get traction.  I was so impressed by that selfless act.  Those guys must have been freezing, but they helped do their part.  It was heartwarming to see it.
Finally I reached the interstate bridge, which had already been sanded down heavily and was not slick at all.  Once I passed that I was virtually home free, without any issues at all as I drove all the way up my street safely and right into my basement garage.  I have never been so thankful to see my garage door open up. I just kept saying "Thank you God, for getting us home safely." over and over and over again.  Garrett, on the other hand, said "Thank you, God, for letting me get home before the snow melted so I can PLAY in it it!"  HA!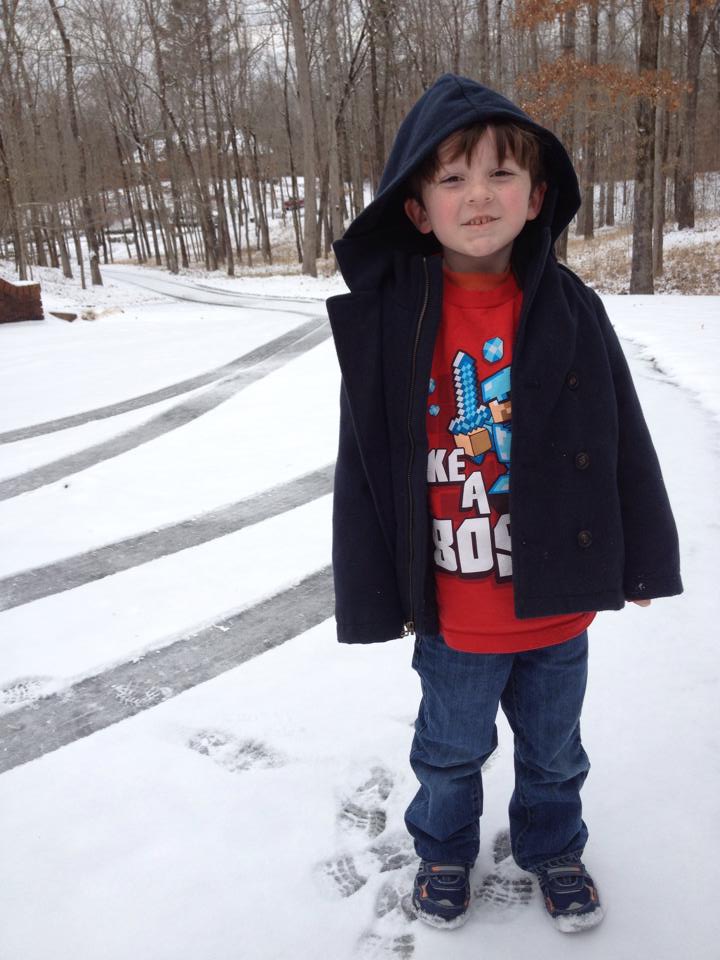 That was Tuesday at 4:00.
At 6:00 pm I got a text message from Stacey saying "I'm stuck." My stomach filled with dread for her, because by this point it was dark, and she was all alone with her kids in the car. I knew she had taken the back road to her house which is way down a winding, sparsley populated road. She followed it up with another text that said "There's a man helping me now.  I may come to your house."  I told her to please come here where it was warm, we had plenty of beds and food.  I paced for an hour until I heard back from her when she was coming in my neighborhood.  I was so happy to see her headlights!  She had not only her two kids, but her neighbor's 9 year old son who was separated from his parents by the ice.  I got the kids fed and settled while Stacey calmed her nerves and we compared notes on how crazy this storm really was. A few minutes later she heard from another set of her neighbors (who, ironically, were also Canadians now living in Alabama).  They were not able to make it home either, so we invited them to join us as well.  They slid into our driveway around later that night, and we made our introductions and showed them to a bedroom upstairs.  I got them fed and warmed up, and we had Round Two of storm stories. Even as native Canadians, they all agreed that they had never seen anything like this before.
I was so thankful that everyone made it to my house safely and that I was able to give them a shelter for the night instead of sleeping in their cars.  They kept thanking me and saying what a big deal it was to them that I opened my home to strangers, but that was absolutely the last thing on my mind at that point.  I learned after the April 2011 tornadoes that my spiritual gift in a crisis is feeding people and getting them to open up about their experiences. It's what I do best.  I may not be able to chop down a tree or push a car out of a ditch, but I can shovel baked goods down your throat faster than you can say "Help me!".  Besides, it was MORE than my pleasure to do that for them. Here's the thing that kept running through my mind… I've always sat by and watched helplessly from the sidelines while weather related crisis situations occurred, like Hurricane Katrina or Sandy or the 2011 Alabama tornados.  Typically during events like those my heart was always screaming to go out and DO something, but I was never able to physically help until long after the fact.  But with this event, I was finally able to make a real difference at the moment of impact for people, and that was SO rewarding for me.  Honestly, it was such a blessing for me to be able to help these families.  I've also secretly always wanted to run a Bed and Breakfast, and this gave me a good taste of exactly what that would be like!
The kids all had a blast having a huge spend the night party, the we ate a big breakfast and they played in the snow.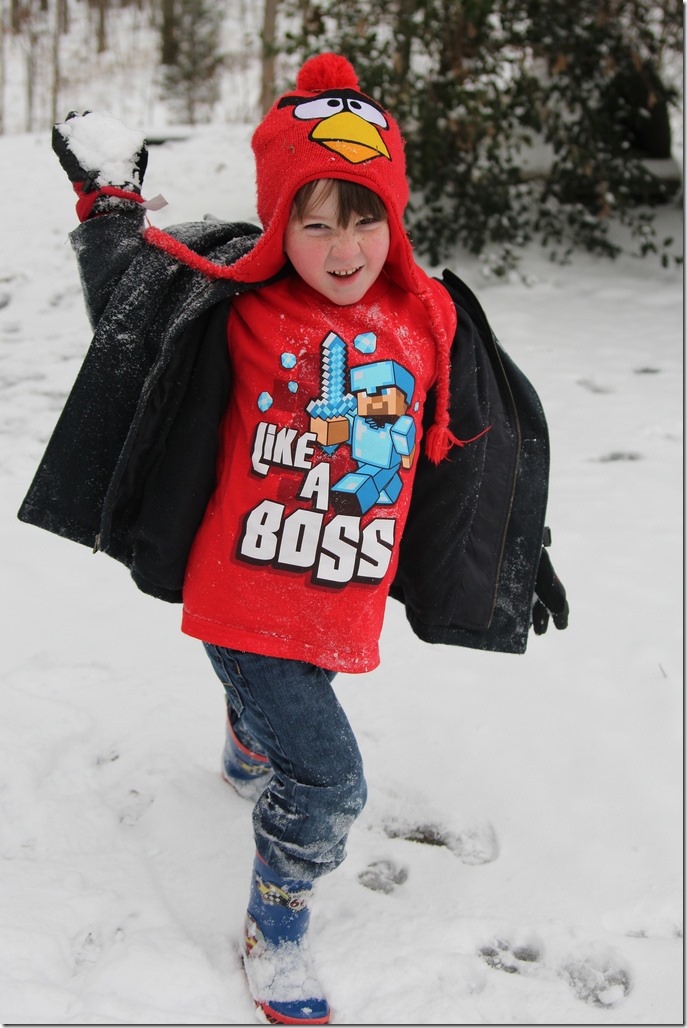 They made snow angels, and of course the Canadian kids made amazing ones while my poor kid barely knew what to do.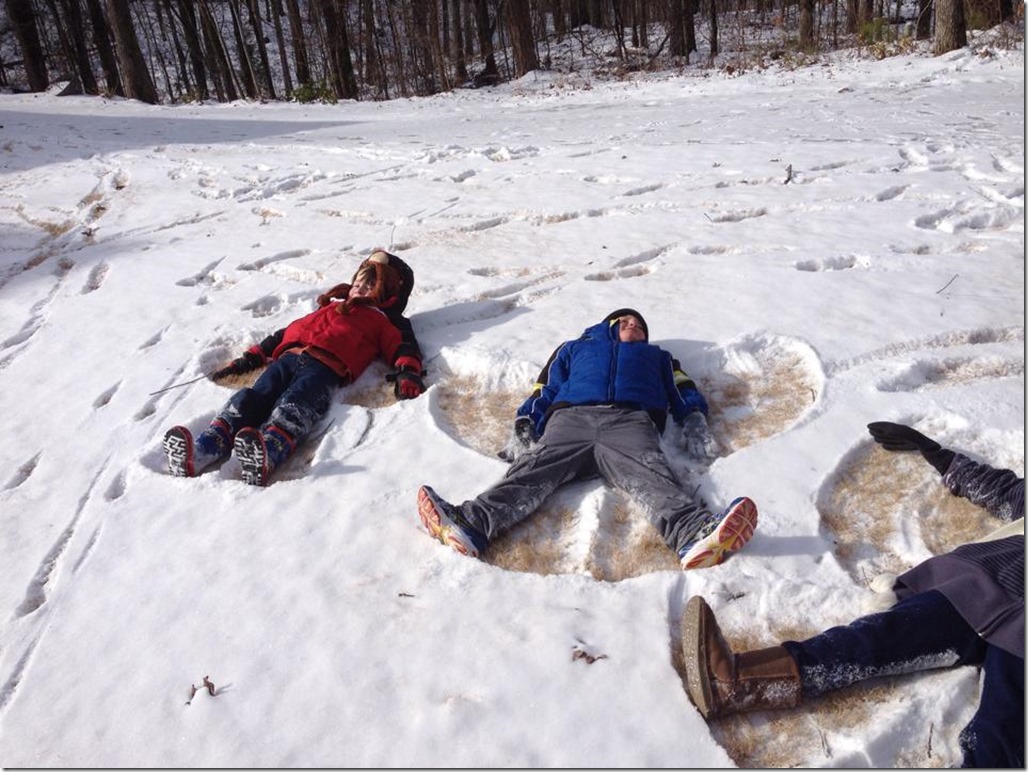 I made homemade hot chocolate and they watched movies all snuggled up in the living room together.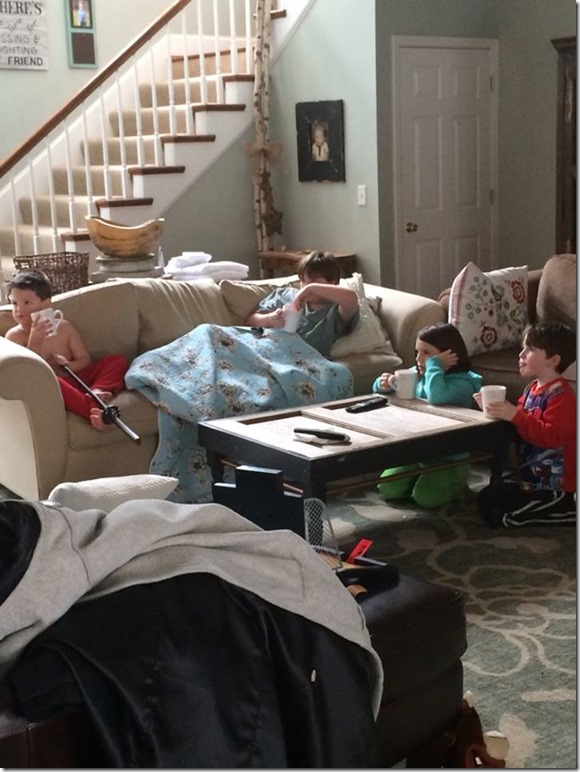 At one point we had to play Camp Counselors and keep them entertained in the craft room with beads and markers.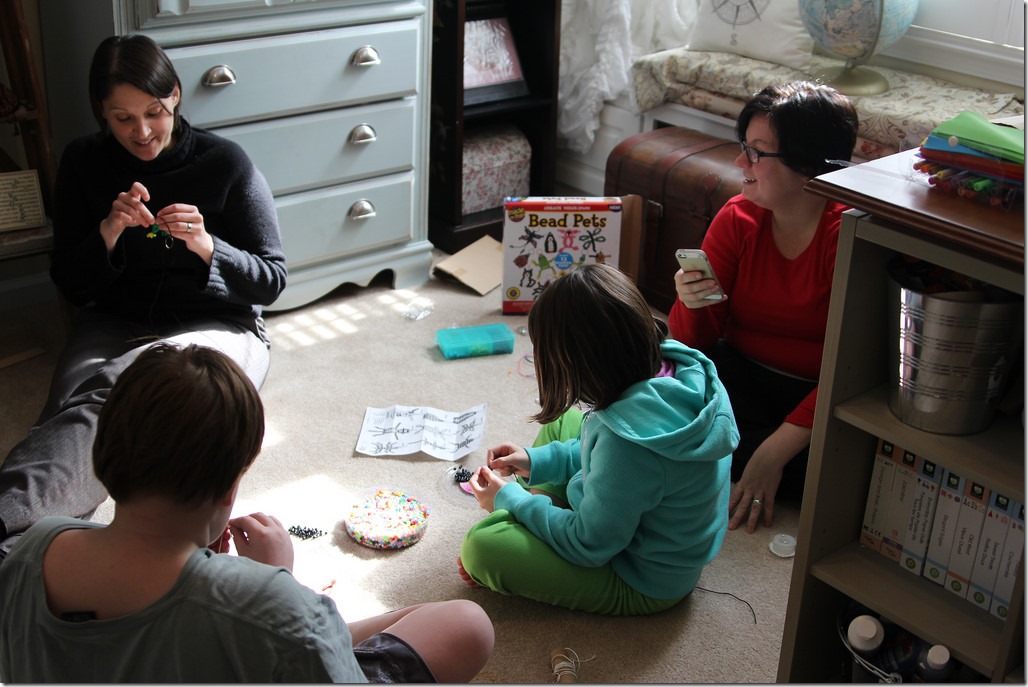 The natives grew restless, but we made it!  Finally the weather warmed up enough for everyone to make it home safely, and our big ice-covered adventure came to an abrupt end.   
It was quite an adventure while it lasted, though!  It was crazy, and scary, and fun and heartwarming all rolled into one, but it was also the most memorable experience we've had in this house, ever. 
Here is what I've learned over the past week.  Every single person who experienced this ice storm has a story to tell.   It's cathartic to tell your story and relive the events that you experienced.  One of my coworkers got rear ended by a policeman on her way to pick up her daughter from daycare.  Her husband's alternator went out on the frozen side of I-65, so he hiked to a gas station and spend the night there.  Another coworker parked her car on the side of the interstate and walked miles to get to a Realty office where her sister had some friends holed up for the night.  Everyone has a story, and they are all very real and very scary. But, along with the tragic stories there are also stories of generosity and kindness that you might never hear about.  Stories like the Home Depot workers salting the roads by hand, or the nameless man who helped pulled my friend's car filled with children from the ditch on a deserted road in the darkness.  How about all of the teachers who slept over night and entertained nearly 12,000 Alabama school children who were stranded at school, or the bus drivers who maneuvered busloads of kids through the ice and snow for hours to deliver them safely at home.  Or the humble neurosurgeon who walked for MILES to get to the hospital and perform a life-saving brain surgery?
THOSE are the stories that need to be remembered, not just the fact that a meteorologist got a weather forecast wrong.