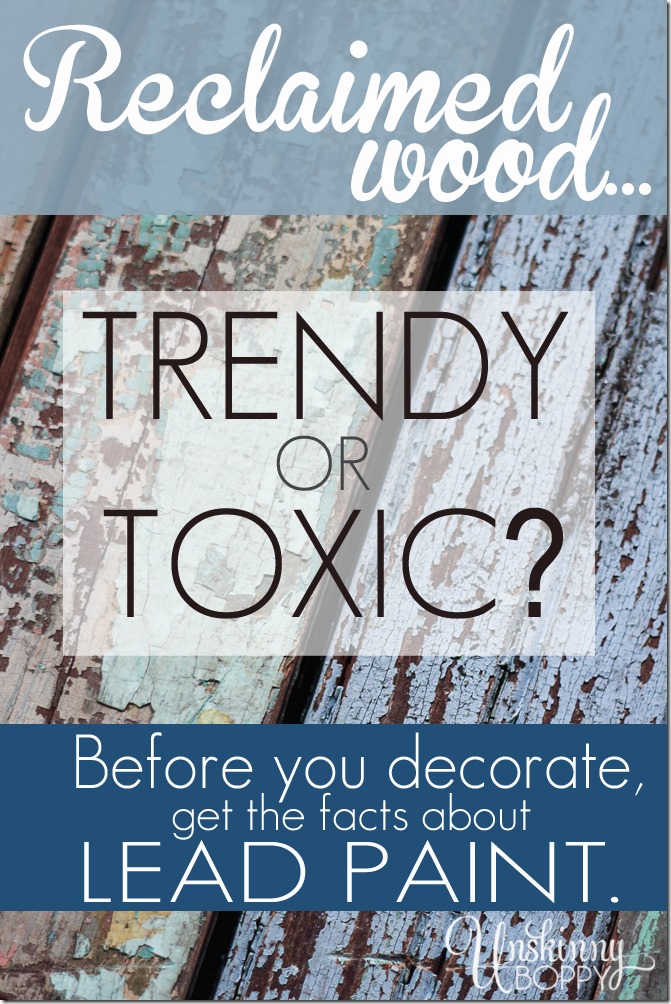 When I was a little girl, I spent hours on the pier at our family's river cabin casting my fishing pole into the water, waiting for the red and white bobber to get pulled under by a passing fish.  My Papa patiently taught me how to bait a hook and then reel in a slippery, wiggling fish once he was hooked on the end of my line.   He also taught me how to take a split shot lead weight and pinch it closed between my teeth around the fishing line.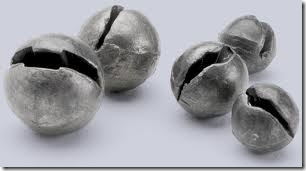 Source
I used this method of weighting my line from the time I was five years old until I was well into my teen years and began fishing with egg and worm sinkers.  Nowadays I look back on that and I'm left with a feeling in the pit of my stomach that feels like a lead weight.  I do not blame my Papa for teaching me this method.  He came from a generation of people that painted their entire houses with lead based paint… where babies cut their teeth on cribs coated the stuff.  At the time, it was just not a big deal.
But now we know better.
Although I don't do much fishing anymore, lead poisoning is still a concern for me.  As most of you know, I have an unquenchable desire to cover my walls with chippy reclaimed wood that has been torn out of old houses that were built during my Papa's lifetime.  The pretty vintage pieces that I bring into my home are unique, but they carry a risk that needs to be addressed.
When I posted my tutorial on how to make a giant star from reclaimed wood, I got an email from a reader that stopped me in my tracks.
Here is what it said:
I saw your cool giant wooden stars and instantly saw they were made with reclaimed painted wood.  Because we learned the hard way, I wanted to share with you our story with painted, reclaimed wood.  My husband is a hobby woodworker and a few years ago we fell in love with using reclaimed, old, chippy, lovely painted wood in projects – primarily picture frames. We had an etsy site, sold at an indie juried craft fair a couple times and he sold a couple of large starburst mirrors in a local gallery. He made all of these in his basement workshop of our 1922 home.

Then our son was born in January 2012. The woodworking became less frequent, as all hobbies do when a baby arrives. At my son's 12 month routine pediatrician checkup they tested his blood for lead (apparently routine for anyone living in a home built prior to 1978 – the year lead could no longer be added to paint). His blood had elevated levels of lead in it (not poisoning levels, but enough to cause concern). In the months since that initial test his levels have been on a roller coaster. We pray and believe that they are now only on a decline.

So, needless to say we stopped all woodworking with reclaimed wood. We've had experts, including the state, visit our home to test the whole house and give their opinion about what we should do to make our home crazy safe (it's doable). A tiny amount of lead paint / dust can cause harm. We were putting lead dust throughout our home (even if doing projects in a garage or detached shop are dangerous as the dust / chips can be brought inside so easily).

So, if your pediatrician hasn't tested your son it may be good to ask him/her their thoughts (it's a simple blood test). Lead is most likely to enter into children under the age of 6.
While I do consider the potential for lead paint in all of the reclaimed wood that I purchase, it has never occurred to me to be concerned about it or even test for it.  Maybe because handling (and even biting!) lead was something I have been doing from a very early age, it never really occurred to me to mind.  I was able to confirm my suspicions about lead paint VERY quickly with this lead paint test kit from True Value Hardware.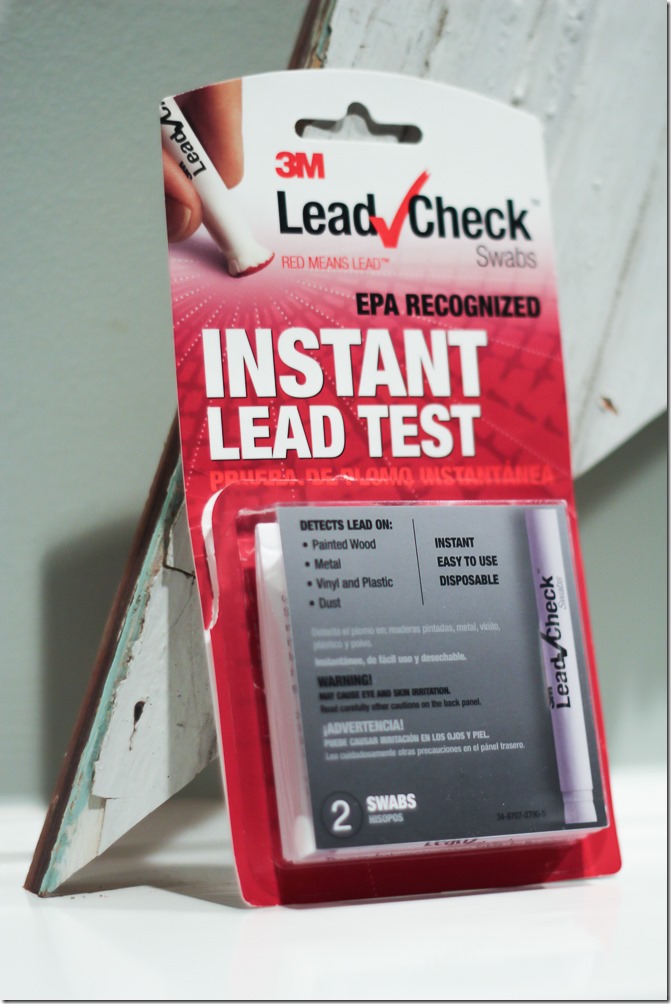 Let me show you how simple these test swabs were to use.
I crushed the two points on the swab labeled "A" and "B".  This was similar to crunching a glow stick to mix the chemicals. After two shakes and a gentle squeeze you should see orange/ yellow liquid coming out of the tip of the swab.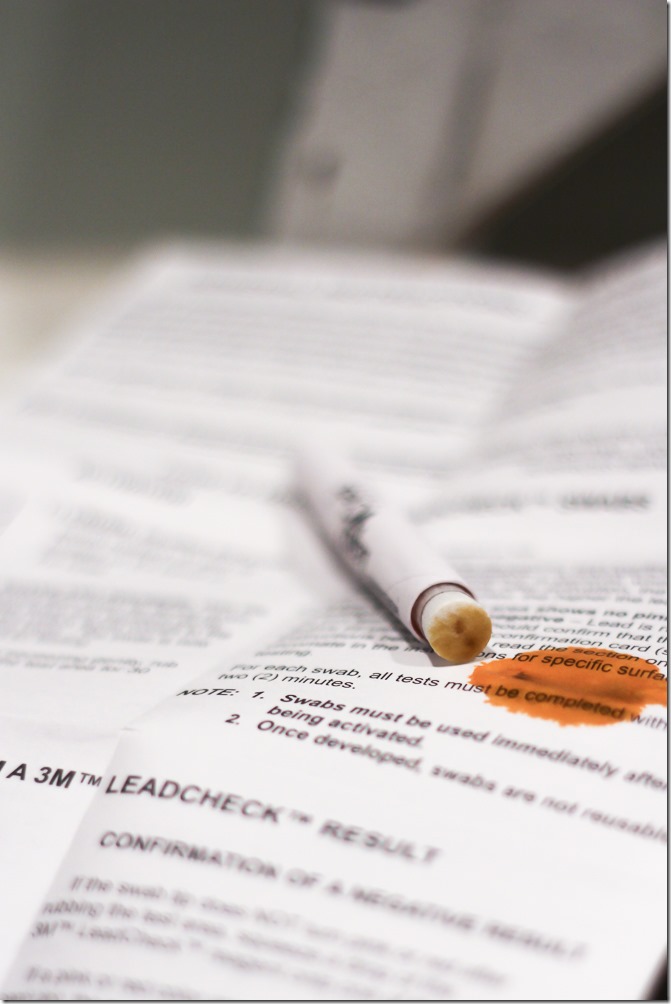 Using a knife, scrape off a small area of the paint that you want to test.  If there are several layers of paint, be sure to cut all the way through each layer.  Run the end of the swab over the exposed areas, and wait to see if it changes colors.  Red = Lead.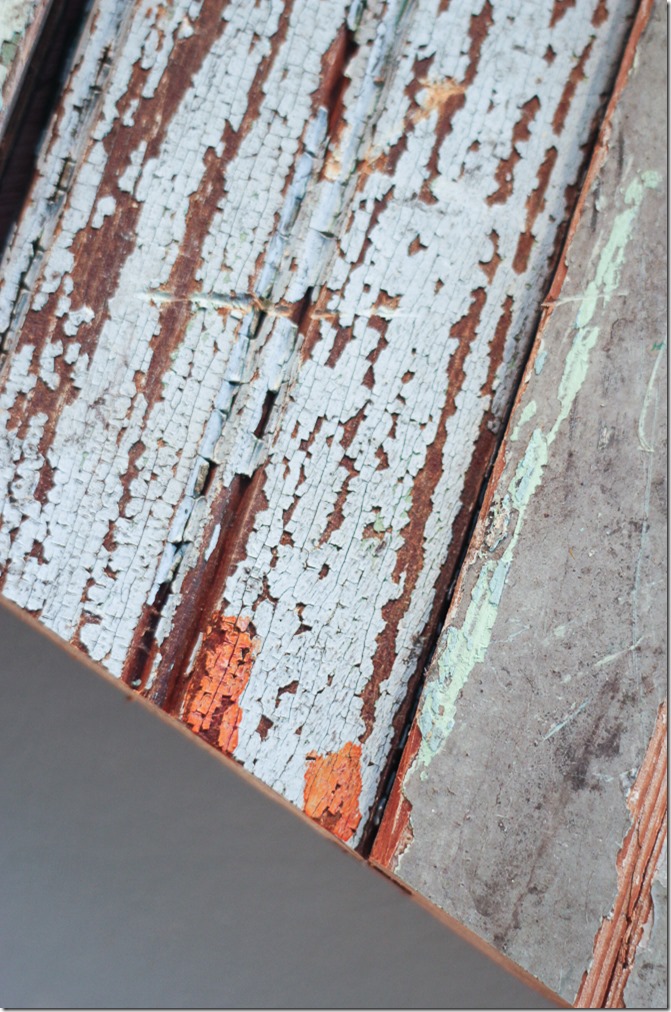 There is a test sheet that comes with the package for you to compare the color of the lead samples to your wood chips.  After just a few seconds I was easily able to see a pinkish-red area creeping up from around the edge of my reclaimed wood star. Can you see the pink parts of the wood?  That's where the lead is hiding.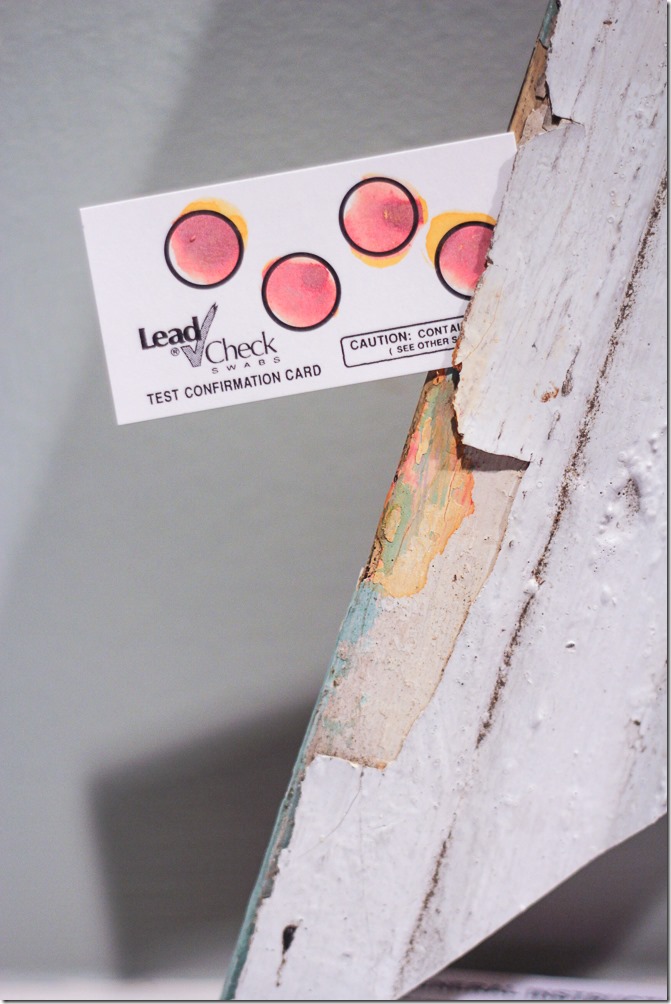 So now that my suspicions about lead paint were confirmed, I began to wonder what I could do to protect my family, (especially my son) from lead exposure?  In my research I found that inhaling or ingesting the sawdust and paint chips are the main danger to children.  You need to decide for yourself how comfortable you are using lead based items in your home.  My son is now 6 years old, and old enough to understand when I explain that something is dangerous.  I trust that he won't be chewing on any paint chips if I tell him not to do it.  That doesn't mean we can be lax, though.  Sawing the materials can cause unseen damage as well.
Here are some tips to help anyone else who loves the look of reclaimed wood in their decorating.
Protect yourself from the dust.  When cutting wood containing lead based paint, always wear disposable gloves, eye protection and a dust mask that blocks airborne particles.
Control the dust.  Do not work with lead based items on a windy day. Make your cuts outside your home with all windows and doors tightly sealed. If you cut indoors, airborne particles can travel through your air vents to all parts of your house.  Cutting outside in a well ventilated area is safer.
Clean up completely. Wash your clothing and hands thoroughly when finished working with lead paint. Remove your shoes so you don't track in the dust.
For those of you with larger DIY jobs to tackle–such as major renovations on homes built before 1978– do your research and know the correct precautions to take before using a sander or saw on any areas covered in lead based paint. Here is a great article on lead paint precautions for Do-It-Yourselfers.
For more information about renovating your home that contains lead based paint on the walls, click here.
When in doubt, hire it out.  Find a contractor who is lead-safe certified in your area.
I hope this helps you to be more aware of the dangers of decorating and using lead based paint in your home.  Safety should be a number one priority in every DIY job you tackle in your home.  Remember that knowledge is power, so research as much as possible to make sure you're protecting your family from unnecessary harm.
---
For more DIY projects, visit StartRightStartHere.com or follow True Value on Facebook and Pinterest. I was one of the bloggers selected by True Value to work on the DIY Squad. I have been compensated for my time commitment to the program as well as writing about my experience. I have also been compensated for the materials needed for my DIY project. However, my opinions are entirely my own and I have not been paid to publish positive comments.