Week two of our Whole30 Challenge flew past me in a blur, so we are actually on Day 20 today!  I cannot believe how quickly it's going now.  To read about the reason we are doing the Whole 30 & Week One, click here.
So, this week I definitely have seen an increase in energy, although I'm still wishing for some caffeine every morning. My to-do list has gotten whittled down in a MAJOR way, which tells me I have more energy than I've seen in a long time.  We still have not suffered any side effects of the radical diet change, and my husband remains migraine-free.  We are both losing weight, although one of the "rules" of the whole30 is to NOT step on a scale. If you ask this big girl, that is a rule that was made to be broken! Since I'm keeping all the other rules to a tee, the pounds have been literally falling off.  My husband looks like a whole new man. His face just looks different- almost glowing with health.  So far he is down over 25 lbs, and I'm down 14!  I am so very proud of him (and me)! 
To celebrate my accomplishments so far I bought myself a pretty new Lucy Locket from Lucysinspired!  I love me some Lucy Lockets. This one is the Patricia.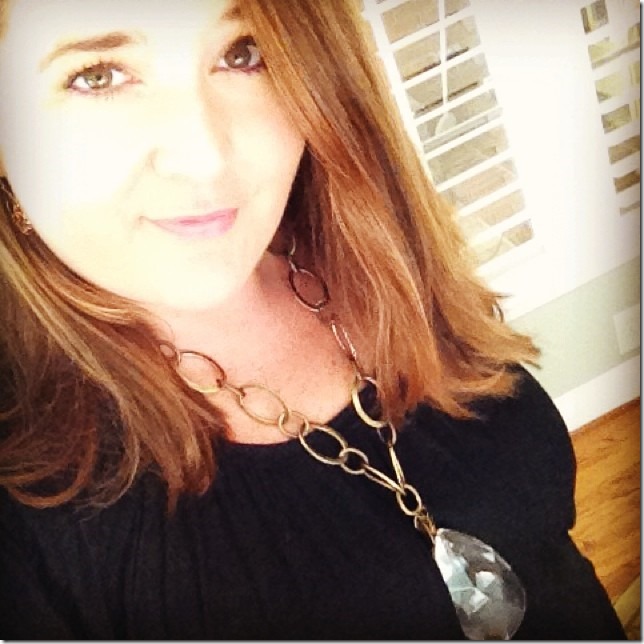 So, yes, we have seen a dramatic amount of weight lost in a short period of time which has been a great benefit.  But, for all the weight we are losing, we have not counted a single calorie or been worried about portion control.  As long as our plates have mostly vegetables on them with some protein and fruits, that's the extent of our portion control.  We are eating GOOD.  Like, better than ever before.  We have heaping plates of food in front of us for three meals a day, and they fill us up so that we aren't ravenously hungry with cravings throughout the day like sugar-loaded carby foods normally would. I have started carrying around a big thermos to get my daily water intake in. But yeah, feeling great, looking great, loving all of this Paleo lifestyle so far!  Check out some of our dinners over the past week to see just how well we've been eating.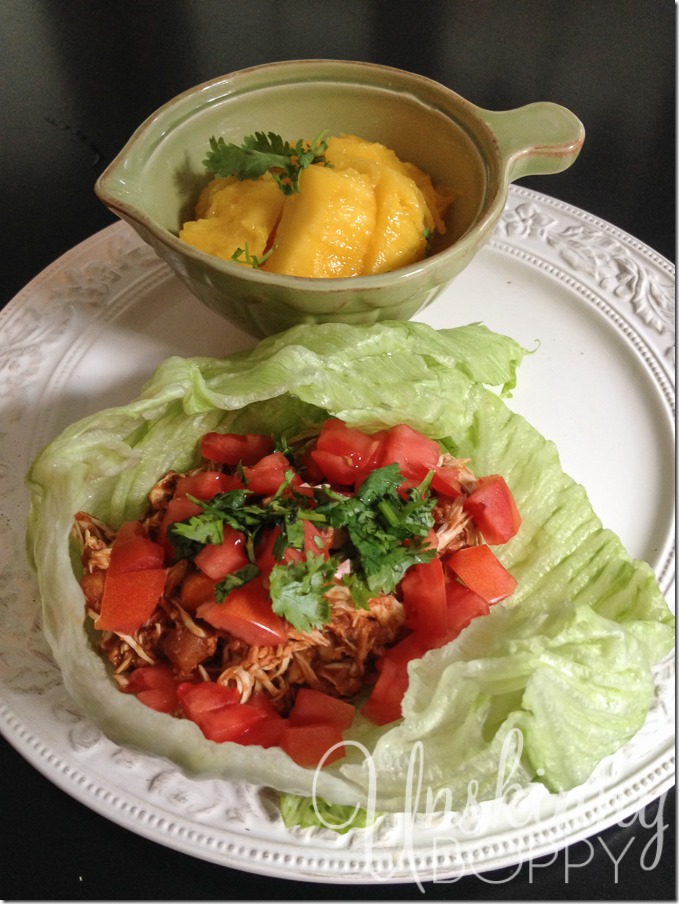 Wildtree Chipotle Lime Chicken in a lettuce wrap with a side of mango and lime. This was an easy crockpot meal that lasted for leftovers.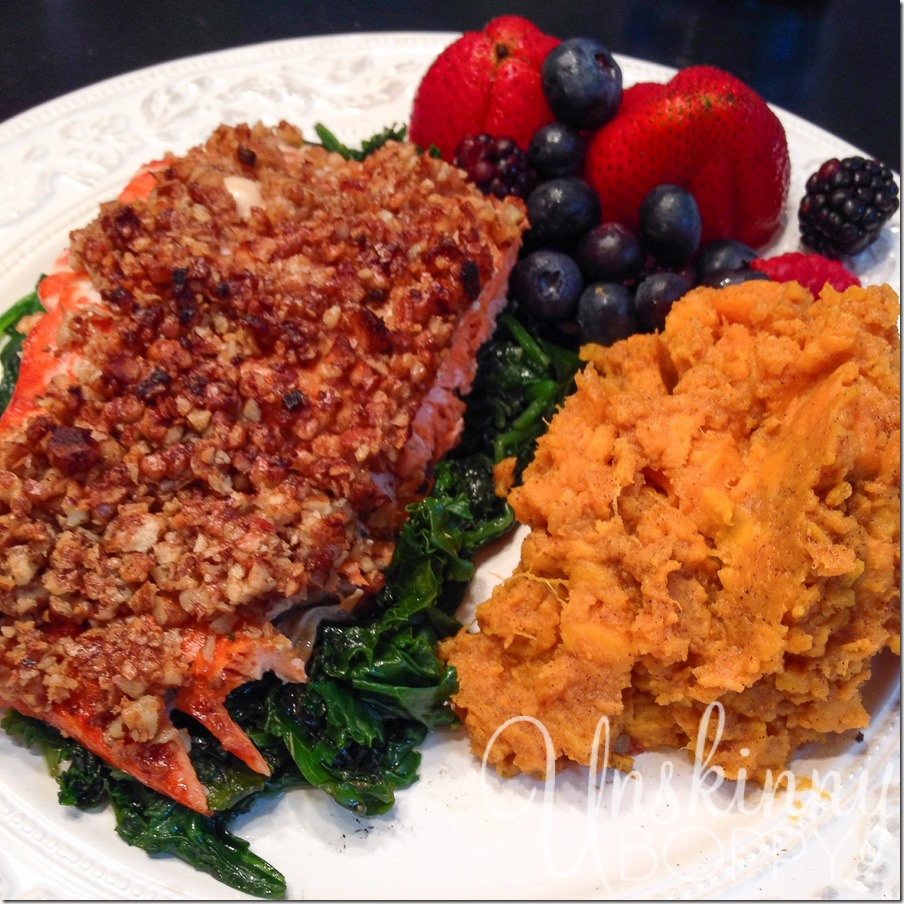 Pecan crusted salmon with sauteed kale, spinach and sweet potatoes. This meal was was like… Commander's Palace good. To make the salmon, I pressed a clove of garlic into a handful of chopped pecans and added some melted ghee (clarified butter) and coconut aminos (fake soy sauce) and salt. Broiled it on top of the already cooked baked salmon and it was so so SO good.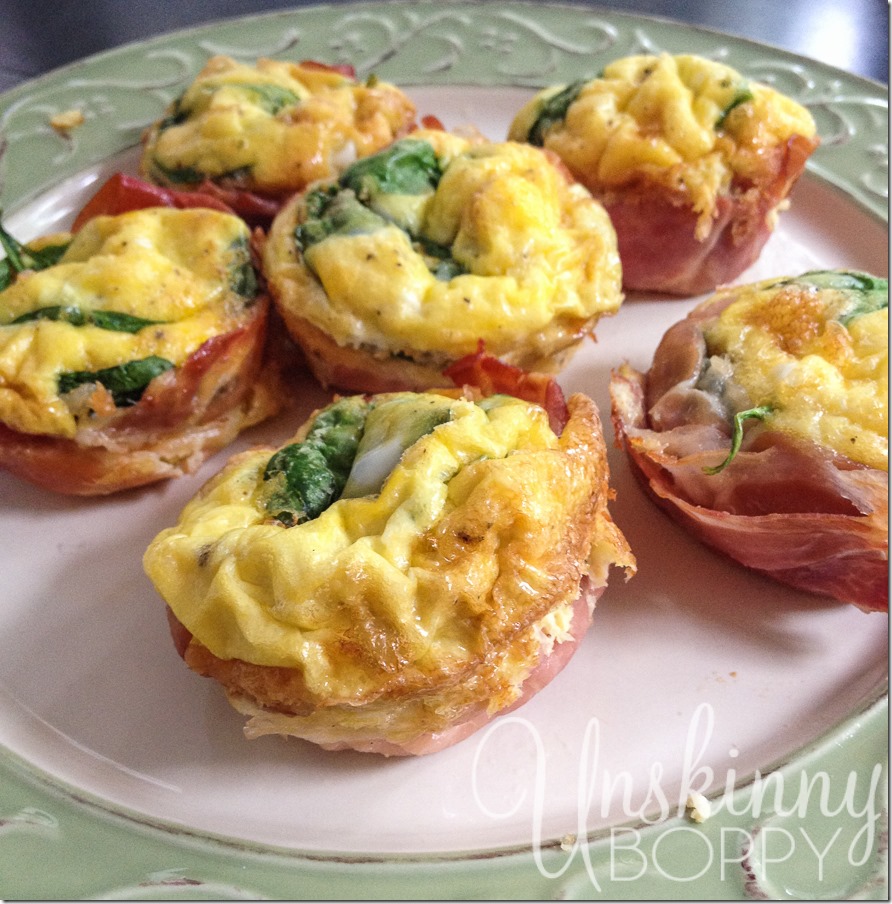 For breakfast I adapted this recipe for Baked Egg and Prosciutto Cups to meet the Whole30 plan.  I basically just mixed up regular scrambled egg mixture and poured it over some spinach leaves inside prosciutto lined muffin tins.  These were a good, fast breakfast that could be reheated in the microwave.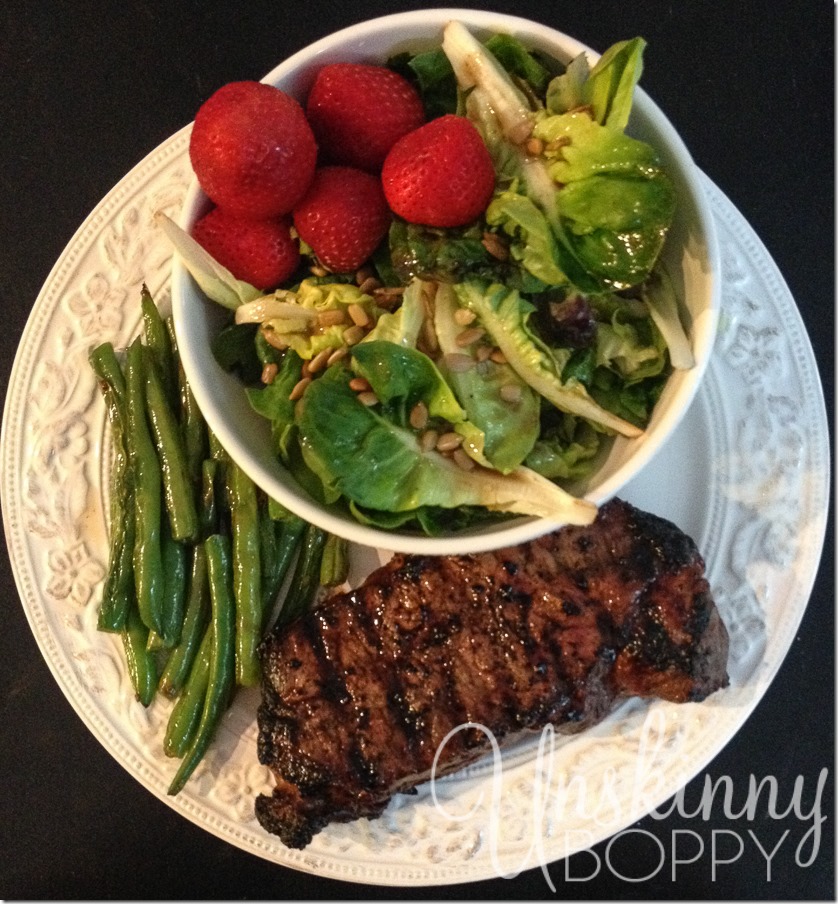 And then there was a night of NY strips on the grill with a side of garlic green beans and salad.  This was more like a meal we would have had before we started the plan, just without the bread and white potatoes.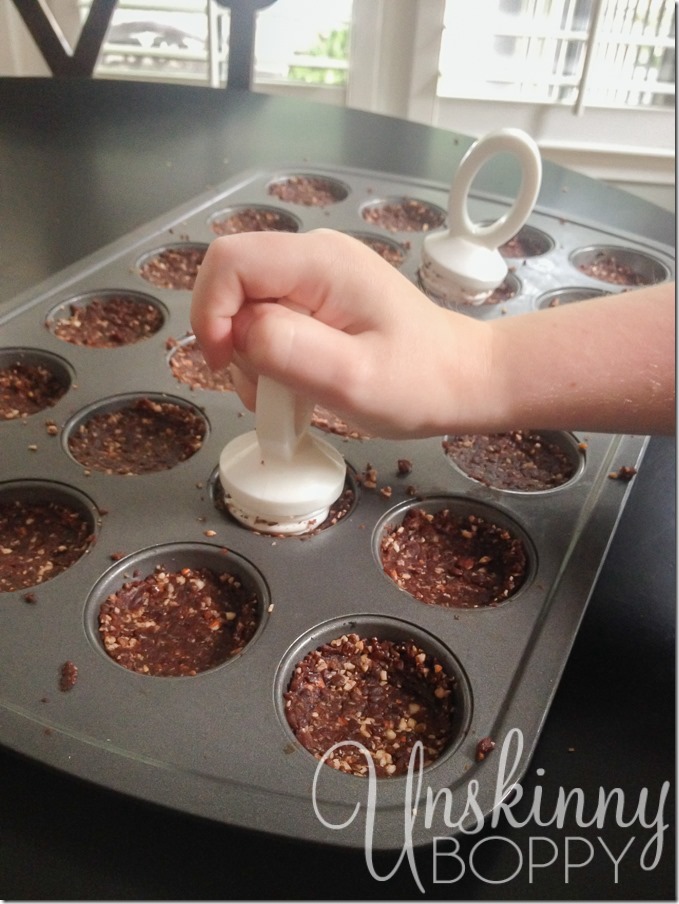 Since we both have a major sweet tooth for chocolate, I decided to give us a treat by making these homemade chocolate lara bars from Our Family Eats.  Garrett helped me press them into the mini-muffin tins.  They are a great little bit of something after dinner to help settle the sweet tooth. I know that's not technically allowed in the Whole30 plan, but it's better than a giant bowl of Chubby Hubby, right?
Stay tuned for more updates on the Whole30, including some of my Must-Have kitchen gadgets to use during the Whole30 Challenge, and also some of my favorite essential oils to help make the Whole30 go a lot easier.