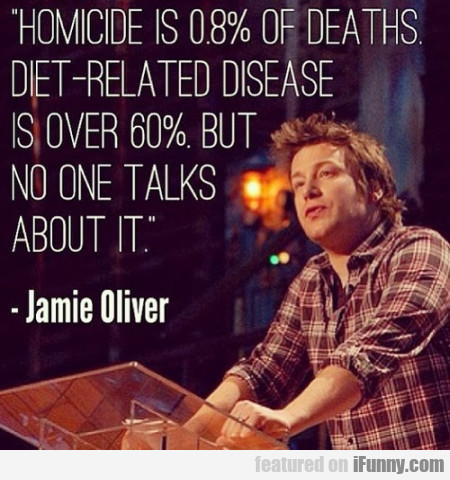 That graphic above sure caught my attention.  Did it catch yours?  So, let's talk about it.
Last week my husband and I decided to try the Whole30 Challenge, pretty much on a whim. 
That's the best way to start a challenge like this one, because if you let yourself think about it too much beforehand you could totally psych yourself out of doing it.  If you're not familiar with the Whole30 challenge, here is the gist of "the rules": No sugar or sweeteners, no grains, no legumes, no dairy, no soy, no white potatoes, no weird additives like MSG or carrageenan, no fruit juice and no alcohol.
For 30 days. 
Then at the end of 30 days you begin to add those things slowly back into your diet to see what your "triggers" or food sensitivities might be.  Here is what you CAN eat: meat, vegetables, fruit, nuts. Drinks are essentially just water, coffee, or tea. So, pretty much water and tea since I don't drink coffee.  It's basically a Paleo diet with a few extra rules thrown in (no honey, for example). This whole thing comes from the book "It Starts With Food", which outlines everything you need to know (if you're interested).  Aside from the food rules you can only eat 3 meals a day, no snacking, and you have to remain undistracted while you eat so you can listen to your bodies signals.
Honestly so far the hardest part has been the grocery bill (Whole paycheck Foods, anyone?).  Another really hard habit for me to break is to sit down and eat a meal without distractions.  Turns out I am ALWAYS distracted while I'm eating. I am constantly wanting to do something else, like read a book, read a blog, watch tv or scroll through my instagram feed while I'm chewing.  It's been a surprisingly hard habit for me to break, especially during lunch. But I'm working on it.  I'm also spending a whole lotta time in the kitchen cooking, prepping, chopping and preparing some really great meals for us so that we don't get burned out eating the same things over and over.  I want it to be a fun challenge, and since I really love to cook I try to give us plenty of variety so we don't go crazy.  Also, the DISHES to be washed.  Overwhelming amounts of dishwashing.
But the good (no, GREAT) news is that we have made it a week so far without any headaches, stomachaches, lethargy or murderous rages, which were all things we were warned about by others who have done the Whole30 in the past. Thankfully we have each other to rely on, so that really helps us stay motivated and on track.  If I was doing this challenge alone and looked across the dinner table to see my husband and son gorging on pizza and pasta and other carbs I cannot eat then I might have some murderous rage, but since we are doing it as a team we have done really well!  Another key is to always be prepared.  You have to think ahead, plan accordingly, and be ready to eat as soon as you get hungry. If we let ourselves get into the red alert level of hunger then things can get kinda Hangry, if you know what I mean.  So yeah, we have to avoid the hangry and always plan ahead with exhaustive meal prep.  For 30 days.
There is also some major motivation to find the underlying cause of some medical issues we've been dealing with (here comes the talking about it part), and not to mention lose weight and get healthy for all of our sakes.  But more than that, I want my husband back.  Migraines have consumed my husband's life for more years than we care to count, and for a few month he got some major migraine relief from Young Living essential oils.  But after that few months of relief, he had some changes in his stress levels and his migraines came back full force, and they were so bad that no prescriptions or essential oils would touch them. Last Monday we sat in the ER for hours while his unbearable migraine pain elevated his blood pressure up to scary levels.  And that was a breaking point for us. We knew it was time to get to the root of his migraines and try to cut them off before they even begin.  We were tired of treating the symptoms and wanted to get to the cause of the issue.  Eliminate the cause, and you eliminate the migraines.  That's where the Whole30 came in.  My friend Dusty at All Things G&D first introduced me to the plan a few years back. She's done several Whole30 challenges and had really good success with them.  I had read so many great things about it from other folks on the internet (seriously life changing kind of testimonials) so I decided that it definitely could not hurt to try it, so here we are today.  One week in, and feeling better by the minute.  On Day three my right hand ring was so loose on my finger I could almost shake it off without touching it.  So… yeah… something must be going right.
I have been using my essential oils for energy (more info on that later), and I've also combined this challenge with the Young Living Digest+Cleanse for 30 days to detox my liver.  I mean, let's face it—after several recent girl's trips that included too many bottles of wine my liver could use the extra help.  I'm also taking the Young Living Life 5 probiotics to try to give my gut some backup defenders to march all the toxins and crap out of my body and restore peace and tranquility down below.  So far, so great.
Here are the highlights of some of the meals that we have eaten on Days One through Seven, to give you an example of how great we are eating on this plan:
Typical Breakfast:
2-3 scrambled eggs, side of veggies, some kind of nuts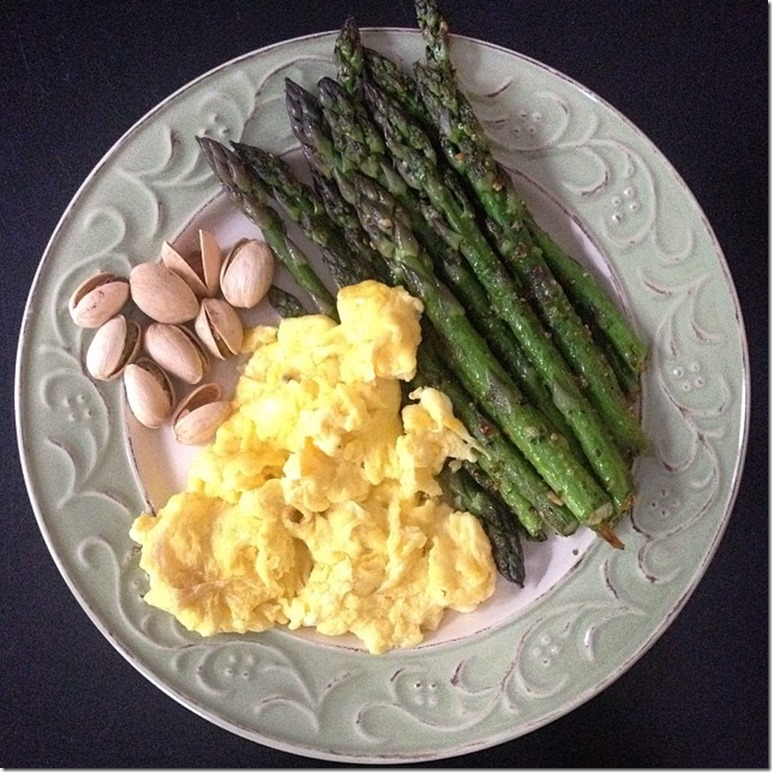 Typical Lunch:
Roasted chicken, apples, squash and grapes mixed into a chicken salad with an avocado instead of mayonnaise, side of fruit or veggies.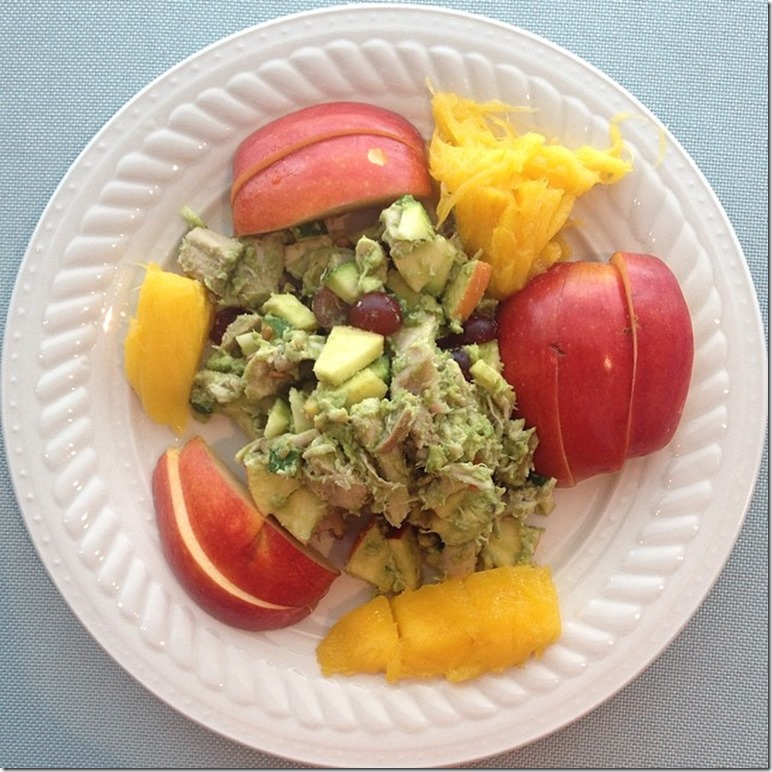 Salads are easy, but too many of them gets really boring, so I'm keeping it interesting by topping mine with cashews, blueberries and a sprinkle of coconut. Add a side of sugar-free lunchmeat (which is crazy hard to find) and some strawberries and I'm good to go.  Thankfully I found the Wellshire Farms roast beef without sugar at Whole Foods.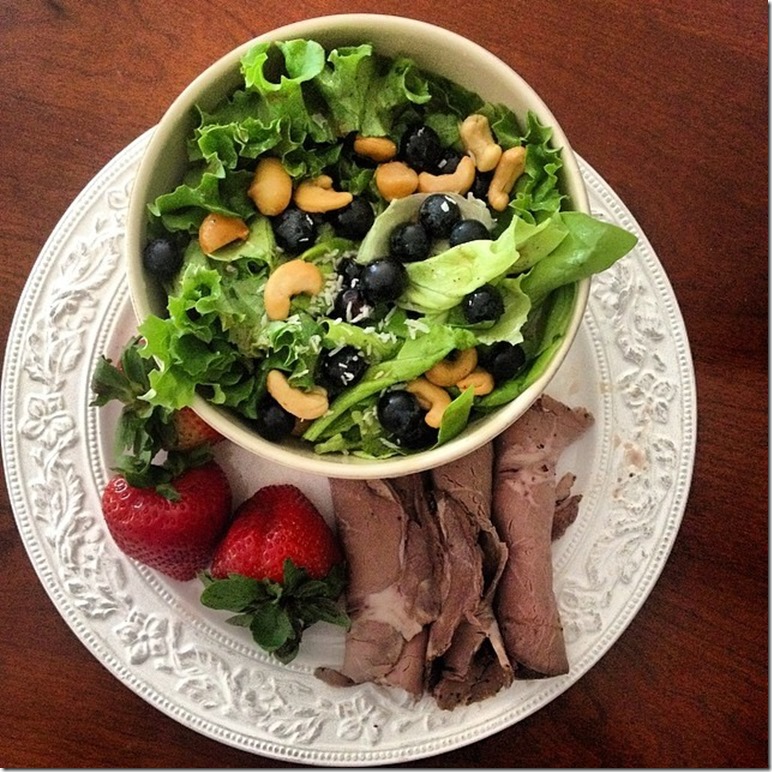 Typical dinner:
Protein, lots of veggies, with a side of fruit/vegetables and more fruit. This was the Grilled Swordfish with Peach Avocado Salsa and a whole bunch of sauteed spinach, kale and brussel sprouts.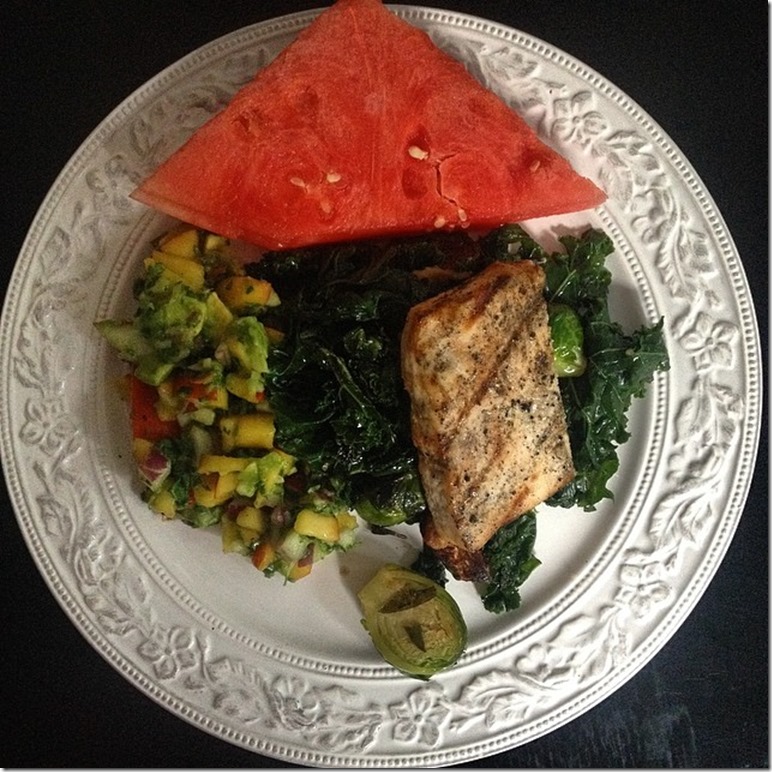 On Father's Day we grilled out on the Big Green Egg all day long to prepare meat for the week ahead.  We also had some really great bunless burgers with homemade mayo and tomatoes that satisfied the backyard barbecue taste buds.  You can find the homemade mayo recipe here.  It is kinda "meh", in my opinion, but it's better than nothing. I think I need to get a fresher bottle of olive oil since mine tastes kinda old and probably is what making it "meh" for me.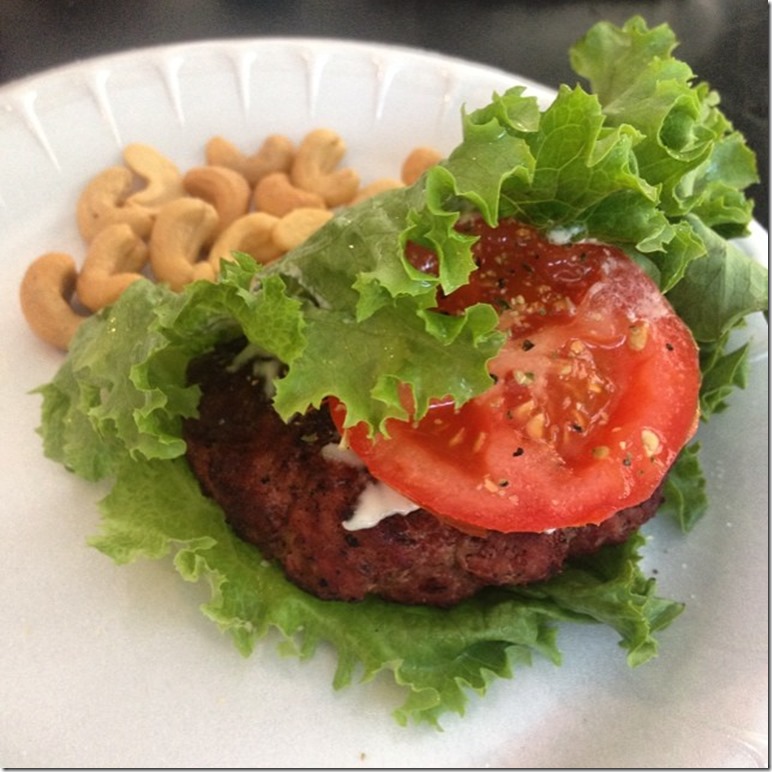 All in all?  We are doing WAAAAYYYYYY better with this than I could have ever dreamed at this point.  I thought for sure that I'd be curled up in a big headachey, whiney, drooling ball by Day 4, but we have sailed right on through without any issues.  We even survived a date night last night at The Comedy Club AND a movie without letting anything pass our lips except water.  That is a damn miracle, y'all.  Eating out is a touchy subject, since you cannot be sure how they cook the food.  I'm also not one to harrass the wait staff over how my food is cooked EXACTLY to my specs, so for now it's easier to just avoid.   I know that isn't possible in real life, but for 30 days I can handle it. 
I'll keep y'all updated on my progress, along with some recipes, tips and tricks I've learned about how to stay strong and have a successful Whole30 Challenge!  Stay tuned!