<deep breath>
Ok, here goes. 
I'm coming out of the closet with a few things today.  First off, I'm ripping off that weird blogger Band-aid of privacy and inviting you, my dear readers, into my home for a FUN Girl's Night Out.  Ready? Here goes… I'm hosting an Outlander premier party!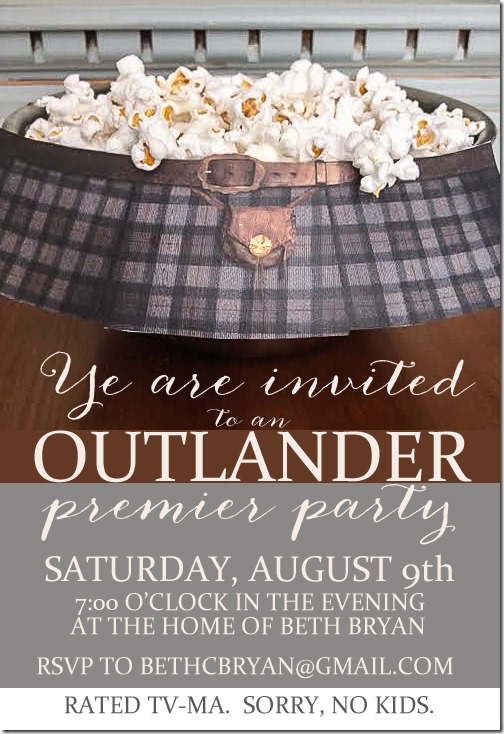 Here is the backstory… years ago my friends Dusty and Allison introduced me to to the Outlander book series. I paid them no mind until I got sick with the para-flu last year, and suddenly found myself laid up in bed with a large chunk of time on my hands with nothing to do save for trying to breathe without coughing.  Cue the Kindle download of the entire Outlander book series.  Now, granted, I might have outkicked my coverage when I made it a goal to read the whole series in the span of a single sickness. These suckers are HUGE.  I admit I barely put a dent in the first book, but it was enough to get me sufficiently hooked.  Nearly a year later and I still haven't made it all the way through.  I'm just now starting the 7th book (Echo in the Bone).  In June a new 8th book in the series was released (Written in My Heart's Own Blood) which is on my Birthday/Christmas wishlist.
Now, just as a precaution let me say that these books are not for the faint of heart.  They are historical fiction, so they are big, meaty volumes with lots of Gaelic words that I cannot even pronounce.  There's also plenty of blood, violence and sex, so they keep you on your toes. In NO way are the Outlander books a lighthearted, smutty beach-type read, so if that is your style I'm not sure I can recommend them.  But, if you like a book series with some serious depth to it, Diana Gabaldon does an outstanding job of keeping you engaged.  I won't give you a full book report since you can read all about the premise on plenty of other websites.
Imagine my genuine excitement when I found out just a few short months after I became totally addicted to Outlander that Starz is filming a new television series about them!  And, because I have always been an Anglophile with a slight fascination for men with a Scottish accent, I am SO FREAKING HAPPY to see these books come to life.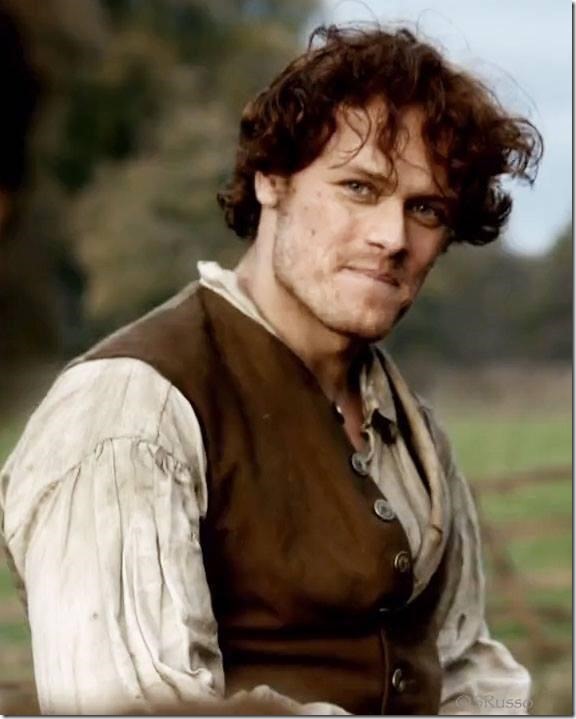 Yep.  Like, really, really happy.
Speaking of wordy authors, I guess it's time for me to stop gushing and get back to the original point of this post! 
So, with all that being said, I cordially invite you to join me in my home for a premier party of Outlander next Saturday night, August the 9th, at 7:00 pm.
If you are in the Birmingham, Alabama area and would like to join us for a Girl's Night Out to watch the premier party, please email me at [email protected] and let me know!  I'll get you the info on how to attend!  Keep in mind the show is rated TV-MA, so no kids or super-prudes allowed.  hehehe..
Now, y'all know I cannot throw a party without making a fuss, so it should be lots of fun!  I have already started shopping for lots of plaid flannel to decorate the food table.  #PutAKiltOnIt.
PS: Hosting your own Premier party? Get your own printable kilt here.
All photos courtesy of Starz.