Even though we had celebrated our anniversary in the woods of Wisconsin earlier in October, that didn't stop us from planning another getaway to Franklin,Tennessee for anniversary getaway part deux.  This trip was spent at The Granary at Peacock Hill, which was a converted grain mill turned into a cute little cottage on a farm in the middle of nowhere, Tennessee.  Actually when you get to the middle of nowhere, you turn left and go just a little bit further before you get there.  Oh and here's a hint…Don't rely on your GPS because even that chick got lost.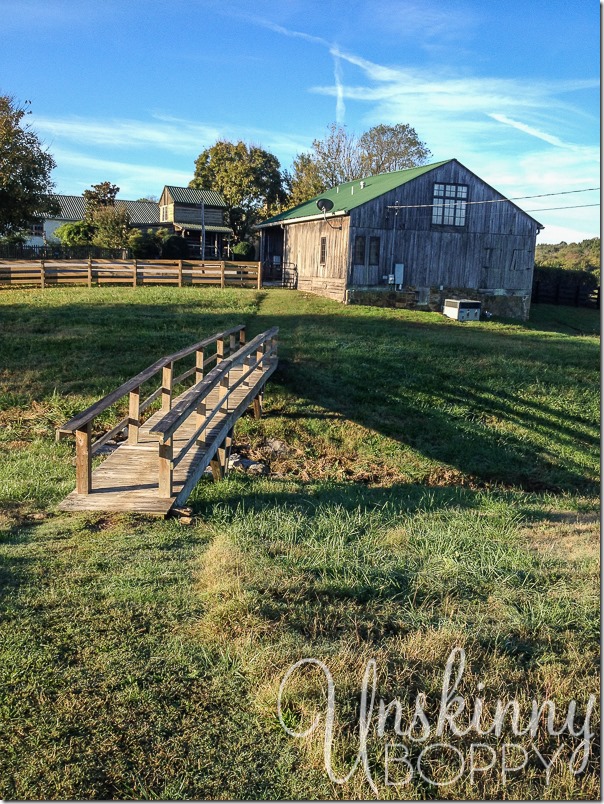 But once you arrive, it is Oh So Worth It.
The Granary overlooked acres and acres of rolling Tennessee hills and pasture land filled with cattle that we could literally hear mooing inside our cottage.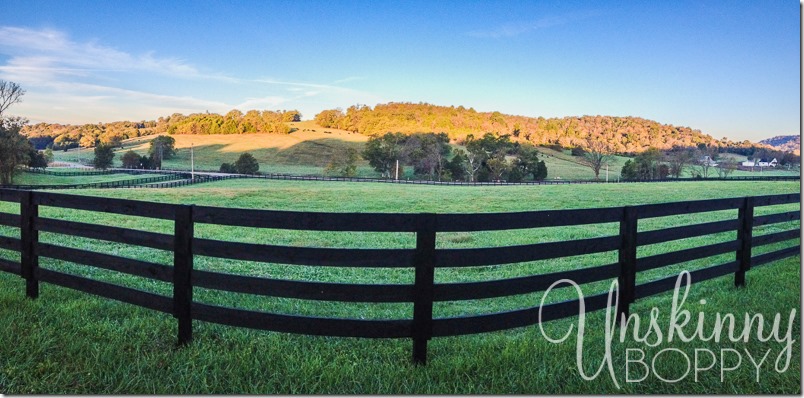 There was a secluded porch with stacks of Southern Living magazine and chairs that looked just like the one out on my back porch in my Southern Living plant collection blog post.  Ironic, dontcha think?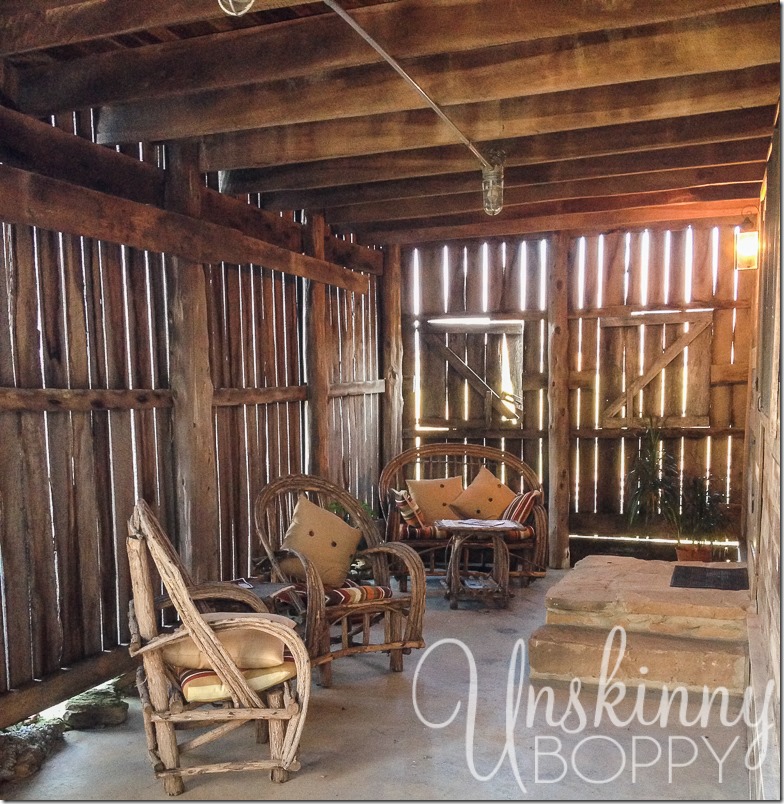 Inside, the renovated cabin had a huge king bed and a fireplace sitting area on the main level with impressive wooden beams on the ceiling.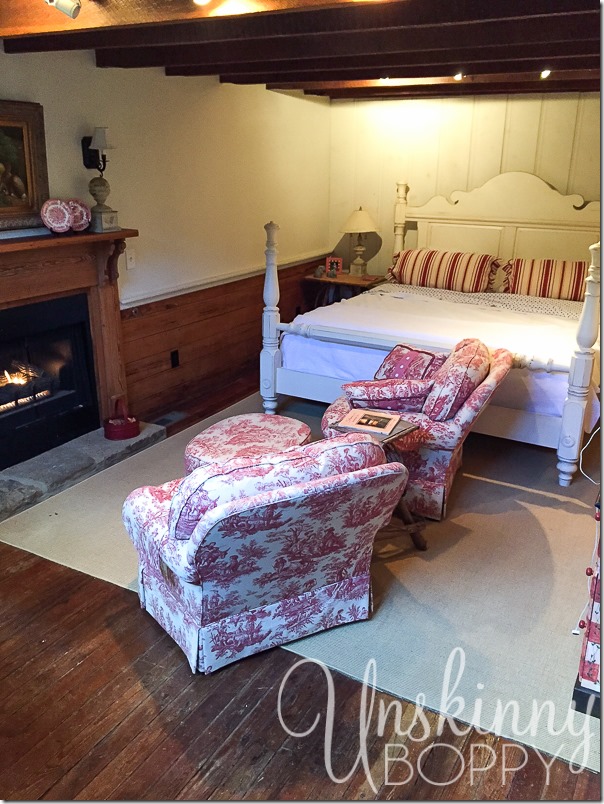 Also on the main level was a giant bathroom that featured an equally impressive heart shaped jacuzzi tub. Thankfully there was also a shower, because after all– this was our 10th anniversary trip–not our honeymoon.  I won't gross y'all out or anything, but this cabin was romance personified.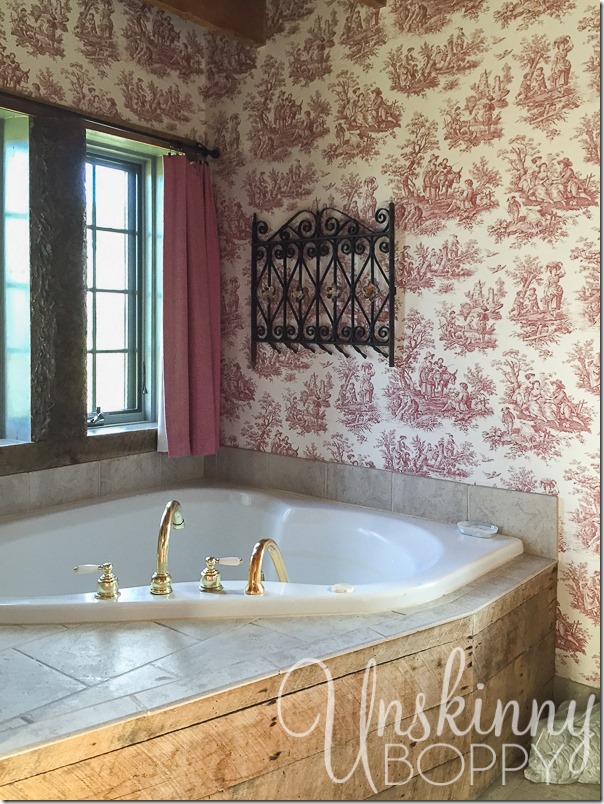 Upstairs was a kitchenette and living room area which we didn't even use all that much.  If we had stayed longer it would have seen more action I'm sure, but mainly we just chilled our bottles of wine and water up here.  It was great having a kitchen area because the nearest food was about 30 miles away.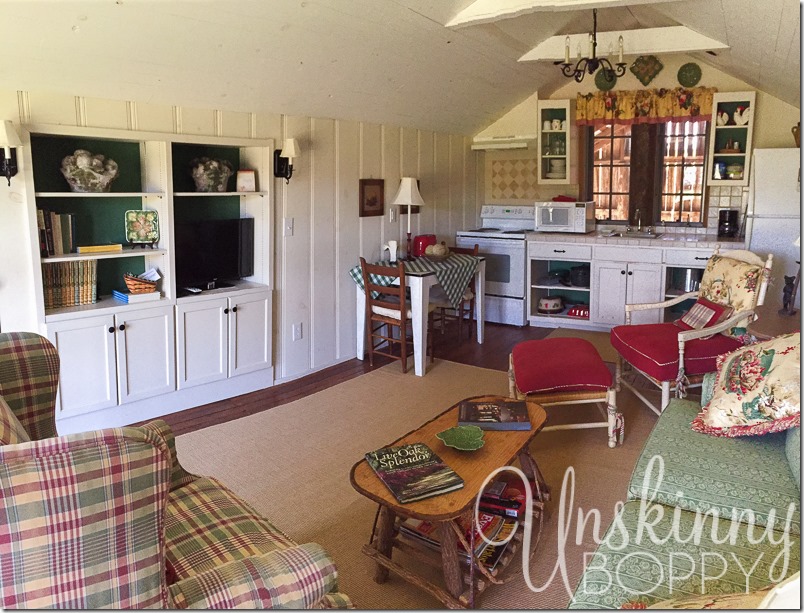 The views outside the windows were amazing, though. We were able to see some killer stars out this window at night.  There is nothing like star-gazing out in the middle of nowhere without the lights of a city causing a glare. One night we walked arm-in-arm out to the swimming pool and tennis courts and tried to name the constellations.  I didn't get too far without my iPhone constellation app, but even that didn't work out here in the country.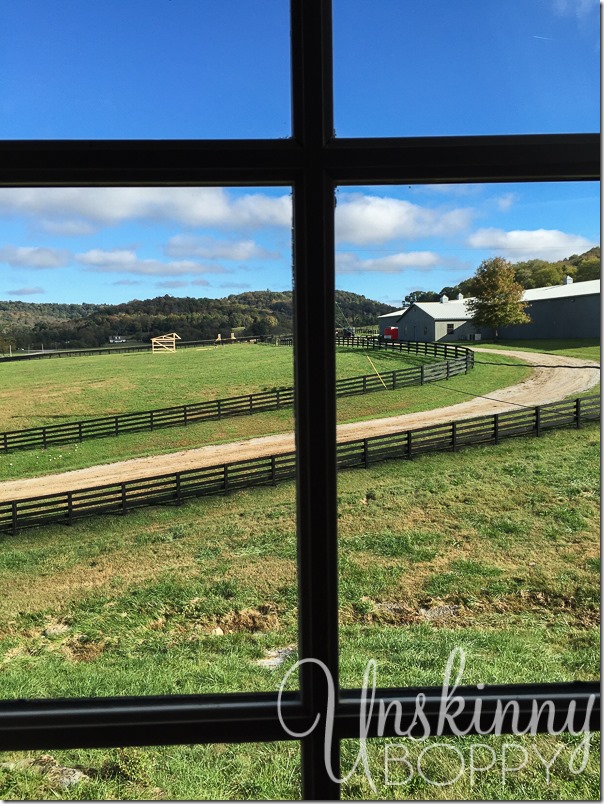 This cabin sits on a real working farm, so we got to watch the farm hands do their farm-handy kind of stuff while we were there.  We also got to meet Latte and Oreo, the two resident goats.  They were sweetie pies, although they did take a few nips at the hem of my dress.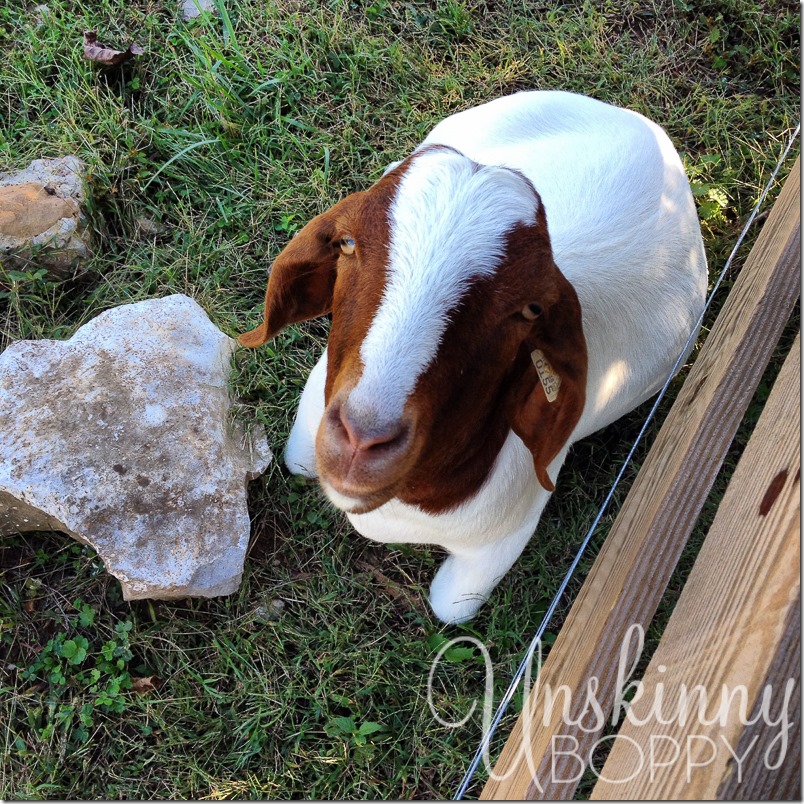 And then there was Alice the mule standing under the most beautiful tree in the pasture. Can you spy her?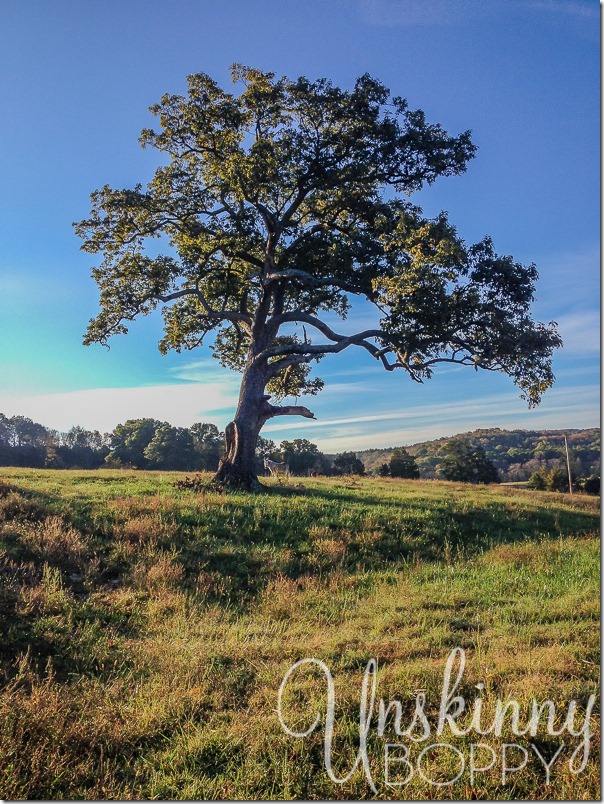 On Sunday morning I got up early and took a walk around the property on the hiking trails all by myself. It took me about .25 miles of "hiking" to realize that A. I was not wearing the right shoes for that trek and  2. I am way too out of shape to climbing up to the top of a Tennessee mountainside alone without telling anyone where I was going, so I turned back around and headed back home before I accidentally rolled down the mountain head first.  Along the way I caught a shot of the sunrise coming up over the hill while the dew was still on the grass.  The peacefulness of this place was something powerful indeed.  This was total soul food right here.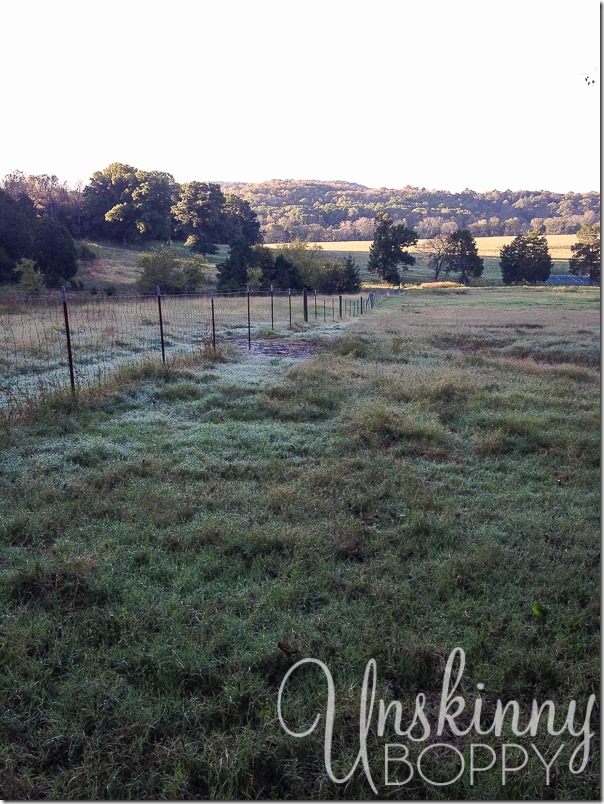 And just when I was about ready to sell all my worldly possessions and move out to the country to start my own farm….I got photobombed by a horse.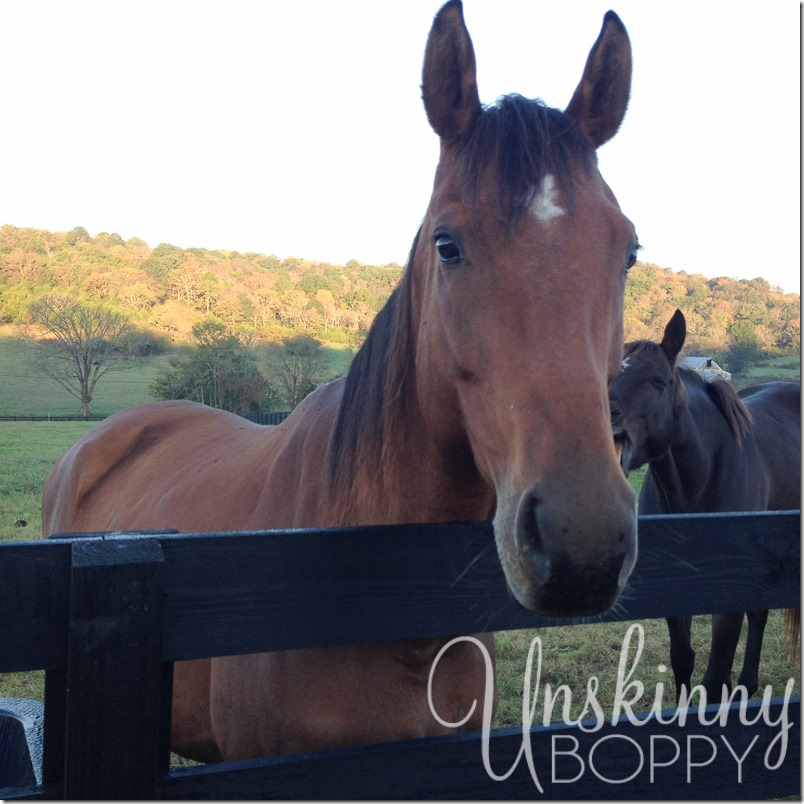 Which of course made me love this place even more.
The laughter that this photo brought out of my six year old was worth the whole trip.  He thought this was the funniest thing in the wide world.  Six year old laughter is like salve to my soul.
And so was this excellent anniversary vacation to Franklin, TN.  I want to go back, like… yesterday.