Recently I realized that I have never blogged about my parent's beautiful home.  They've lived here for 12 years, so I'm not sure why it's never occurred to me to put it on the blog before now. Since my home is still not blog worthy (sorry, y'all) I am going to give you a tour of my parent's dream backyard today. It's a stunner!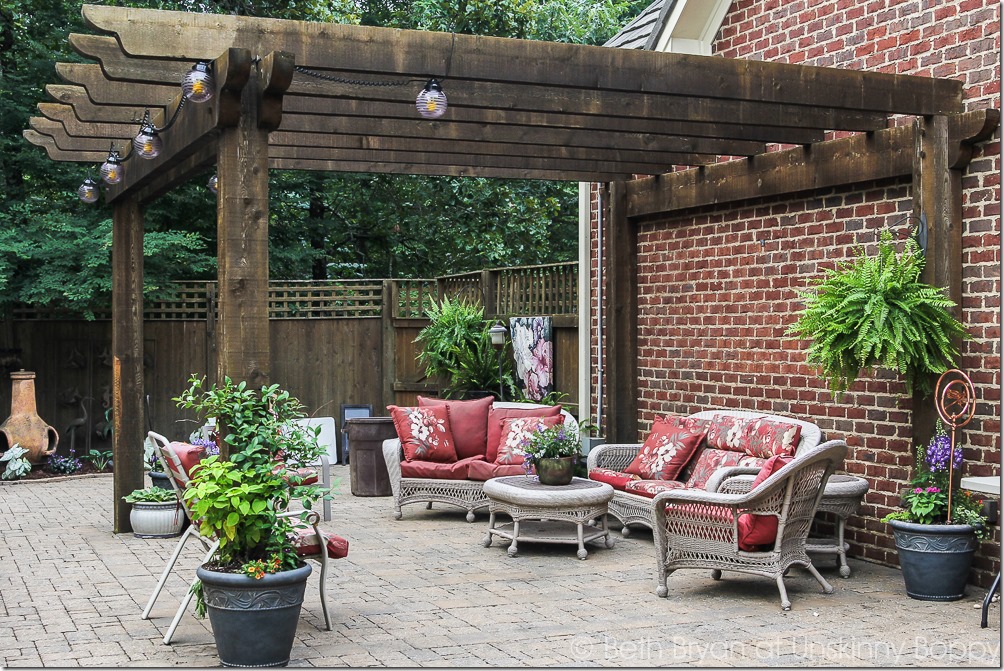 When we moved in right next door to my parents, I agreed to become the Special Events Coordinator for the whole neighborhood where we live.  My dad has been wanting to throw a big neighborhood party in their backyard for years, so last weekend we finally made it happen.  We put in hours of hotsweatymess time getting it whipped into shape for the party, but it definitely paid off in the end.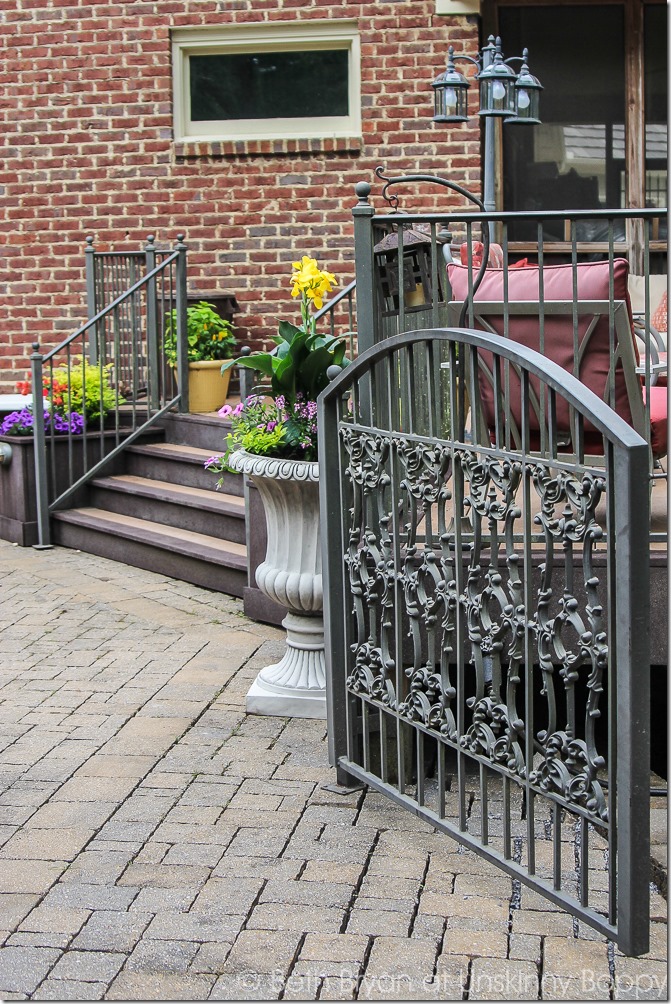 I figured all that sweat equity was worthy of a blog post, so here we go.  Let's take the dream backyard tour!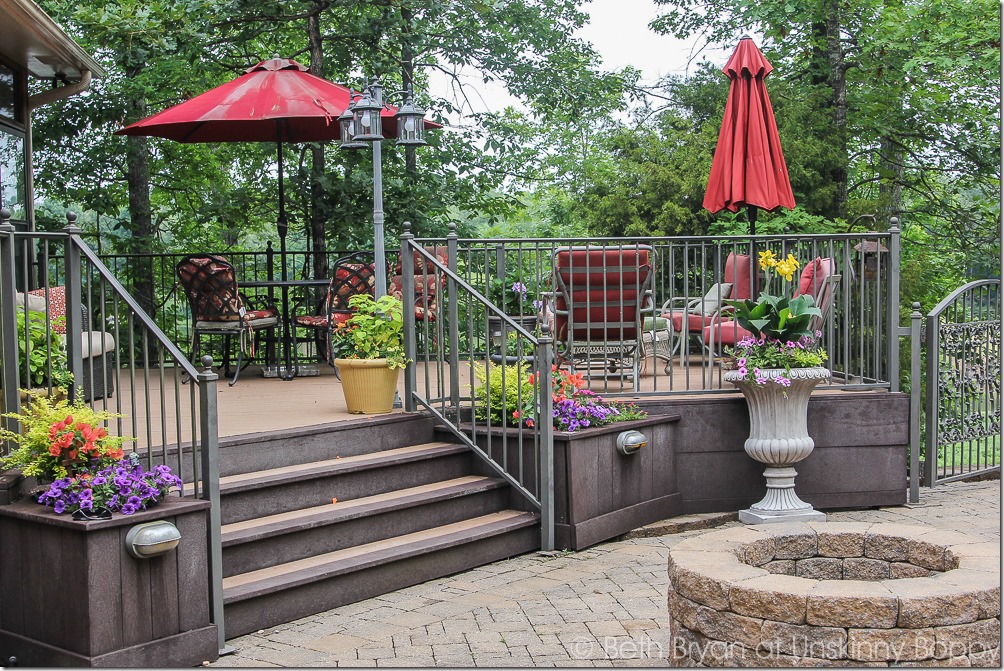 My main contributions were choosing the flowers for all the containers.  Instead of typical pinks I chose to go with some different color combos in the planters.   Yellow, purple and oranges were my choices this summer.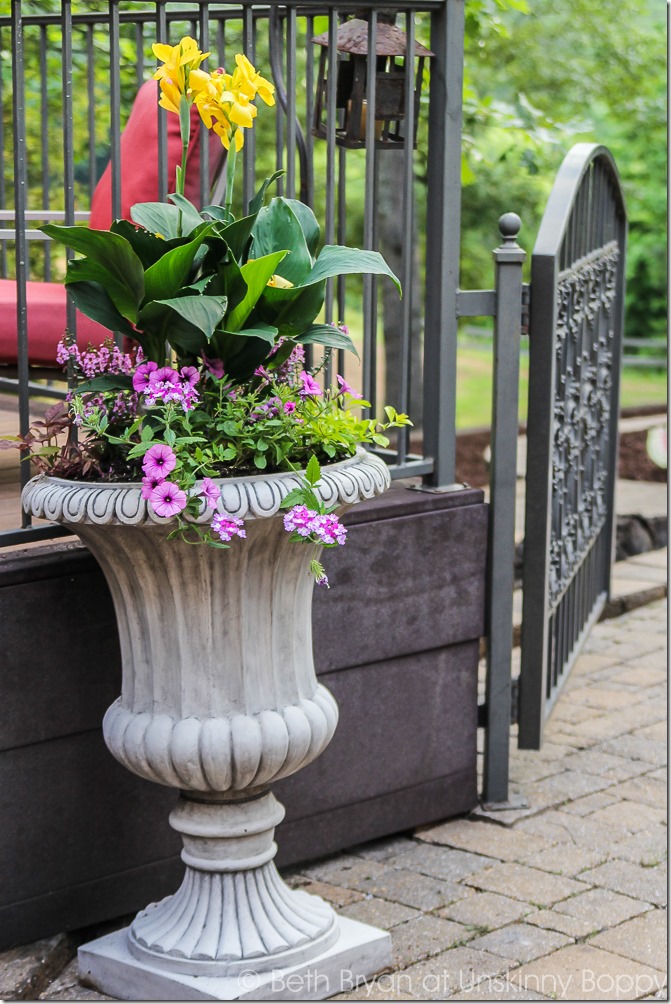 This urn got a mixture of yellow canna lily with purple wave petunias and bright green creeping jenny.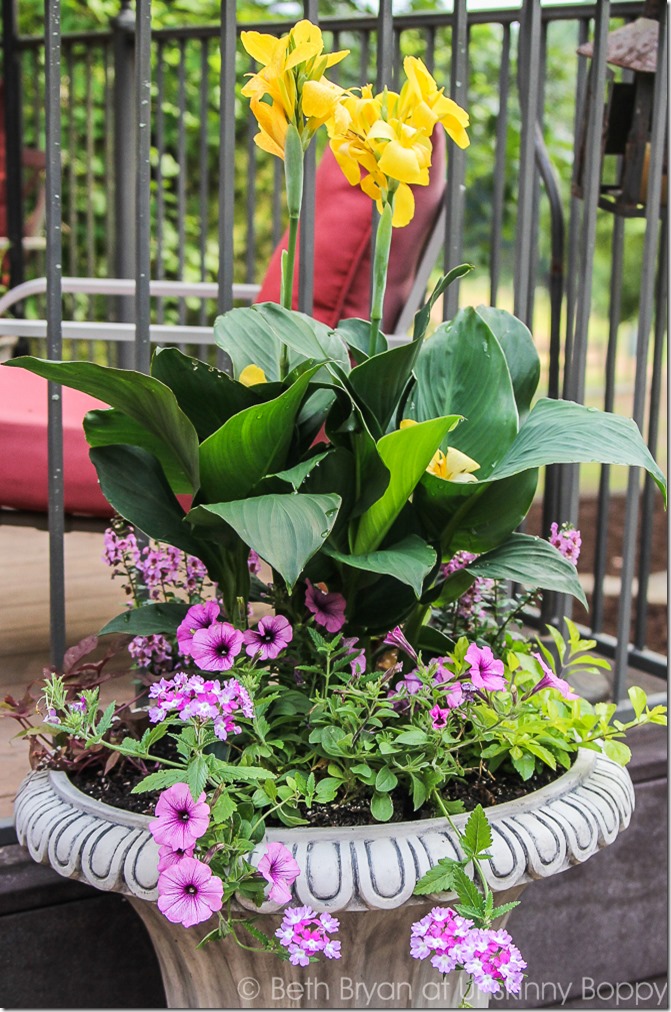 Two matching planters on either side of the stairs got this striking combo of Sunshine Ligustrum, a coral/ orange colored bougainvillea, and purple petunias. I LOVE the way these colors look together.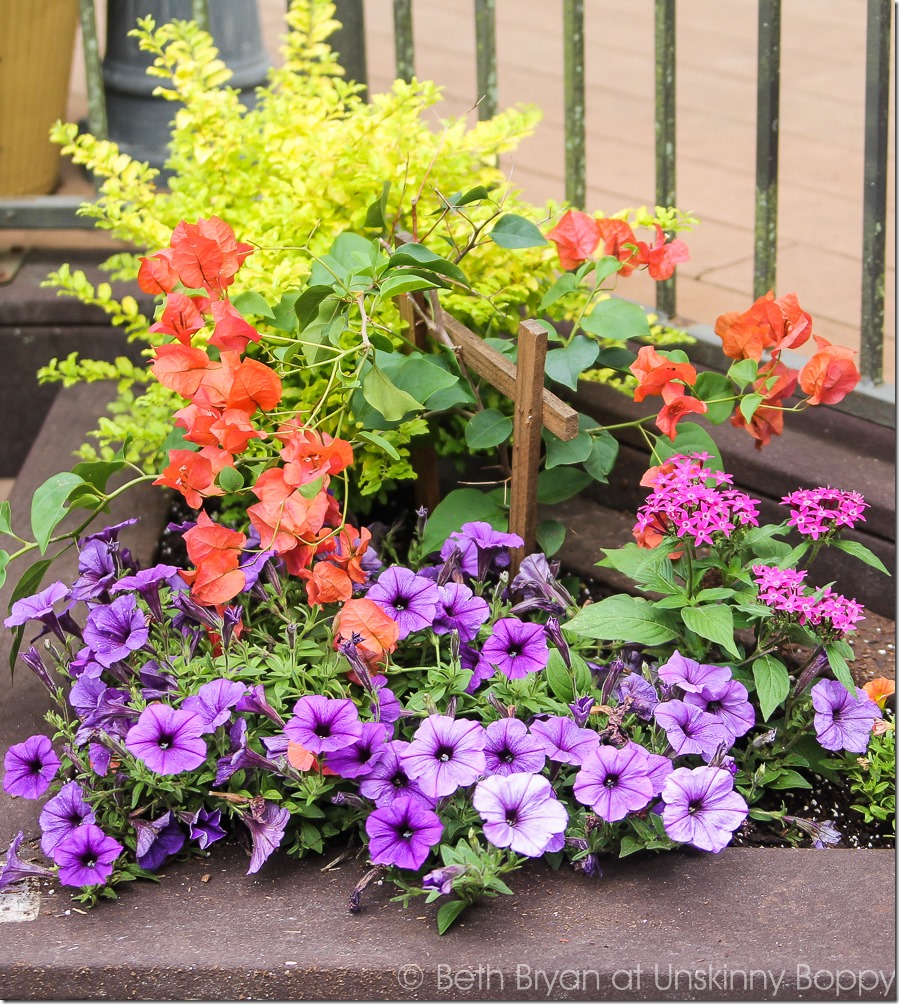 My mom loved the way that bright chartreuse green shines like a beacon in the shady areas, so we added it where ever we could find a spot for it.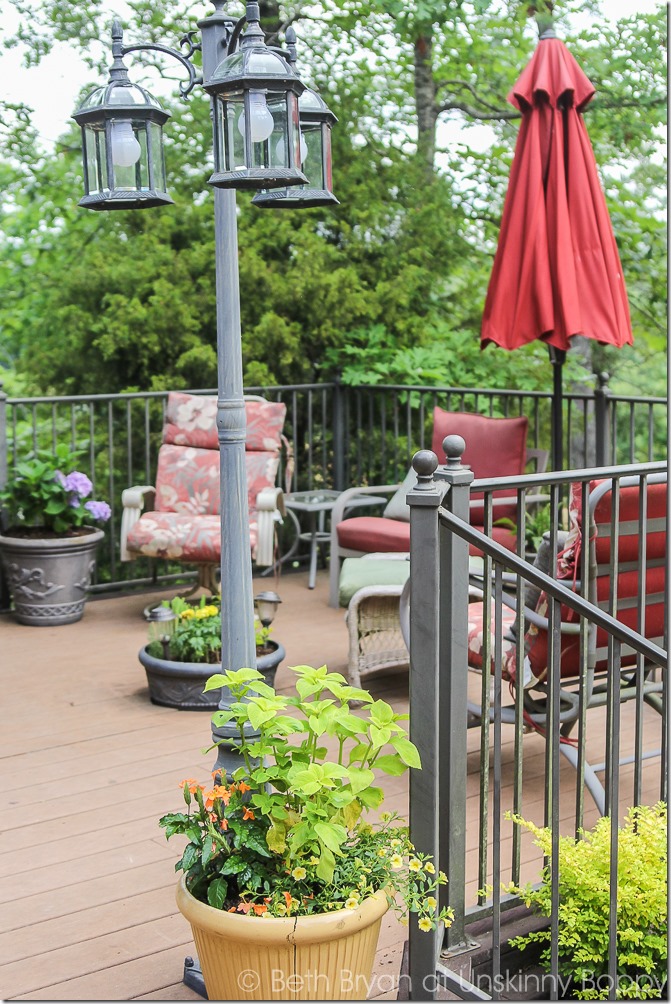 This shady corner of the courtyard got planted with a mixture of hosta and caladiums.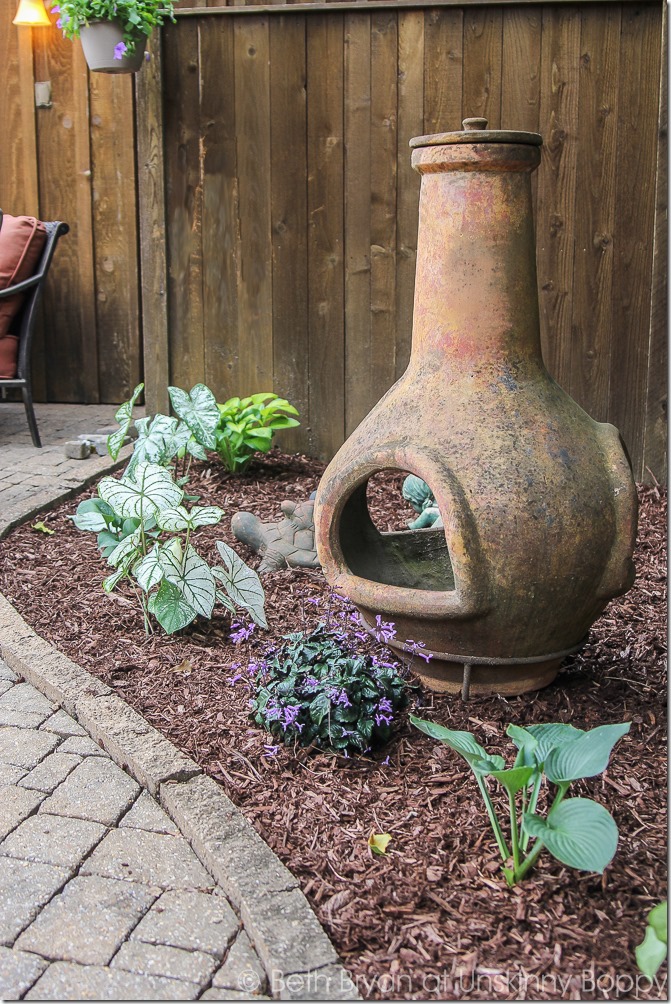 And this  little purple and green beauty… a Mona lavender plectranthus.  Be sure to check out my Top Five Shade Loving Plants over on eBay if you've got a shady spot to fill in your garden.
This might be my favorite spot in the whole yard, because you can look out over the lake and build a fire in the firepit. My whole family loves the lake, so we have spent lots of nights out here roasting marshmallows and listening to the frogs and crickets sing.  It's kind of like a magical place tucked away from reality where you can forget all your worries for a minute.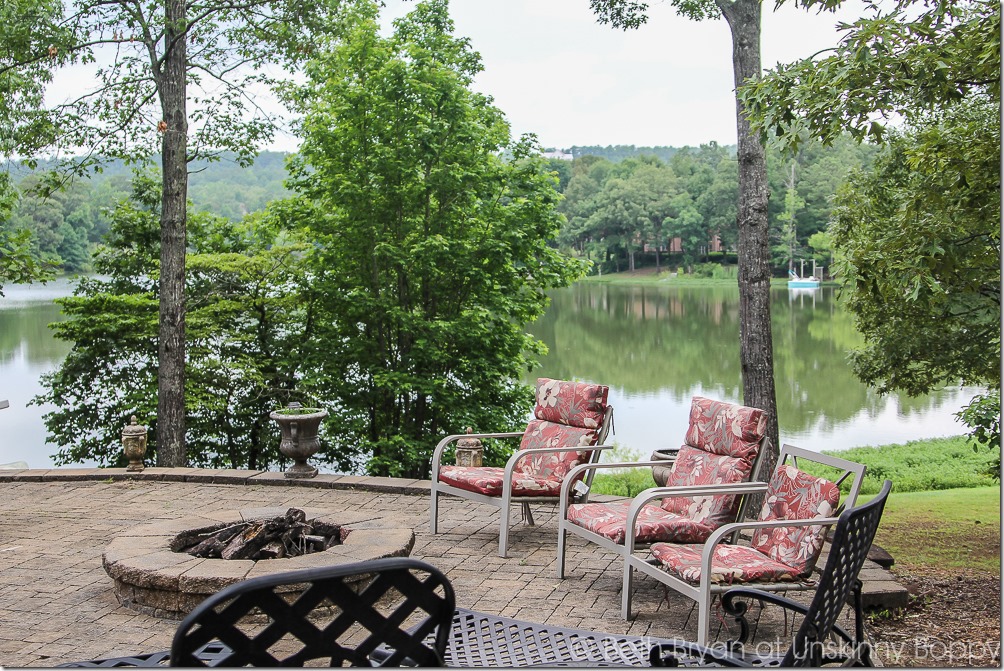 There is a neighborhood walking trail along the edge of the lake, so I added these two blue slump pots to welcome any guests who arrive from the lake side.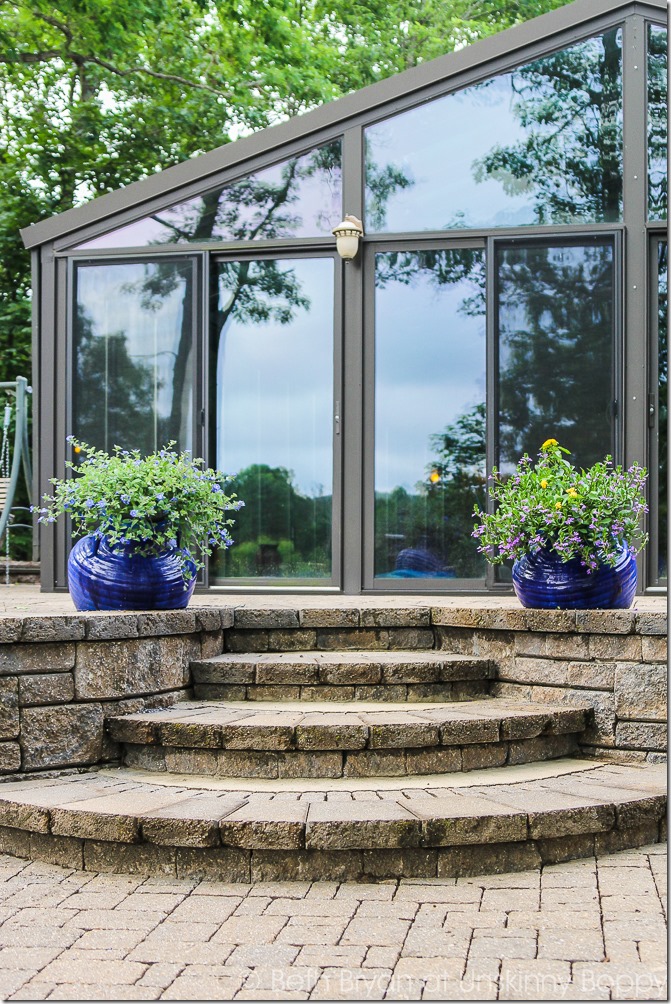 I have one of these same blue pots at my house, and just love they way a trailing plant looks hanging out of them.  To keep it simple I usually buy a trailing hanging plant and leave it inside the pot that it comes in to make it easier to water.  Just stick it inside the pot, remove the hanger and call it a day.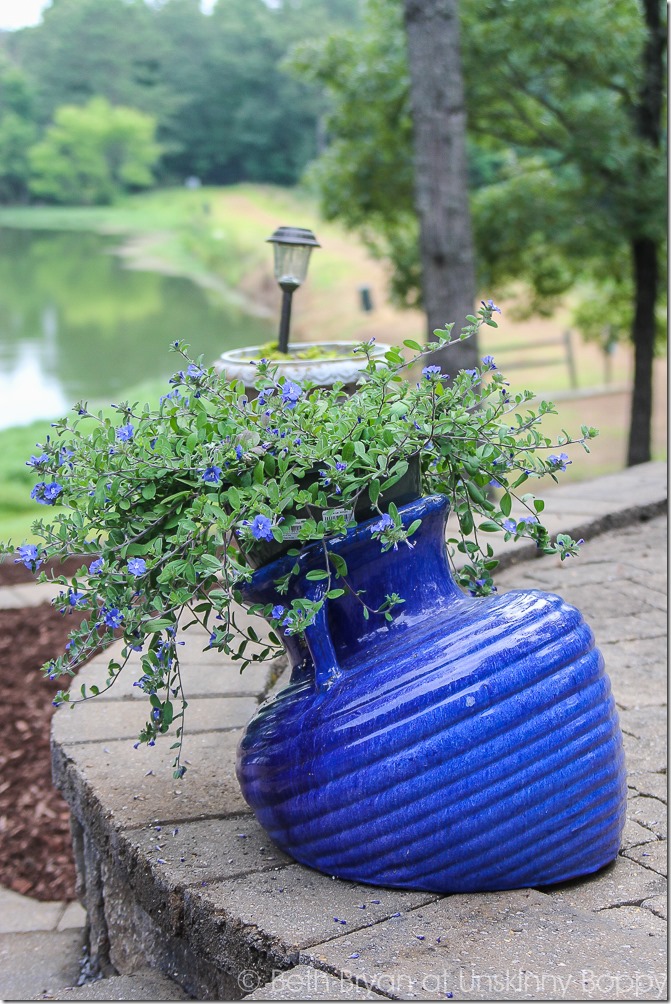 My due date is August 17th, so I plan to spend the final days of this pregnancy floating right here in this pool and eating watermelon. I cannot get enough watermelon these days, and what better place to eat it than right here?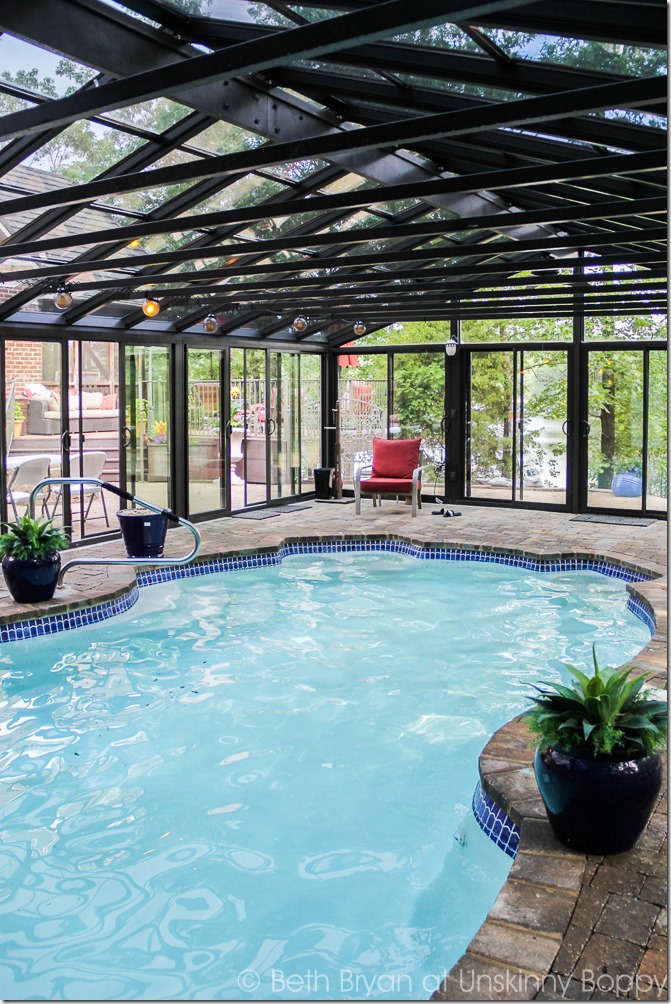 Here are a few of my other favorite containers that we planted.  This one had an existing confederate jasmine plant that climbs up the pergola post, so we added a few little plants underneath it.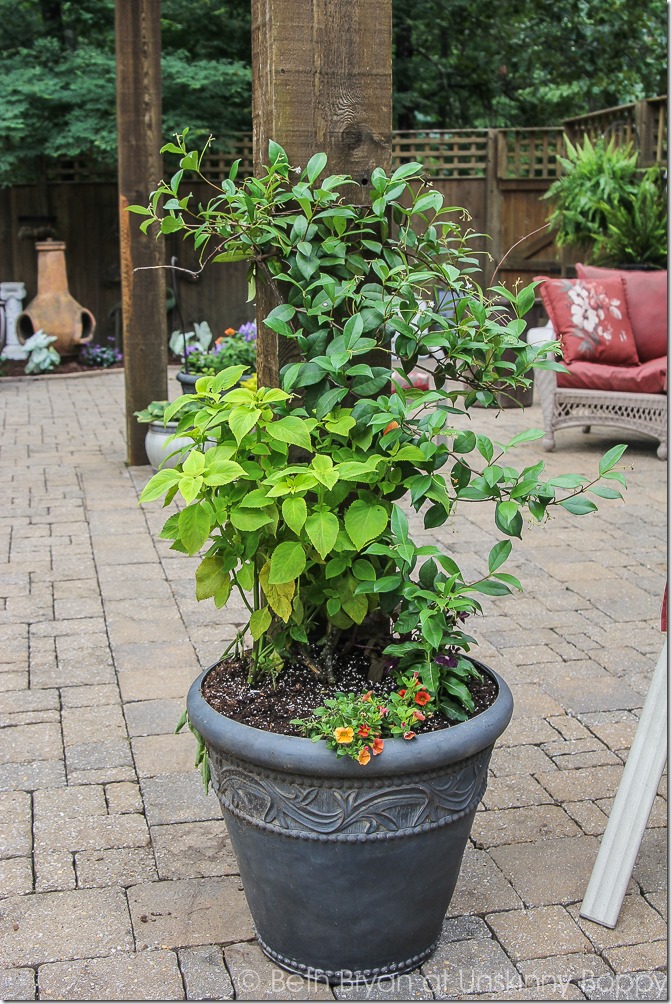 Purple delphinium are some of my favorite plants.  They are perennial so hopefully they will come back year after year in this pot along with creeping jenny.  I tried to add more perennials so hopefully next year won't be as much work to get things planted.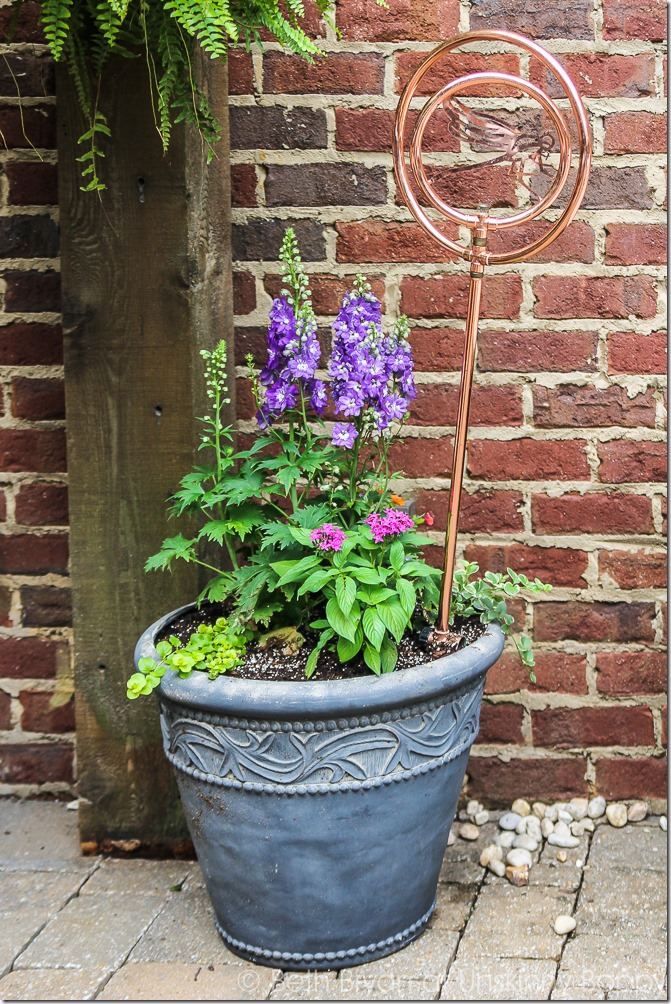 Those bright yellow spiky flowers are called shrimp plants, and my mom couldn't resist them.  Planted along side a chartreuse coleus, trailing yellow Million bells and a yellow marigold, this is like a pot full of sunshine.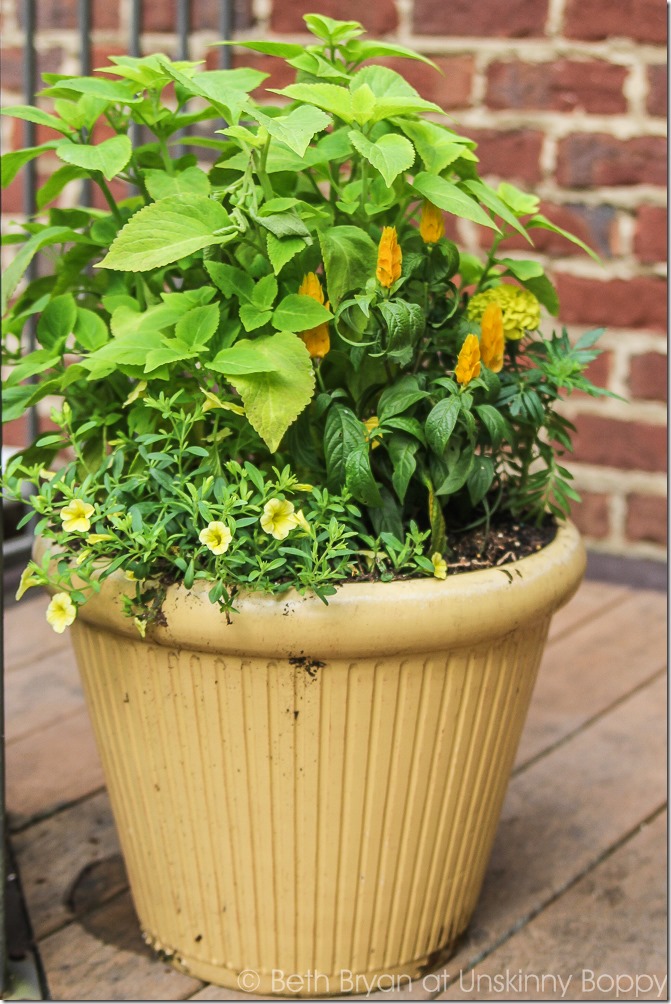 You can never go wrong with groups of threes, and that same rule applies in the garden.  Love this little group of flowers.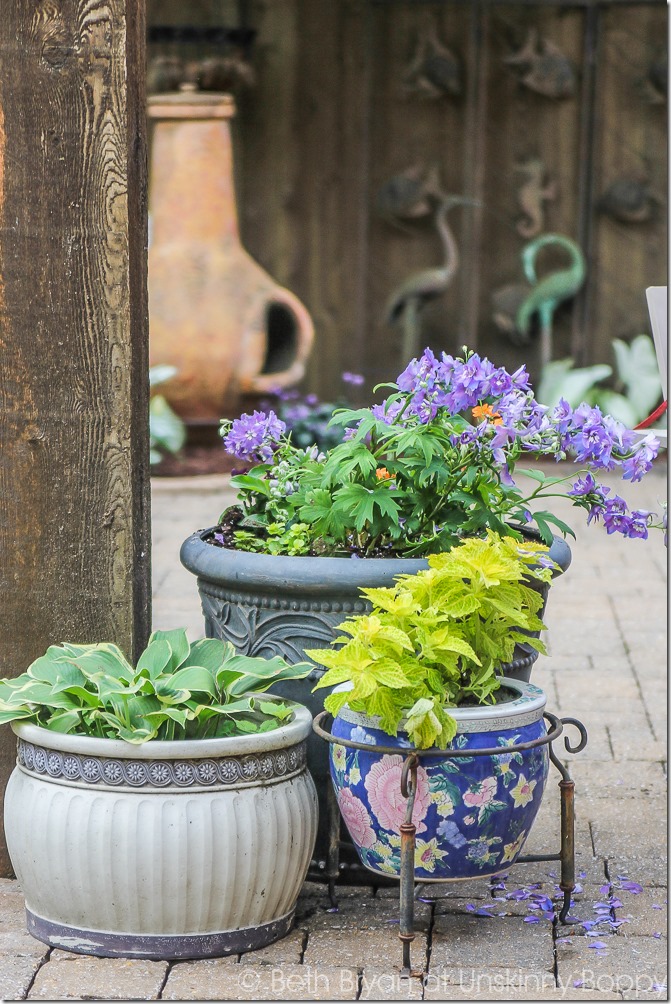 And sometimes instead of an elaborate container it's just as easy to keep it simple and plant one of your favorites. Hydrangea are always perfect.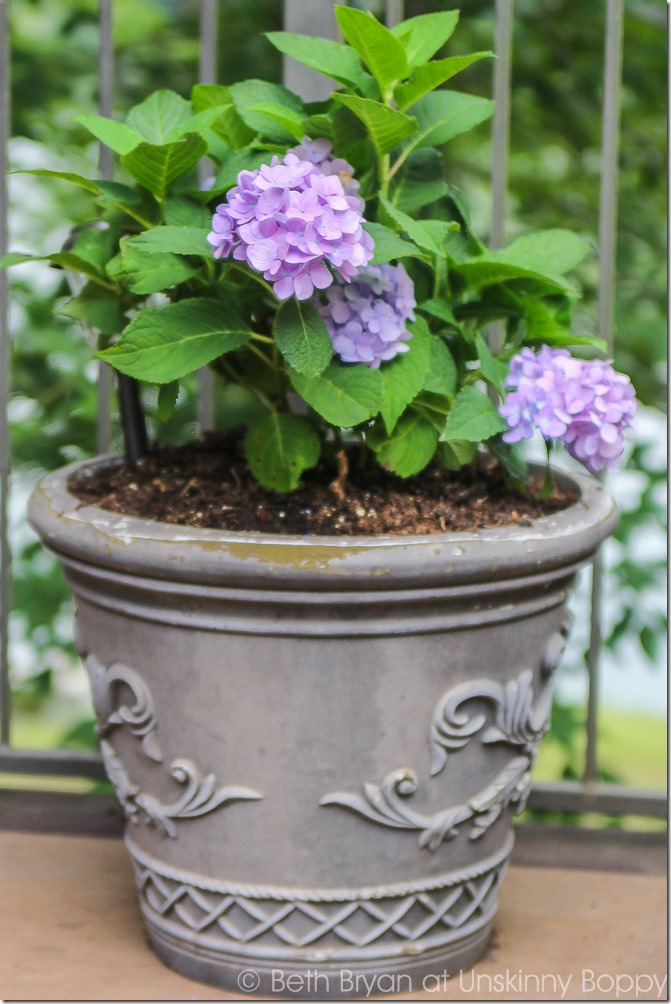 I'm also in love with this little copper pot full of fun on the coffee table.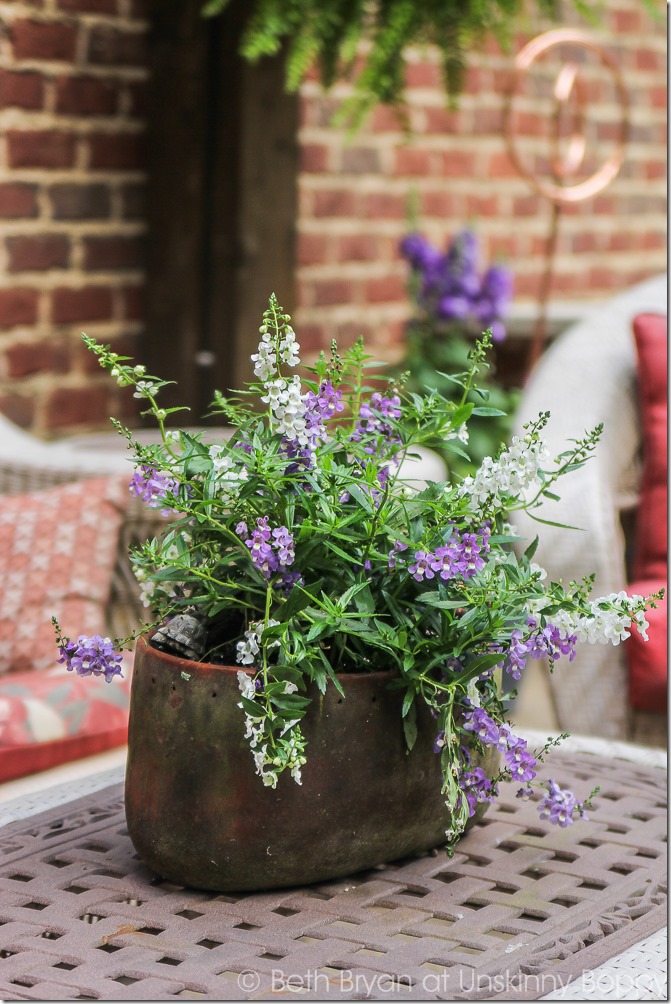 All that hard work paid off, because the party was a huge success.  We had nearly 60 people in my parent's backyard last Sunday afternoon, with tons of great potluck food and barbecue.  Everyone had a great time, and hopefully my dad's party meter is filled up for a long time.
So, now that the dream backyard tour is finished, it's time for y'all to hop on over to a few of my friend's blogs and check out even more Summer Home Tours!  I'm teaming up with my fellow bHome app friends this week to bring you a whole week of summer home tours.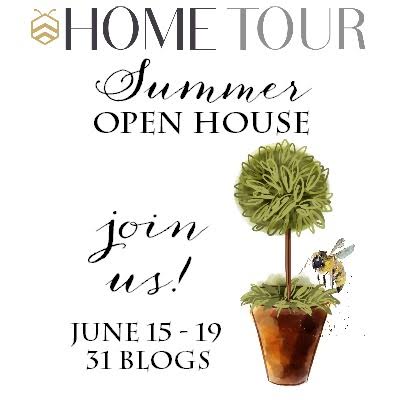 In addition to the eye-candy, we are also offering an amazing giveaway!
To enter the giveaway, download the bHome app on your iPhone or iPad & leave a comment on any of our blogs with your bHome Username for a chance to win a $200 Painted Fox gift certificate. If you have already downloaded it, just tell us your username.  Winner will be notified on bHome on June 20th. Thanks for taking the tour with me today!
Don't miss all of the other stunning homes on this tour! Eyecandy galore, folks.
Monday
My Soulful Home
Home Made by Carmona
AKA Design
On Sutton Place
Tuesday
Cedar Hill Farmhouse
Garden Therapy
At The Picket Fence
Unskinny Boppy
Miss Mustard Seed
French Country Cottage
Shabbyfufu
Wednesday
StoneGable
Housepitality Designs
Craftberry Bush
Cupcakes and Crinoline
Shabby Art Boutique
Setting For Four
A Healthy Life For Me
Thursday
Southern Hospitality
Top This Top ThatRooms FOR Rent
Savvy Southern Style
Lilacs & Longhorns
Eclectically Vintage
Cynthia Weber Design
Friday
Maison de Pax
Buckets of Burlap
Love of Home
Debbiedoo's
Edith & Evelyn
Inspired By Charm