As we enter into Month Three of living in this new house, I am hanging my head in shame that I haven't shared more interior pictures of this house with you guys.  I have guilt, y'all.  But apparently not enough guilt to actually get off my lazy bum and do anything about it.
Ok, here goes.  Painful truth time. I feel like you come here for ideas on how to decorate your home, and this house is just not blogworthy yet.
Here are my top three reasons why…
1. I have piles of junk laying everywhere in here. No exaggeration.  I'm talking true-blue, out in the woods, down home, country piles of junk spread all over this house. I'm paralyzed by the piles that I can never seem to get whittled down.
Piles of junk = too much work to shuffle out the way for photos = not blogworthy.
2. I have not put a single nail in a wall yet.  All of my hanging décor is in a big pile in my foyer still waiting to be hung.  But before I do that I need to paint. And before I can do that I still need to choose paint colors. And I'm paralyzed by choosing a paint color.
No paint = rooms not decorated = not blogworthy.
I mean, y'all.  Do you really wanna pin this picture?  Nope.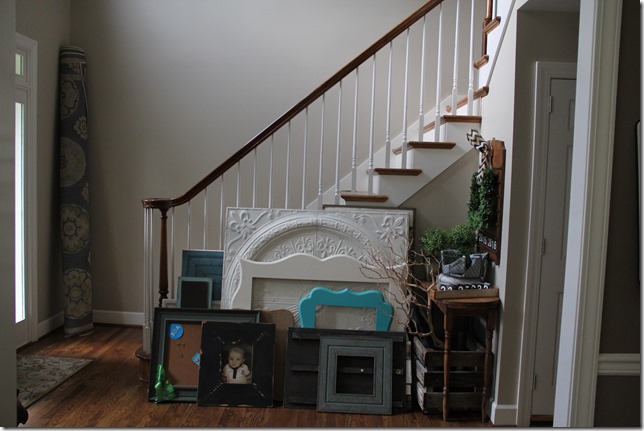 I snapped this pic over my computer monitor.  This is my current view. This is the extent of the decorating progress that I've made in three months. My new neighbors come over and I die a little inside.
3. I have not put down any rugs yet because we got the hardwood floors refinished before we moved in.  You're not supposed to cover newly finished hardwoods with rugs for at least 4-6 weeks, so we have just been walking around here kicking dirt and dog hair on the brand new hardwood floors.  But that deadline is long past, and we are too lazy to lift up our furniture and roll out the rugs underneath.  I have a good excuse, being pregnant, right?  Right.
Still, no rugs = bare floors = not blogworthy.
I'm not quite sure why I feel this way, since one of the reasons I was so excited to move into this house was because of all the blog projects it would provide me.  Heck, we lived in the old house for five years, and I took my blog readers along for every part of that ride from beginning to end.  This one should be no different.  But every time I talk to my blog friends they ask me what has happened to me.  Everyone wants to know why I made the big announcement that I was going to become a full-time blogger and promptly fell off the face of the Earth.
In addition to those the three things above, here is the rest of my painfully truthful answer.
I'm real dang tired, y'all.
I'm feeling my age with this pregnancy. So far everything has gone well, and I can't complain too much, but right now– in my 27th week–it feels so good just being NORMAL for a minute.  To not share every nook and cranny of my life with the internet.  I realize that is what I signed up for whenever I became a blogger in the first place, but it's nice to just piddle around among my piles of junk, and not lift a hammer or any furniture.  It's nice to not have to stage a Pinterest-worthy room shot, or edit the photos and promote the posts.  To not force my empty pregnant brain to conjure up witty words when I have a hard time remembering my address most days.  It's especially nice to not have to worry about any of the competitiveness that professional blogging can bring. I absolutely love my fellow bloggers, but it's a tough niche to compete in when my creative juices are just not flowing and my mojo is tapped out.
Another reason? Since we've moved in, there has been a non-stop outflow of cash in home repairs that are just not sexy to blog about.  In fact, they really just suck.  Since we moved in we have refinished the hardwood floors, replaced all the toilets, replaced the roof, replaced TWO HVAC units (holy $$$, Batman), had two trees cut down, and just the other night our hot water heater stopped working. By some miracle it came back to life a few days ago, but my husband and I have developed our own private hashtag called #putitonthelist.  Kitchen cabinet door fall off the hinges?  #putitonthelist Dishwasher not working properly? #putitonthelist Wake up at midnight to a terrible screeching noise and look outside to see lightning, only to realize it's not lightning at all but our HVAC units shooting sparks into the air? #putitonthelist   We've made a bunch of necessary repairs to this house, but do I really want to blog about all of that stuff?  Not really. Do you want to hear me complaining about how our bank account is begging for mercy right now? Doubt it.  So, I have chosen silence instead.
So the point of this post is to say that I sincerely hope that you guys will still be here when I get that creative juice/ blogging mojo back.  I have no clue when that will be, but I promise I will let you know as soon as it happens.  Eventually I'll start pumping out projects left and right, but until then I really hope you'll ride out this dry spell with me and still be here when I decide to get off my duff and hang all those pictures on the wall.
Mainly I wanted to say just how much I appreciate each and every reader of this blog.  You guys are the reason I feel like I needed to get off the couch and write this post in the first place. I truly hope that you guys are blessed and happy and loving the lives that you're leading right now, even if they are scattered with piles of junk and dog hair like mine.