It's our very first Fall in the new house, and I'm DYING over the color of this Japanese Maple in my front flower bed right now. Even though our Alabama weather has been so warm that all the trees turned from green to brown within a few days, this tree is crushing it with the fall colors. We planted a Japanese Maple years ago at an old house that we left behind, so I'm thankful to discover this gem in my new garden! What a beaut, Clark!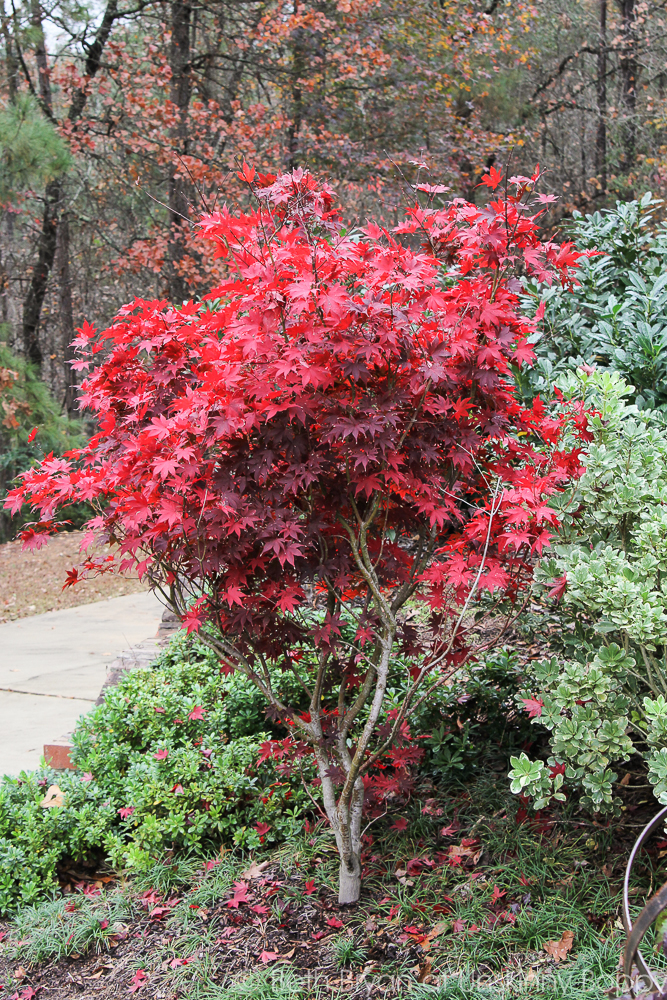 In other news, I have decided to go a little buckwild with the daffodil bulbs at this house. I have this big natural area beside my driveway that I don't want to have to upkeep with shrubs and flowers, so I decided to fill it with daffodil bulbs this Fall and hopefully they will bloom every Spring from here to eternity. I ordered these from Colorblends, and they arrived in early November from Holland with a Dutch newspaper lining and everything.  So cool.
In case you're wondering, this is what 500 daff bulbs looks like, my friends.  Feast your eyes.. .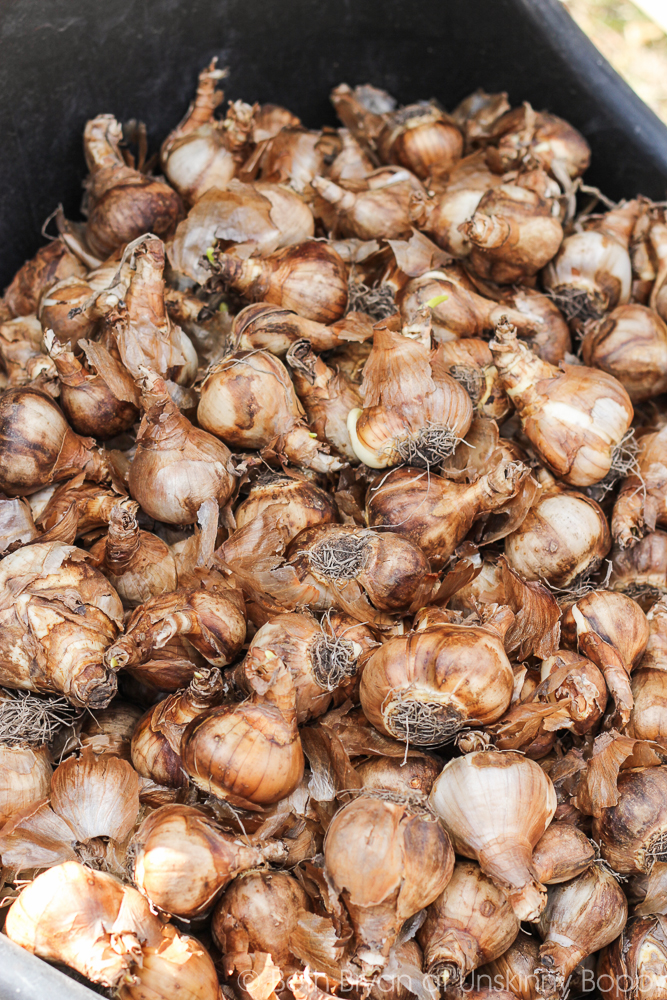 Unfortunately it was NOT cool here in Alabama yet in early November, so I stuck all the bulbs in the beer fridge out in the garage for a few weeks to wait until the weather cooled off some.
The spare refrigerator is good for storing bulbs (NEVER the freezer, of course).  … just don't put any fruit in there with them.  Fruit (such as apples etc) releases ethylene gas which can stunt the growth of bulb flowers.
Here are the mixtures I planted from top left, clockwise: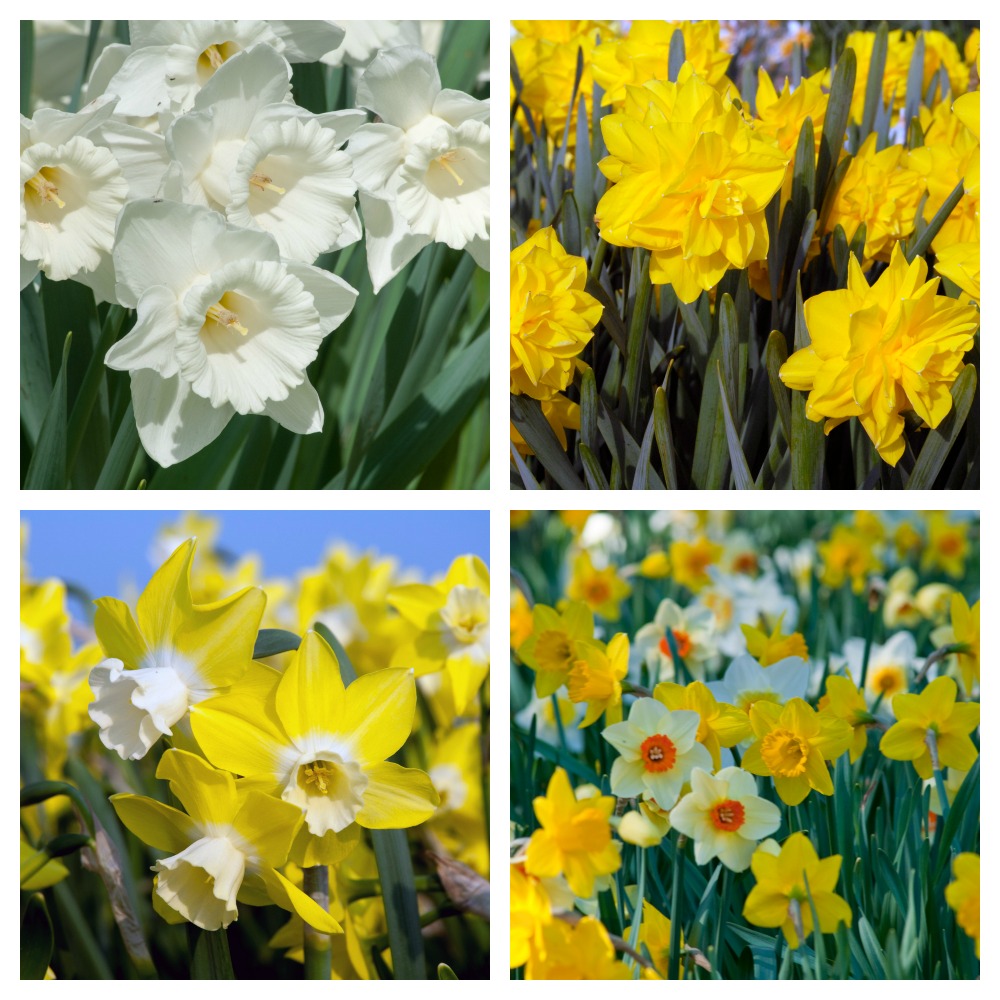 100 Mount Hood bulbs
100 Pipit bulbs
200 Gritty Southern Daff Blend (because hello, Alabama)
125 Golden Ducat bulbs
Some of the bulbs I ordered are already sold out this year, but there are plenty more selections of Daffodils and Amaryllis on the site!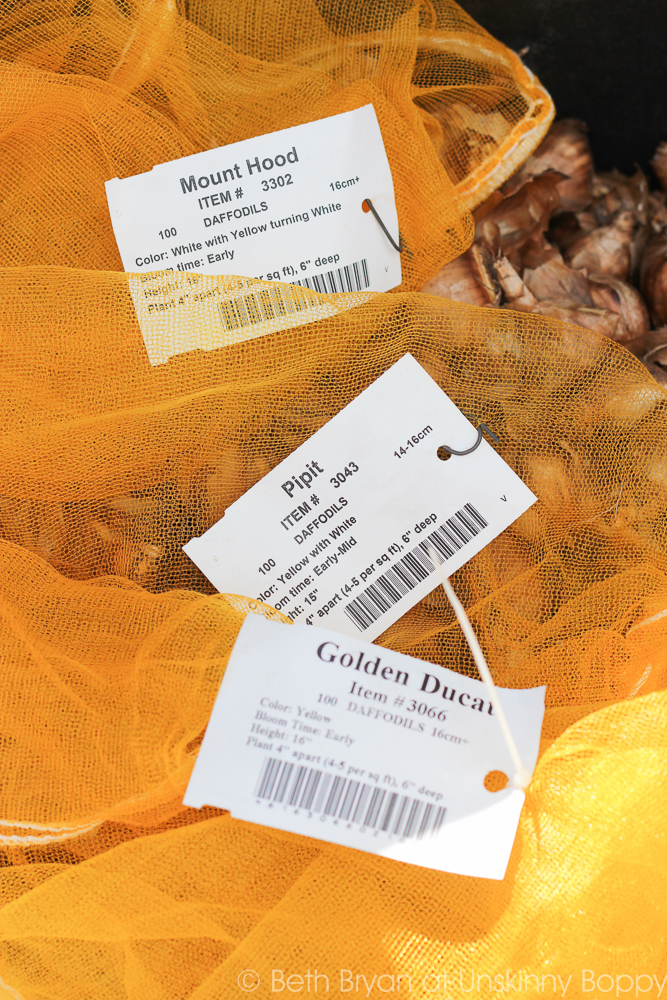 Since I had 500+ bulbs to plant, we dug 50 holes 6" deep and about 18" around and planted each with a mixture of about 10 bulbs in a circle.  One of those little guys is already trying to bloom! It was 75 degrees the day these got planted but it's cooled off considerably since that time.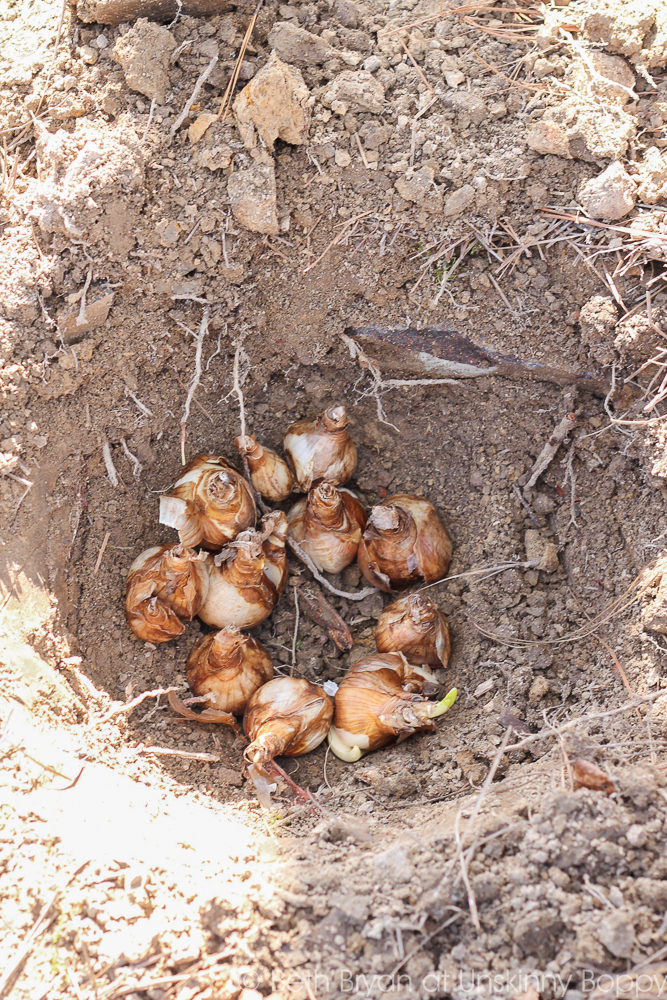 Then each hole got filled with some good garden soil mixed with the existing dirt.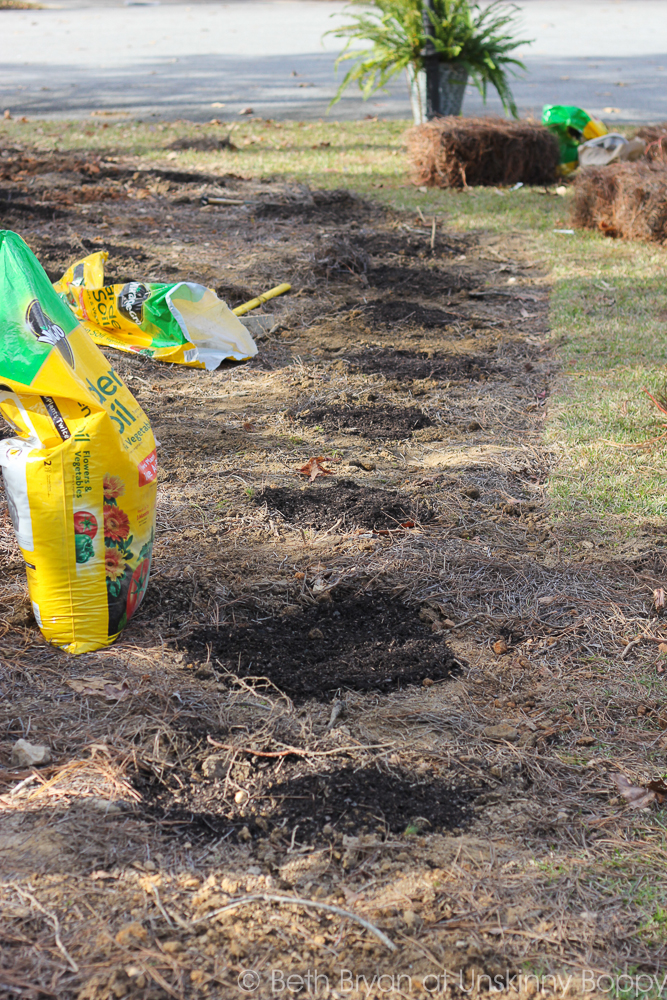 Lots and lots of digging. And no, I didn't dig all those holes alone.  Thank goodness for excellent yard guys.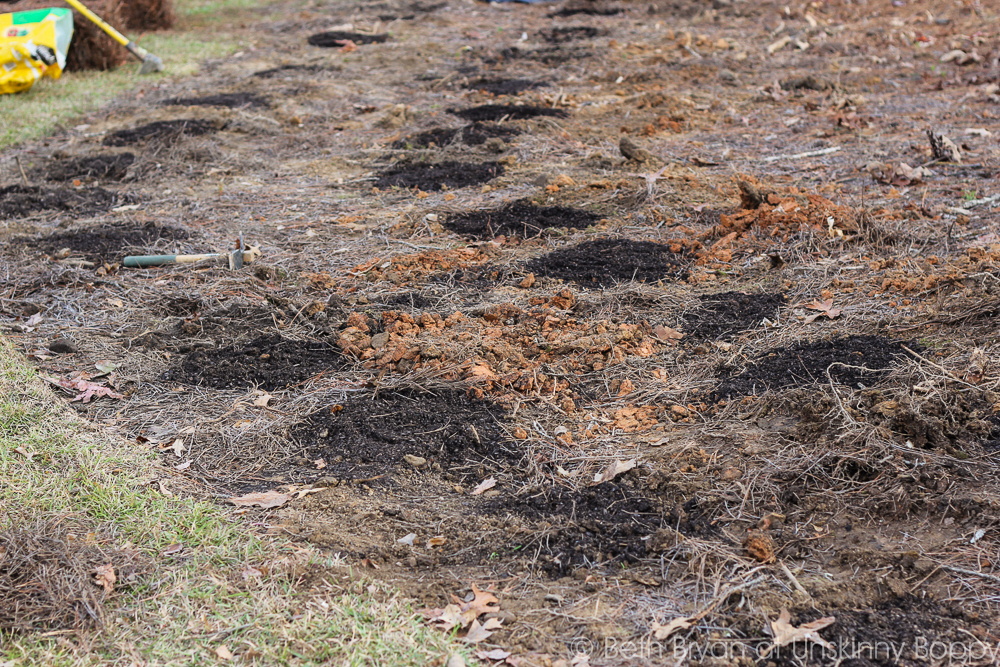 We added a layer of pine straw on top of this area to make it look nicer, but ideally you would apply a layer of mulch on top of your bulb plantings AFTER the ground freezes.
Mulch is meant to keep the ground consistently cool over winter. Most people make the mistake of applying mulch right away after planting, thinking it's a blanket to keep the ground warm. Nope. All that does is invite voles to move in for the winter.
Lauren Brooks, who has a column in State By State Gardening – Alabama, says the best time for planting bulbs in Central Alabama is:
– week of the Auburn-Alabama game (Nov 28)
– Thanksgiving week
– whichever is easiest to remember (Iron Bowl, duh)
These bulbs went in the ground on Black Friday, which was the day before the Iron Bowl, so I hope that will give them plenty of time for rooting this fall, which is what's most important.
We actually have till mid-December here in Zone 7b to get our bulbs in the ground, so there's still time if you've been thinking of doing some planting!
My HOPE is that in the Spring I will see something that looks a lot like this…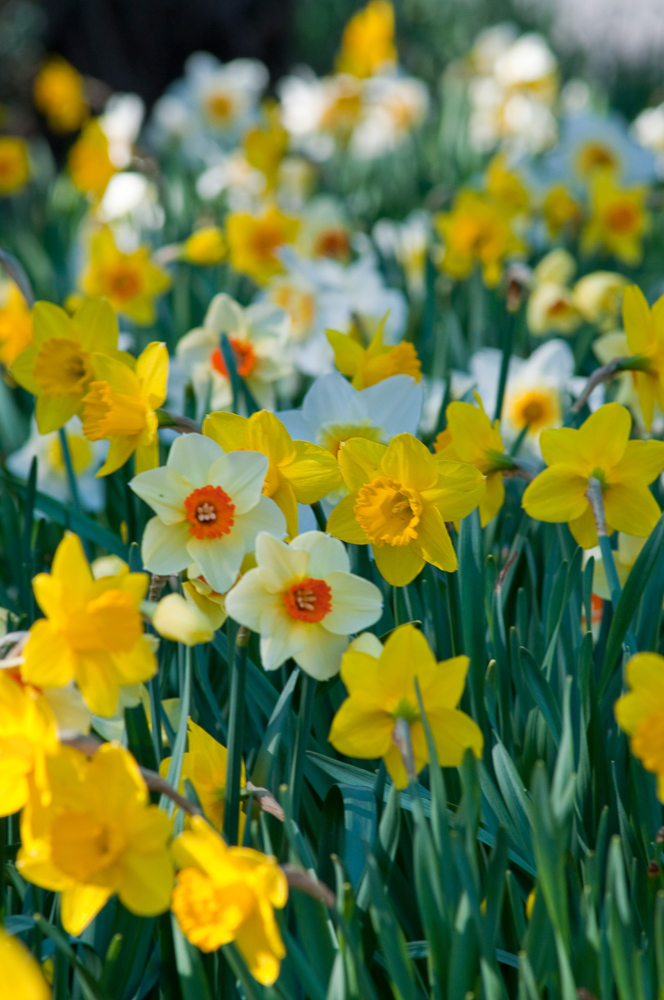 And this.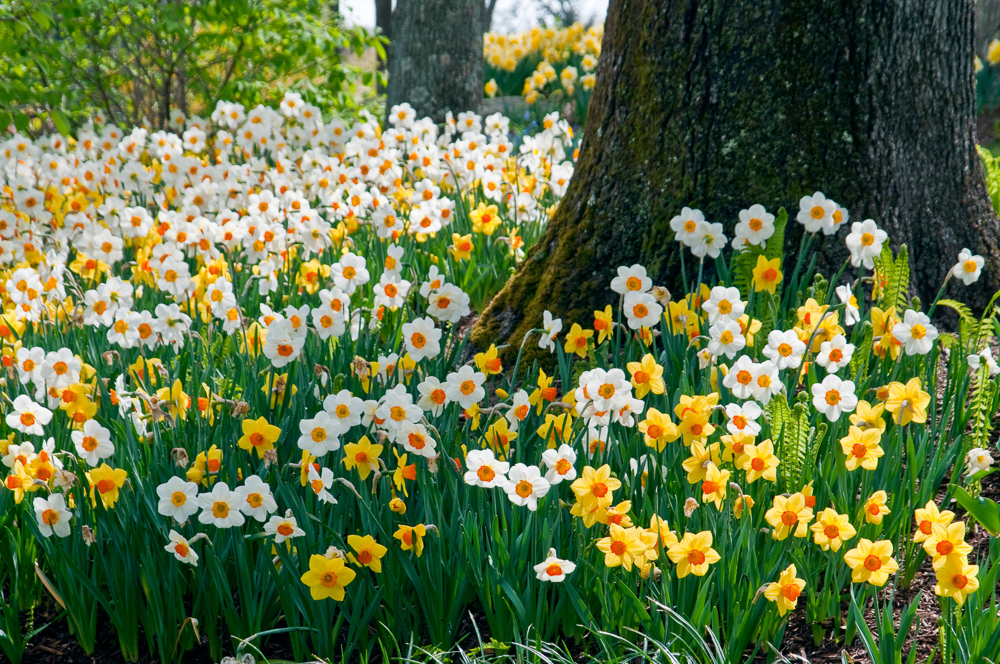 Sweeps of blooming daffodils can "come back" to bloom in subsequent springs when planted in full sun where the soil drains well. "Daffodils are a good investment, ideal for long-term plantings," says Tim Schipper of Colorblends.com. "Plus, the bulbs contain a bitter toxic alkaloid called lycorine so deer and rodents know not to eat them," adds Schipper.
I also got three of these gorgeous Amaryllis bulbs which will have to be grown in pots indoors.  I cannot wait for these to bloom!!!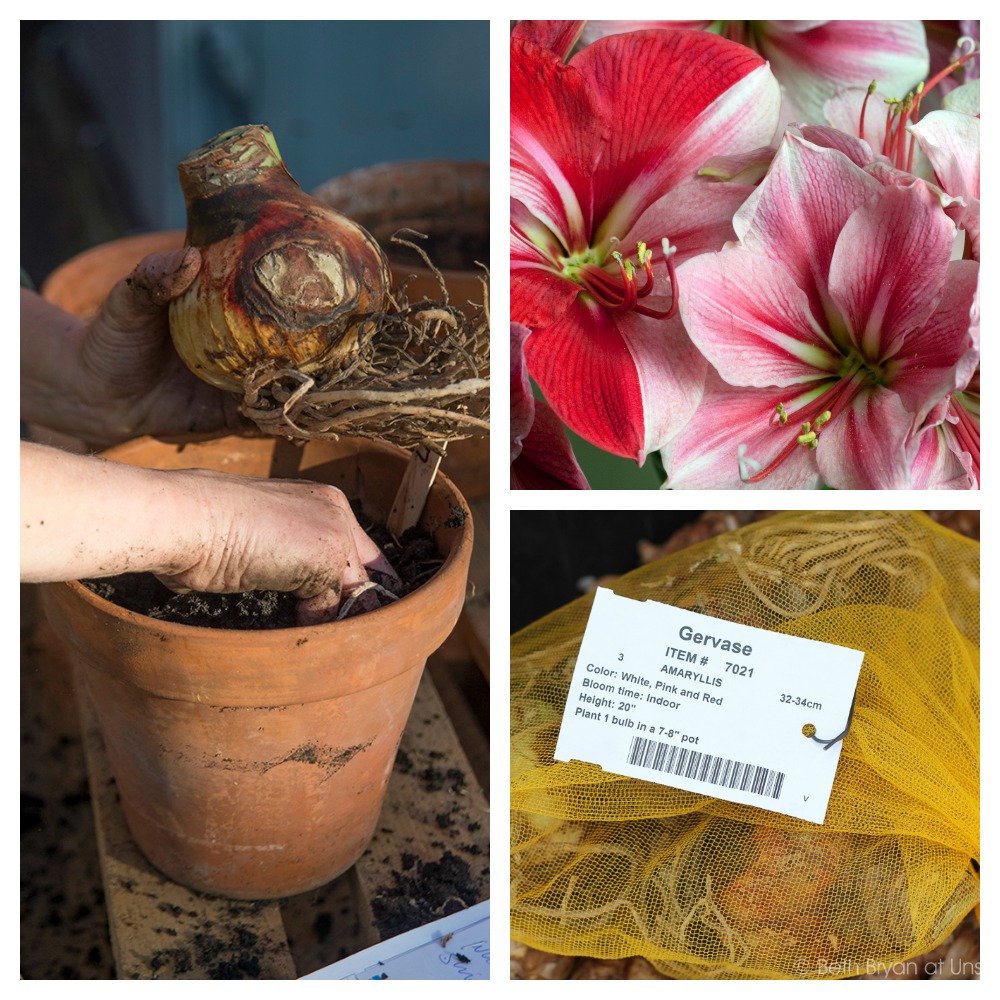 If you're in the market for some bulbs—daffodils, amaryllis or otherwise… go tiptoe through the tulips at  Colorblends.com and get your drool on.  Their selections are just incredible!!
Disclaimer:
I was provided with flower bulbs from Colorblends for this post. All opinions are my own.