Hey guys!! I'm so very excited to be back for my fourth year with Jen Rizzo's Holiday Housewalk.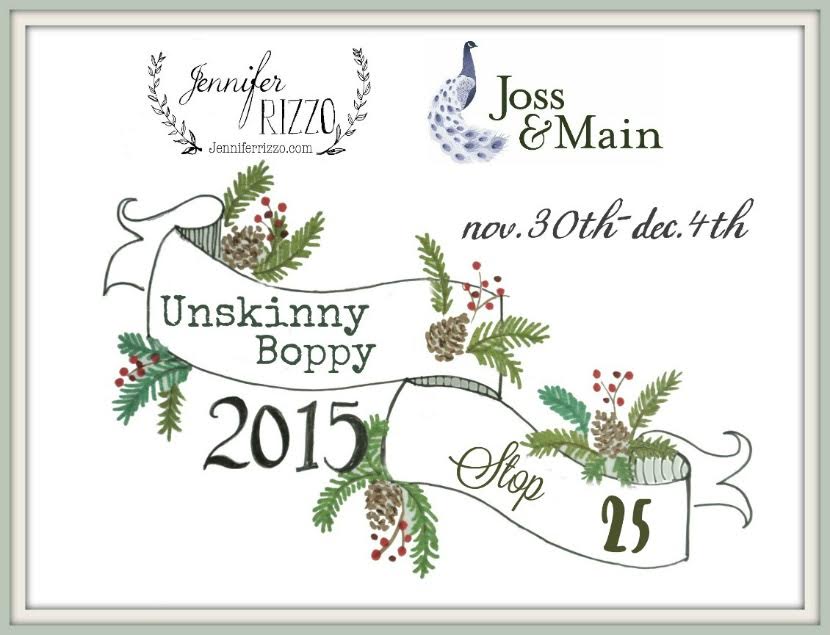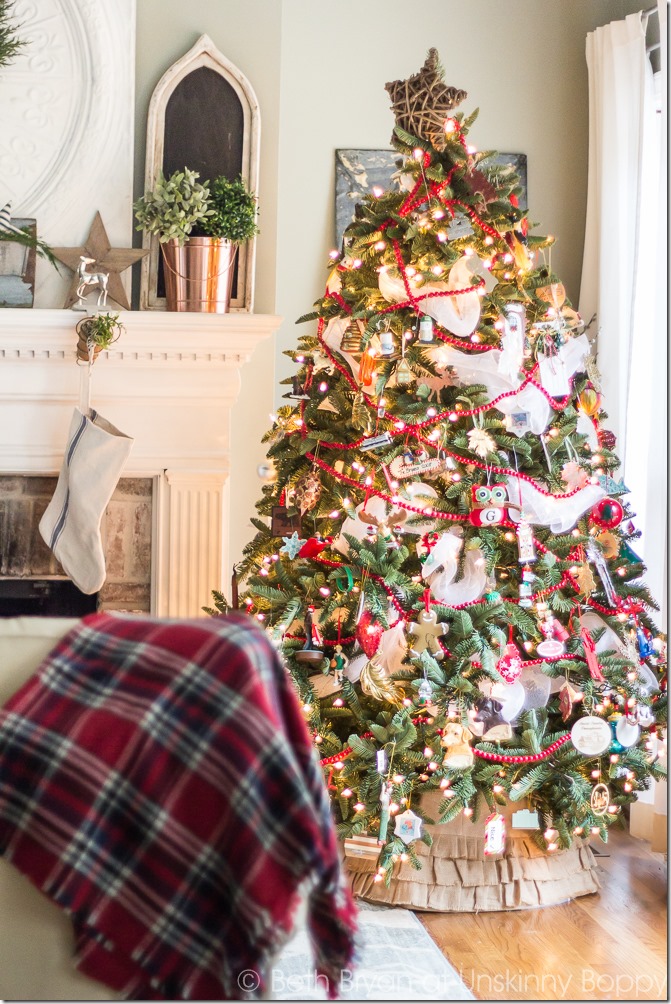 This is always the most fun blog hop for me, and this year is extra special since we've partnered with Joss and Main and Good Housekeeping!  It's also my very first Christmas in our new house, so I'm able to give you guys some brand new scenery.  It's ALSO the first home tour I've put up on my blog since I've been lazy bones all  year long and haven't shared too much of the interior of the new house with y'all.  So, I'll keep the words short and the photos long since I know that's what you're here for anyway.  If you're just stopping by for the first time today, this is the last day of the 2015 Holiday Housewalk tours.  PLEASE be sure to go back and see all the incredible homes that have been shared this week and don't forget to Pin, Pin, Pin to your hearts content!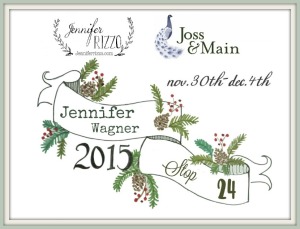 If you're stopping by from Jennifer Wagner's blog, WELCOME!  So glad you're here. Wasn't Jennifer's home gorgeous?  Every home on the tour this year just blows me away.  These ladies are crazy talented!
So, let's start the tour! Welcome to my new home. The fall leaves are just past peak here in Central Alabama so the Japanese maple in my yard is putting on a real show and basically outshining all my Christmas decorations.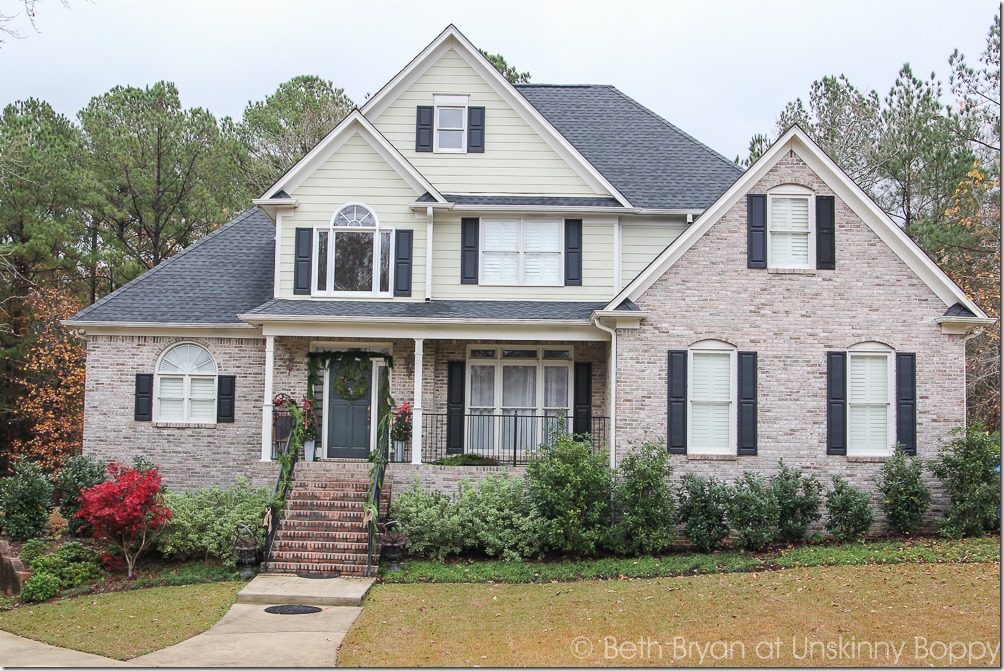 We moved here in March 2015, when I was four months pregnant with our new baby girl. I also quit my job of 15 years to become a full time work at home mom.  Needless to say, this past year has been the year of the #lifechangelotto for me.  And I am happier than I've ever been.  It's been such a wonderful year for us.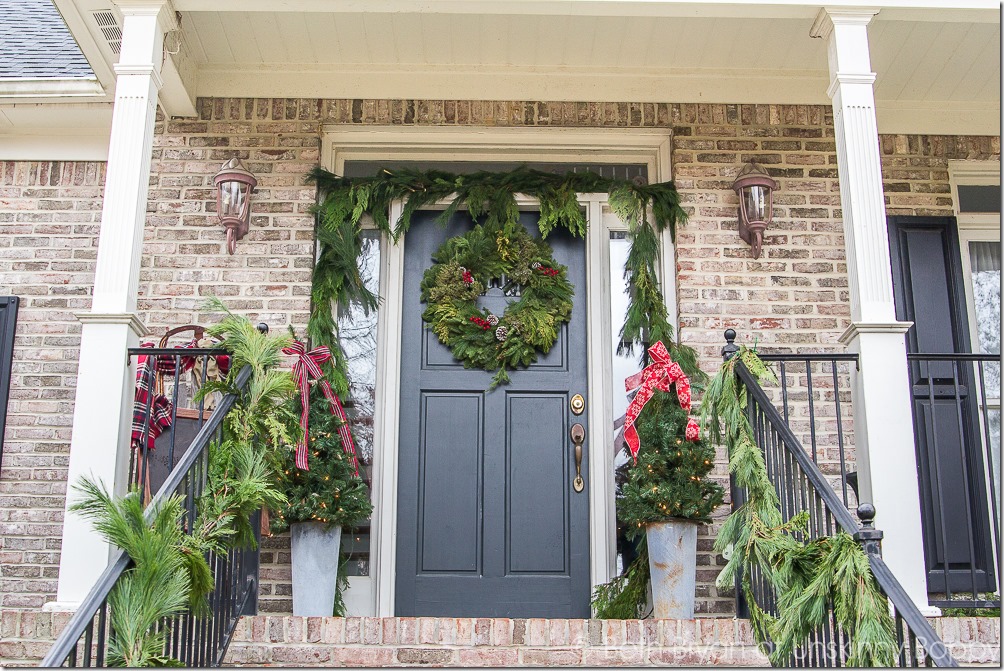 Come on inside and I'll show you around.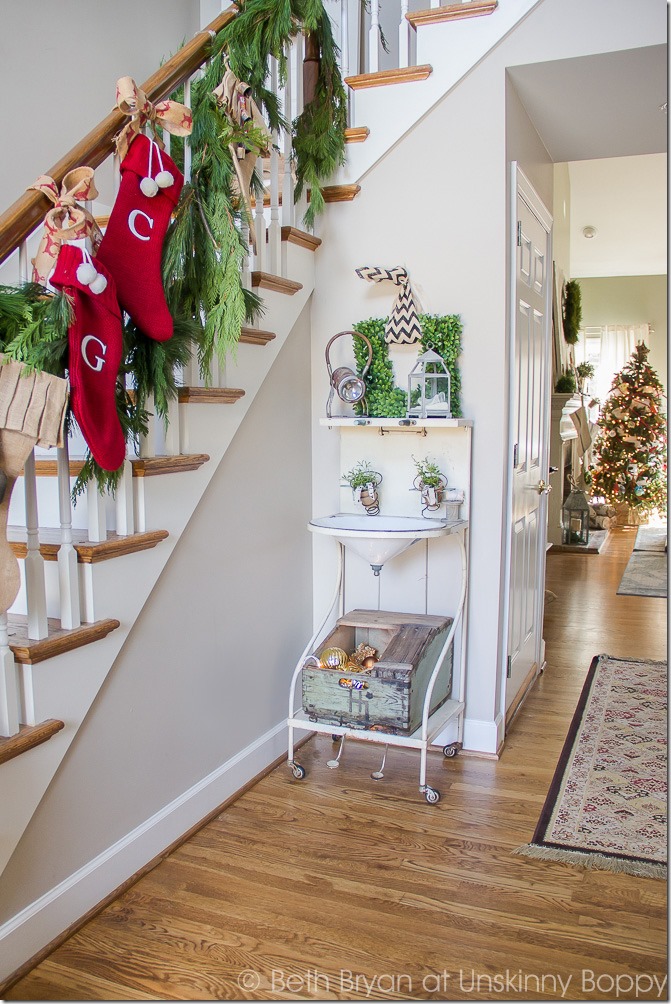 One of my favorite things about this house is the LIGHT!  There are windows everywhere that let in insane amounts of daylight when the sun is shining. As a home blogger this is a great thing for me.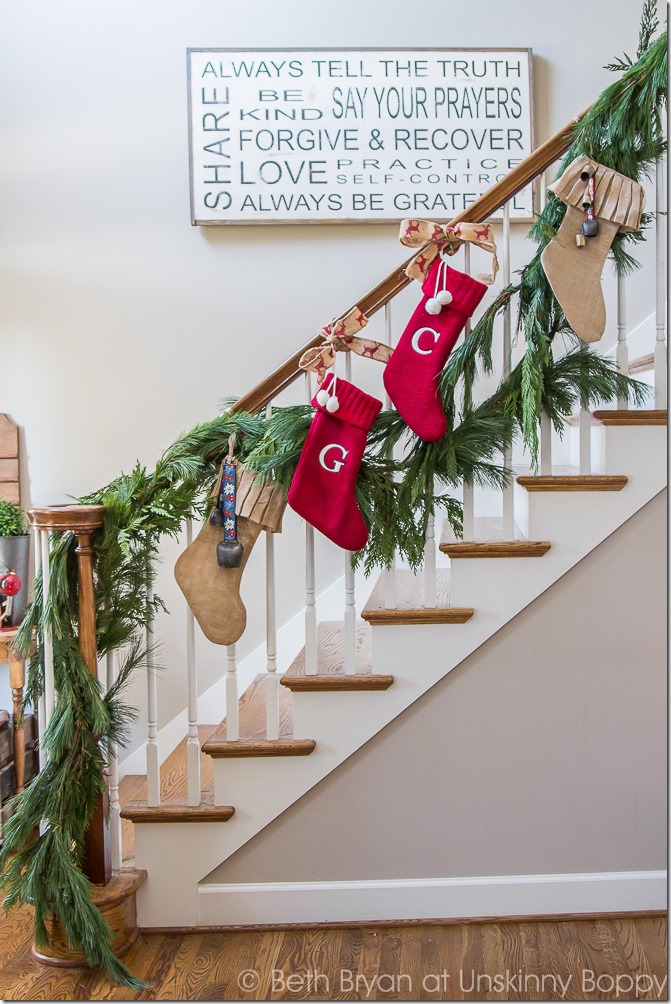 Just like this post has been full of randomness so far, so are my decorations this year. Last year I bought these German cowbells at Epcot and I love they way they look on this stocking. Do you ever wonder what our ancestors would think about us decorating with burlap and cowbells and grain sacks and mattress ticking?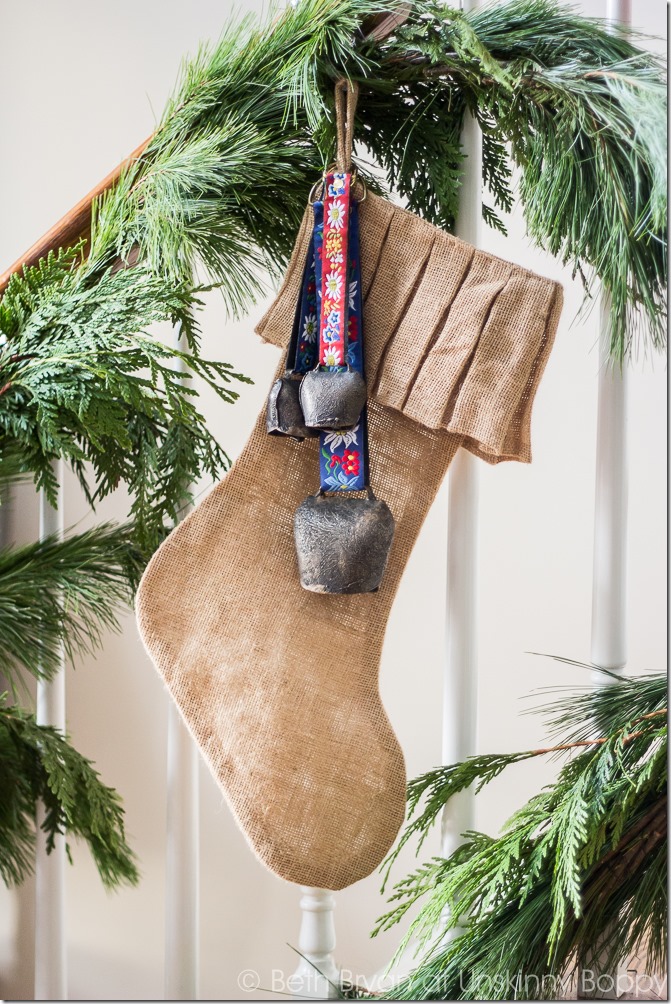 I'm not sure if the person who used this apothecary cabinet for actual apothecarish goodness in the early 1900's would ever imagine that it would be sitting in my foyer today, but here she is….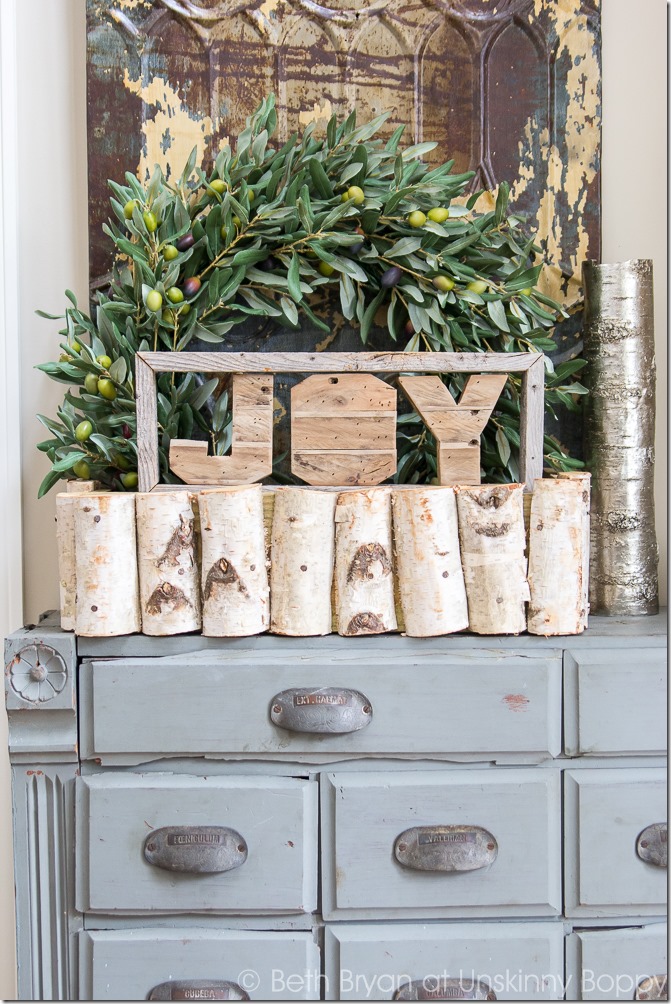 It's my most favorite piece of furniture in the wide world.  I found it at Scarlett Scales Antiques in Franklin, TN. Her online store is full of goodies.  You should check it out sometime.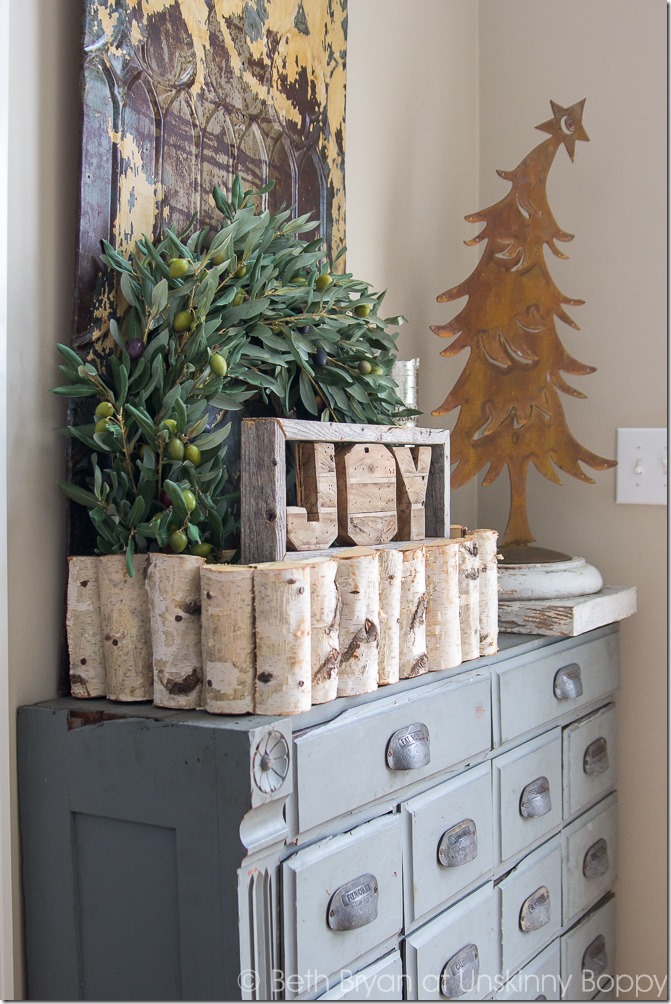 I'm still all about decorating with doors in this house.  I don't know what it is about them, but they make such a pretty backdrop for decor vignettes.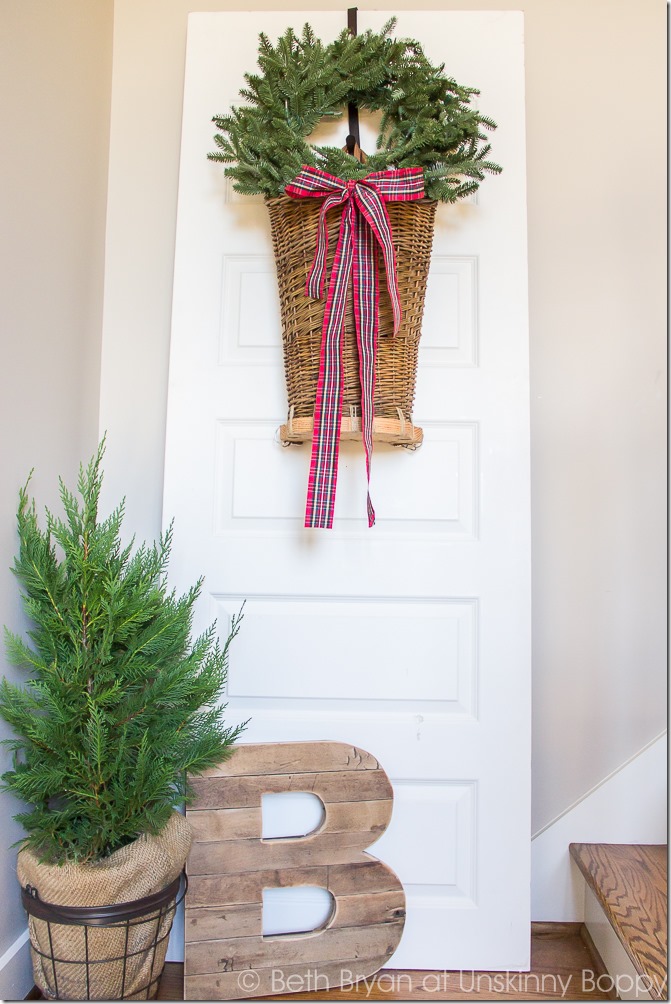 Hang something on the top and sit a few things in front of an old door and you've got yourself a beautifully decorated corner in a matter of minutes…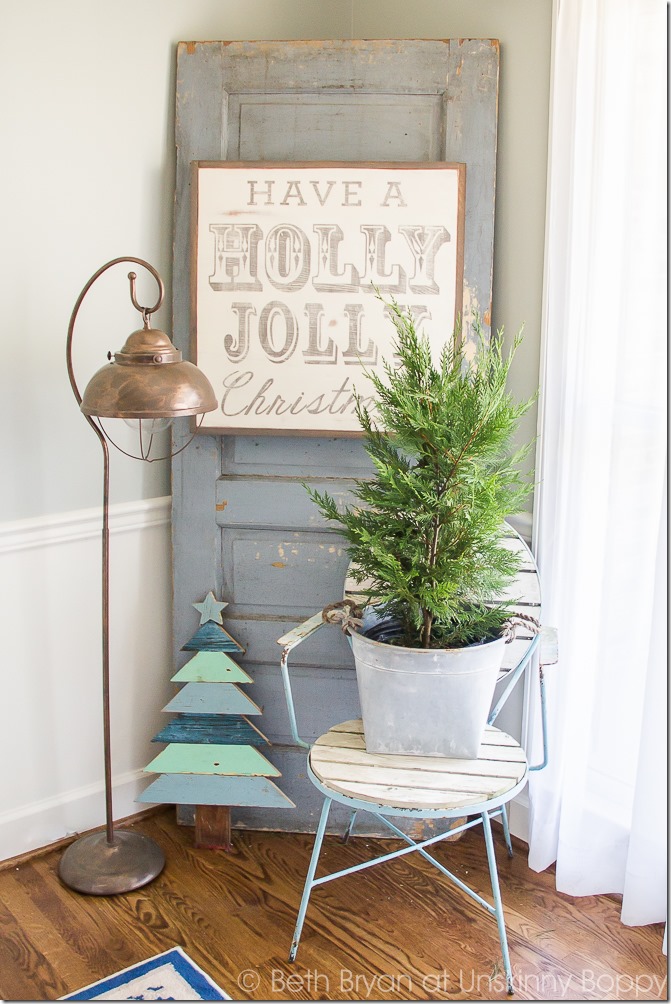 This door sits over in the corner of my messy office that replaced the dining room in this house.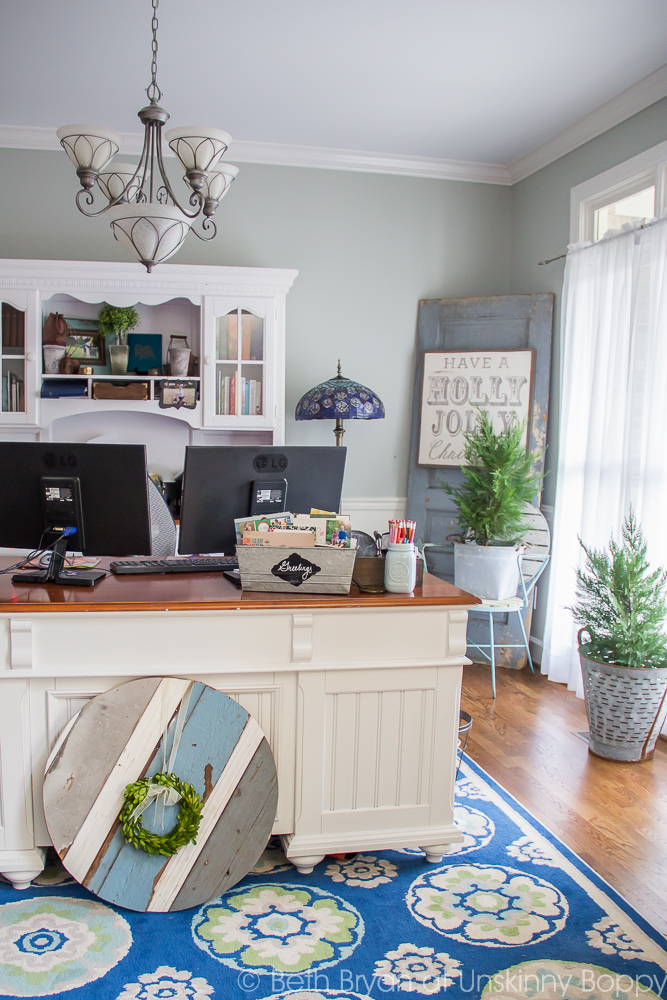 I'm so excited to finally have a fireplace mantel tall enough to accommodate my giant tin tile piece.  I've had this sucker for over ten years and never been able to put it above a fireplace because all my ceilings have been too short.  Not anymore!  Hello vaulted ceiling of awesomeness.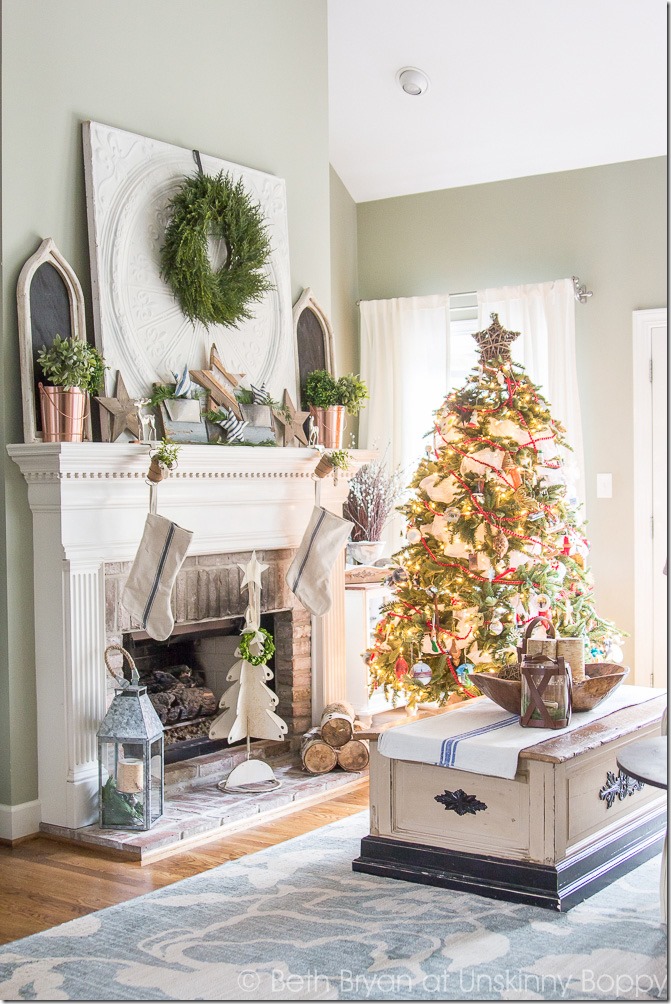 So, this Christmas tree.  I know everyone else on this tour has their perfectly decorated trees with pristine, matching ornaments… but not me.  I am a firm believer that Christmas trees are all about memories, so every vacation or event in our lives is marked by an ornament on this tree.  See that Reese's Peanut Butter Cup in the center? That was from our trip to Hershey, PA and Amish country.  I have ornaments from all over the place, and every year when I pull them out we remember the fun we had on our trips.  I don't care if it's not the most stylish tree in the world, it's my memories, y'all.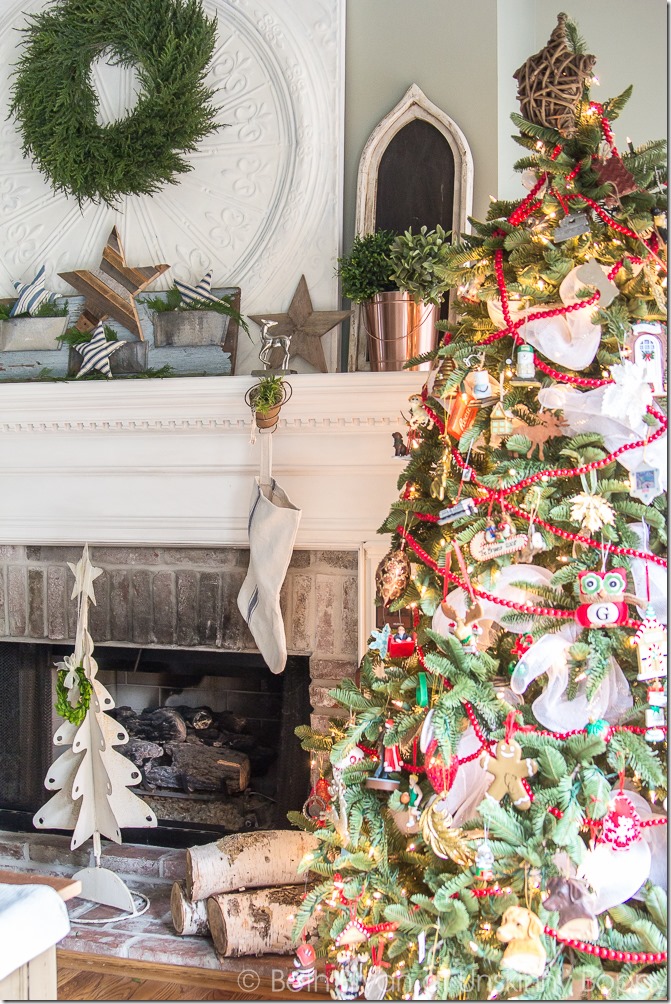 Almost all the other homes on this tour also have huge stacks of perfectly wrapped presents under their trees. Instead, who needs presents when we've got this under our tree this year?  This little chick is currently sitting in my lap as I type this post one-handed, so please excuse any typos! 😉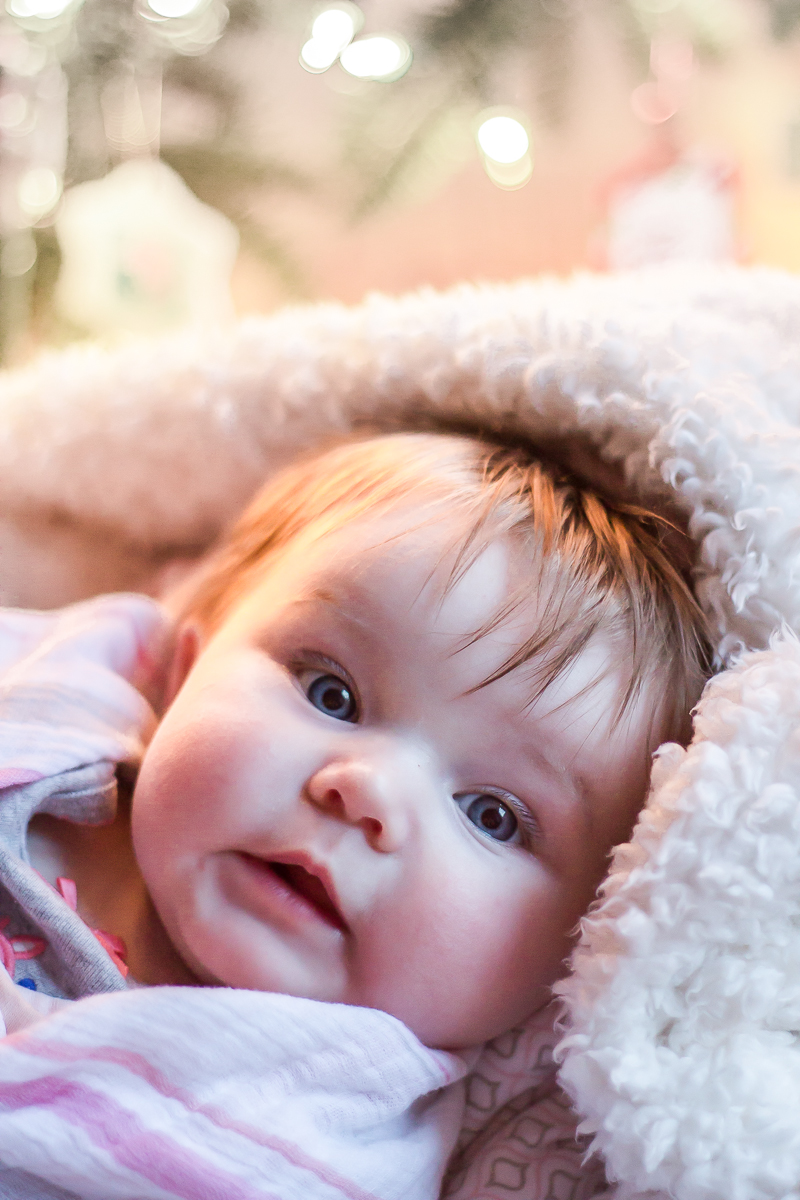 Up on the mantel I've got this HUGE faux cedar wreath from Joss and Main and I love it. It looks so realistic that you have to touch it to see if it's not.  So, I hung it way up high where nobody can touch it and find out!
The blue wooden plank with pockets came from the Savvy City Farmer Booth at the City Farmhouse show along with those blue mattress ticking stars I found in DIRT Home + Garden.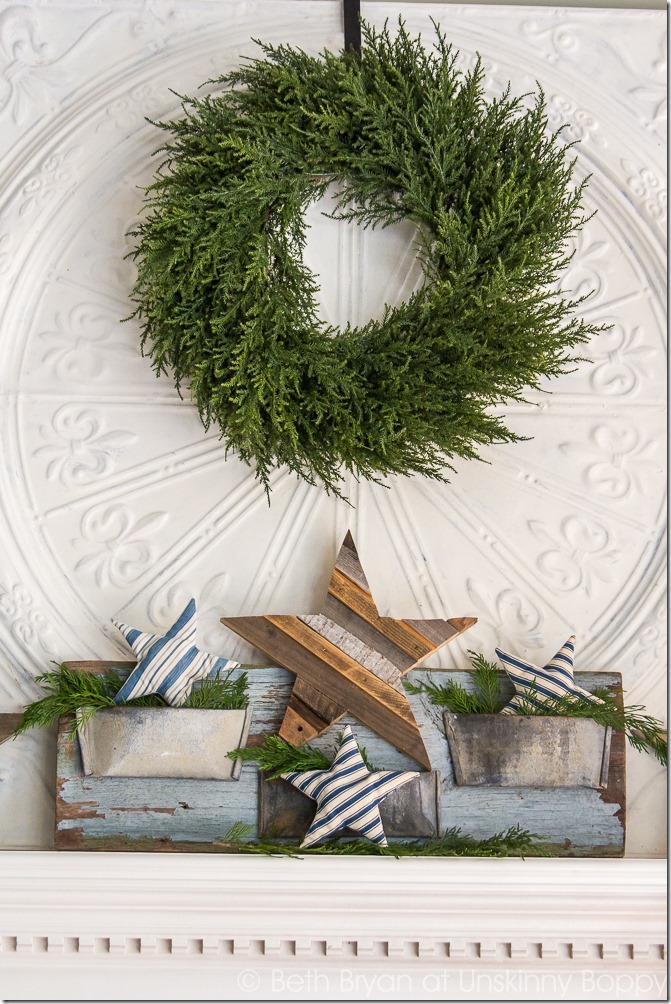 Raise your hand if you are also loving some copper accents right now?  ME!
These came from the Target dollar spot! Gotta love a steal of a deal!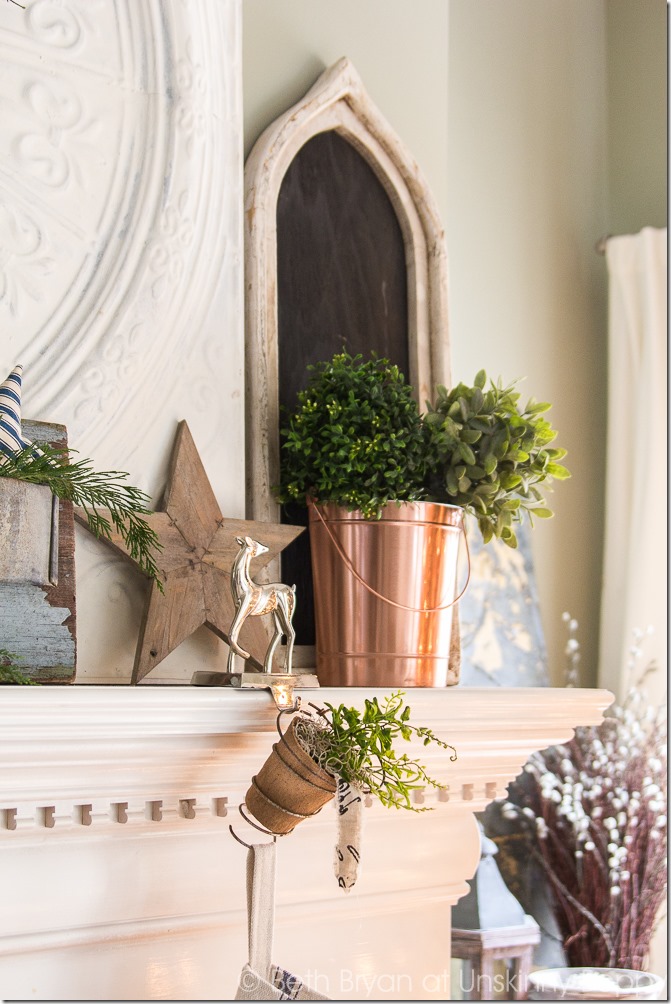 I have to give a very special shoutout to my friend Rachel at Shades of Blue Interiors for sending me these sweet grain sack stockings that she made with her own two hands.  I featured Rachel's home in my Christmas home tours last year and she sent me this awesome pair as a thank you gift.  I love bloggers!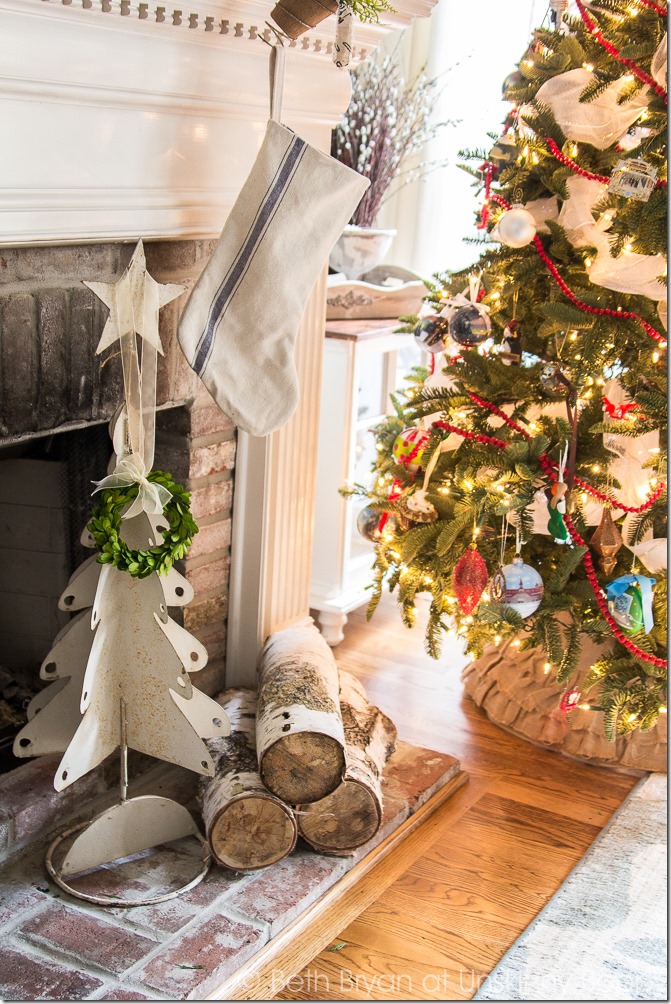 How cute are these little glass hurricane lanterns with leather straps?  Love these!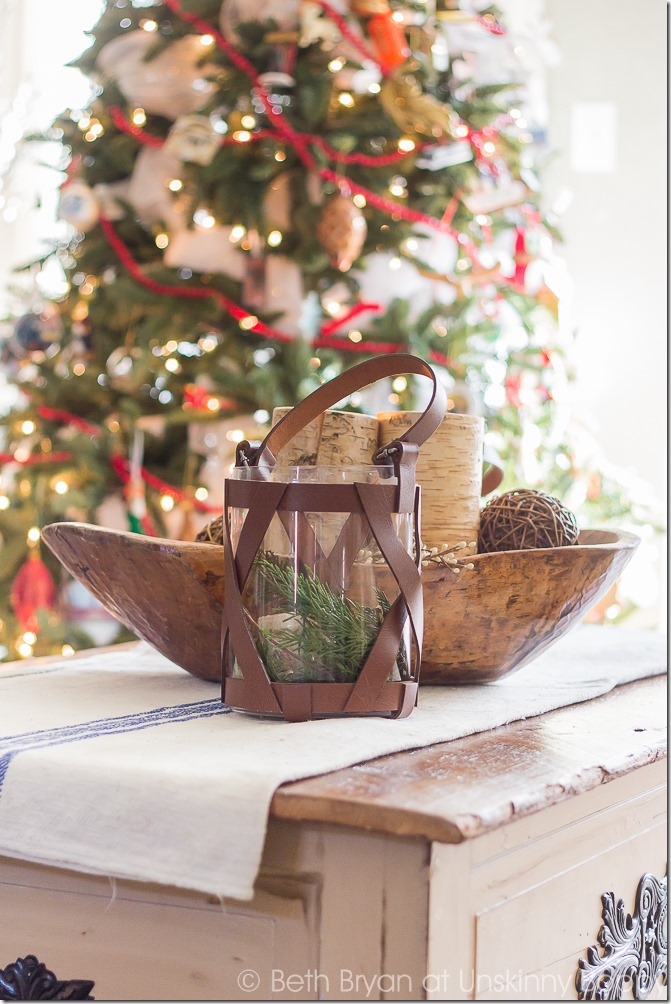 Here's another trend I'm all about right now… flannel and plaid.  My inner Outlander fan SQUEEEED with joy when I found this red plaid scarf (plus it looks great in my decor!) Win/win.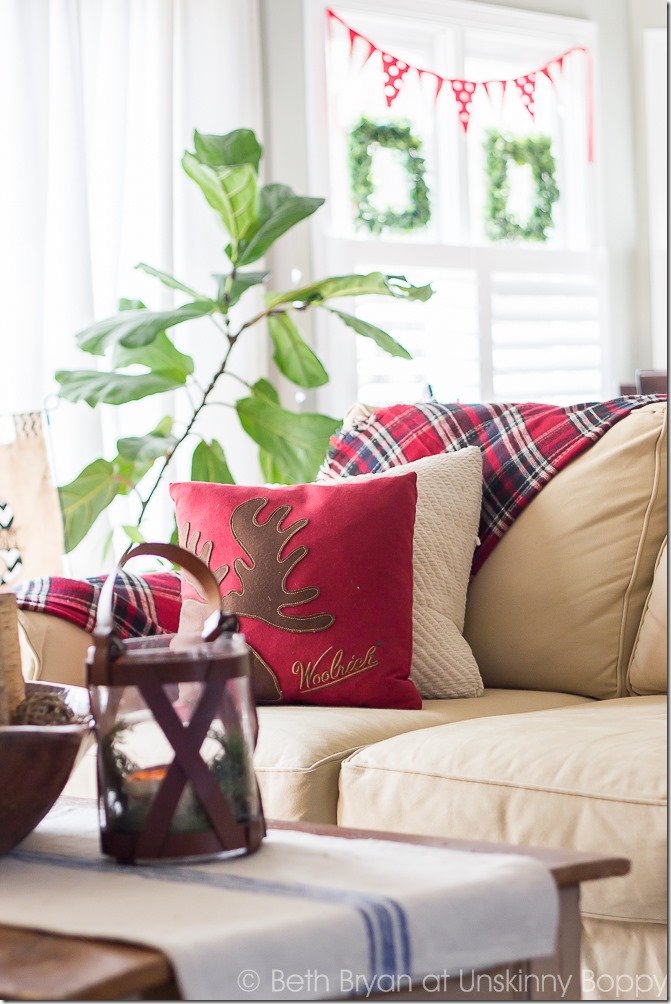 Ok, on to the kitchen!  So, here's the thing about this house.  Since I turned the dining room into my office I had to move my dining table and china cabinet into the eat-in-kitchen area.  For now, it works.  Eventually I plan to move my office upstairs but it sure is convenient for now.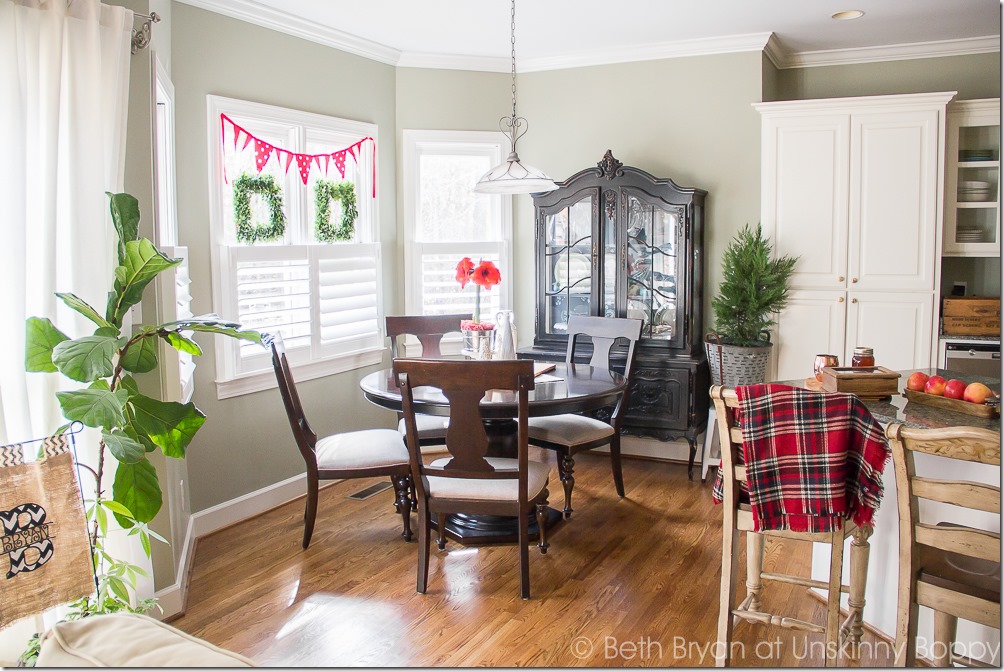 Since this kitchen already has tons of green and white I added a few pops of red and boom. Festivus for the restofus.
Amaryllis, gilded acorns, pumpkin seed Christmas trees on top of a wooden bread board = instant centerpiece.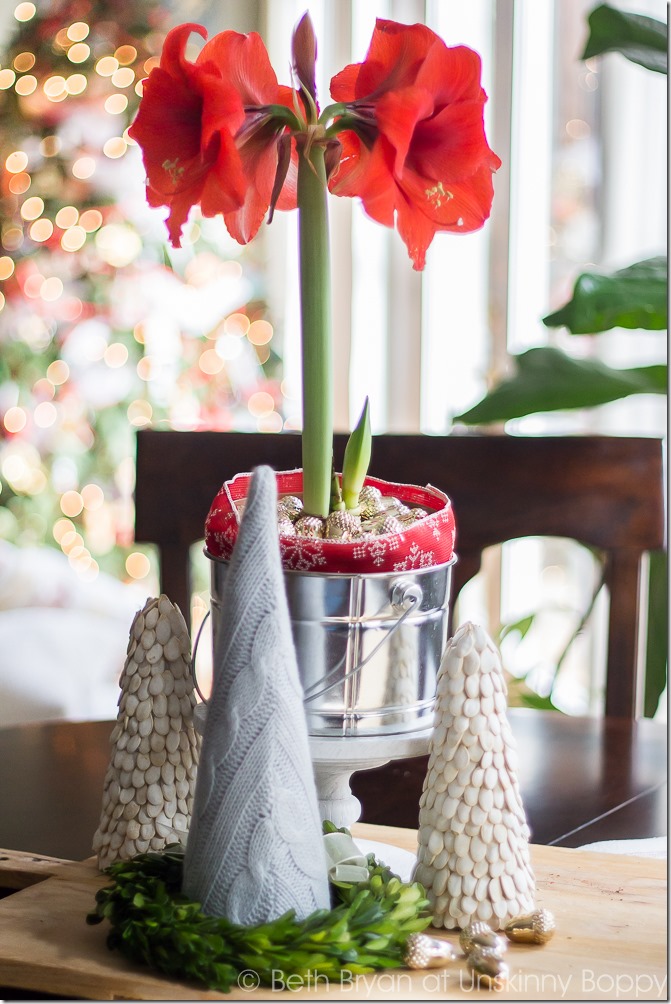 To continue with the KISS decorating method I added this pretty red bunting and some square boxwood wreaths to my windows and called it done.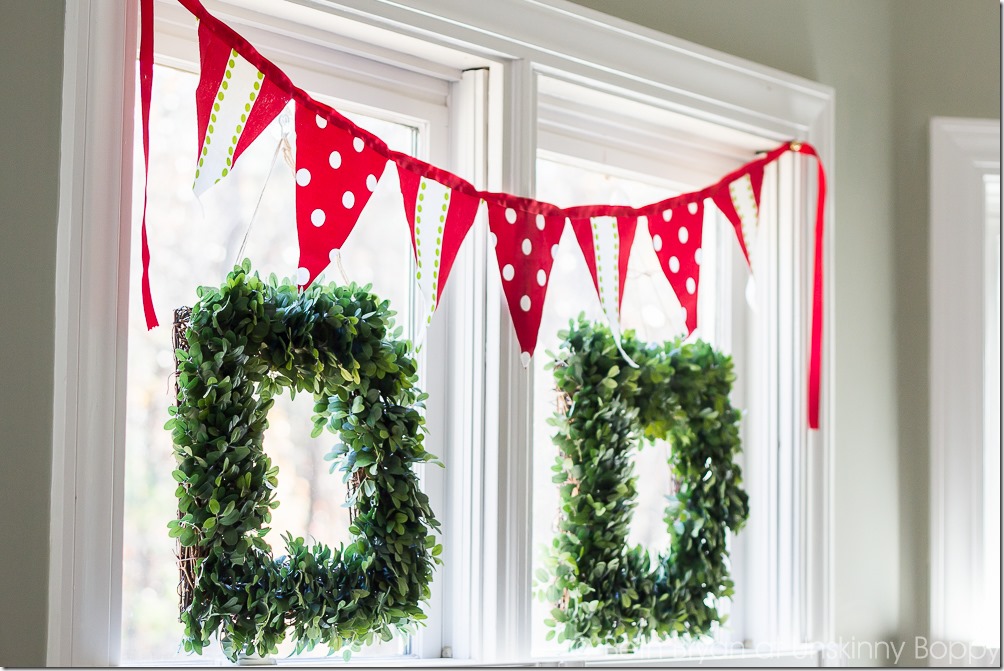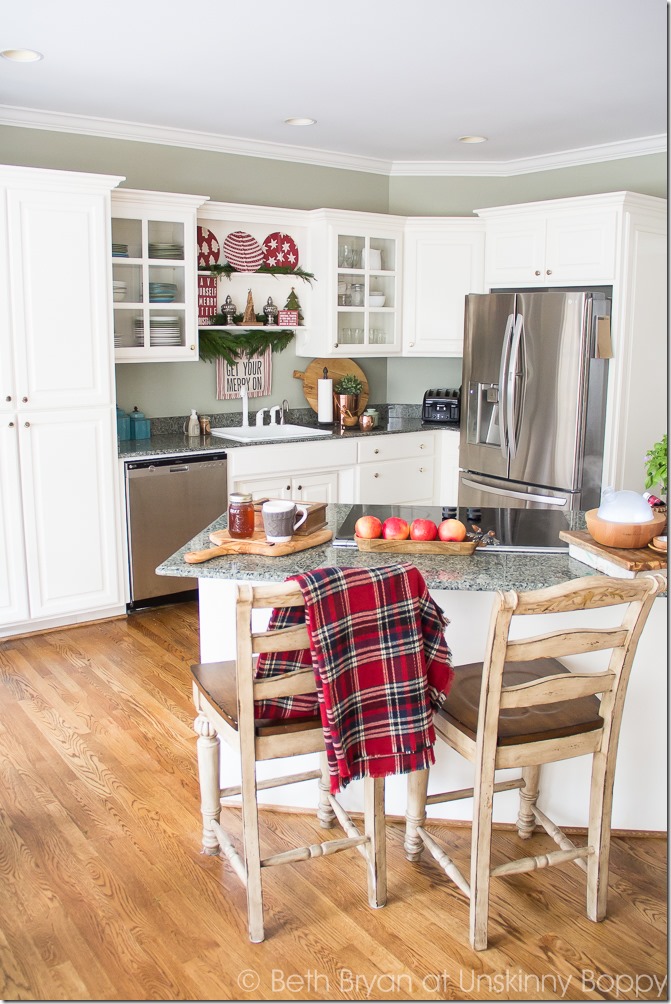 The layout of our new kitchen means I no longer have a window above my kitchen sink.  I'm kinda ok with that, considering I get to decorate the heck outta those shelves now.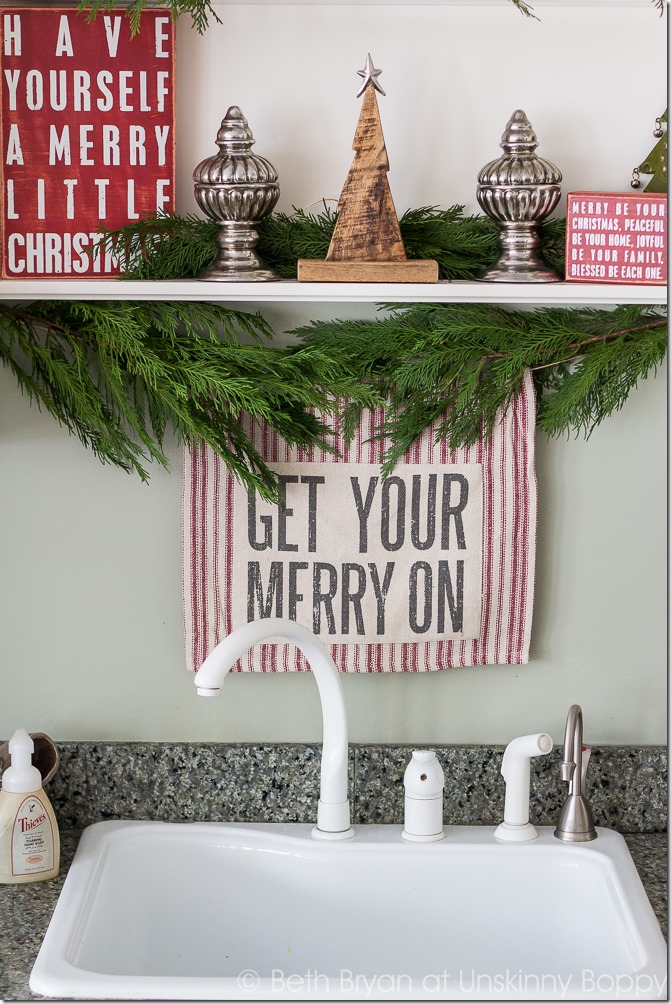 They are meant to hold dishes I guess, but you know I've gotta make it unique, so I strung this little "Get your Merry On" grainsack on a mini-clothesline with some greenery and added more chotchkes above.
The cute wooden Christmas tree is new but all the rest is old stuff that came out to play again this year!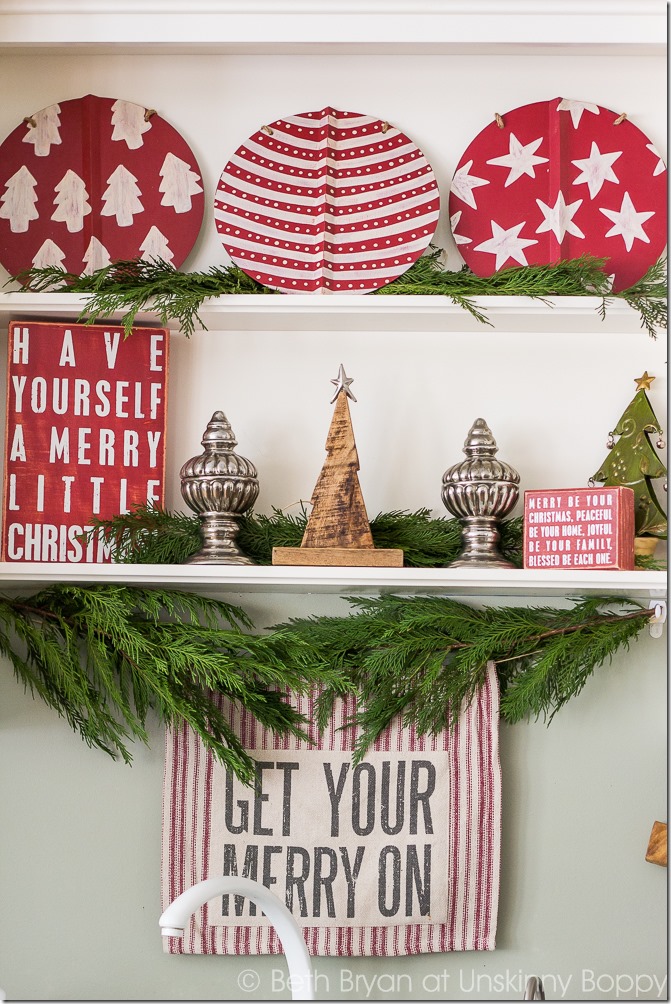 Ok, now it's time for my final trendy thing I'm really digging on this year. Handmade wooden round and rectangular bread boards with handles.  I'm using them everywhere.  Like I cannot get enough in my life. How bout you?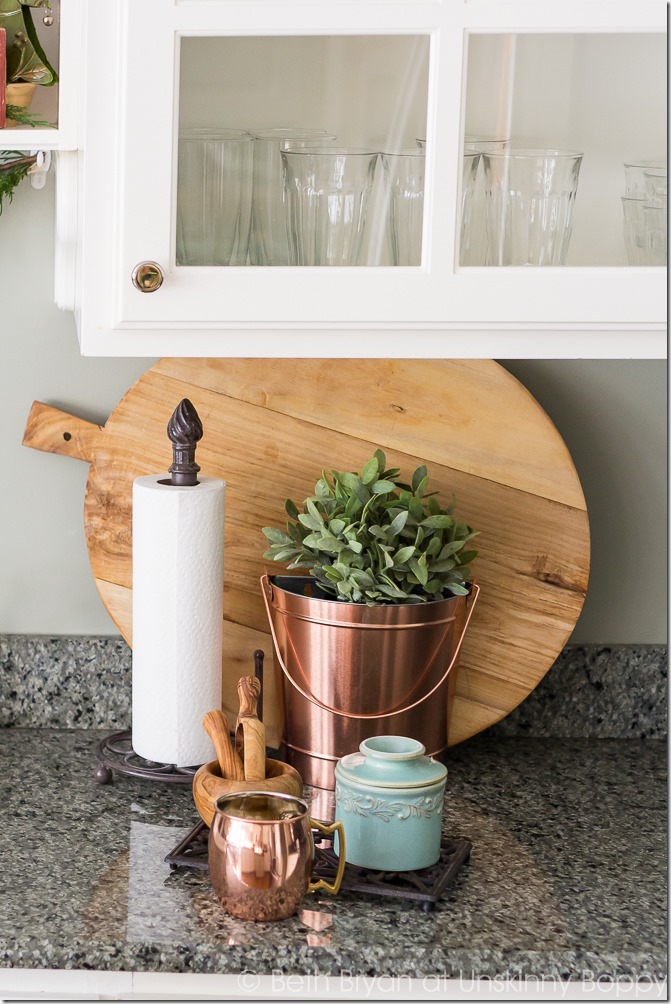 And a wooden bread board with a hot cup of tea wearing a sweater? That's just holiday perfection right there, folks.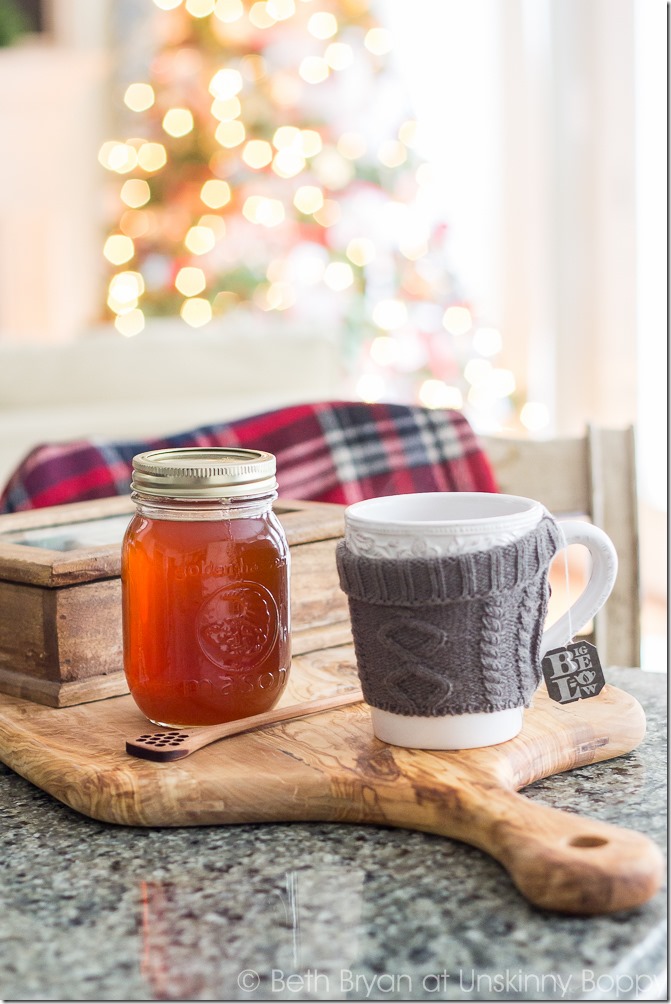 I SO hope you guys enjoyed my home tour this year! Thanks so much for stopping by!  Please continue on to the next home on the tour–my friend Kristen at Ella Claire!  Take it away, Kristen!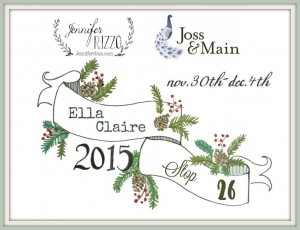 Click here to see all of my past Christmas decorating ideas.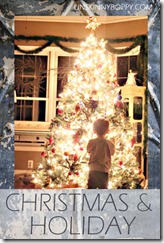 You can follow the hashtag #holidayhousewalk2015 and #jmholidaystyle on social media and be sure to check out our Good Housekeeping Pinterest board for TONS more inspiration!!
Disclaimer: I received some free goodies from Joss and Main to use in my décor this year. Post contains affiliate links.