Caroline turned one last week, and we celebrated this weekend with a berry sweet strawberry themed birthday party!  It's so hard to believe that my little baby girl is already ONE. My goodness, time needs to slow down.
I'll have a source list at the end of this post in case you are looking for any of these strawberry themed birthday decorations.
I setup a little gift table in front of the fireplace, and decorated it with strawberries and flowers.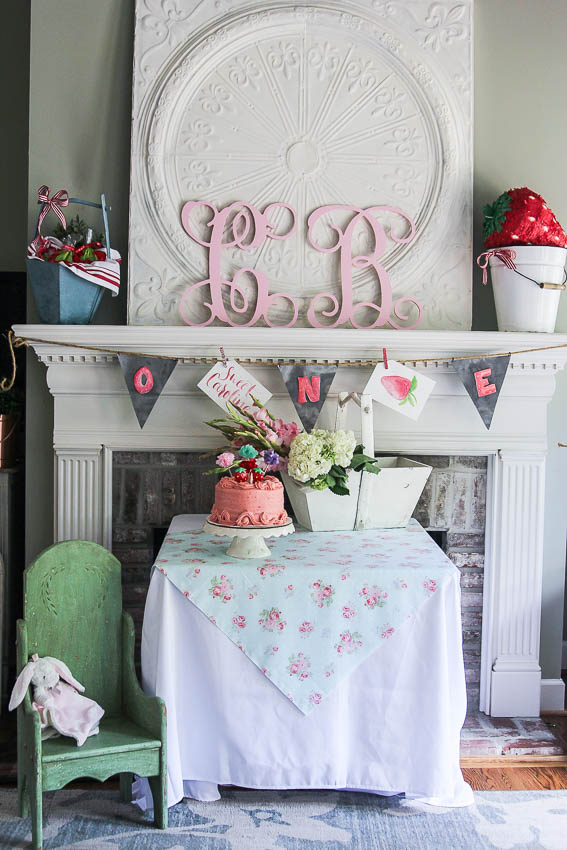 I scored that sweet little green chair from a friend of a friend for just $15.00!  I used it for her birthday invitation photo shoot, which turned out perfectly for the party theme.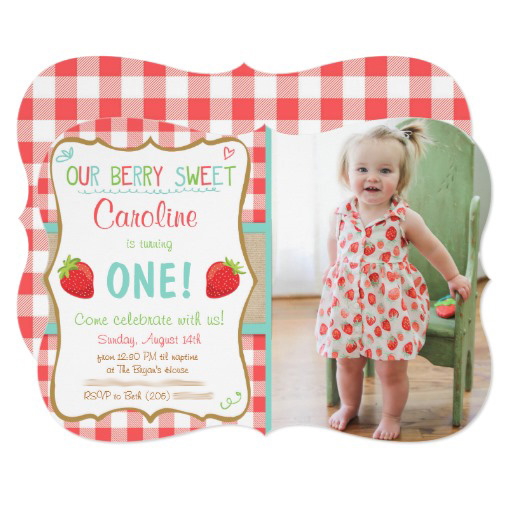 I have a feeling we will be seeing lots more of the green chair in the future.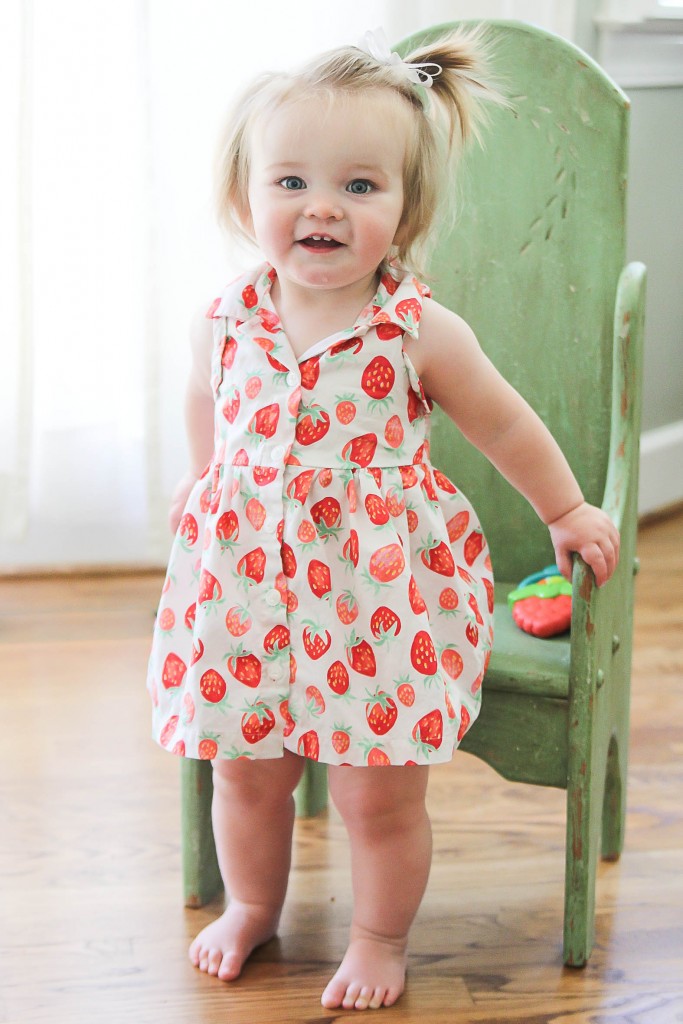 The adult's cake was from a local bakery that makes THE best strawberry cakes in the wide world.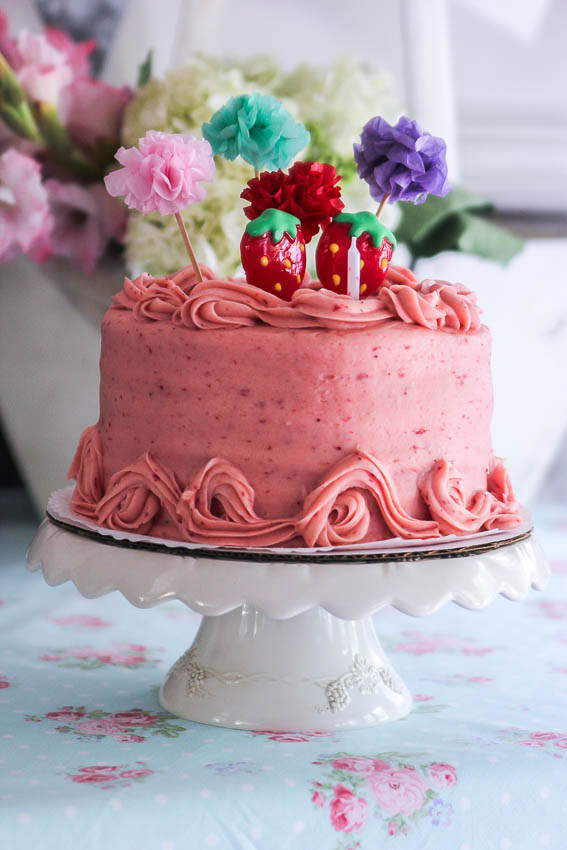 I added the little tissue poms and two strawberry suckers along with the birthday candle to decorate it.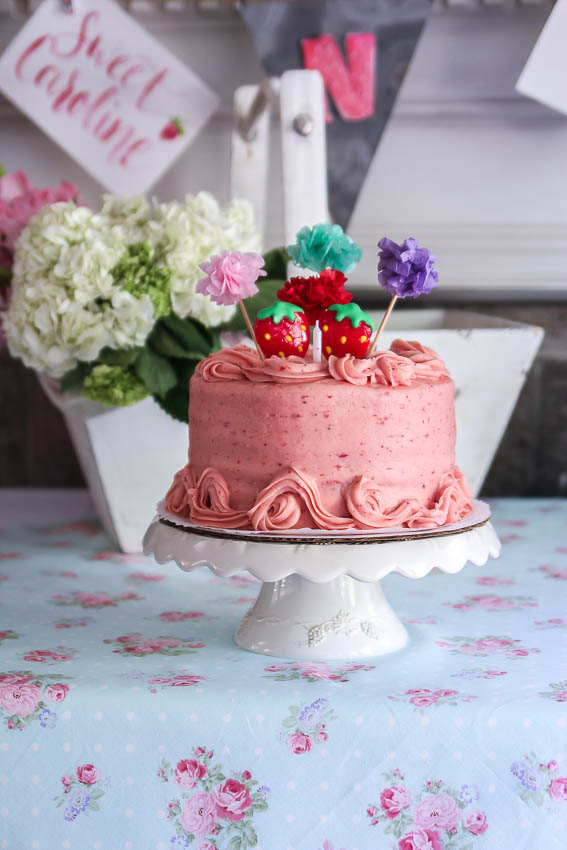 My friend Jocie over at One Project Closer made THE cutest watercolor sketches for Caroline's birthday and sent them to me. I SQUEEEED when I first saw this pic on Jocie's facebook page, and I knew I needed these for her party.  I asked her for a printable but she sent me the whole-shebang!  I love Jocie so much.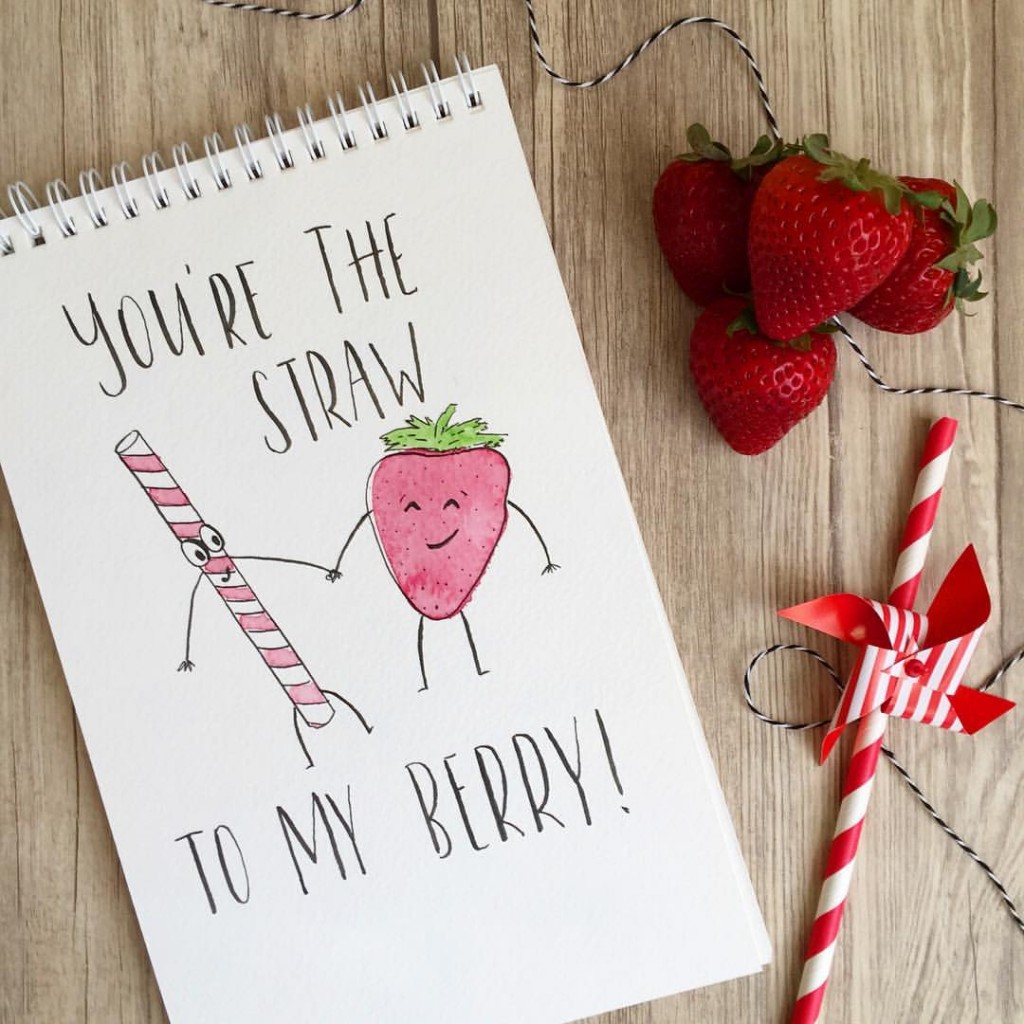 How awesome is that?  For real, THANK YOU, Jocie, for loving on my baby girl and sending her these perfect little watercolor paintings.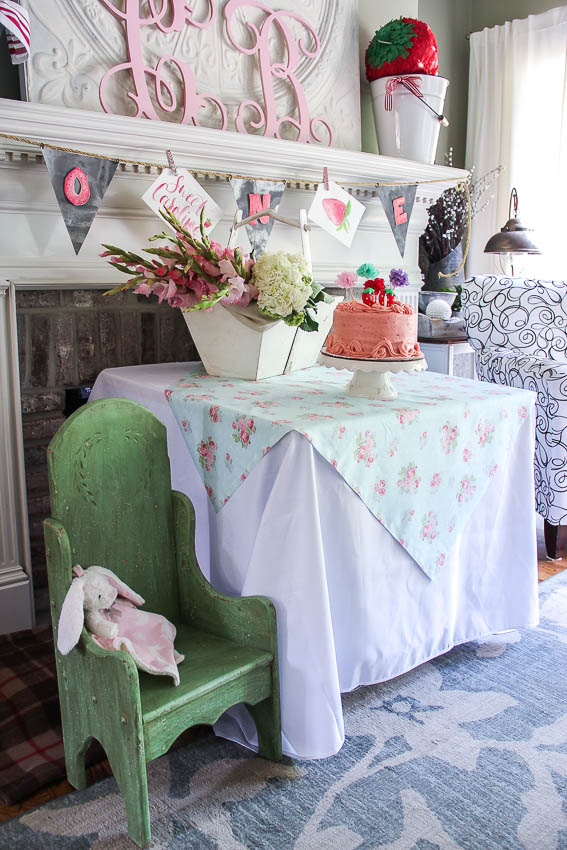 I hung them all around the room as part of the decorations. She even made me one that says "Sweet Caroline". Oh how I love it.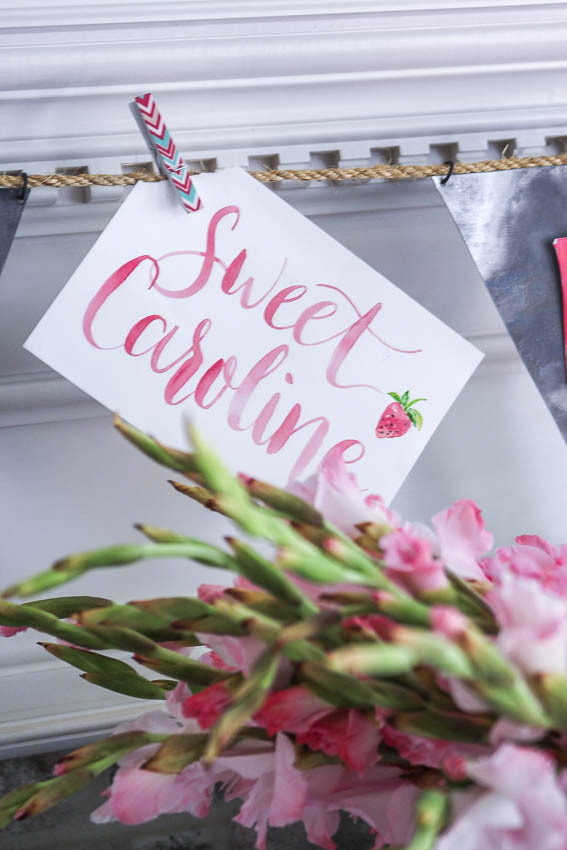 Instead of going all out with decor, I went to Costco and scored these bunches of pink gladiolas and hydrangea for just $8 a bunch. I wanted to keep it simple, and these pretty pink flowers packed a perfect punch.
I totally just busted out in rhyme right there. Sorry about that.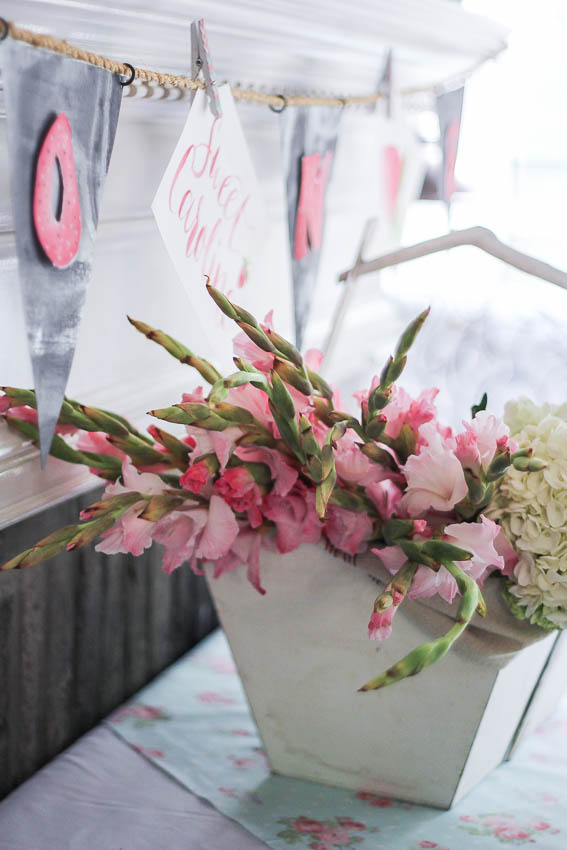 A strawberry piñata in an old enamelware bucket made for quick and easy decorating. This is like the epitome of the K.I.S.S. method right here.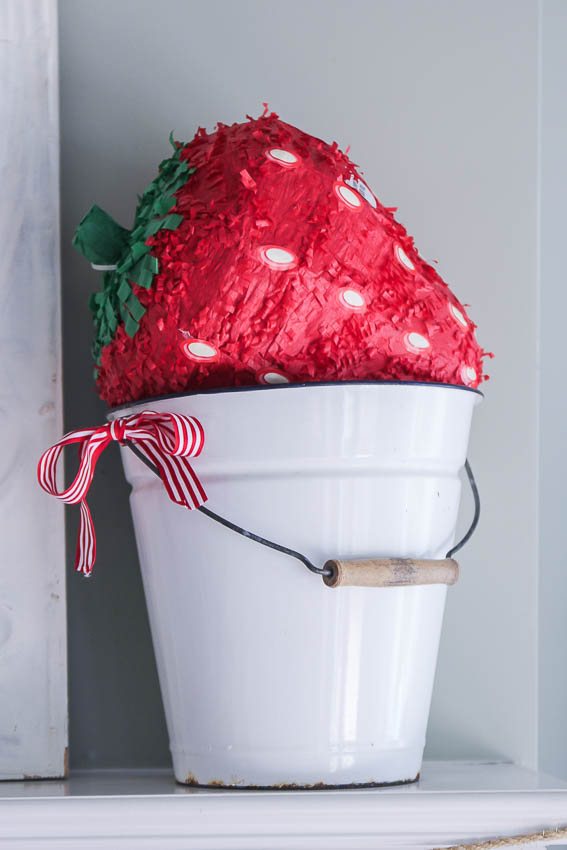 For kid-friendly party favors I put animal crackers and dried strawberries inside these cute strawberry favor bags.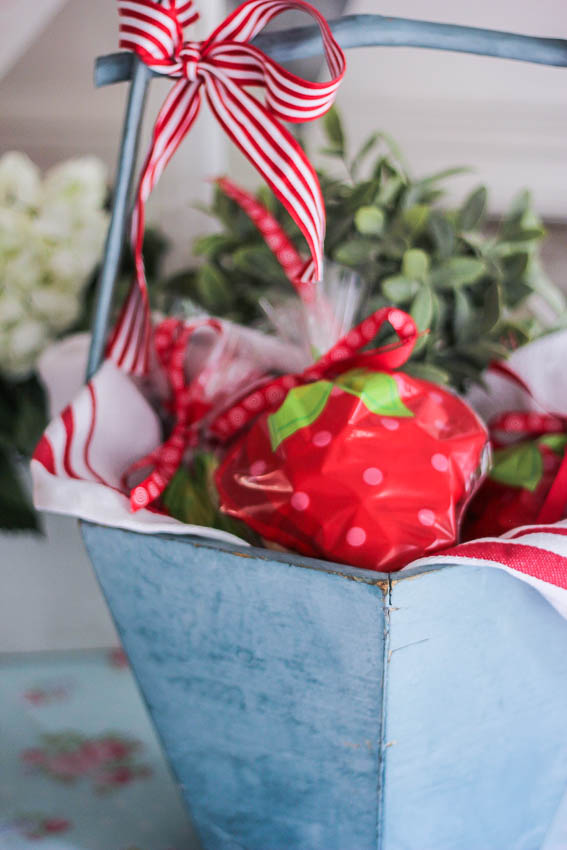 We also had a bouquet of strawberry suckers in a watering can for the kids to take home.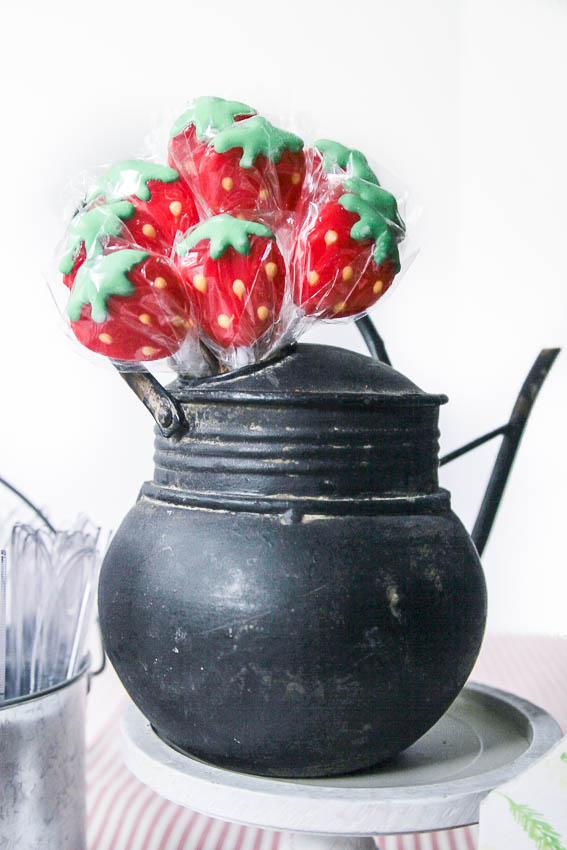 I found these watercolor strawberry paper plates on a website, and I spent WAY too much money on them, but they were so cute. I heart these.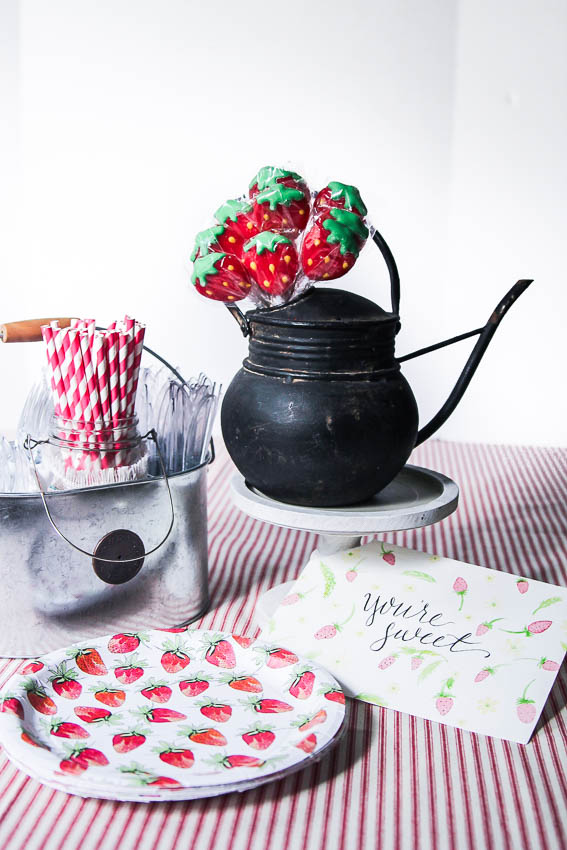 And the rest of the decor consisted of a few tissue paper strawberries and a little garland.  That's it! Super easy and fun.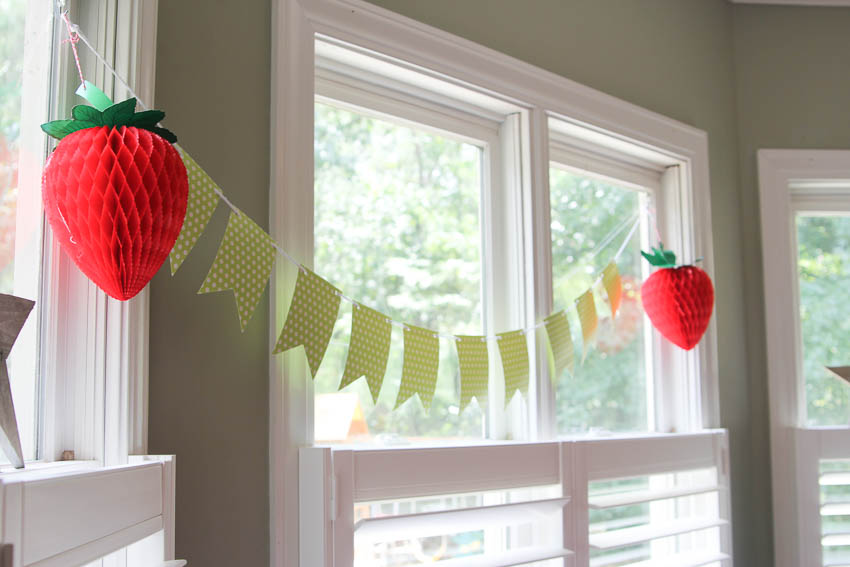 The only decoration Caroline was interested in were the balloons. Here she is showing her great-granny how they bounce together.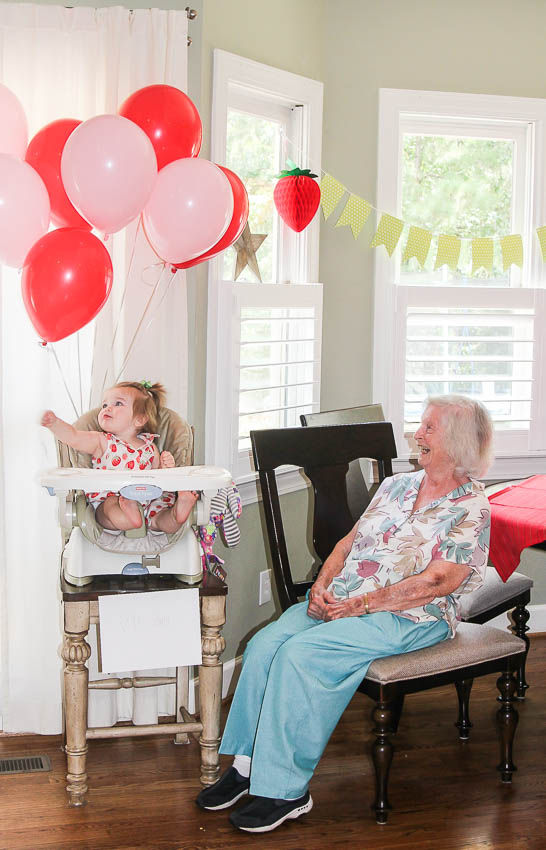 The menu was super simple, too. Most of it came from Costco!  Chicken salad on croissants, Caesar salad, spinach dip, veggie tray, mixed berries and fresh whipped cream, coffee cakes and a strawberry shortcake that I made in place of a smash cake.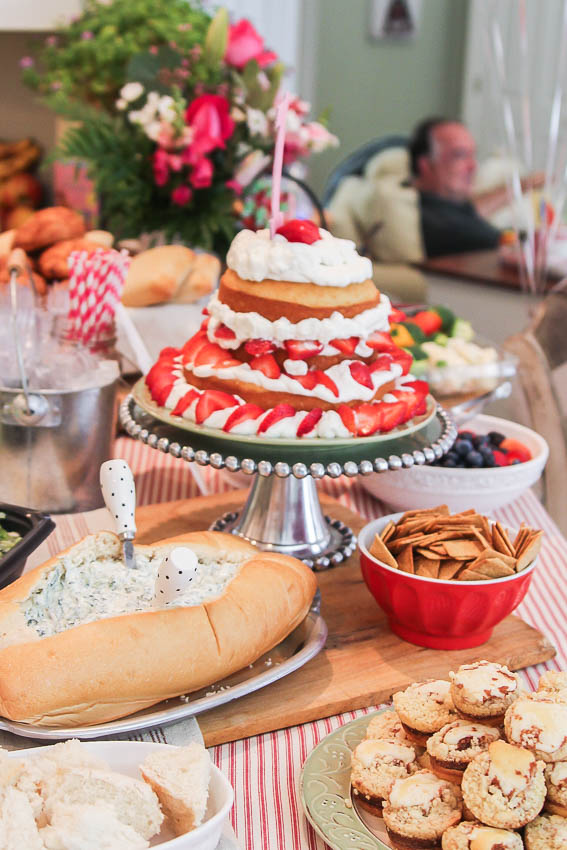 This strawberry shortcake was almost as good as the store-bought one.  Almost. I made a plain old Betty Crocker vanilla cake mix with fresh whipped cream and strawberries.  It was easy peasy.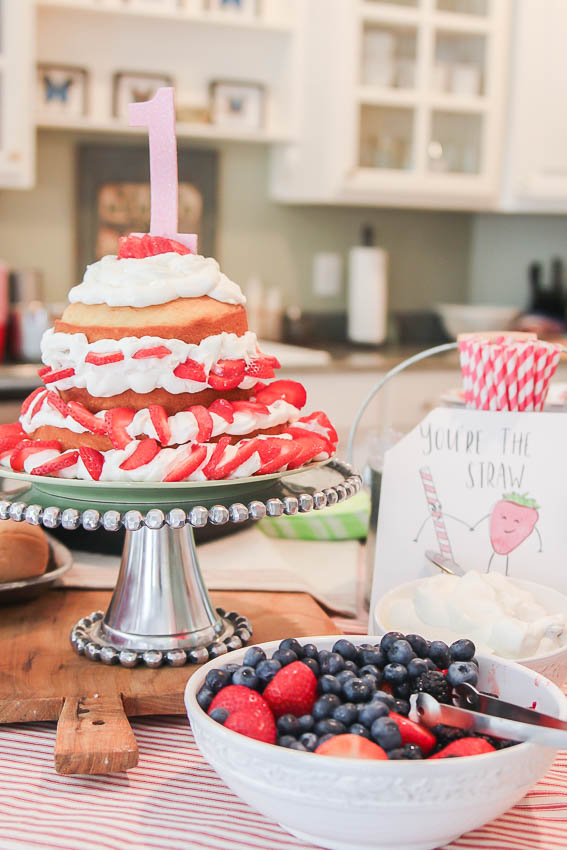 Since the window of opportunity for a happy one-year-old between naps is mighty slim, the party went pretty fast. First lunch, then gifts, then cake smash.  She had almost zero interest in opening gifts, but she did like posing in her little chair and crossing her ankles like a proper little lady.  This girl, I swear she is not my kid. I have never been accused of being a proper little lady, but somehow I managed to give birth to one. Praise Jesus.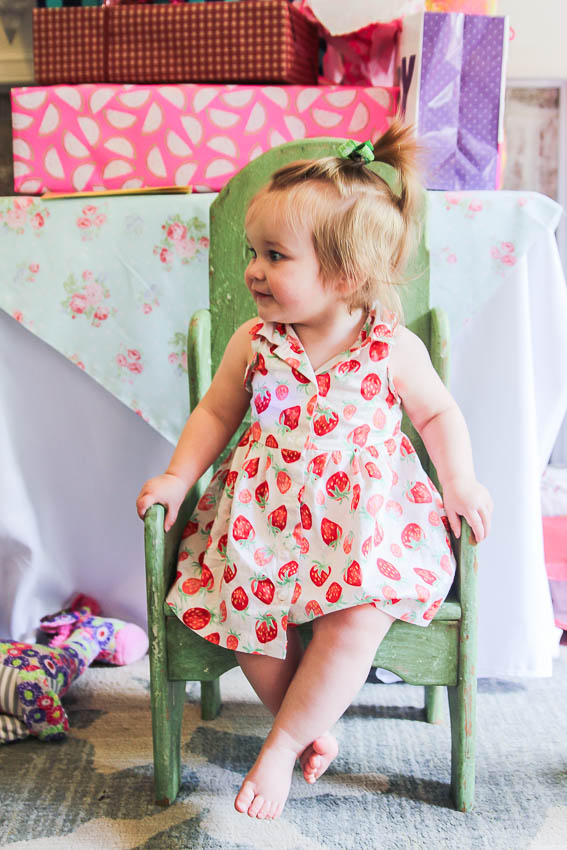 Garrett was more than happy to help his baby sister open all of her presents, though.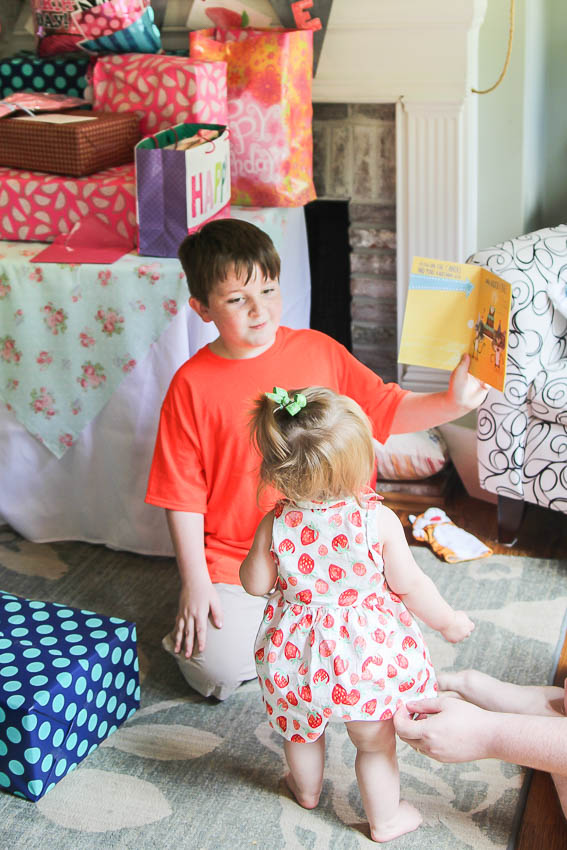 She ran around in circles while he ripped into the gifts.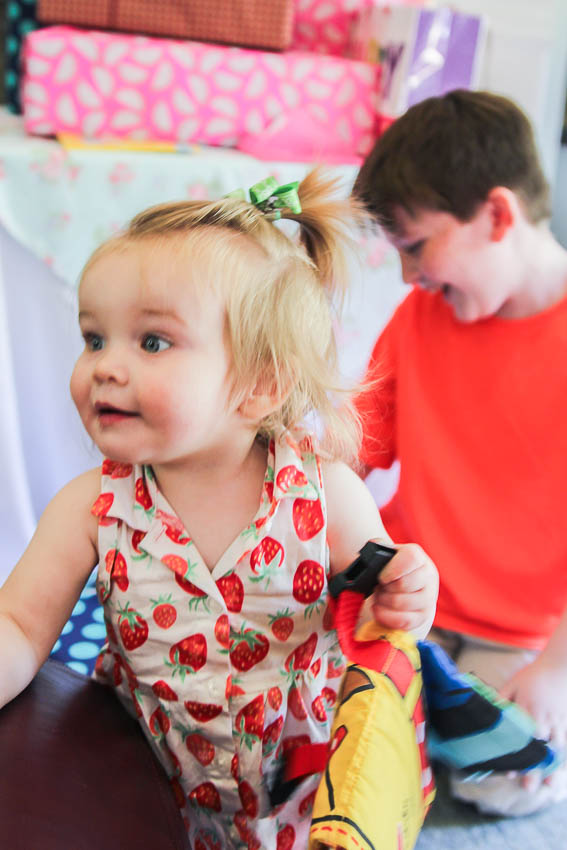 And finally, the grand finale was the cake smash! I made the strawberry shortcake with a removable top layer so she could go to town on it.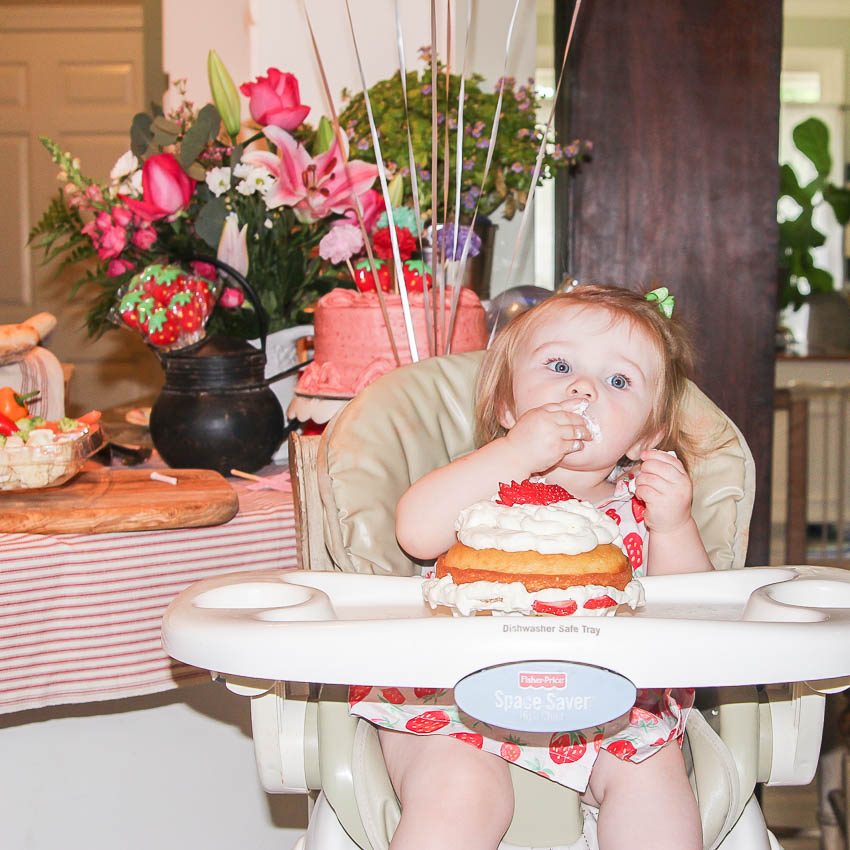 We kept waiting and waiting for the big SMASH, but she just kinda nibbled daintily at it like the proper little lady that she is.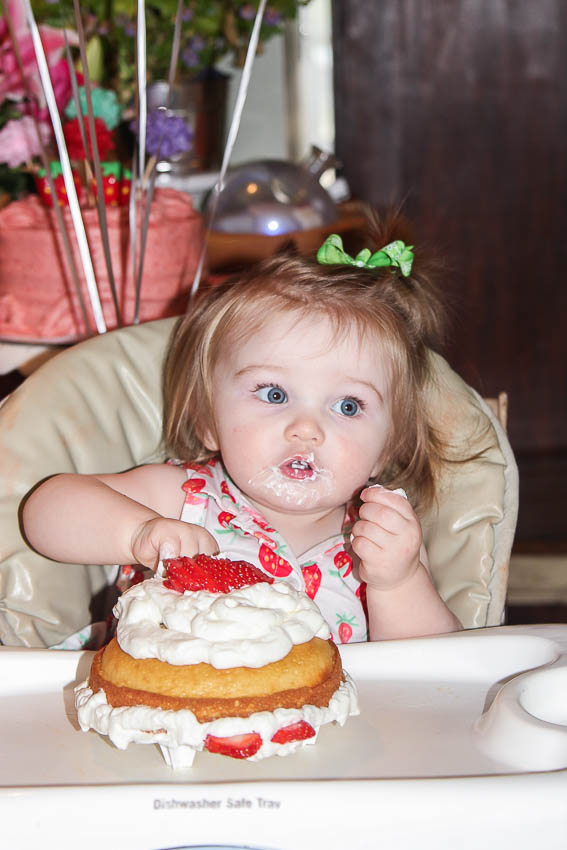 Finally she got in there and devoured some of the whipped cream.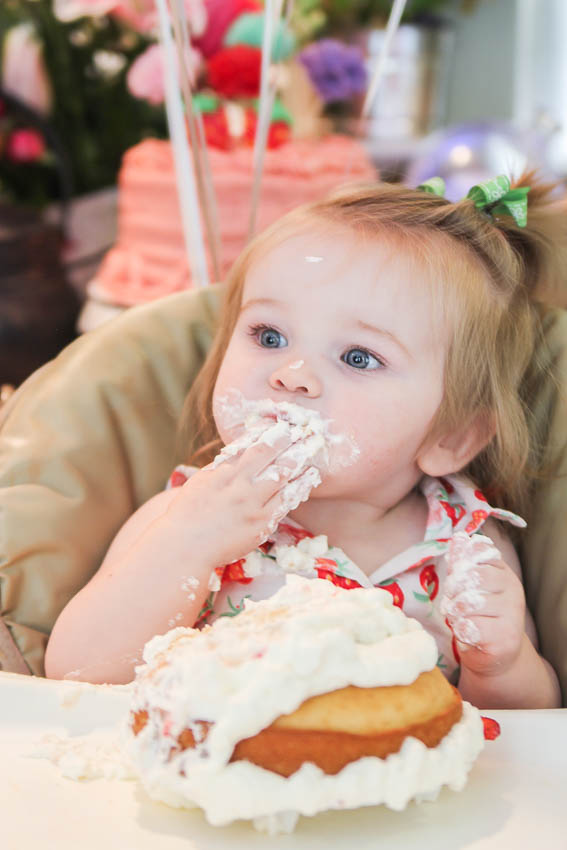 But this was about as messy as she got during the entire cake smash.  Unlike her big brother, who took his entire first birthday cake and shoved the whole thing in his face. I learned my lesson on having a first birthday party with greasy cake icing and went with whipped cream for her instead. I highly recommend the strawberry shortcake smash method!
Way less mess to wipe up.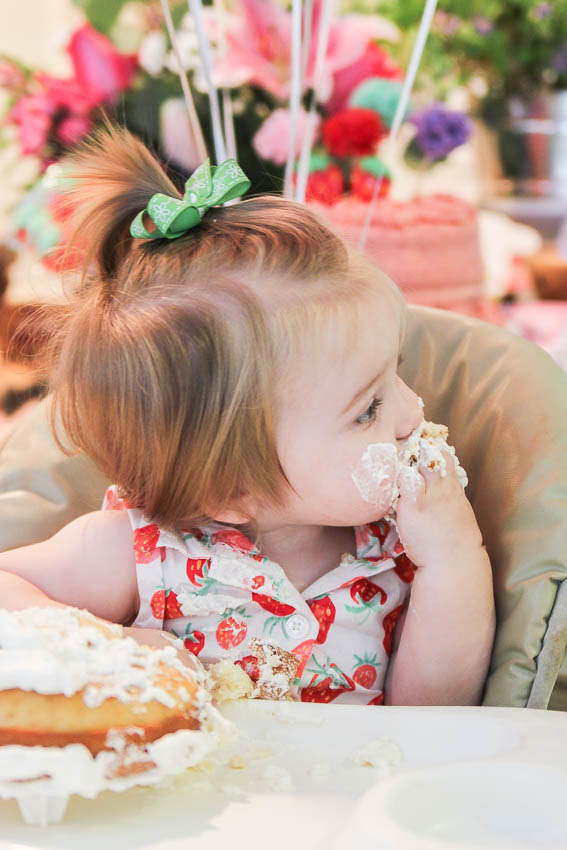 After that, it was bath time and nap time for this sweet girl. Then, we all ate cake and told stories and had a great afternoon together with our families.
I'm so thankful for my sweet baby to give us one final reason to smash cakes around here. Happy birthday, Sweet Caroline!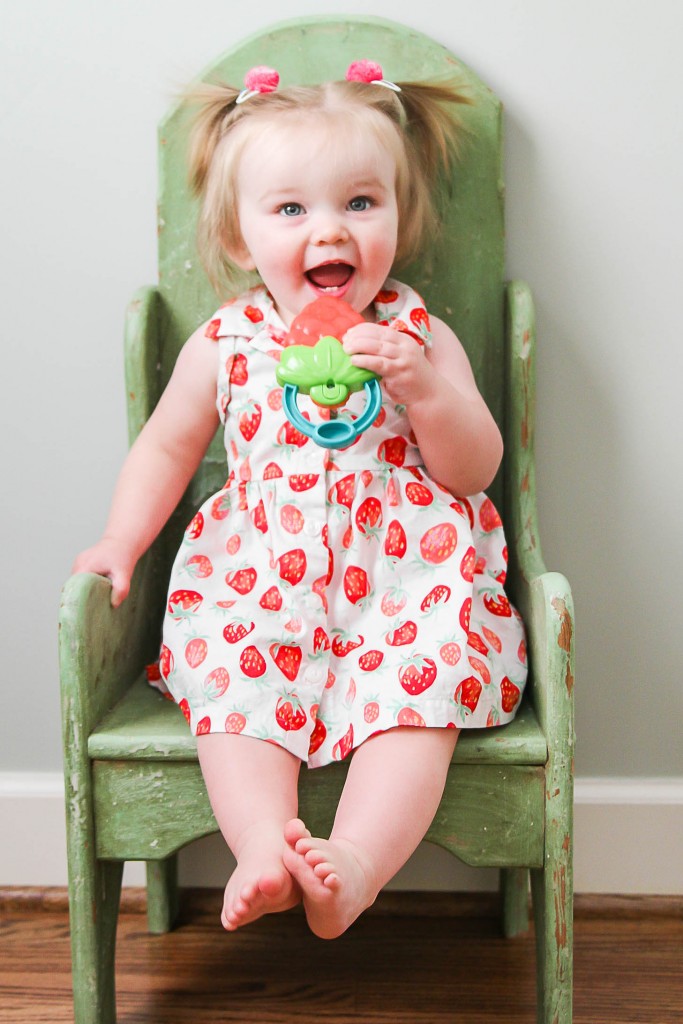 Strawberry Themed Birthday Party Source List
{Affiliate links ahead– these cost you nothing, and I earn a commission from your purchases}
Strawberry honeycomb tissue paper decoration
Strawberry Party Favor Treat Bags
Freeze Dried Strawberries for Treat Bags
Animal Crackers for Treat Bags
Watercolor Strawberry Paper Plates
Strawberry Themed Birthday Party Invitations
Wilton 6″ cake pans (for homemade smash cake)
Wilton Cake Separator (to remove top layer for smash cake)