Our sweet Caroline is turning TWO this week. Can you even believe it??
It's amazing to think that it's been two whole years since she came along and took our lives on a sharp right-hand turn out of nowhere.
In the blink of an eye she went from this perfect little china doll look-alike…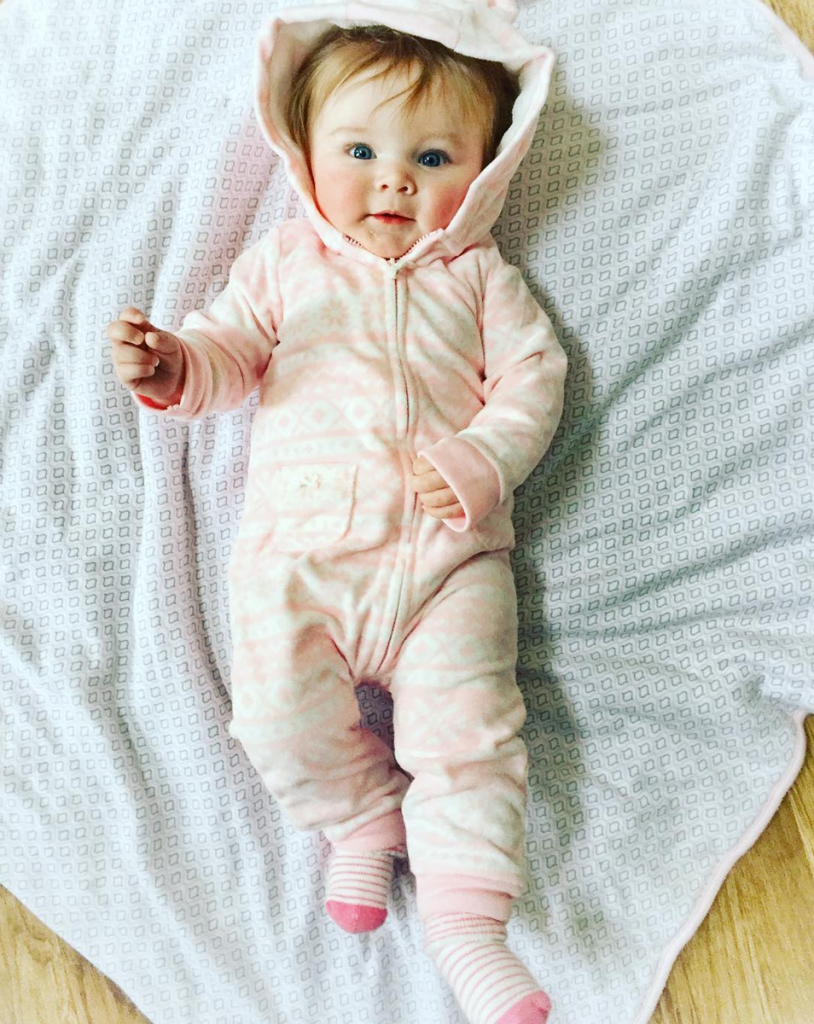 … to this beautiful girl dancing on the table at her party! (Oh please don't let this be a foreshadowing of her 21st birthday.)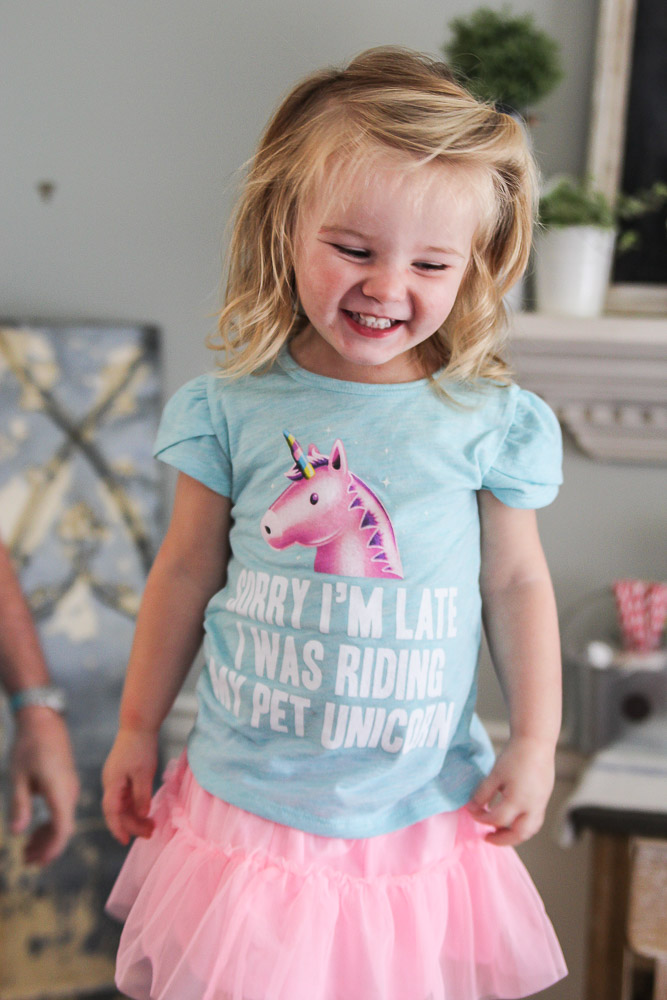 Since they seem to be all the rage right now, I chose a cute little unicorn theme for her party. J found this cute shirt that says "Sorry I'm late I was riding my pet unicorn." from Kohls. Here is my aff link to buy the t-shirt.
These days I seem to be finding more inspiration on Instagram than Pinterest, and one day when I was scrolling through the unicorn search hashtag and found this crazy beautiful pic of unicorn cake pops by @rymondtn:
These stopped me right in mid-scroll and made me say "WOW!"
Alas, while they are super amazing, I don't have the time or talent to try to make something like that for her birthday party.
Instead I rolled down to Publix and picked up a dozen cupcakes for less than $10 and called it a party.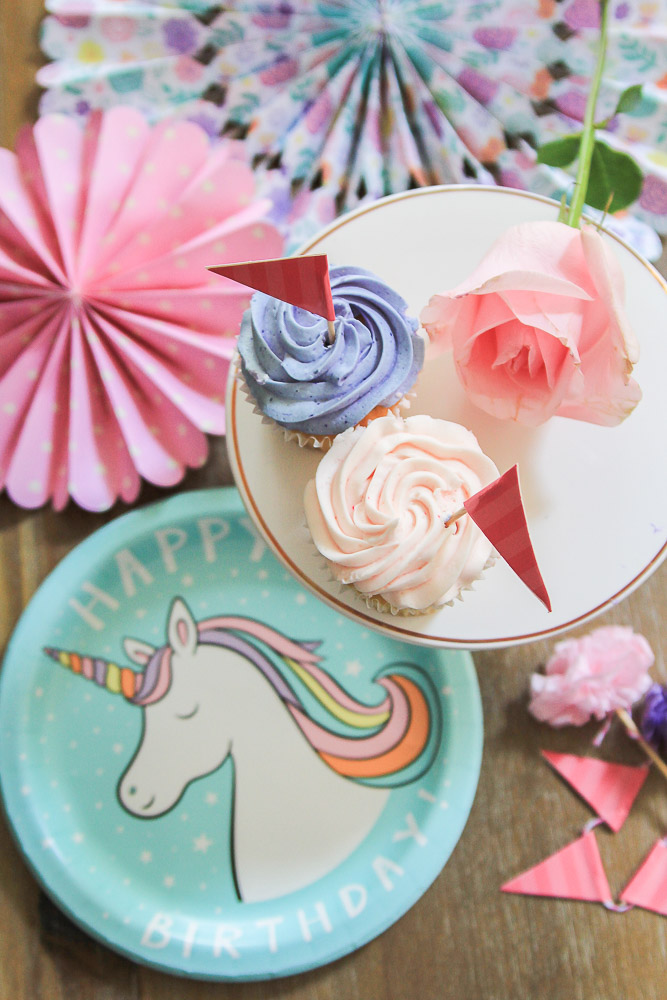 This year we decided to take a much-needed family vacation to the beach instead of throwing a huge birthday bash.  So, I threw together a sweet little birthday brunch for our families to celebrate on Saturday morning.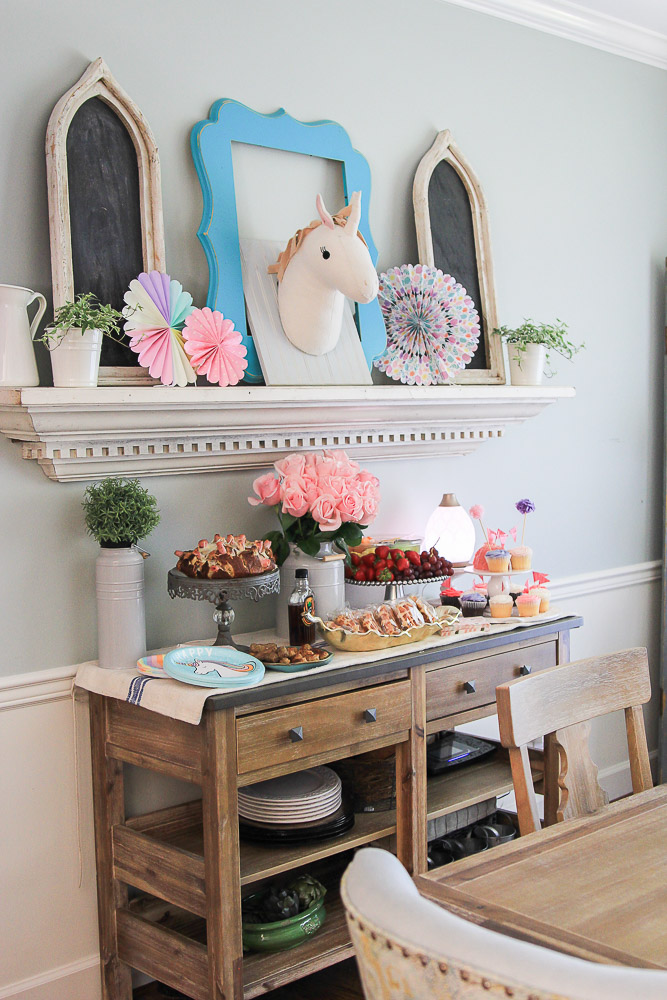 I used the unicorn from her bedroom along with pink roses from Costco and some Target unicorn themed decorations.
These unicorn Happy Birthday plates from Target were perfect for the occasion.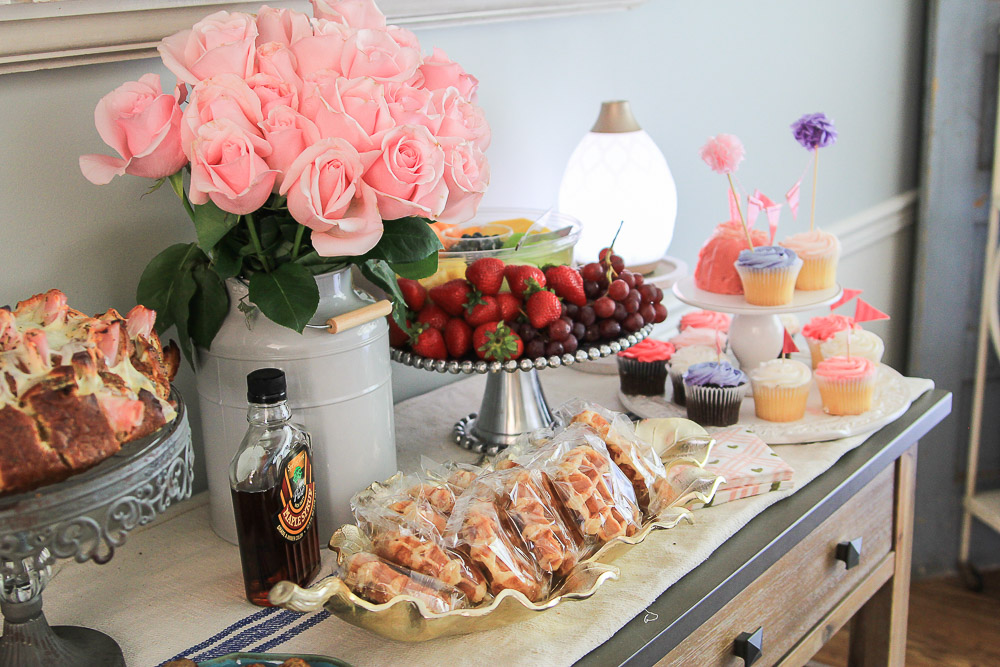 I kept the menu simple- Those AMAZING Vanilla Belgian waffles from Costco, Kings Hawaiian pull-apart bread, turkey sausage and fruit.
I also made a biscuit, egg and sausage casserole that was perfect for a family brunch.  I'll post my take on that recipe soon, but here is the recipe I used for inspiration: Sausage, Egg & Cheese Breakfast Casserole from The Country Cook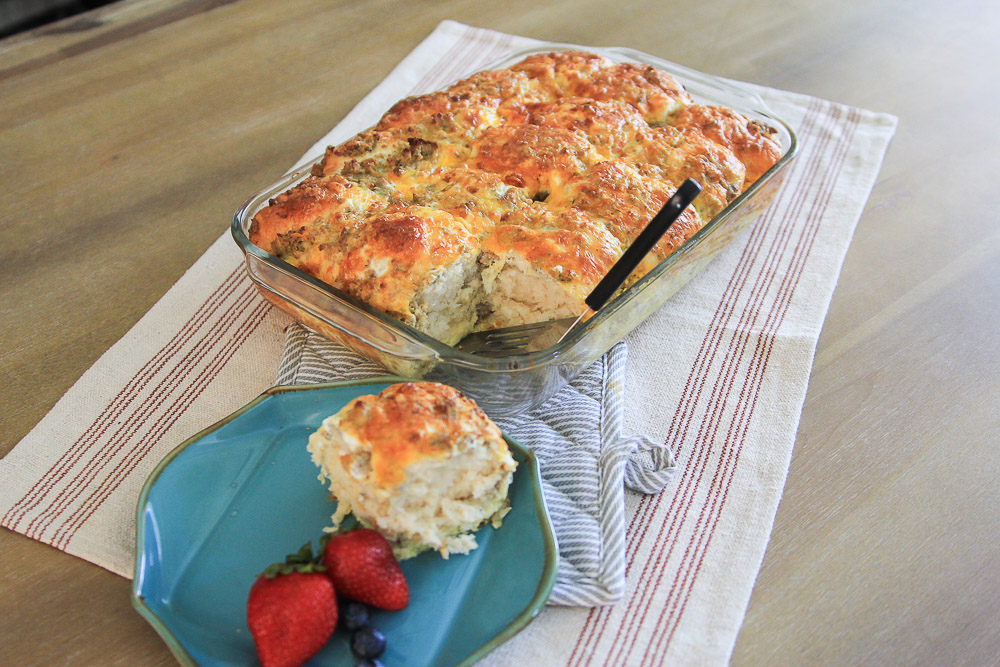 Oh, and of course I cannot forget those Publix cupcakes!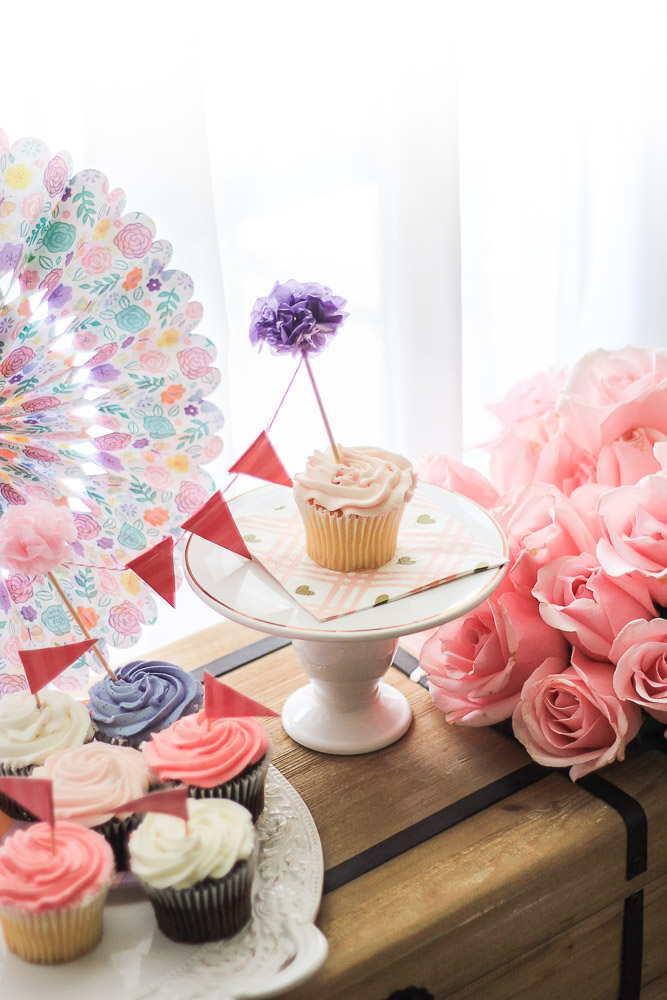 We all sat around our new dining room table and talked and laughed and enjoyed celebrating our sweet girl.
By they way, can I just say how super excited I am to finally have a table that is large enough to seat 8 people?  We had plenty of room to sit down together, which is something I have never had before!
I love my new dining room set.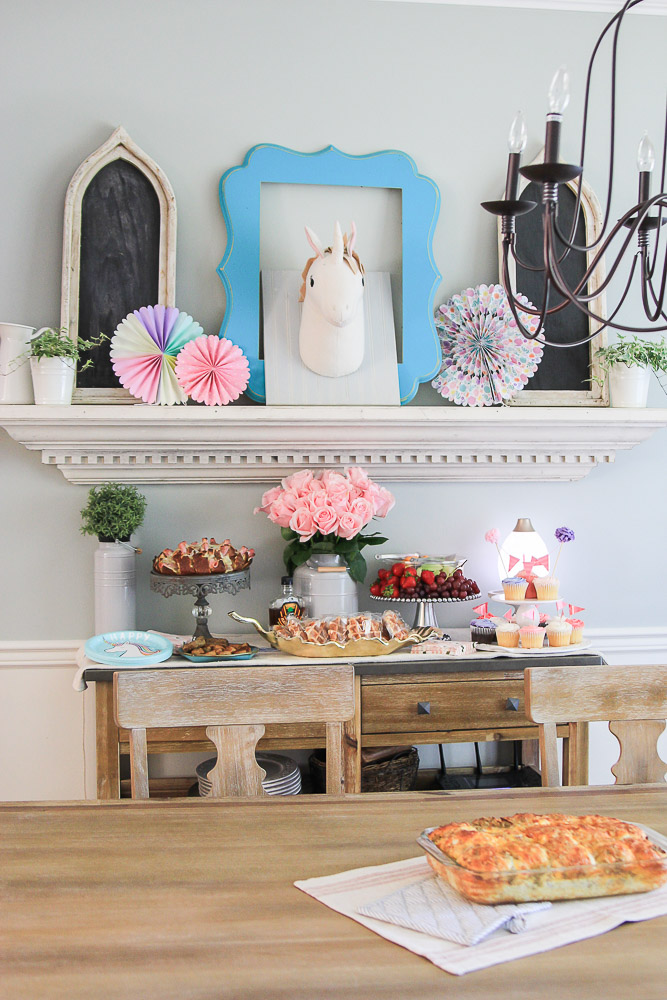 After brunch we sang Happy Birthday and she blew out her two little candles like a champ!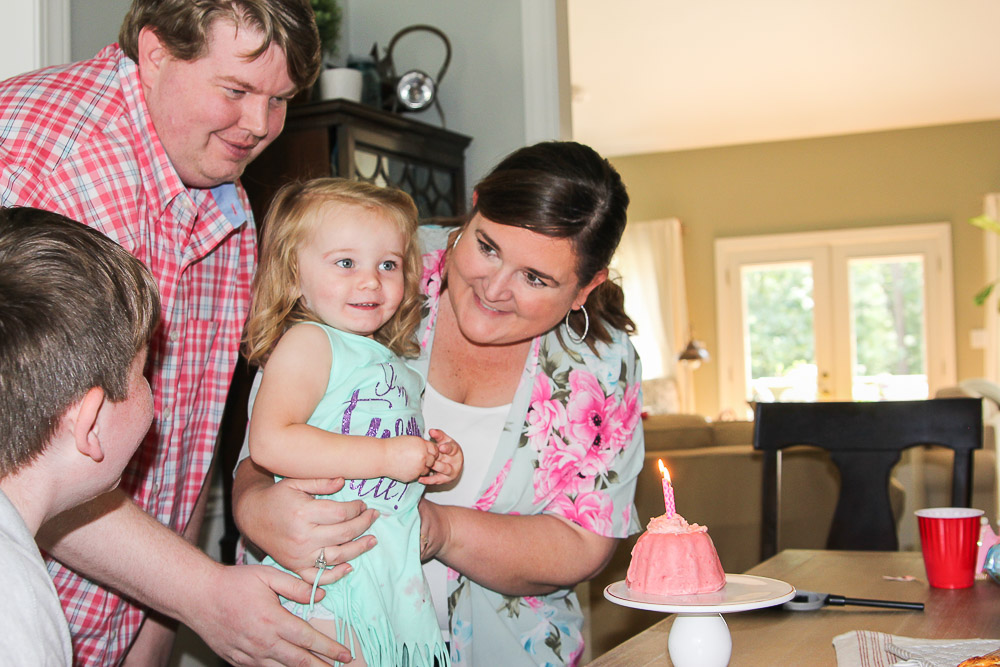 Then she dug into her cake like a champ.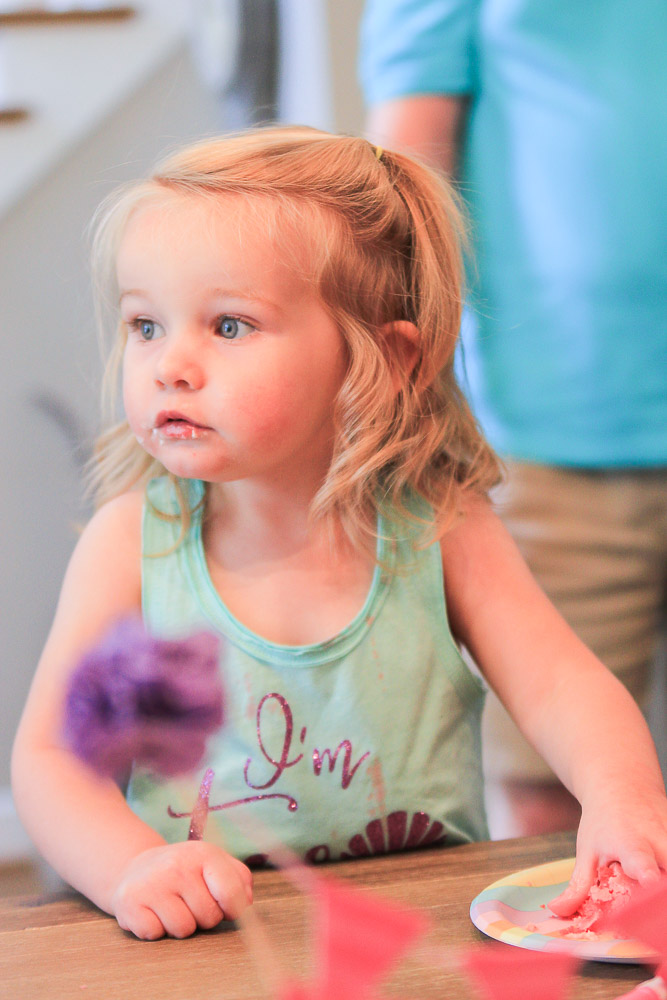 Granddaddy had brought her this crown but she refused to wear it, so Great-Granny modeled it instead.
Doesn't she look like Queen Elizabeth?
Next up came the gift opening, which she enjoyed way more than her first birthday! Since the playroom is packed full of stuff already I didn't buy many toys. I did buy her a set of these Usborne Peek-Inside book Collection.
She already makes me read Peek Inside the Garden every single night, so the rest of these will be a huge hit.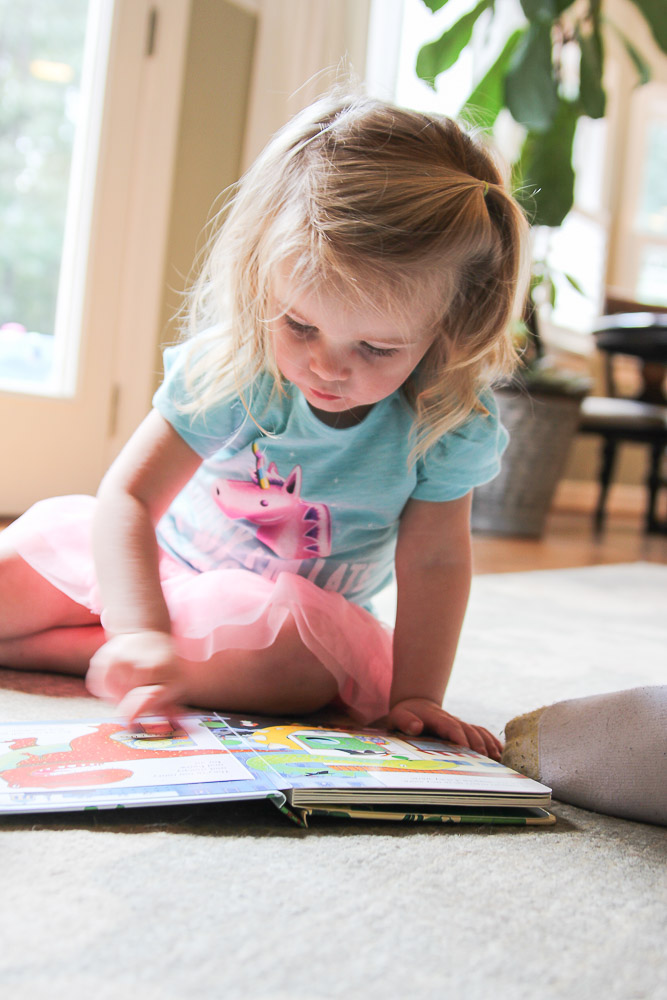 It was SUCH a great day celebrating her 2nd birthday with our families.  I am so thankful for this sweet girl and all the joy she brings to our lives!  Happy birthday, Caroline!
If you are planning a unicorn themed birthday brunch, I've got ya covered.
Want to plan this party?
Please click my affiliate links and I'll get a small commission if you purchase!
You can download a free printable of these 2-nicorn birthday brunch invitations to use for your little one's 2nd birthday!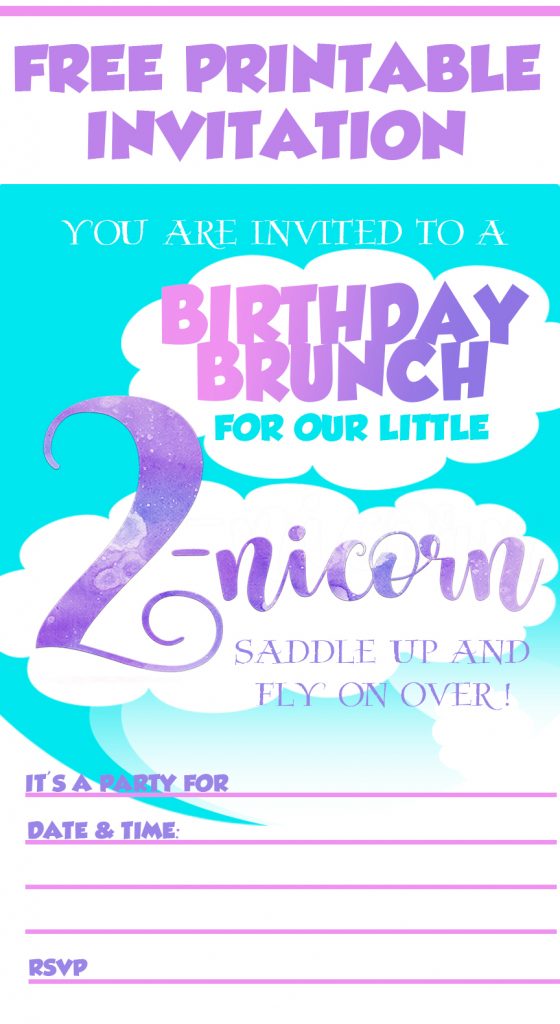 Click here for more cute unicorn themed party ideas!