---
When we sold our old house, one of the things we were most sad to leave behind was our finished basement. We put in so much work to make that basement beautiful, so it really hurt to give it up. The movie room with all that amazing molding and those gorgeous cabinets?? I was sad to leave them behind. Click here to tour the basement in the old house.
BUT… our new house had a large unfinished basement space that we knew we could make functional for our family.
We knew going into this project that it would not be nearly as decorative and crown-mouldy as the old one. Mainly we just wanted a large open space to serve as a rec room for entertaining and another smaller room for J to have an office. We also wanted some really big storage spaces that could be closed off to not see all of our ugly junk.
Here are the "Before" photos so you can see what we were working with.
Just a standard issue poured concrete basement. Big, open space. No windows, no plumbing. Very straightforward.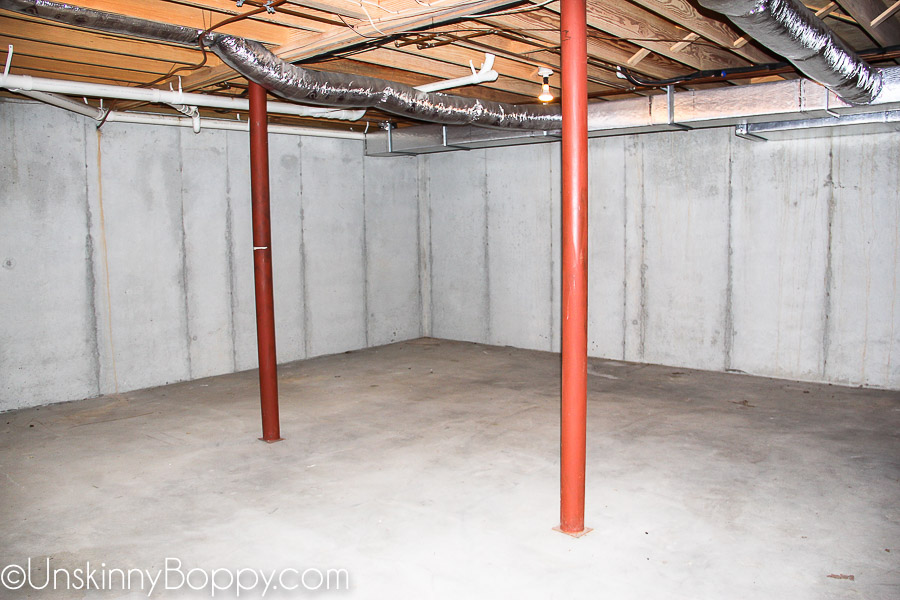 The Biggest Basement Challenges
Eight metal support poles to work around
Super low ceiling height
One of the biggest, if not THE biggest, downsides to this house was the basement ceiling height. The ceiling is SUPER low down there, at some points it's barely above 6′-8″ high. Considering my husband is 6′-2″ high, this was a serious issue. We knew that we would never be able to put in a sheetrock or drop ceiling down there because it would lower the ceiling height even further.
You can see the doors leaning against the wall here- they are 6′-8″ high and they barely wiggle under that air duct.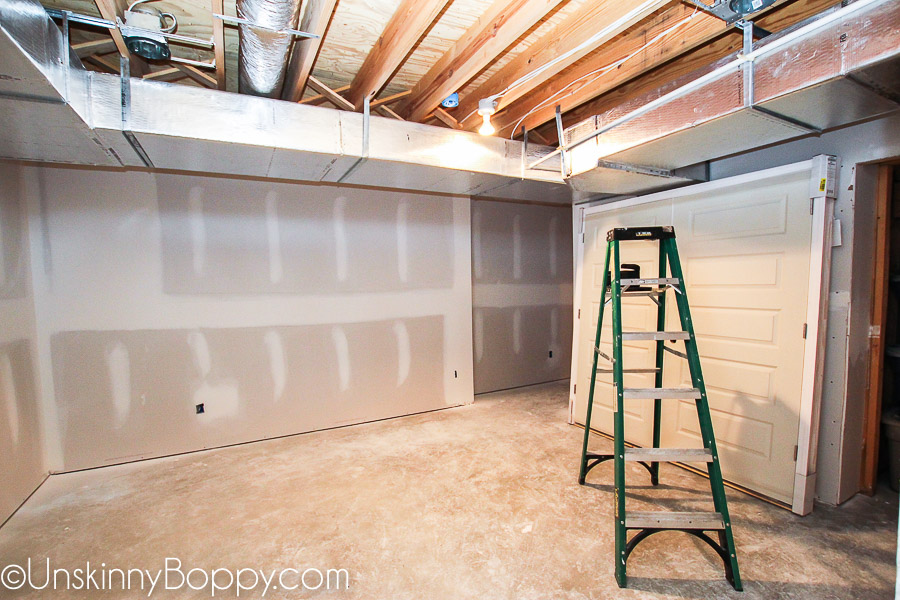 So, we needed to find a better solution. At first we talked about spraying everything matte black for that industrial vibe, but I worried a dark black ceiling would visually lower the ceiling height even further. Then we considered spraying the whole ceiling bright white, but we decided that would not look good either with all the nails and junk that was sticking out of the rafters.
If you want to see an example of what a painted white basement ceiling looks like, check out my friend's room over at One Project Closer: How to Paint a Basement Ceiling with Exposed Joists for an Industrial Look
Soooooo we finally compromised on a matte blue color.
We chose Sherwin Williams Smoky Blue (SW 7604) in a flat finish. This is the same color that we used on the ceiling in the old basement movie room, so we knew that we already liked the color.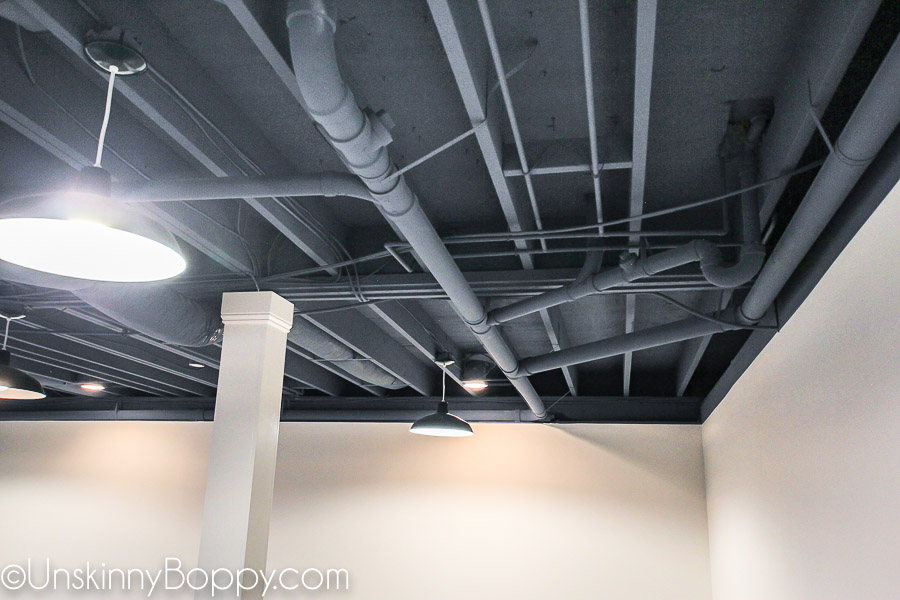 Since there were so many pipes and ducts and things blocking different parts of the walls, I was really concerned that it would hard to figure out where the walls ended and the ceiling began.
To even everything up, we chose a line on the wall that was relatively clear from obstructions to use as our guideline. Everything above the line was sprayed blue and everything below that point was painted a crisp, clean white color. (Sherwin Williams Westhighland White- 7566)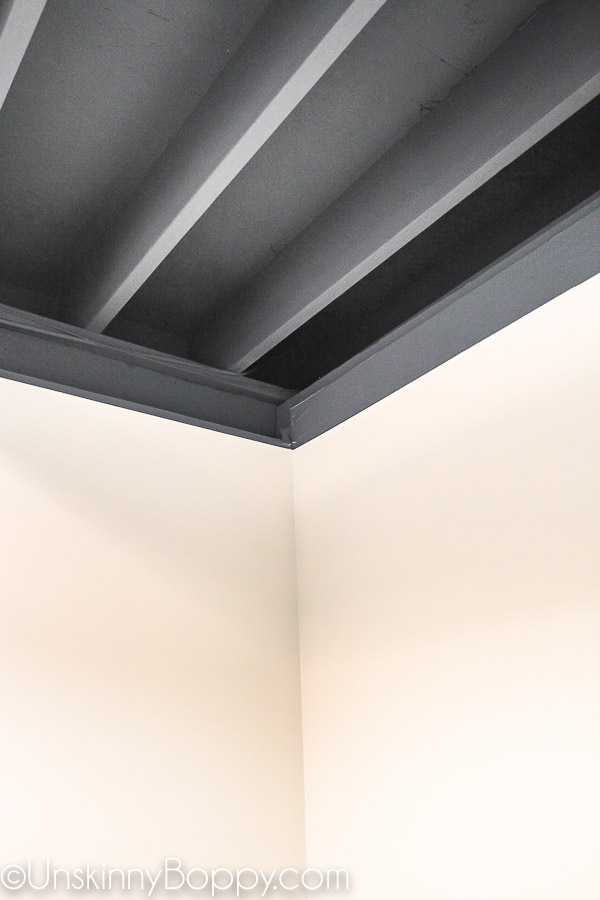 My AWESOME painter, Francisco, has done all the painting in our old houses and most of the painting in our new house too. He is the best of the best, so if you ever need a good painter in the Birmingham area give me a shout so I can give you his number. Hola, Francisco! He sprayed the entire ceiling in just one day using his big industrial paint sprayer.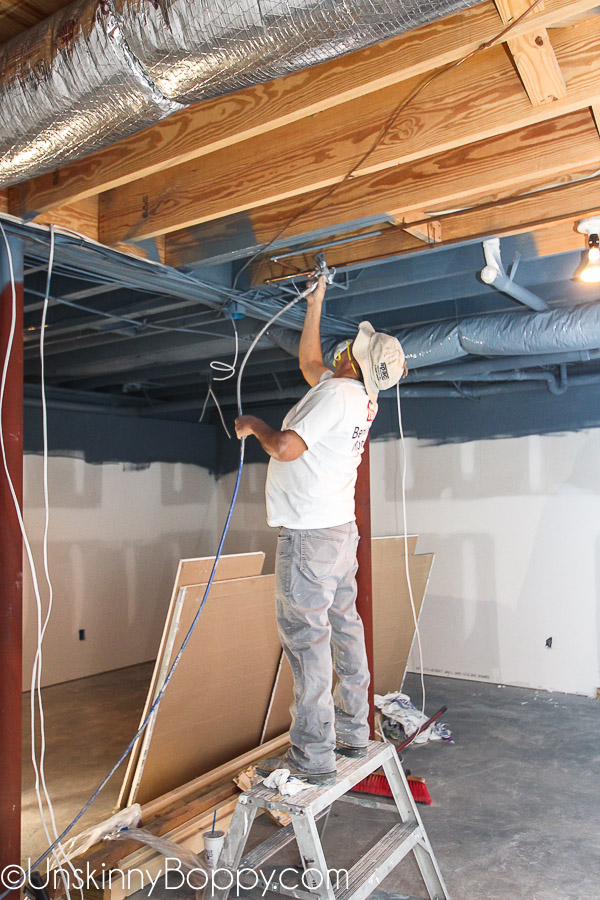 BUY A GOOD PAINT SPRAYER
I HIGHLY recommend a heavy duty paint sprayer if you plan to tackle this job. A small sprayer just ain't gonna cut it for a 1,000 sq ft + job.
Check this out: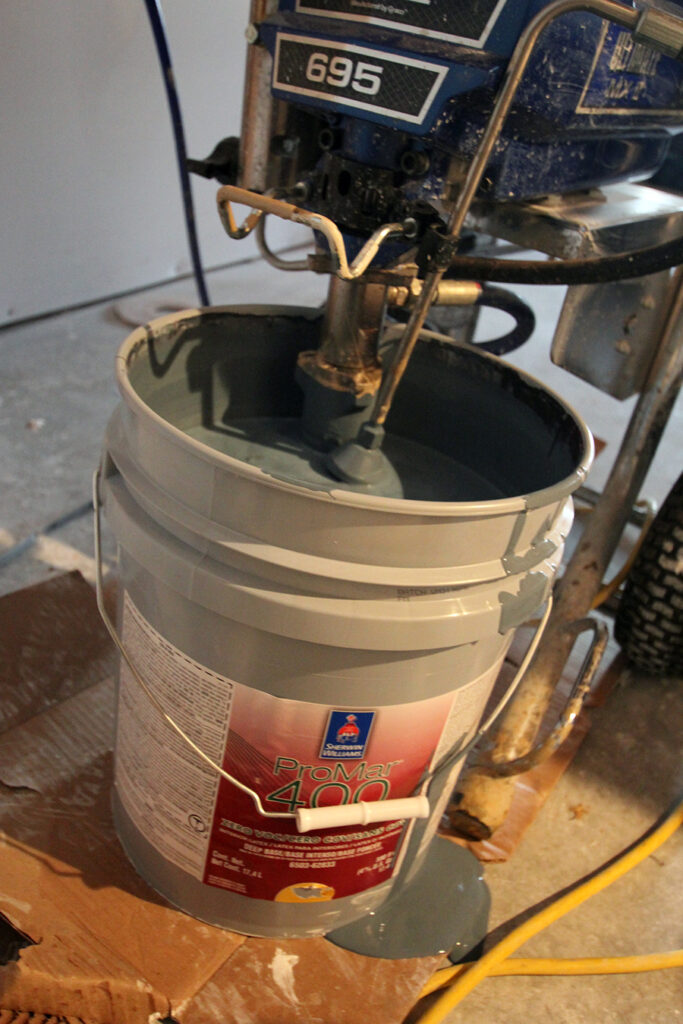 You can hook a 5 gallon bucket of paint up to it and you don't have to keep refilling it over and over. That is an amazing timesaver. Think of all the trips up and down the ladder that will save you.
The Graco 695 Ultra Max paint sprayer that he used was a contractor version that is likely out of the price range for most of us, but there are cheaper options that do the same thing.
This one is still pretty expensive.
This one is way more reasonably priced for the average home DIYer.
Well worth the investment for this huge project, in my opinion.
MY POLE DANCING WOES
Ok, on to dilemma #2.
See alllllll of those red metal poles? Since I did not want my house to fall in around my ears one night while I was watching Outlander, all eight of those metal poles had to stay in place.
They were also not in alignment with any main walls, which was frustrating.
I just had to figure out how to pole-dance my way around them. 😉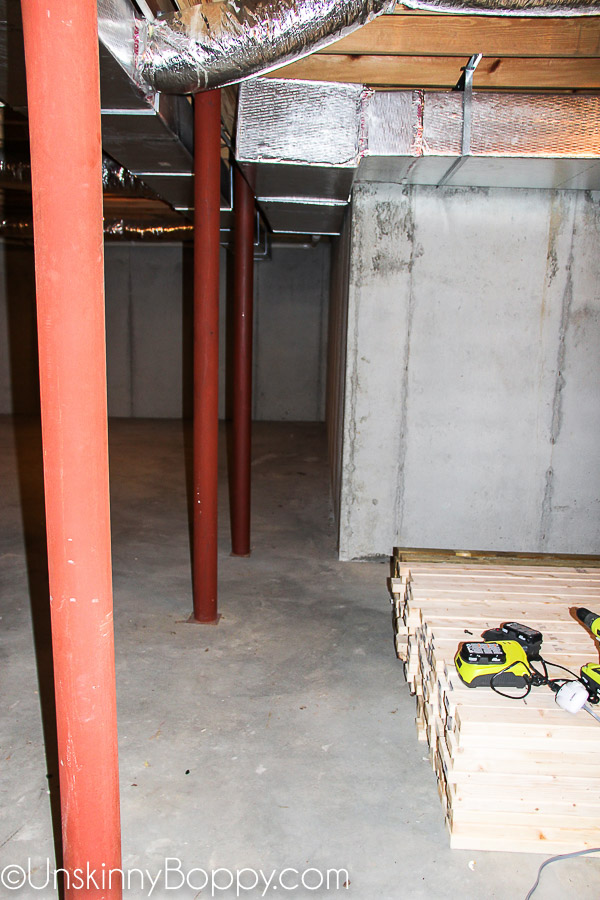 So I set out to draw up a floor plan that would hide as many of the metal posts as possible inside of closets or storage spaces. Here is what I designed: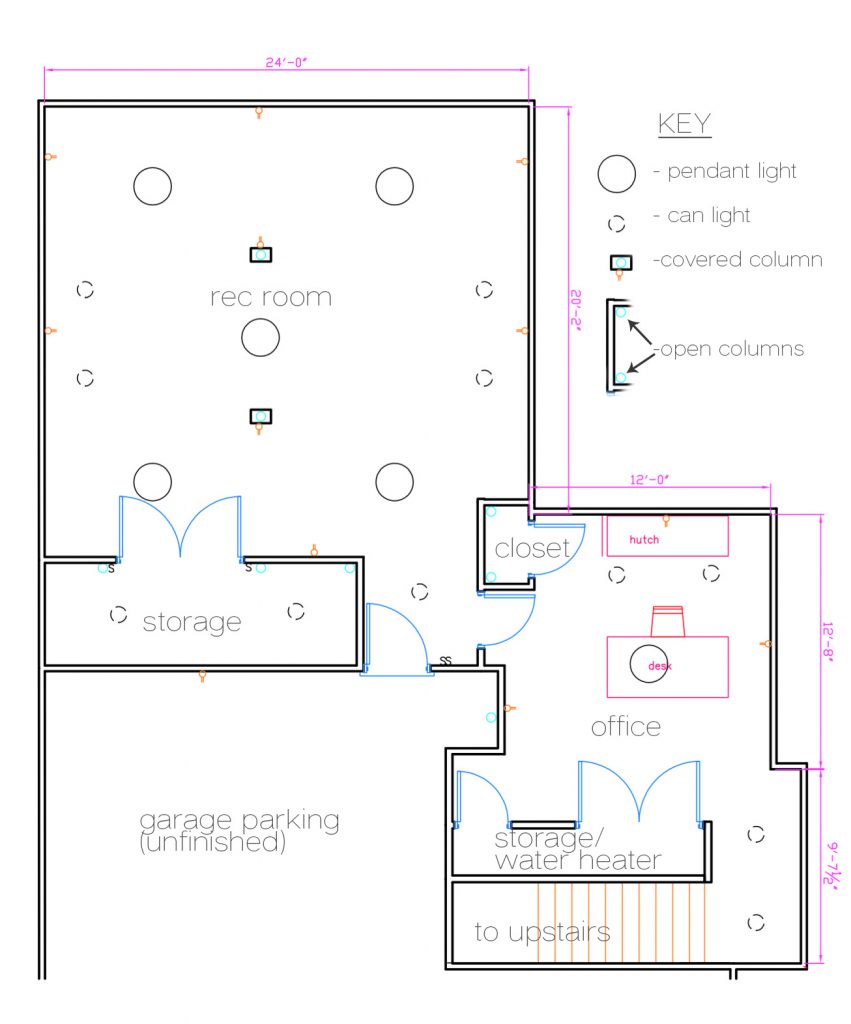 You can see from the Key that the small aqua blue circles are all the metal support poles. The other circles are pendant lights and can lights that we added in the ceiling, so don't let those confuse ya. I managed to work up a plan that placed five of the poles inside closets and left one more out in the unfinished area.
Just like in the previous basement, the J and his dad did all the framing and we hired out the rest of the work to subcontractors (sheetrock/paint/electrical/flooring). We saved so much money doing it this way versus working with a contractor. Semi-DIY is the way to go, IMO. We have access to a lot of really excellent subcontractors, though, so that helps.
When it was all said and done, we only had two exposed beams to cover up in the center of the large room. We were able to take it from this…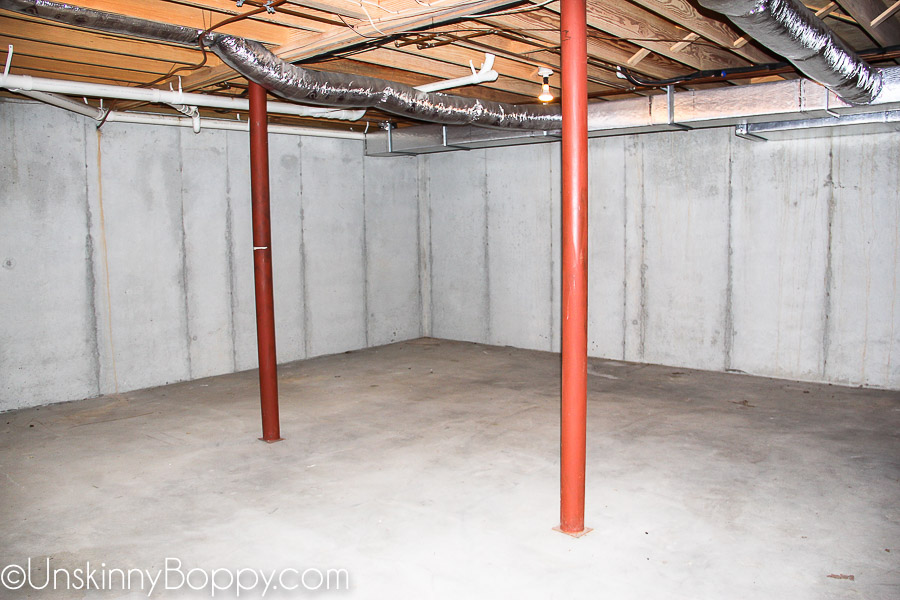 To this!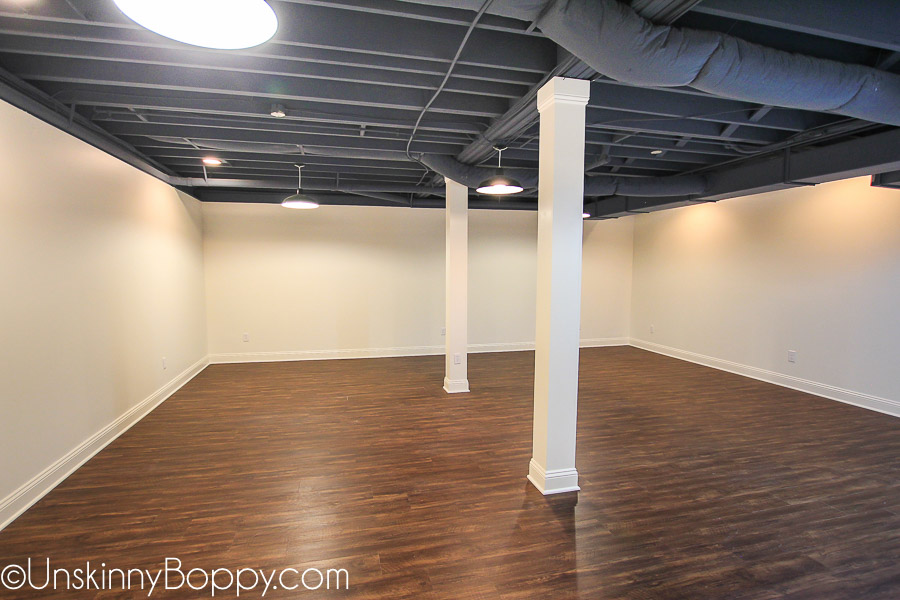 How awesome is that?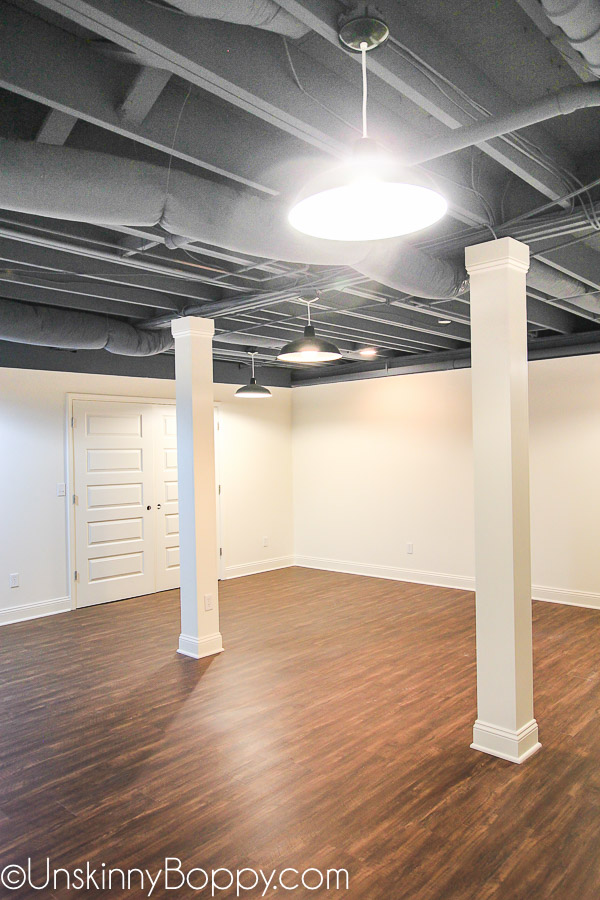 The other posts are hidden inside the closets. Out of sight, out of mind. We didn't box these in- they just got sprayed the same white color as the walls.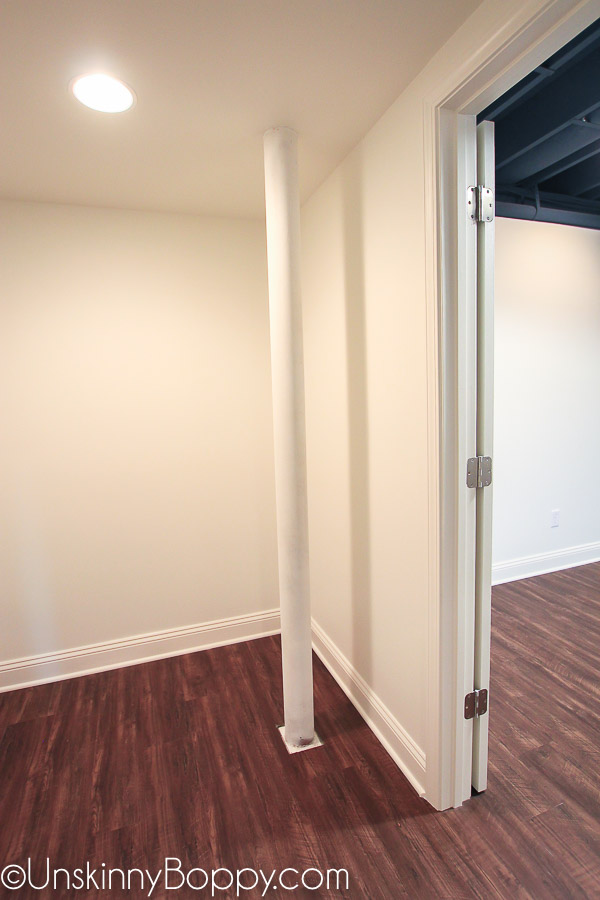 The two columns got trimmed out with 6″ Speedbase around the bottom and the top. It's a simple but elegant way to finish off a sheetrock column.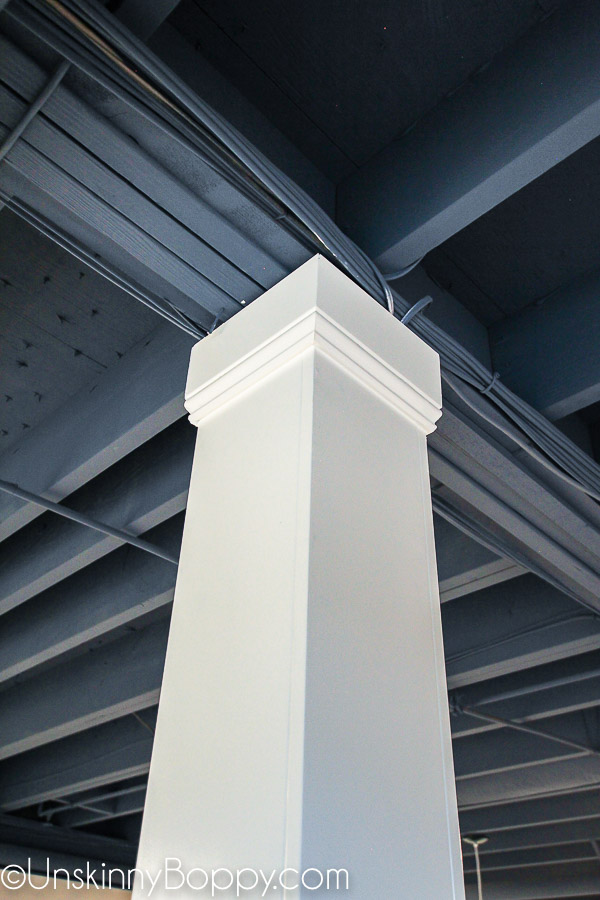 Here is the office area we created right when you walk down the steps from upstairs.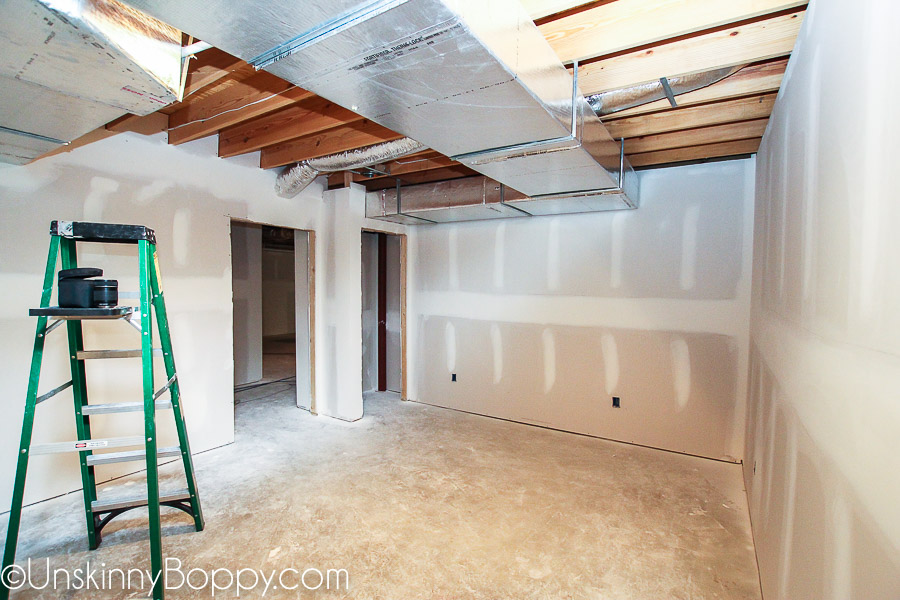 And here it is finished!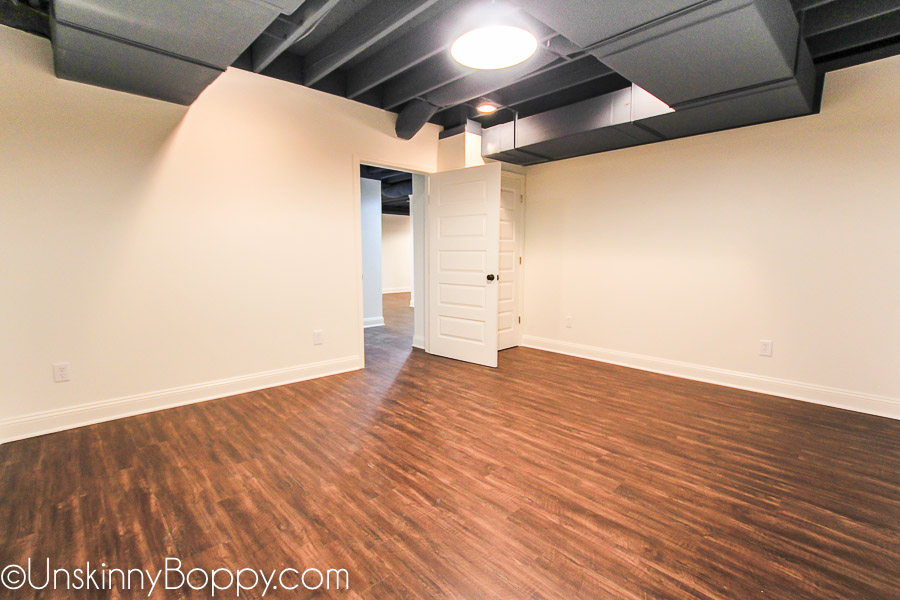 The water heater and air handler right against the staircase, so we needed to have easy access to those.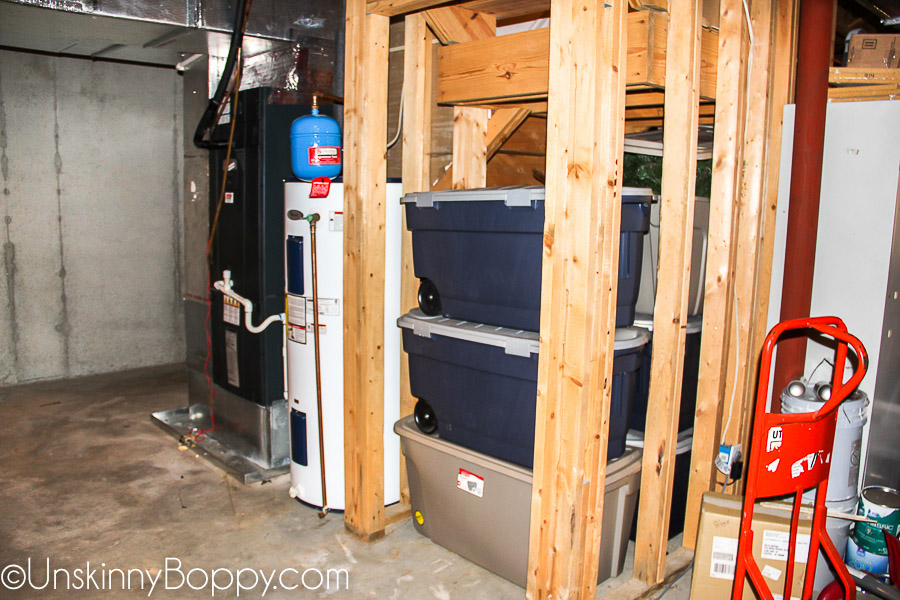 To take care of that, J and his dad built out a big storage closet with two 3 foot wide doors that provide a 6 foot opening for easy access.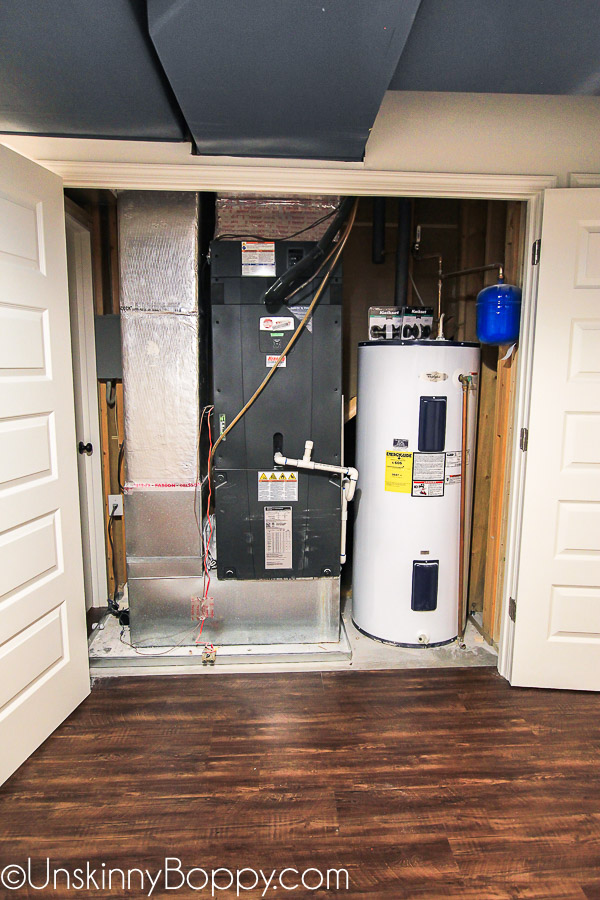 And here is that area with the doors closed- the door on the right leads to the storage area under the stairs, which makes an excellent storm shelter during tornado season.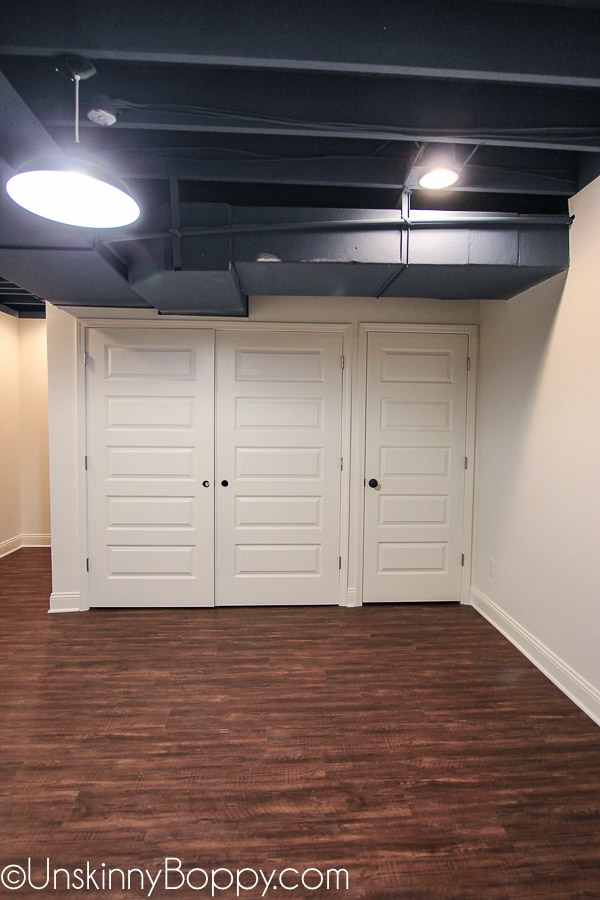 Here's another before shot of that area that leads to the stairwell.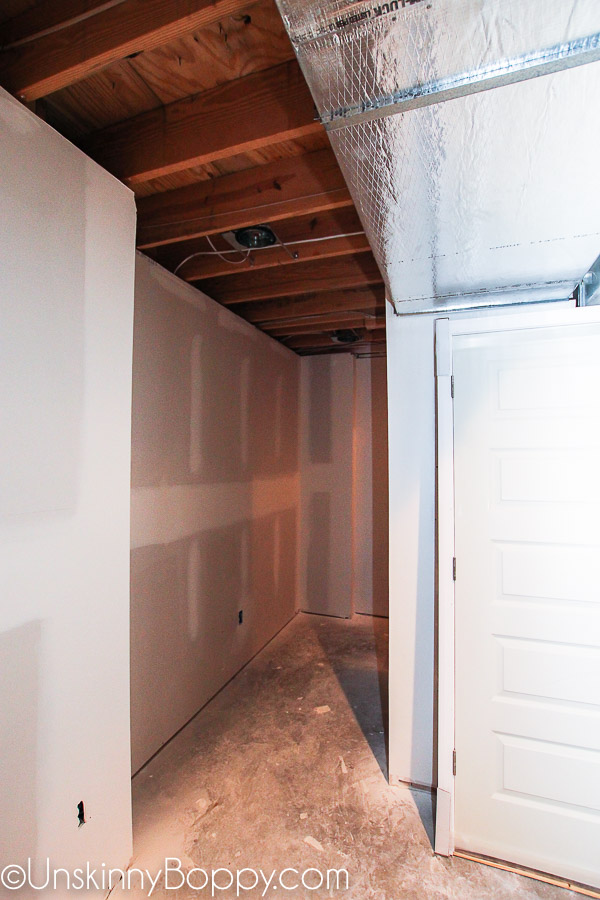 And here is the finished area.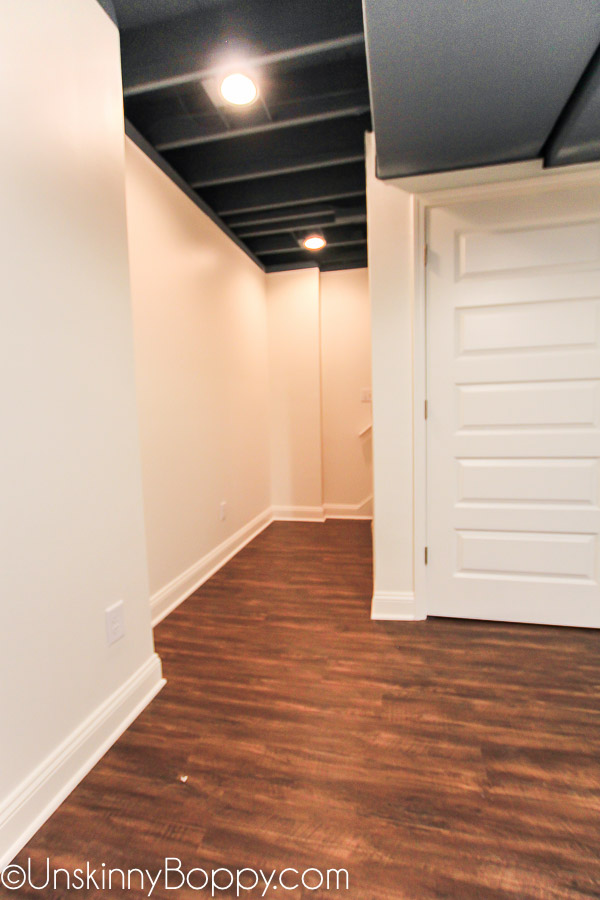 Back out in the big room we added a MASSIVE storage closet
This area will hold all my Christmas decorations, including the tree. In fact, we don't even have to take the tree apart anymore. It can just slide right into this closet full erect and still have plenty of room for other stuff! It's great!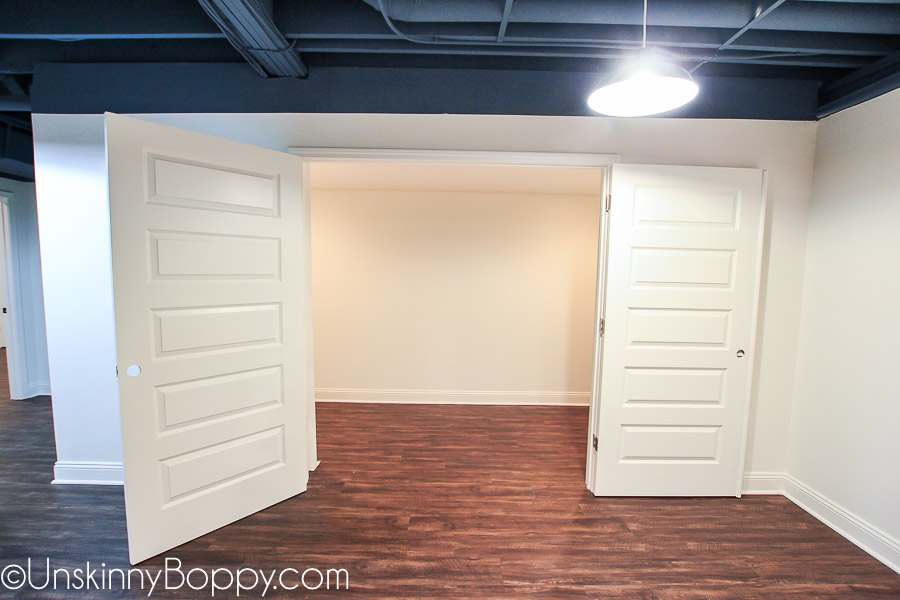 This door leads out to the unfinished parking area of the garage and J's woodshop.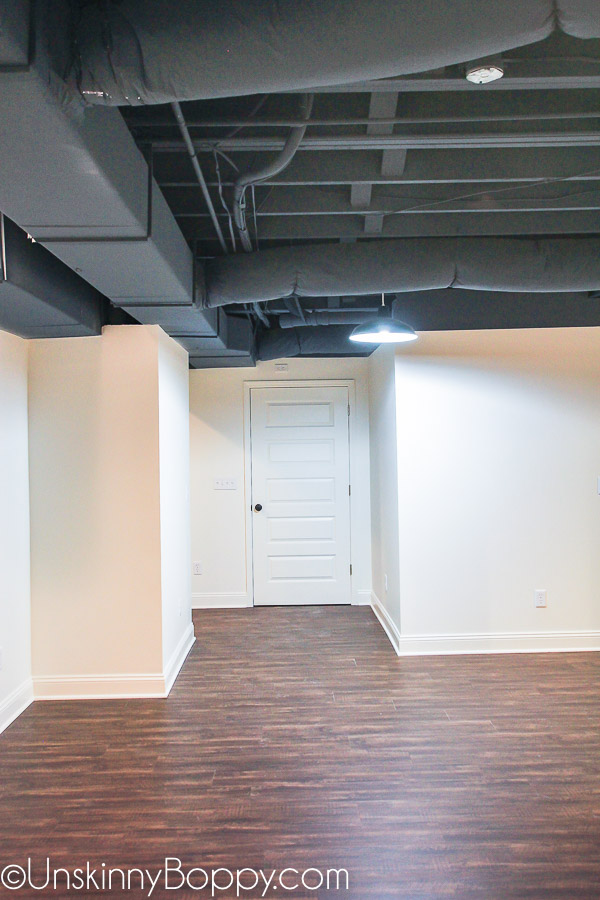 I'm SO pleased with how the color scheme turned out. It's neutral and manly but not too man-cavish. The wood floors are the exact same ones we used up in my attic office. They are a cork-backed vinyl that snap together really easily. They are completely moisture resistant so perfect for a basement floor.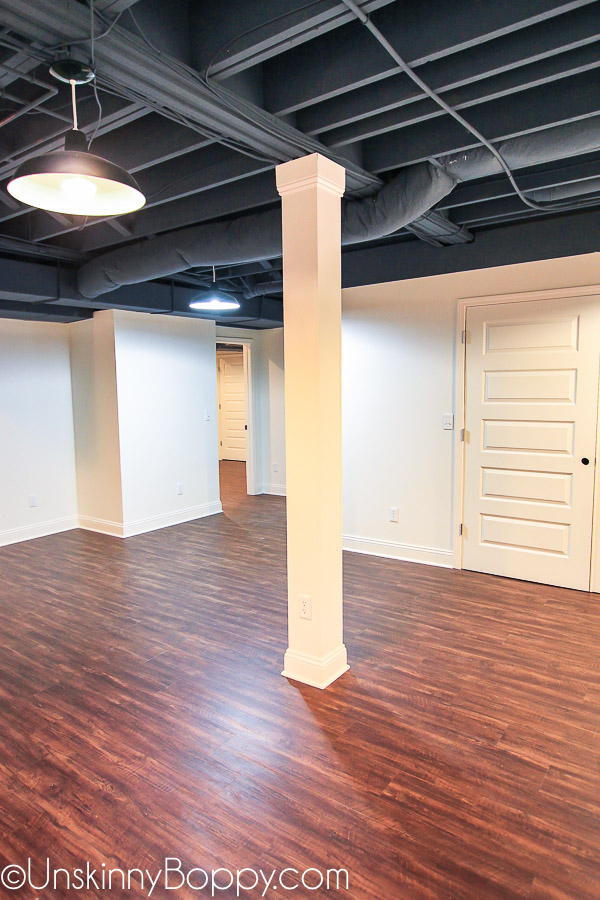 J bought these industrial pendant lights for really cheap from Amazon. They are actually a hunter green color but you cannot even tell with that dark blue ceiling. They just blend right in.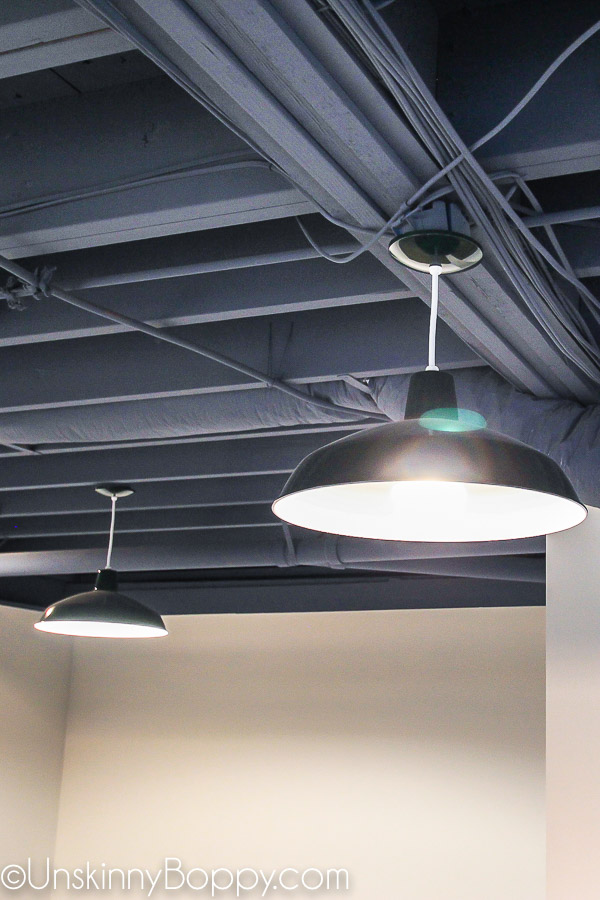 So there you go!
The Great Basement Remodel is almost complete. We still need a few little things like doorknobs and door stops, but it's already being used by the family.
RECREATE THIS ROOM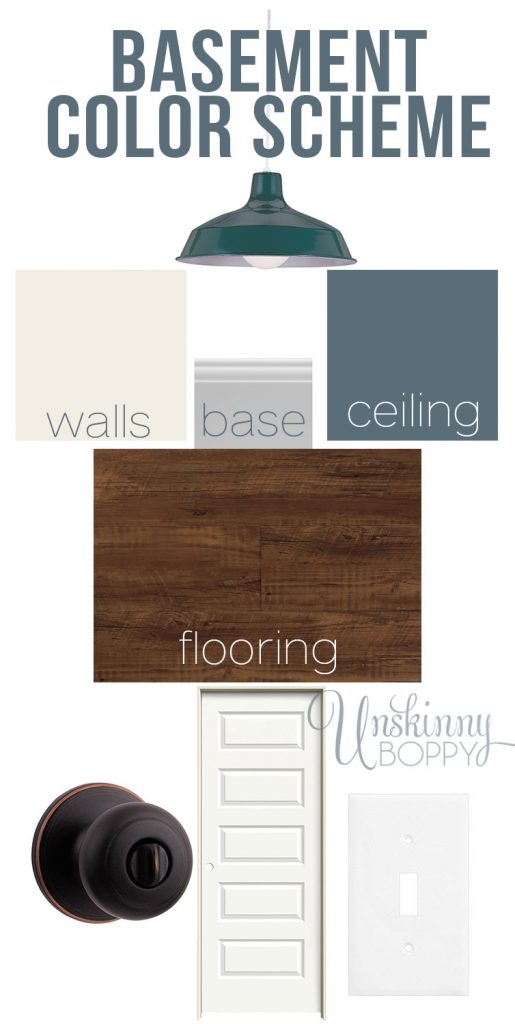 If you are interested in finishing out your attic space and want all the details of how we created this room, here ya go! (contains affiliate links)
Like this post?  Come see how we decorated the office area here: