This was my house on Friday looking like the opening scene of a freaking Hallmark movie.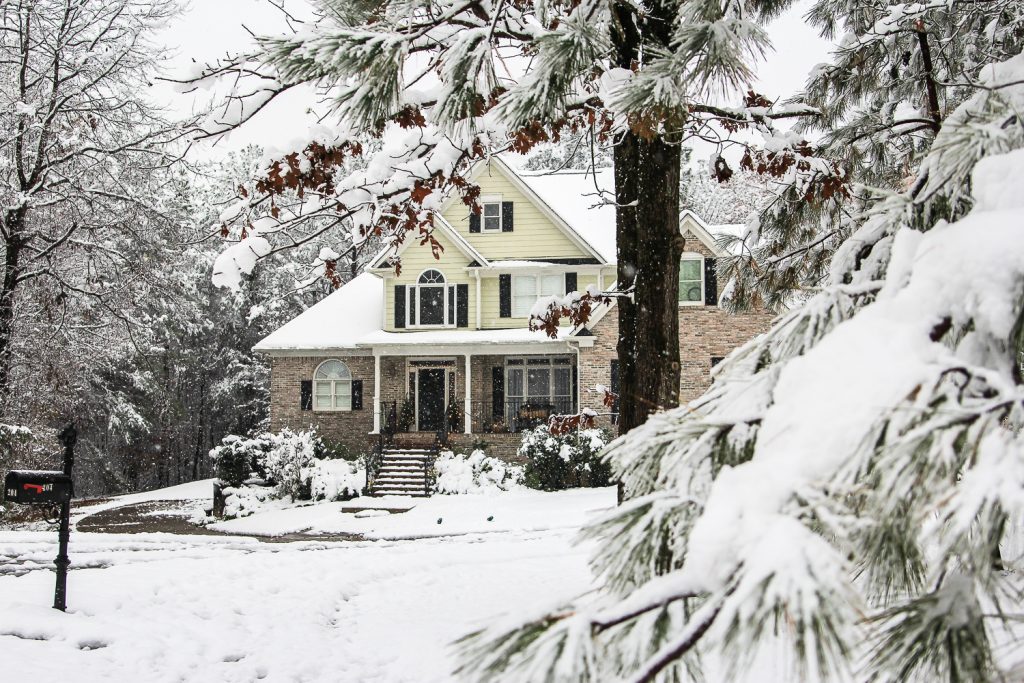 If you had told me on THURSDAY that the skies would drop nearly 6 inches of snow on my house the next day, I would have laughed and told you to get outta here. Because this? This stuff doesn't happen in Alabama. Snow before Christmas in Alabama??
Nope. It doesn't happen.
Except that it did.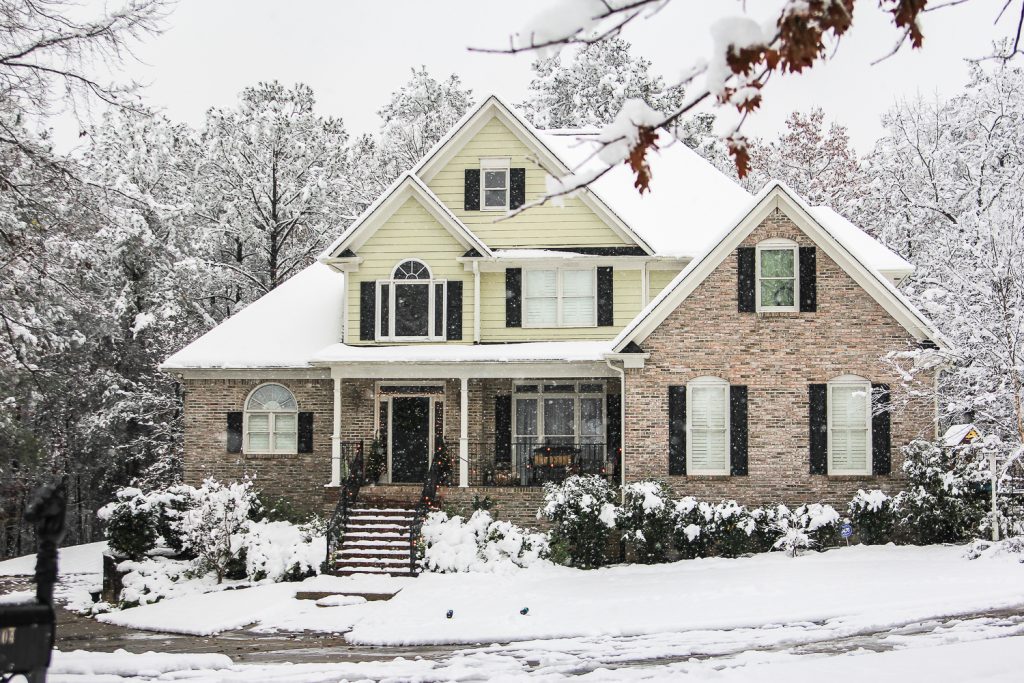 Usually when it snows here it waits until January, or February, and then there was the great Blizzard of '93 when it dropped like 24″ or something crazy in mid-March. Remember the terrifying Snowpocalypse of 2014?  That was in January.
The time Elsa and Anna paid us a visit in March?  Nothing unusual.
But snow in early to mid-December??? It's unheard of.
I mean… My flowers were still blooming.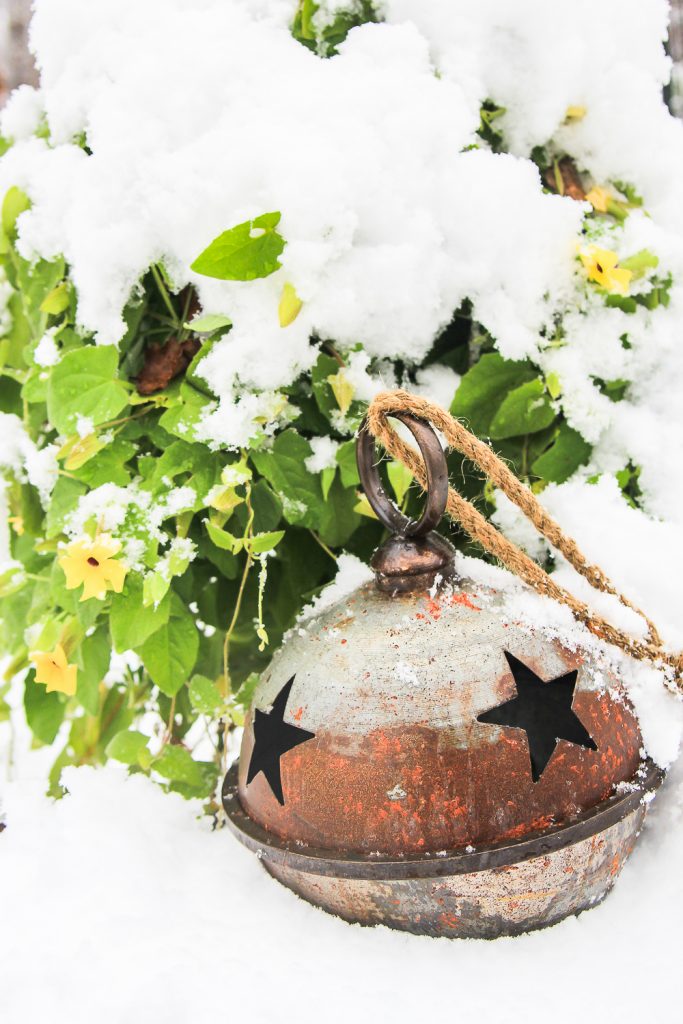 And of course, we had very little warning.  Well, sure… James Spann the Weatherman told us we might see a few flurries (and possibly some flakes!) but there was no mass hysteria and clearing the shelves of bread and milk because nobody expected it to happen this much. It's always when you least expect it, though, right?
Schools were only delayed by 2 hours when we went to sleep on Thursday night. Nobody expected to even see a flurry, much less several inches of snow.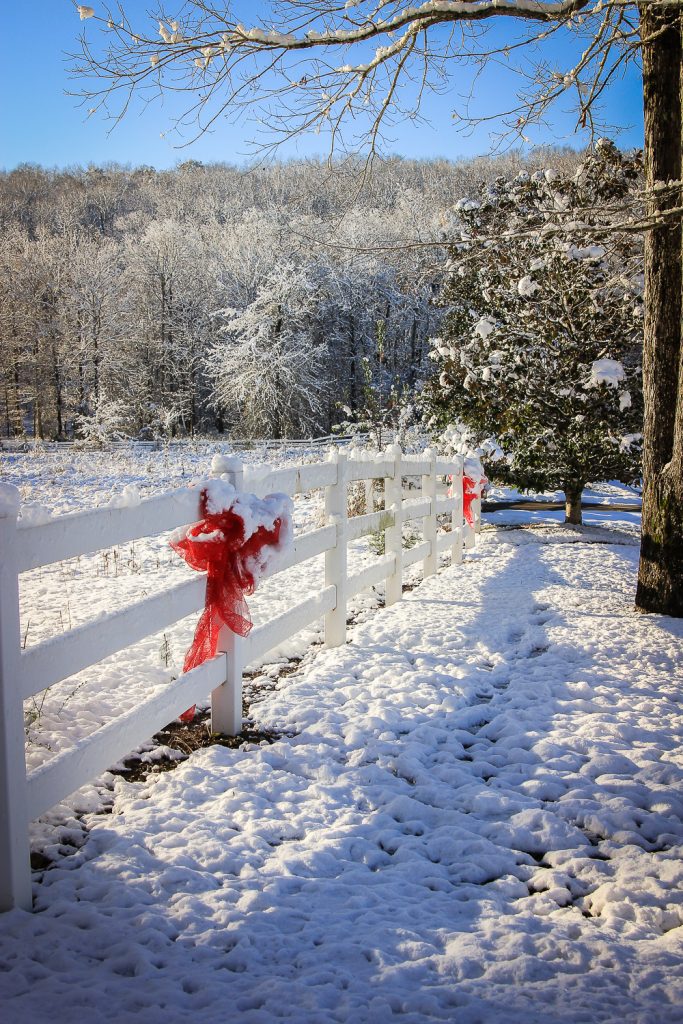 And then BOOM.  We woke up to all this white stuff on Friday morning!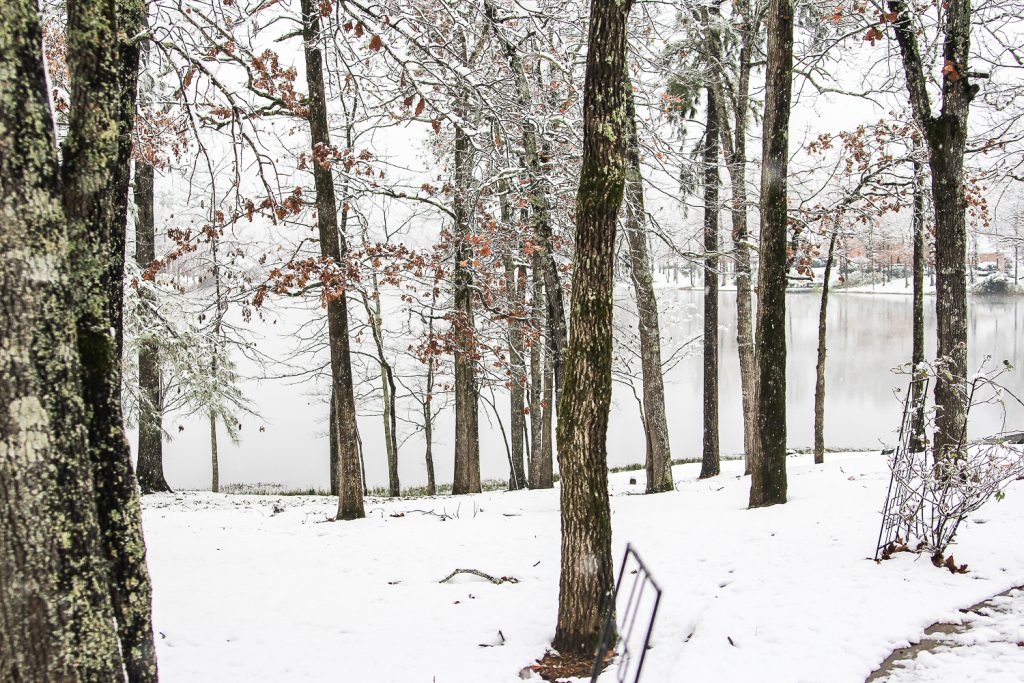 A winter wonderland of snow that blanketed half the state and fell for about 12 hours straight.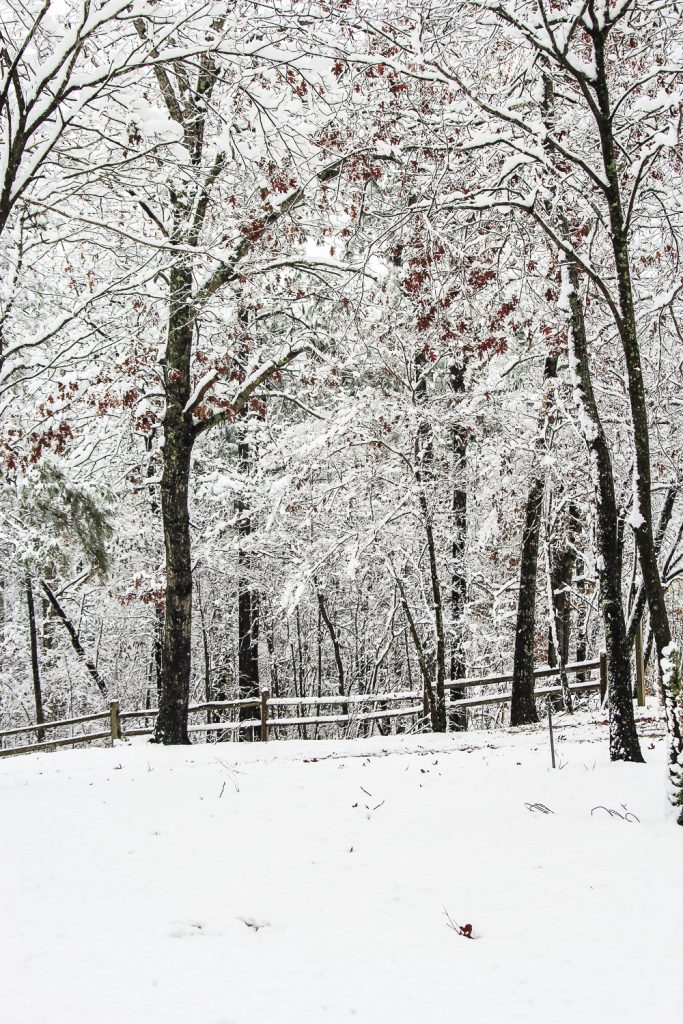 The final measurement on my back deck was 5″.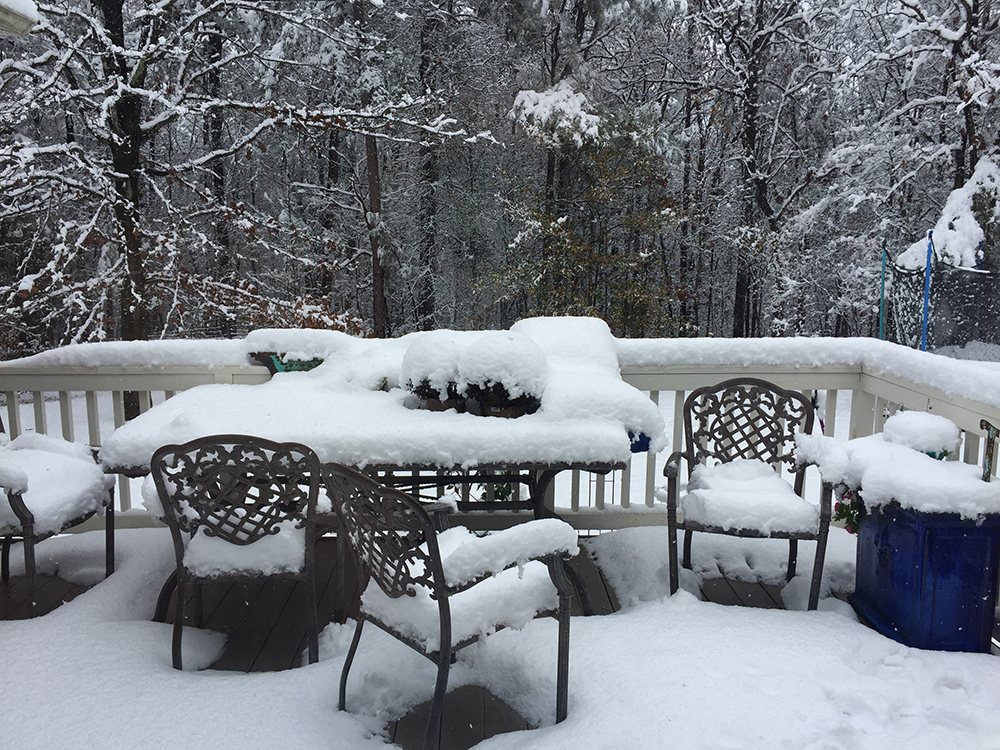 The neighborhood kids all got together and played until they were frozen like little popsicles.  But by far, the award for best snowmen goes to some random dude up the road who built these two masterpieces in his yard…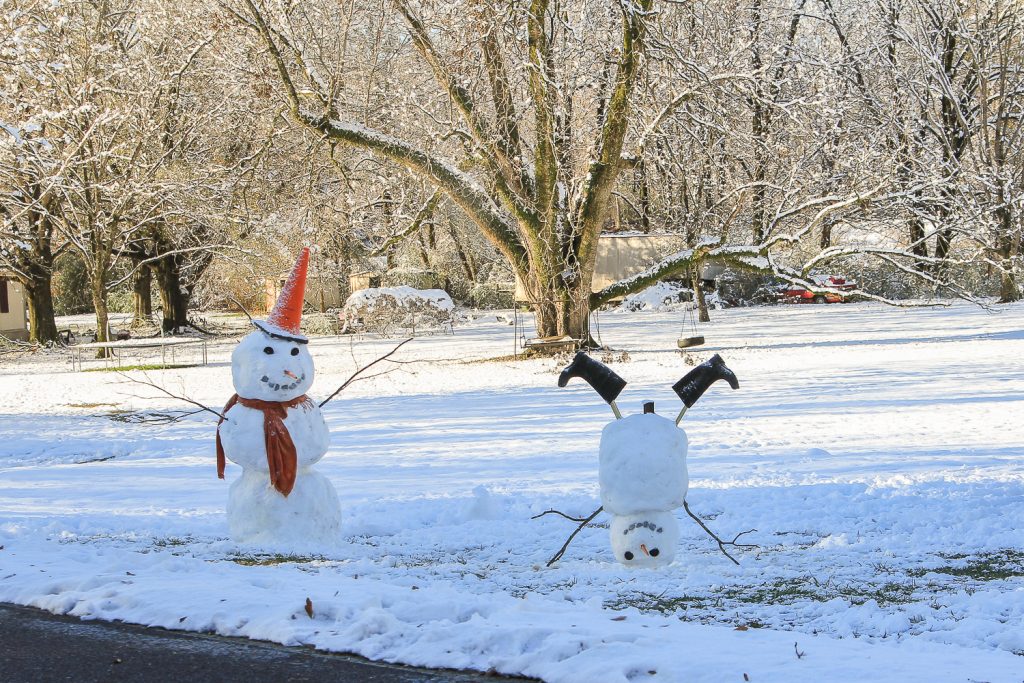 Thankfully the roads were all clear without ice since the ground temperature was really warm, so I got to get out and shoot some snowy scenes from around the neighborhood and beyond before all the snow melted.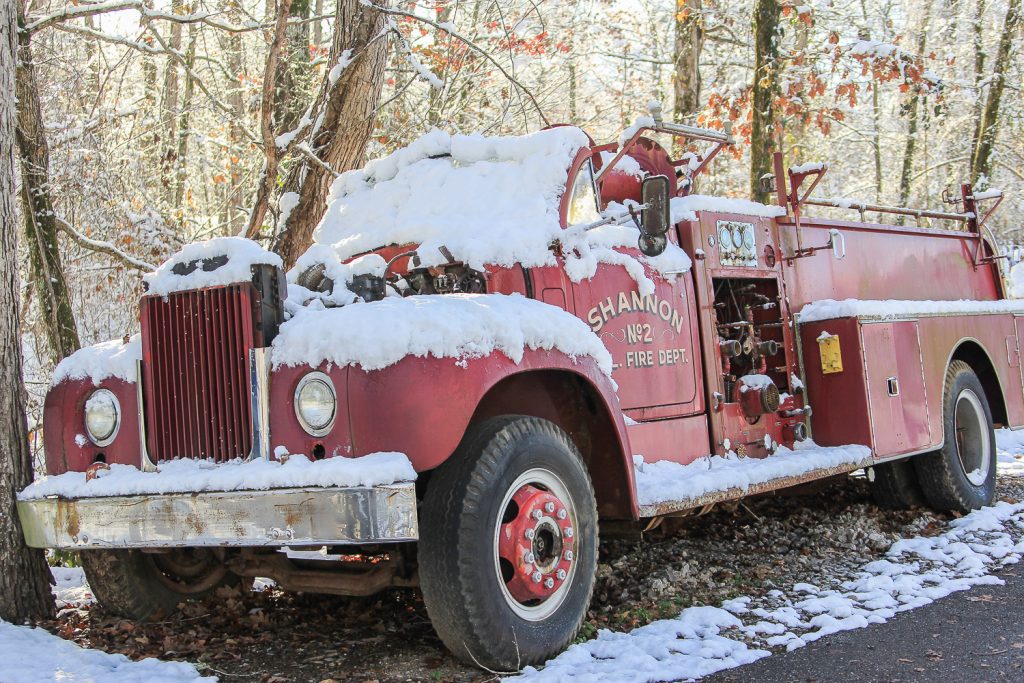 But, the most exciting part of this whole snowfall was the fact that it was Caroline's FIRST SNOW!!!
And of course…. she LOVED IT.
I got her out of bed and took her into the living room to see it that morning, and she literally threw her favorite huggie bear across the room and ran over to the window to look at it. Then she did a happy dance and screamed "Wanna build a snowman!" just like Anna and Elsa… so off we went into the snow.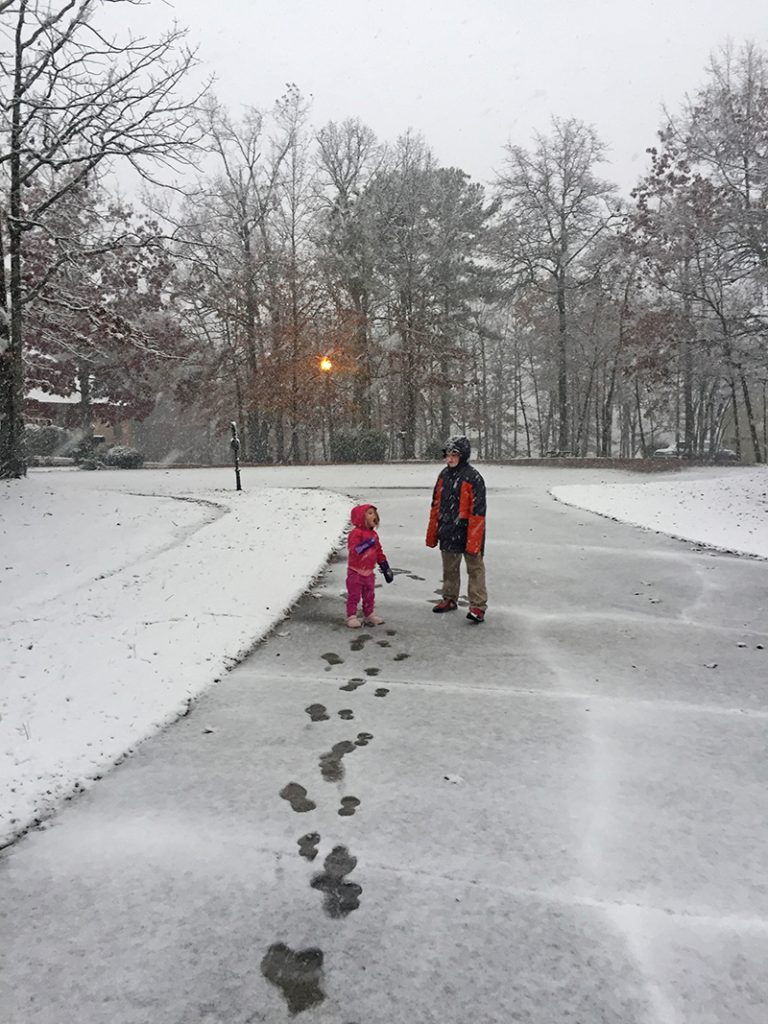 As usual, Garrett was an awesome big brother, and immediately taught her how to make a snow angel and catch snowflakes on her tongue.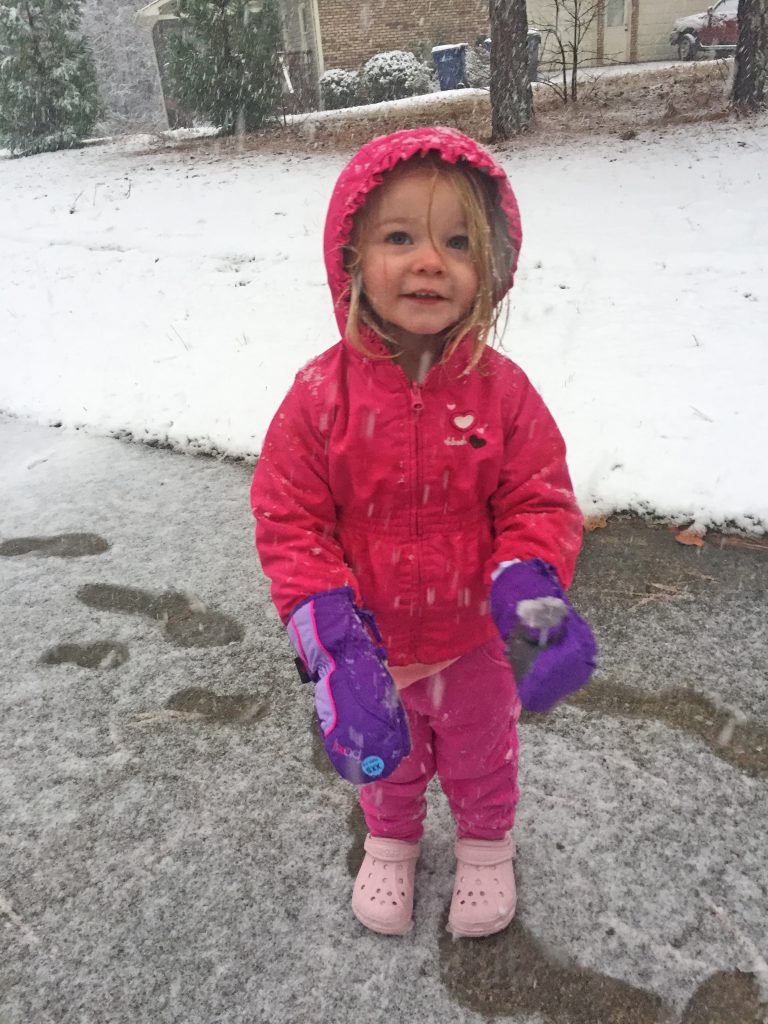 PS- can you tell my Alabama kids have never seen snow?? The XXS sticker is still on her gloves and she's wearing fuzzy-lined Crocs because they were the warmest shoes I could find. We were pitiful.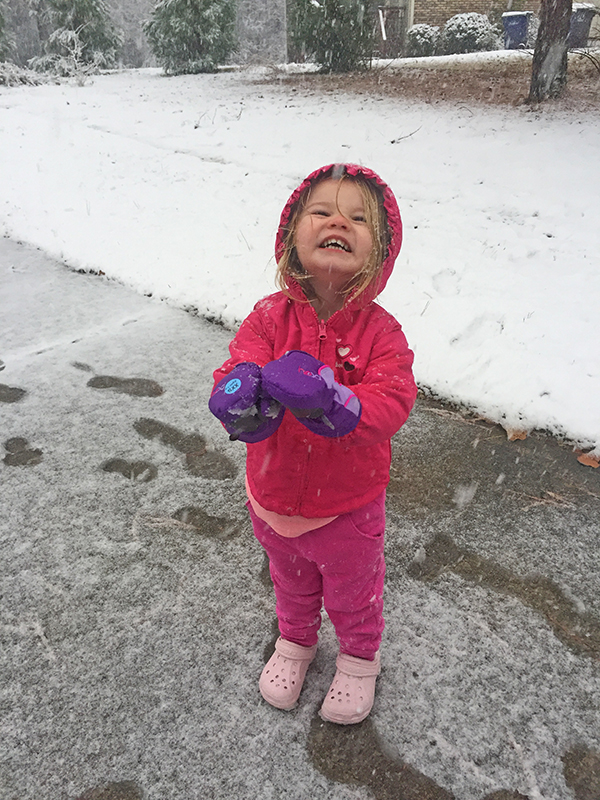 But, she still has all of her digits so that is what matters most. Look at this happy face.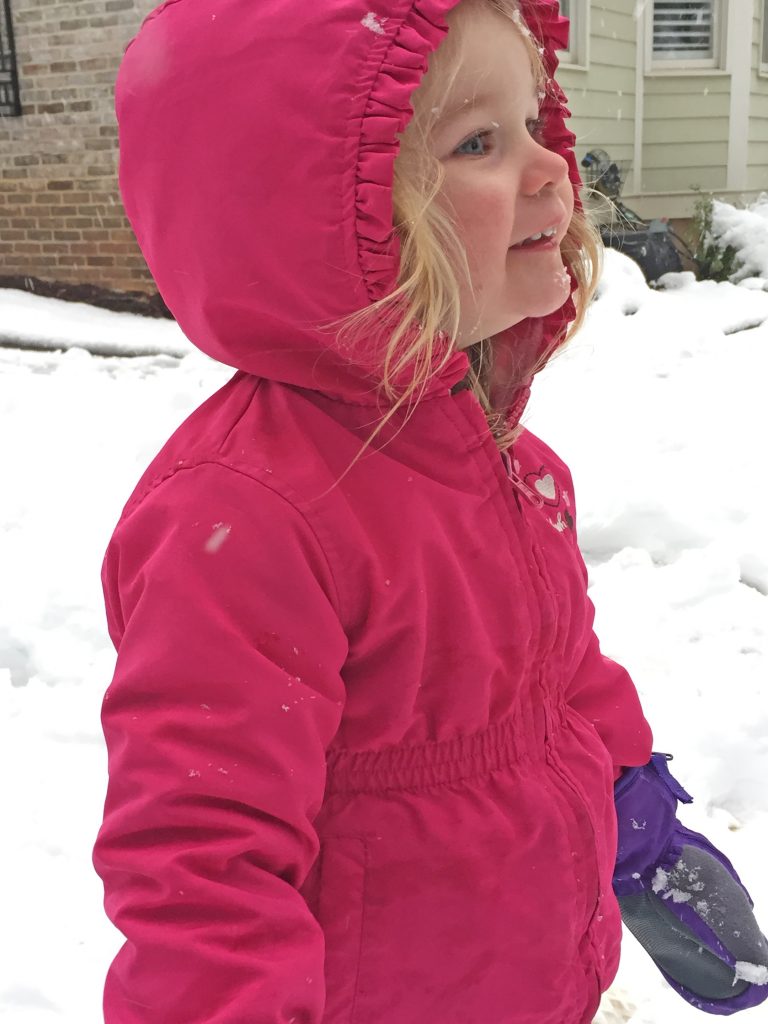 We played outside all morning until we were all dripping wet and freezing, then visited Grandma's house for some hot chocolate.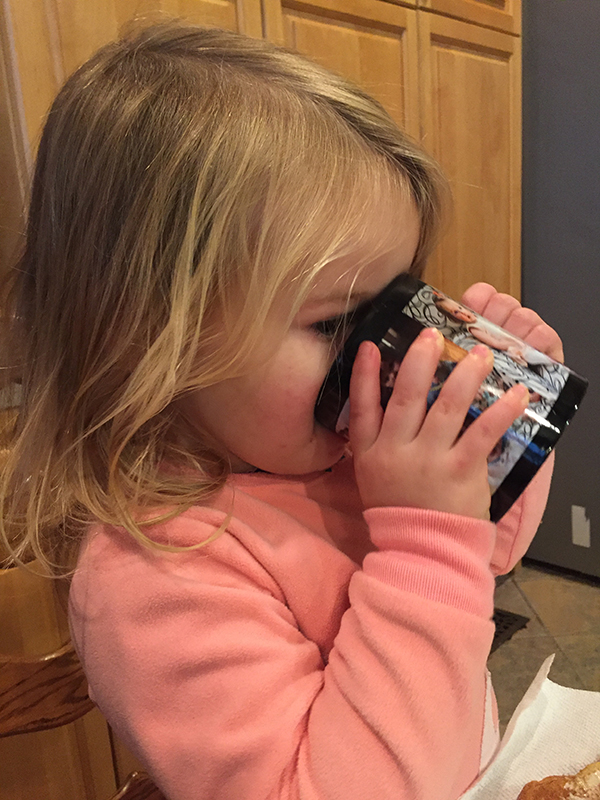 Then we headed back outside for more snowman action and snowflake-catching on our tongues.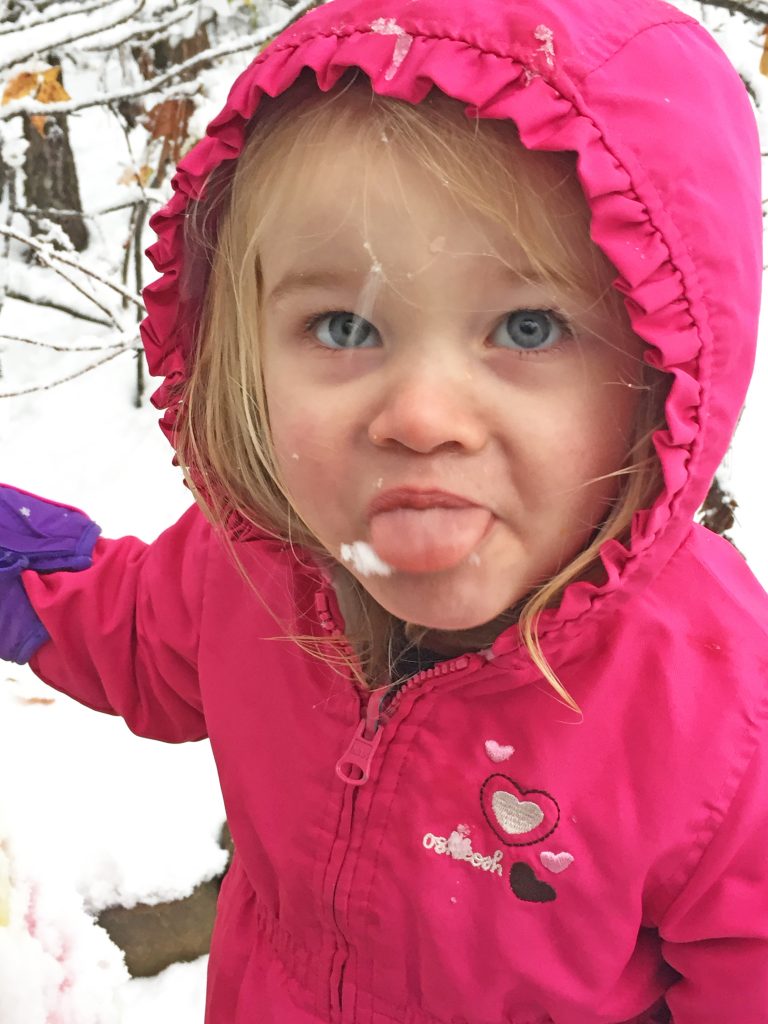 While we were out snapping pic, my sweet son posed for what I assumed was a picturesque photo op right by this tree.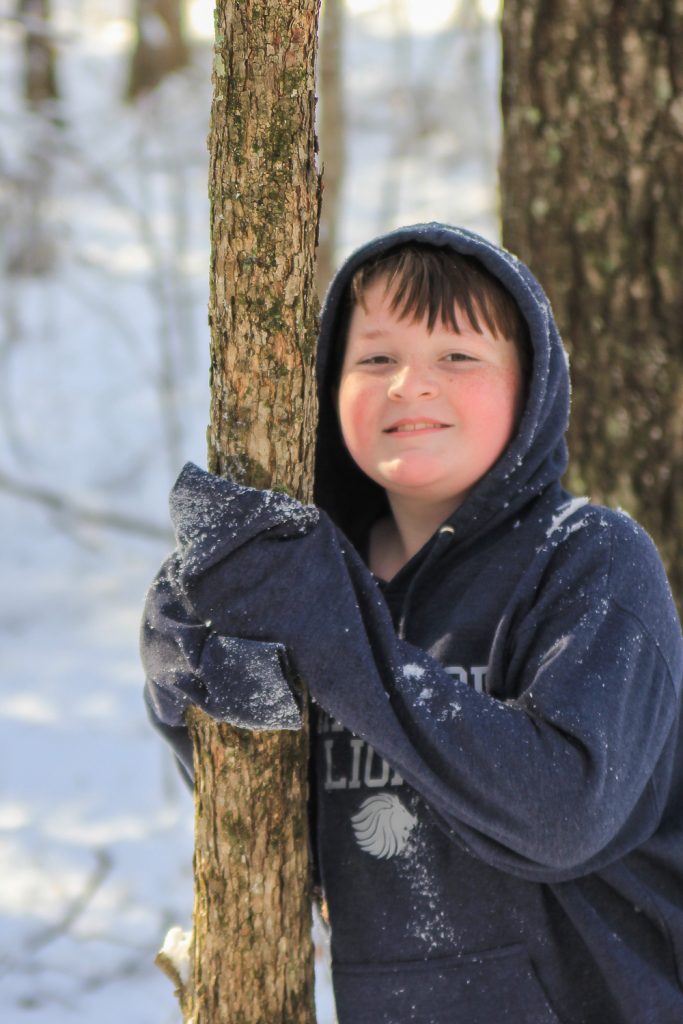 And then I realized all he wanted to do was shake the tree while I was standing underneath it so an avalanche of snow fell right on my head… Welcome to nine, huh?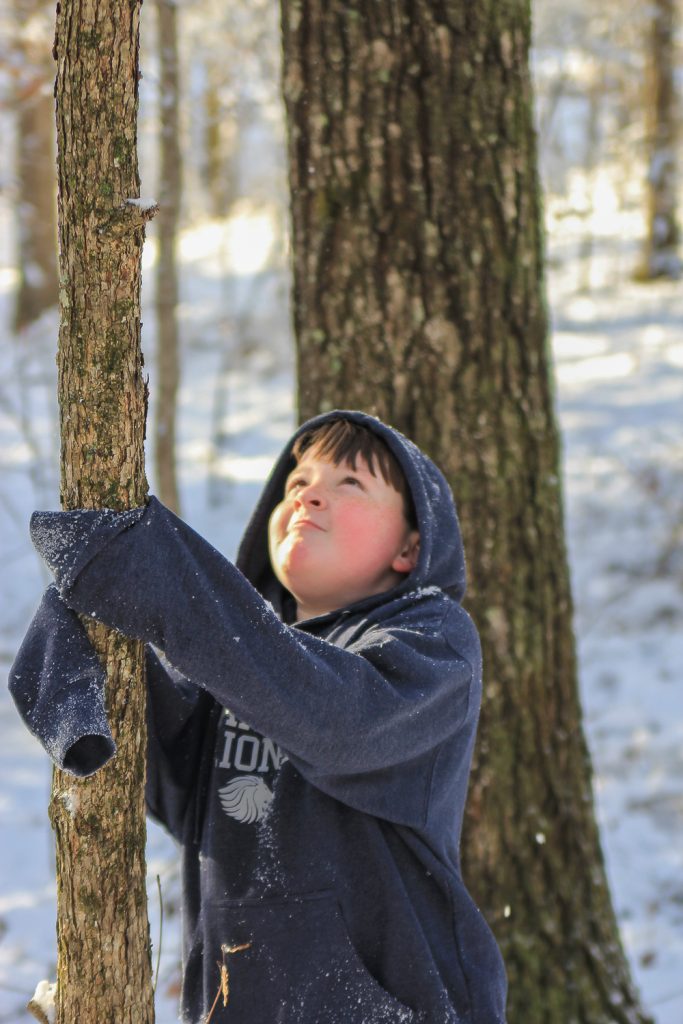 Since this is Alabama, of course the power went out at around noon and stayed off for most of the day and into the night.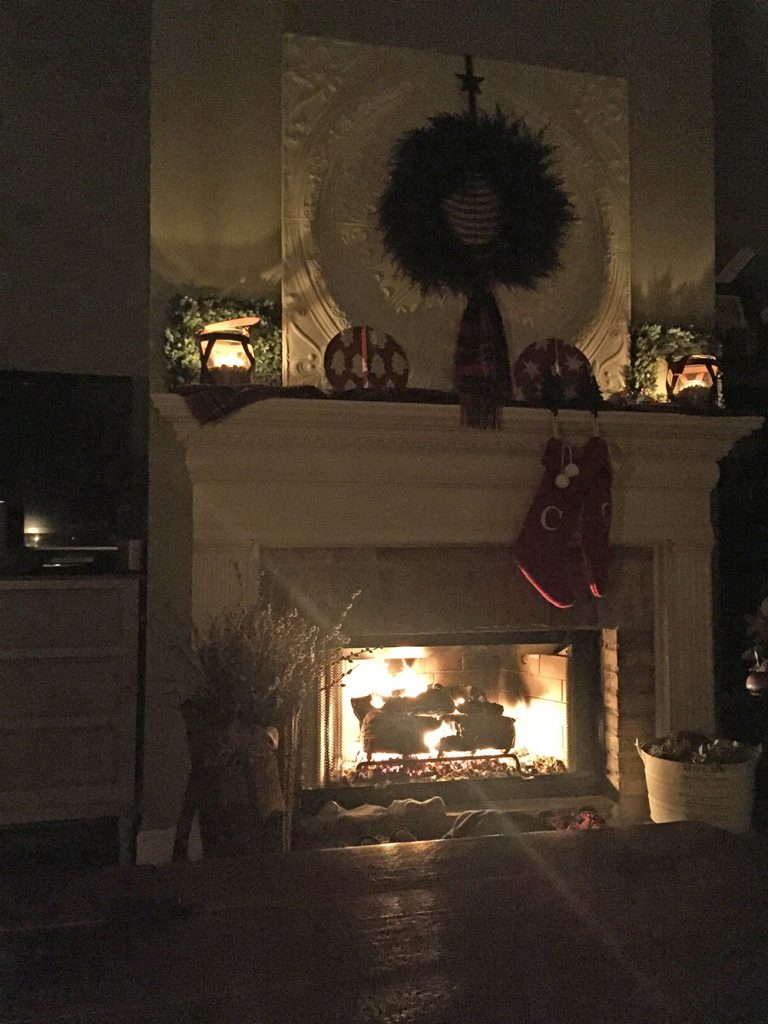 We have gas logs so we had enough heat for our living room area. There is no way to contain that heat, though, so we made plans for the kids to sleep on the couches close to the fire. Thankfully, Alabama Power got the power turned back on at 8 pm– just before bedtime–so we didn't freeze to death in our beds.
All in all, this was one of the best snow days EVER, and I'm so glad we got to experience this exciting event together as a family. We might never see another snowfall like this in December, but we have these memories to last us forever!
PS- If you wanna see how things are shaping up around here for Christmas decor department, be sure to come back on Wednesday to see my 2017 Holiday Home Tour!!