Looking for unique Halloween decoration ideas to help you throw a devilish dinner party? Here are three clever ways to amp up the vamp and make it the best Halloween party ever!
Mix fancy serving ware with campy decorations
Combining fancy touches like blood-red candles silver candlesticks, marble and pewter serving dishes and a campy faux black raven from the Halloween store make for a spooky sideboard with a touch of whimsy.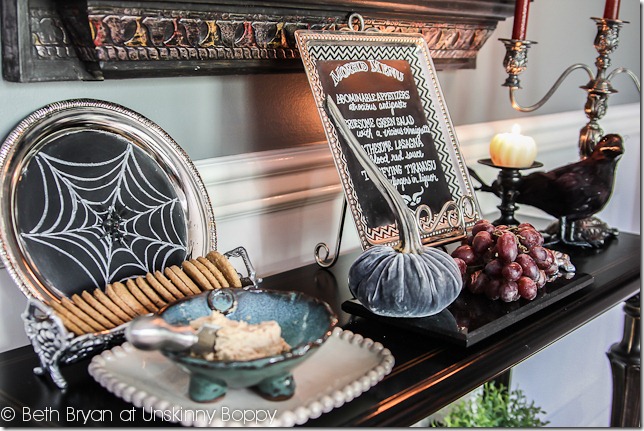 It's the mixture of beautiful serving platters and fantastical decor that makes for a fun and memorable party. Nothing like a human skull under a cloche to create the perfect Halloween dinner party centerpiece.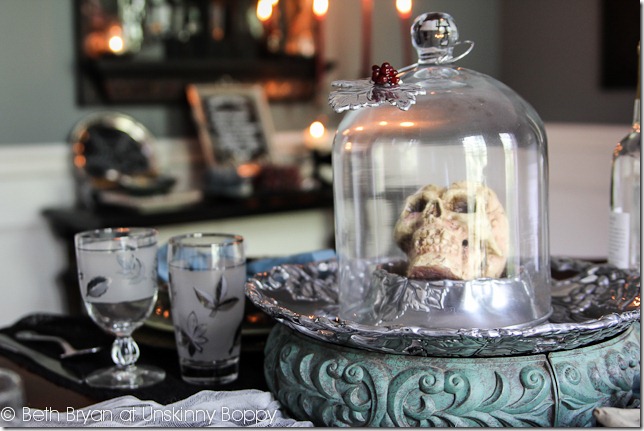 Say No to Orange
Black and orange are the obvious colors for any Halloween party, so be unique and use smoky blues or dusty purples instead. Pick a color scheme that coordinates with your dining room but stays in the darker realm for the spirit of the season.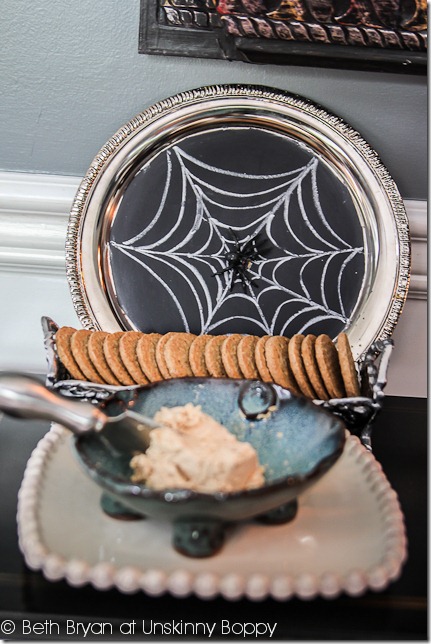 Instead of placemats, layer black Halloween fabric and a ripped cheesecloth runner to create a ghostly effect on the table.
Create a Morbid Menu
Halloween dinner parties are the perfect opportunity to go over-the-top with added elements of spooky fun, so why not create a chalkboard menu board to highlight your Loathesome Lasagne and terrifying Tiramisu?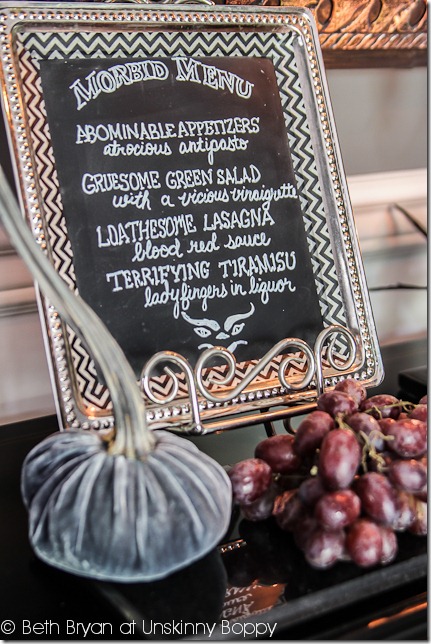 Spend a minute on thesaurus.com coming up with synonyms for the words "wicked" and "terrible" to use as adjectives for the food and gross descriptions. "Ladyfingers in Liquor" is my favorite. I love alliteration.
Ready to create your own menu board? Here's how:
Here are the supplies you'll need to create a "Morbid Menu" and spooky spider web platter: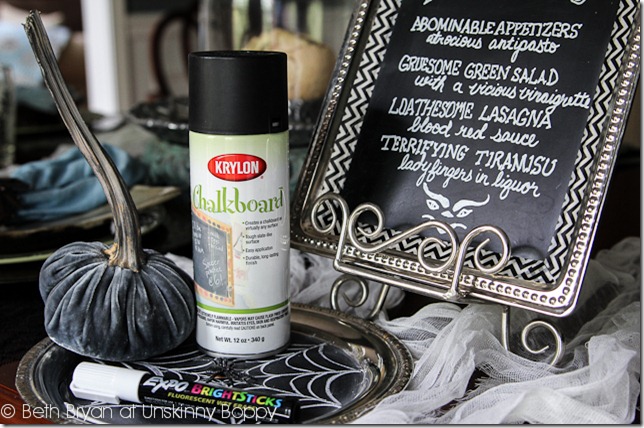 SUPPLIES NEEDED TO MAKE A HALLOWEEN CHALKBOARD MENU BOARD:
Old serving platters (Dollar store type will do)
Chalk or a wet erase marker (I used an Expo Bright Sticks Wet Erase marker)
Masking tape (I used Frogtape)
Cute washi tape for trim (optional)

That's it! It was such an easy and fun way to add some life to these old serving platters that were bound for the trash.
How's that for the perfect Haunted Halloween tablescape? This devilish dinner party is ready for some undead guests with these simple Halloween decoration ideas.
---
Like this post? Check out more Halloween Decorating ideas:
---
---