Want to make your bedroom feel cozy like a vacation retreat? Come see how we transformed this small master bedroom in the attic into a cozy retreat on a budget.
---
Hey friends!
Over the past few months, we have been working hard to give our little lake house, Gingerbread Point, a makeover while the weather is too blah to enjoy it. Wintertime is the best time for vacation home remodels, so that's where we have focused our time and energy lately.
The Before:
The last time y'all saw the master bedroom at the lake house it looked something like this- a blank slate, basically.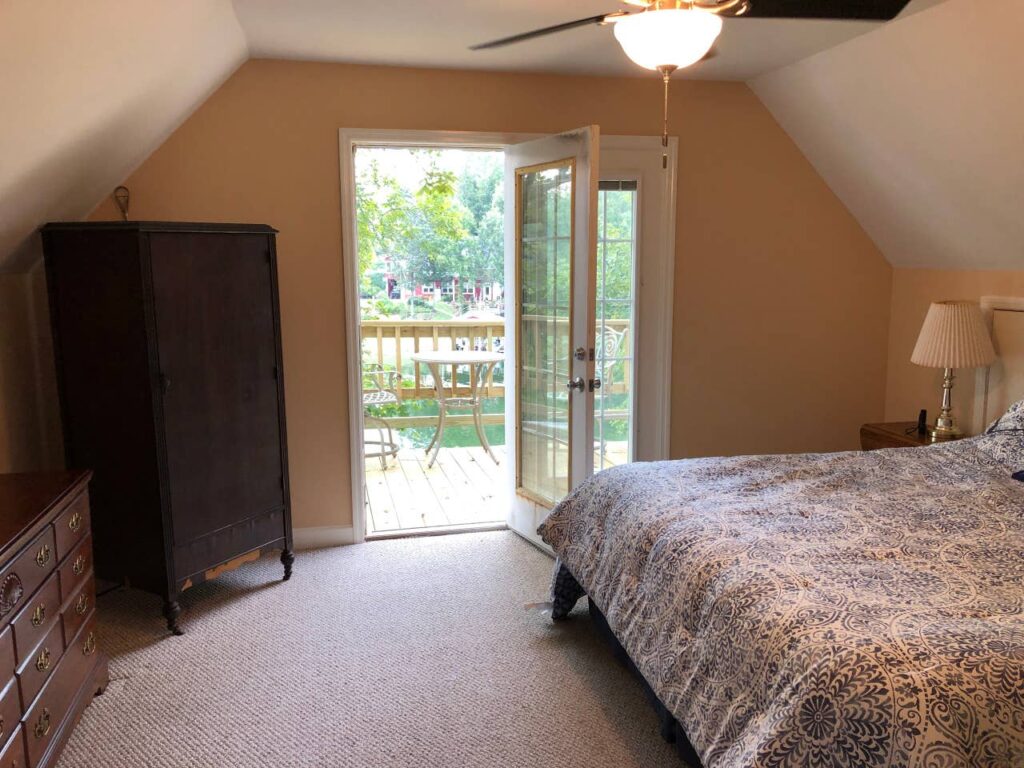 The attic bedroom had beige Berber carpet, peachy-beige walls, furniture from the previous owners.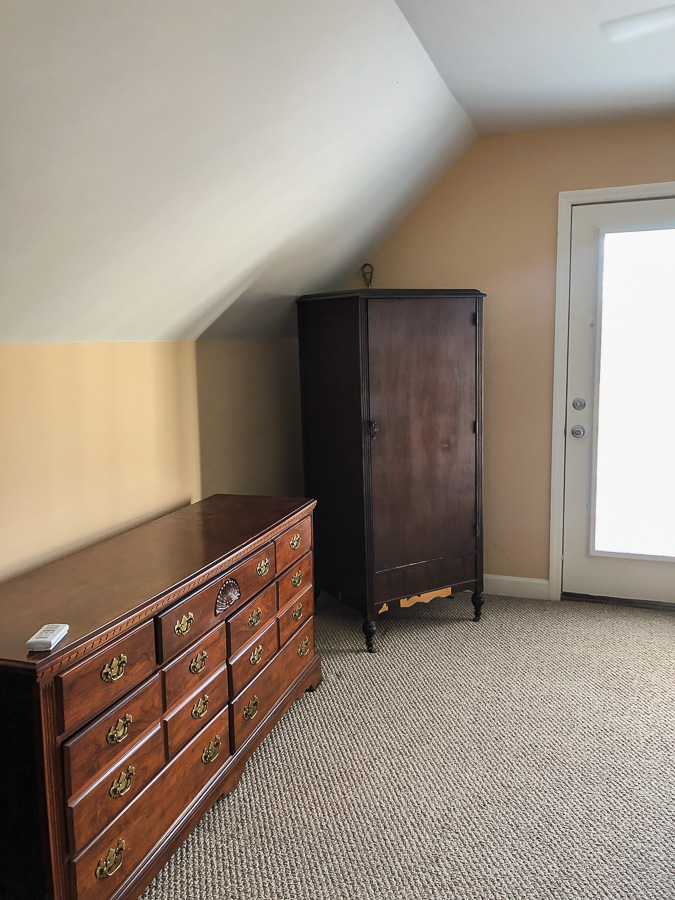 We hired a carpenter named John Reed at Ready Remodeling to help us out with the major tasks like changing the flooring and the paint. He did an excellent job! Highly recommend him if you're located anywhere between Birmingham and Montgomery, Alabama.
The After:
Ok, on with the tour… Welcome to the new Master Bedroom!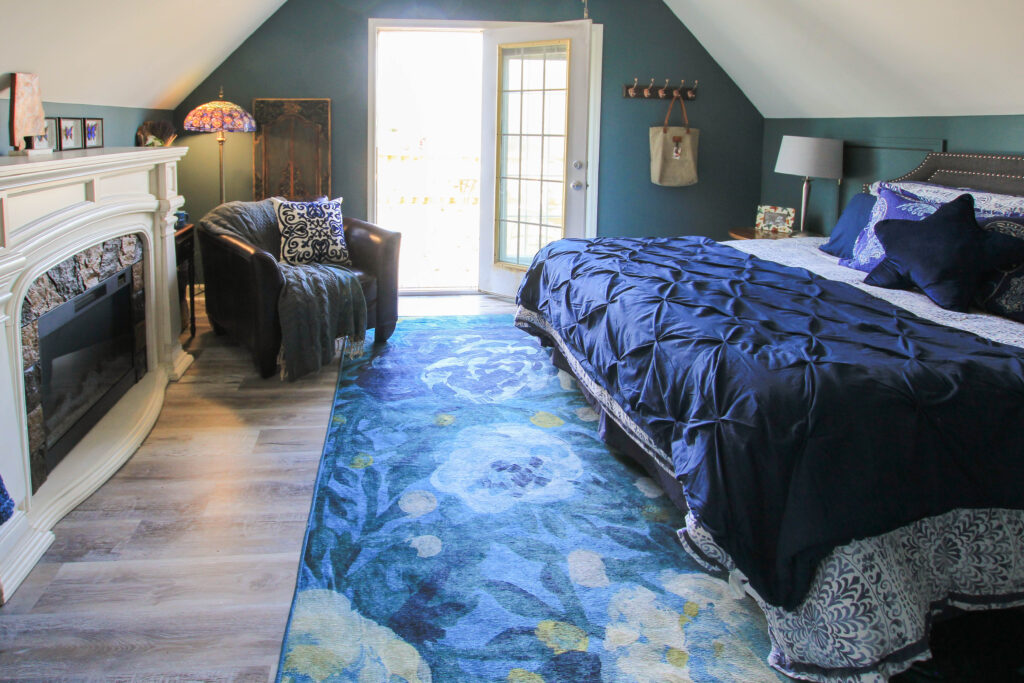 I decided that I wanted this room to have a seriously cozy vibe, but I had very little budget to make it happen. So, here are my five best tips for making a bedroom into a cozy retreat on a budget.
1. Choose a moody color scheme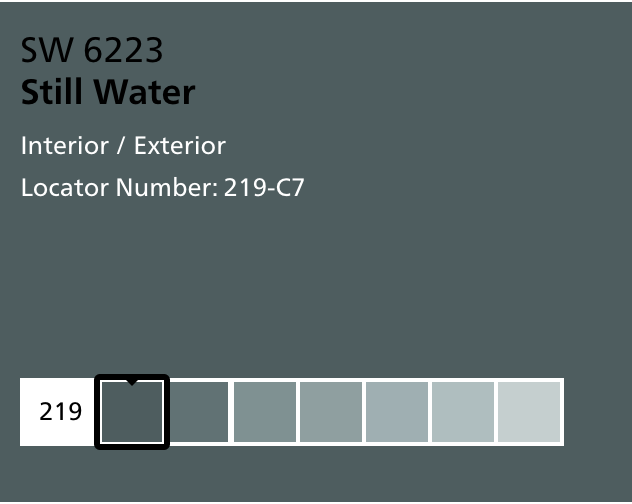 White walls are still very much in style, but moody color is making a huge comeback. For our bedroom, I chose Sherwin Williams SW6223 Still Water, to give me a moody teal blue/green color that I absolutely ADORE.
In this room, the color is a perfect blend of teal green and teal blue. I'm VERY happy with the way it turned out.
I also asked John to paint the attic elf doors (that's what I call those tiny doors under the sloped roof) the same color as the walls so they blend into the background and are not nearly so noticeable.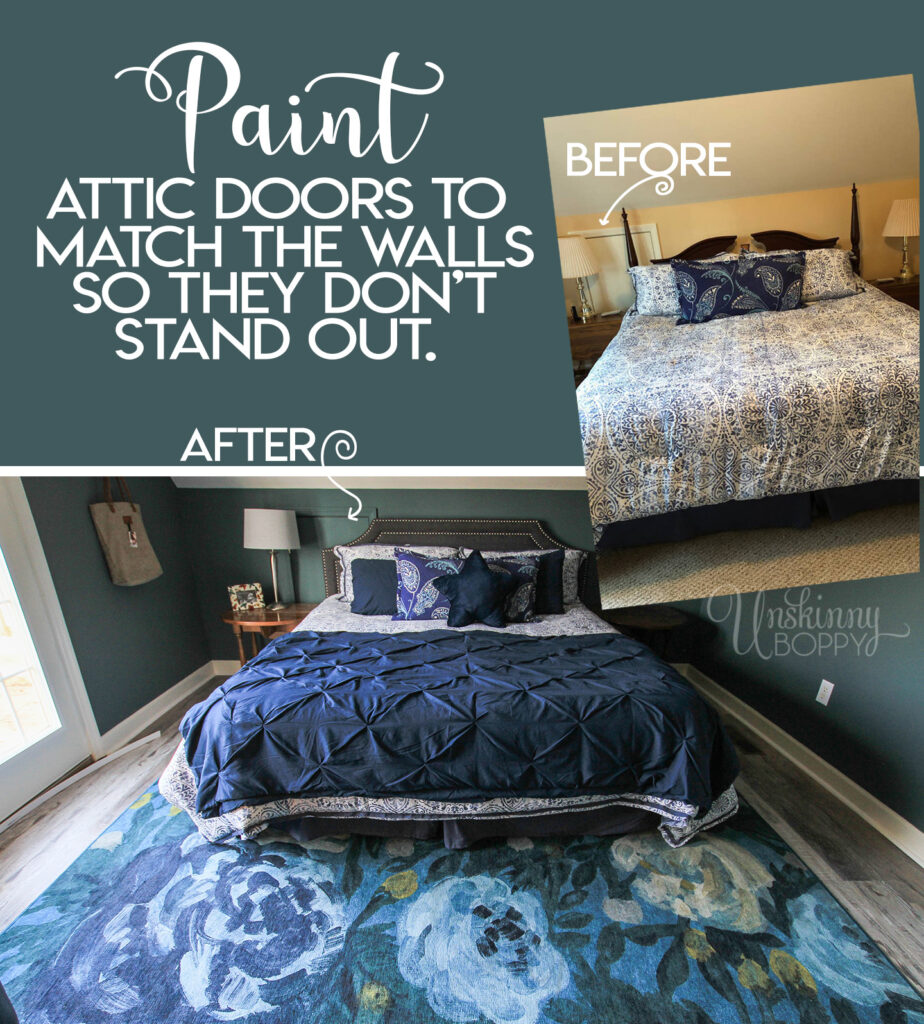 Sidenote: As I'm typing this blog post I've got Pride & Prejudice playing in the background. That deep teal blue wall color in the Bennet's dining room is super dreamy and everything I'd love to have in my own home.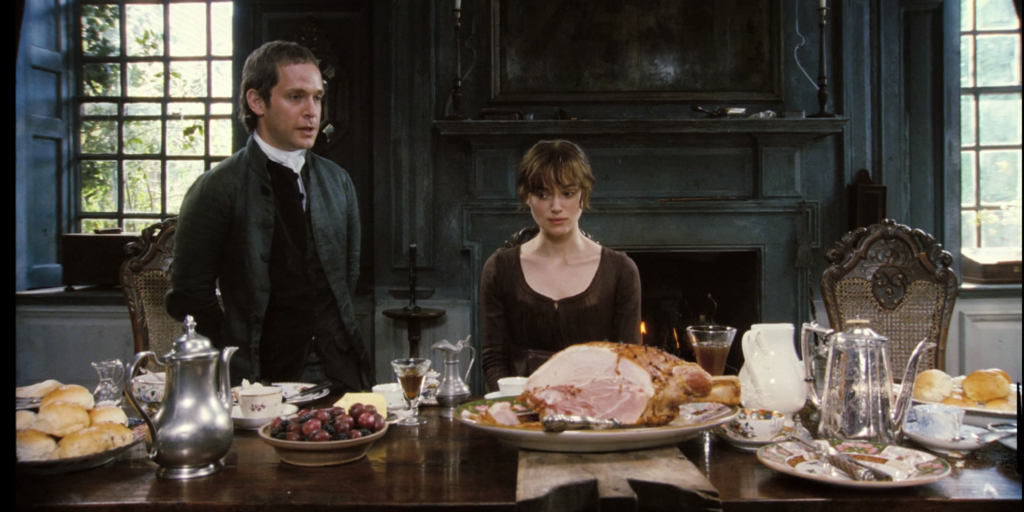 2. Soften things up with rich fabrics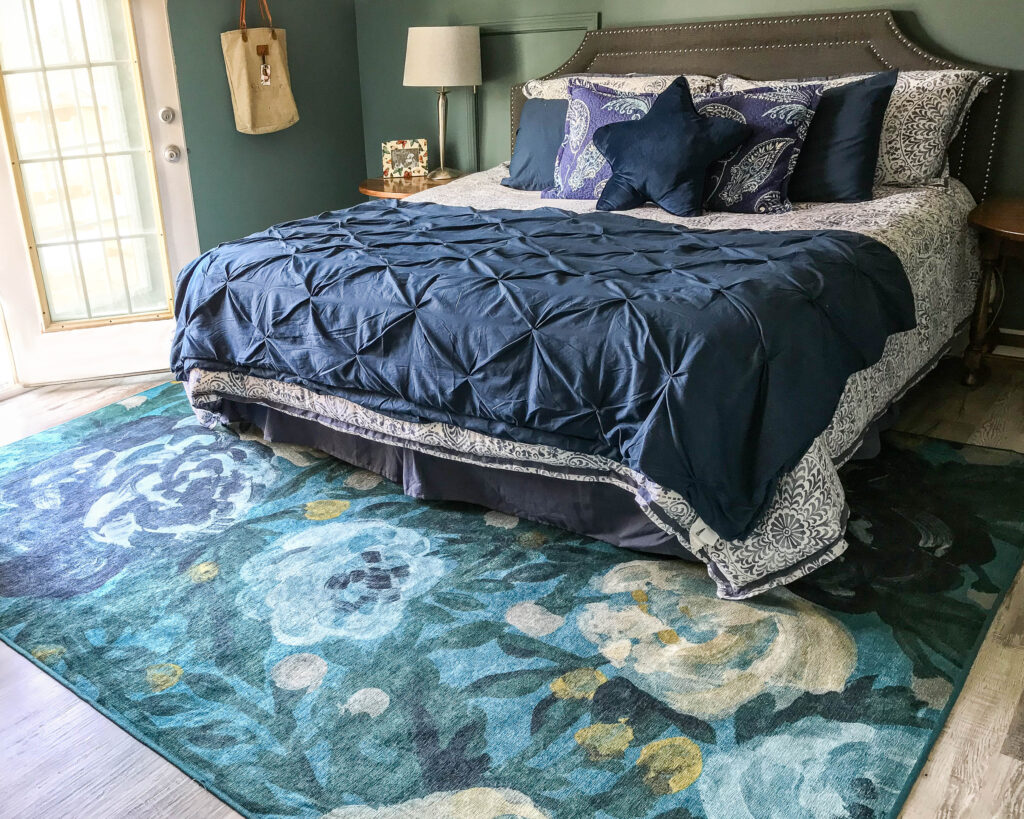 I bought this studded dark grey headboard at Wayfair for less than $100! It completely updated the look of the room for very little money. I'm super happy with this purchase.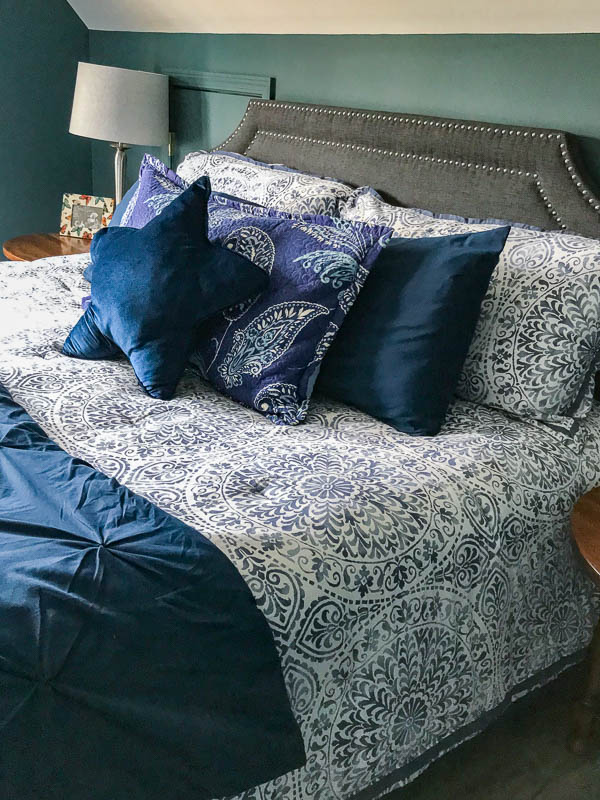 The new bedding came from my local Bargain Hunt, where they have King bedding sets for $40-50 each! I actually bought this bedding before I got the walls painted, and they don't exactly go great together.
Once I added the blue Pintuck comforter at the bottom, I liked it better. I added a few throw pillows that I've had at home for many years and that helps, also. I might still change out the bedding for something that vibes with the wall color a bit better.
3. Be Brave with a Bold Print Rug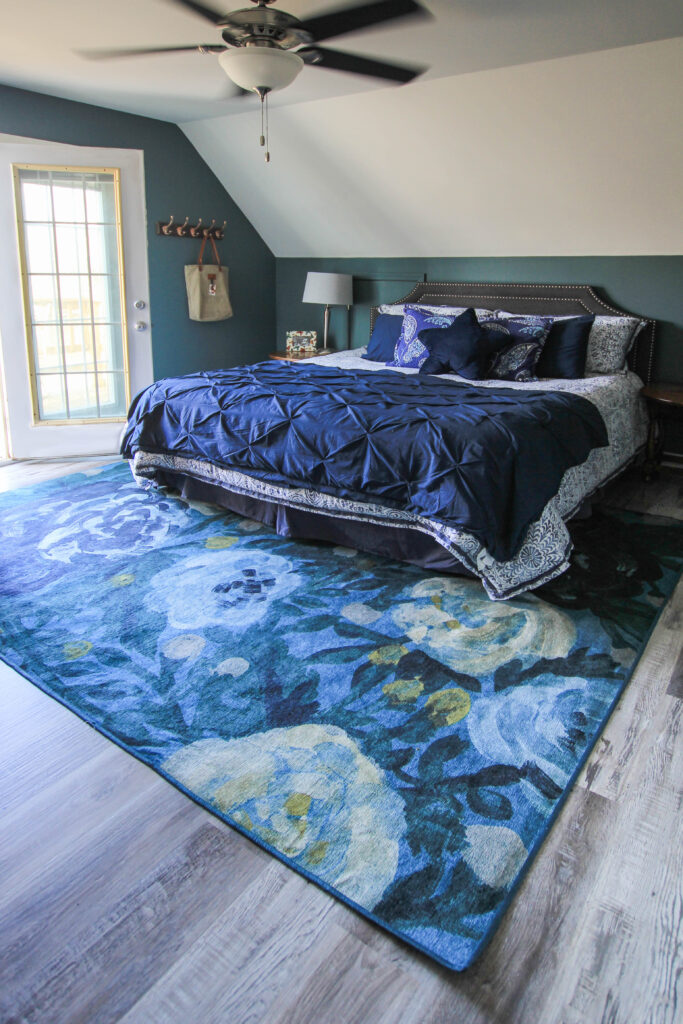 We wanted to update the whole house, so the Berber carpet got replaced with LVP (luxury vinyl plank) flooring in a weathered grey color. It's super easy to keep clean and is perfect for a lake house because it will stand up to dripping bathing suits since water won't hurt the vinyl.
The trouble with LVP is it's hard and cold, so we definitely needed a rug to warm things up.
I chose this BEAUTIFUL bold blue/green watercolor print rug called Camellia Midnight from Ruggable.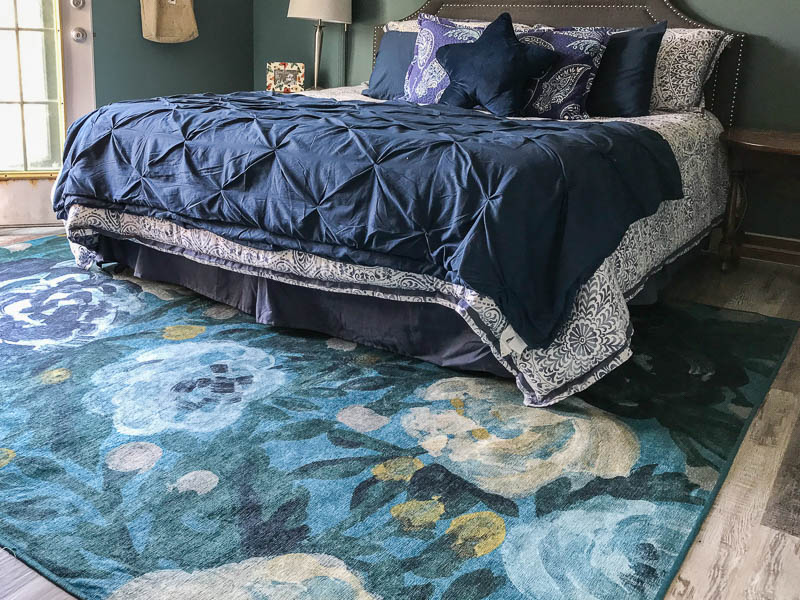 Ruggable actually offered me a discount code to pass along to my readers, so click this link to get 15% off your first purchase!
I will give y'all a review of our new Ruggable rug in a separate post soon, but in the meantime…
4. Warm things up with a fireplace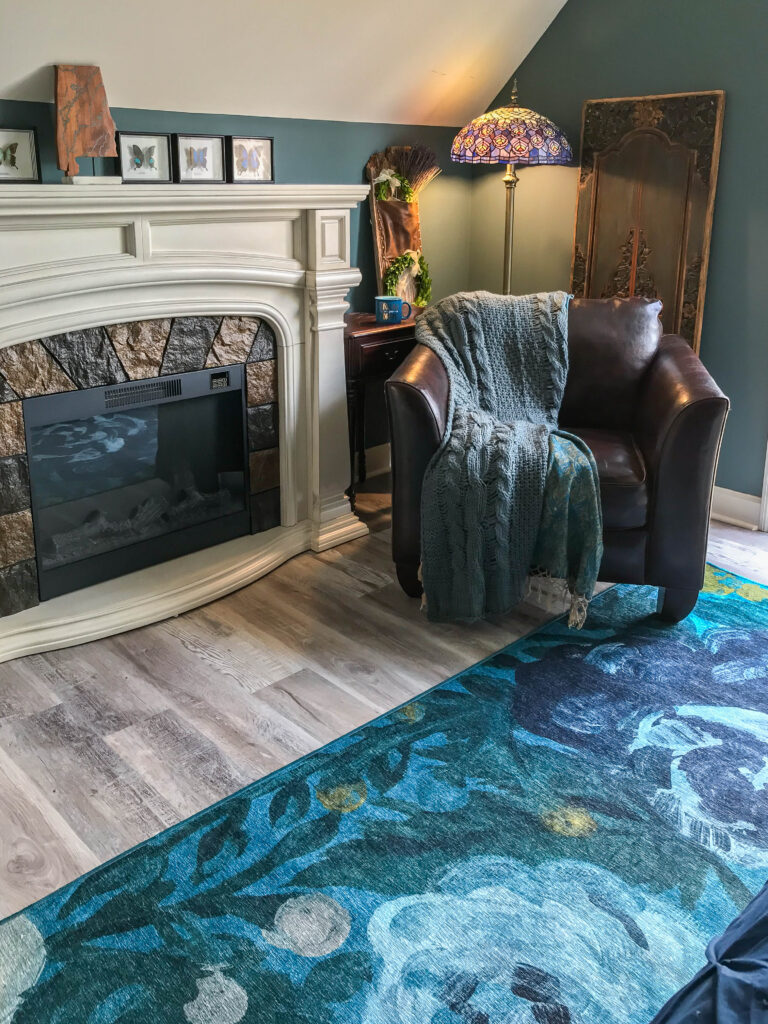 Nothing says warm and cozy like a fireplace, especially in the wintertime.
Since adding a chimney was definitely not in the budget, I had intentions of finding a vintage mantel and adding something decorative to it, like the ends of birch logs or bookends.
But one day I was wandering around Big Lots and spotted this pretty cream-colored electric fireplace. I loved the shape and lines of it, but I also liked that it would give us extra heat upstairs in the wintertime, so I decided to go for it. Really, REALLY loved how it turned out!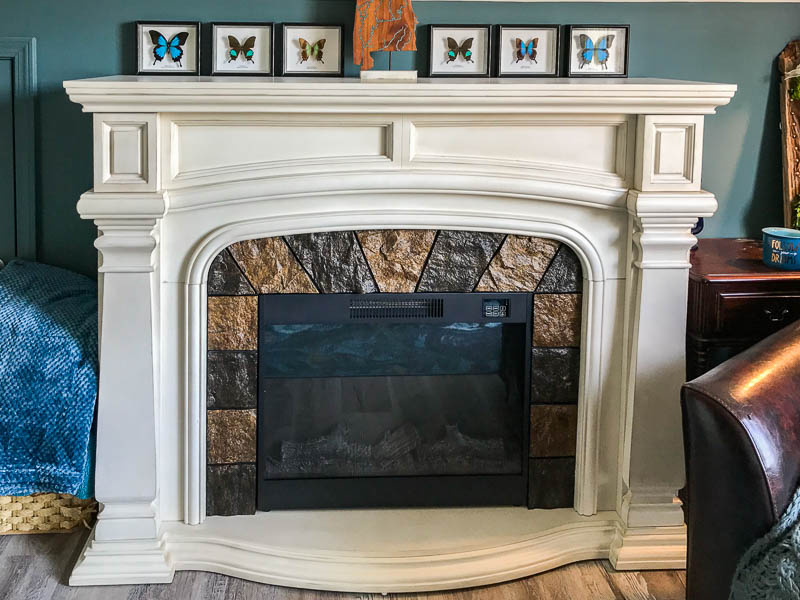 I still might add some birch log ends to cover up that shiny faux rock, but for now, I'm happy with it.
I did add my cherished rivers of Alabama plaque along with my framed butterfly collection. There was very little space between the top of the fireplace and the slope of the attic ceiling, so I had to choose something small for this area. These worked perfectly.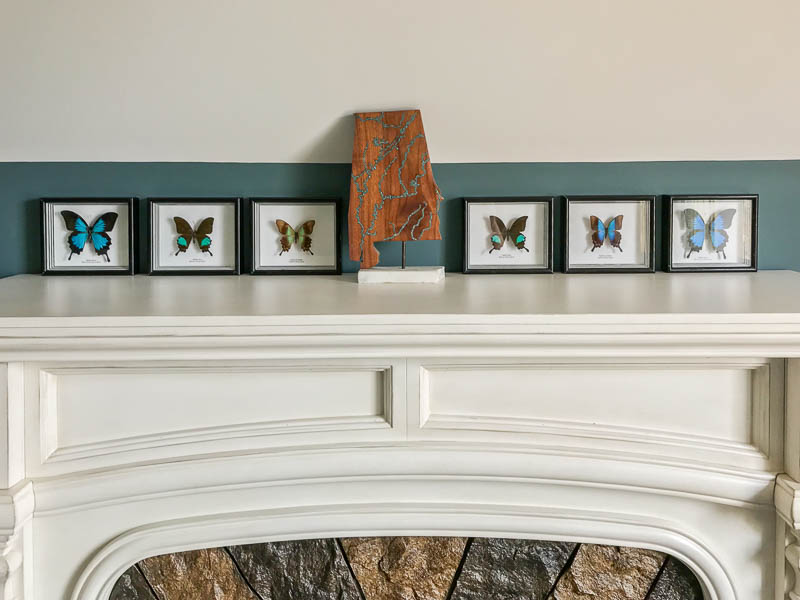 5. Add a Cozy Reading Corner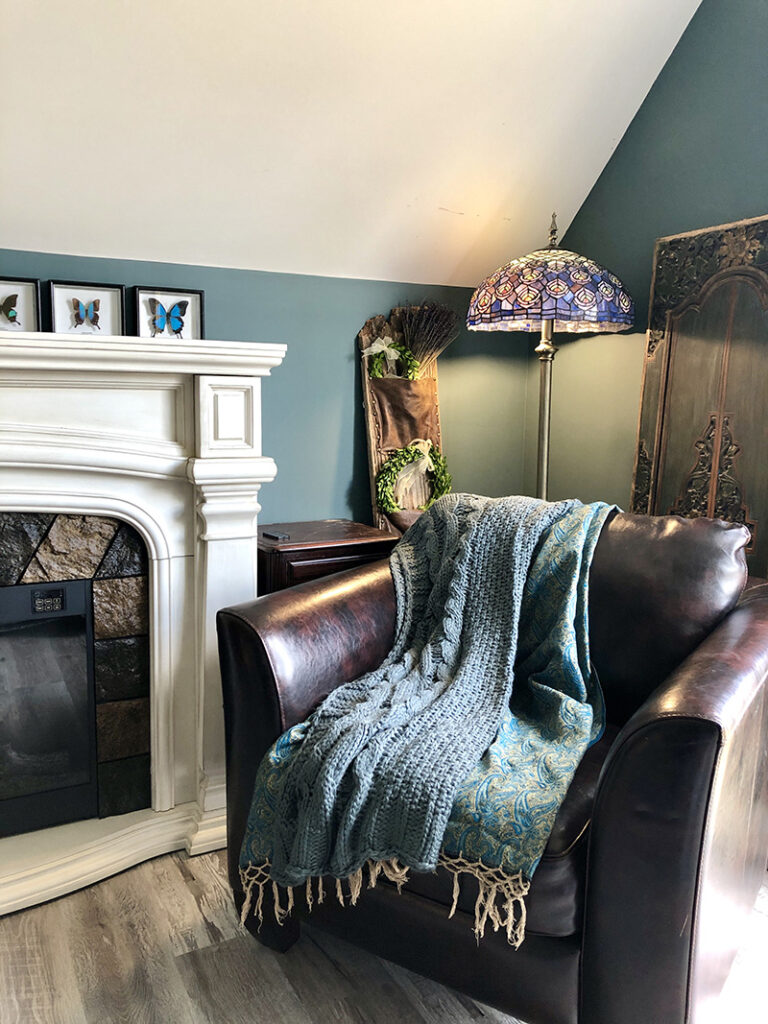 A leather chair, a green cable-knit throw, and some of my most favorite decor pieces that I've owned for many years went into this cozy reading corner, including the Tiffany-style stained glass reading lamp.
Don't forget a small side table to hold a cuppa something hot to drink, and you've got the perfect spot to curl up with a good book and relax. I am searching for a small ottoman to finish out this space, but I love the way it came together!
The rustic magazine holder that I made from leather and a weathered board last year has a new home here, also.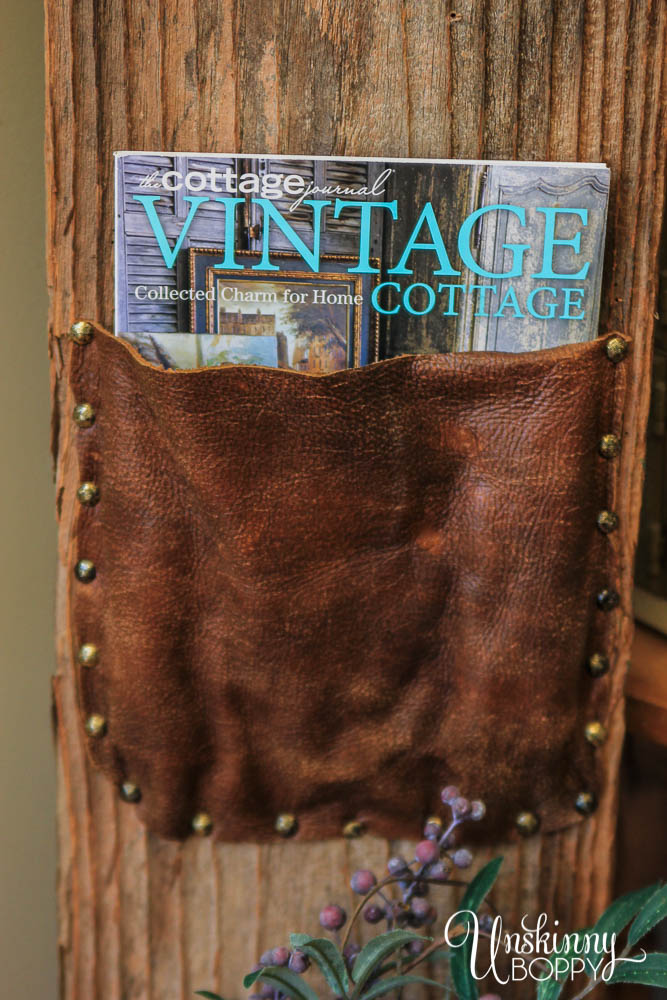 There you go, guys. Welcome to our cozy new attic Master Bedroom at the lake! I am thrilled with how this room turned out, and I cannot WAIT to show you the rest of the changes I've made to the house.
Stay tuned for lots more soon! If you liked any pics in this post, don't forget to Pin it, mmkay?