If you're looking for rustic chic farmhouse design ideas to use in your new home or remodel, this blog series is for you! Welcome to Dream Home Design Ideas!
---
Last year, I worked as a designer for a custom home builder, where I got lots of first-hand knowledge about what all goes into building a new home. Picking every interior design element for a house from top to bottom can feel like an overwhelming task, but our clients usually came prepared with a binder full of photos and Pinterest boards packed with ideas.
Over the next few months, I'll be sharing a lot of photos of the homes that I worked on in a new blog series called Dream Home Design Ideas!

If you are building a new home or just dreaming about the possibilities, this series is for you!
---
Modern Farmhouse Design: Exterior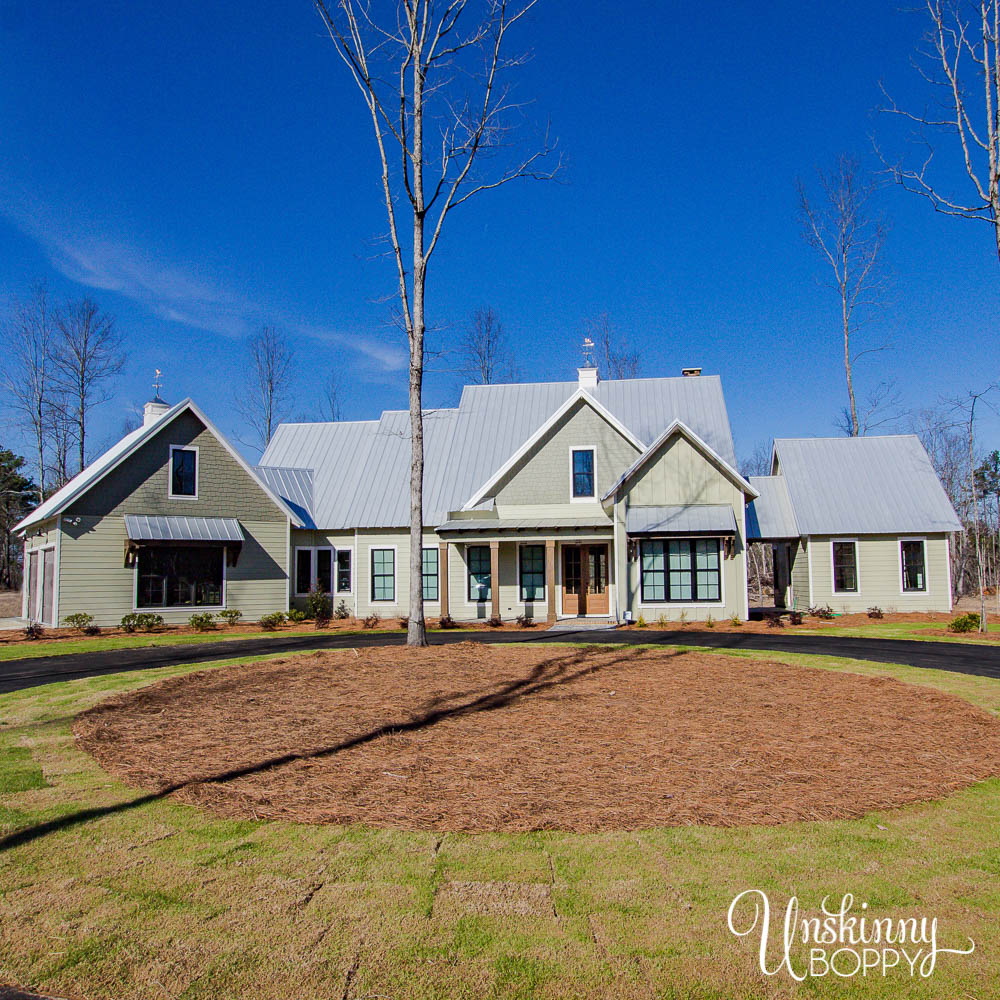 The first house is a beautiful one-level modern farmhouse with a detached mother-in-law suite. This home sits on many acres of private land in Hoover, Alabama. On the exterior, it is the epitome of a modern farmhouse, but rather than white they chose a soft green color palette.
They even added two roof cupolas with weathervanes for the perfect finishing farmhouse touch.
The Mother-in-Law suite is separated from the main house with a covered breezeway that offers privacy and protection from the elements.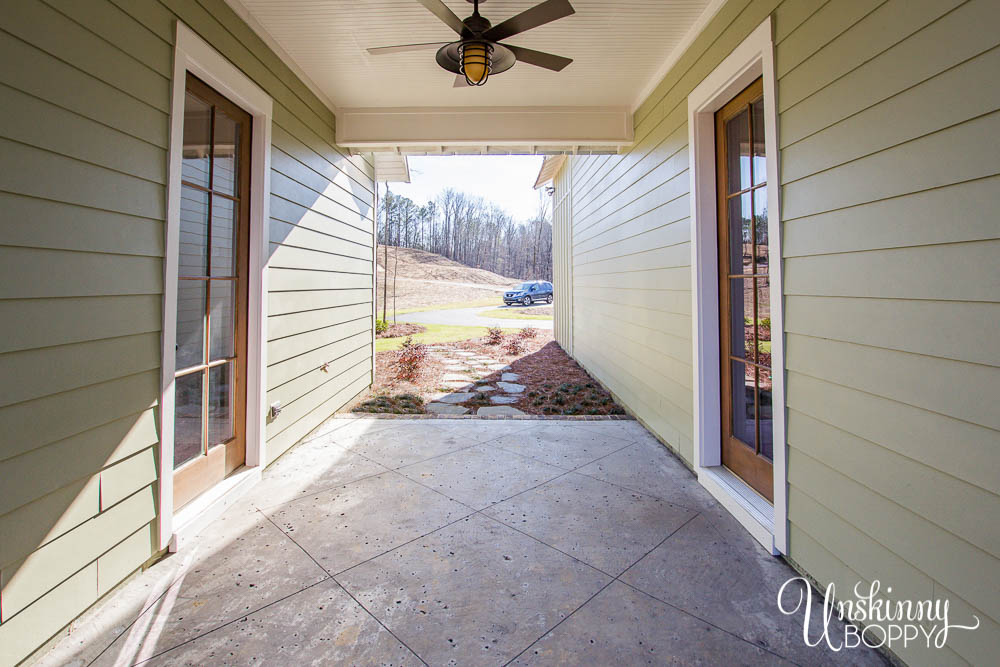 One of the things I love most about the modern farmhouse style is the use of metal roofing, sometimes called standing-seam or hi-rib steel roofing. This metal roofing is called Galvalume.
Adding a little shed roof over the front gable window adds so much character to the house. Double cedar brackets and exposed rafter tails give it extra decorative dimension, especially against the board and batten siding.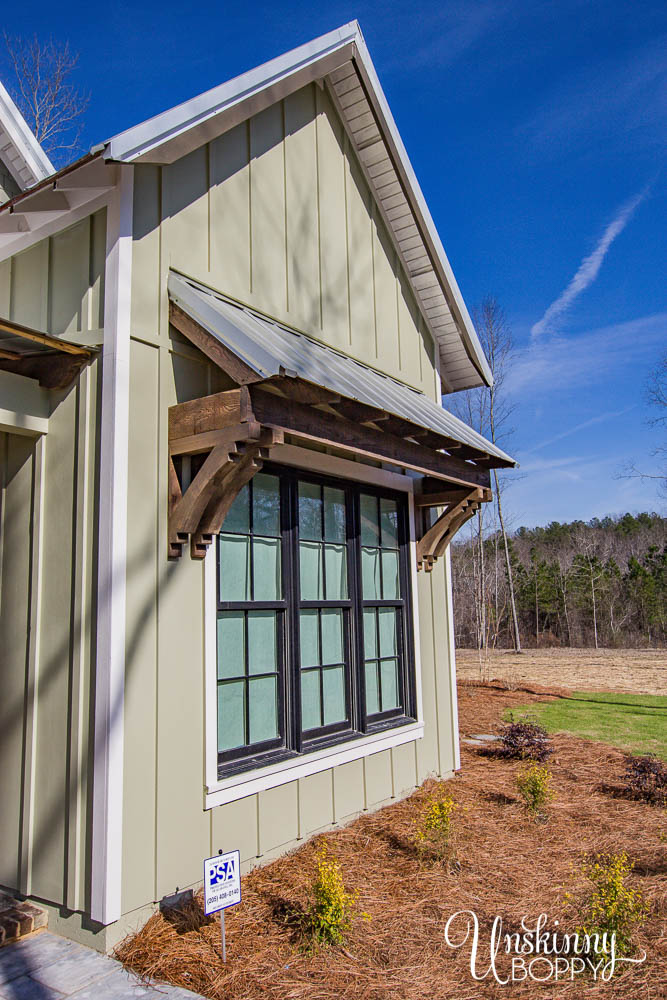 This home mixed several different siding materials together, including board & batten, lap siding, and cedar shake. Combining textures helps to break things up, but painting it all the same color keeps it cohesive.
The front porch roofing also has exposed rafter tails to match the shed roof.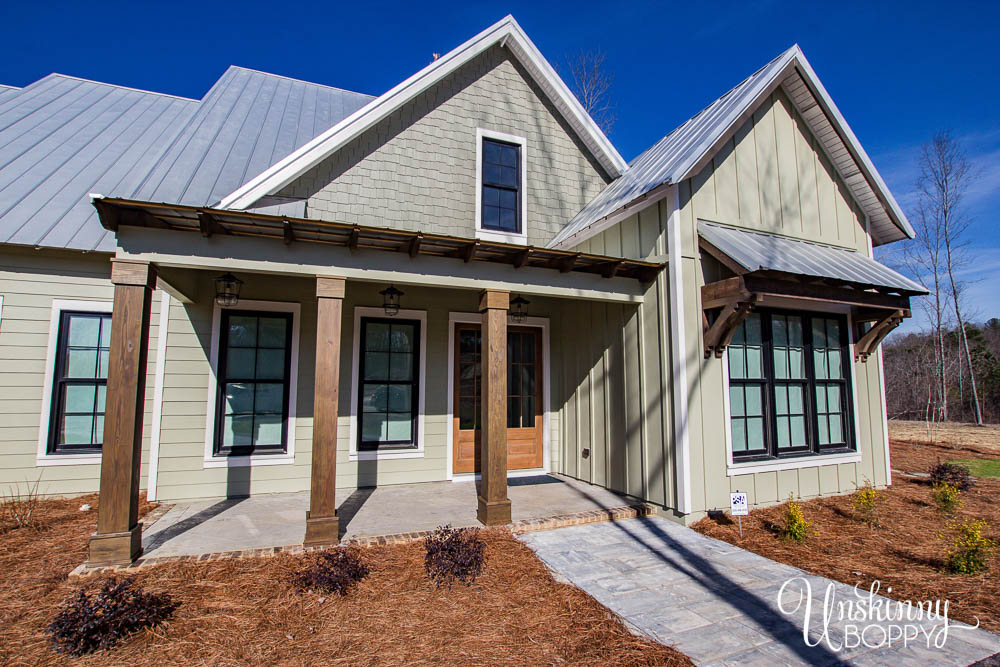 Step Inside for the Interior Details
The front foyer is royally rustic chic with heavy wooden beams enclosing the V-groove wood ceiling. Two large barn doors mirror each other- one leads to a study and another to a guest bedroom suite. 10′ high ceilings easily accommodate 8′ high double front doors.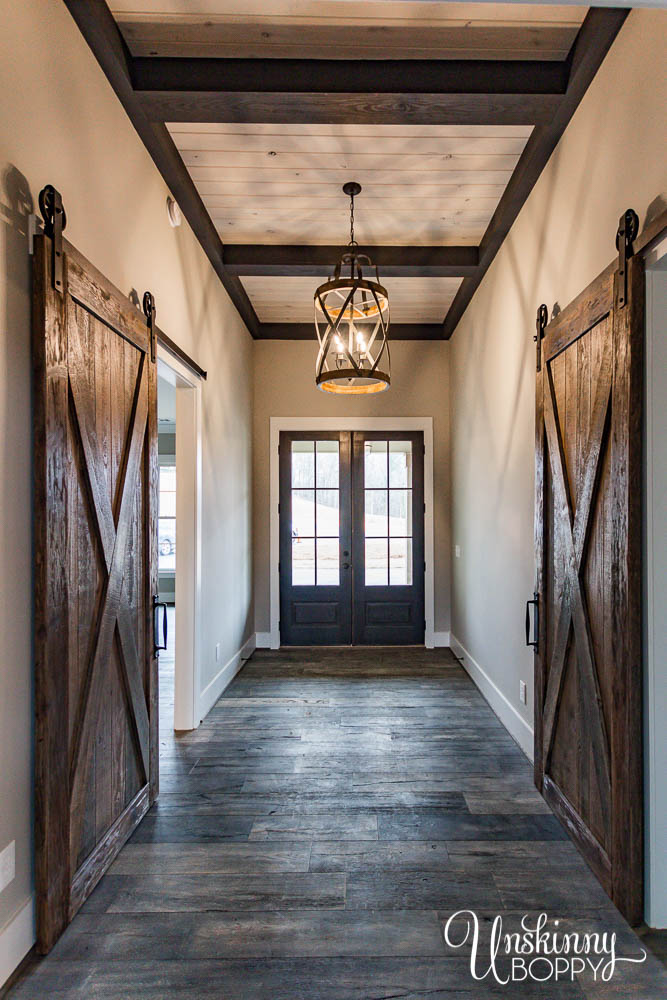 The living room is vaulted with whitewashed wood ceilings and more ceiling beams.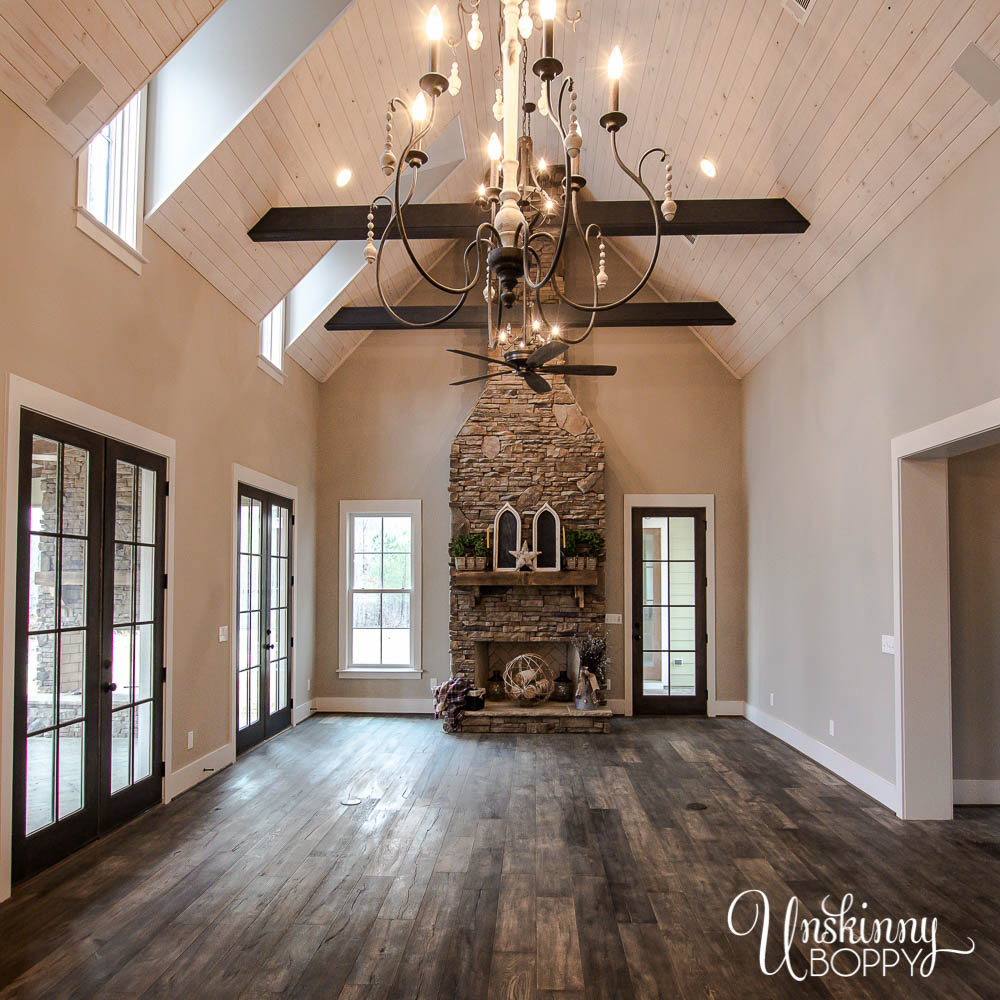 One of my most favorite features of this home is the two-story stacked stone fireplace that tapers at the top so it's not so heavy and overpowering in the room. With a large stone hearth to keep it grounded, it strikes the perfect balance for the tall vaulted ceilings.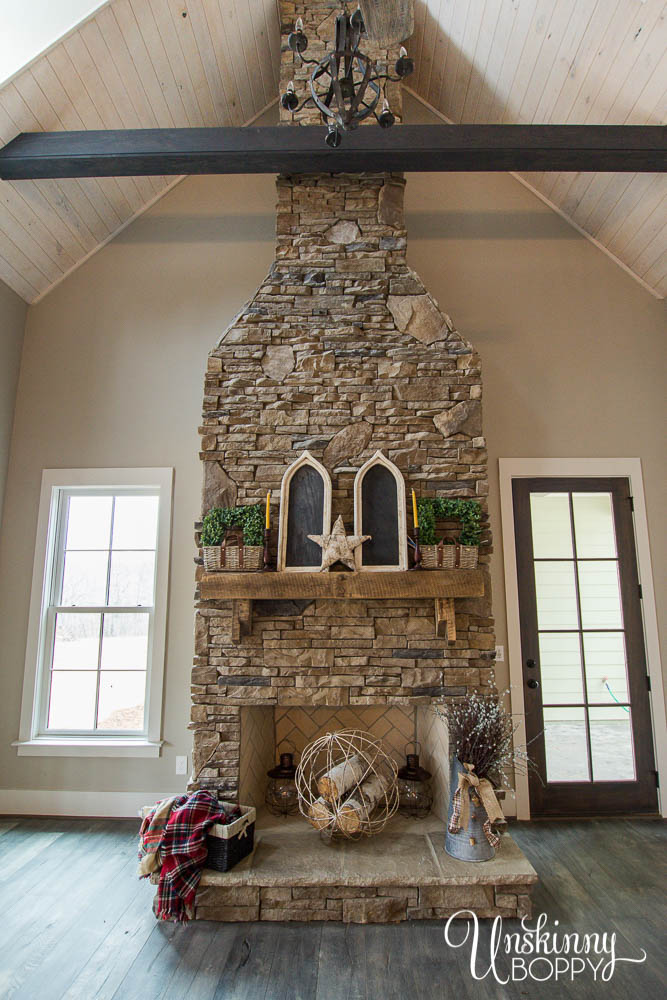 That mantel is a huge piece of hand-hewn wood with custom corbels underneath. Absolutely stunning!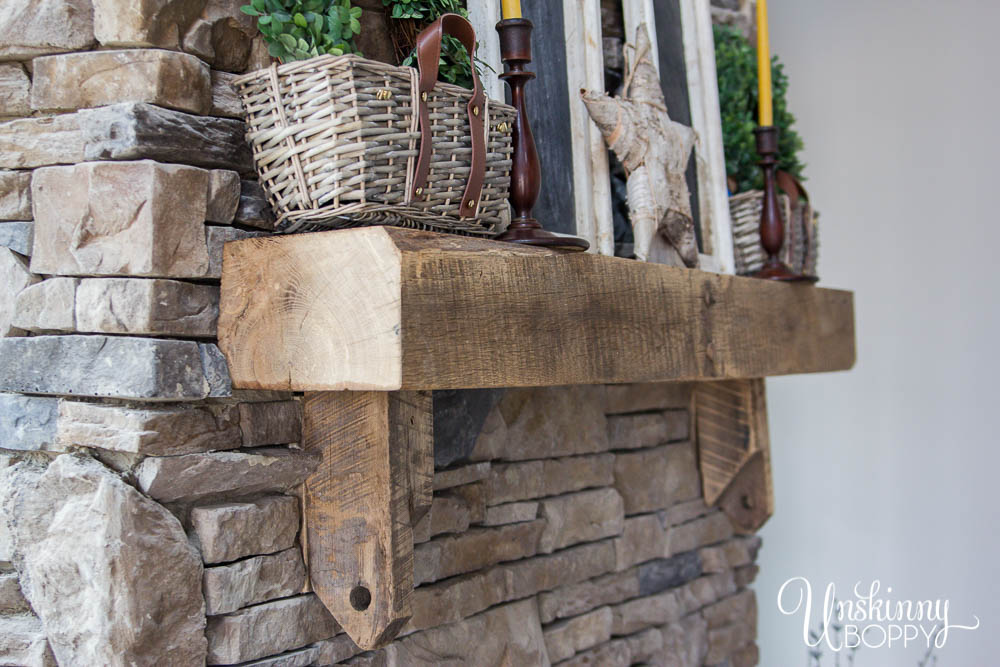 Are you ready to see the amazing kitchen? Step right this way!
There is so much to love here, it's hard to take it all in. The upper cabinets that extend all the way to the ceiling with glass at the very top are one of my favorite details. The custom wood vent over the range-top and doubled ovens make me drool. A dark wood island with beadboard contrasts beautiful.
The dark countertops are called Trillium by Dekton.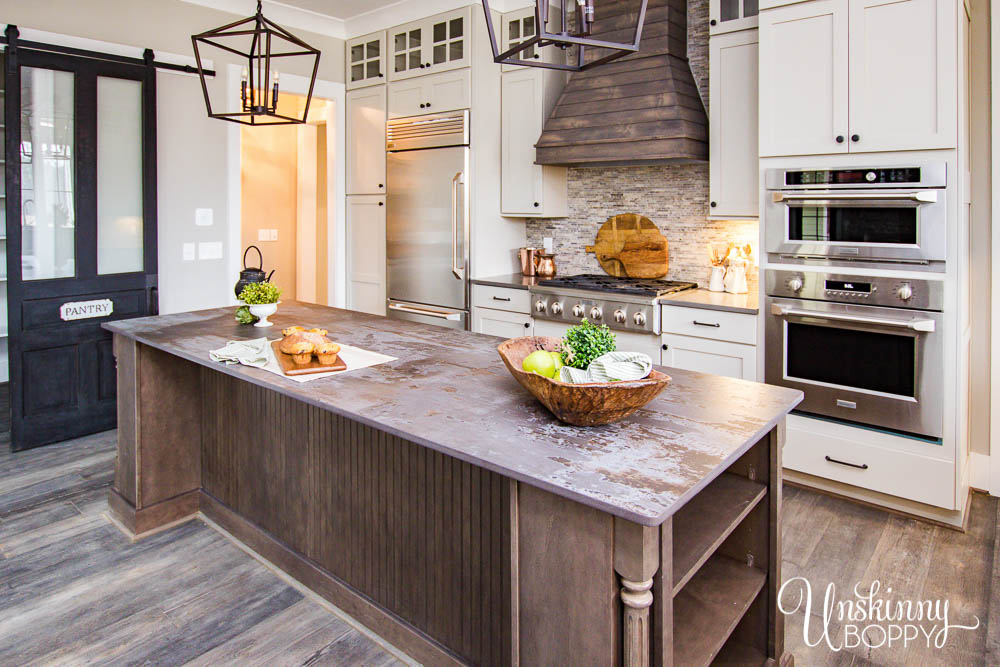 But my most favorite feature of the kitchen is this custom pantry door. The door came from Southern Accents in Cullman, Alabama, and they added the glass inserts and the Pantry sign. I'm not sure if I would be able to keep my pantry clean enough to have a glass door, but it would be nice to try!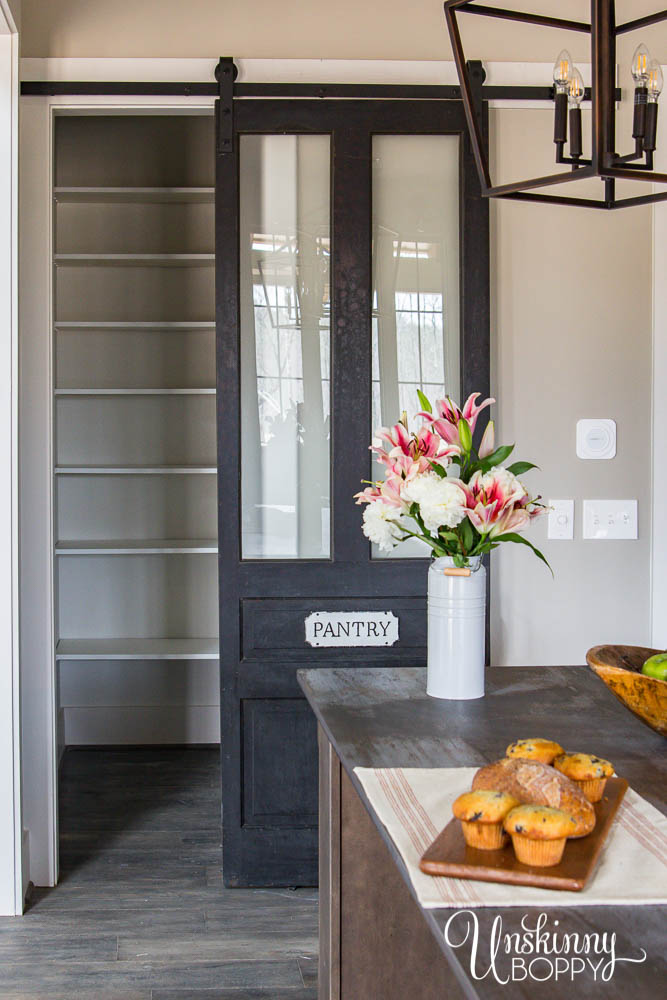 The ends of the island have open shelving for displaying your serving dishes.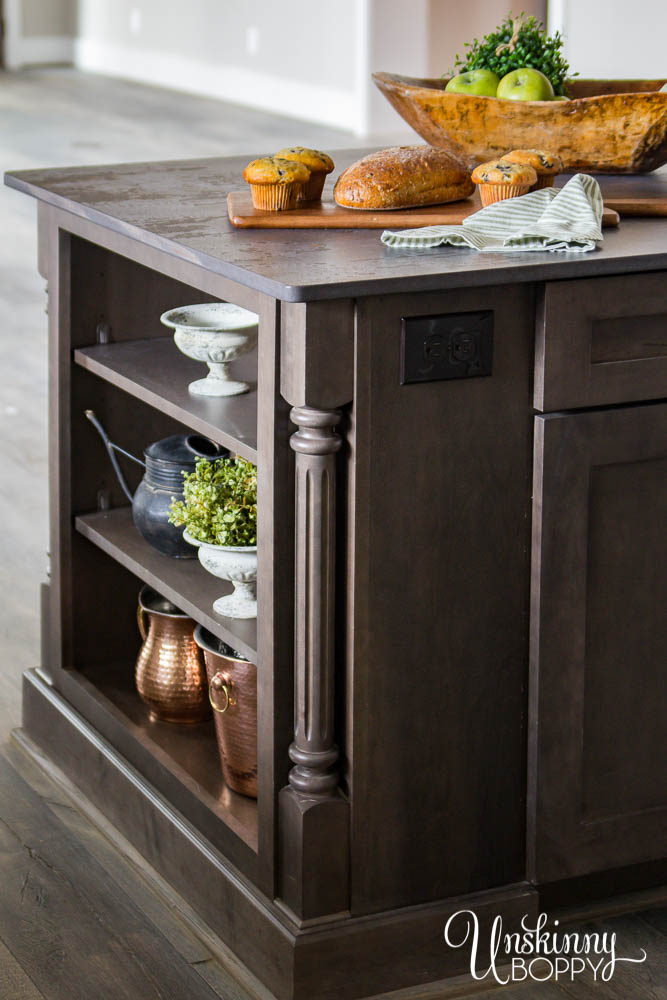 And of course, no modern farmhouse would be complete without a beautiful apron-front sink. This Kohler Whitehaven sink and Tournant pull-down farmhouse sink faucet are a perfect combo.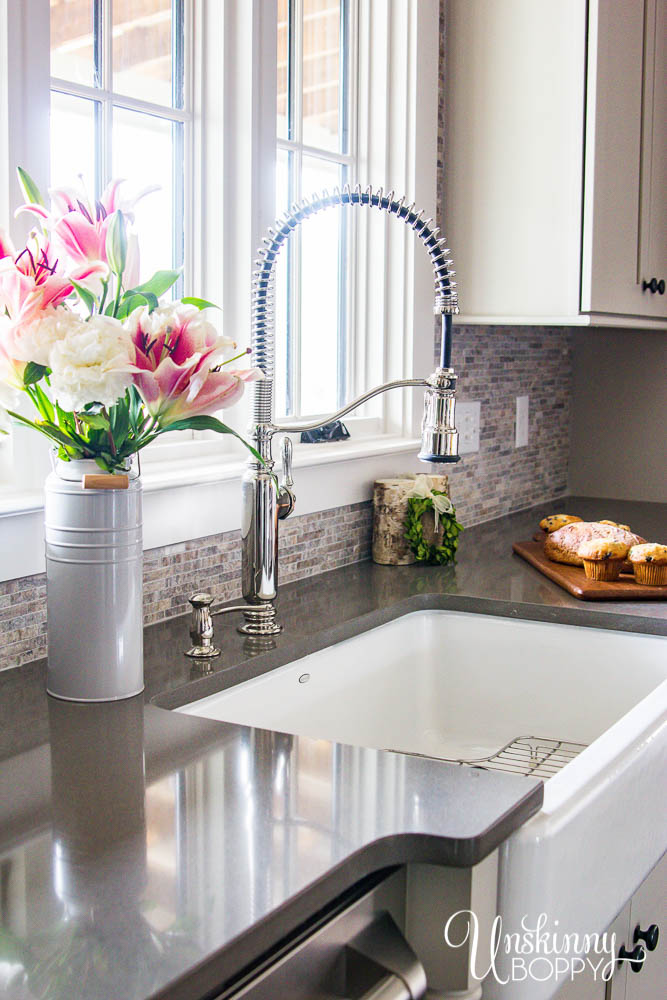 The guest bathroom is spacious and welcoming, a brown and blue patterned tile that compliments the custom bathroom vanity.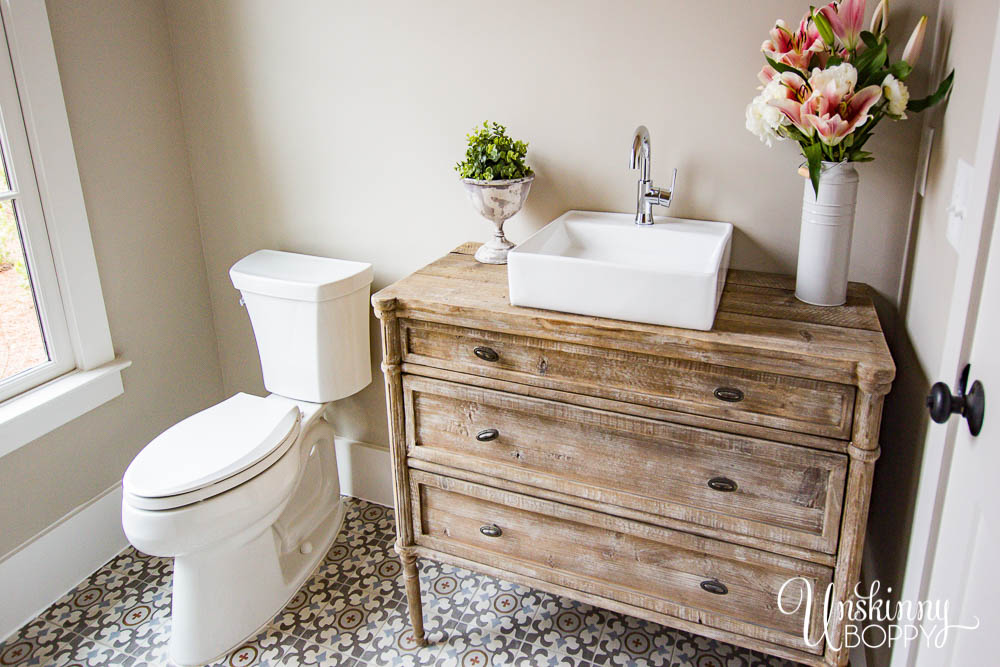 This beautiful bathroom vanity was created using an old chest-of-drawers with a sink mounted on top. I absolutely adore the way this turned out!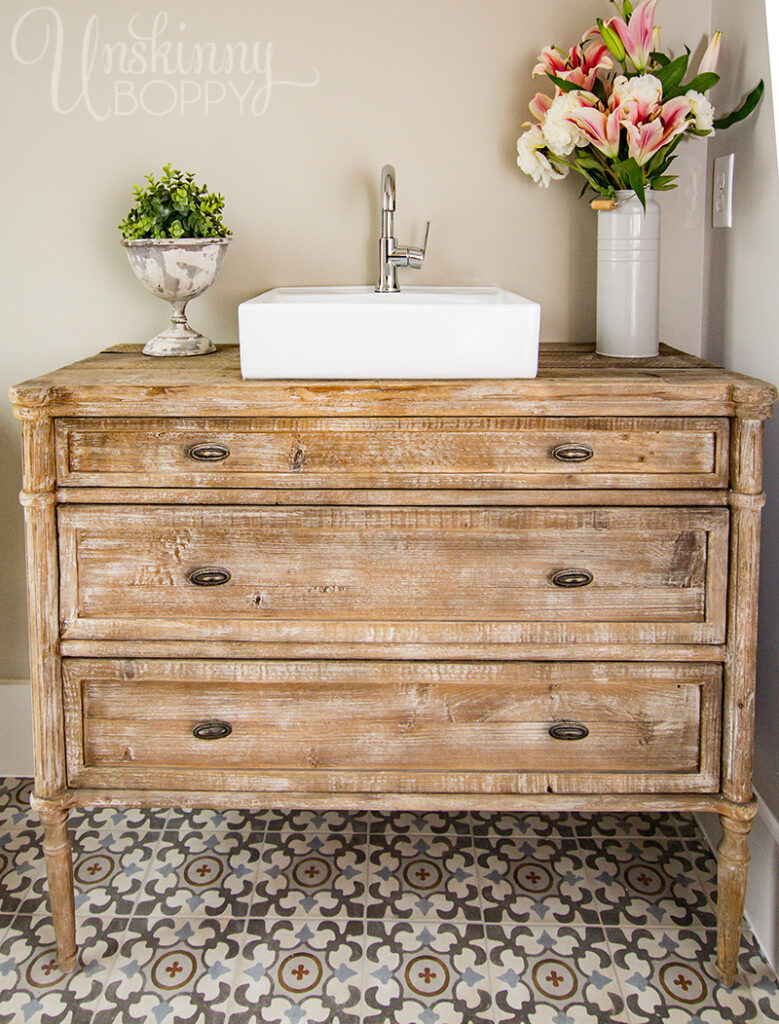 The Master Bedroom ceiling detail has me drooling with a large X-beam and whitewashed wood.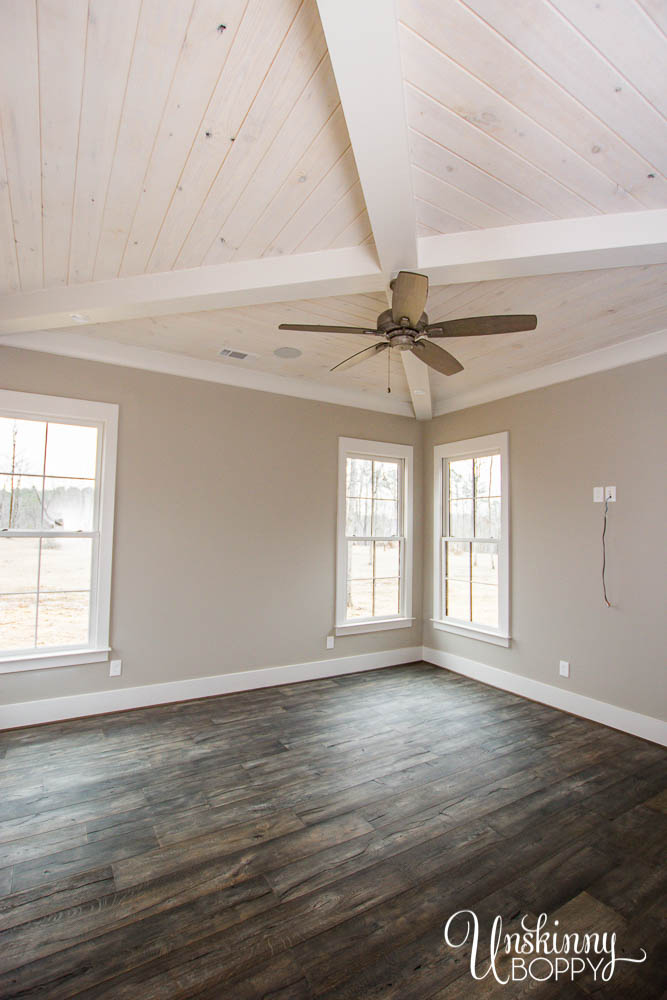 The Master Bathroom is perfectly symmetrical with two vanities and a freestanding bathtub surrounded by windows. This house sits on many acres of private land, so there's not too much concern about privacy from the neighbors. I would still need some blinds on those windows, though!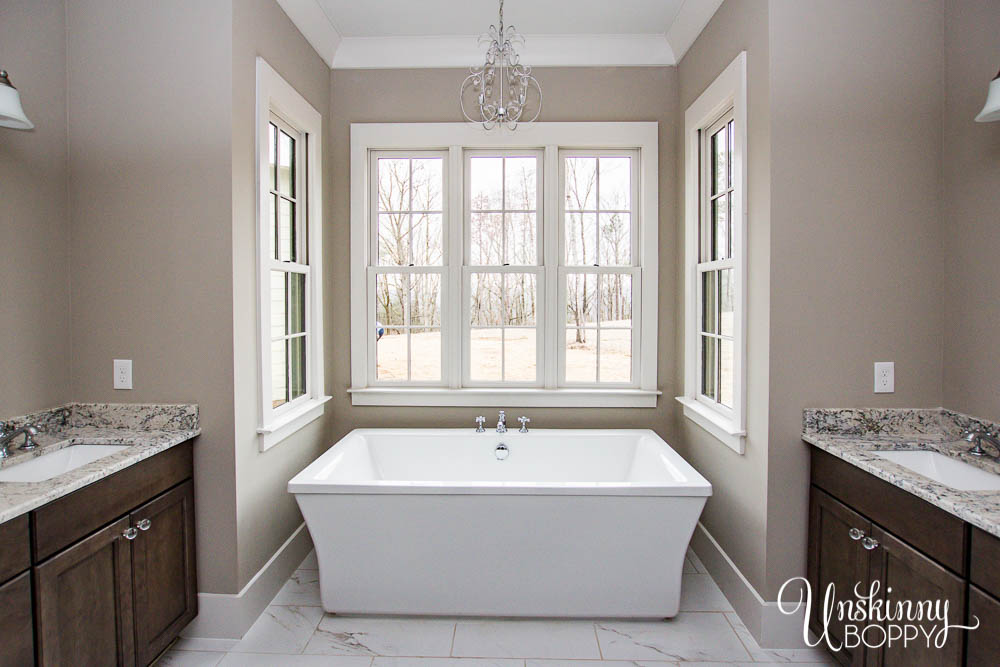 For Master shower trends, we built a lot with double shower heads and built-in bench seating. Large pieces of frameless glass surrounds the whole thing.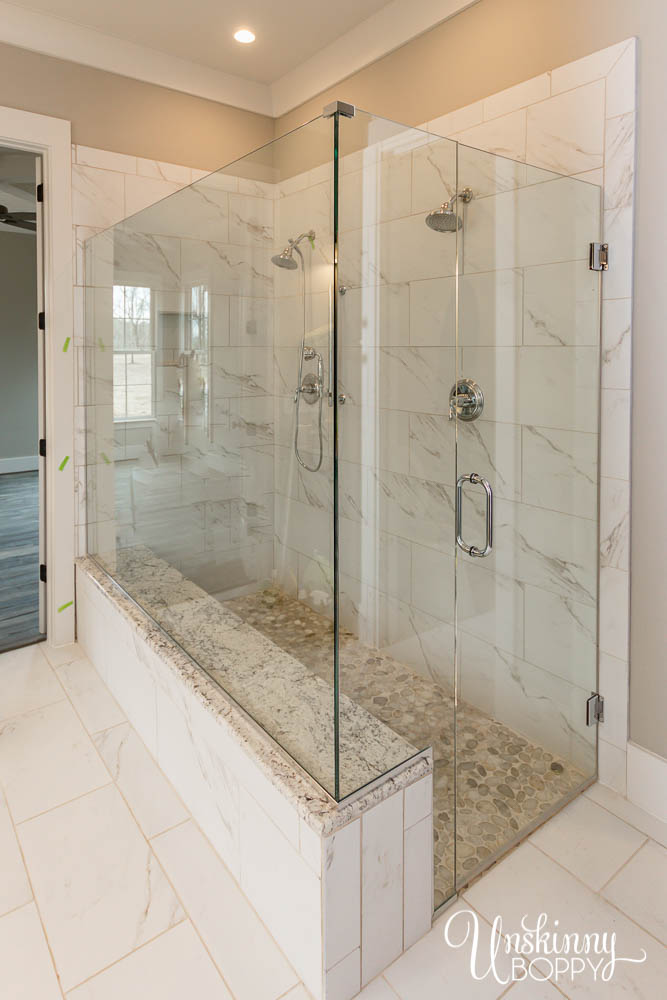 I love the river rock tile in the shower floor.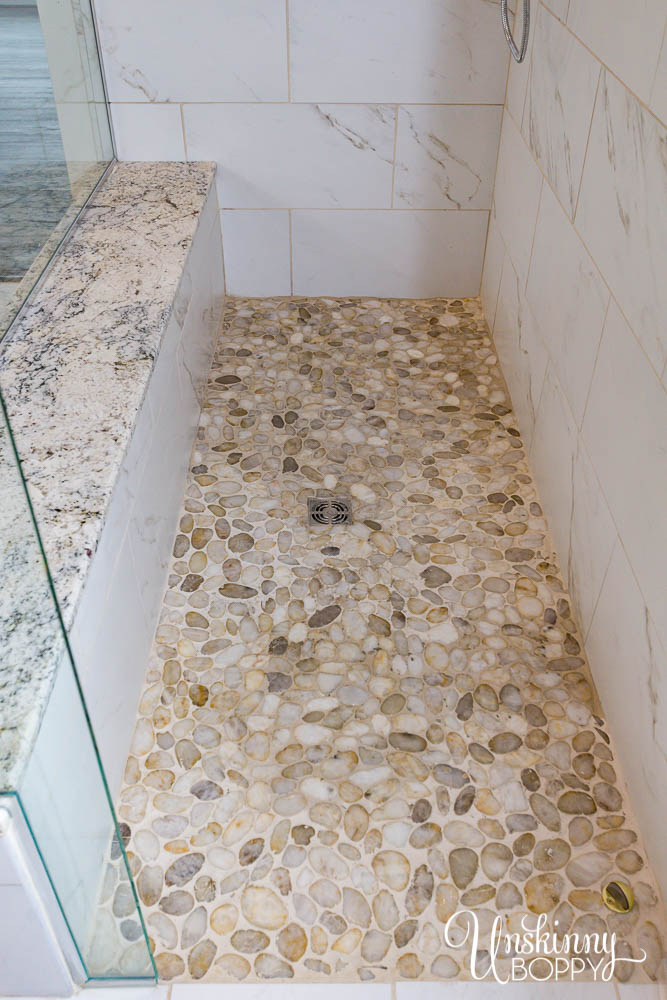 The Master closet in this home is absolutely stunning, offering tons of storage for clothing, shoes and handbags. A large island in the center is the perfect place to fold clothes and put them away. If I had a closet like this, I would most definitely keep it clean!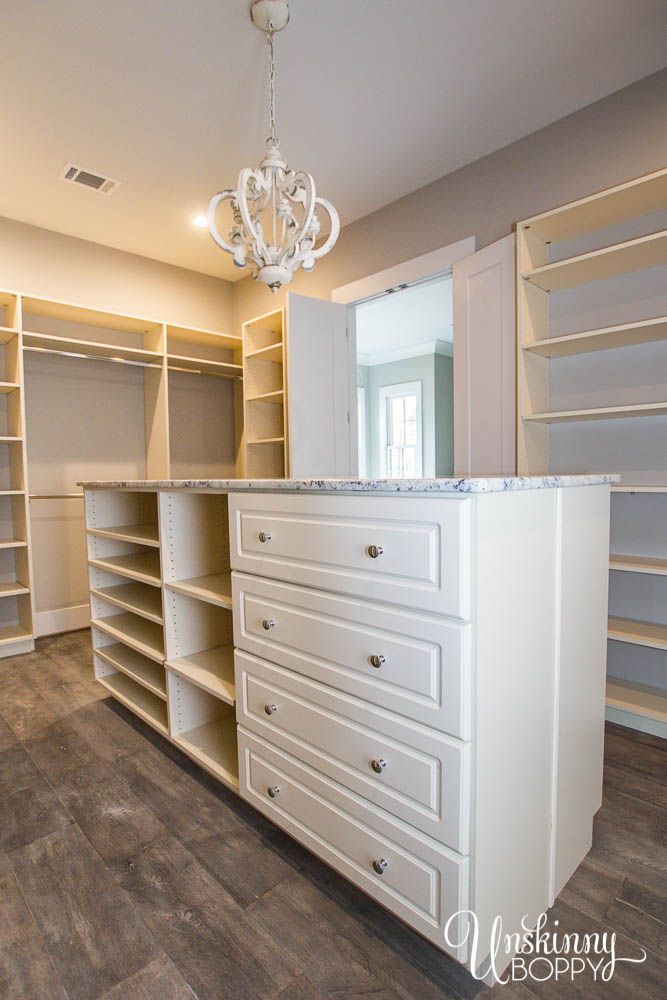 The final part of this beautiful home that left me green with envy was the giant back patio with a double-sided fireplace. It's the perfect place to gather and watch football games in the fall.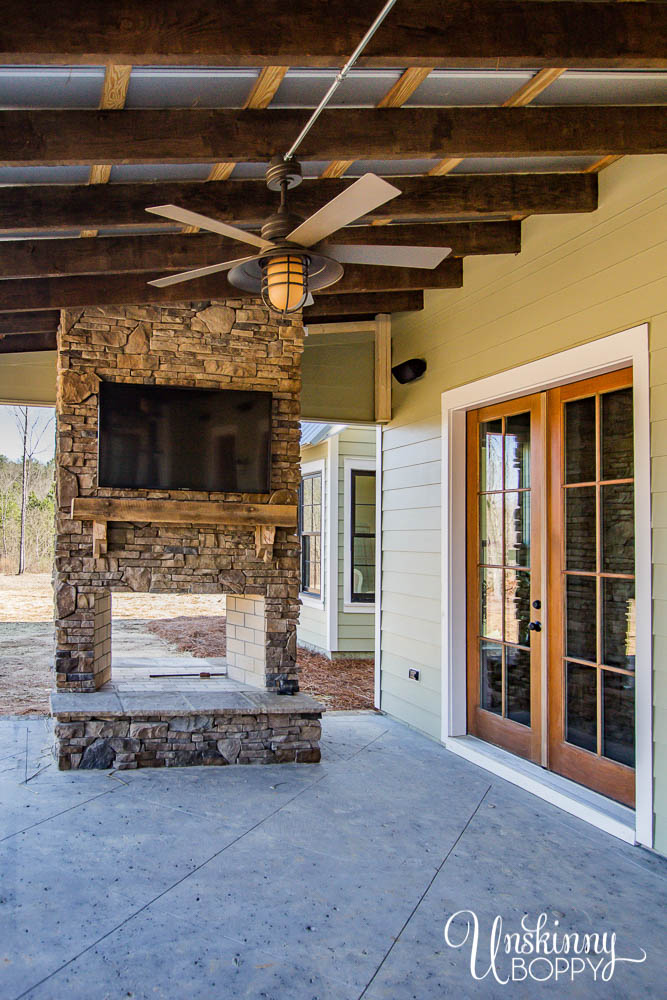 I hope you've enjoyed this tour of this fabulous modern farmhouse with SO many amazing design details. If you have any questions, I can try my best to find out paint colors and other sources for you! Just ask in the comments!
Shop This Look:

Sources: