If you've been following along over on my Instagram stories, you know that we have been remodeling our little lake house from top to bottom, and today, FINALLY, is the big kitchen reveal. Woohoooo!
I keep seeing photos of gorgeous dark green cabinetry all over Pinterest and Instagram, and they called my name like no other cabinets before.
Especially for a house that is surrounded on three sides by the sparkling green water of the Coosa river under a canopy of green oak leaves. This house is screaming for some beautiful green paint up in here.
Green Kitchen Inspirations
Here are a few of my favorite inspo pics that I drooled over when I was planning this kitchen makeover.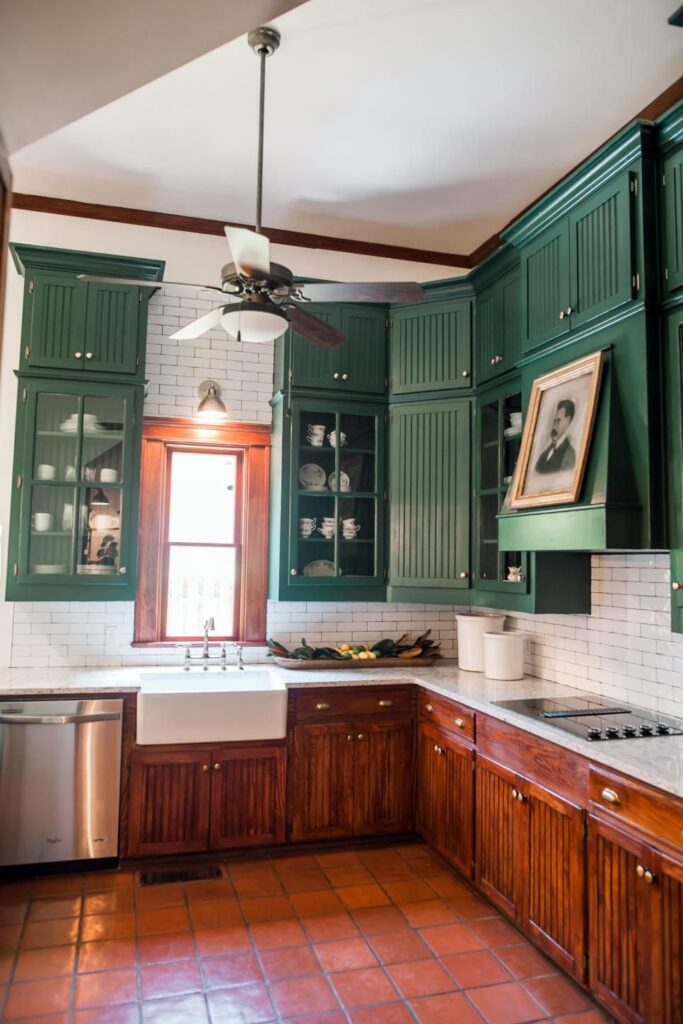 First up was this gorgeous kitchen designed by Erin Napier on HGTV's Hometown. This is paint color is SW Tarrytown Green, and it was just a smidge too bright green for my space. I LOVE it though. Absolutely love.
This combo of dark green with open shelving and vertical v-groove paneling as a backsplash really appeals to me, especially in a vacation home where we don't spend a ton of time cooking. This picture was on Farrow and Ball's Instagram page.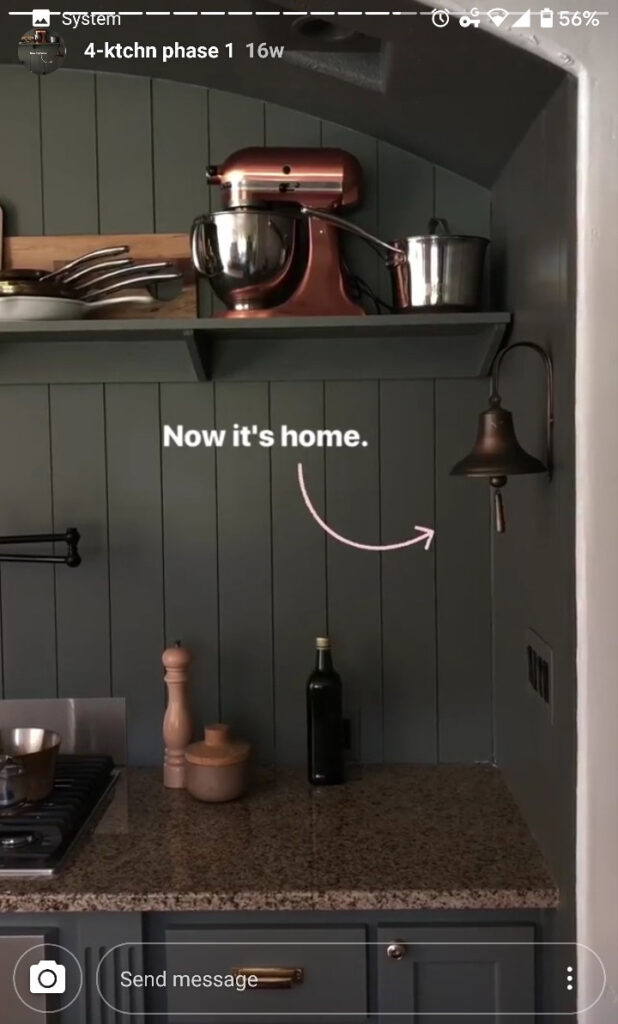 Last was this dark mossy green with more vertical paneling and a dark countertop (pretty sure that's Baltic Brown granite that was in both of my old houses.) This combo was exactly what I was going for at the lake with our existing countertops. Replacing those was not in the budget.
Envisioning the Space
Ok, time for my favorite part.
As a freelance Designer, I create virtual tours and photo-realistic renderings for builders and remodelers (y'all hit me up if you need a drawing!) so here is the Before/Virtual/After photo of the kitchen so you can see how our kitchen design turned out!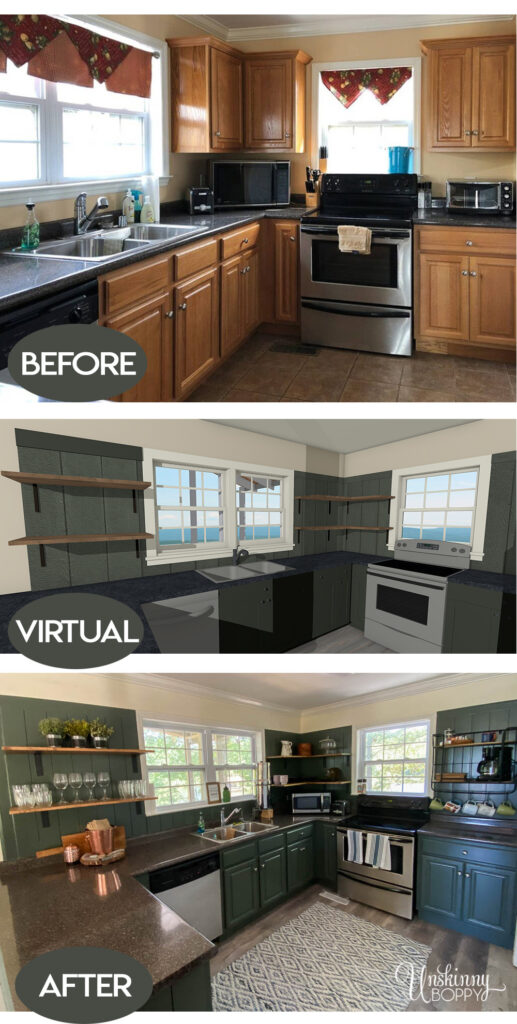 What do you think??
Can y'all believe the difference a little paint made!?! I'm super in love with the final room reveal!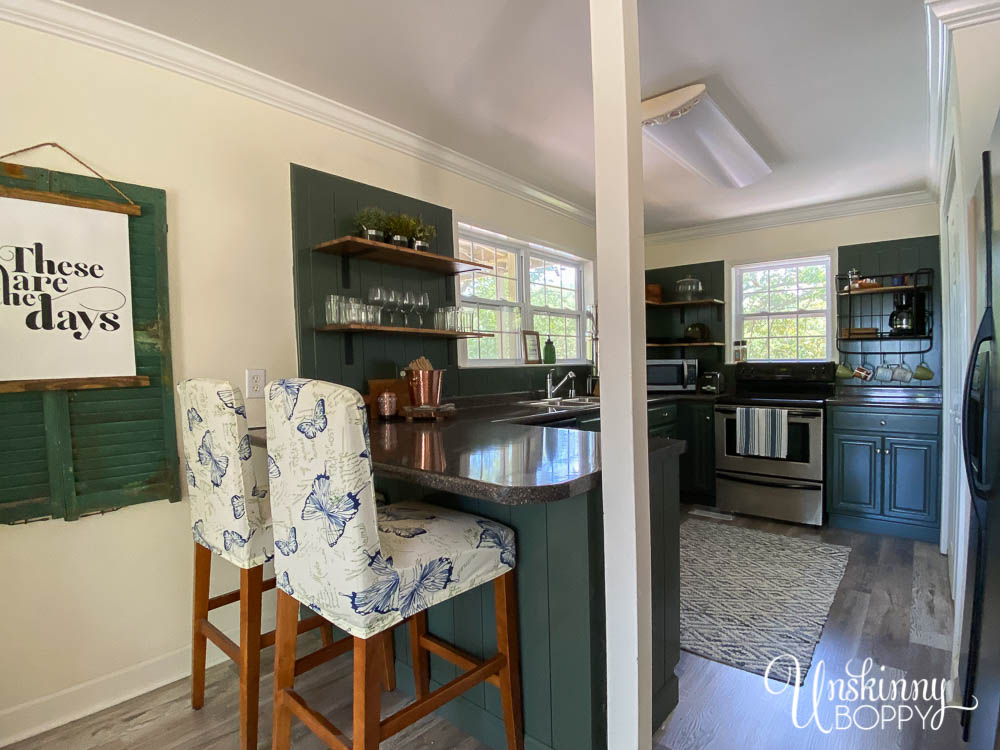 There are a few minor things I may eventually change- like a new light fixture, possibly some updated cabinet knobs, and if I hit the lottery I might replace that ugly support post with a rustic ceiling header. But for a vacation home that's not seeing much action during quarantine, I am not going to spend any more money right now.
Now, let me say that this kitchen was already in really great shape when we bought it. For a lake cabin, this space is pretty big and the space was functional. I don't have a ton of "before" photos to show you because I'm terrible at taking those, but here is my sweet Caroline sitting at the bar when we first bought it.
Lake hair don't care, y'all.
And here is that same view now!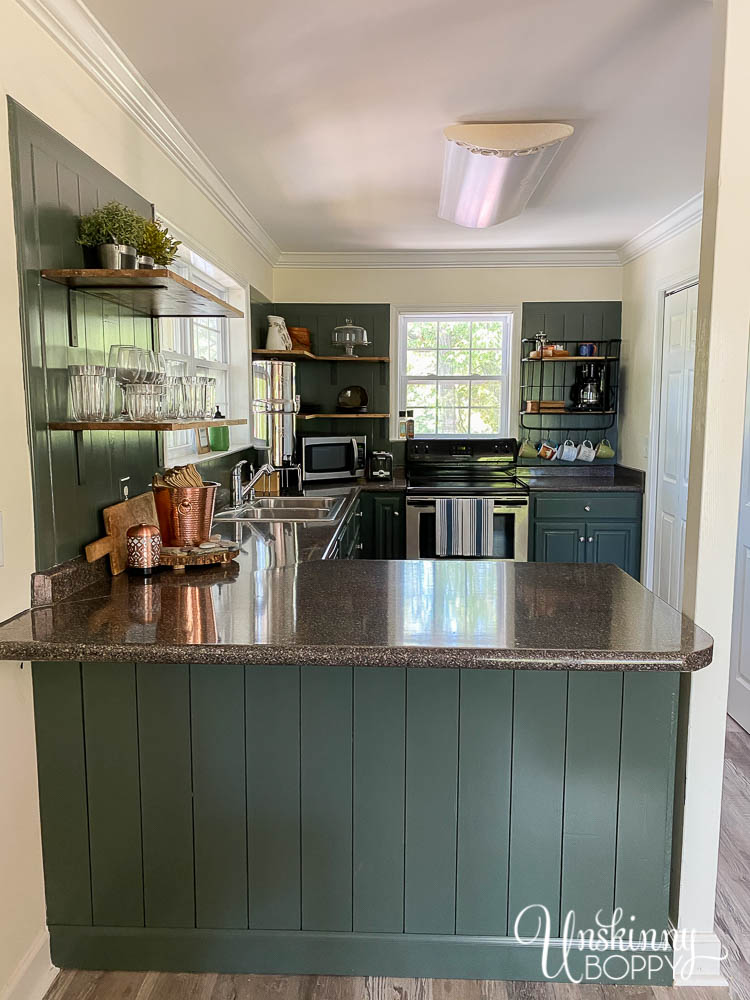 Ahhhhh I just love it so much!!!!
Perfect Dark Green Paint for Kitchen Cabinets
I chose Sherwin Williams Pewter Green for the kitchen cabinets and it turned out to be the perfect shade that I was searching for. It's a beautiful deep dark mossy green that I cannot get enough of right now.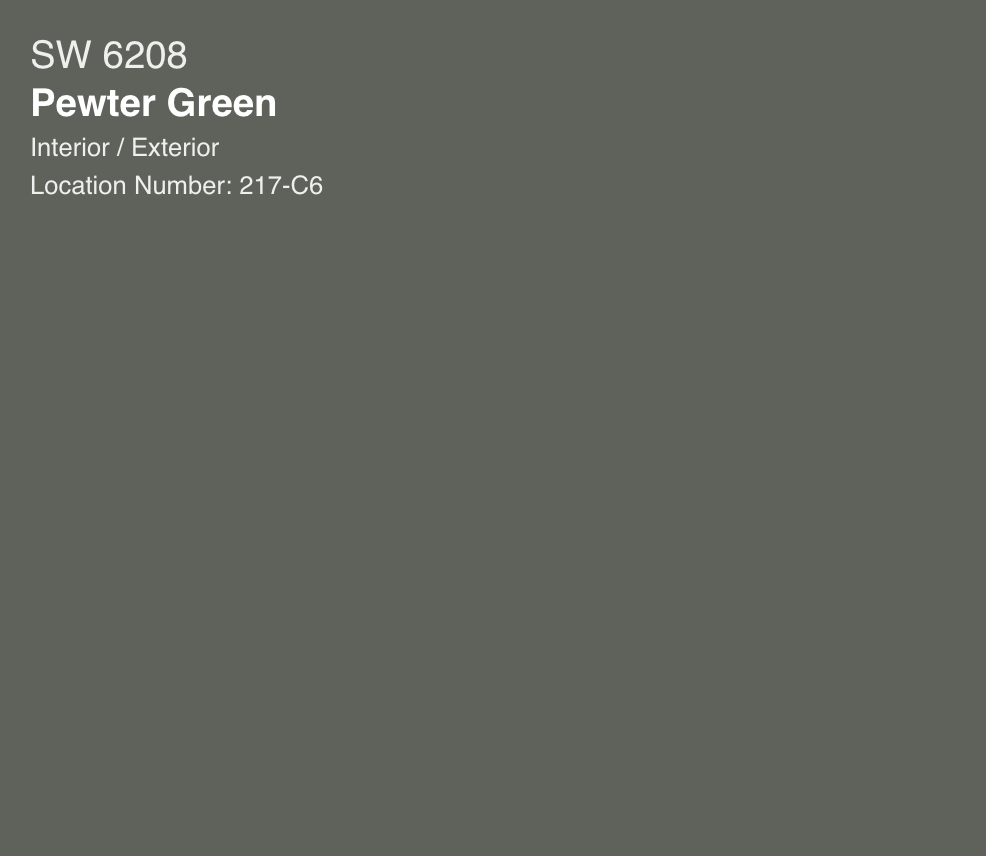 The old cabinets were solid wood, so let me knock on them real quick before I say that the appliances all work great (please don't let me jinx it) Plus, the dark laminate countertops could almost fool you into thinking they are granite. Almost. 😉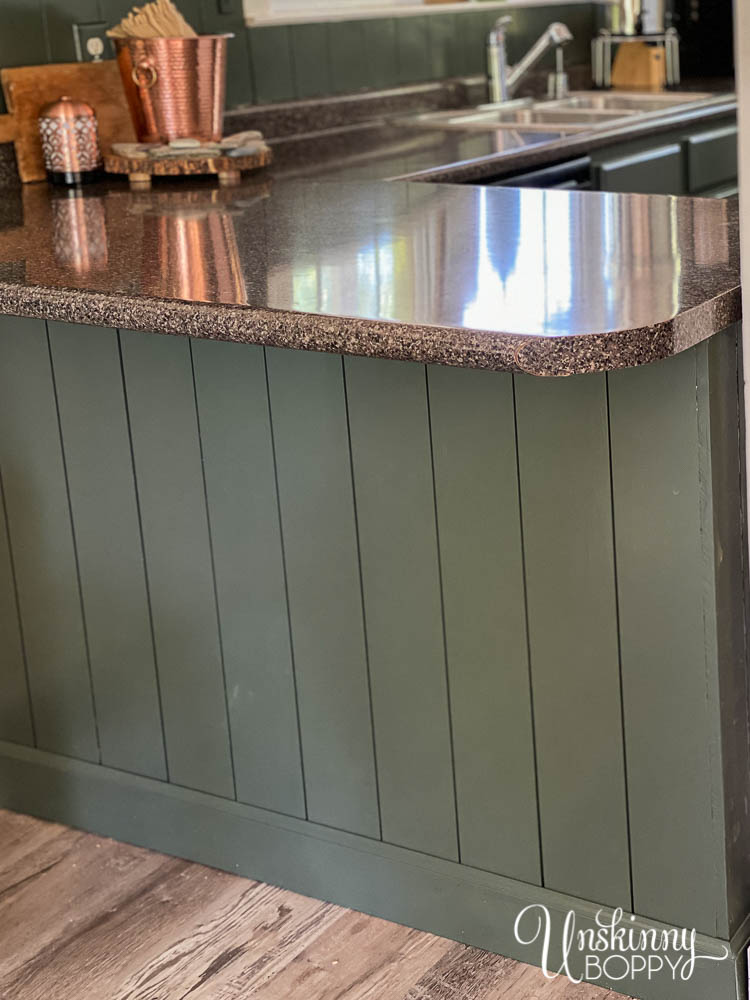 So the main reason we reno'ed this kitchen was for aesthetics and, if I'm being honest– to give me something to blog about. That's the life of a home blogger. It's a weird life, but I love it.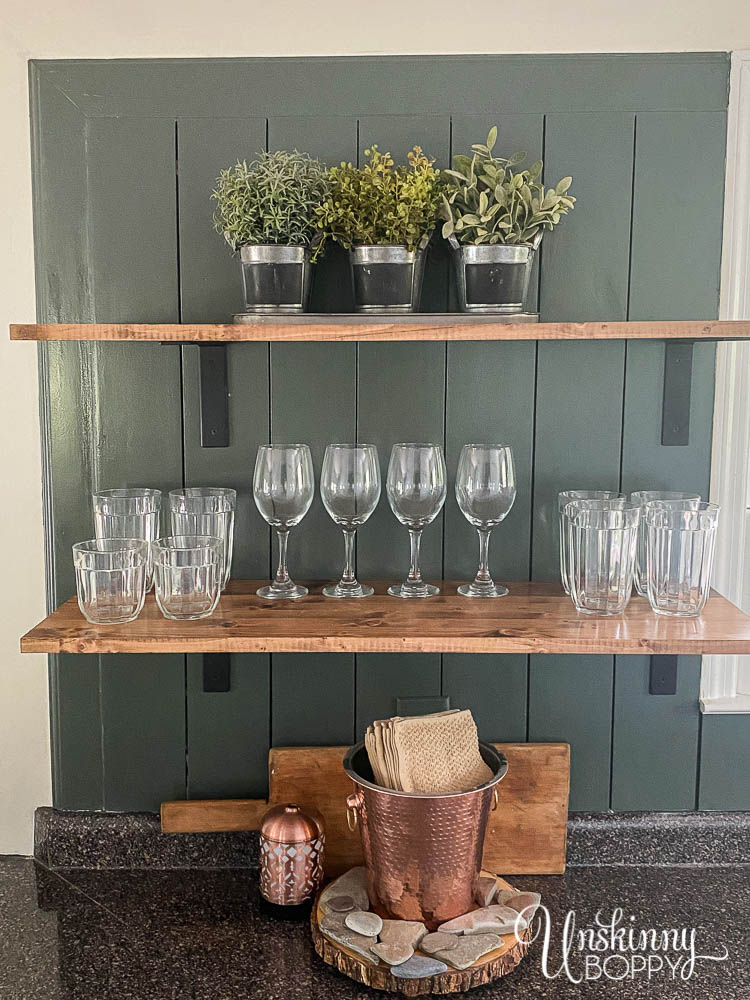 When we removed the upper cabinets it made the room feel so much bigger. Those windows with all the amazing views suddenly pop out and say "HEY Y'ALL LOOK THROUGH ME!" instead of being blocked visually by all that golden oak goodness from before.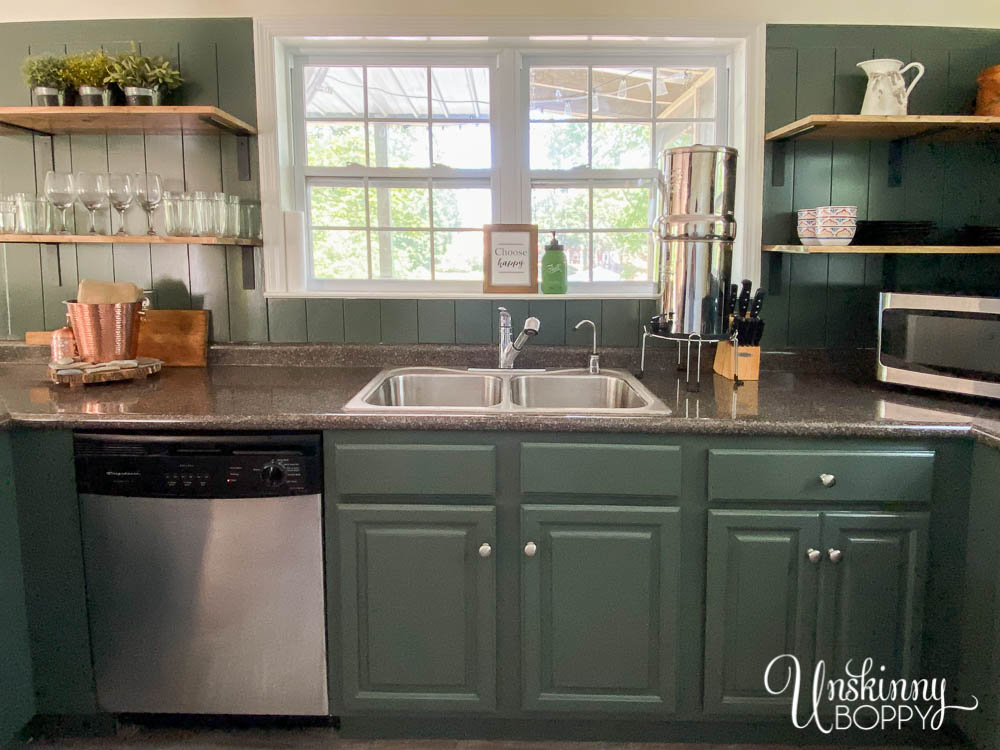 Trust me when I say this is the best spot to wash dishes that I've ever had in a house. You look through those double-width windows beyond the porch swing to sparkling lake water all around the house. It's such a piece of heaven.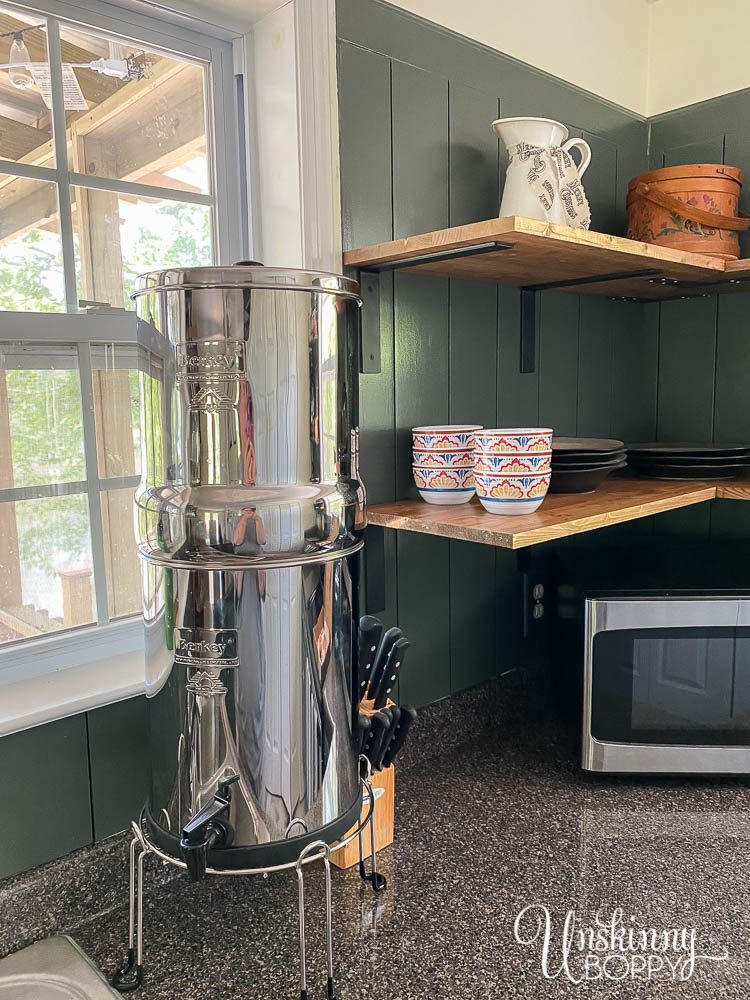 Our Berkey Water filter needed a spot in this small kitchen where we could all access it easily, so it took some prime real estate next to the sink.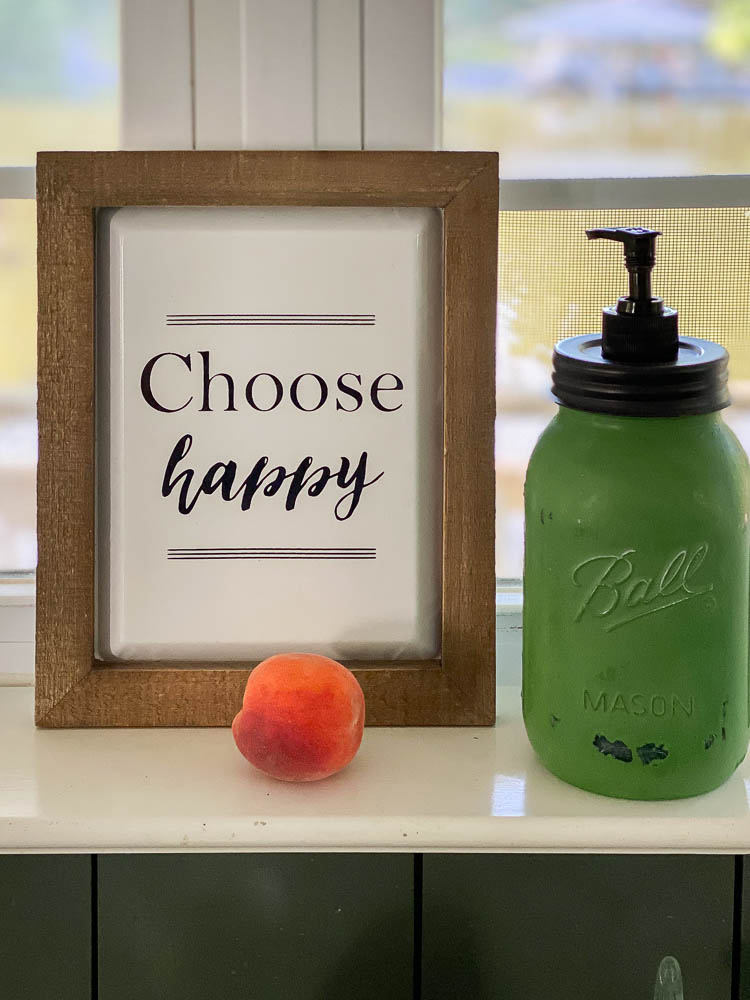 So you may be wondering what we did with all those old upper cabinets. I don't have a picture, but they went inside the laundry/pantry closet above the washer and dryer to give us lots of hidden storage space.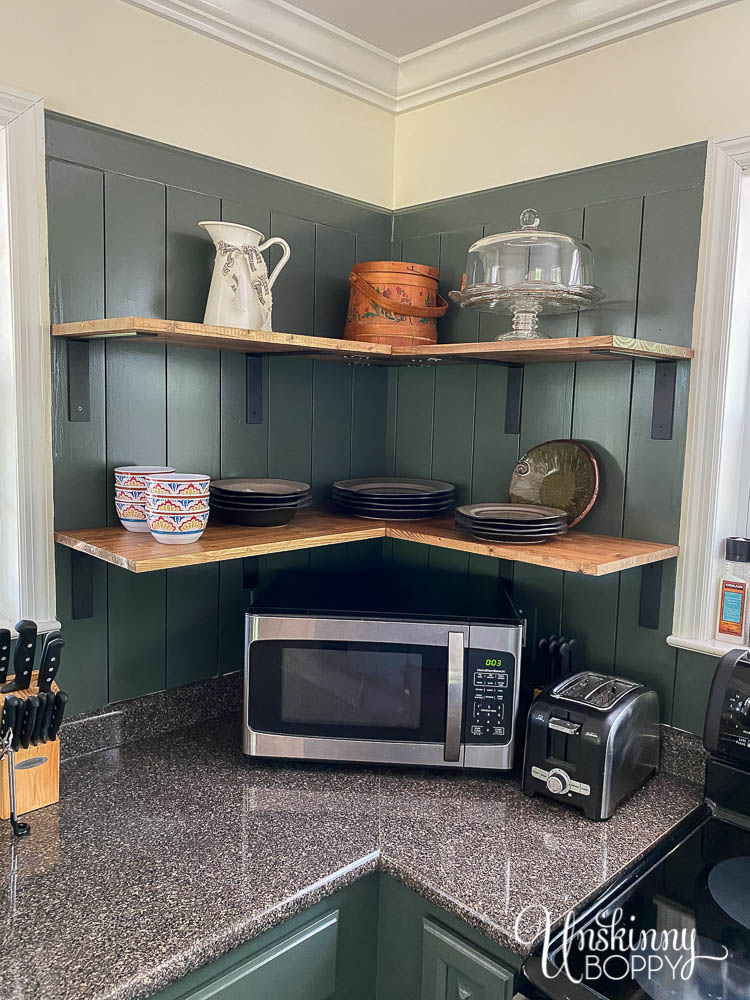 The little coffee bar got moved to this space in the far corner where it's out of the way. I still love having all the coffee mugs hanging from this shelf.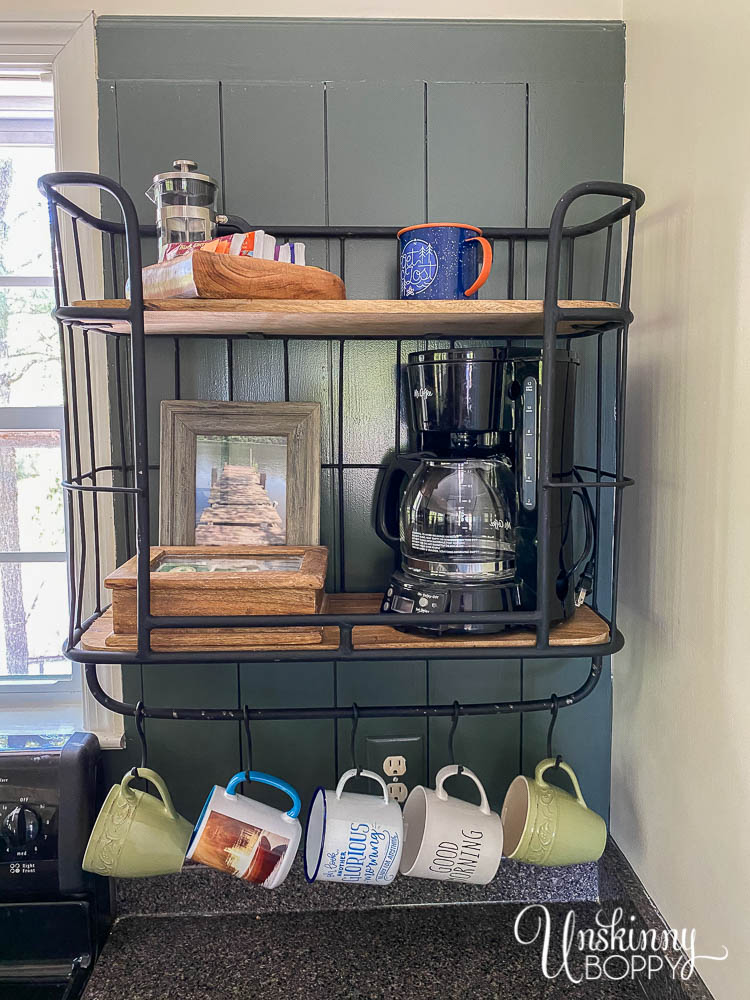 Because this makeover was mainly for looks only, we tried REALLY hard to do all the work as cheaply as possible. I didn't want to spend a dime more than necessary to make this kitchen amazing. We did all the work ourselves except for replacing the tile floors with LVP. They were refinished by the contractor we hired to do the rest of the house. He was great, so if you need a handyman in central Alabama give me a shout and I'll share his info!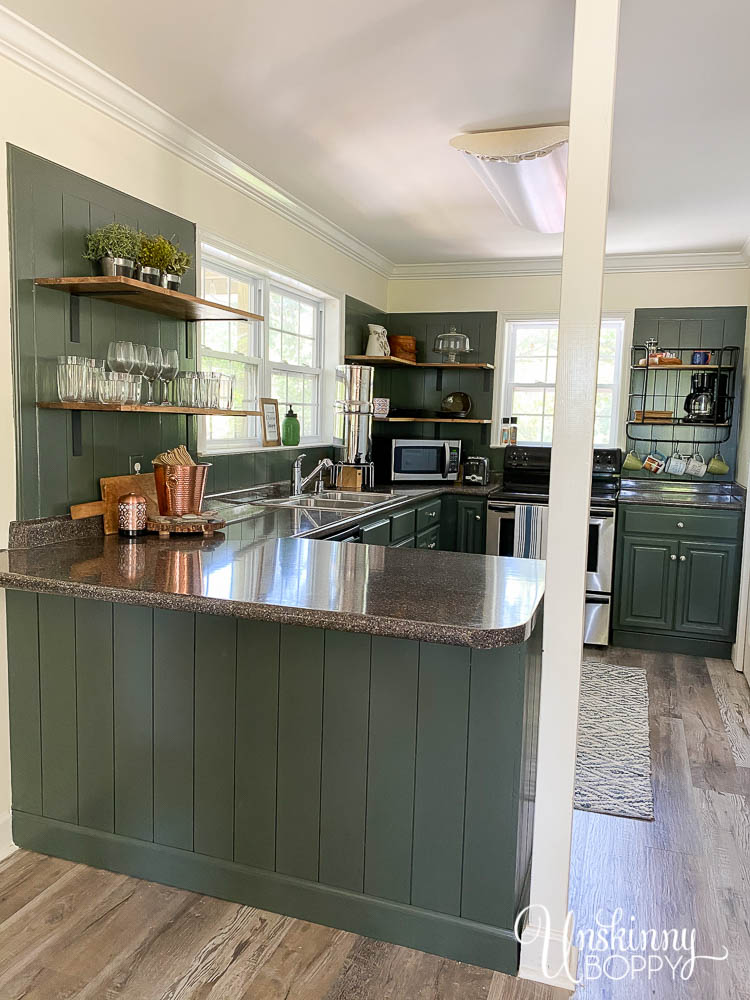 Aside from the floors, my awesome husband cut all the shiplap boards, mitered the open shelves in the corner, sanded, primed, painted and stained 100% of it. I'm SO proud and impressed with his carpentry skills.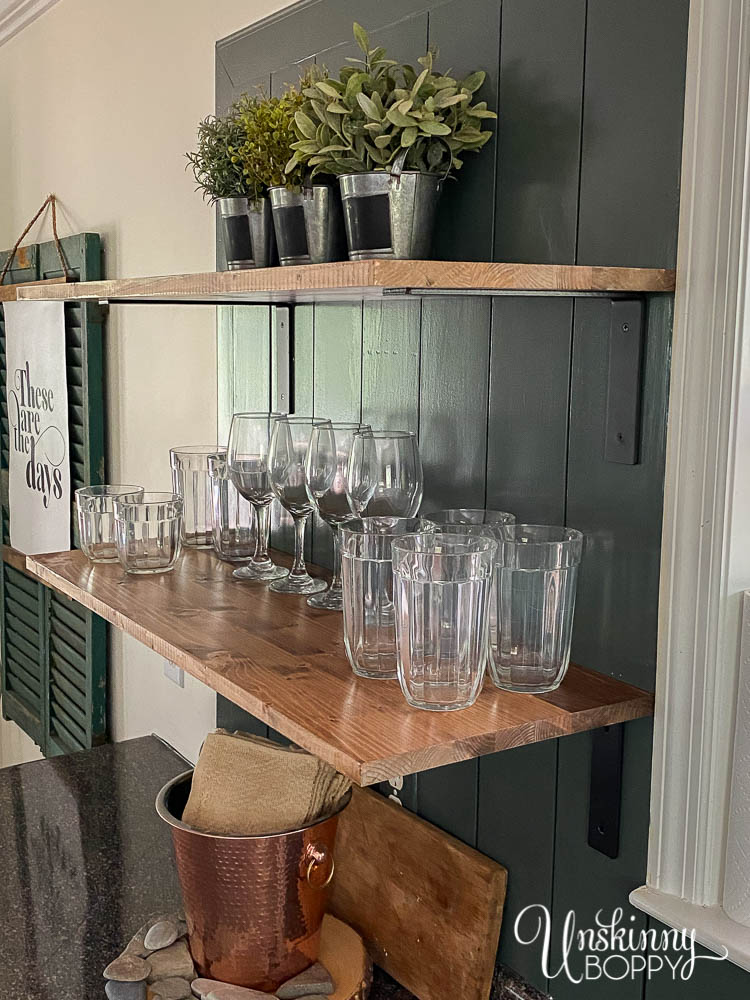 He even styled all the glasses on the shelf so when I arrived to take pictures it was ready for the glamour shots to begin. I love this man so much. Thank you for making this happen, babe!
When we got married we had a friend sing Van Morrison's "These Are the Days" during the ceremony. Some wedding songs get cringy over time, but that song has held up year after year, perfect for every season of our life. When I spotted this "These are the Days" sign over at Smallwoods, I knew I needed it. It's perfect in this spot.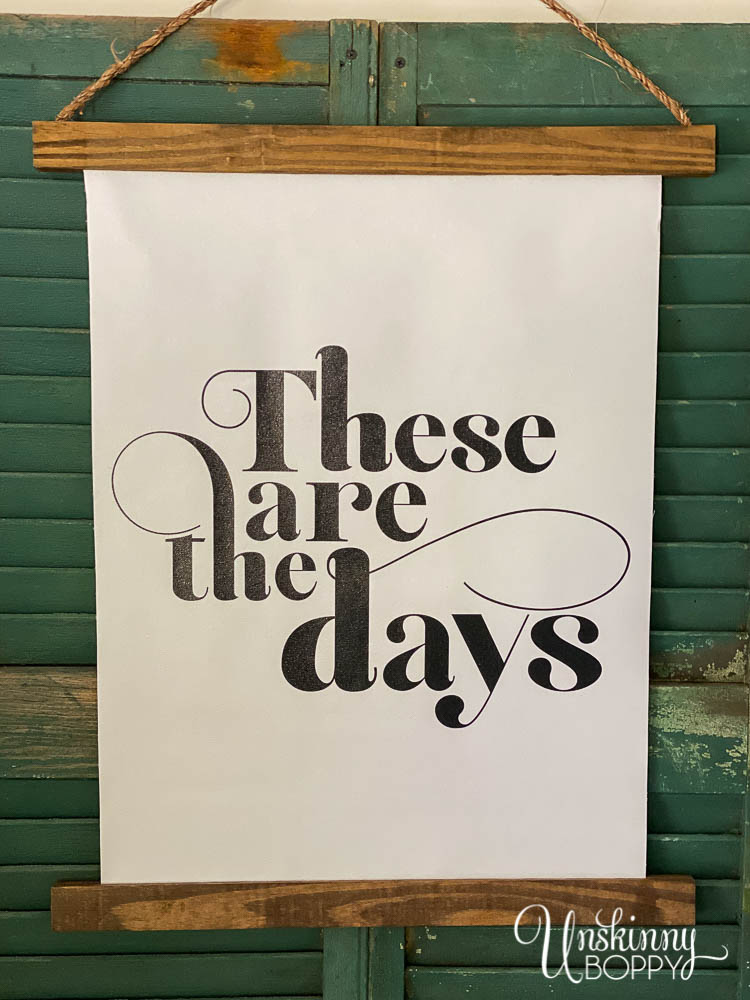 These are the days by the sparkling river

His timely grace and our treasured find

This is the love of the one great magician

Turned the water into wine

These are the days now that we must savor

And we must enjoy as we can

These are the days that will last forever

You've got to hold them in your heart.
Coming tomorrow…
I'll share with you the entire process we took to DIY this painted kitchen cabinet makeover from top to bottom. Since this post is already so long, I decided to split it up into two parts. Stay tuned for the step-by-step instructions soon!
In the meantime, check out the cozy master bedroom makeover…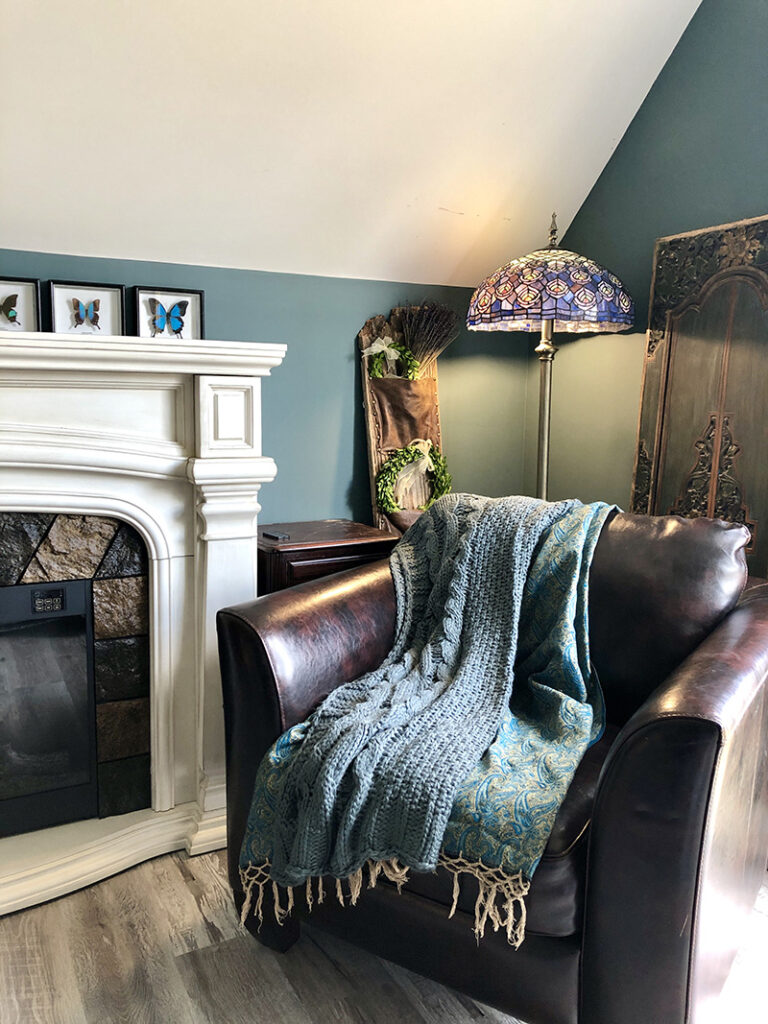 Or the light and airy loft bedroom makeover!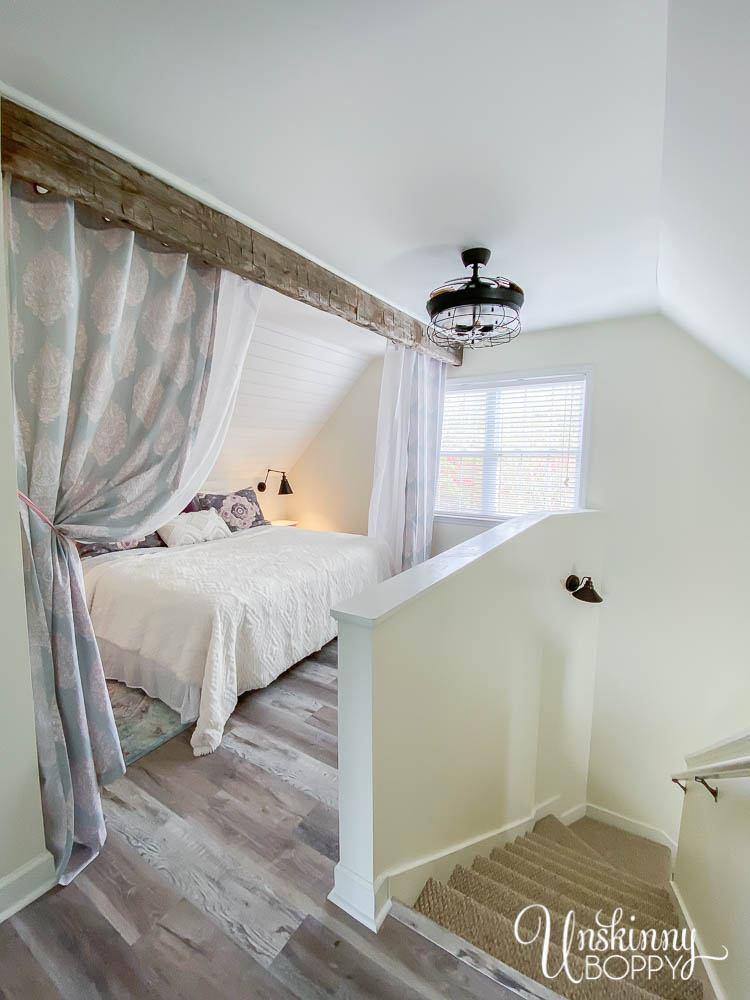 And now that you've seen the kitchen, Loft and Master Bedroom makeovers, I'll show you the living room remodel soon! It seriously looks like a whole new house and I cannot wait to show you all of it.