Coronavirus Quarantine Diaries: Day 5,590….
How is everyone holding up? So far, so good here at our house. We are all healthy and have plenty of toilet paper, thanks to my Chicken Little self preparing for this event well ahead of time.
The biggest challenge is keeping my kids from fighting with each other ALL. DAY. LONG. EVERY. SINGLE. DAY….AAAAAAaaaa… Y'all gon' make me lose my mind up in here!
But, one of the many advantages of being quarantined away from the world? Finally completing all those DIY projects that have been sitting unfinished for months.
We are super blessed to have our lake house so we can have a safe change of scenery when we need to escape the everyday monotony of quarantine life. We have slowly been working on remodeling every inch of it for quite a while now. You got to see the Master Bedroom makeover a few months ago, and now I'm excited to show you the new loft bedroom reveal!
Here is how the loft bedroom looked when we bought the house: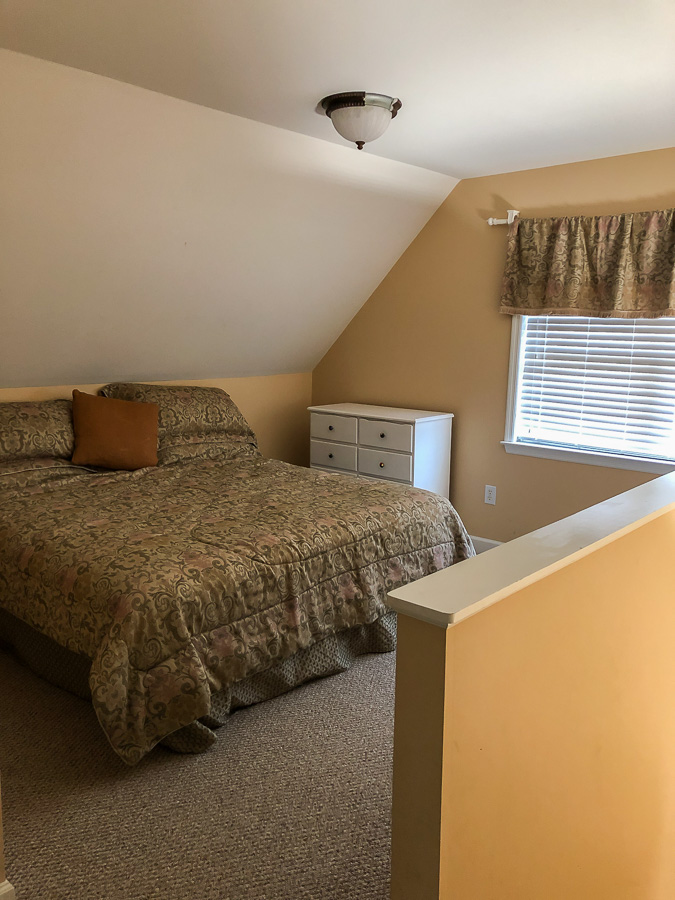 And here is what it looks like now!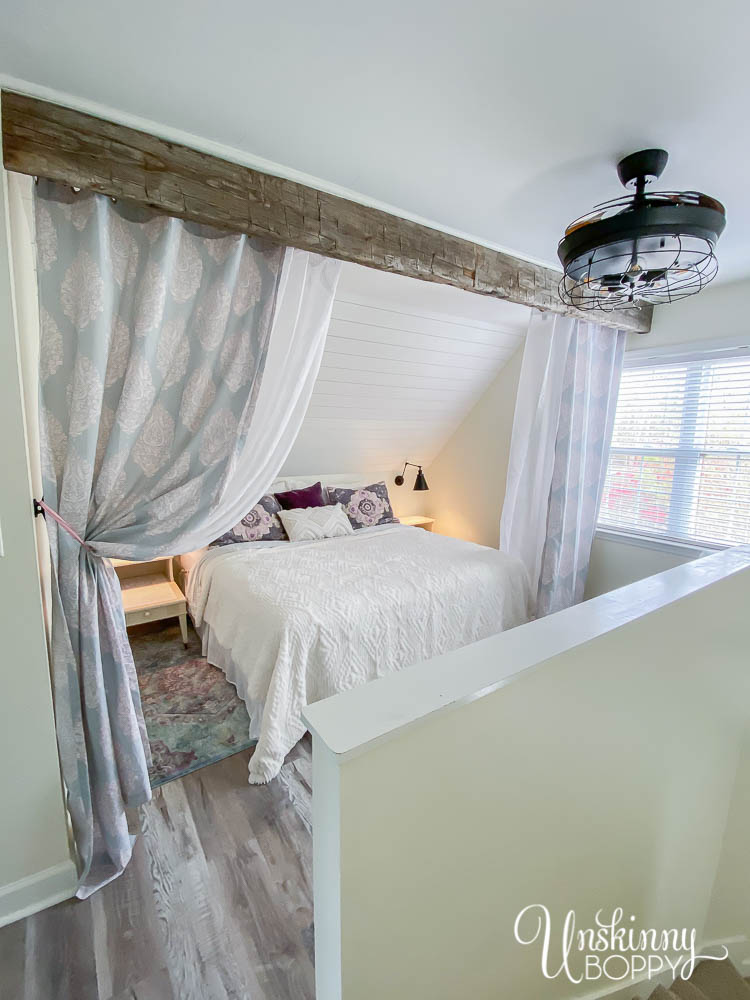 You gotta admit- that's a pretty amazing transformation for just a few cosmetic changes!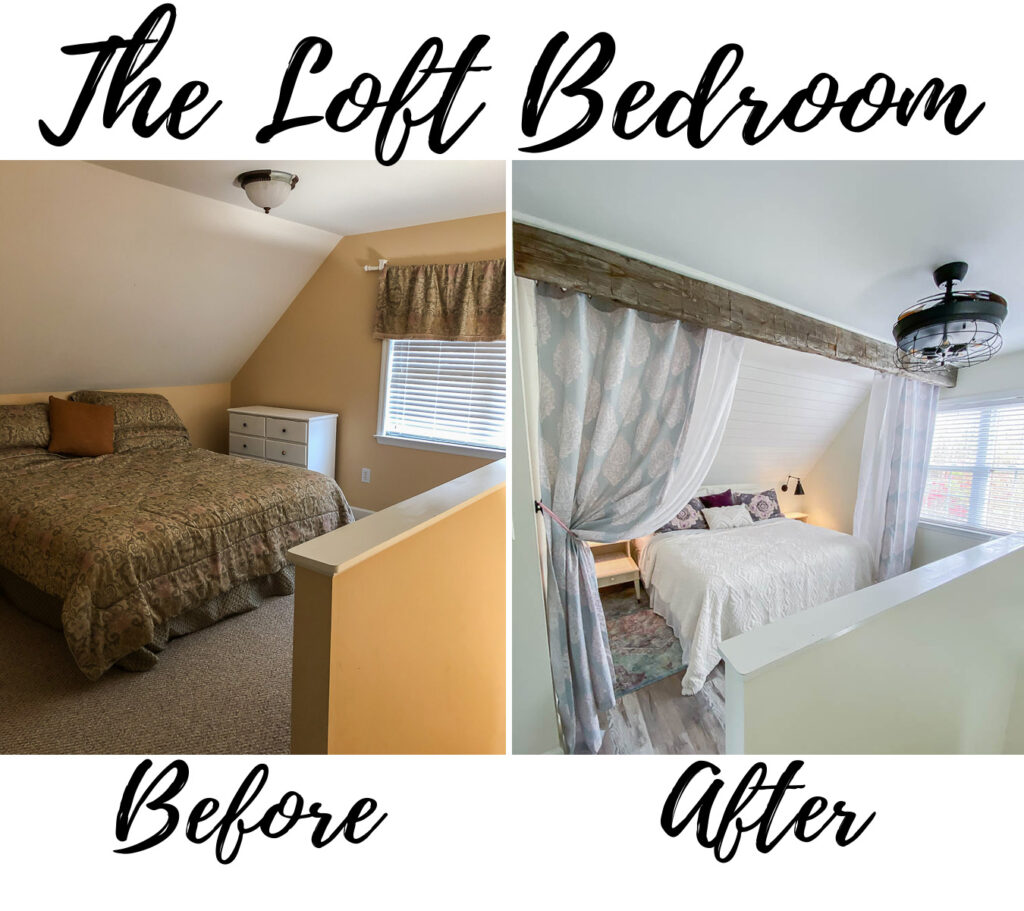 The loft is where Caroline will sleep, eventually. Hopefully, she will get out of my bed one day and sleep in her own. And when that day finally comes (dear Lord let it be soon), I wanted her to have a pretty, feminine space where she could feel like a little princess behind her canopy.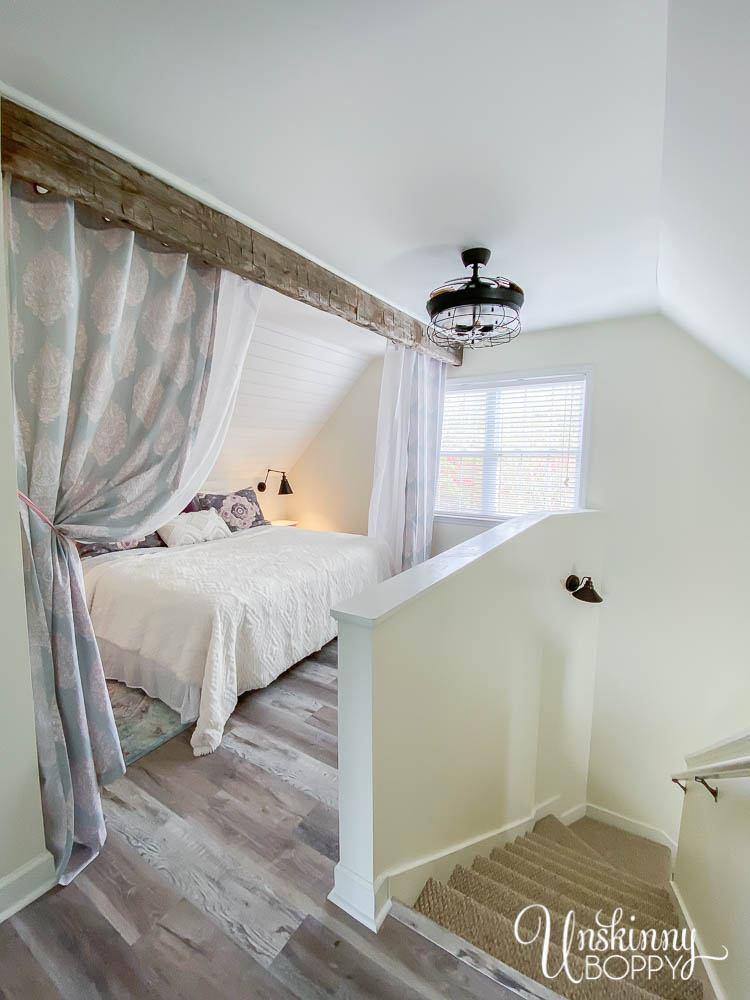 This space kinda stumped me for a little bit, but then I stumbled across this GORGEOUS master bedroom space by Liz at Love Grows Wild and knew that was what I wanted for the loft.
Liz created a box beam to enclose her curtain rods, but I got lucky and found this GORGEOUS hand-hewn wooden beam taken from an 1800s era house. A guy on Facebook Marketplace was selling these 14′ long beams for $100 each. I think it adds way more than $100 worth of appeal to the room, don't you?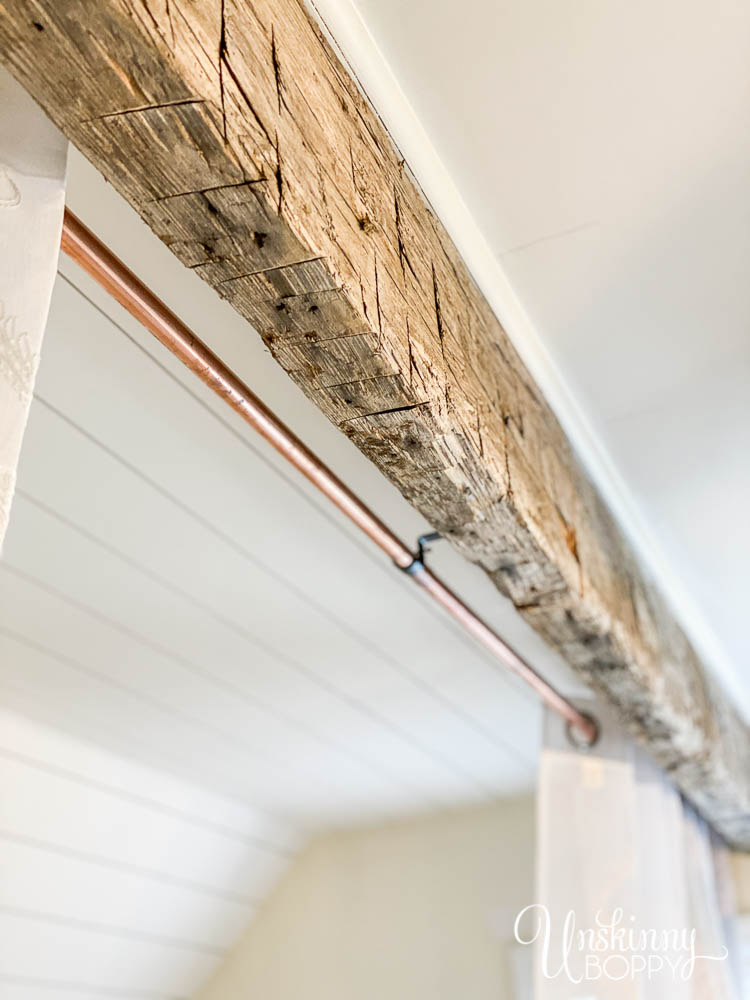 At the end of last year, we hired a carpenter named John with Ready Remodeling to come in and lay all new LVT flooring, paint the whole house and add the Shadowgap to the sloped ceiling in the loft. He and my husband attached this beautiful beam across the loft opening. Then we added this copper pipe as a curtain rod behind the beam.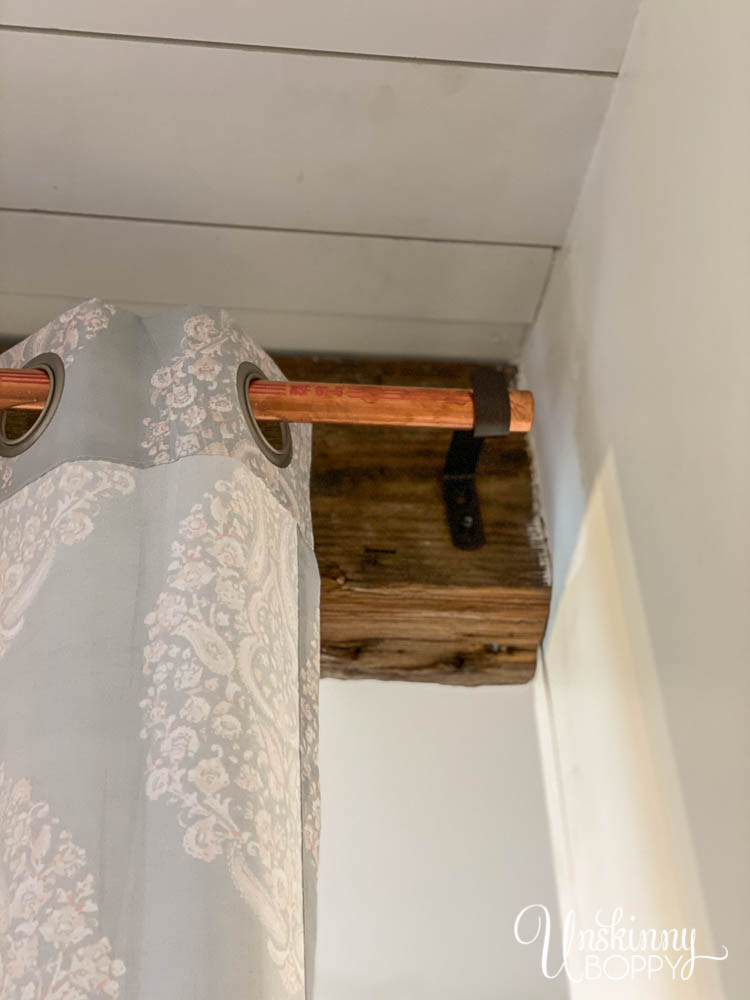 I wanted a ceiling fan that would be on the small side but still provide plenty of light for this part of the house. I found the perfect ceiling fan- it has retractable blades that fold in on itself when it's not turned on so it just looks like a regular light fixture. But crank it up and it puts out a ton of cool air! Very important in our hot Alabama summers.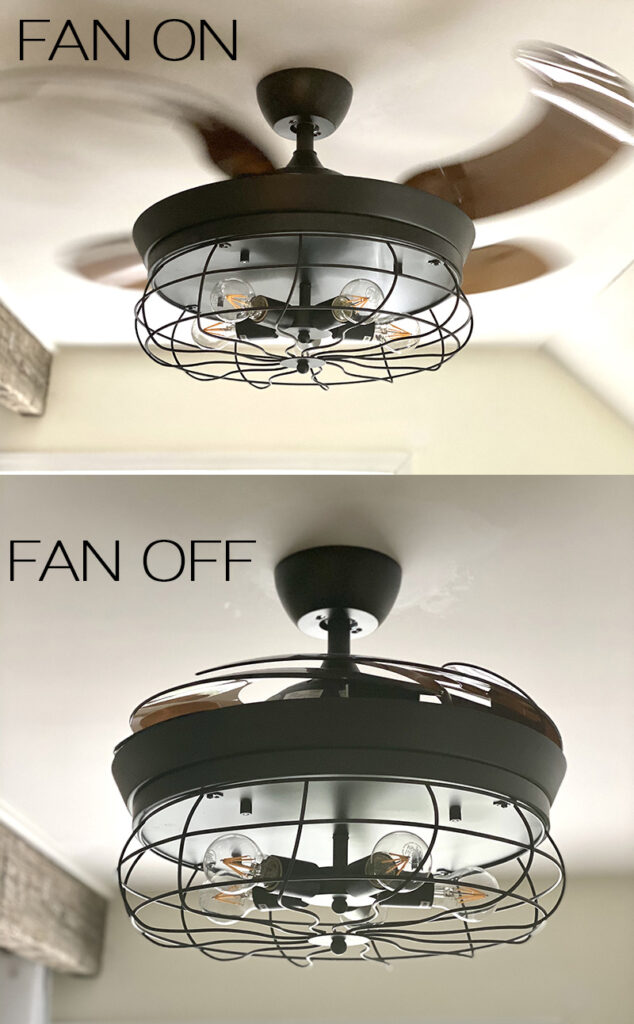 John also added new wall sconces on either side of the bed, with a switch right by the head so you can turn the lights off once you're snuggled in. And I mounted the ceiling fan remote next to it for even more convenience.
These PBTeen Bohemian Wonder shams have been calling my name for years but I finally pulled the trigger when I caught them on sale.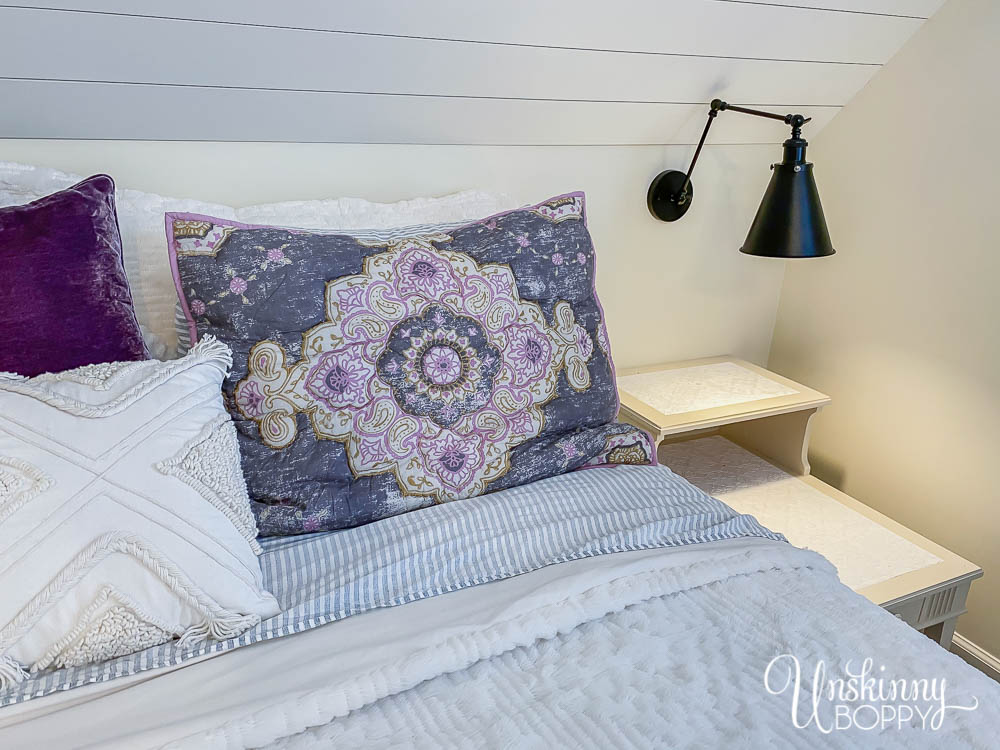 They coordinate perfectly with the aqua blue/ periwinkle boho style rugs I found at Wayfair. We found the little end tables for $20 each at a local antique store booth! Score.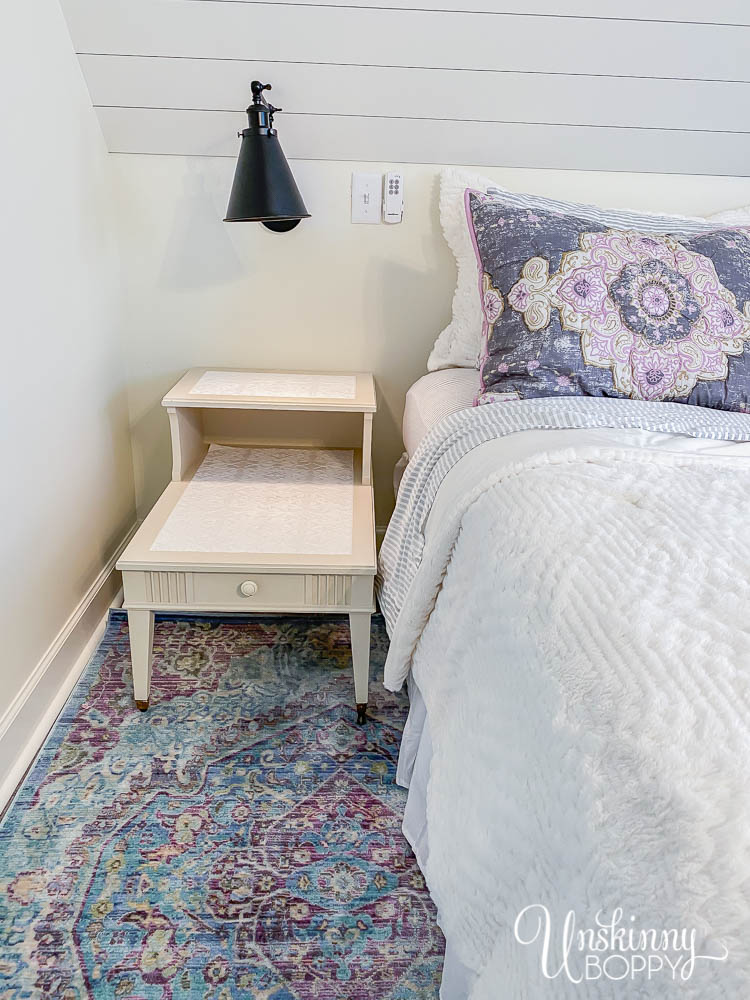 Now for the fun part- Closing the curtains! From the outside it really does give privacy for the bed, which is nice if guests stay over.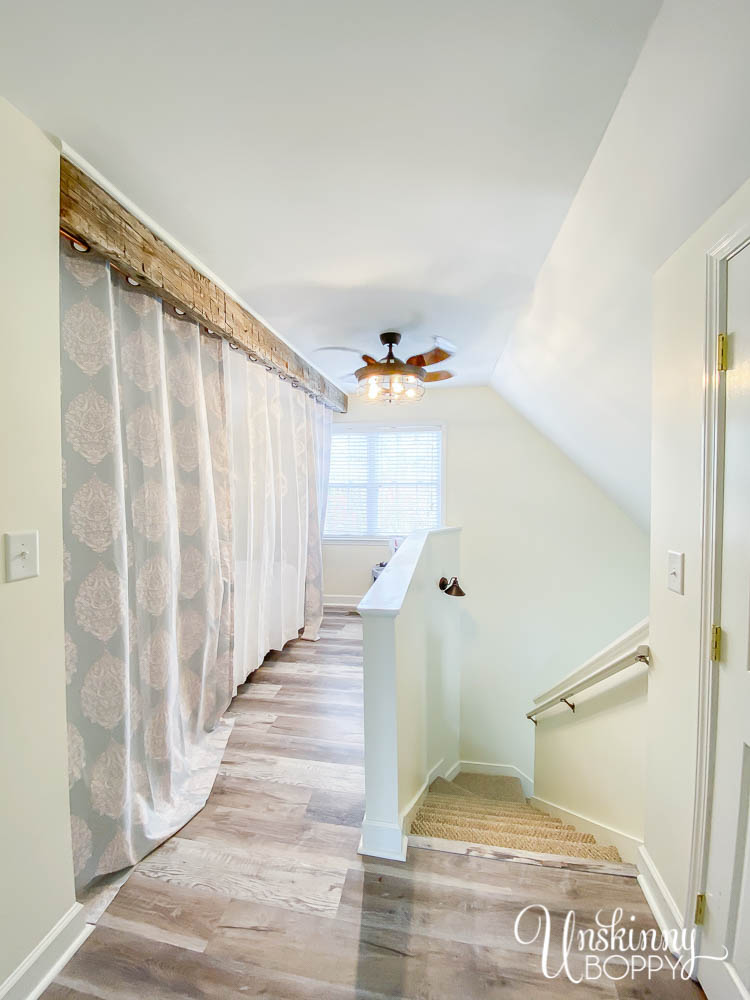 When the sheers and curtains are drawn, you feel like you are inside a bougie little tent– all nice and cozy with faux furs and a cushy King bed.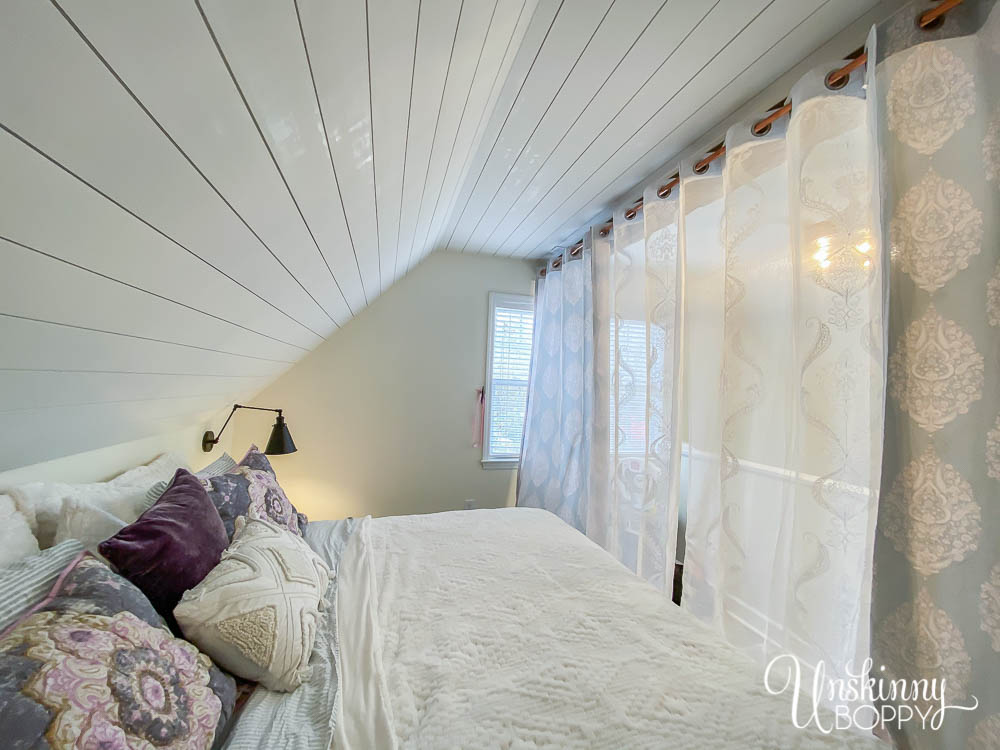 This weekend during quarantine we laid in here and played pretend campground with the kids, which is WAYYYYY more fun than playing actual campground.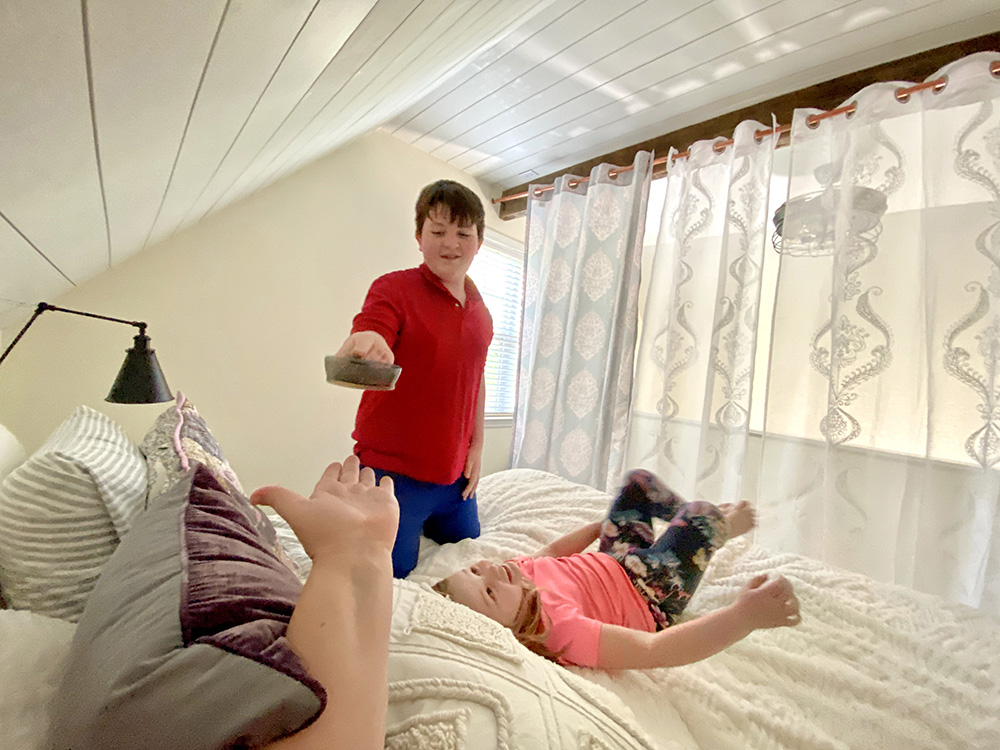 The kids cooked pretend food over a pretend campfire and we ate imaginary ice cream for dessert.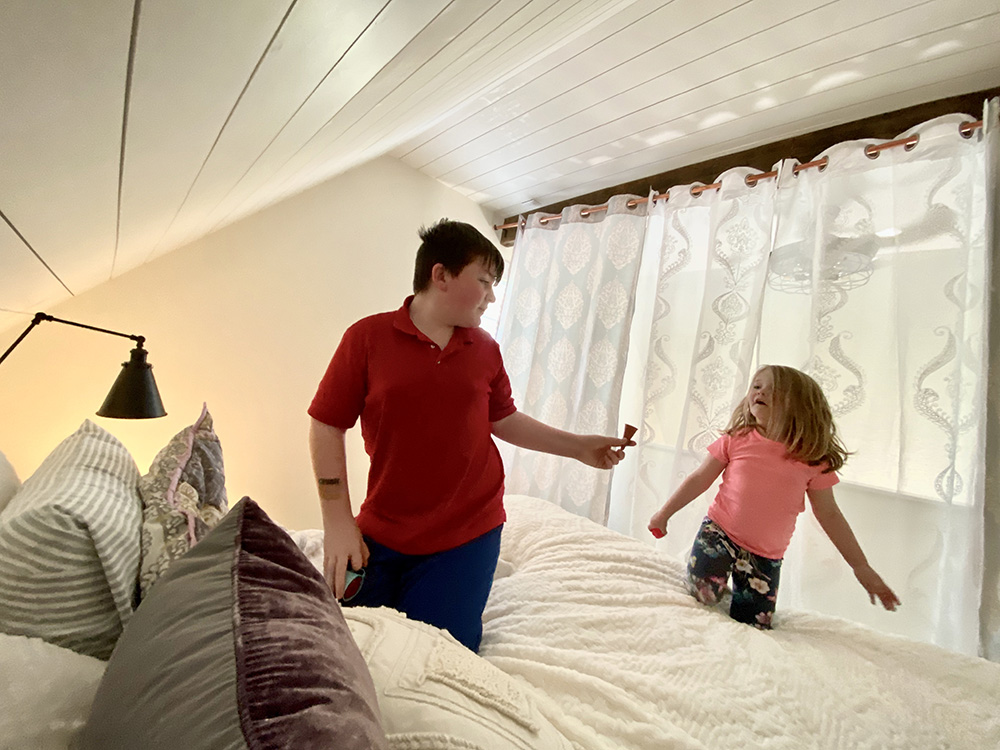 The greatest part?
It was the first time they had played together without fussing and fighting in WEEKS. That's the power of a cozy curtained hideaway when you've been cooped up together for weeks on end.
I hope you and your family are staying safe and well during this tumultuous time. Sending my love to you all!
---
Shop the Look