Here is an easy recipe to meal prep for a back-to-school breakfast idea. Make a bunch Bacon Gouda Breakfast Sandwich all at once so your back-to-school mornings will be a breeze.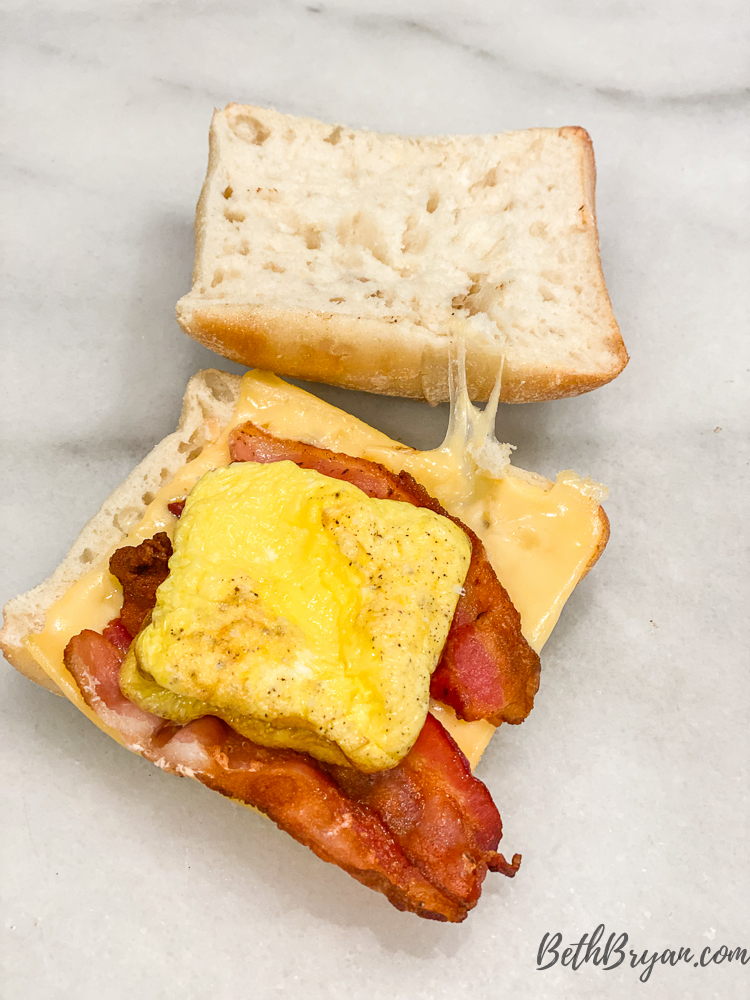 My whole family loves Starbucks Bacon Gouda & Egg sandwiches. We could eat them at any time of day, but at $4.00 a pop, they are not the cheapest thing you'll find on a menu. And now that school is back in session, we don't have time to wait in a long Starbucks line in the mornings.
In an effort to save time and money, I decided to meal prep a bunch of easy breakfast sandwiches that we can heat up in the air fryer on the way out the door and eat in the car.
With both of us working, one kid in middle school and another in Elementary, we are all headed in different directions at 6:45 am. Early mornings can be hectic, so I'm trying to make things as simple as possible.
If you don't have a Ninja Foodi Grill/Air Fryer then put this one on your Christmas list for sure! This airfryer has saved my day on more than one occasion!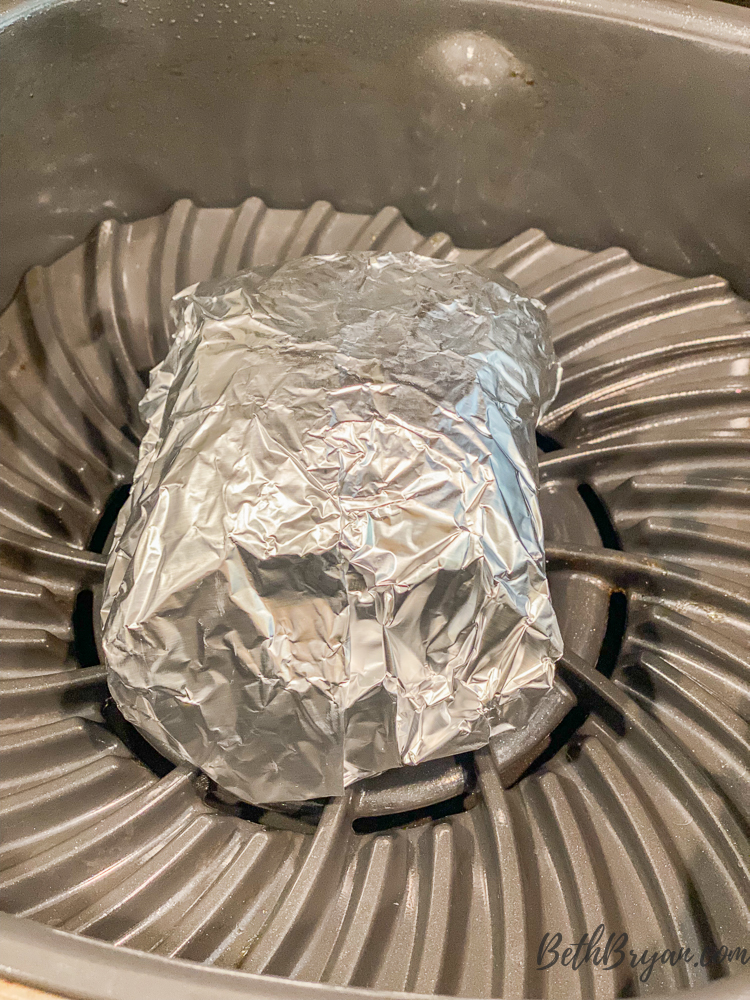 Bacon Gouda Egg Sandwich: Starbucks Copycat Recipe
Make a big batch of these Starbucks Bacon Gouda Breakfast Sandwiches for easy back to school morning meal prep!
Equipment
Ninja Foodi Air Fryer

Square brownie pan
Ingredients
12

eggs

1/4

cup

milk

1

tsp

salt

1/2

tsp

pepper

1/2

tsp

onion powder

12

ciabatta rolls

12

slices

gouda cheese
Instructions
In a large bowl, mix a dozen eggs, milk, salt, pepper and onion powder until well blended.

Pour egg mixture into a nonstick Pampered Chef brownie pan for individual squares or you can pour the whole batch into a greased cookie sheet.

Bake eggs at 350 degrees until cooked through- about 8 minutes.

While eggs bake, cook the bacon and drain grease.

Cut 12 sheets of aluminum foil big enough to wrap around 1 sandwich.

When eggs and bacon are ready, assemble the ciabatta sandwiches with 1 egg, 1 piece of bacon and 1 slice of cheese.

Wrap each sandwich in foil and refrigerate up to 5 days. You can write the type of sandwich and date if you are making different types.

To reheat, put the whole sandwich in the air fryer and bake for approx 2 minutes at 350 degrees.

If you don't have an airfryer, wrap sandwiches in plastic wrap or parchment paper and reheat in the microwave. Do Not Microwave Foil!
Watch my TikTok recipe video here:
Note: You can also use other combinations of ingredients to assemble. Use biscuits or English muffins instead of ciabatta rolls. Substitute cheddar or American cheese for Gouda, and use ham, turkey or sausage instead of bacon! The possibilities are endless.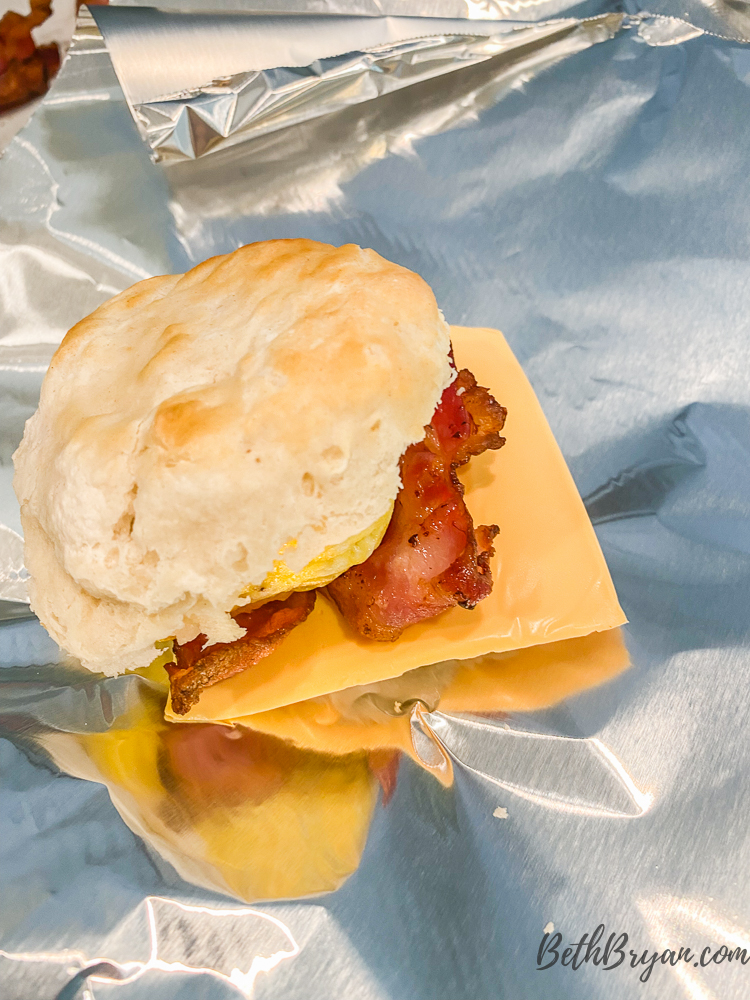 Your kids will love these, and you'll love how cheap and easy they are to make!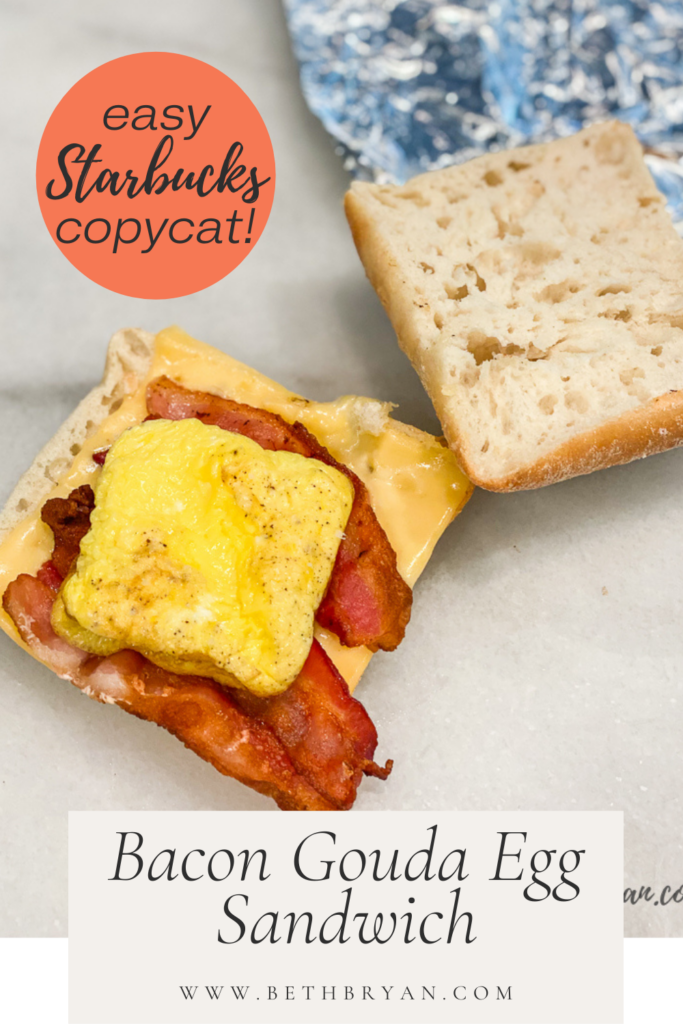 If you need more Back to School Lunch ideas, check out these posts: