A few months back I was perusing a local mill works warehouse looking for a new front door and bathroom vanity and other miscellany when I stumbled upon this Washington Monument statuesque piece of MDF.
It was unfinished, and just standing there calling out to me from the middle of the six panel hollow core door displays. I asked the guy the price of it, and he said $75. I thought about it for a while, called my husband and talked about it with him, got the usual "whatever you want to do" response, and finally decided to get it. I had a project in mind for it but I knew it would be some work. I asked the guy if he would take $60 for it, and he agreed. I got it at Lake Home Center in Calera if any of you local peeps are wondering. The dude said that it had been custom made for HPH home builders for use in their model home centers. I guess it held advertisements for them or something. Heck, the more I look at it the more I wonder if it is meant to be the top portion of an arts and crafts style porch column. Hmmm… Something like this?
Anyway, I brought it home and painted it with the same paint that I painted my Craigslist desk out in the sunroom. It has been sitting unfinished in my garage for quite a while waiting on me to bring my idea for it to fruition.
Inspired by all the great projects by writing my 2010 project review post and all the other creative ideas over at Rhoda's blog, today I finally made it happen.
I brought it inside (after much heaving and hoeing because that MDF is a BEAST!)
And I started nailing stuff to it. Random stuff that means something to me. Things that would normally go on a photo collage wall. I have never been able to pull the trigger on a photo collage wall for several reasons. One is that my husband dislikes too many holes in the wall. Another is that most of the ones I've seen are just too cluttered looking for my taste. I'm really trying to edit myself and scale it back these days. And thirdly, my sweet Granny had a photo collage wall of every one of her grandchildren–all seventeen of them–hanging on her living room wall my entire life. I will never ever look at a photo collage wall without thinking about all of my cousin's in their blue ruffled tuxedos from their early '80's graduation pictures.
So instead, here is my interpretation of a photo collage wall:
Read on to see how I arrived at this beautiful hunk of phallic photo displaying goodness.
The first thing I did was gather up all of my MOST favorite photo frames in my house, along with several other wall corbels and other wall things that meant something to me.
I layed them all out around the column and took a look at what I had and started eyeballing how to assemble it all.
I kept eyeballing and measuring until things started to creep up the sides in some fashion that appealed to me. Sometimes I stacked things up on my staircase to see how they would look. That helped me visualize it.
I guess if you wanted you could cut out paper shapes of each piece and pin them onto the column to see how you liked it. I don't have the patience for that so I just winged it.
Some of my favorite photo frames didn't have hangers on the back, only stands. To rectify that problem, I rigged up a loop of picture wire on the back to make a homemade hanger.
It worked great!
Once I got all my pieces nailed and screwed up there I stood back and looked at my work.
I was so proud until I went upstairs to get a coloring book for Garrett and saw this….
Whoops.
So I ran to my kitchen and got one of my Willow House platters and improvised….
Much better. I can live with that. No paint required.
Here is the view from my front door looking in:
And here is the view from my favorite blogging chair:
You also get to check out my new Christmas present storm door that Lowes installed for me a few weeks ago! I LOVE MY STORM DOOR!! Bring on the light, baby!
I made a point to only use my most favorite things, and shop from my house for this one.
I didn't want to buy anything new for this project. I just wanted to present my old things in a new way. It saves money but also makes you stretch your creativity bone just a bit. Nothing on this column is less than four years old. Some of it I have had well over TEN years. I can change out the photos in the frames to update it a bit and add to it if I want. But for now I'm really happy with the way it turned out!
So here is a huge thanks to everyone at the latest link parties for giving me the kick in the pants to finish this project! It has changed my foyer for the better.
Hope you find some new ways to present your old stuff this new year!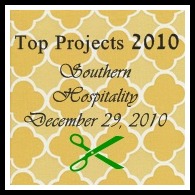 I've also linked up at Savvy Southern Style!