Rhoda at Southern Hospitality is having a link party featuring all of our biggest project accomplishments of 2010 so this is me linking up!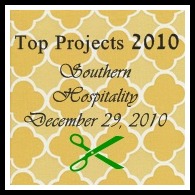 2010 was a HUGE year for us. We made some drastic changes in both the home and office department this year. In January we moved into our new office model center that we built. I got to decorate my new office, which included this easy architectural door decor:
Then in May we finally sold our old house after being on the market for 18+ months. What a blessing it has been to move into our dream home this year.
So let me start off with our BIGGEST accomplishment of the year…. moving from here:
To here:
Every single day I still pull into my driveway and just say, "Seriously? I get to live HERE??" We are so blessed and grateful for all that we have.
After the moving truck pulled out of the yard and we finished doing a happy dance we looked around and realized what a huge undertaking it was going to be to make this house feel like ours. Inside the new house has been a snail's pace for changes, but we are slooooowly getting there.
The first order of business was painting the master bedroom, bathroom and powder room.
The master bedroom went from boring beige…
…To a beautiful blue/green retreat using SW Retreat. 🙂

The master bath was changed from an outdated faux finish…
…to SW Connected Gray:

The powder room got the best makeover of all when the painters changed that hideous brown glazed paint that covered the hideous 90's wallpaper…
to flat SW Latte.
Over the summer we battled the Cloudiest Pool in America and wound up making the transformation from Baquacil to chlorine. I know this is not exactly classified as an interior home project, but let me say it was one of the most labor intensive projects that we accomplished this year so you better believe I'm going to include it here. Here is a time lapse of how much it changed during our conversion process: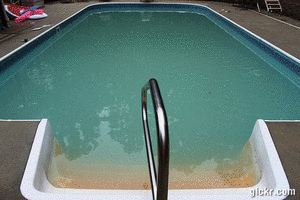 Once that was finished we moved on to the furniture. My handy husband repurposed this awesome coffee table using an old weathered door:
I decided to add some aqua to my life and painted this $50 dresser with robin's egg blue paint and some Caromal Colors toner.
From white:

To aqua!

I love the end result of this dresser, even if it matches NOTHING else in my house. And here is a PS… I finally got rid of the shoestring pull and got some matching ones at Lowes. If you look over behind the cute kid opening 1,001 Thomas themed Christmas gifts you can kinda sorta see them in the background here:
For my final furniture painting project that I completed this year we cannot forget the beautiful Craigslist desk out in my sunroom!
I really enjoyed turning this:

into this:

Yay for another DIY project completed!
I didn't DIY this one, but I still love it so I'm going to show off my new Nadeau bookcase here in this post since it is one of my favorite pieces in the new house.
Sometime around July I decided to rip the skirts off the sofas. Best decision ever:

In process of being ripped:

And here is the end result:

Speaking of end results, I FINALLY (finally finally FINALLY after buying four rugs online and returning half of them) found a living room rug that I can live with:
Wooooohooooo!!
I'm going to update this entry to say that I finally finished a project I've been wanting to get done for months! Here is it is:
CLICK HERE to read more about my photo collage on a column!
There have been many more changes around here that I haven't blogged about yet, including a new kitchen table and a new glass storm door that I got for Christmas! Maybe I'll get around to telling yall about those in 2011!
I hope you all had a very Merry Christmas, and please have a safe and happy New Year! Thanks for reading my blog. It makes me happy to be a part of an online community filled with lots of interesting and creative people. Reading your blogs blows my mind most days. I can't wait to read more on Rhoda's link party!
Love to you all!
---
For the complete Archive of my DIY adventures click on either of these posts:
2010 Year in Decorating Review
2011 Year in Decorating Review
I've also linked up at Savvy Southern Style! Join us over there for more great 2010 wrap-up parties.