This was the easiest curtain I've ever made, so I wanted to share the simple instructions on how to create a no-sew DIY curtain in about 10 minutes or less.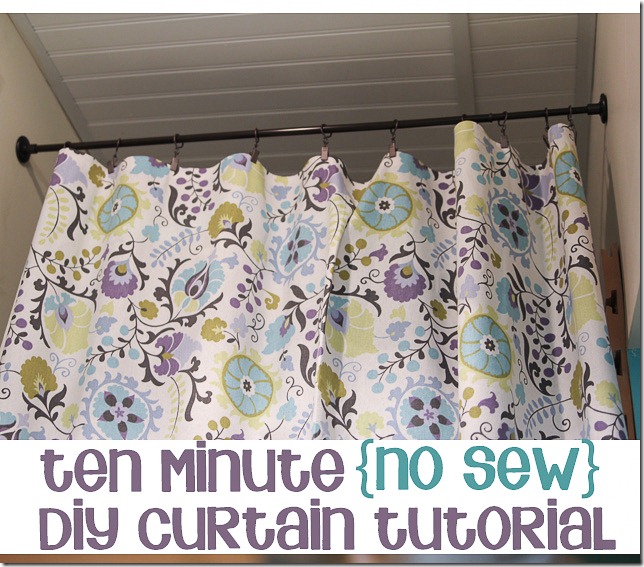 I made this curtain for my laundry room makeover to hide the unorganized shelves in a weird little corner nook. The first thing you'll want to do is measure the height of the panel that you will need.  Add about 6" to that height for overage, then go shopping for your fabric.  I bought this pretty periwinkle, aqua and green floral curtain fabric at JoAnn.  I don't include shopping time in my ten minutes or less, so don't be suing me for false advertising here, ok?
Here are the supplies  you'll need to make the curtain:
Water and a light colored clean, damp cloth
Steam iron (and ironing board)
Desired length of fabric (thicker fabrics like upholstery has a nice weight so it hangs better)
Stitch Witchery Fusible Bonding Tape
Levelor Classic Clip Rings
Tension Curtain Rod
Quick Instructions:
Hem the cut ends of the fabric following the instructions on the back of the box, or check out the photo tutorial below.
Clip hemmed end of fabric to clip rings
Slide rings onto tension rod and hang curtain at desired height.
And that's it!
For those of y'all who are more visual learners…. here is the Captain Obvious Pictorial.