Last year my good friend Jen Rizzo teamed up with Jeanne Oliver and a group of inspiring women to bring us the Creatively Made Home e-courses.   Going through these courses last year made me SO happy. 
Let me try to put into words what this series was like for me.  Imagine that you check your weekend schedule and realize you have absolutely nothing planned to do. Your house is already clean and your laundry is all folded and put away.  Then you realize the kids are staying over at Grandma's house and your husband already has plans to go out with some friends.  You have the silent house all to yourself, it's kinda drizzling and overcast outside, so that means you have a free pass to lay around on the sofa and do absolutely nothing, GUILT FREE.  You get caught up on all of your favorite magazines and tv shows and Pinterest boards. You scroll through your DVR To Do list and see that there is a marathon of Barefoot Contessa and vintage Martha Stewart Living episodes from the late 90's and early 2000's (the pre-incarcerated years). THEN you see PBS has put Bob Ross back on the air for that day only so you sit and watch him paint happy little trees while you eat your favorite snacks and enjoy your favorite drinky-drink.  Imagine the feeling you would get from having sacred alone time to just chill out and enjoy absolute selfishness that left you inspired and ready to go create something wonderful for yourself and your family.  It is blissful.  It is amazing.  It is calming and relaxing and inspiring and battery-recharging and when it's all over with you go back and rewatch a few of your most favorite episodes while baking homemade bread because you've been so inspired by the courses that you don't want the magic to end.  It is WONDERFUL.  That is exactly what the Creatively Made Home e-courses made me feel like last year.
And this year?  My dear friend Karianne from Thistlewood Farms is also added to the line up along with some SUPER talented ladies.  AND it's all about the Holidays.   So imagine everything I said, but add a crackling fireplace and a cup of hot cocoa and a cinnamon scented candle and Christmas lights twinkling in the background.  NOW imagine the feelings that will invoke.
Oh holy night…
I don't know of my current frazzled Back-to-School, buried under mountains of laundry self can contain my excitement over the anticipation of this upcoming event.  It is going to be AWESOME.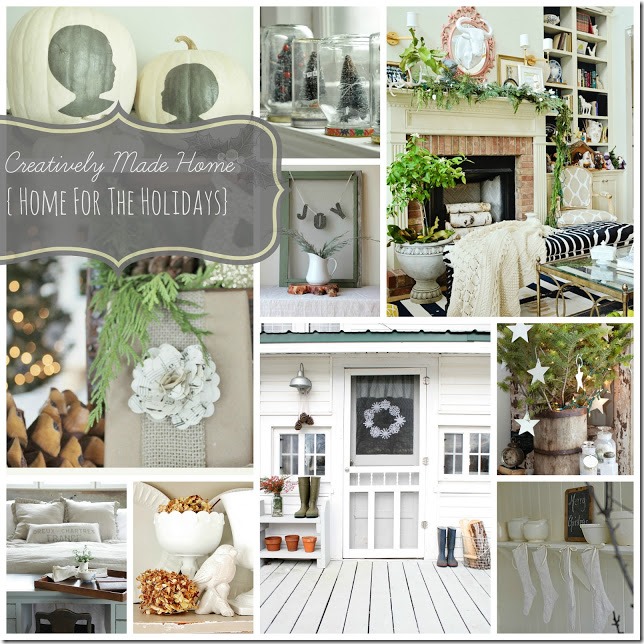 For THIS WEEK ONLY, you can buy your early bird registration rate for just $48.00. QUICK!!  Head over to Jen's blog to get signed up!  After that, the rate goes up to $58.00 to purchase.  The courses start on October 15th, and if you love reading this blog,  you will love watching this e-course.  If that collage of pretty Christmas décor above makes you feel happy, then magnify that feeling by a million and that is what you'll experience when you watch the videos and tutorials in these online courses.
Beginning October 15, 2013, this years Creatively Made Home e-course will include:
30+ project video courses from nine inspiration teachers (and some of my favorite bloggers) including Jen Rizzo, Thistlewood Farms, Jeanne Oliver, City Farmhouse, Life in Grace and more!
Printable Project supply lists and instructions including how-tos on cooking, gift-giving, decorating, and lots more
Digital recipe book of all the recipes shared in the courses
Course content will be available to you for a full year, so you can watch and rewatch the videos as you have time to fit in your schedule.
Get there early for this one, folks.  You seriously don't want to miss all of the information that is packed into these wonderful e-courses.  The recipes, the crafting, the home inspiration, the hilarious out-takes from Karianne's videos…  Oh I cannot WAIT!
So, now for the best part!  Jen Rizzo has given me the green light to give away not one, but TWO free passes to watch the e-courses coming this October.  To be entered to win one of these two spots please enter via the Rafflecopter right here:
Good luck everyone!  Now go mark October 15th as the day for your kids to be at Grandma's and your husband to go out with friends so you can enjoy it all guilt free!