Today I'm so thrilled to introduce you guys to Jennifer Carroll from Celebrating Everyday Life. Jennifer's smiling face stood out to me at Haven last year and I quickly became a huge fan of her blog with just one glance at her decadent outdoor dining table. After I picked my jaw up off the ground, I sent her a note and asked if she would share her home here this week. I'm SO glad she agreed. You're in for a real treat with Jennifer's holiday home ideas! Her eye is just impeccable.
---
Happy Holidays dear readers and friends of Unskinny Boppy! I am so excited (and a little nervous!) to be visiting with you today! I'm a huge fan of Beth's, as well as the other amazing blogs being featured, and keep pinching myself that I get to be part of the party!! YIPPIE!! Haven't the homes been beautiful?!

But, I'm getting ahead of myself, my name is Jennifer Carroll and I'm the chief cook and bottle washer over at Celebrating Everyday Life. As my blog's name suggests, I'm all about celebrating! Some days I share inspiring ideas for planning big events like holidays and birthdays, while other days I might just share a yummy (and easy) recipe or DIY project to make your 'everyday' a bit more festive!
Now that introductions have been made, let's begin the tour by stepping out onto my dream porch – which actually isn't mine but my best friend's, who kindly allows me to borrow it all the time! (Isn't she sweet?!) I thought it would be nice to have a cup of Hot Cocoa on our Holiday Home tour, so naturally, I had to create a Hot Cocoa Bar for you to enjoy!
There are lots of delicious fixings so please take a moment to mix up your favorite cup! My favorite is White Chocolate Cocoa with peppermint marshmallows and a candy cane thrown in for good measure, yum!  (Sidenote: How awesome would these vintage bar stools look among this setup? DRAMA!)
I've also set a table and piled lots of pillows onto the porch swing so we have a cozy place to chat on the porch before heading inside…
I love the mini chalk board signs on the chairs….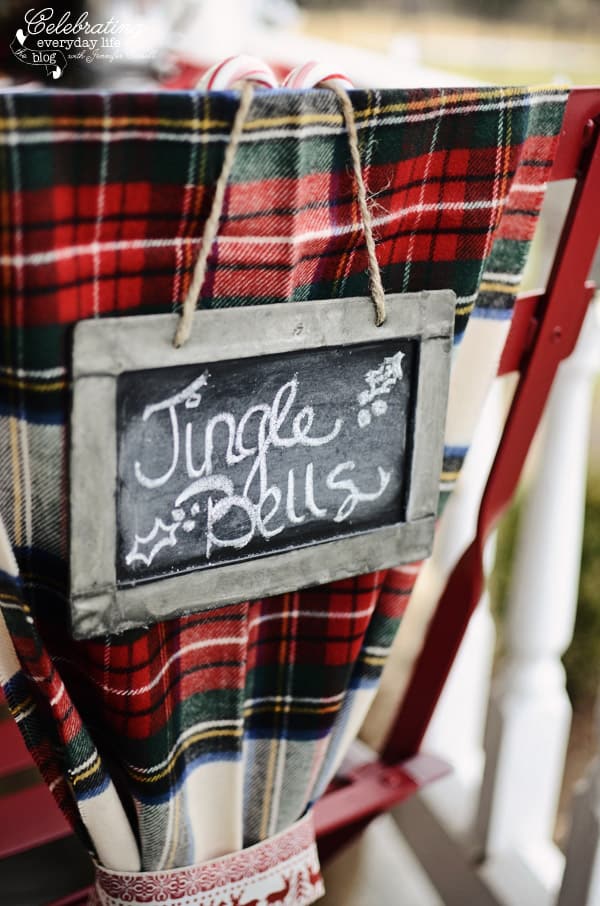 I also added some fun chalk art to the slate chargers on the table too!
Aren't country farm house porches the best?!
Ready to wander inside? Great! Let's go!
Let's pop in through my backdoor, shall we? That's the "family door" and I think treating guests like family is always a good idea…. So, when you come into this door the first thing you see is my Christmas tree, which sits in an area I fondly refer to as my "keeping room", just off my kitchen. Since my house has an open floor plan, and all the rooms flow from one to another, naming rooms is totally unnecessary but I love the idea of having a 'keeping room' and can't resist calling it that 😀
I've decorated my tree with a unique assortment of treasures that are all special and sweet to me. There are yards of burlap ribbon and strands of capiz shells masquerading as garland. Dozens of pheasant feathers, cones of vintage french sheet music, sparkly pinecones and acorns, paper medallions with silhouettes commemorating my daughter's first Christmas last year and even some "BELIEVE" glitter garlands nestled amongst the branches. Because I wanted my tree to have a bit of a 'Hunt Country' or 'Ralph Lauren' feeling, I've also added bits of a beloved plaid ribbon to some sparkly ornaments and tied a few zillion teeny-tiny trophies to the ends of the boughs. These miniature trophies tie in nicely with my "real" trophy collection on my mantel.
I love trophies and look for them everywhere I go. I have some in silver, others in gold, even a few cream ones!
To carry the burlap over to the mantel, I also made some over-sized bows for my boxwood balls and added another glittery banner!
In front of my fireplace, I've also displayed a few of my "favorite things" including this vintage typewriter.
My dining table is adjacent to my fireplace and I've kept the decorations on here a bit more neutral since there's so much happening in the background.
There are three sizes of mini cloches and lots of pinecones. I love this Santa which is the focal point of this "arrangement".
The dining room opens right up to the kitchen, so again, I like to keep things a bit more neutral in here too.
A red poinsettia in a vintage plaid picnic basket add a bright pop of red on the floor.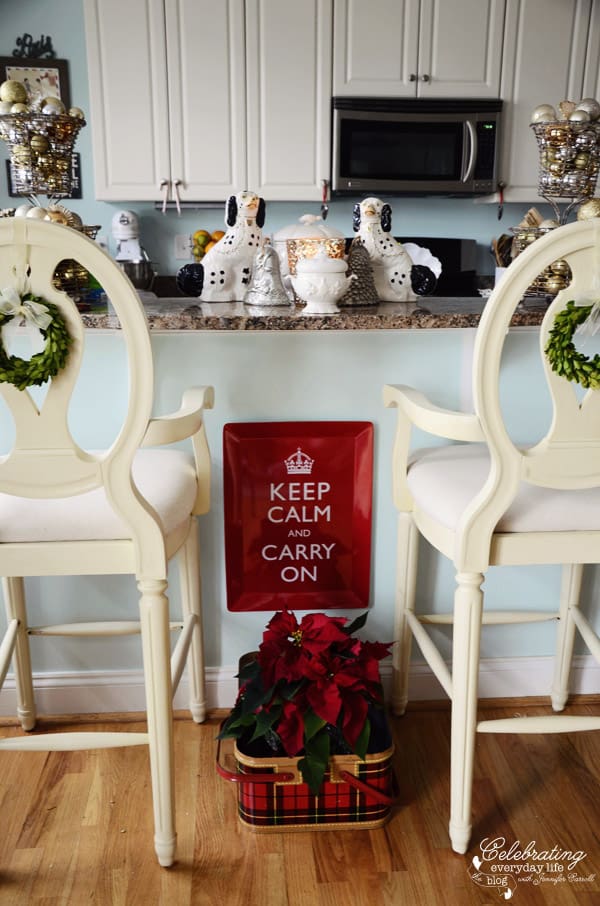 These mini boxwood wreaths on the back of my cream bar stools compliment the boxwood balls on my mantel.
I love these rustic tiered containers and for the holidays I've filled them with dozens and dozens of glass ball ornaments from the dollar store. There are gold ones, silver ones, big ones, small ones. I recently made a silhouette of my daughter for this year and framed it. Don't tell, but I plan to give some of these to the grandparents for Christmas!
Aren't these containers so fun with brimming with the ornaments? I've also mixed in a few paper medallions – just because I'm obsessed with them!
Around the edge of the planters I've hung a few favorite ornaments like this angel.
In my kitchen I also have a hutch I've painted with Annie Sloan Chalk Paint in Provence Blue. Again, a pop of red and a few silvery accents are all this piece needs to get into the holiday spirit!
This mercury glass heart ornament was a treasure I found at Old Luckett's Store in Luckett's Virginia…
This snowflake ornament is another Luckett's treasure – it's one of Miss Mustard Seed's German Glass snowflakes. (Shout out to all my fellow MMS fans!!)
A mini Christmas house in a cloche dome is nested atop one of my many white pitchers.
And a mini forest of silver wire brush trees round out the decorations…
I have a chalkboard accent wall just outside my kitchen and for the holidays I've turned it into a Christmas Countdown "clock" chalk sign.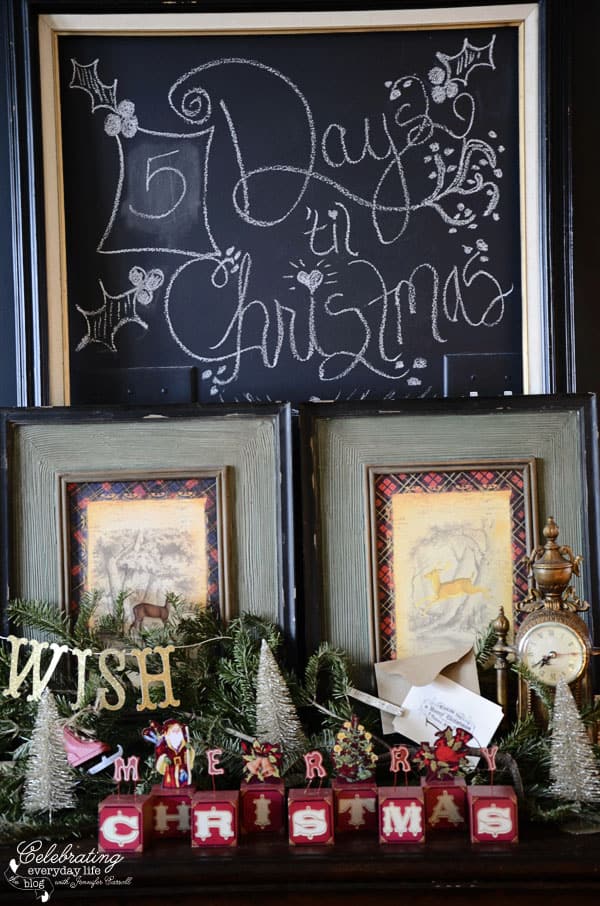 Thank you so much for visiting my home today, I am so honored to have had you. I hope you will pop into my blog and say hello too. And a special THANK YOU to Beth for hosting this fun and festive Holiday Home Tour and for inviting me to be a part of it! I don't know about you but I can't wait to see what KariAnne from Thistlewood Farm has in store for us tomorrow!
Happy Celebrating!
---
So…. you see now what I'm talking about, right? Was that hot chocolate bar DROOLICIOUS or what? Holy smokes, Jennifer! When can I get an invite? Your home is just amazingly beautiful. I feel like I stepped into a magazine.
If you see any photos you'd like to pin, please consider clicking over to Jennifer's blog and link to the original source.
In case you want to visit all the previous homes on the Holiday Home Tour this week, please click over to check them out! I promise you will NOT be disappointed.
Karianne at Thistlewood Farms
Celebrating Everyday Life with Jennifer Carroll
Kristin Salazar at My Uncommon Slice of Suburbia
Tara Lowery at Between You and Me
Cynthia Weber at A Button Tufted Life
and Roeshel from The DIY Showoff!
Thank you so much to all of these ladies for allowing my readers into their homes this past week.