Hiya!  My apologies for only posting like once since December!
I have lost my blogging mojo, guys.  After going SO hard on the blog in December I am just like a big useless noodle right now.  Maybe I'm in recovery mode from the most active blogging month of my LIFE?  Plus I have a three page To-Do list sitting on my desk at work right now that I've been slowly hacking away at all week. Things went KABOOM at the office after the New Year, and that combined with several coworkers coming down with the flu has made me a very busy little beaver. I promise I will be back soon! 
In the meantime, today I'm recycling and old post on the FOLK blog and telling all about how I upcycled my bright brass dining room light fixture with just a can of spray paint and some sweat equity.  I'd love for you to mosey on over and leave a comment, if you're feeling generous! 🙂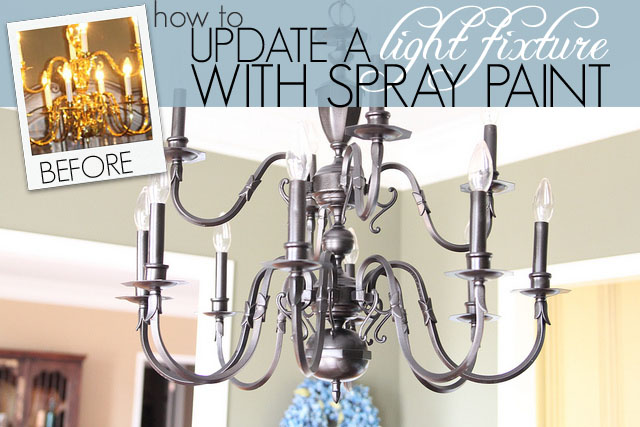 Also, I have some really exciting news to share!  I am so happy to announce that I am teaming up with some amazing talented bloggers to be a contributor for the relaunch of Celebrating Everyday Life Magazine!  AND, this time around, it will be in a print and digital version!  YAY!  If you haven't seen all the back issues of Celebrating Everyday Life magazine you are in for a big treat.  Prepare to be picking your jaw up off the ground from all the beauty that you are about to behold.  Jennifer Carroll's party designs and tablescapes just blow me away!  Remember that unbelievable hot cocoa bar that Jennifer showed off during her holiday home tour?   Just imagine a 90 page spread full of that kind of spectacularness!  Oh, it's gonna be great!  I'm so excited to be working with some of my best blogging buds on this one, too!  Along with Jennifer, I'll be joining Amy with A Nest for All Seasons, Jennifer Rizzo, Jill with Sew A Fine Seam, Karianne with Thistlewood Farm, Kelly with Eclectically Vintage and Lucy from Craftberry Bush.  I'm so excited!  Stay tuned for more info on the relaunch issue, due out in time for Summer 2013!