When I first purchased Lightroom I had a hard time using the program because it just wasn't very intuitive for me, but after I took a Lightroom class I now use Lightroom for editing every single blog photo that I post. I love using it for editing my interior photos because I can turn a dark, dreary picture into something magazine worthy.  I could go on and on about the benefits of using Lightroom over Photoshop, but I don't want this to become an essay.  Let's just say that I started out using Photoshop for edits, and now I use Lightroom almost exclusively.  Once I understood how to use it (and my photos improved to the point that I didn't need a huge amount of editing to make them decent) I never looked back.
I had a reader ask about my camera settings that I used for the pictures of my sunroom in the sweater lampshade tutorial.  Here are the settings that I shared for the photo:
1/100
ƒ/2.8
ISO 800
These were taken with my Canon 60D and Tamron 28-75 mm lens.
But I immediately realized that these settings were misleading, because most of the "prettiness" of my photos comes from editing.  As an example, here is the photo straight out of the camera (SOOC) before any editing:

Those are two very different looking photos, huh?  That's the magic of editing.
Editing is as much of an artform as photography, in my opinion.  You need a light touch, because over-edited photos look too fake for most people to appreciate them.  Lightroom makes editing so incredibly easy, and it's non-destructive, so you never have to worry about flattening an image and accidentally saving over the original.
Once I got my images imported, I chose this photo as the one to base all other photo edits from. When I have a batch of photos for a blog post, I choose one to edit first, then I create a preset of those edits and with the click of a button I can edit the rest of the pictures in that batch with the exact same settings, which is the biggest timesaver EVER.
Now for the edits! I don't intend for this to be a full start-to-finish tutorial on how to use LR, since that would make for an extremely long post. If you are familiar with the basics of it, though, here are the steps I took to edit this picture.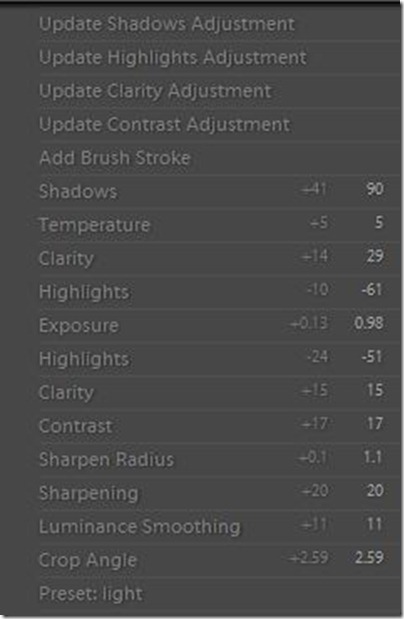 What does all that mean, you ask?
I'll try my best to explain my thought process above in plain English.
I began by lightening the picture.  Since I prefer all my house pictures to be on the high-key side, this pic was way too shadowy and dark for my tastes so I bumped up the shadows +41.
I felt the SOOC shot looked too "cold" so I adjusted the temperature +5 to be a bit warmer.  This is what made the beige sofa and the driftwood bowl pop out and look warmer.  It's a tiny adjustment so they don't look dirty.  Just warmer.   You can make whites look whiter with this tool, usually by decreasing the temp.
Clarity is something I adjust on every photo.  It sharpens the image and makes edges of things look crisp and clean. +14 for Clarity on this picture.
Because I had adjusted the shadows up so high, the windows were blown out (white) so I decreased the highlights by –10 to help eliminate some of the "an alien spaceship is blasting off right outside my window" effect.
Exposure got boosted by +0.13 to brighten up the photo overall.
When I raised the exposure the windows were too blown out again, so I took the highlights back down to –24 to balance some of that out.
Clarity gets boosted again one more notch to +15 from +14.  A +1 boost is not significant, but like I said it's my go-to edit so I find myself seeing how much I can get away with.
Boost the contrast +17.  This is another one of my go-to edits because it makes things "POP" in the picture.  Colors get more saturated and stand out better.
I sharpened the image to give it even further clarity.  +20 on the sharpness with a .1 sharpness radius.
Luminance Smoothing reduces noise in the photo.  If you find that a lot of your photos are grainy, this tool is your BFF.  You can also try lowering your ISO on your camera settings to reduce noise from the original photo, but this works well, too.  Removing the "noise" or grain in a photo gives everything a nice smooth, ethereal effect.  Use this tool with a light hand.  You want to reduce the grain, not make the room look like it's covered in a white haze. There is still a bit of grain in my final edited picture, but it's not that noticeable and I didn't want to blur anything too much.
Finally, I straightened out the picture.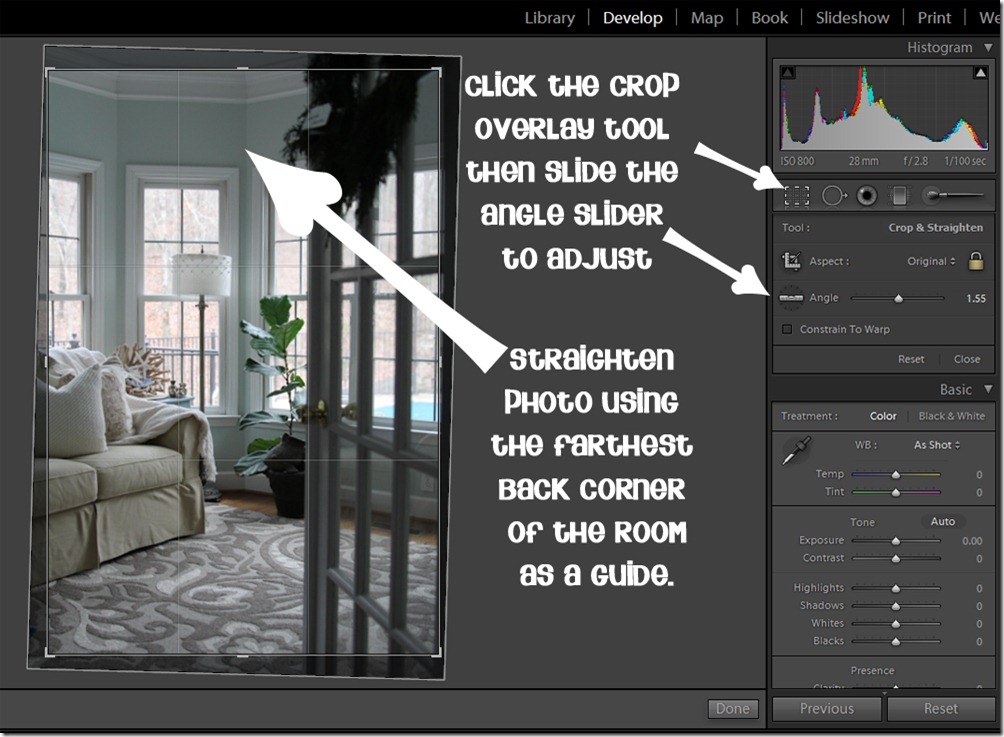 See how everything leans to the left in the original? I knew that the picture needed to be straightened, so I used the crop overlay tool and adjusted the slider on the angle until it was a bit straighter. When straightening interior room photos, I pick the furthest back corner wall as my angle perspective and get that corner straightened to as close to 90 degrees straight up and down as I can. If you notice in the "After" I actually went a little too far to the right, but that's ok. It doesn't have to be perfect. You use this same concept when drawing perspectives in Interior Design, because this is the way your eye sees a room. Don't use the foreground to straighten, always use a long, straight corner in the background as your guide. This LR straightening tool saves me so much time and frustration because I don't worry about getting my photos 100% straight on the tripod when I'm shooting. I know I can edit this later if it's crooked. When you straighten an image in LR it automatically crops out the edges of the picture that are not fitting inside the photo frame, so you never have to worry about getting any grey backgrounds included in your pictures like Photoshop sometime does.
I added all of these steps as a preset (titled "light) and used that preset for all of the sunroom photo edits in that post. Just one click and all those changes (minus any cropping) were automatically added to every shot after that.  This is my favorite TIME/LIFE SAVER!!  Another excellent timesaver in Lightroom is the batch export tool where you can select photos in a big batch and export them all at once with the same settings (pixel size, name, watermark, etc). I will get to that in another post, though!  My blogging life has gotten SO much easier since using Lightroom. I cannot recommend it enough.
So, there you go!  Here is the amazing result of all of those steps: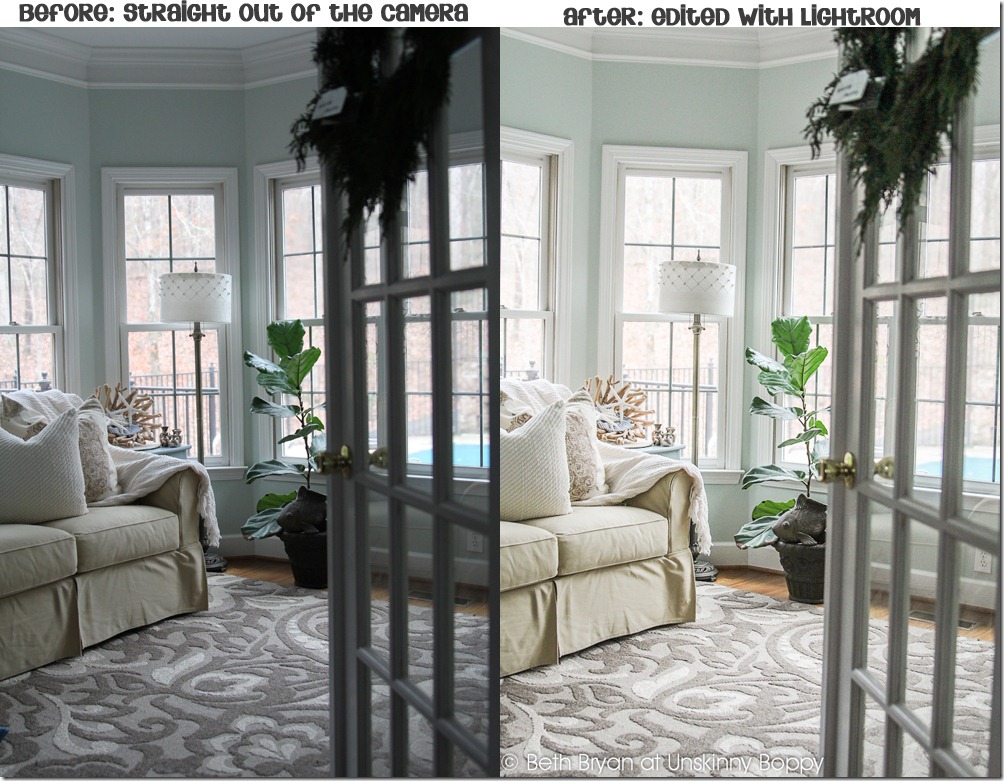 Now you can see why it's not exactly fair to just give the camera settings for a photo.  SO much of it depends on post-processing and edits that were made AFTER it came out of the camera.
I hope you'll try out a free trial of Lightroom and let me know what you think.  Once you understand that "Import" is the same as "open" and "Export is the same as "save", it's really not too hard to use!  Have fun editing!
Beth