Today I have a wonderful giveaway and scheduled post for River City Candle Company, but first I want to take a minute to express my heartfelt prayers for all of the people involved in the catastrophic explosion last night in West, Texas. My thoughts are with Boston and Texas this week after these two major events have occurred in the past few days. Please join me in praying for everyone affected by these two events. Thanks, everyone. Like I said after the Newtown tragedy, I try to keep my blog a happy, uplifting place to escape from the stresses of the real world. At the same time, I do want to acknowledge these events and express my concern for everyone involved. God Bless, everyone.
---
You know how you walk into some fancy home decor boutiques and a delicious smell permeates the whole place you think to yourself, "Man, I wish my house smelled as good as this store!"   Tell me I'm not the only one who does that? Well, I think I have found the answer to all my olfactory wants and wishes.  River City Candle Company has THE most delicious scented candles and tart warmer bricks that not only smell great, but they also come in beautiful packaging AND they are made from 100% natural soy wax, so they burn clean.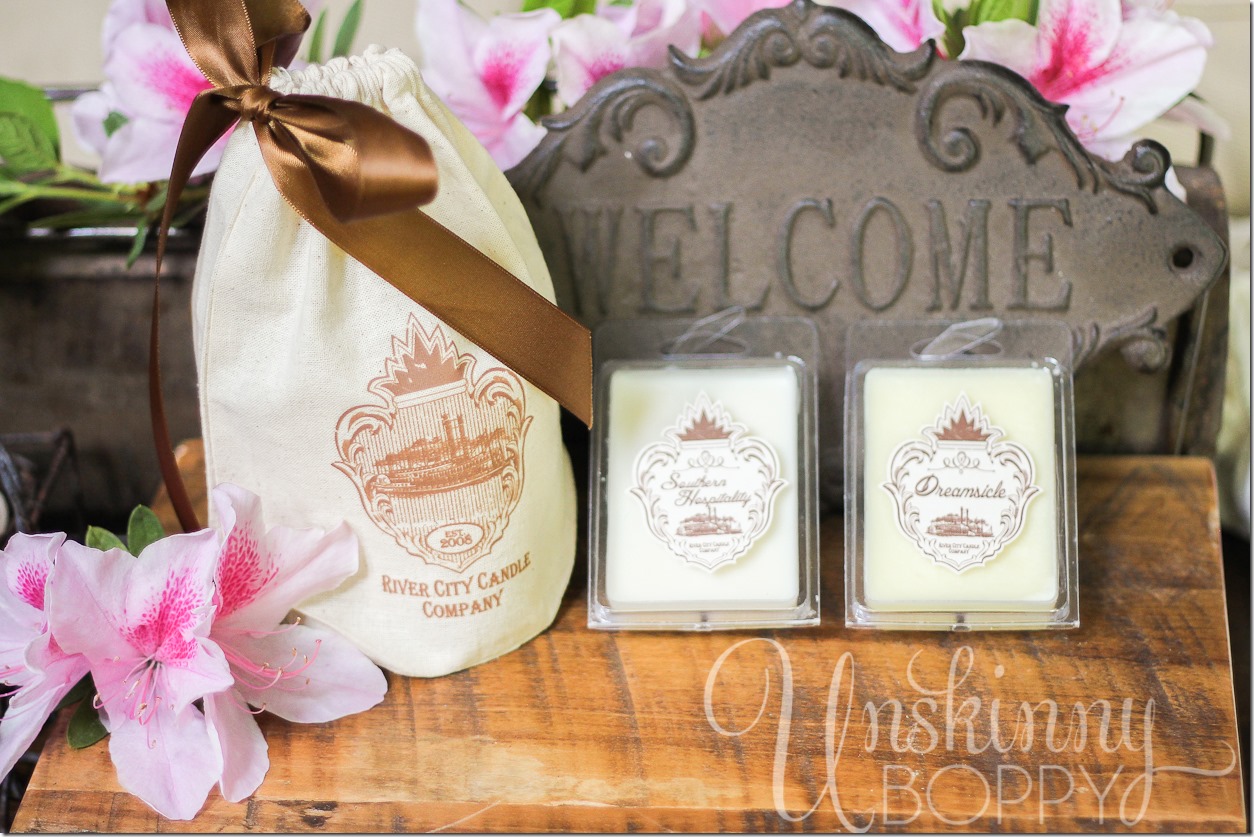 When Kathleen at River City Candles offered to send me her amazing product for me to review and giveaway, she asked me what type of candle scents I liked the best.  I replied back with "Cinnamon/ Vanilla/ Baked Goods/ Holiday smells".  She totally NAILED it when she sent me a Williamsburg scent, which smells unbelievable.  I wish we had scratch-n-sniff computer screens so you guys could experience this heavenly smell.  It is like walking into a Christmas boutique in the middle of Colonial Williamsburg right after the pretzels and pies and cookies come out of the oven.  Amish sleigh bells might start ring-ting-tingling when you light this candle.  It's THAT good.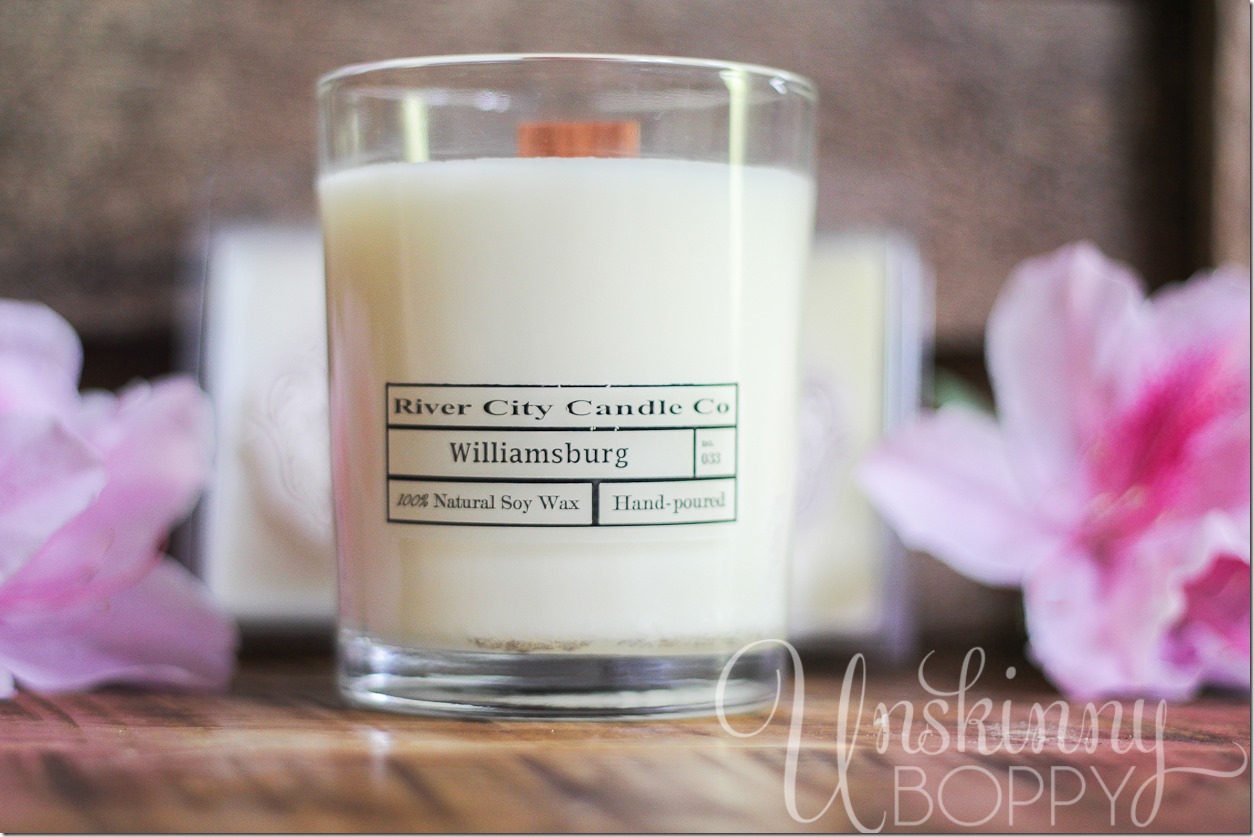 The two tart warmer wax melts I received are Southern Hospitality and Dreamsicle.  The Dreamsicle one smells exactly like you'd image- a creamy orange Dreamsicle on a hot summer day.  It's like a time machine that will transport you back to the Ice Cream man's truck holding a stick of dripping orange ice cream.   Southern Hospitality is another one of those boutique fragrances with hints of brown sugar and pecans.  OMYUM.  Have you ever take the candy factory tour at Preister's Pecans in Fort Deposit, Alabama?  That is what this candle smells like.  Gooey Pecan pie filling and other deliciousness.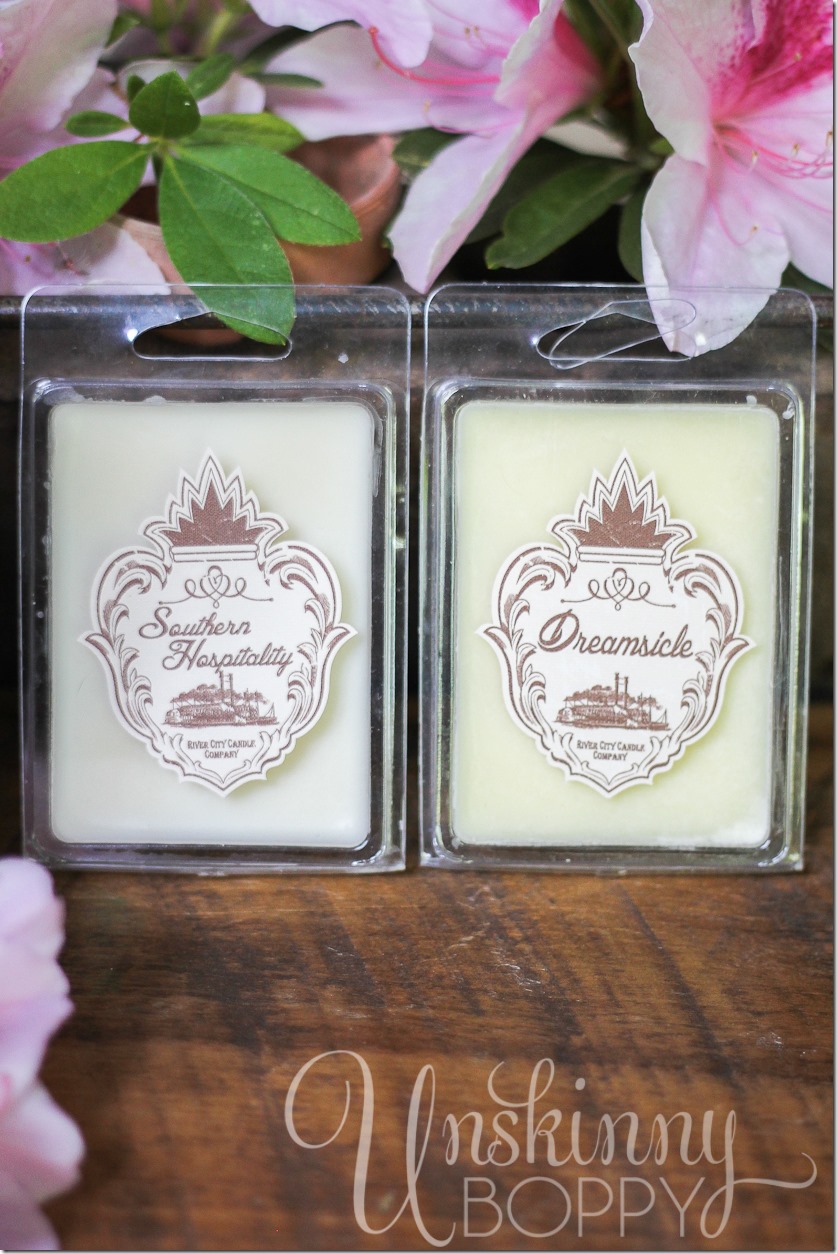 Besides the fact that they arrive in a gorgeous cotton bag with a brown satin ribbon, you might have noticed something else a little different about these candles.  Instead of a wick, River City Candle Company uses a thin stick of wood!  How cool is that?   All candles have wooden wicks that are purchased through a company that practices safe sustainable forestry.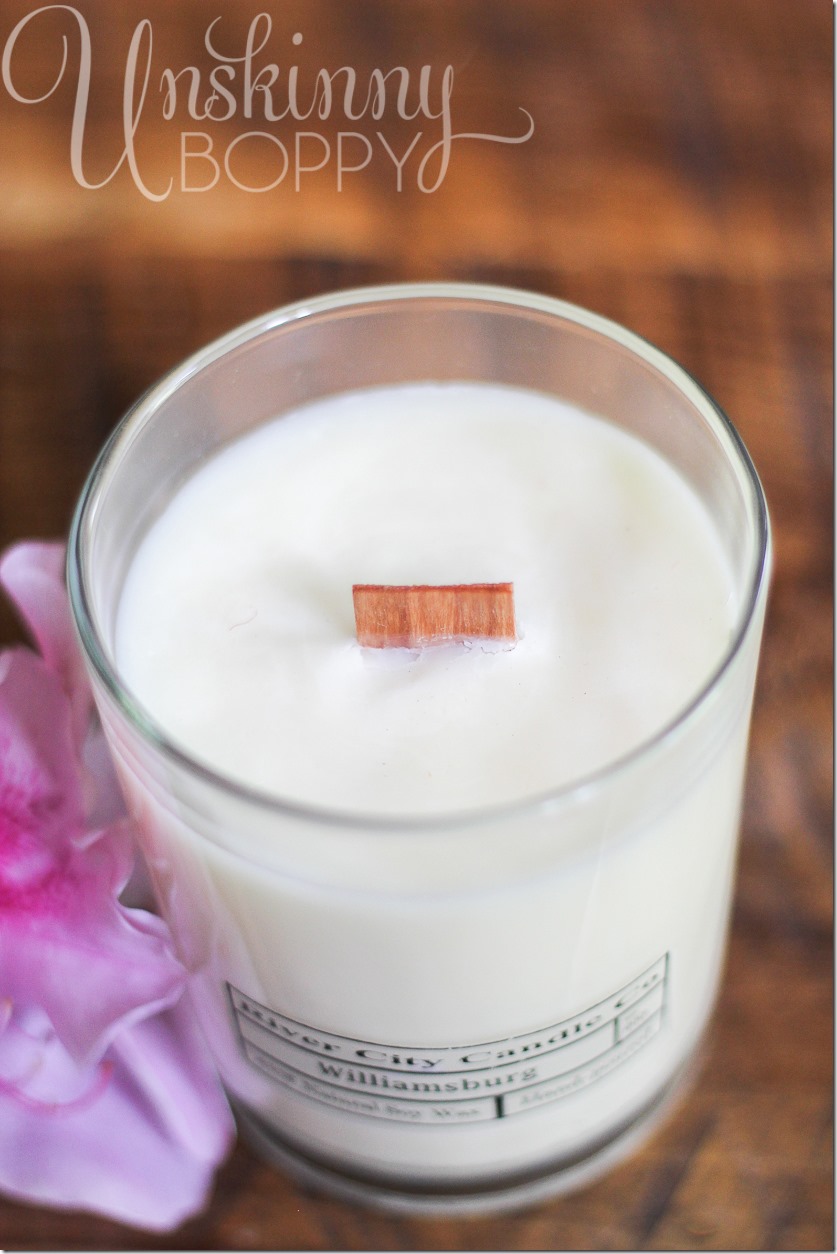 I have never seen a wooden-wicked candle before, so I thought this was very unique!  Plus, they put off more light than a regular wick, and they don't bend over and get lost in the wax like fabric wicks will.  It took me a few tries to get it lit, but once it was lit it stayed lit for an hour until I blew it out.  Loved this wooden wick!
It's official, I'm hooked on River City Candle Company and their amazing soy candle scents! I also am proud of the fact that these are made in my home state of Alabama.
Since I love giving a unique candle as a gift, these are perfect for every occasion.  With Mother's Day coming up, how about filling a gift basket of these pretty candles and wax melts for your mom, mother-in-law or grandmother?  You can order from the River City Candle Etsy shop, or enter the giveaway and hope to win big!  Just be sure to place all orders by May 5th in order to receive them in time for Mother's Day. 
I'm excited to offer this giveaway to you today from River City Candle Company.  Trust me on this- you're gonna want to enter this one! The giveaway is open to anyone in the US or Canada age 18 and up. Prizes in the giveaway are to be determined by River City Candle Company but will equal approximately $50 worth of product.
Good luck, y'all!
---
Disclosure: This is a sponsored review and giveaway for River City Candle Company.  All dramatic claims of sleigh bells and ice cream trucks are my own.   These candles will not conjure up any Amish horse and buggies, but they will make your house smell really great.