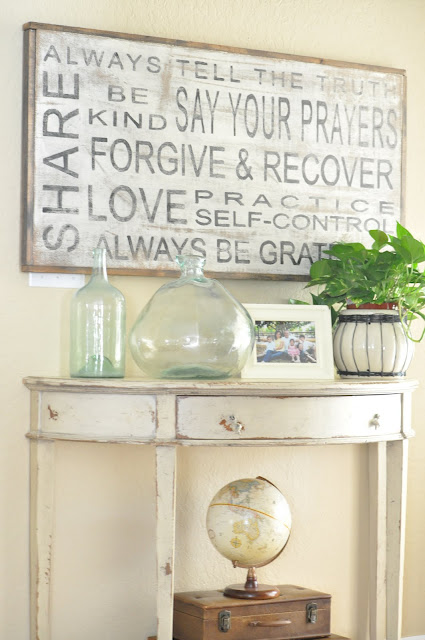 Hey friends! Welcome to the time of year on the blog when nothing creative seems to be able to emerge from my hands or mouth. That's right… I'm officially in my annual Springtime blogging funk where I can no longer be trusted to be entertaining, so I am not even going to try. When the weather is perfect and my flower beds start calling my name, I have to answer the call.  I am taking some time away from the computer to actually live my life for a while so that I can come back here and blog about it later.  What a novel idea, huh?
In the meantime, I figured you guys wouldn't mind if I gave away some REALLY cool stuff to decorate your home, right?
Right.  So, let's get to it…
Raise your hand if you're a sucker for gorgeous, hand-painted signs with sayings on them that speak to your heart and spur you into taking some action in your life.   I have been in love with my Beatles quote for a few years now, and it's still guilts inspires me to try to be a little bit more awesome every time I walk down my staircase and look at it.
So when Tara from Between You and Me offered one of my readers a chance to win one of her gorgeous custom hand painted "Family Rules" signs, I jumped on it. I have admired Tara's signs for a long time!  In fact, I pinned this sucker a while back hoping to try to DIY one myself, but yeah… that ain't gonna happen.  Maybe one of my Family Rules should be "Get off Pinterest and actually DO something." 
These signs are 4 foot wide and 2 feet wide, and they are fully customizable if you order from the Between You and Me Etsy shop. They also have some of my favorite bible verses, lyrics from hymns and just plain old happy sayings in the shop.  Please take a browse and see what I mean.  Imagine what an amazing gift thjs sign would make for Mother's Day (better hurry!) or Father's Day?  This week, one lucky person is going to win a Family Rules sign, but the rest of you can take advantage of 10% off in their etsy shop all through May with the coupon code UNSKINNYBOPPY. 
Please enter the Rafflecopter below to be entered to win.  Giveaway will end at Midnight on Tuesday, May 7th, so hurry hurry!