Better late than never, that's what I always say.  I attended the Haven Conference in Atlanta two weeks ago where 350 bloggers and brands converged on the Grand Hyatt Buckhead for a long weekend of incredible sessions and girl time. I got to meet some of my very dearest blogging buddies for the first time, which made me so happy I literally cried like a baby at one point.  Actually there were TWO points during the conference where I lost my composure and bawled my head off.  I'll get to that in a minute.
I arrived a day early to hang out with these beautiful ladies and have dinner at Maggianos.  Talk about a fun table.  I've got lots of love for these girls.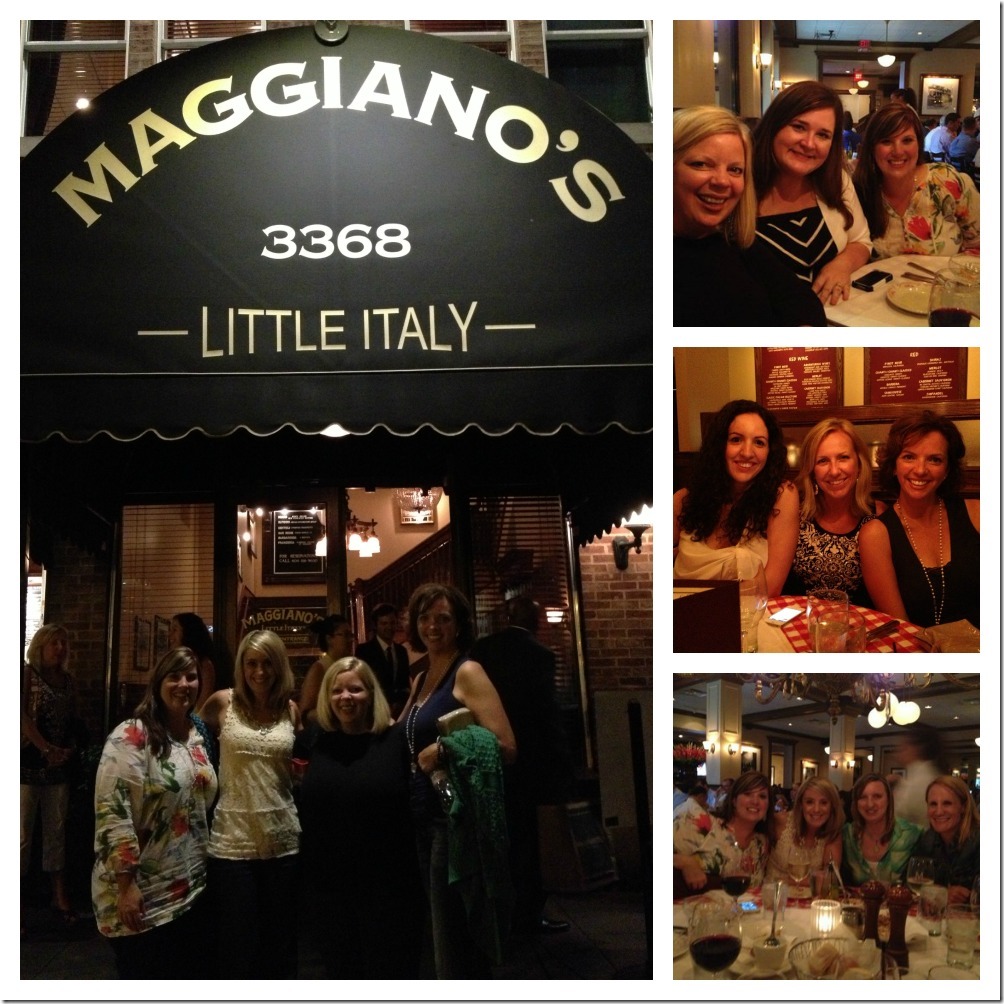 From left to right: Heather from At the Picket Fence, Jessica from Four Generations One Roof, Brittney from Pretty Handy Girl, Holly from Storywood Designs, Kelly from View Along the Way, Kim from Sand and Sisal, Laura from Finding Home and the always amazing Karianne from Thistlewood Farms.
My roommate Dusty arrived later that night while we hung out in the lobby chatting with a big group of bloggers.  Dusty was exhausted so she called it a night, but I had promised Brittney I would help paint a piece of furniture that was going to furnish the Habitat House later that weekend.  I headed up to her hotel room and helped her knock out a little nightstand with some paint.
Photo from Brittney's instagram
I painted it Duck Egg Blue while Kim and Jessica modpodged the scrapbook paper on the front.  It turned out so cute!  I enjoyed that tiny contribution to the #gmchta Habitat House furnished by my DIY blogger friends from the Longest yardsale.
The next day began with some Swag Bag stuffing.  We joined the Haven team downstairs and helped stuff 450 swag bags full of all the Haven goodies.  I seriously got dizzy at one point from circling that table around and around a bajillion times.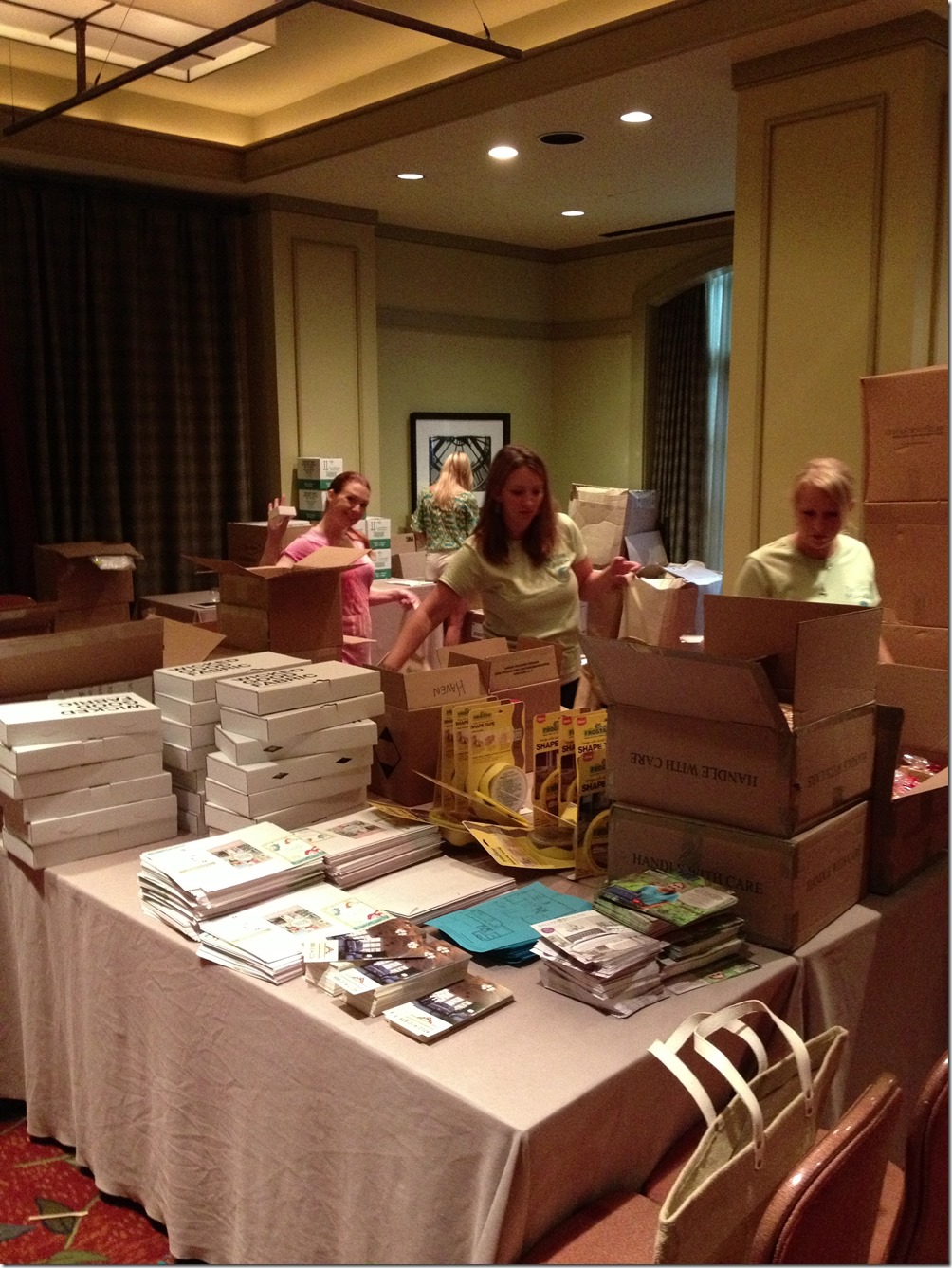 Dusty captured our assembly line on film. We were like a swagbagging MACHINE.   
When it was all said and done… THIS.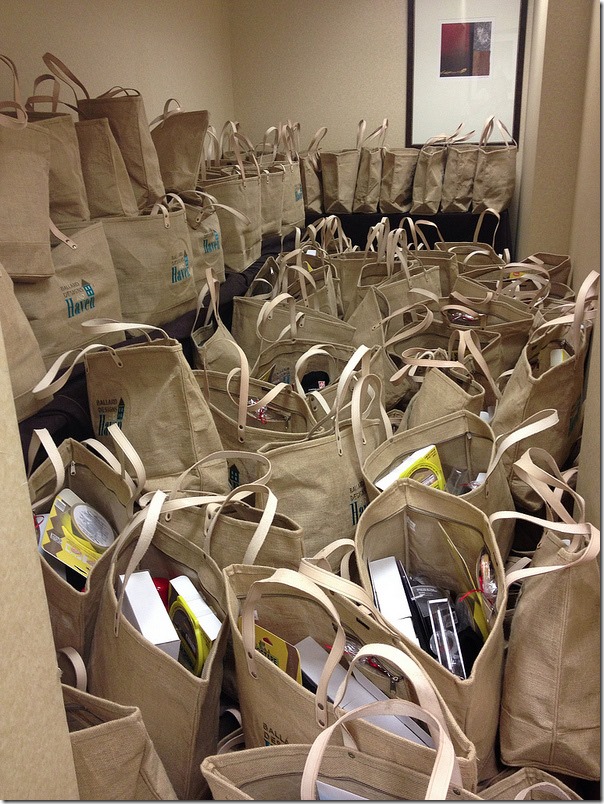 Picture stolen from Chris at Just A Girl
After all that swagging we were pooped, so we refueled with an excellent lunch with a whole bunch of fun bloggers.  After lunch we made a quick trip to Trader Joes to stock up on some essentials for the weekend, and then I realized that I had accidentally under packed for this event and needed to go shopping.  Luckily for me, I stumbled upon the biggest and best plus size department that I have EVER SEEN right down the road at the Macy's in Lennox Mall.  I was in big girl heaven, and scored two dresses that I loved!  I ran back to the hotel and got dressed for the cocktail party that night, which took place in the Japanese gardens.   I was so happy to finally meet Kelly from Eclectically Vintage and her feisty self.  Then, I turned around and spotted Tiffany and Sarah from Offbeat and Inspired, and I LOST it.  I cannot begin to explain the connection that I have with these two girls.  We have been through SO MUCH together since meeting online last fall.  Tiffany and I have spent many a late night facebook therapy session together, so let's just say I feel like they are my long-lost little sisters.  Laying eyes on them for the first time and seeing how beautiful they are in person just sent me into a sappy tail spin that I can't really explain.  I'm a cryer.  I cannot help it.  So, on top of the sweatiness, I was also wiping tears and mascara and feeling like a crazy person for crying just from meeting these girls.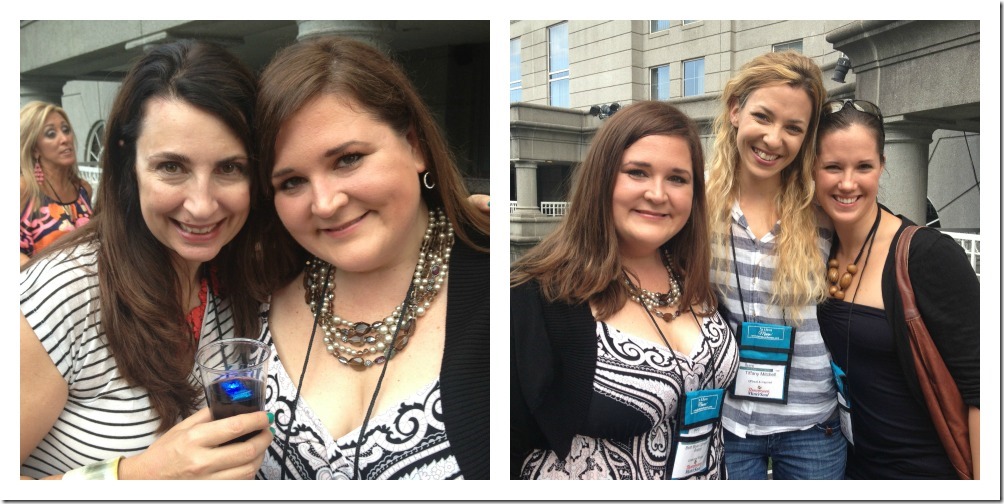 But, a little smoochy-smooch from Dusty made it all better…  I'm betting that was a salty kiss.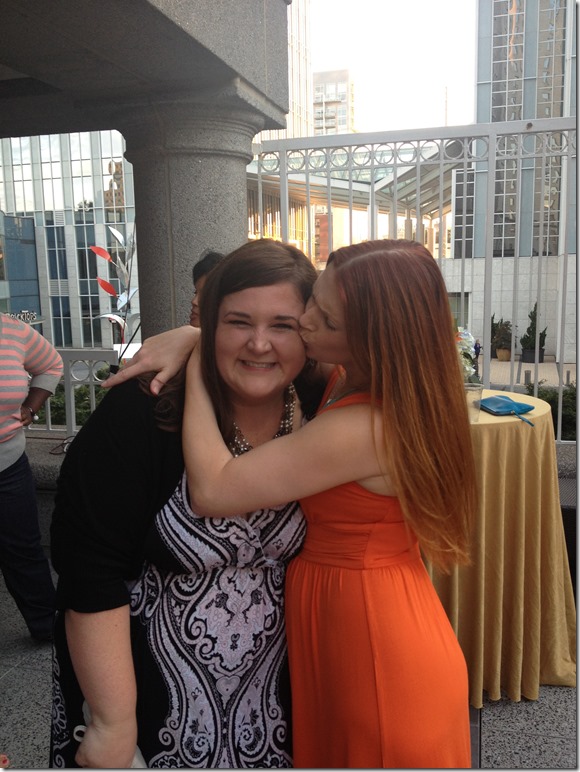 Now y'all, I've got to admit something here.  I consider myself to be an extrovert, but there are times at social events like this one when being "ON" for so long wears me slap out.  When the party was winding down I was feeling WAY overwhelmed from all the energy and emotion it took to work my way through that cocktail party, so I turned down a few offers for dinner (thanks to everyone who invited me!)  I honestly felt like I needed a time out, so I knew I needed to find a small group of people to hang out with that night.
These ladies right here turned out to be exactly what I was looking for… 

Tiffany, Sarah and I joined Diane from In My Own Style, Jenna from SAS Interiors and Cindy from My Cottage Love for some fun dinner convo and drinks at a nearby Cantina restaurant.  One of my goals at Haven was to hang out with bloggers who I have not had a chance to meet in the past, and this dinner was proof that I need to do that more often.  I absolutely loved all of these ladies!!  How sexy does Cindy look in that Porch hardhat?  (Excellent photobooth, btw, Porch.com!)
That wrapped up the first night of the conference, and there were still three more days to go!  There is no way I'm going to be able to squeeze it all into this one post, so I'll be back soon with recap of the next few days! 
TO BE CONTINUED….