So much happened at Haven this year that I cannot even begin to recount it all, so instead of finishing up the play-by-play post from last week I thought I would hit the highlights and tell you about some of my most favorite things about the Haven conference this year.  If you wanna hear all about the sessions I attended and how I overslept and missed the Keynote address, you can check out my friend Dusty's blog.  We attended exactly the same sessions this year, and she was much better about documenting her takeaways from each one than I am!
Here are the highlights for me this year: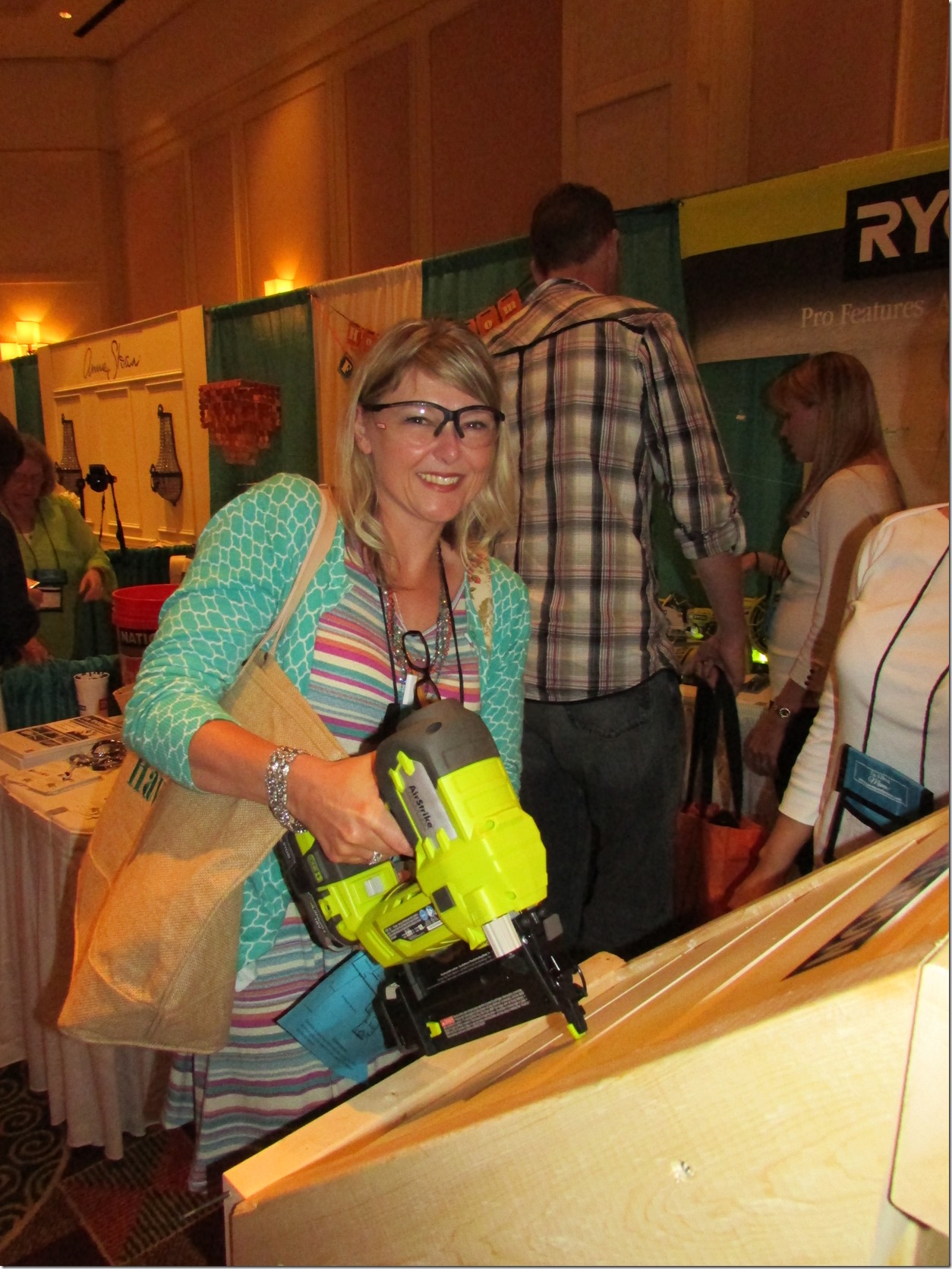 Meeting strong, power tool wielding women who I feel like I have known for years.  Jen Rizzo has been one of my online friends for about a year now, but as soon as I met her in person I felt like I'd known her for years.  She was so awesome, and I'm so thankful to get the chance to hang out with her on the pool patio late at night and swap stories.  
That leads me to another MAJOR highlight of my trip that is not documented anywhere in photographs.  I was walking out of the hotel to go to dinner on the final night and I ran right into a very familiar face who was standing there looking at me expectantly.  She said, "BETH!" but since I had just spent three days seeing familiar faces and trying to come up with their names on the fly I just stood there grinning like an idiot with a big question mark about who this person was above my head.  It turns out that Jennifer, the director of E-Commerce for Mohawk Home was standing right in front of me.  Mohawk, (specifically, Jennifer) was the first big brand to ever reach out to me and ask to work with my blog.  We have had a very good relationship for about 18 months now.  Jennifer just happened to come into town and stay at the hotel that night with her husband, and we were able to have a drink together later that night by the pool.  Jen Rizzo had also worked with Mohawk on a blog project, so she was able to chat with Jennifer and make a great connection.  It was so great meeting these ladies and getting a chance to really sit and talk about bloggers and brand relationships together.   Just wish I had documented it better and gotten a photograph with Jennifer from Mohawk.  That was SUCH a huge highlight of my trip. 
Another highlight?  These ladies right here being a HUGE hit as speakers at the conference.  Last year I became fast friends with Heather, Vanessa and Karianne at Haven 2012.  This year, they were teaching a seminar for the New Kids On the Block, and I could not have been any prouder of them!  Watching the success of my good friends makes me SO proud to be a part of this DIY blog niche full of talented and successful women. Plus, they both crack me up on a regular basis.  We spent the entire weekend laughing our heads off together and it was fabulous.  Every night I would drag my famous cooler down to the pool patio, where we would sit and share funny stories that would have me ROLLING.  These chicks are my people, and I love them so dearly.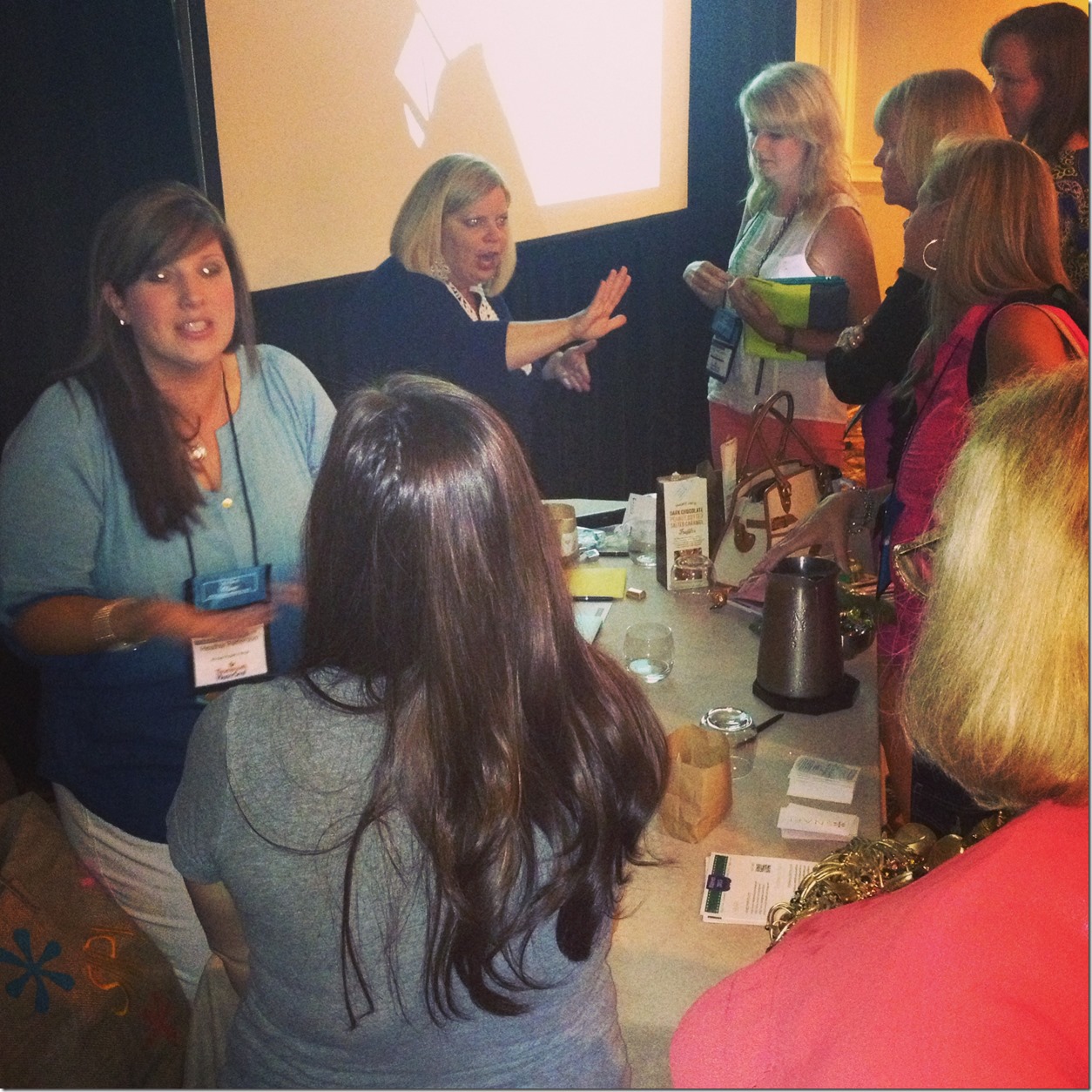 And I also cracked myself up with my instagram caption for this photo:  
"@thistlewood and @atthepicketfence Having trouble holding back hoardes of the rabid fans after their AMAZING session at #havenconf #rockstars"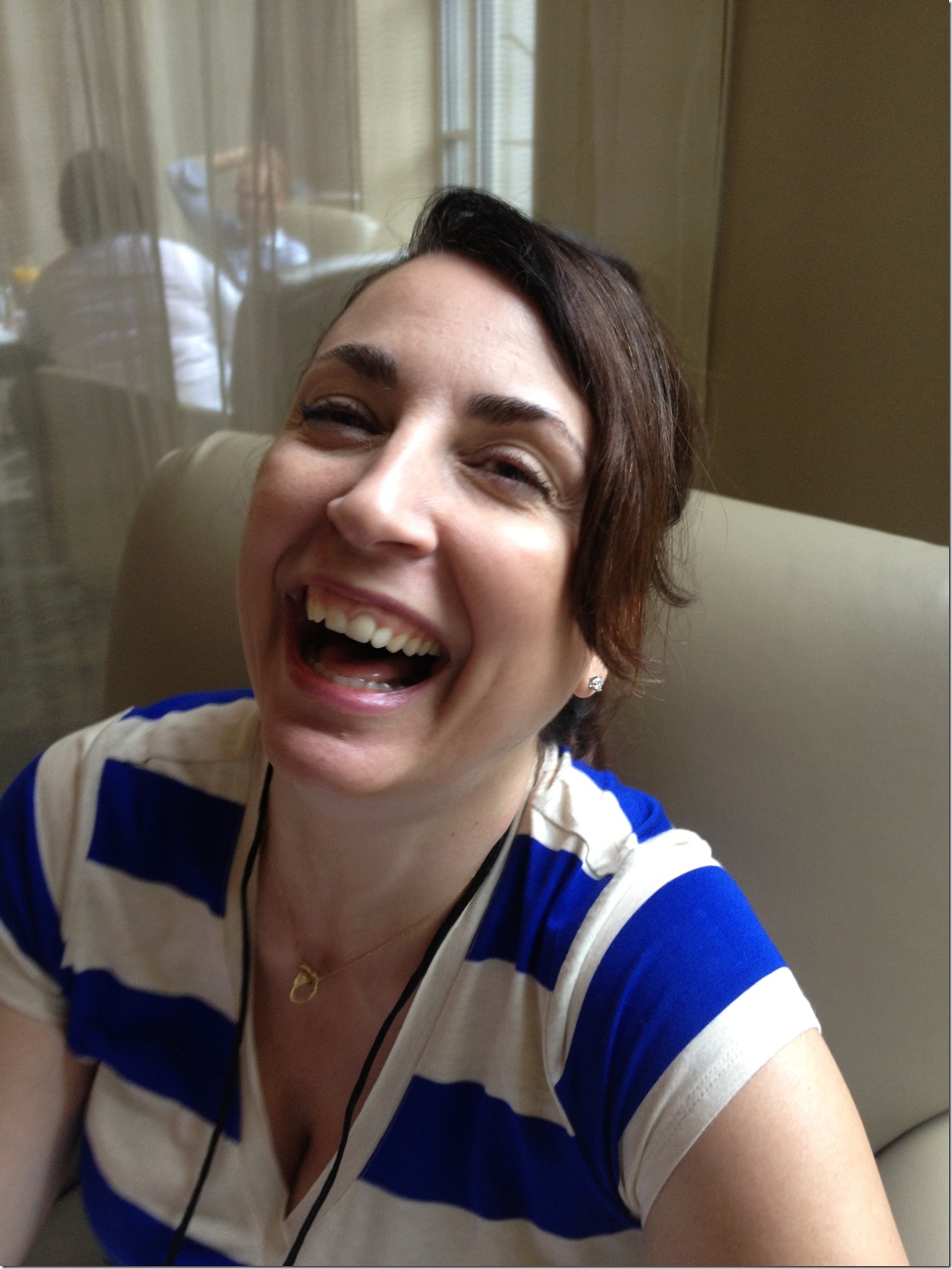 Acting silly and laughing with some hilarious women was another highlight.  Kelly from Eclectically Vintage is another one who cracks me up.  She makes me laugh.  A lot.  Like when she snapped this picture of Jen Rizzo eating a banana during the middle of the SEO class and made us all crack up laughing.  We would have been SO much trouble if we had all gone to high school together.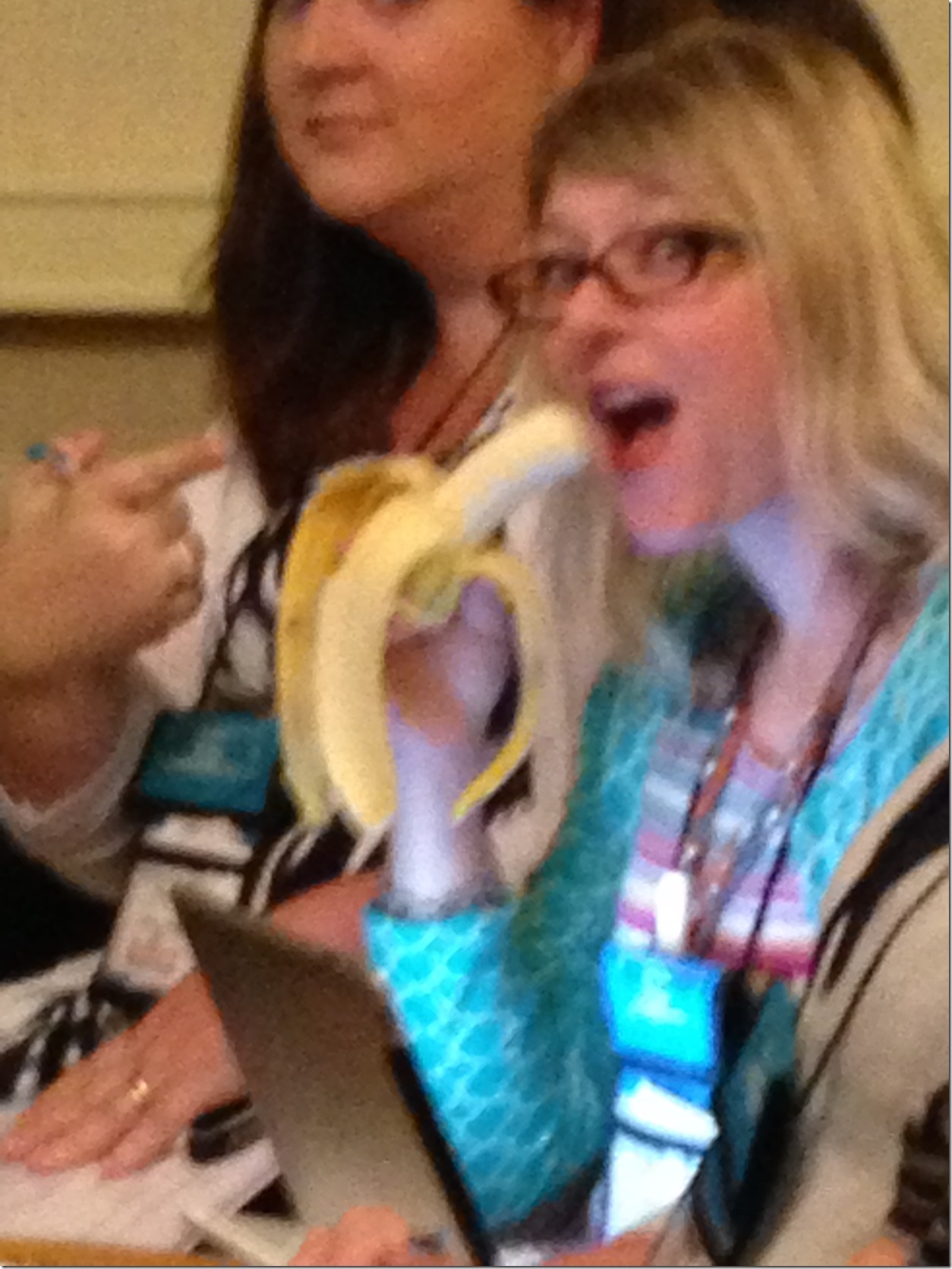 That Porch.com photobooth.  I LOVE taking photobooth pictures, and what better person to hop in a photobooth with than Dusty, the girl who taught me to smile with my eyes like Tyra Banks.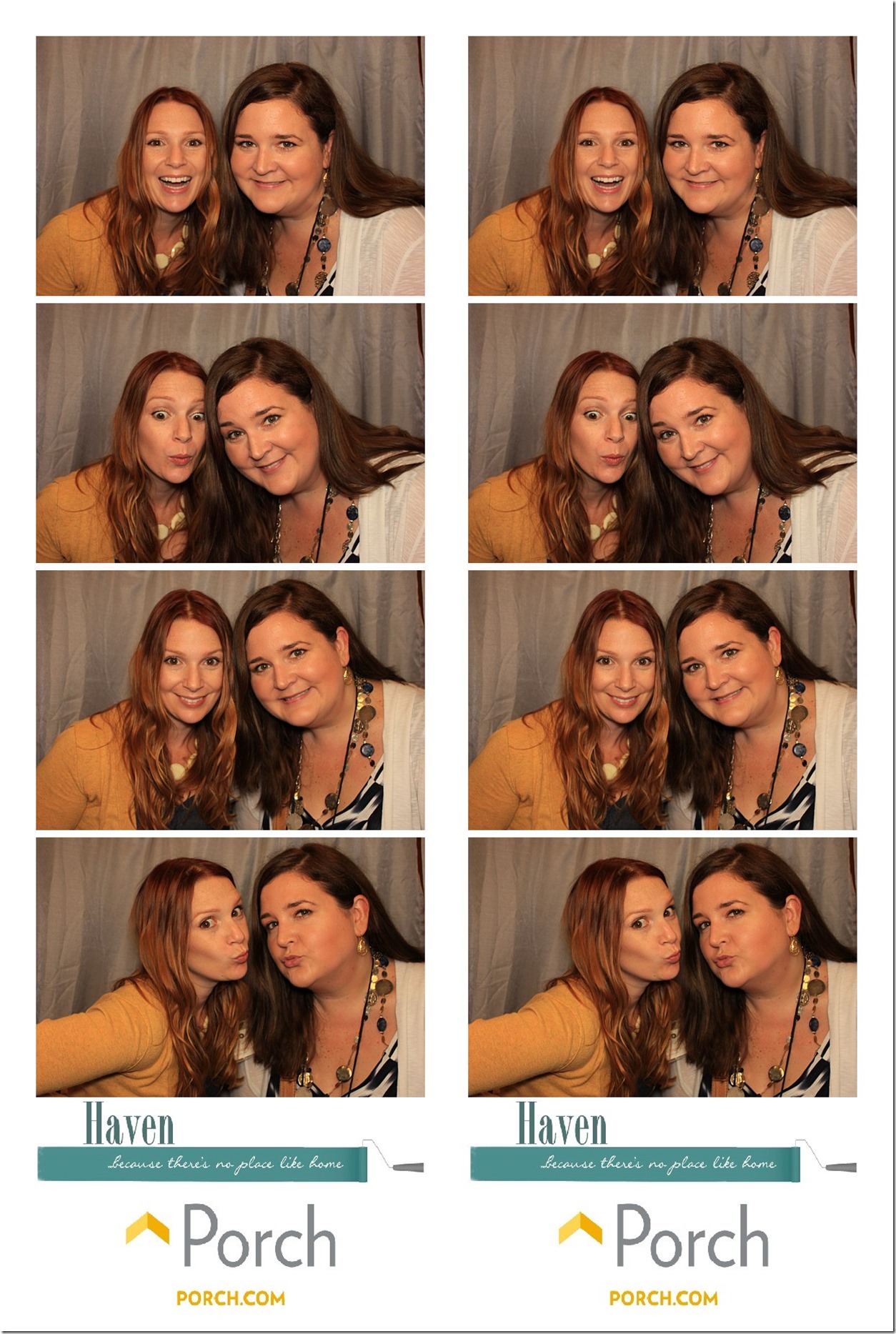 My friends from Southern Accents booth was amazeballs.  There is no better word for this booth.  AMAZE.BALLS.   A few days before the conference I was sitting outside on a restaurant patio eating dinner with my husband when I got a text from Lucy asking for my advice on what Southern Accent's goal should be at Haven.   I told her to come over to the restaurant and we could talk it out, and literally 5 minutes later she was walking into the place with notebook in hand (We practically live right in one another's back yards.)  We sat there all night long talking about ways to promote the brand and get bloggers involved, but it turns out she didn't need me at all.  She and Garland threw this booth together like the champion salvage dogs that they are.  It was the greatest conference vendor booth I have ever seen.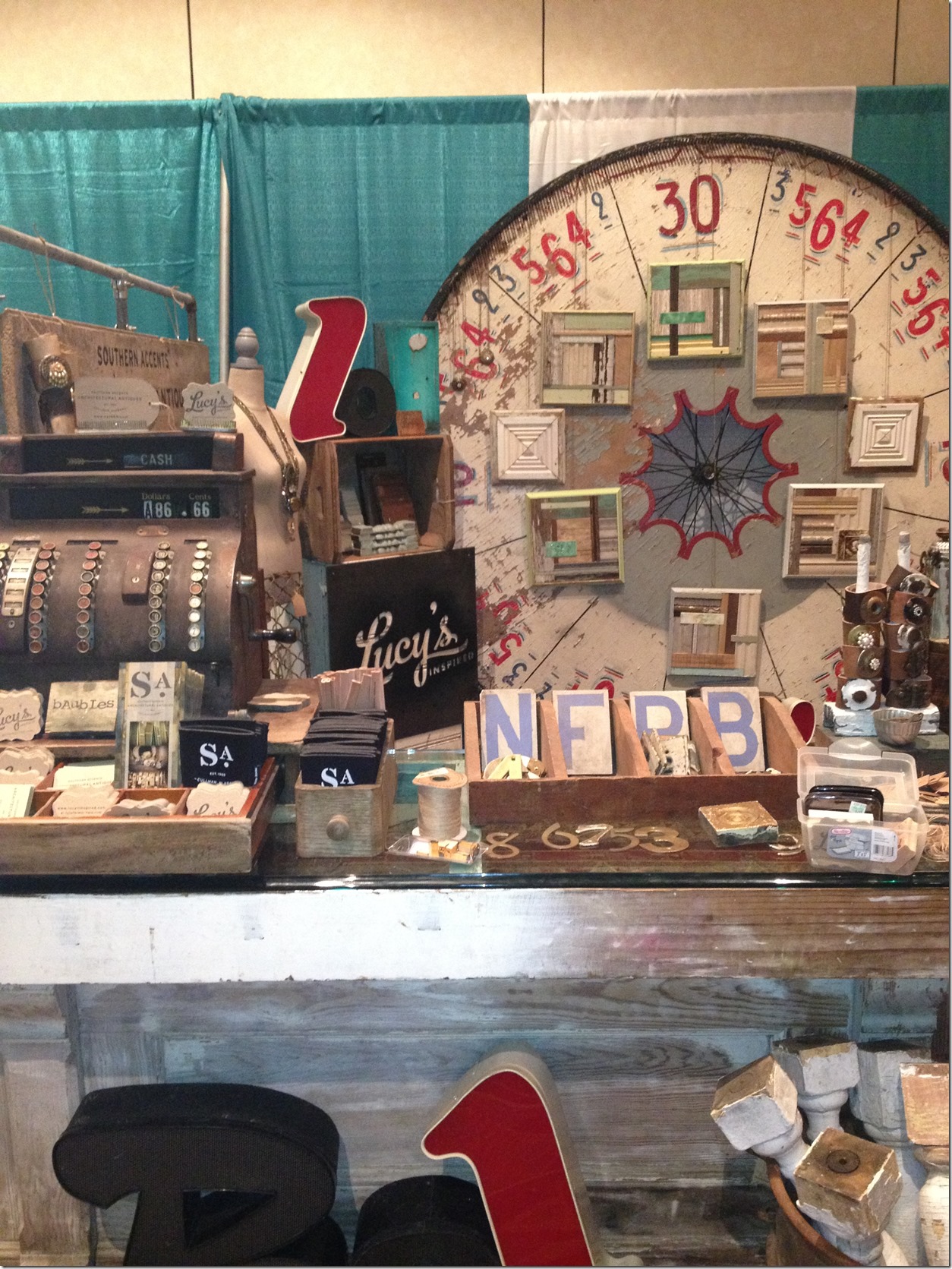 Which brings me to The Chalk Board.  One of the things Lucy and I discussed was the idea of a giant chalk board for everyone to leave messages on like they had done at the Southern Makers event a few months back.  As I was packing my bags for Haven I threw in the chalk pen that I had used to make my Halloween chalkboard art last year, just in case they needed it.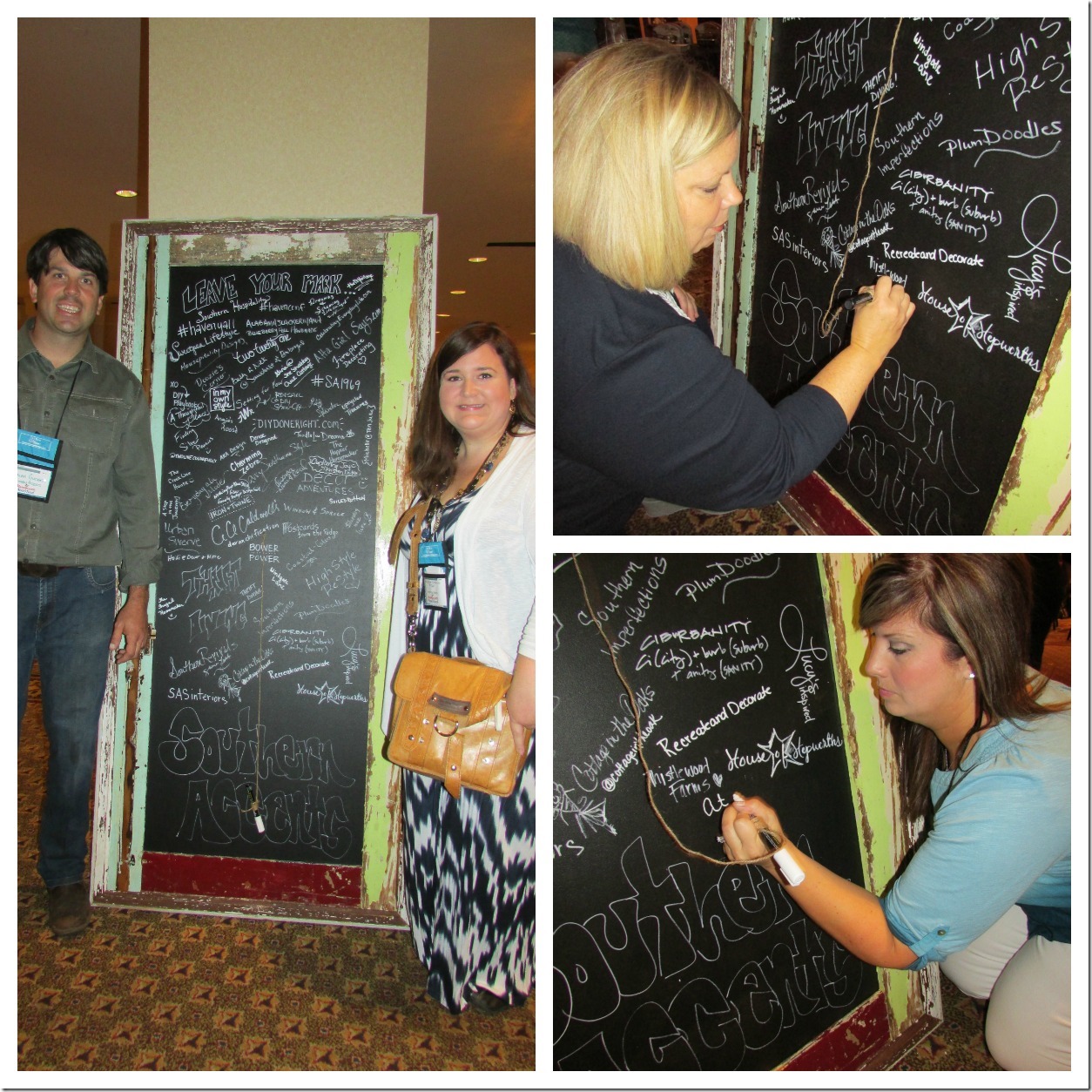 Well it turns out they did need it, and lemme tell ya… that sucker was like the Energizer Bunny of chalk pens. It lasted through 450 bloggers and brands leaving their mark.  These pictures were made just about 12 hours after Garland and I slapped it together at midnight the night before and by the end of the conference the entire thing was slap full of names without a spare inch to be found.  It was a hit! Especially considering there were some very famous Blue Ribbon bloggers autographing it.  hee,hee.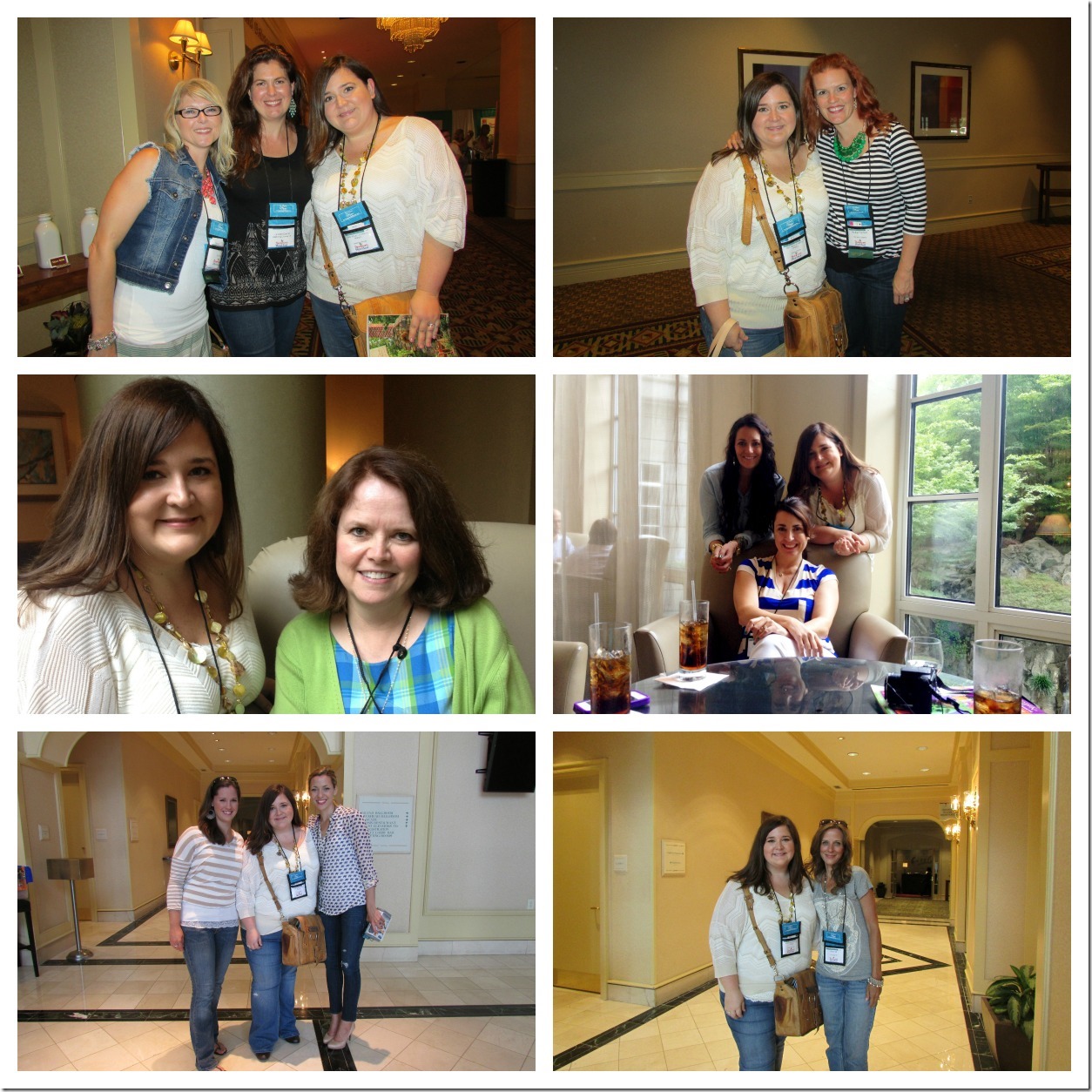 Networking, networking, networking (aka chatting it up with some amazing bloggers).
From top left:  Jen Rizzo and Jennifer Carroll; Beckie Farrant, Susan from Between Naps on the Porch, Jaderbomb and Eclectically Vintage Kelly, Tiffany and Sarah, and Sweet Roeshel from the DIY Showoff.  Love ALL of these women so much!!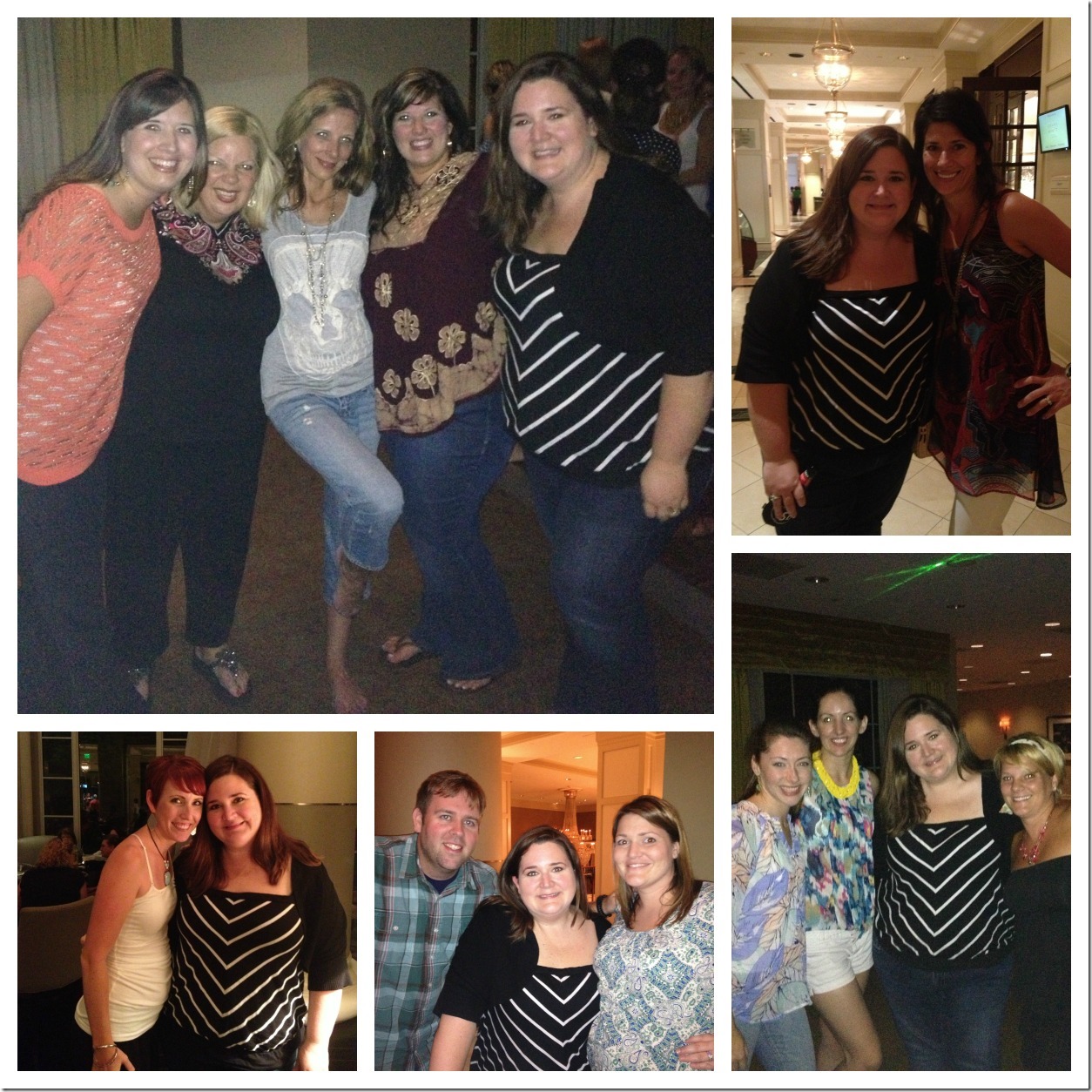 From top left: Vanessa, Kari, Roeshel, Heather shaking it at the dance party; Lucy's Inspired, Ask Anna; The DIY Village, aka Matt, Jacque and a sweet baby girl I cannot wait to meet!; Ashley from Domestic Imperfection, Kelly from View Along the Way and Jessica from Mom4Real.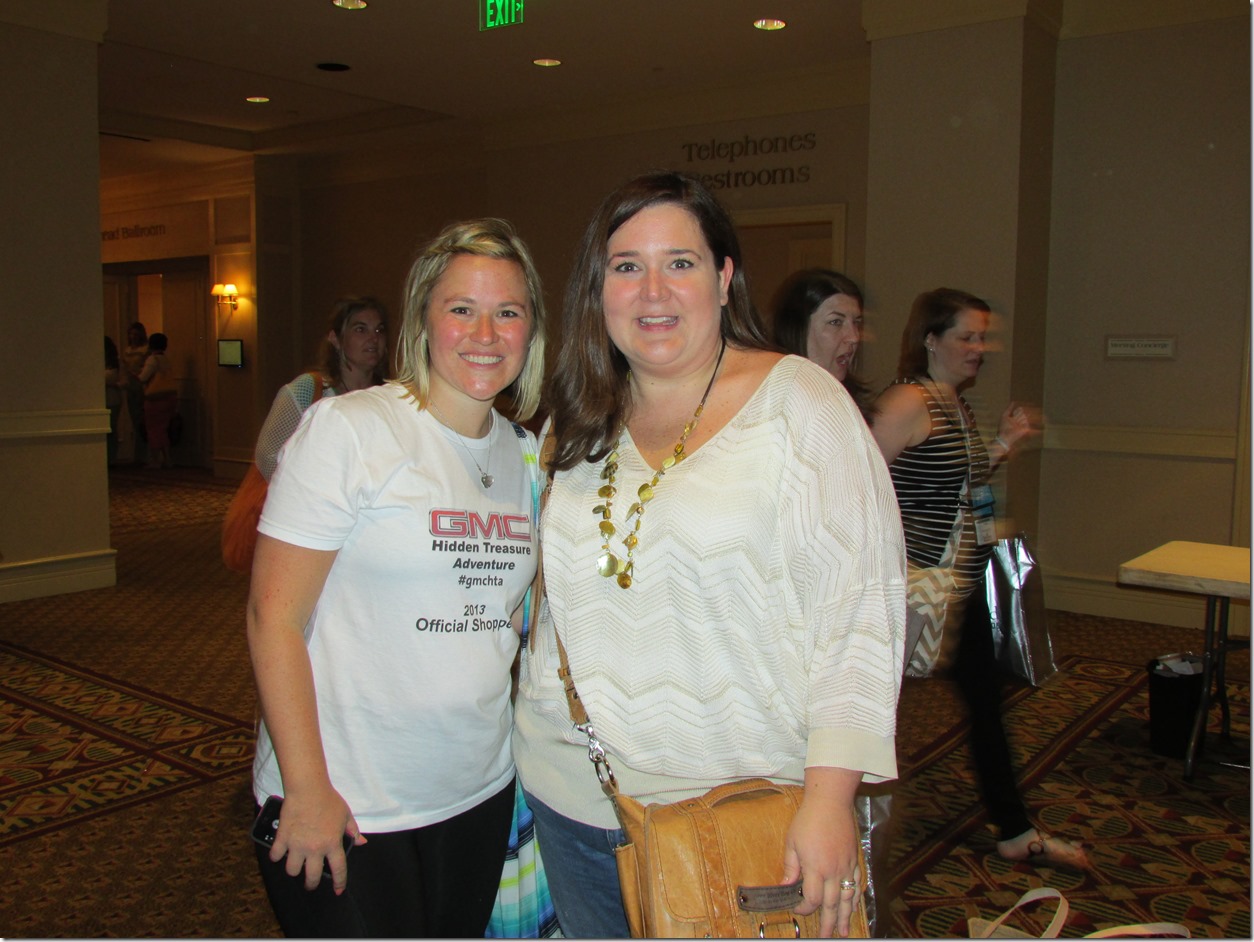 For one fleeting moment I got to wrap an arm around Jocie from One Project Closer who was in town decorating the Habitat House with GMC after shopping the Longest yardsale.  It was SO great to meet Jocie, and I wish we had more than just 2 seconds together.  One day I will hang out with this girl a LOT longer.  She is a sweetheart.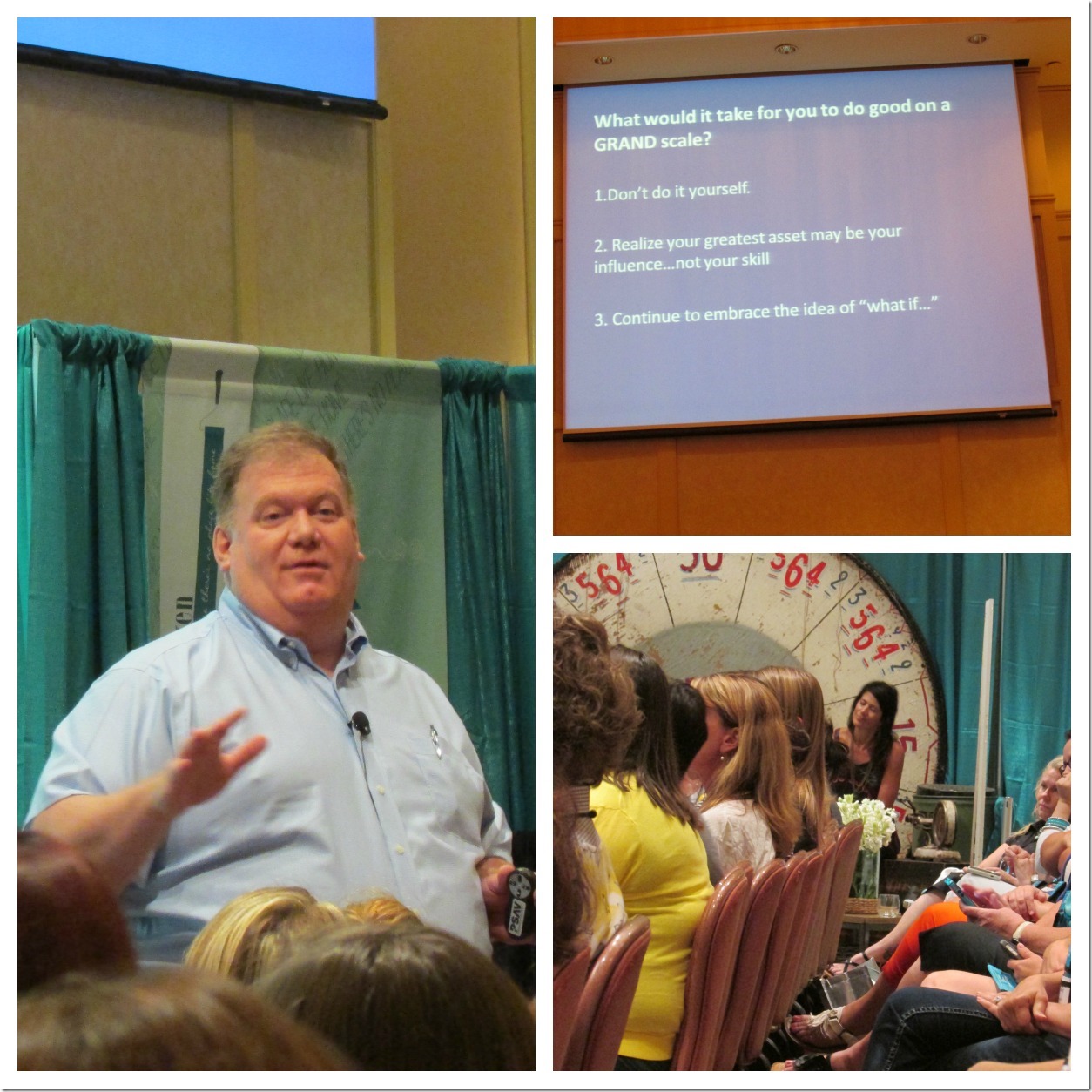 And speaking of the GMC/ Habitat house…. The final speaker of the conference was a man named Bob Johnson, who happened to be the CEO of Habitat in Tuscaloosa during the April 2011 tornadoes.  Bob began his speech by making us laugh with a few funny stories, then he began recounting the days after the tornadoes hit Alabama, and immediately I knew I was in trouble.  The waterworks begin flowing for me anytime someone talks about April 27th, because it was such an emotional day for all of Alabama. He talked about the devastation that Alabama suffered during that time.  Then he explained how just a few days after the tornadoes hit the nation's attention was taken off of the great need for help in Alabama because Osama Bin Laden had been killed. But then he explained how the power of social media helped Alabama recover even though most of the nation forgot about us. He talked about Toomers for Tuscaloosa and all the facebook pages that were set up overnight where needs were posted and fulfilled nearly instantly.  He talked about how we all came together as a state and helped our neighbors, repaired houses and delivered supplies before FEMA ever stepped foot in the damaged areas. Everything he said hit home for me, and by then I was SOBBING crying.  Like, literally bawling my head off with the ugly cry that could not be contained.  The sweet lady behind me gave me a tissue to blow my nose, and the poor girl beside me probably thought I was insane, blubbering idiot.
In the middle of it all, I saw Dusty turn around from the very front of the room and point right at me and say "YOU."  She did this because she knew how much this speech was impacting me at that moment.  She had been right there with me, supporting me through the tornado relief efforts all the way from Wisconsin, because of we were online friends even then.  She and a few of my other close girlfriends helped me to bring the idea of the Amazon Wish List for the Christian Service Mission to life by sharing it on their social media pages and mommy forums and anywhere they could.  That little grassroots effort that I started turned into a massive giving program where people from all over the country were shipping supplies into downtown Birmingham to be redistributed out to the hardest hit areas by volunteers.  When it was all said and done, there were more than $27,000 worth of items donated to the Amazon Wish List that I created on a whim while sitting at my computer one night.  And this is what Bob meant by "Don't do it yourself."  There is no way that I could have singlehandedly donated $27,000 worth of items.   But because I chose to reach out to my friends via social media, and because I had met other people online who shared my efforts on bigger, national media, I was able to watch my small effort accumulate much greater results than I could have ever dreamed of doing alone. 
As I sat there listening to Mr. Johnson talk about how our greatest asset could be our influence instead of our skills, and how we should harness the power of our collective voice to Do Good on a Grand Scale, it hit me like a ton of bricks raining down on my head that I had already been chosen to be an influencer on social media.  I have witnessed first-hand the power of doing good on a grand scale because I saw the enormous outpouring of help that I was able to generate from one small thing I did while feeling helpless because I wasn't physically able to go dig every single one of my fellow Alabamians out from under the rubble that night.  And so when Dusty turned and pointed at me I cried even harder because she was the only person in the room who understood exactly HOW MUCH his speech meant to me.  It was a SERIOUSLY amazing moment for me to hear him talk that day, and I'm so thankful to him for all that he did for me and every blogger sitting in that room.  It was a life changing kind of speech that he gave, and I hope that he realizes how much we all appreciate his words.  From the bottom of my heart, I want to say thank you to Mr. Johnson for showing us all how our influence and our voice can be used in powerful ways that we may never even know are possible until the time comes for us to use it for good.  I had no idea that April 27th would be my time for that, much like James Spann and the Toomers folks had no idea it would be their time to become a mega social media influencer that day.  
You never know when you will be chosen to do good on a grand scale, but when it's your time, be ready.   You will be blessed by it in ways you cannot imagine.
I regret that my opportunity was the result of such a tragic event for my state, but I'm glad that I was able to help so many simply by using my voice on social media to spread the word about something so important.   I hope the next time I am able to do good on a grand scale that it will be for a much, much happier event. 
And finally, the highlight of the trip was ending on this high note.   A group of my very best friends got together at Heather's new home for brunch on Sunday morning.  We were able to decompress together and take the tour of her GORGEOUS new place.  (I'm so jealous of all that natural light!) Thank you, Heather, for having us over to cap off such a wonderful weekend.  Love you girls so much!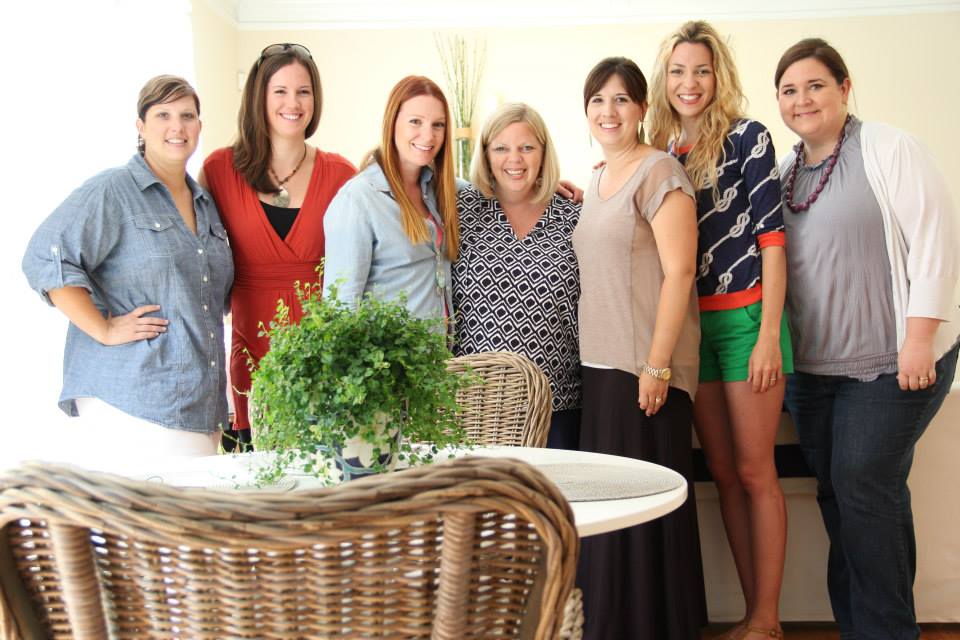 Haven 2014 has some very big shoes to fill after this event.