This week I've been taking you along on a tour around New England and highlighting our October 2012 trip to Amish country from Lancaster County, PA all the way to The Hamptons. This is part three of the series.  You can read the first two entries here:
Part One: Autumn in Amish Country
Part Two: Visiting the Ephrata Cloister
After we realized that there was not much going on in Intercourse, PA on a Sunday, we Googled "Things to do on Sunday around Lancaster, PA" and came up with some great places to see just a short drive away.  The Landis Valley Museum was hosting a Hands on History day, so we decided to swing by there on our way to Hershey after visiting the Ephrata Cloister.  The website didn't reveal too much about what awaited us, but once we got there we found it was pretty self explanatory.  We got to put our hands on some history.  Ever wondered what a shilling looked like? Here you go. Along with a shoemakers whittling leather soles by hand, a real life Rumpelstiltskin lady spinning yarn, and finally, there was this candlestick maker, who had a rack of rather, um… odd-shaped candles.  No further comment.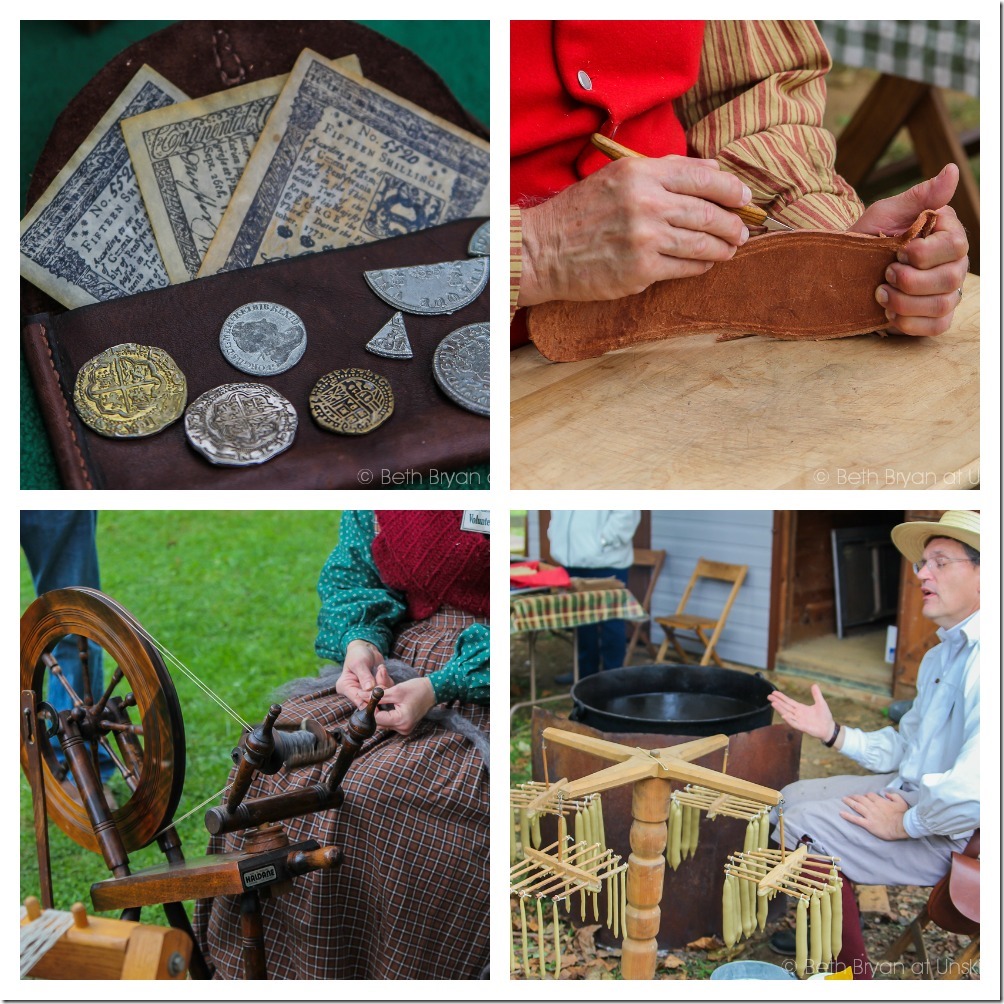 There were lots of people dressed in period clothing doing things the old fashioned way, like cooking over an open stove.  I am not sure that the pioneer peeps had big bottles of Italian dressing on their everyday tablescapes, but let's just roll with it, mmkay?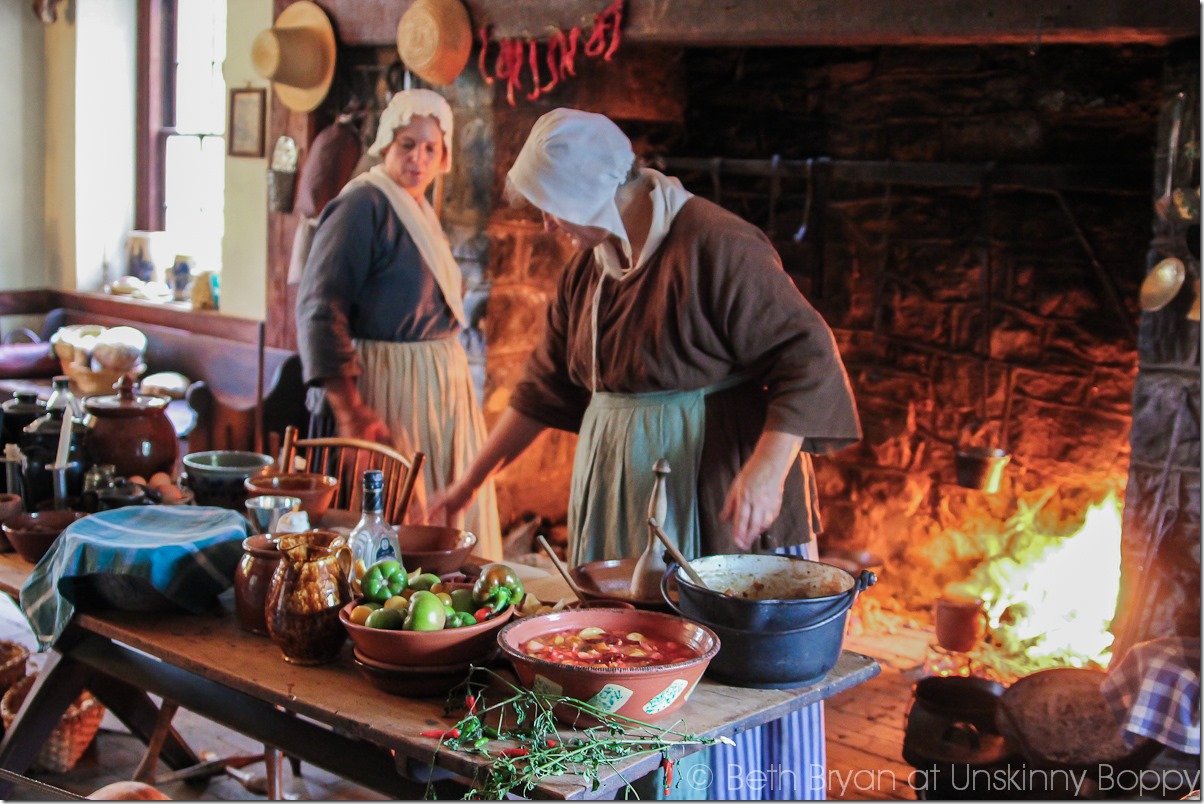 And this baker sticking his hands in all sorts of dough and pie crusts. I think he said this was a chicken pot pie. This dude was quite a crimper, huh?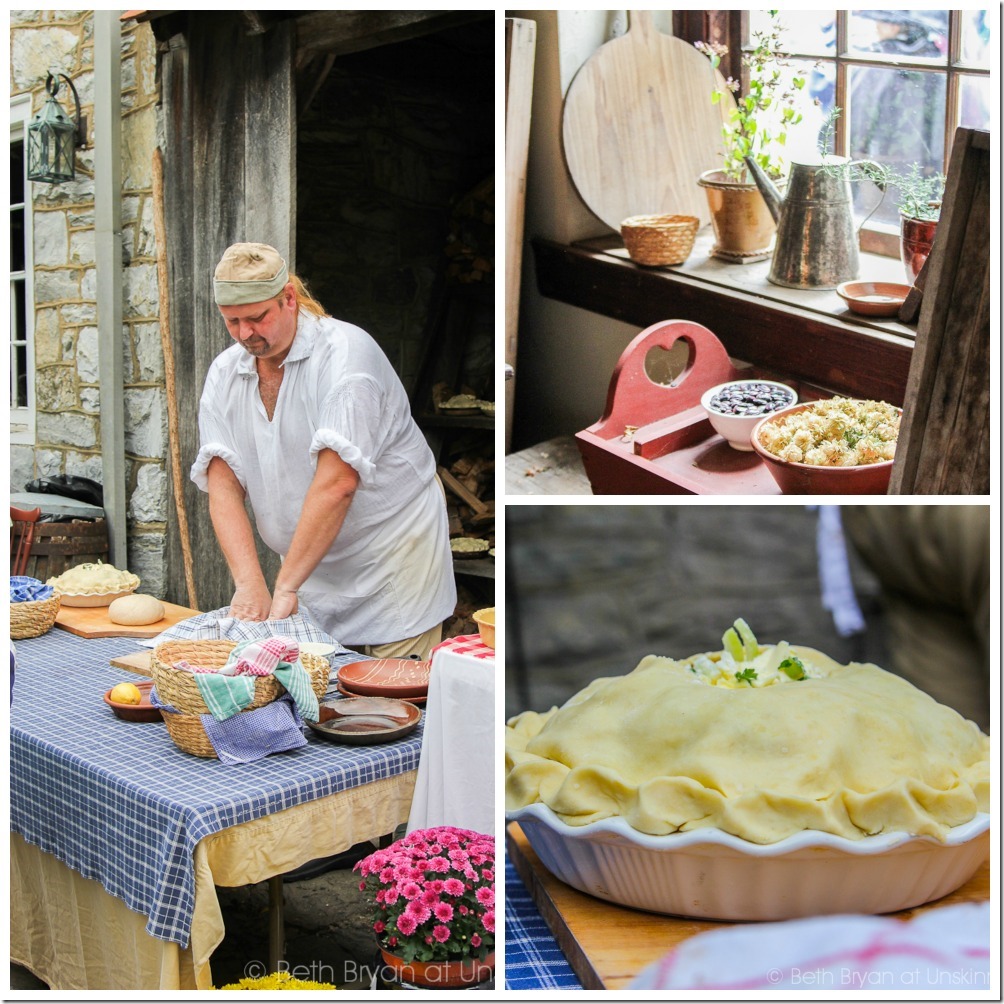 Inside the great big barn we were greeted with this scene.  The lighting made it magical!  There were booths set up where you could purchase handmade goods.  Once again I made myself walk away instead of going buckwild and over purchasing.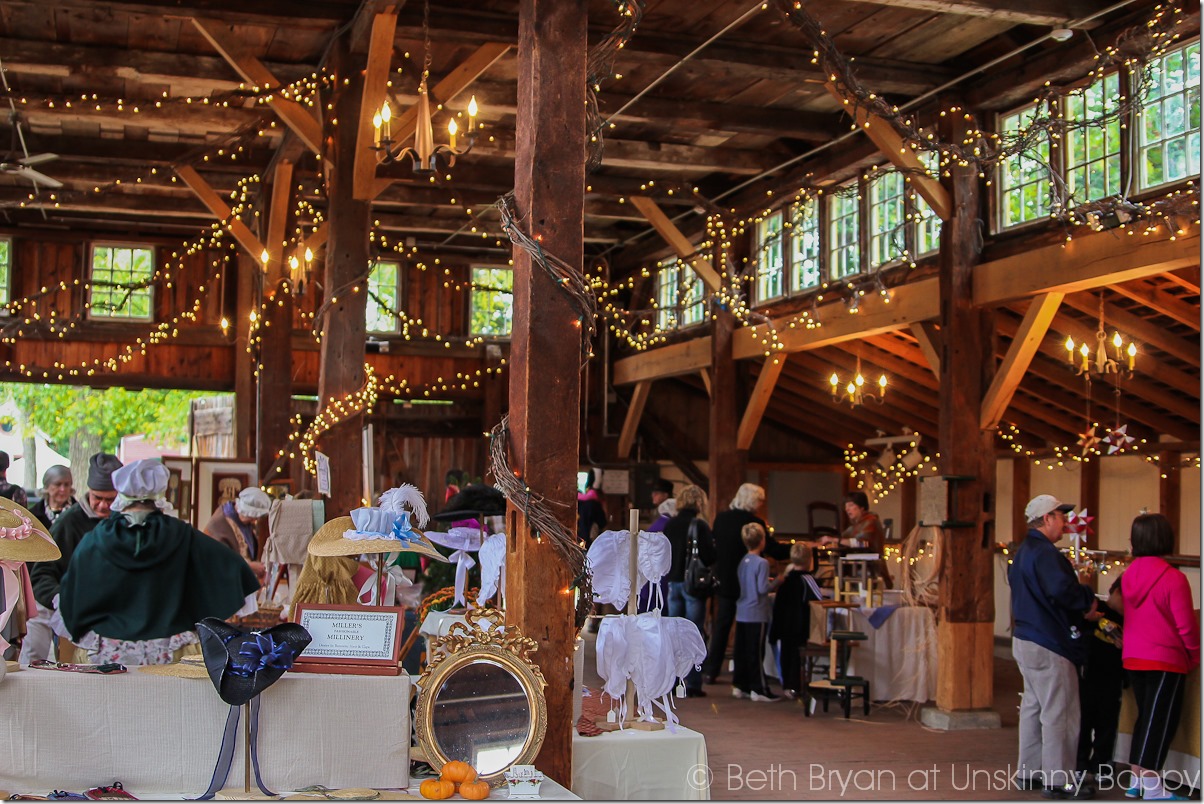 After that fun but quick stop at Landis Valley, we headed on into the sweetest sounding city in all of the US… Next stop???  Hershey, Pennsylvania, home of THE CHOCOLATE FACTORY!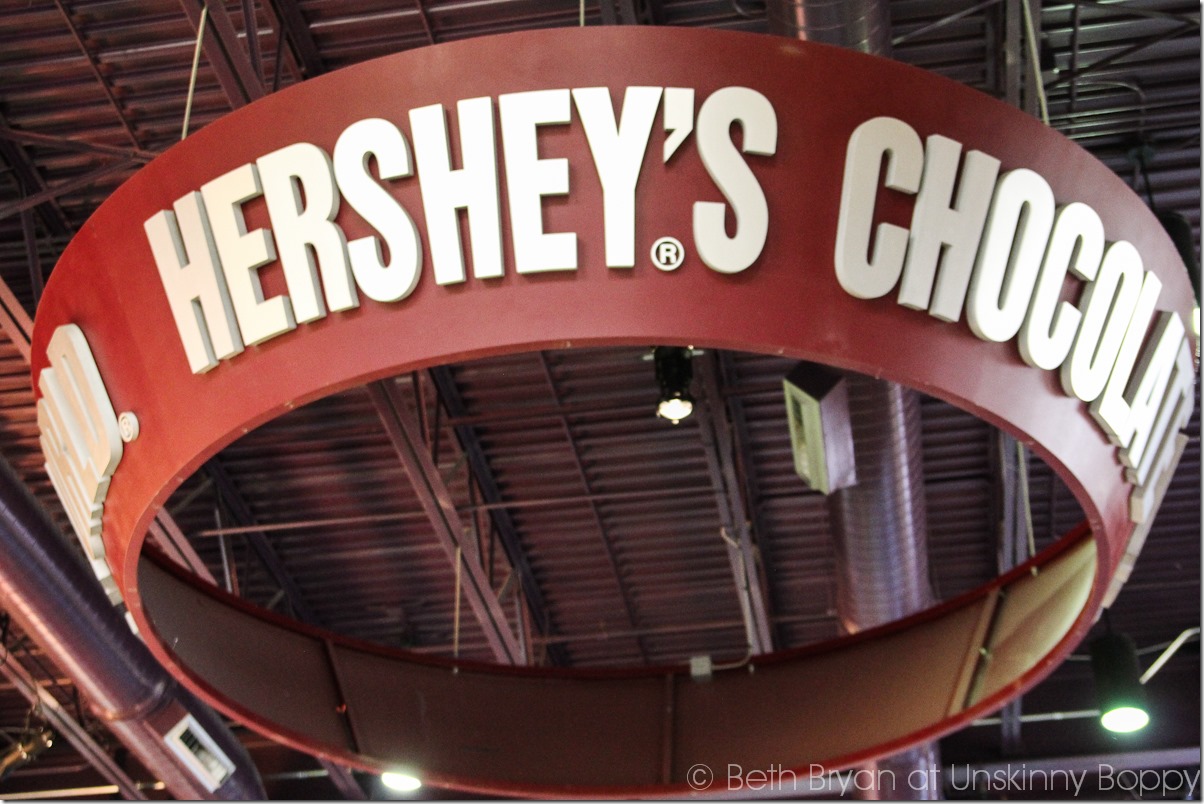 In case it's not obvious, Hershey, Pennsylvania is home to Hershey's Chocolate World and Hershey park.  We skipped out on Hershey park but decided to spend the rest of the day at Chocolate world.   The tours were fun with the exception of the "behind the scenes" factory tour where I'm pretty sure everything was fake. I would be willing to bet that there were great big globs of hot glue stuck to the bottom of every one of these "chocolate" kisses.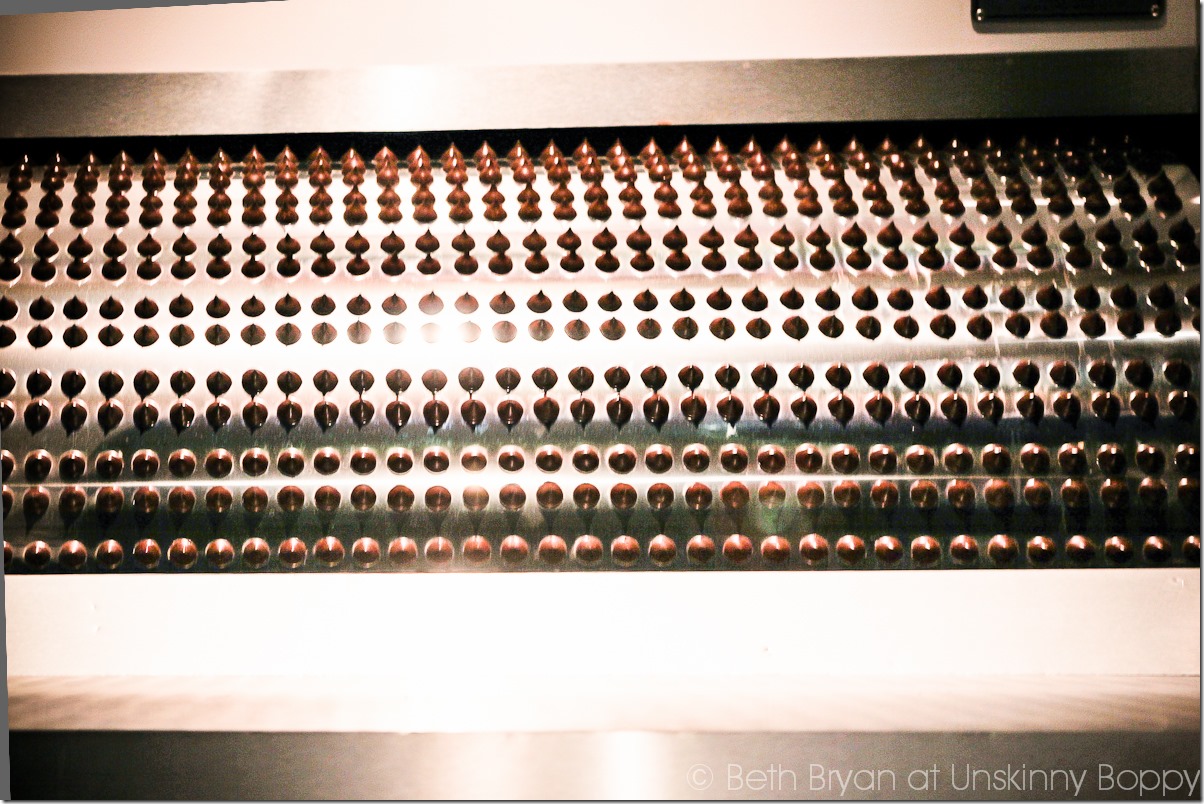 Especially since I have photographic evidence of the strings of glue if you were to zoom in on this picture…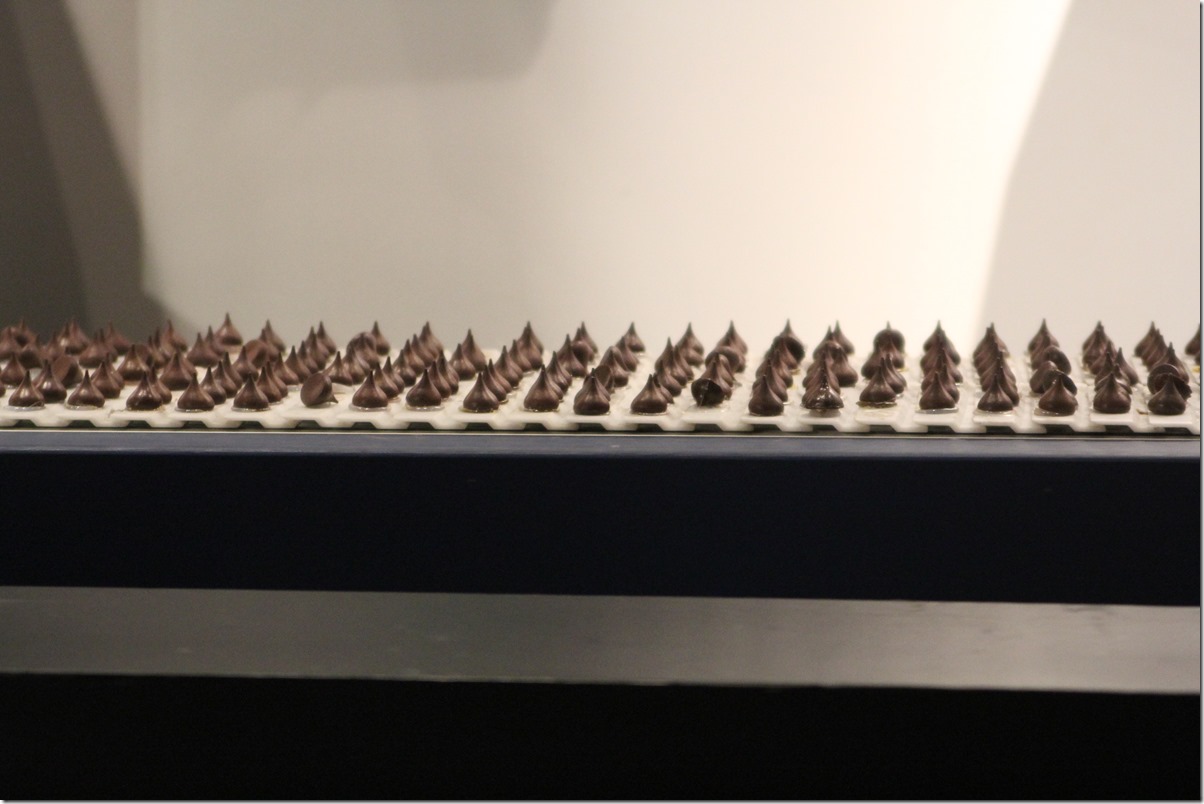 Plus I'm pretty sure the actual factory wouldn't have giant cow puppets named Gabby, Harmony and Olympia shooting milk down tubes and conducting an episode of HeeHaw from their production barn….   but I've been wrong before.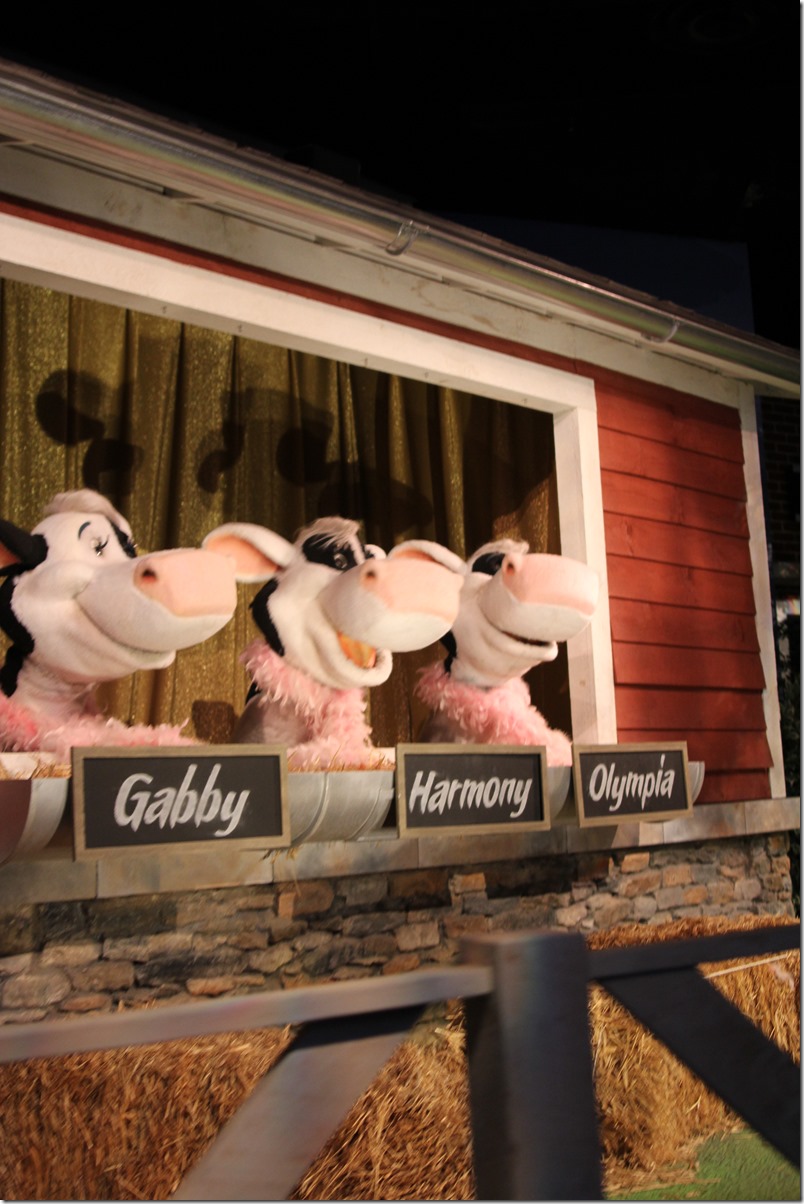 So, unless you have an easily foolable four year old with you,  you might want to skip out on the Great American Chocolate tour ride.
The chocolate tasting adventure was a pretty interesting.  They give you a bag of chocolate and you have to stare at it longingly while they tell you the history of the cacao nut from seed to stomach.  Along the way you're allowed to nibble a piece and taste it slowly to compare how they differ from the others to figure out how much cocoa is in each.  I mean, is this pure torture or what?  I just wanted to chow down immediately.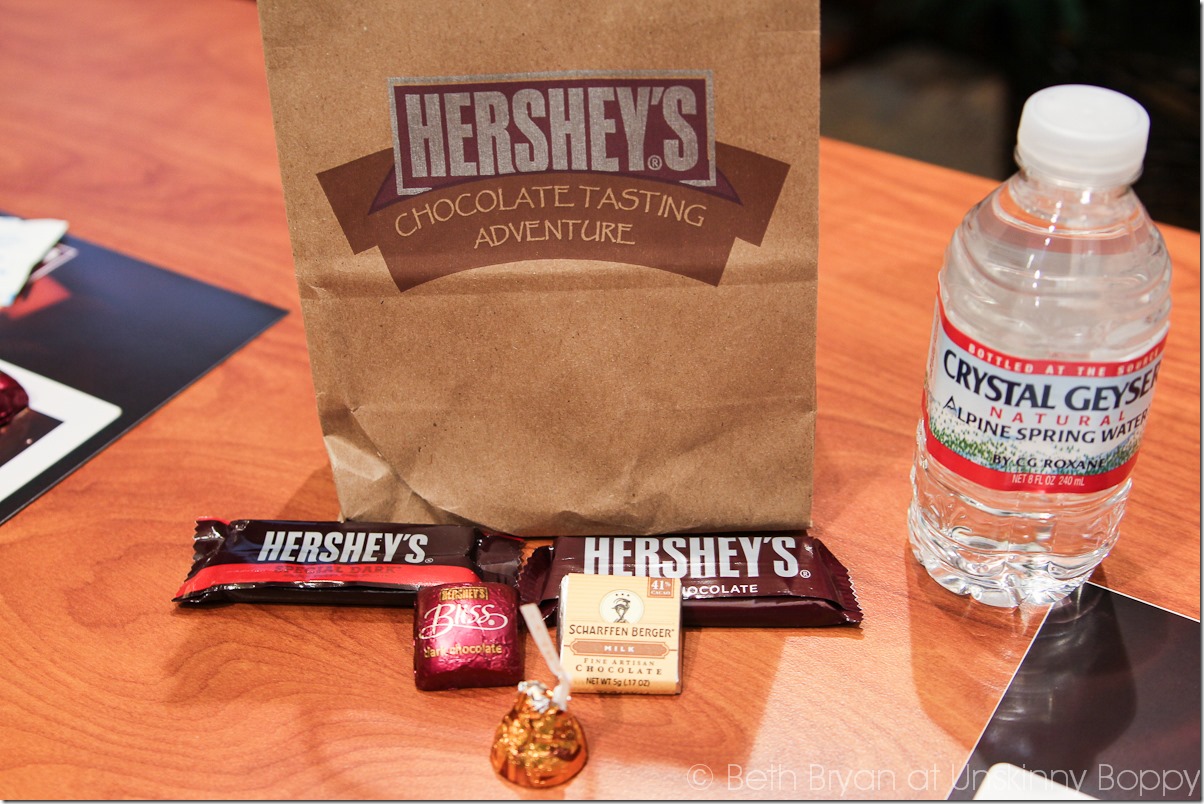 One of the highlights was riding the trolley tour and hearing the history of Mr. Hershey and the Milton Hershey School.   We got a tour of campus along with the story of how Hershey tried and failed a few times, then became one of the richest men in the world.  The good news is that he was also a very benevolent man, and helped many underprivileged children get a high quality education.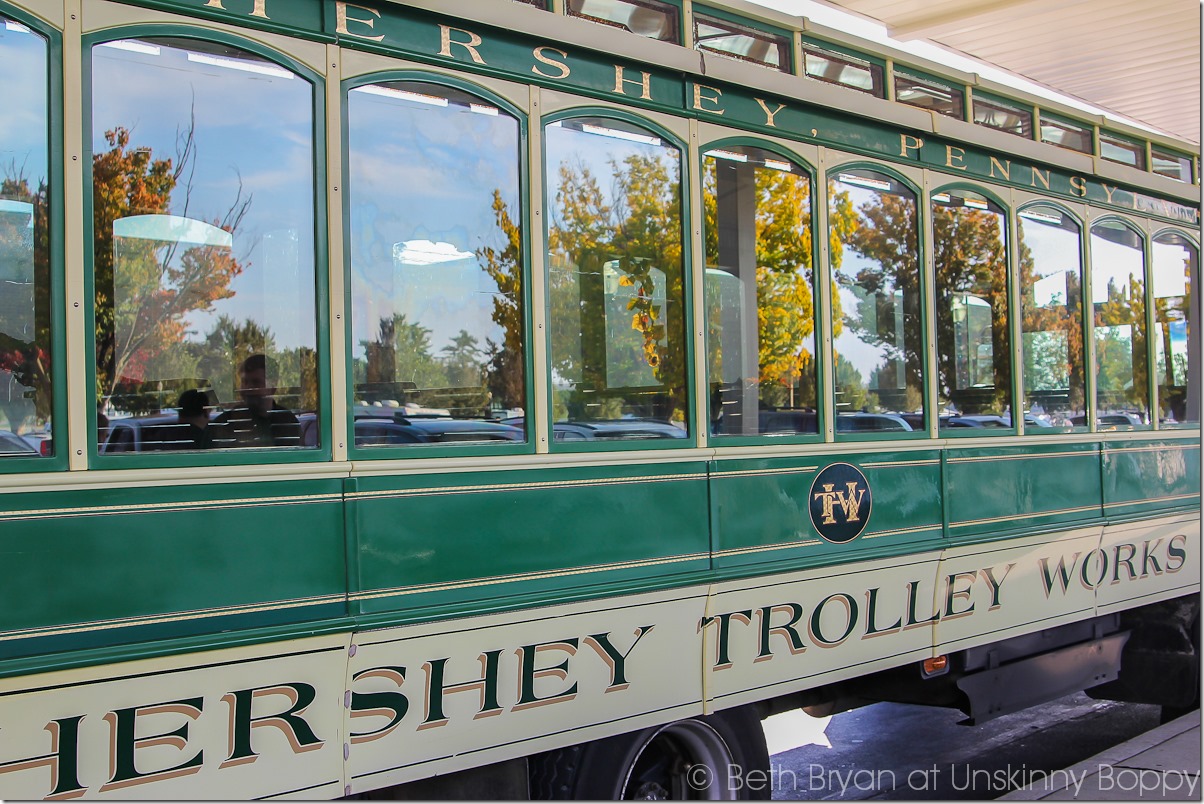 We also got to see some major architectural eye candy along the way.  This is the home he built for his wife before she passed away.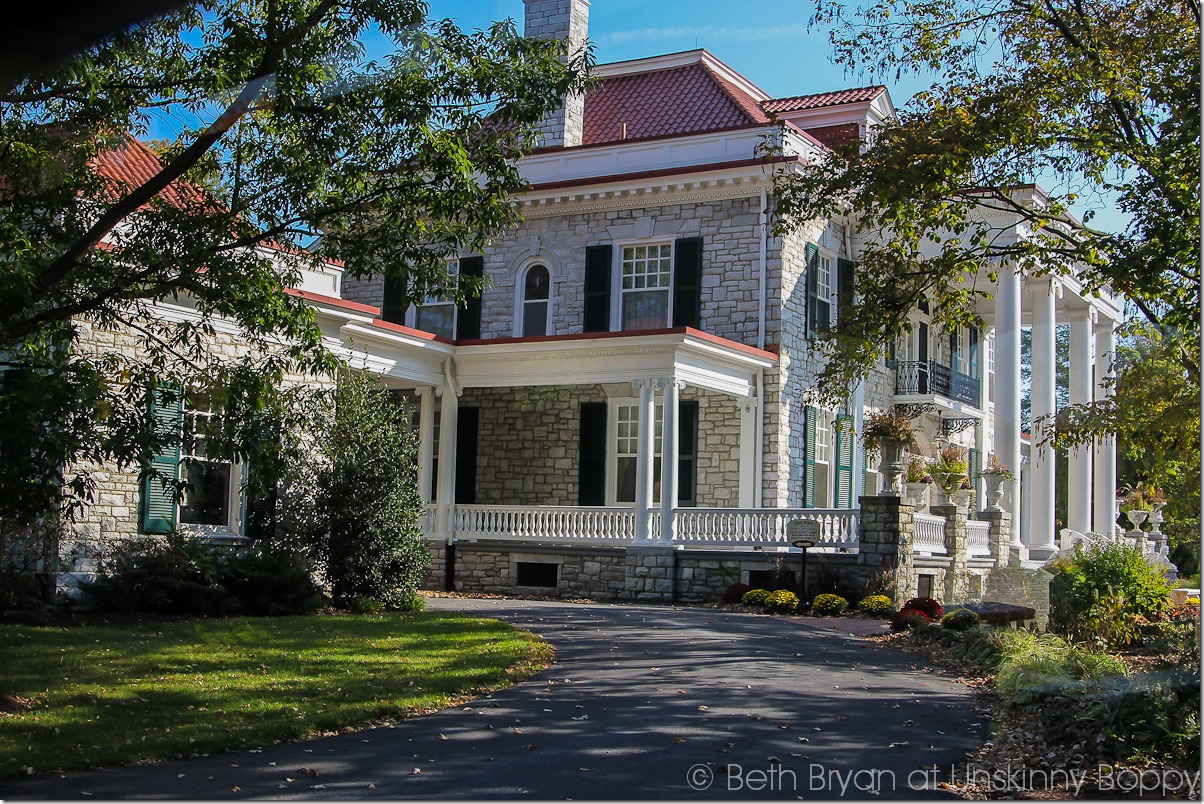 After the trolley tour we donned these super sexy aprons and hairnets and went into the assembly line to create a customized candy bar for Garrett and Pop Pop.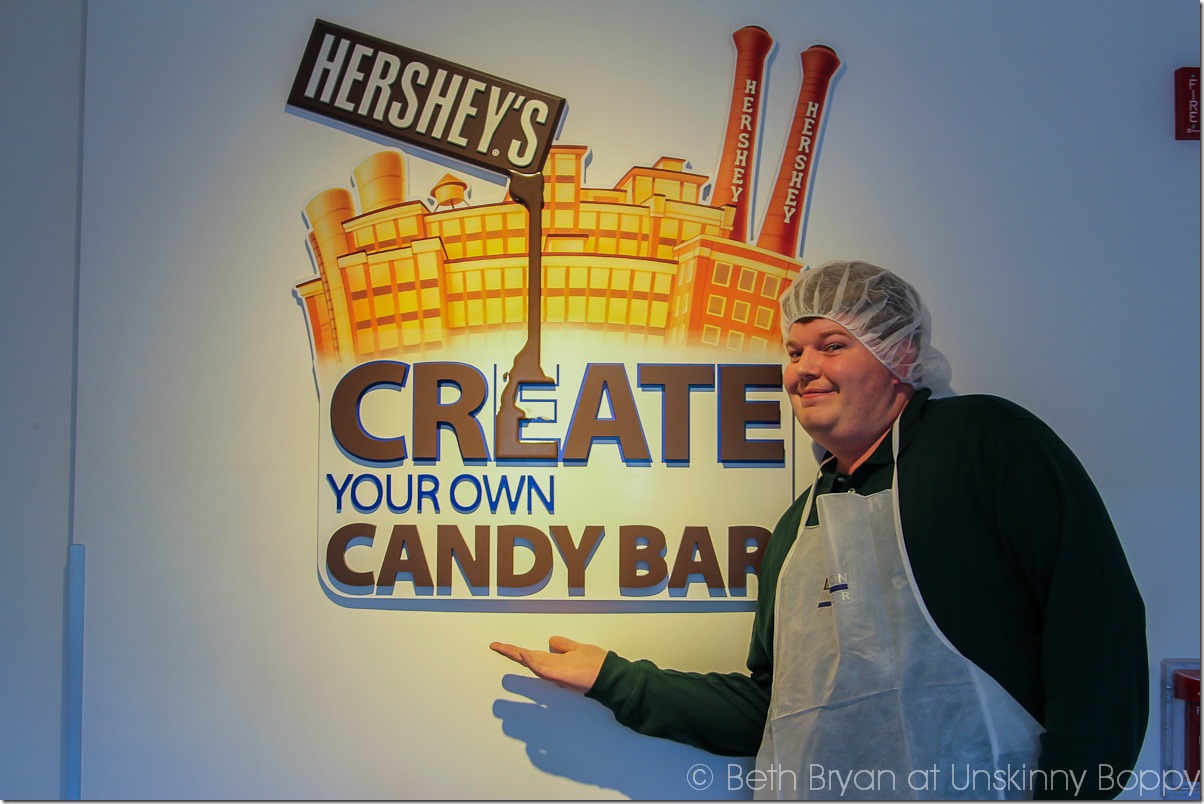 Because no matter if you are four or sixty four, no other souvenir compares to a giant hunk of chocolate filled with chocolate chips enrobed in melted chocolate and covered with sprinkles made of chocolate….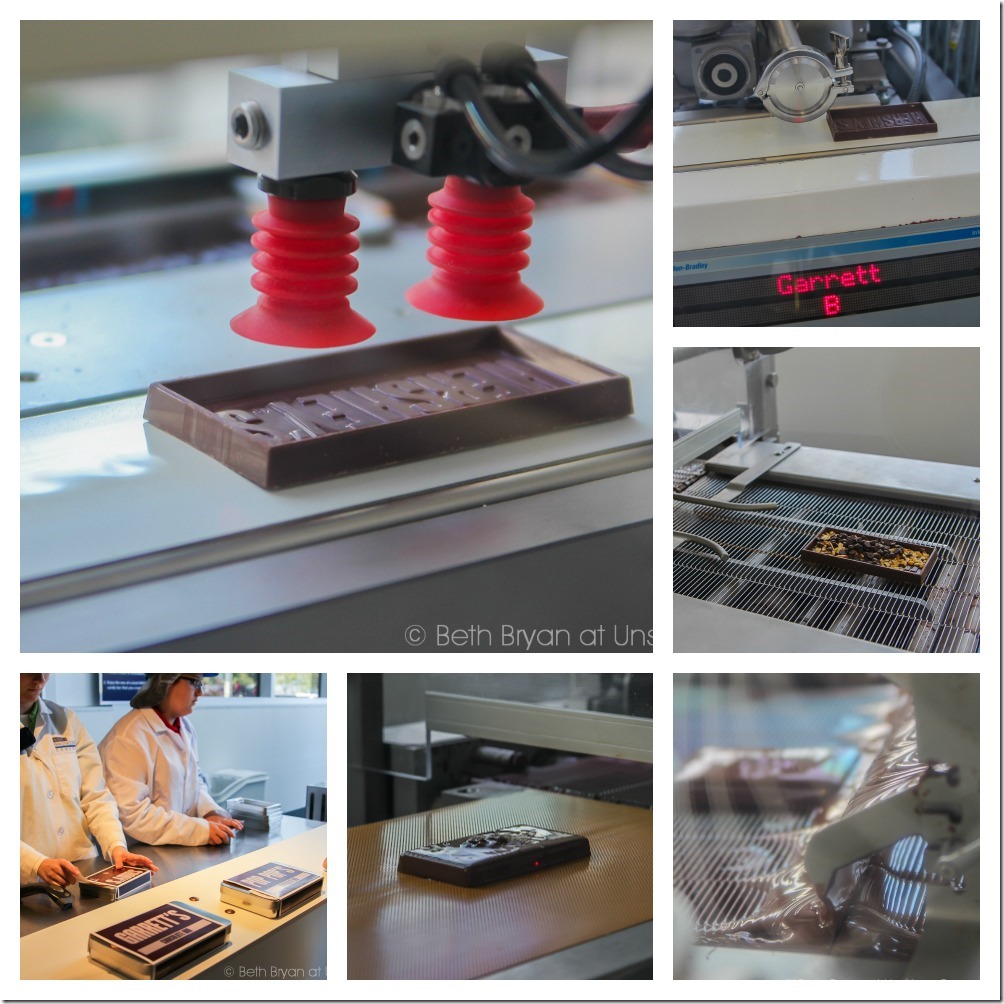 To bring us down on our sugar high we met up with one of my long time blogger buddies and her son at a local pizza place in downtown Hershey.  I have known Amy from A Nest for All Seasons for years, but we never officially met until this day.  I love this picture of her little boy snapping a picture of us on her iPhone.  Less than a year after we took this picture Amy now has a SWEET newborn girl at home named Penny, to cap off her already perfect family of copper headed little boys.  I truly loved meeting this girl and her sweet son!  It's so fun to meet likeminded people from all around the country on this fun blogging journey.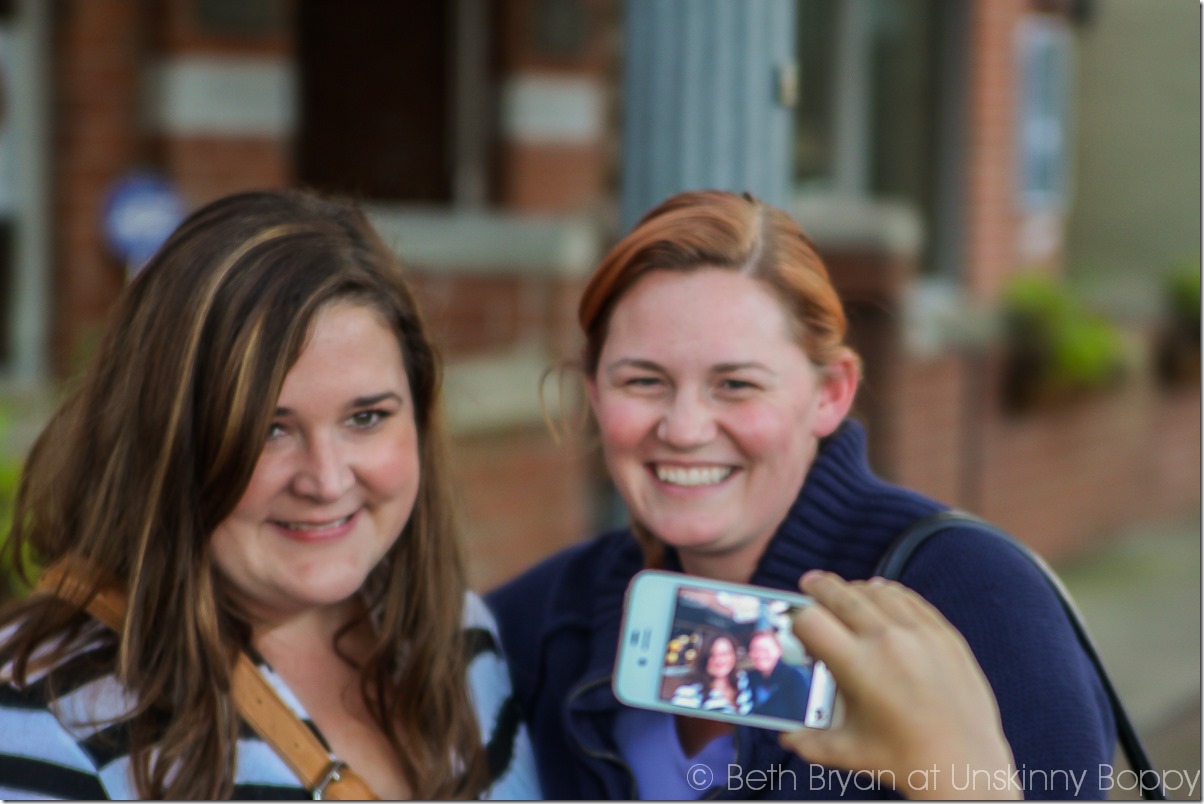 We headed back to our last night at The Inn at Kitchen Kettle to prepare for our trip to The Hamptons the next day.  I will save that story for the next blog post, but I will give you a hint of what we saw quite unexpectedly along the way.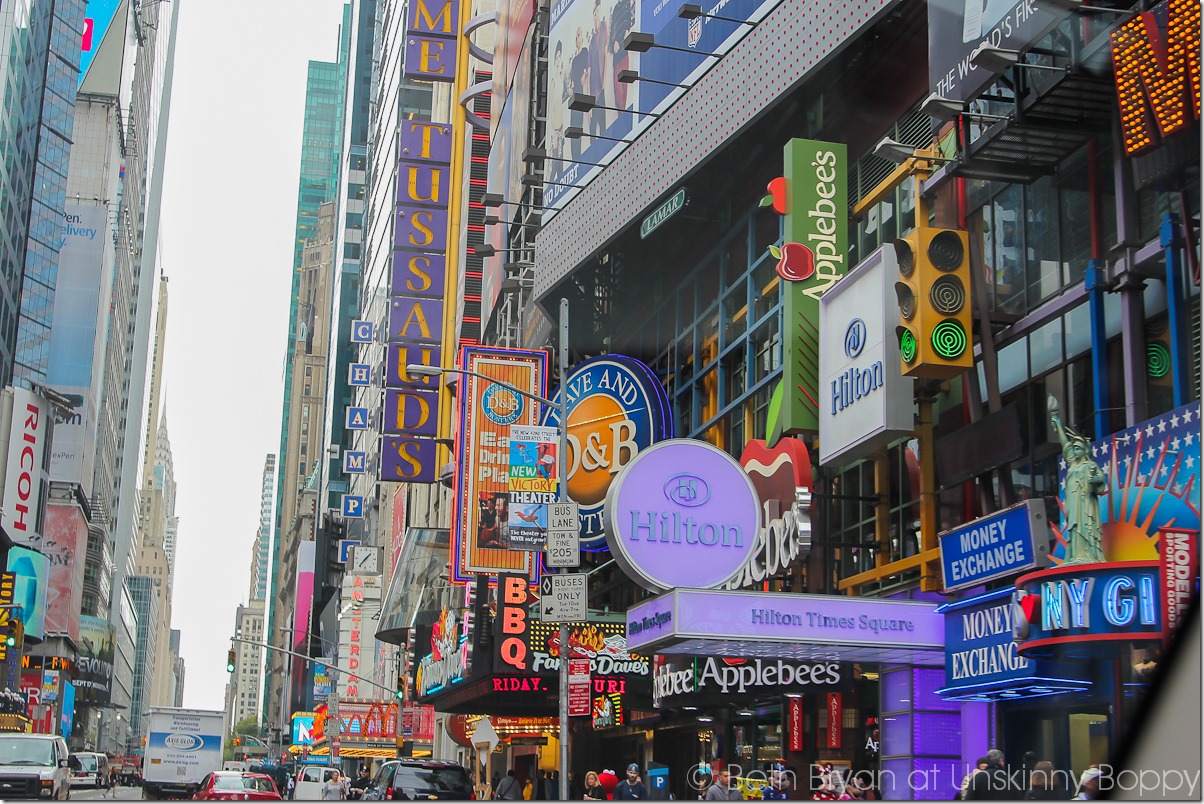 I DROVE THROUGH DOWNTOWN NEW YORK CITY, Y'ALL.
To be continued…
If you'd like to come along on a tour of our 2012 Pennsylvania Dutch Country Vacation, you can click any of the posts or photos below:
Autumn in Amish Country Part 1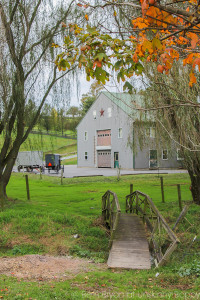 Amish Country Vacation Part 2 (Ephrata Cloister):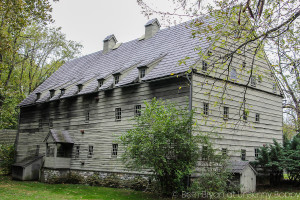 Amish Country Vacation: Part 3 (Landis Valley and Hershey, PA)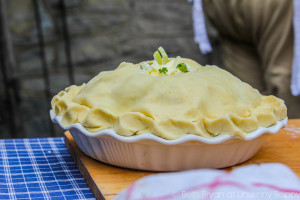 Homemade Amish Soft Pretzel Recipe