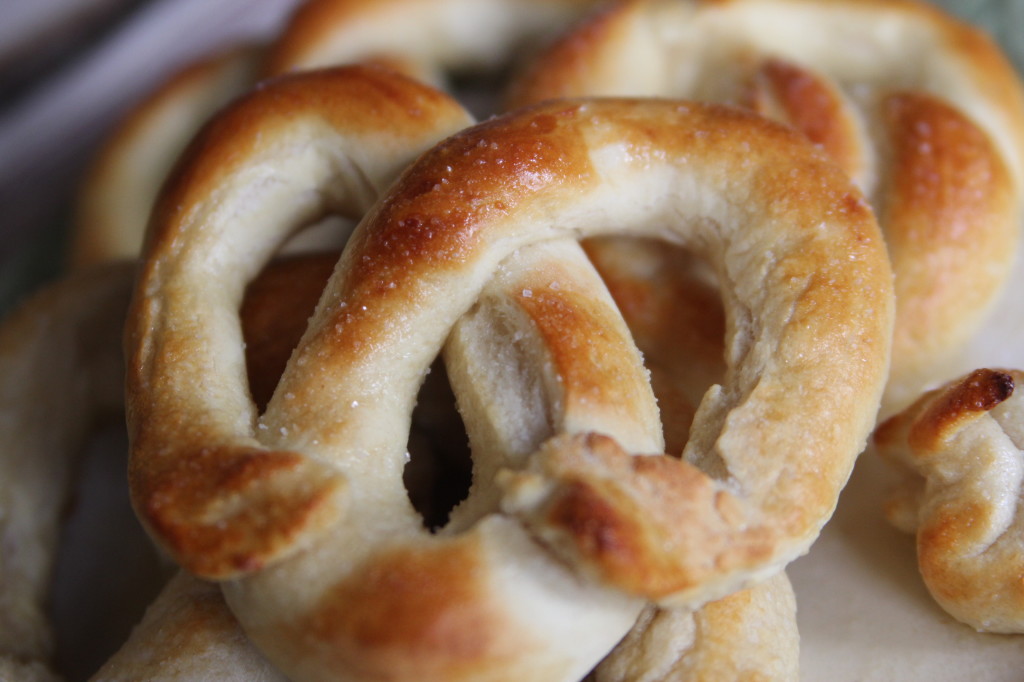 Ever since we visited Pennsylvania Dutch country last October, I have been jonesin' for a recipe for soft Amish pretzels. While we were there, I watched an Amish girl rolling dough and whipping out those knotted delicacies like a pretzel making machine. She would flick her wrists and the dough just seemed to knot up under her hands magically. I SOoooooo wanted to video or photograph her technique, but of course I couldn't take her picture since she was Amish and I refused to be the person who condemned her soul for all eternity just for the sake of a good blog entry. But I could take a picture of this hilarious sign outside of one of the pretzel shops in Intercourse.
When I read the name of this shop all I could think was Erhmahgerd! Prertzerls!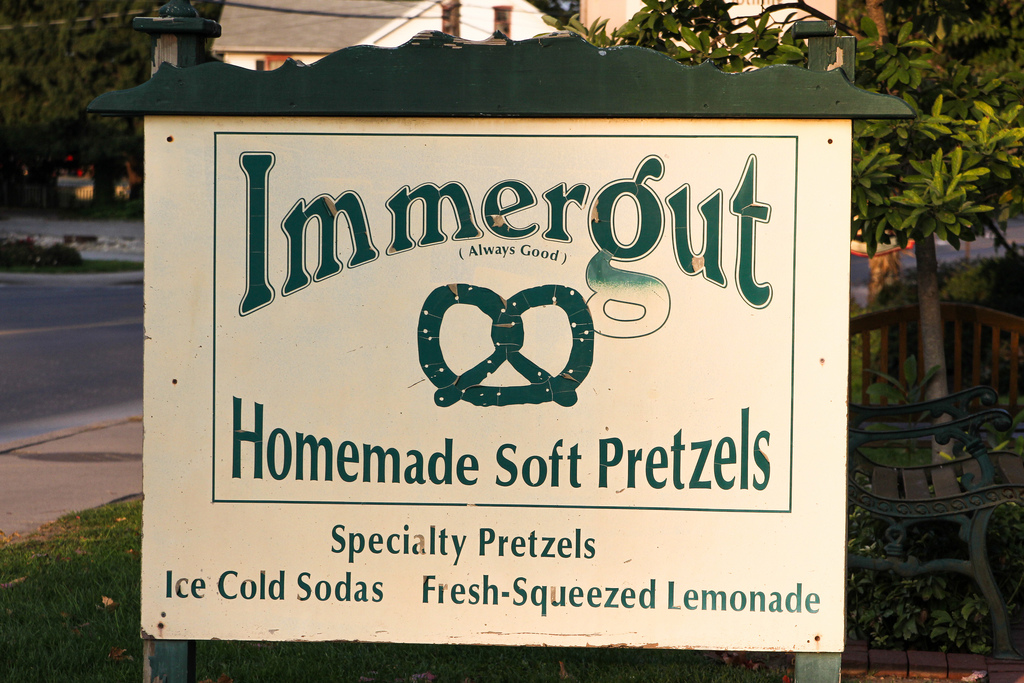 I could also take pictures of the pretzels that I ate standing outside of Kitchen Kettle Village early one morning as the sun was coming up. I know Jesus said that a man cannot live by bread alone, but one bite of these pretzels might have changed His mind. I'd be willing to give it a shot.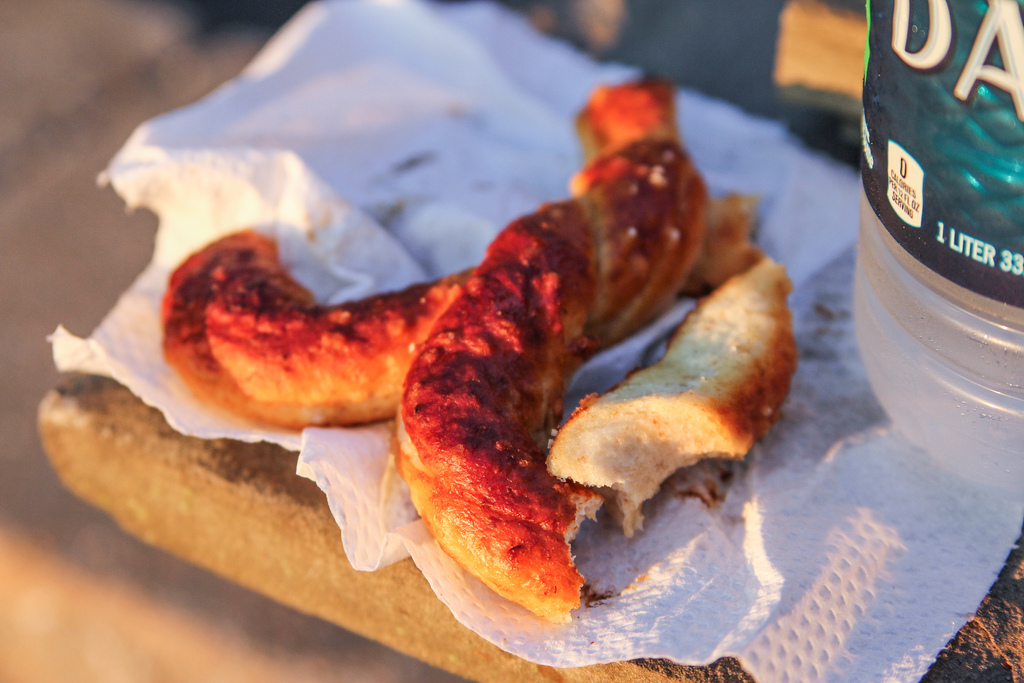 And… since this is such a teaser post here is an Amish buggy headed home from the grocery store just for good measure. One of these days I will get around to blogging about our whole trip, but in the meantime… AMISH BUGGY! I love the Amish so much.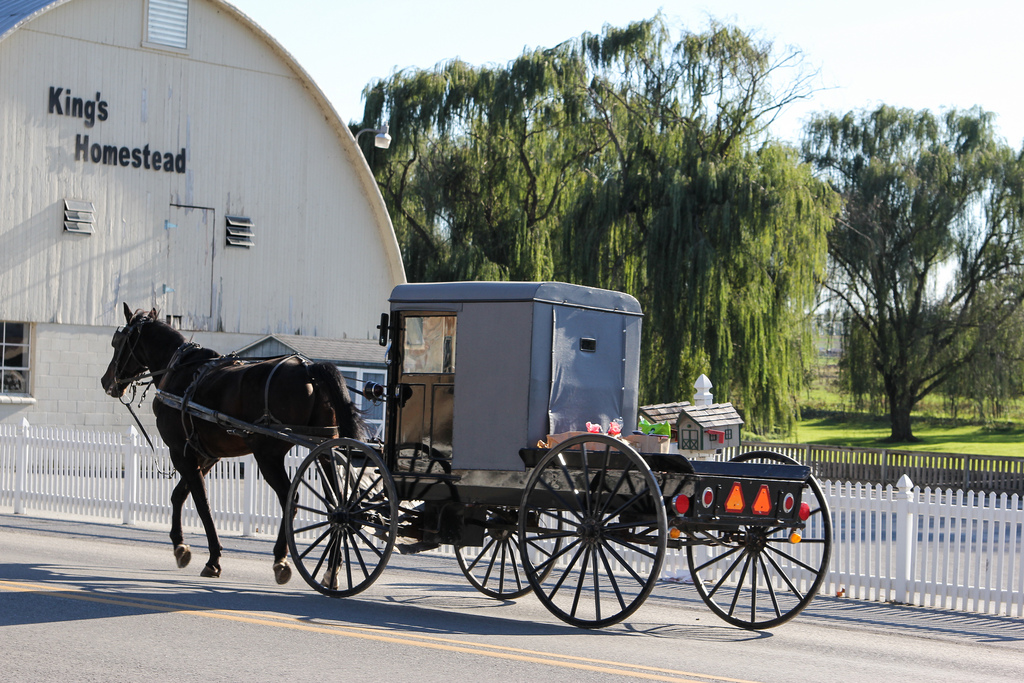 Ok, back to the pretzels.
I needed an easy soft pretzel recipe, and after a little Googling I think I have found one that is pretty close to the melt-in-your mouth deliciousness of the ones that I found at the Bird-In-Hand Farmer's Market. Here are the pretzels that I made today after a little bit of recipe tweaking. They are oh-so-delicious.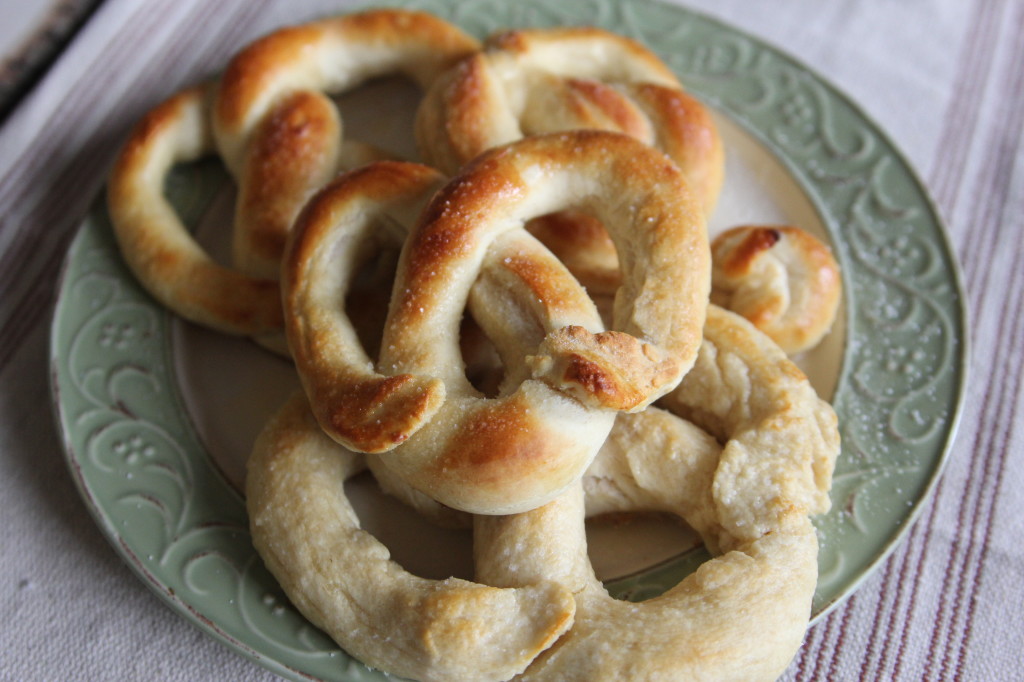 Amish Pretzel Recipe

Amish Style Soft Pretzels
Soft pretzels made in the style of the melt in your mouth Amish pretzels.
Ingredients
1½ cups warm water
1 Tablespoon active dry yeast
¼ cup granulated sugar (try brown sugar for a chewier pretzel)
2 cups bread flour, sifted
2 cups self rising flour, sifted
Dipping solution:
3 cups hot water
½ cup baking soda
Topping:
Sea salt in a grinder
1 stick salted butter
Instructions
In a mixing bowl sprinkle yeast over warm water and stir until dissolved. Let yeast sit for two minutes.
Add sugar and stir until dissolved.
Sift flours into mixture.
Mix with the dough hook attachment just until a dough ball forms. Don't over-knead the dough or it will be tough. Just as soon as it comes together and forms a smooth ball, stop the mixer and cover the bowl with a clean cloth.
Let dough rise at least 30 minutes until it doubles in size.
Once dough has risen, cut the dough into strips and roll out pieces about 12 to 18 inches long.
Twist the pretzels (see video link on blog) and dip in the baking soda/water solution, then sprinkle with sea salt.
Bake at 500 degrees for 4-6 minutes until golden brown on top.
Dip face of pretzels in butter and sprinkle with more salt if desired.
I knew that I would be able to find somebody, somewhere who had filmed how to knot a pretzel like the Amish girl did, and of course I was right.  Go check out this
video on how to twist a pretzel from a dude at Auntie Anne's pretzels.
It showed me exactly how to do it with the same lasso technique that the Amish girl was using, with the added bonus of not making any Amish violate that commandment about having graven images of themselves.  And even if you screw it up the first few times like I did, don't worry.  They'll still eat.
You can even get your kids in on the action and let them make snail pretzel bites like Garrett made here:
Now get Immergut, Prertzerl!
If you'd like to come along on a tour of our 2012 Pennsylvania Dutch Country Vacation, you can click any of the posts or photos below:
Autumn in Amish Country Part 1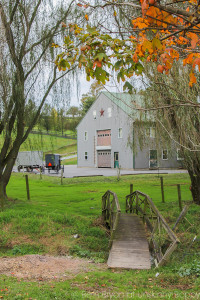 Amish Country Vacation Part 2 (Ephrata Cloister):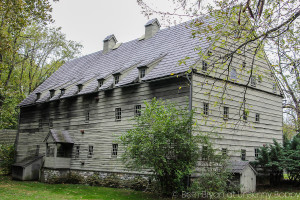 Amish Country Vacation: Part 3 (Landis Valley and Hershey, PA)