It's the final day of the 2013 Holiday Housewalk, and I'm SUPER honored to be a part of this outstanding group of talented women for another year of holiday home tours.  I am Stop #29 on the tour today.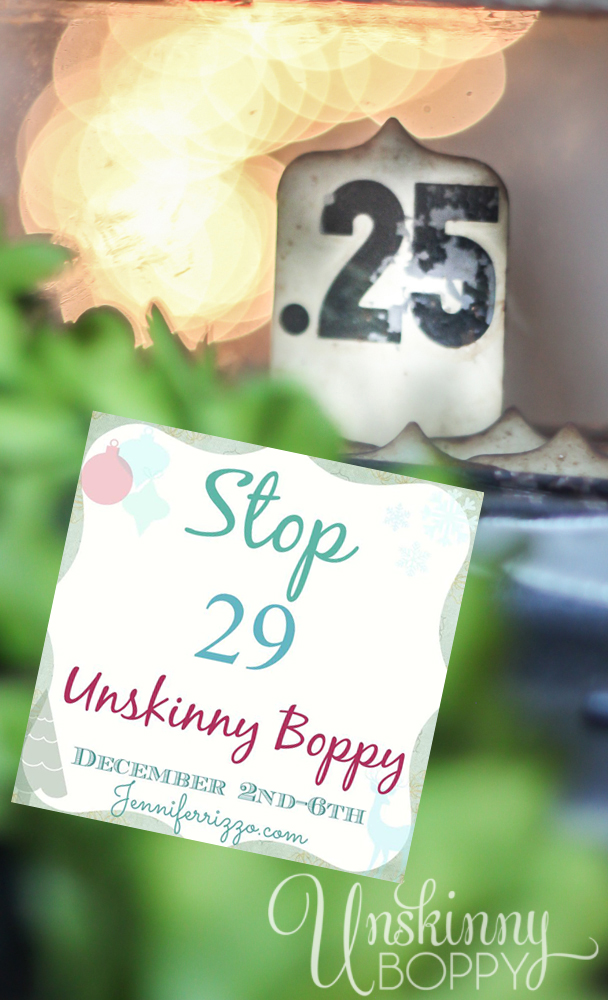 Welcome to my home everyone!  The front porch is always fun to decorate, and this year I made a magnolia swag to surround the front door.  For those who asked, we used Heavy Duty Suction Cup hooks like these to get the garland to stay in place.  It's been up for weeks and still holding strong!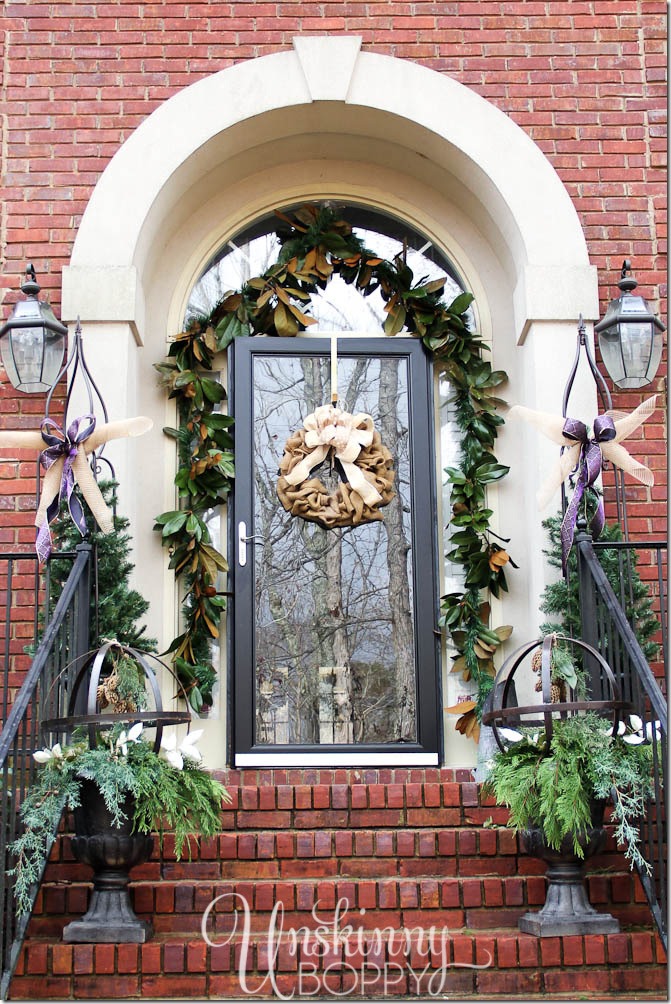 I hope you're incredibly inspired to decorate your home for Christmas after seeing all of the beautiful houses on the House Walk. You're in the final stretch of 32 total homes that will be featured this year.  Also, a big hello to everyone stopping by from Ella Claire Inspired.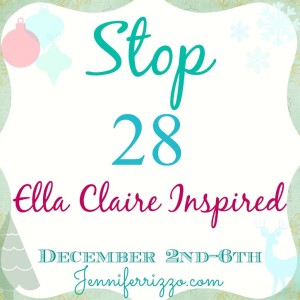 Wasn't her home AMAZING?   Every single house on the tour this year just blows my mind.  These ladies have outdone themselves!  I'm truly amazed by how much talent I've seen in all of the homes along the way.  You REALLY need to go see them all if you haven't yet.  But first, let's take the grand tour of my house all gussied up for the holidays.  Are you ready?  This is going to be a photo heavy post, so I am not going to do much talking unless there is something more that you need to know about the picture. 
The photos speak for themselves, and let's be honest… I know they are the real reason you're here anyway, so let's do this!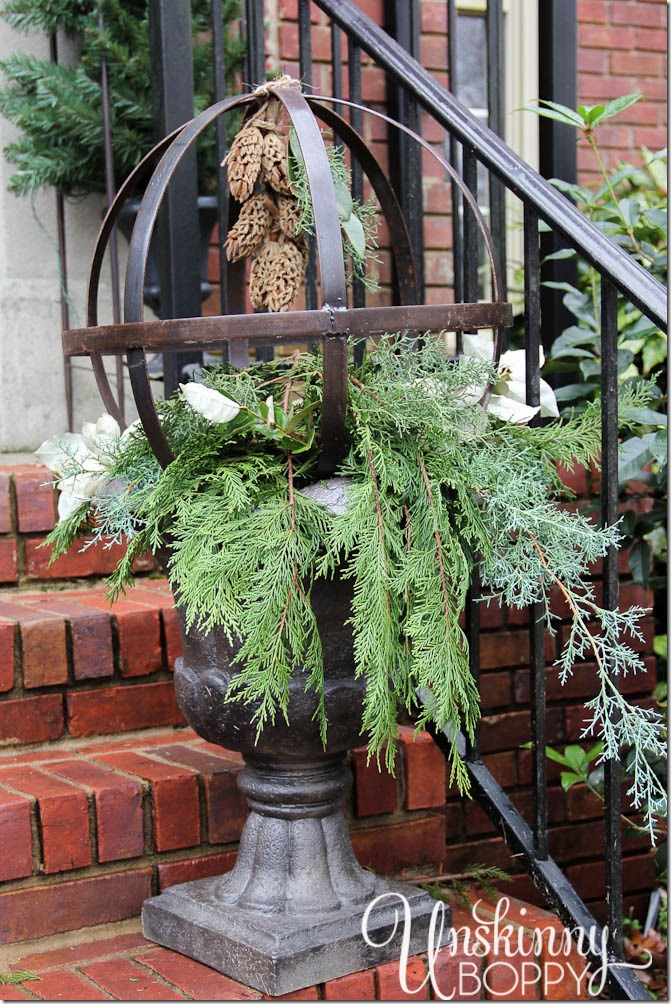 Oh, and by the way–I have THE most awesome blog readers in all the land.  My friend Janice from South Carolina (who I met at the Country Living Fair) sent me a gigantic box of magnolia leaves and cones from her yard for me to use in my Christmas decorations.  The box had enough leaves to make that entire magnolia garland over my front door, plus a huge bag of cones for more crafty goodness.  How awesome is that? She also included some pretzel/Rolo/pecan candies as a treat.  I meant to take pictures of them, but um….
Yeah. 
They gone.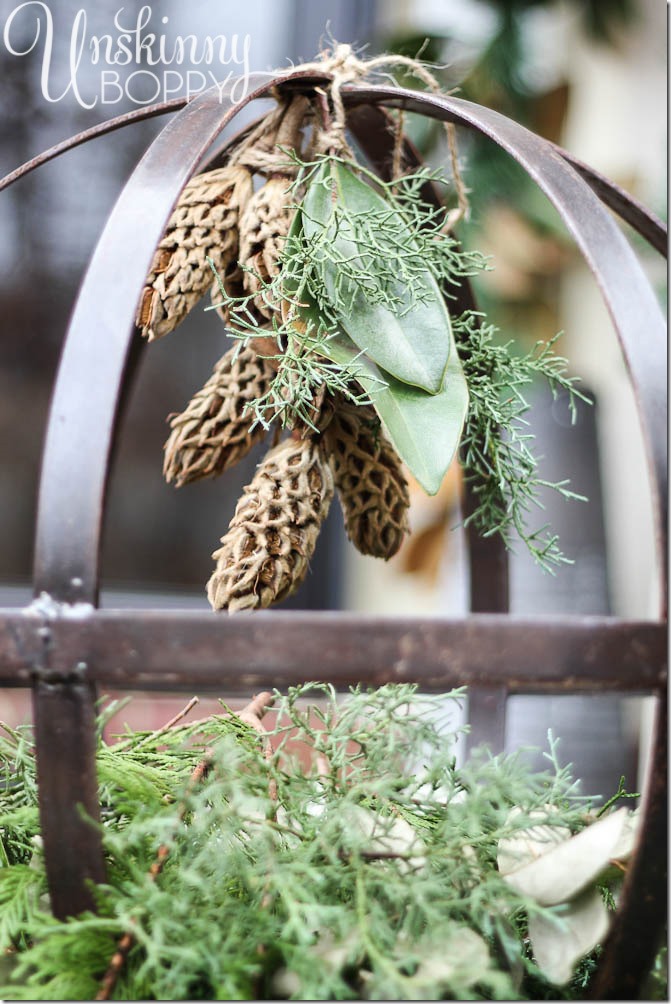 I'm gonna be honest here and say that I'm so impressed by all the ladies who got dressed up and took photos of themselves opening their front doors to usher you inside for their home tour.  Since it was 75 degrees (in December!) the day I was snapping these pictures and so humid that I needed windshield wipers for my glasses, I was a sweaty hot mess!   I'm sure y'all appreciate me not greeting you into my home in a holey old t-shirt with a porcupine ponytail and a sweaty brow.   You can just imagine that I looked like June Cleaver as I decorated my home when in reality I looked more like Honey Boo Boo's Mama June than Beaver Cleaver's.  But kudos to all the hostesses who can pull off both a Housewalk post of this magnitude and also things like, you know… showering… all in the same time frame.  Not to mention hair and makeup.
Let's head inside for the rest of the tour!  I said I was going to shut up and not talk so much for this post. 
Starting now.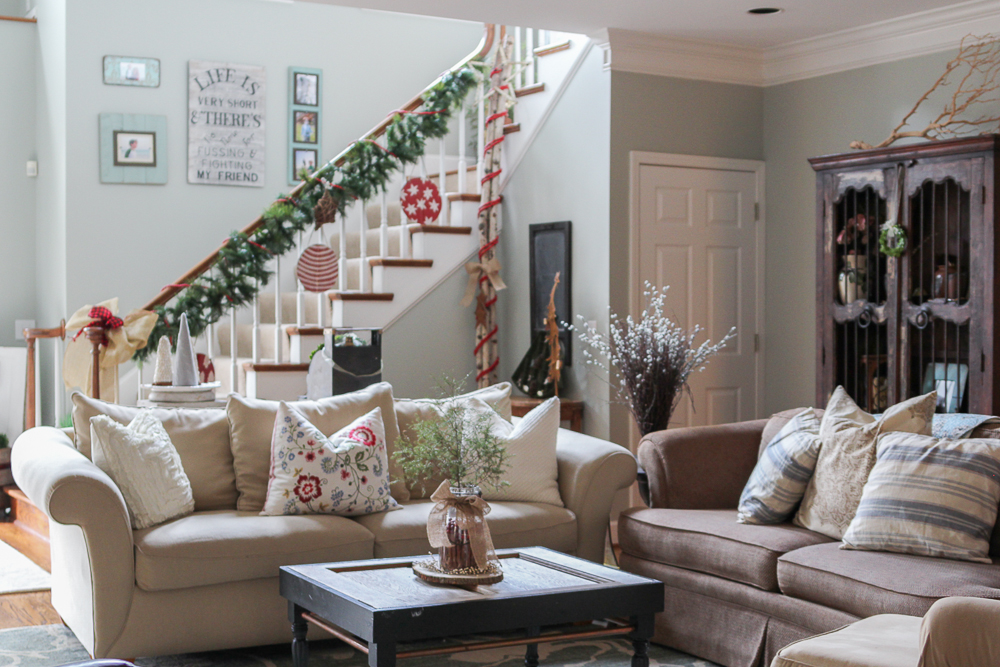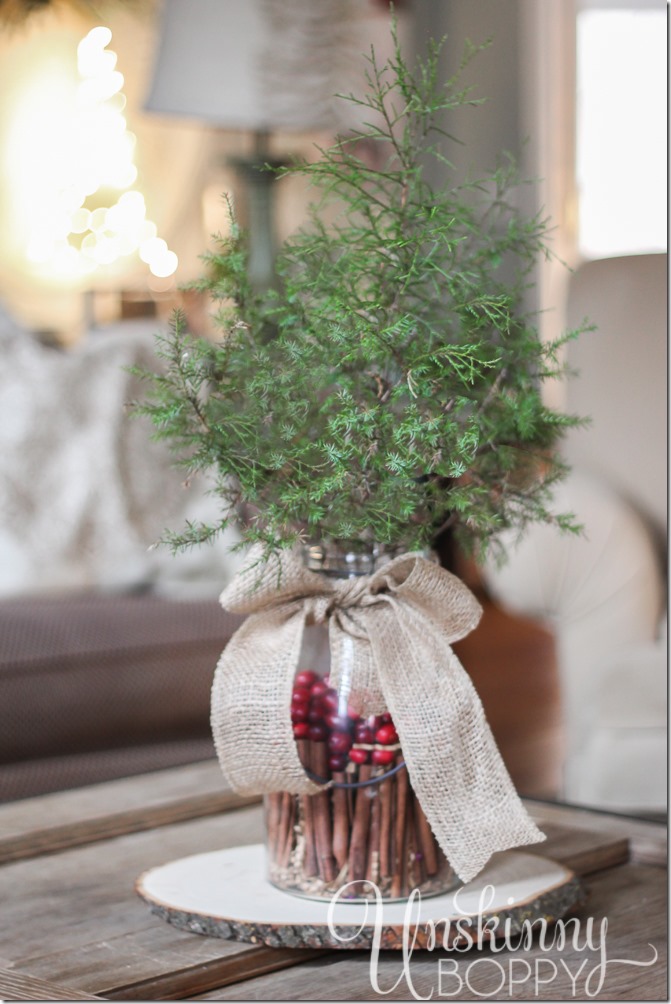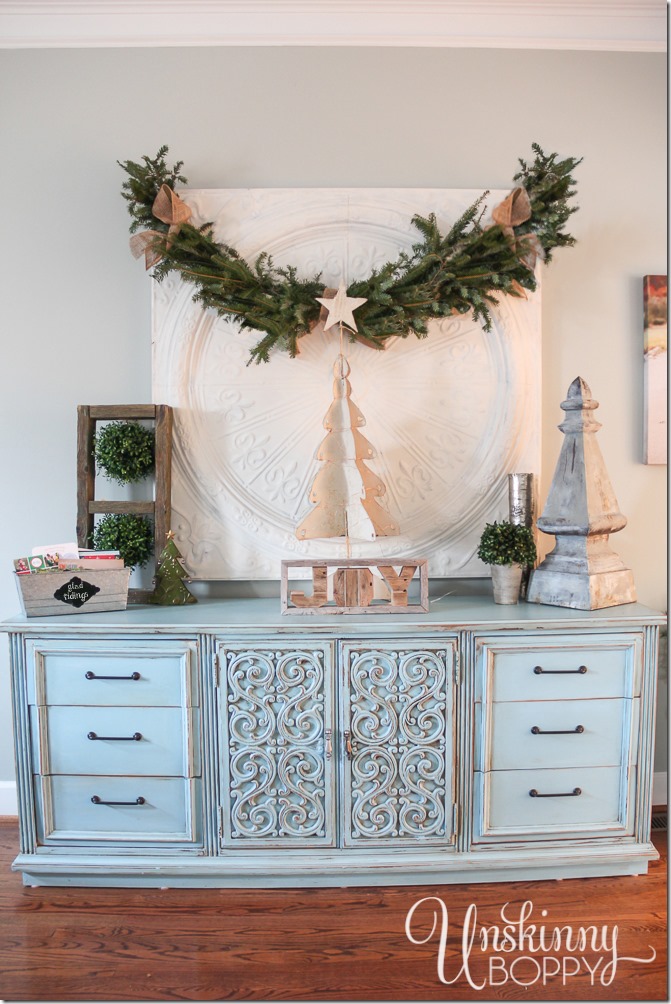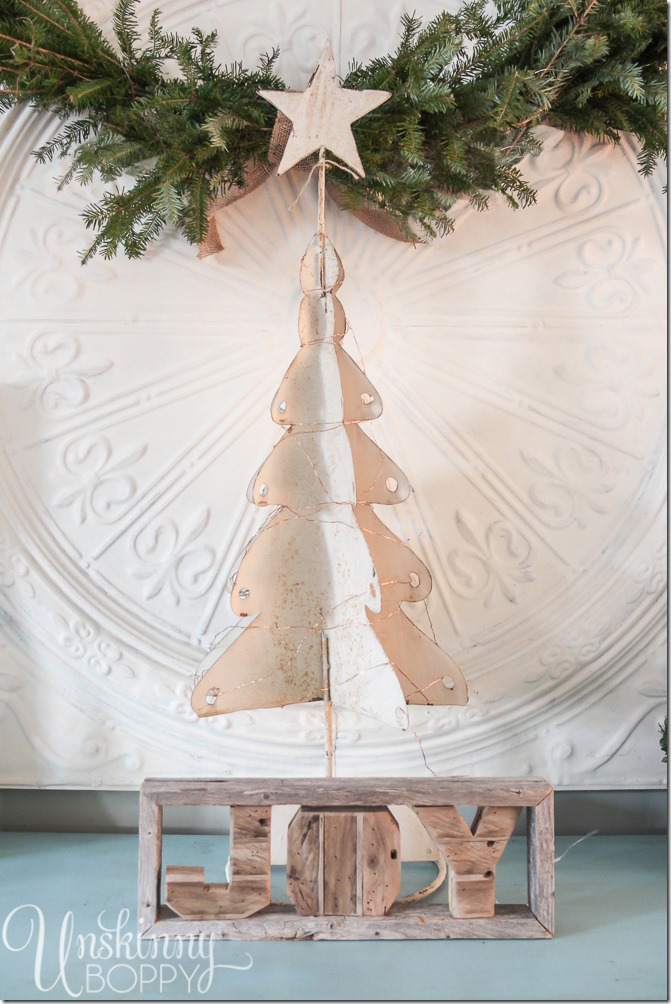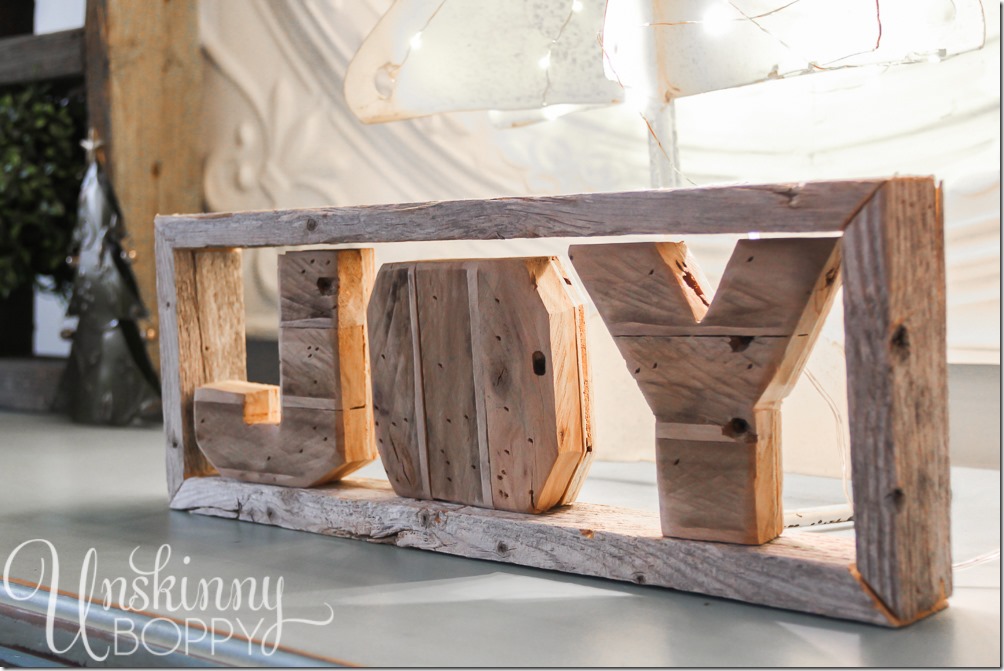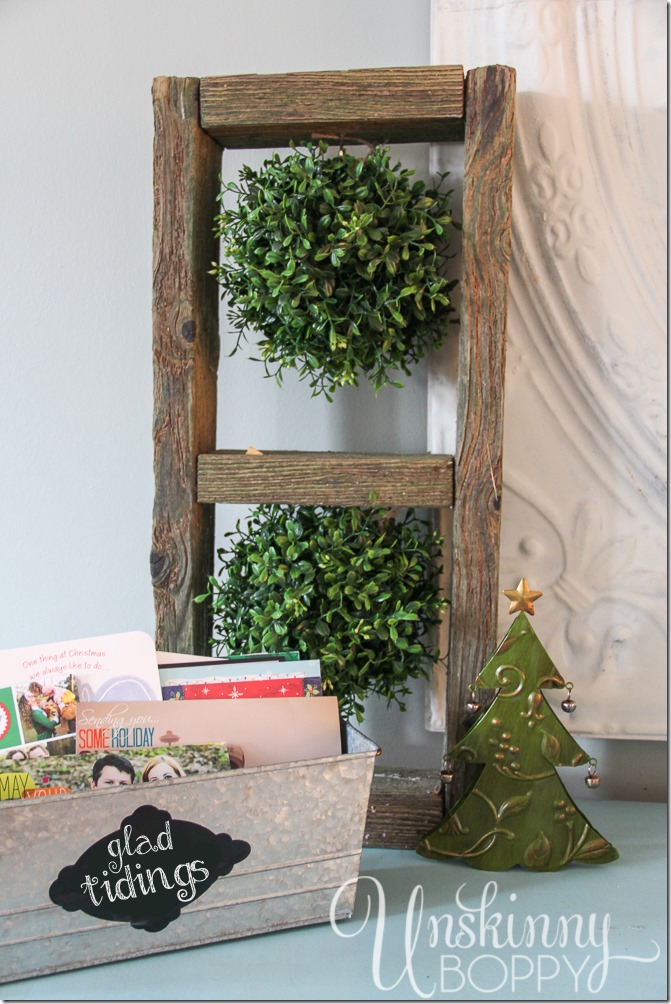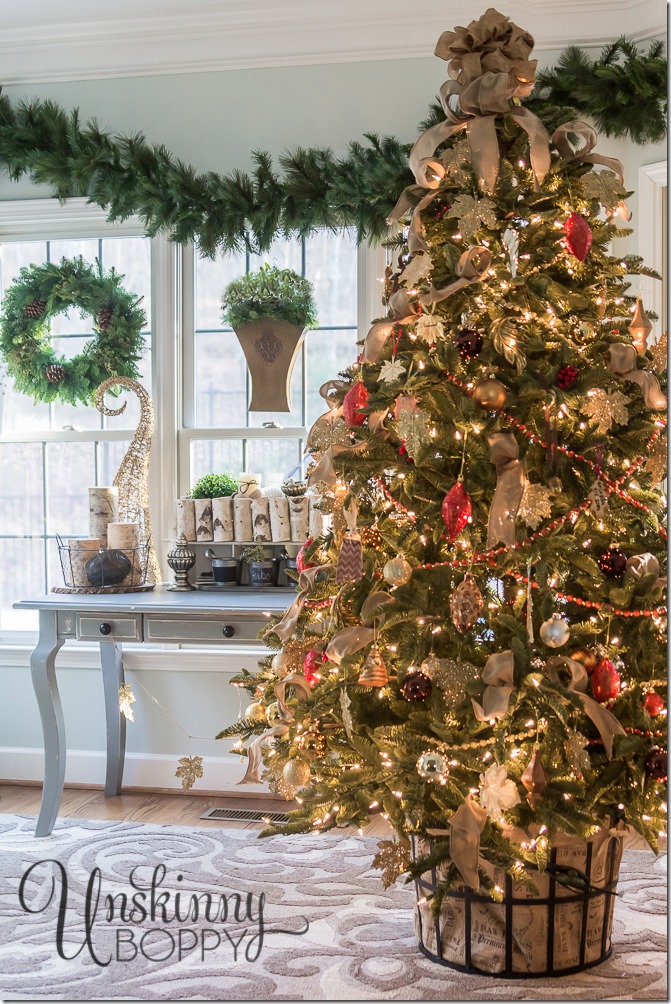 See the rest of my Balsam Hill Christmas tree reveal here.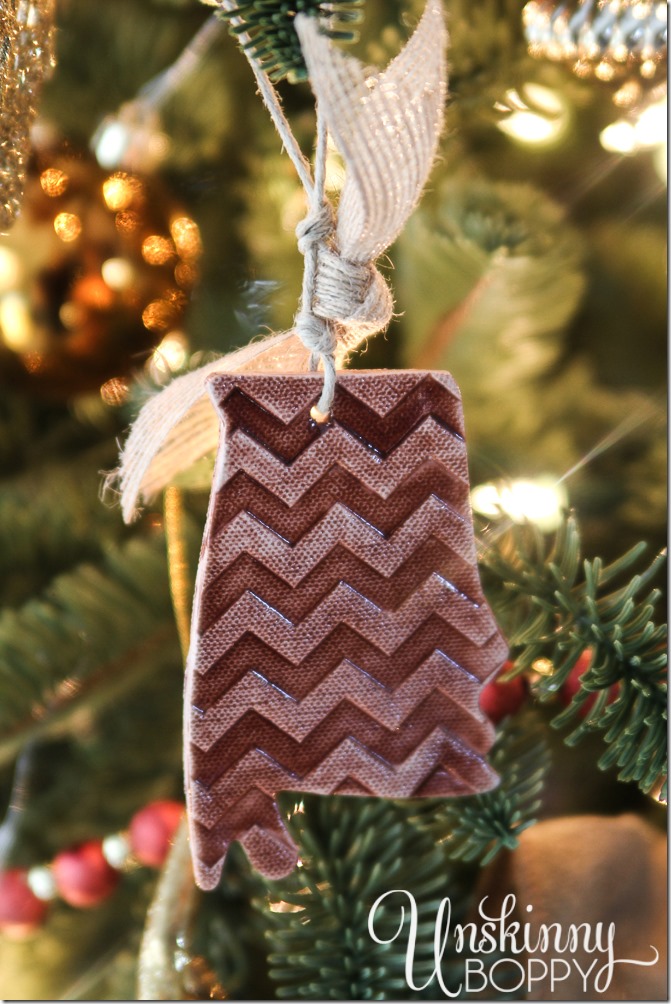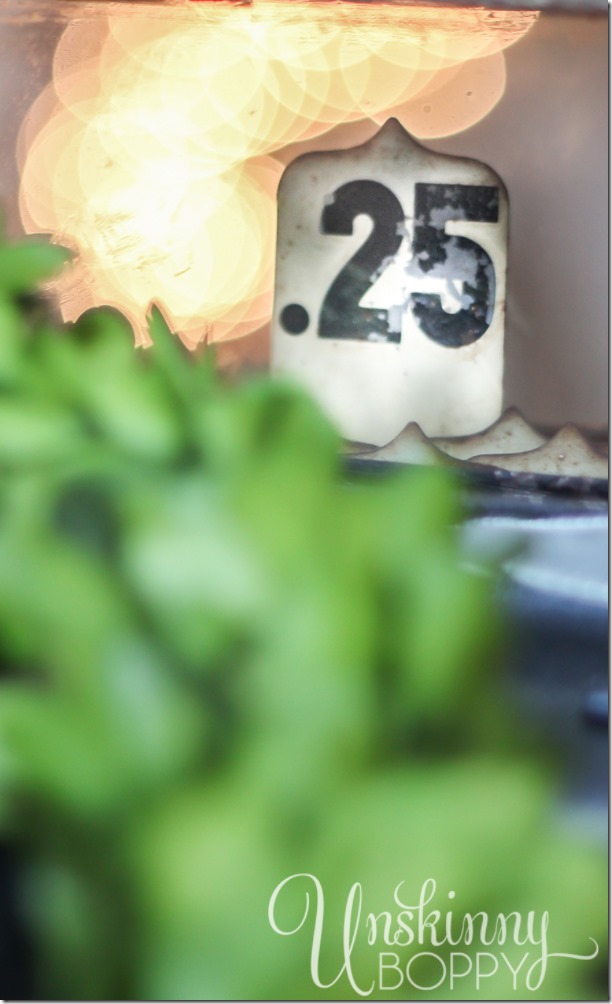 To my facebook friends who correctly guessed that the picture above was a vintage cash register… you were right!  Here she is!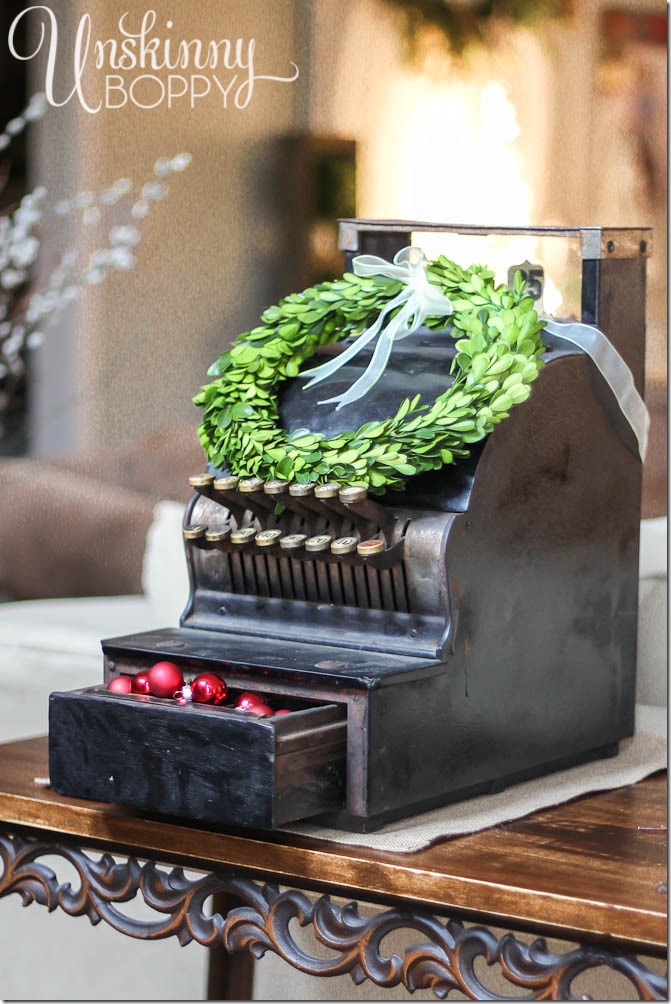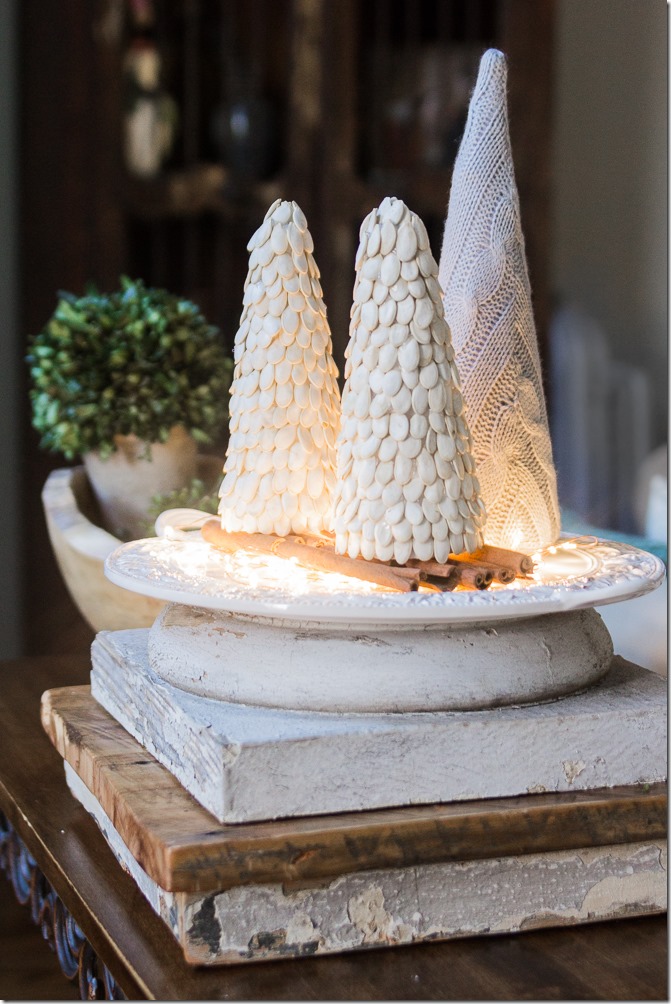 Check out my DIY pumpkin seed Christmas tree tutorial here.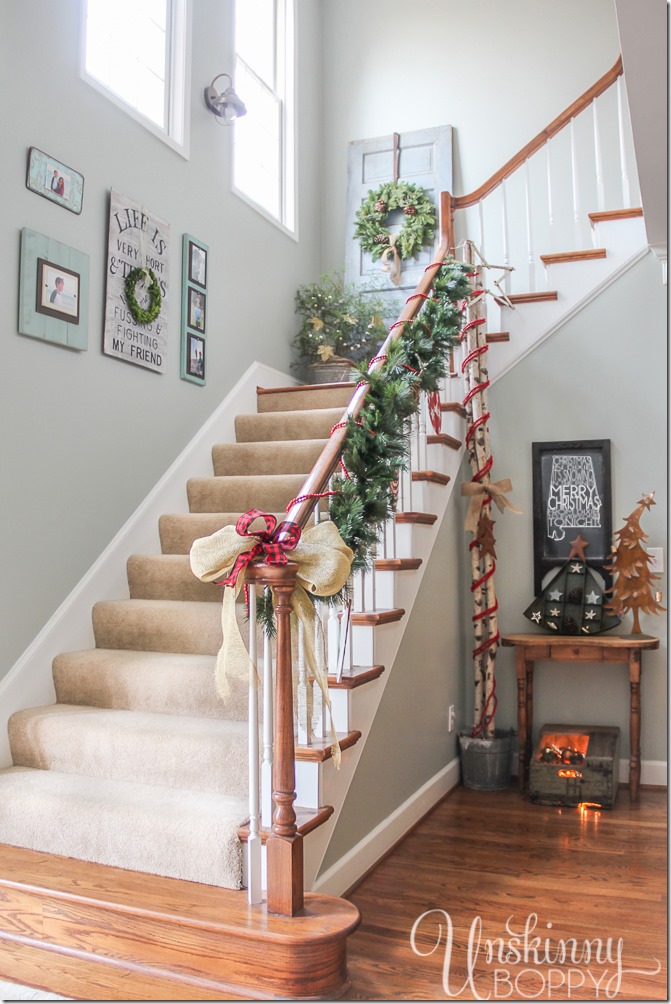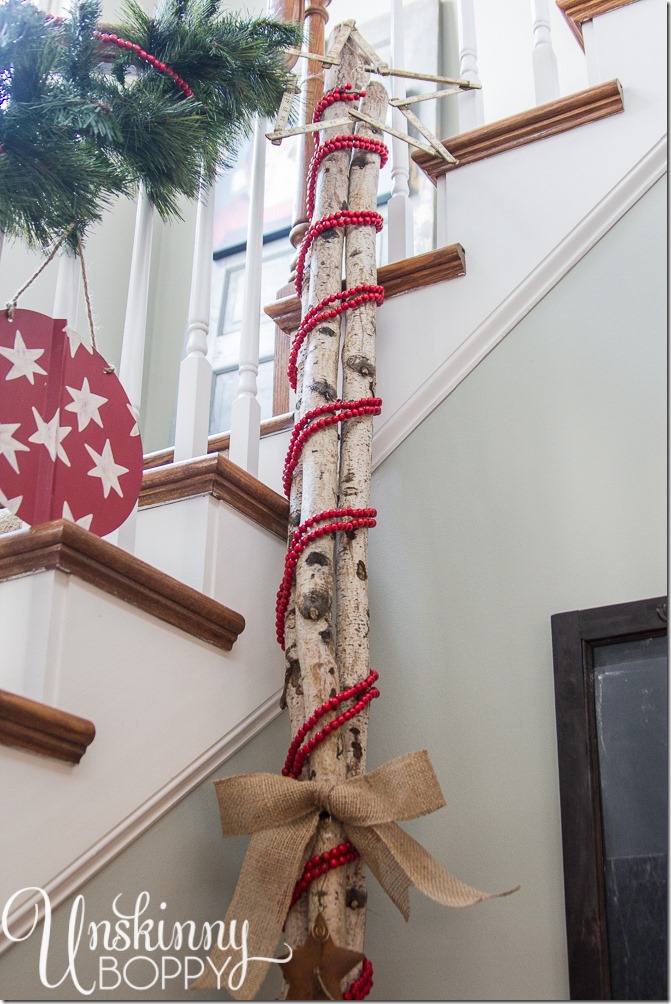 See more of this junky Christmas vignette here on my Junkers United link party post.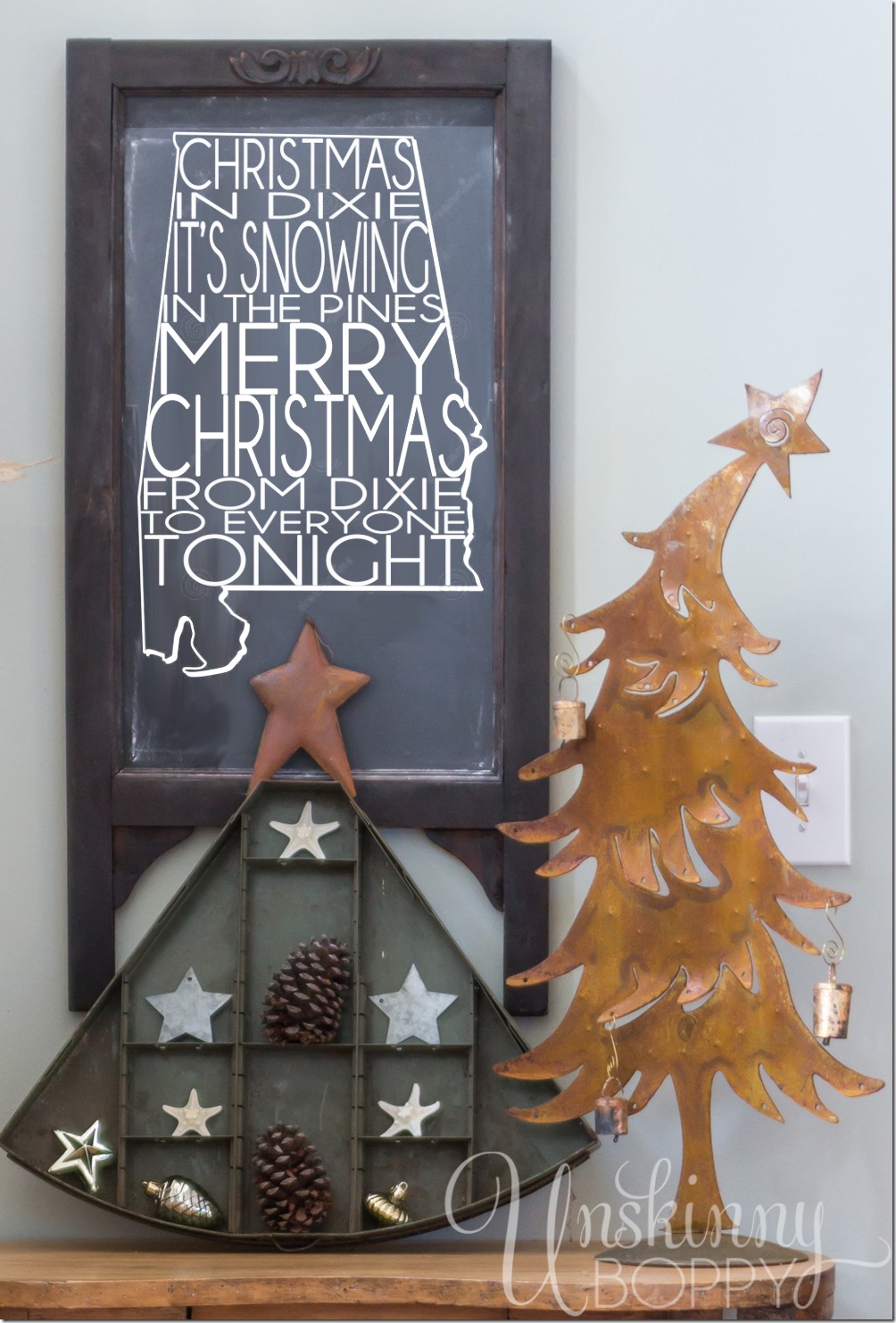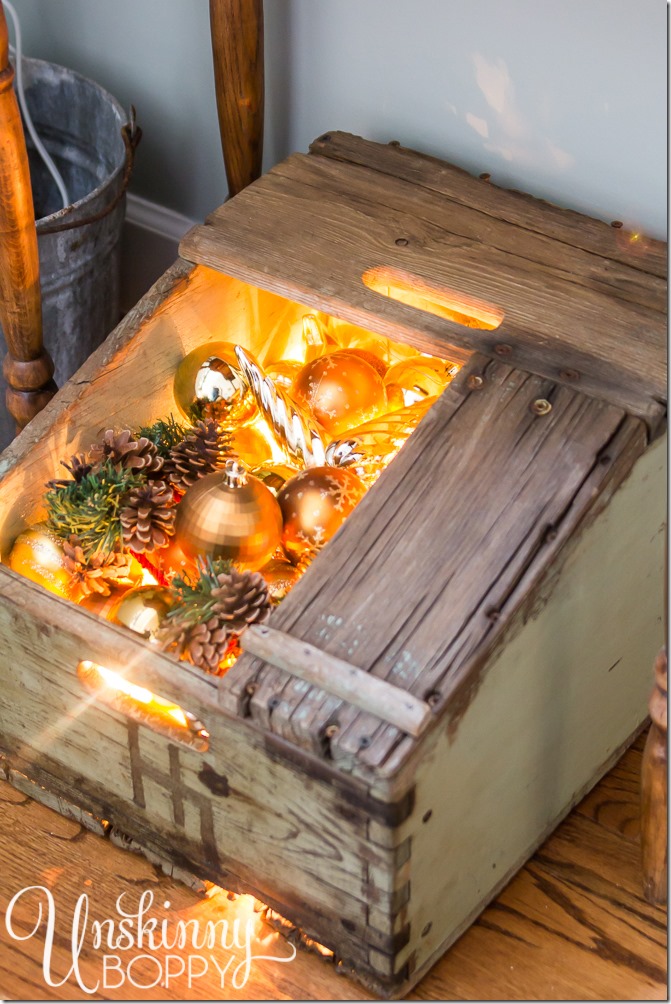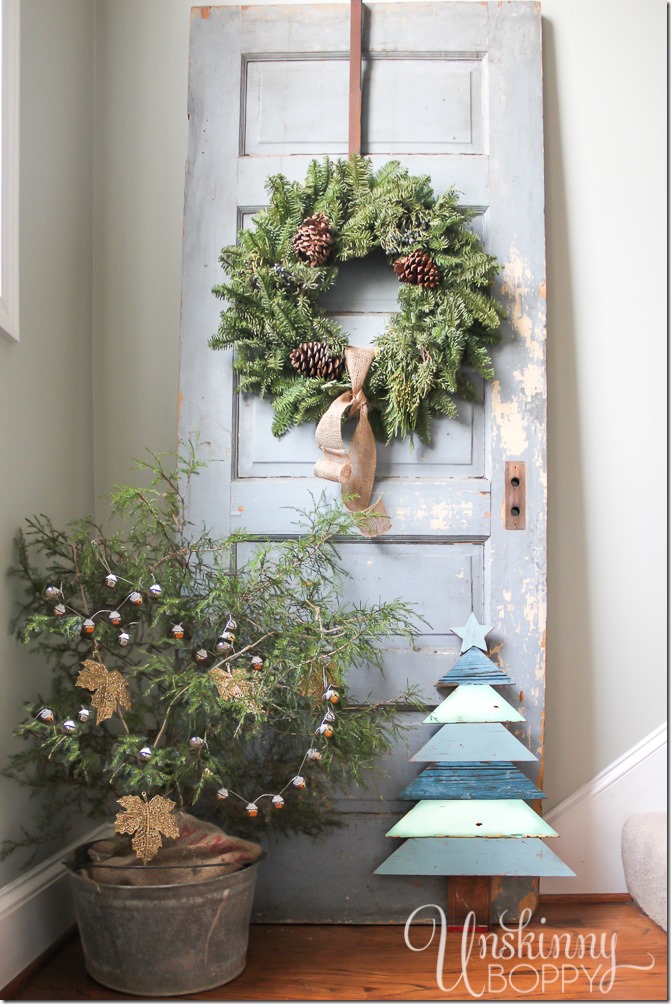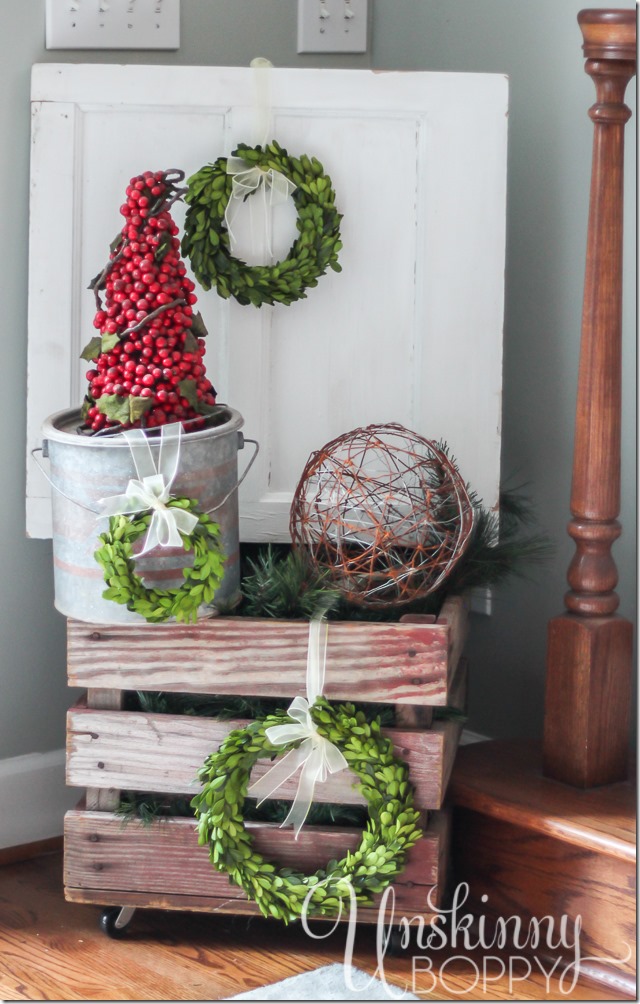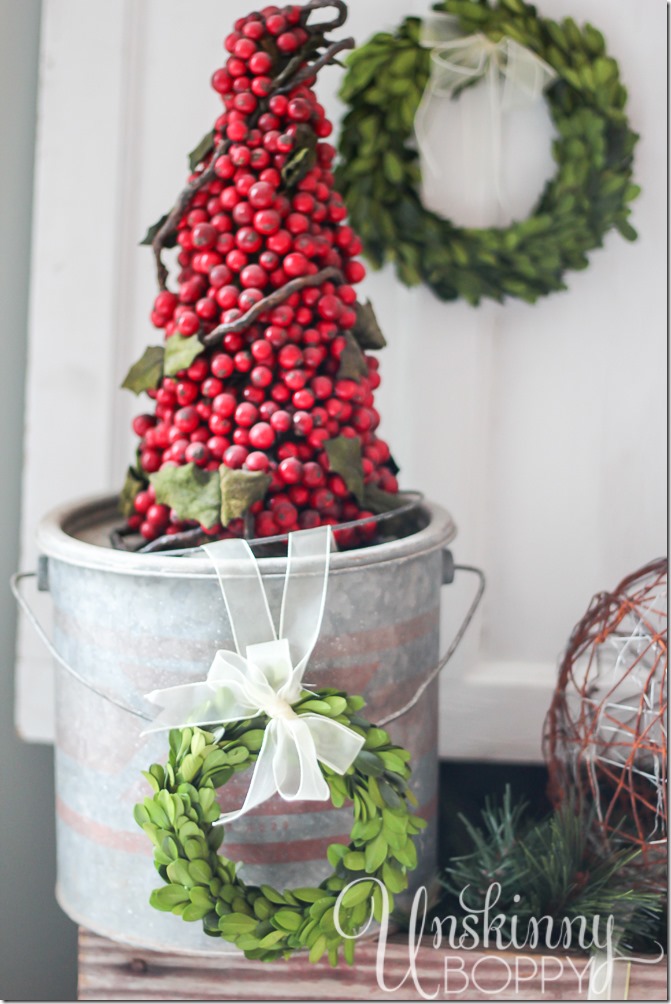 Ok, I have to stop here and tell you how excited I am about my mantel reveal this year.  My husband and I made this GIANT 42″ high reclaimed wood star for the Christmas mantel.  I am IN LOVE with this star.   It's seriously like one of of my top three most favorite DIYs that we've ever done.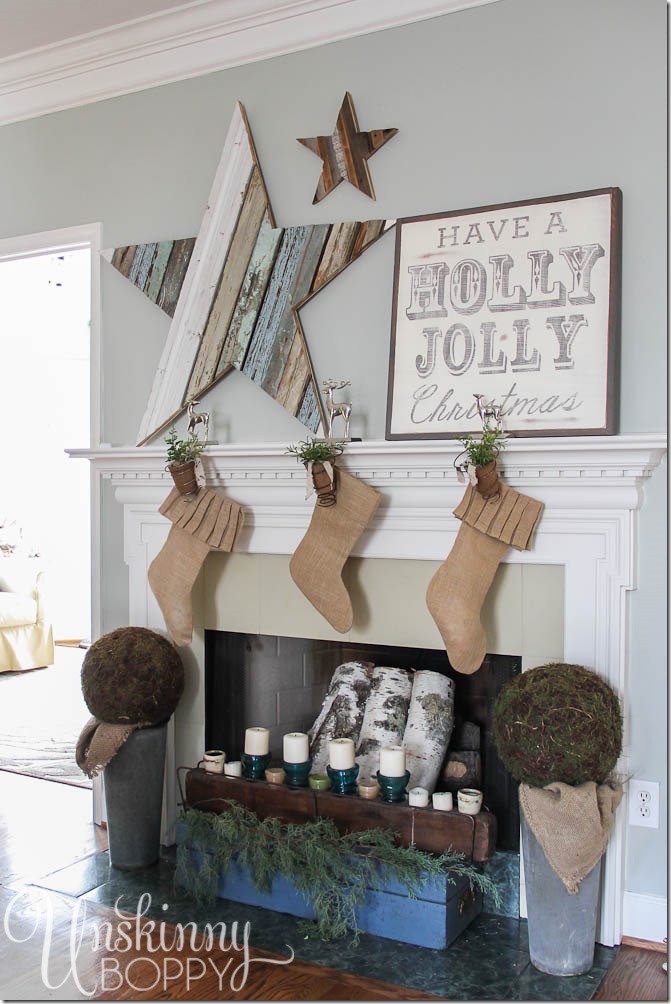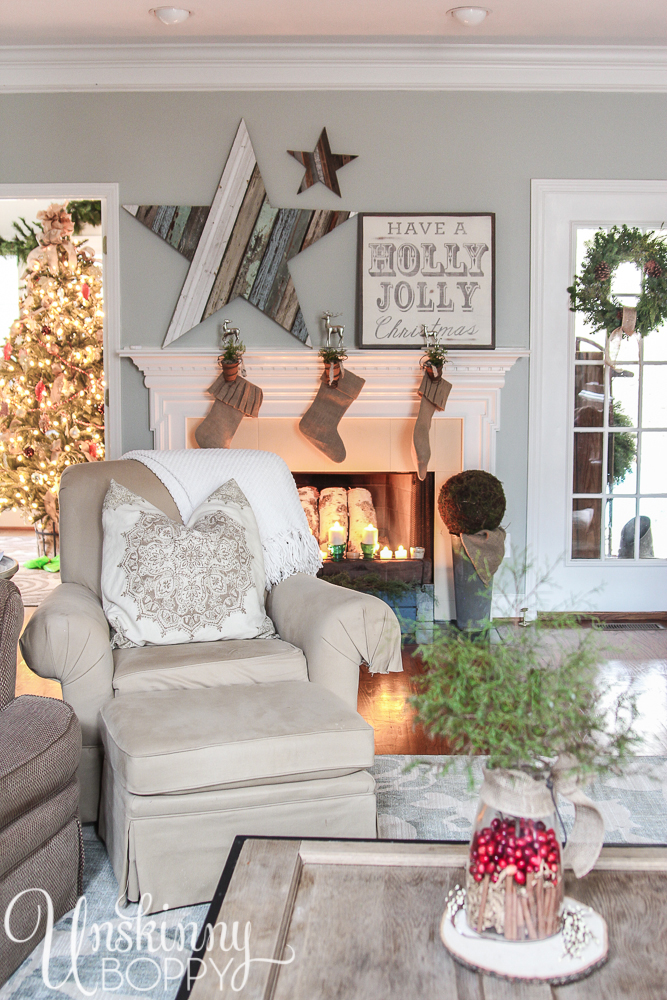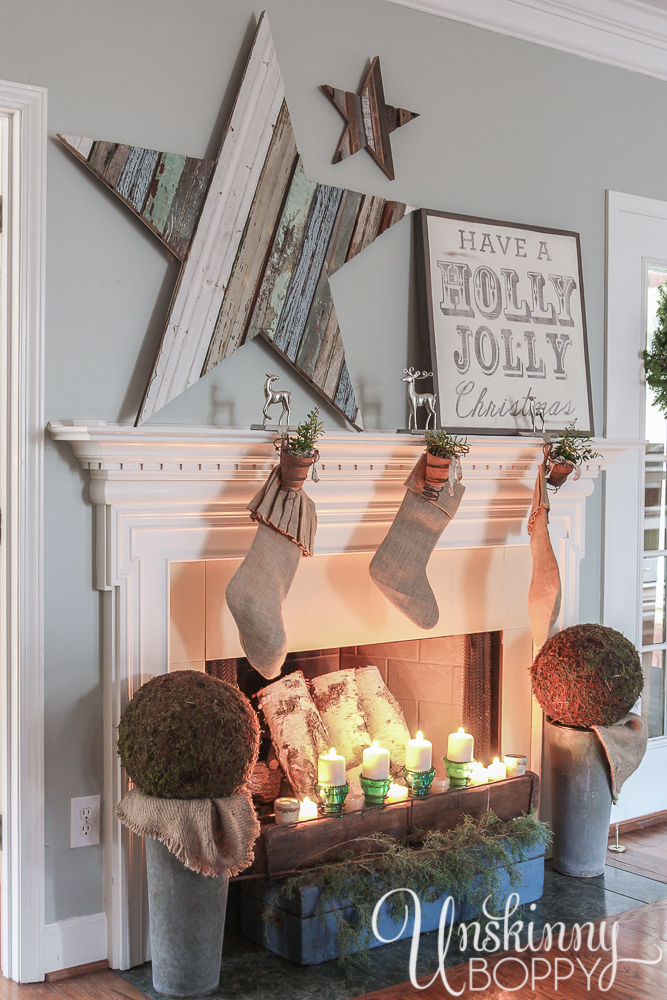 I am going to tell you all about how we made the star, including a template for drawing your own, in a post scheduled for Friday (December 13th).  Please be sure to check back to read all about the making of this beauty.  You're not going to believe how simple it was!  Also, I have to give a great big shoutout to my amazingly talented friend Tara at Between You and Me for making this gorgeous "Holly Jolly" Christmas sign for me.   I love it so much!  Tara was Stop #20 on the House Walk, so be sure to go see her holiday home.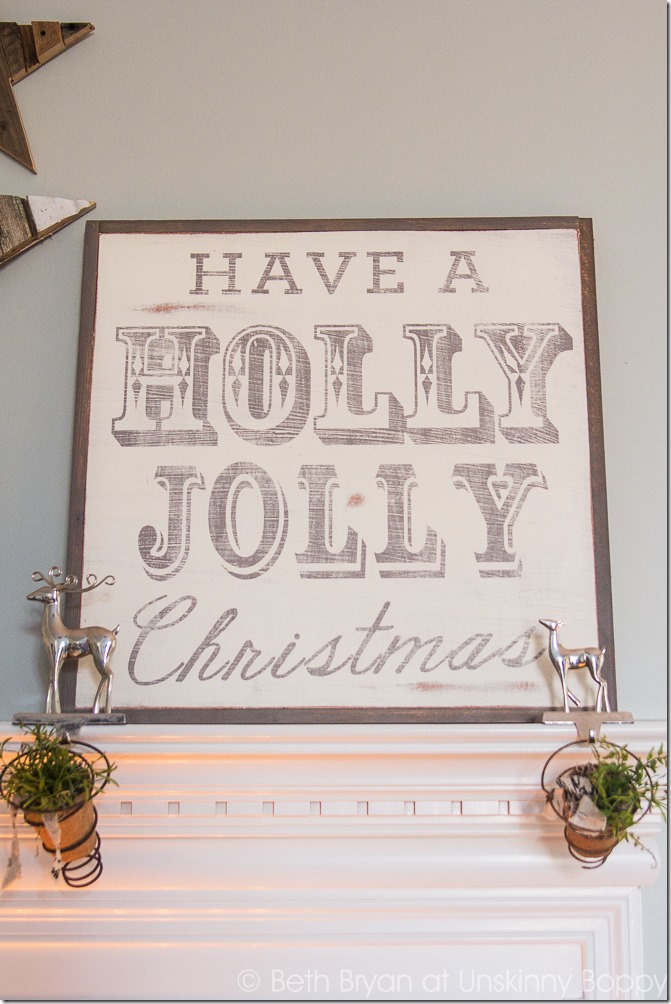 Love these bedsprings turned plant holders.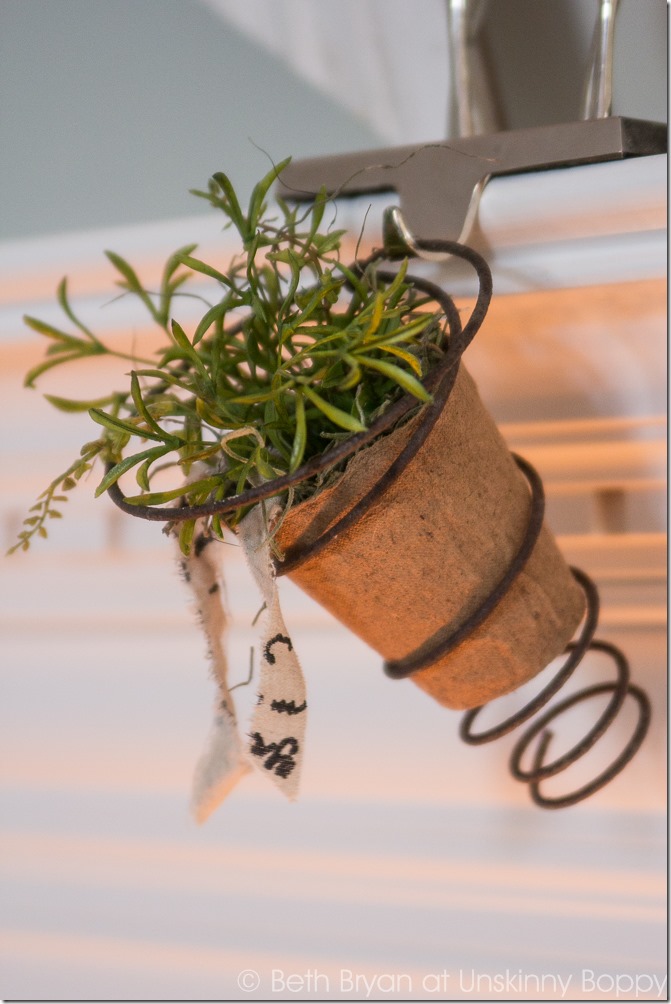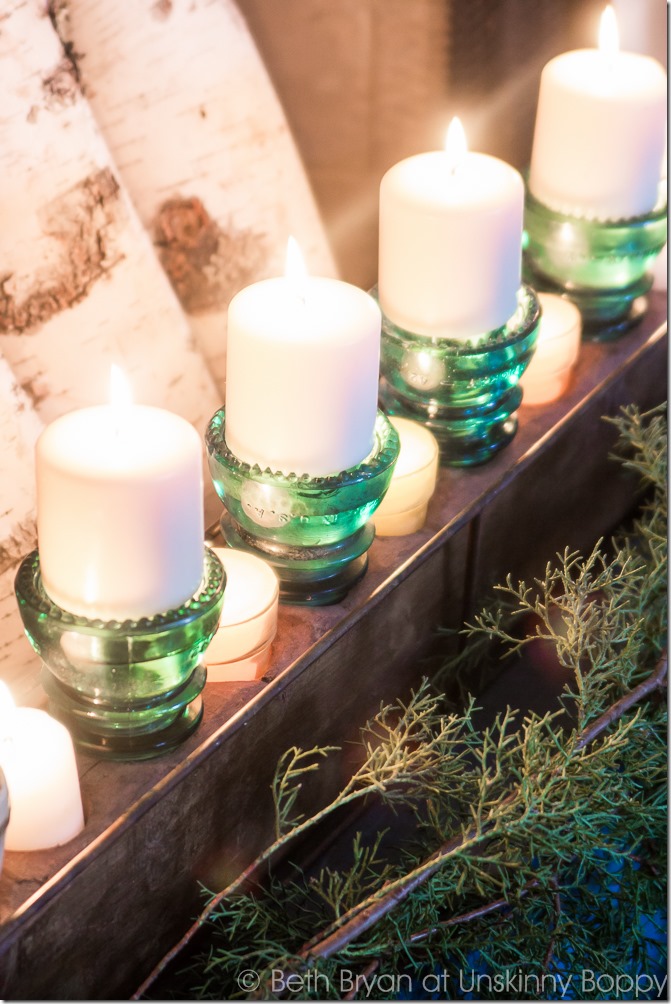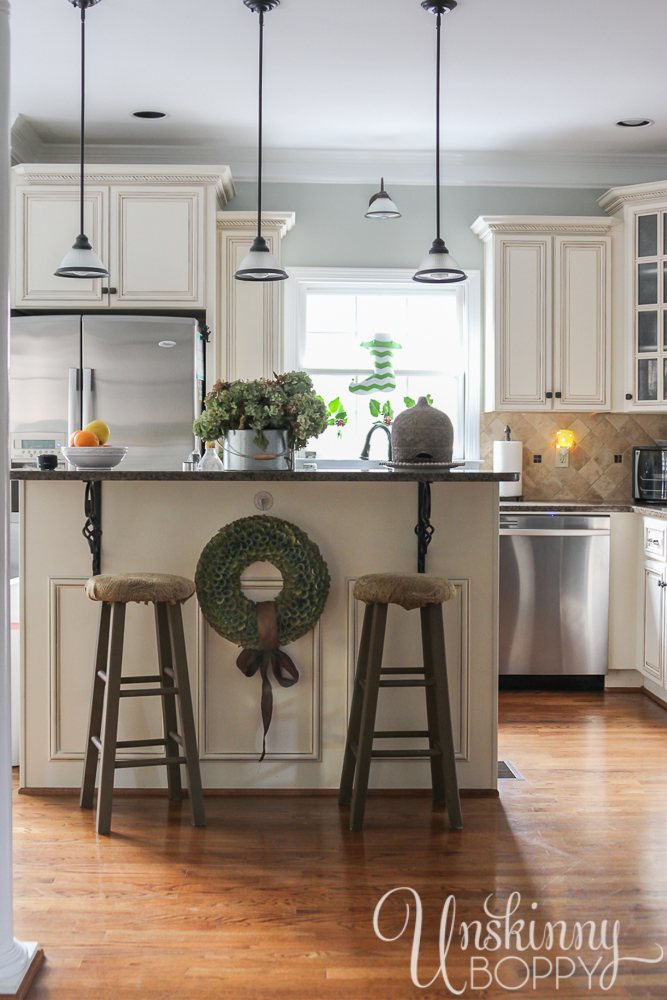 I've got to give another shoutout to my friend Kelly at Eclectically Vintage for giving me the idea to spray paint this old Southern Living at Home metal stocking in her house walk tour earlier this week.  I have had this stocking for years but stopped displaying it because the colors were kinda dated.  Now?  Love it!  Also, sidenote: my catfish dish scrubber holder is finally making his debut on my blog.  I'm so proud. I've been meaning to blog about him for years.  Welcome to the blog, friend.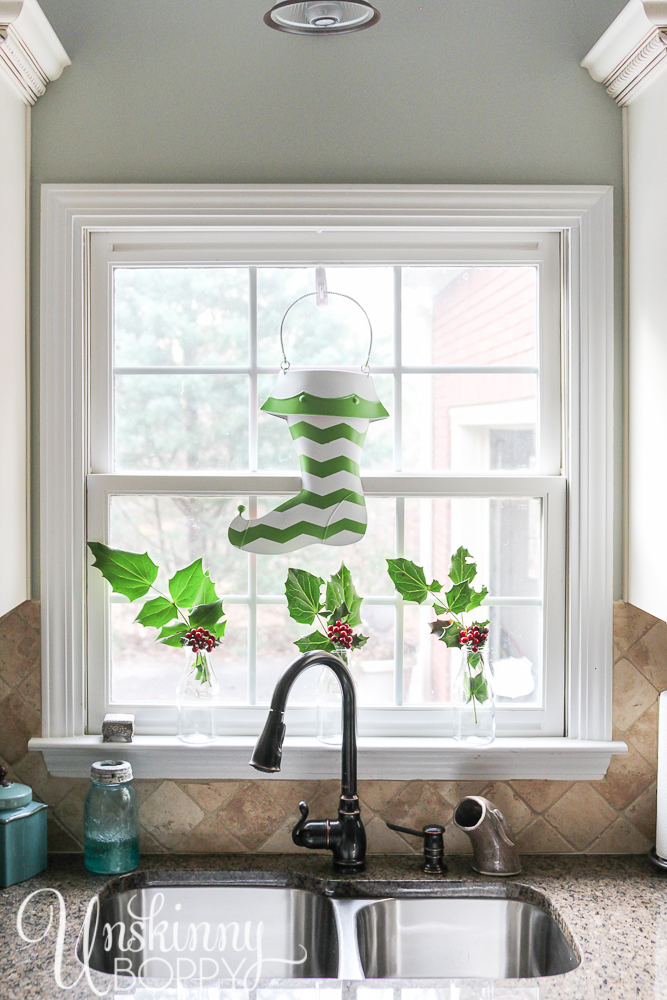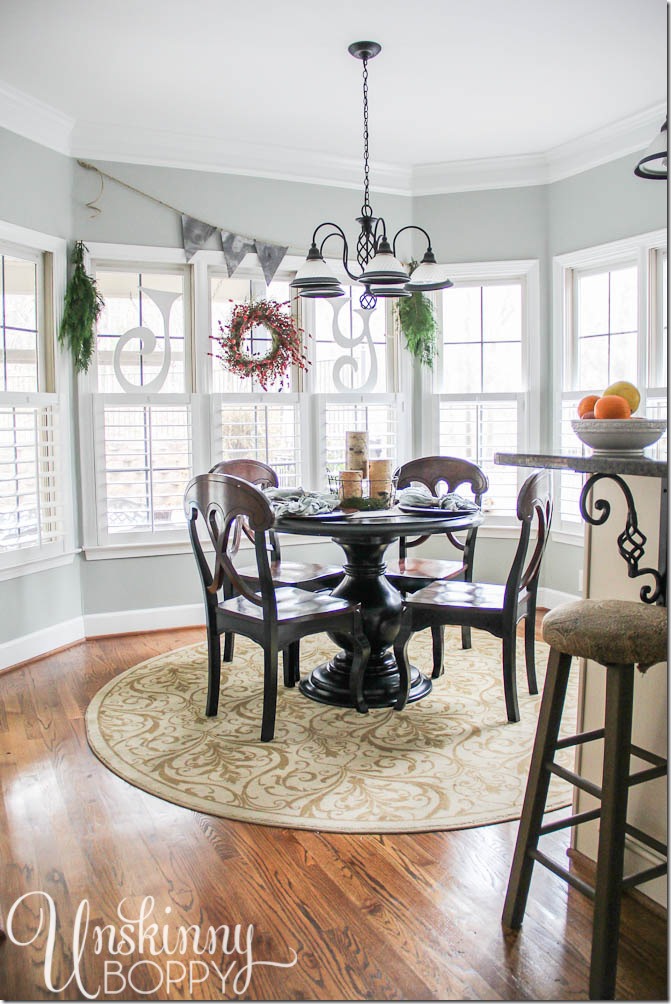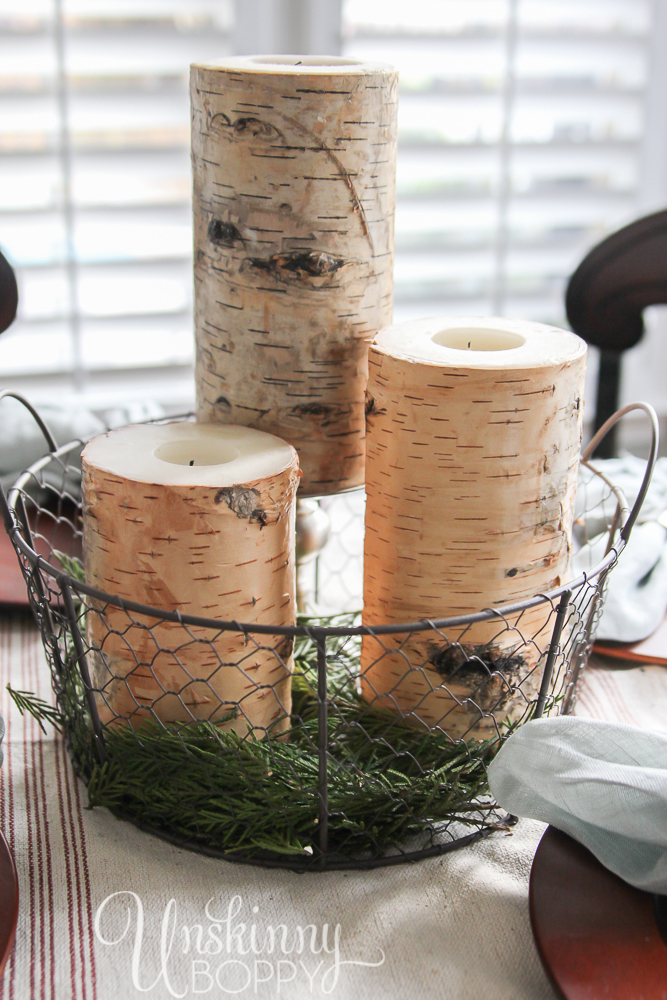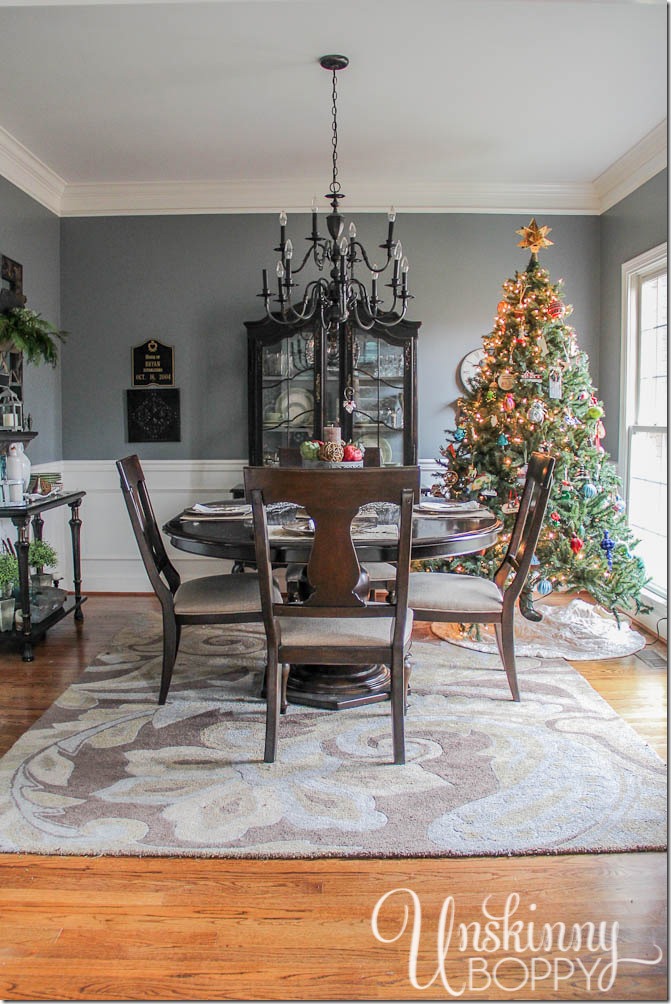 Now that I have a fancy new tree for the sunroom, I relegated my old tree to the dining room to hold all of my crazy fun ornaments from years gone by. 
Because nothing says Christmas like a big shiny ball that says "I Heart Intercourse".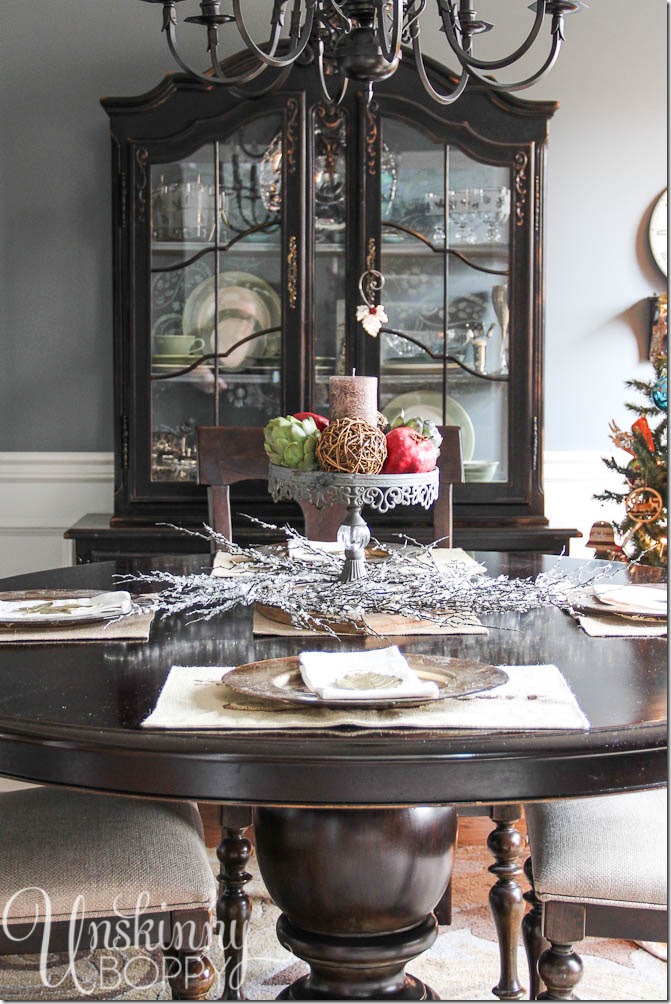 Just making sure you're paying attention.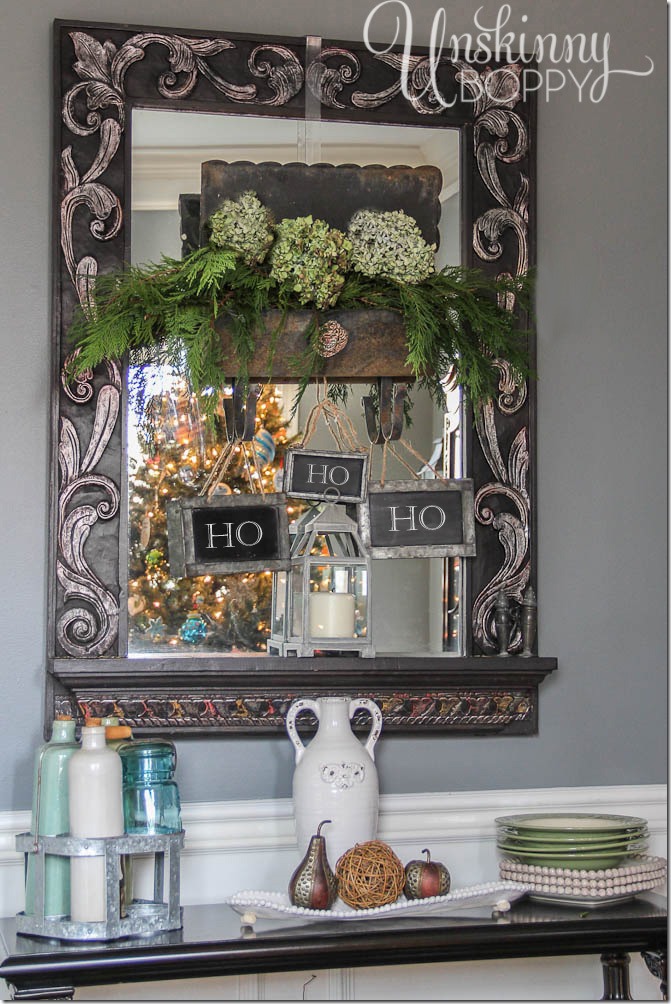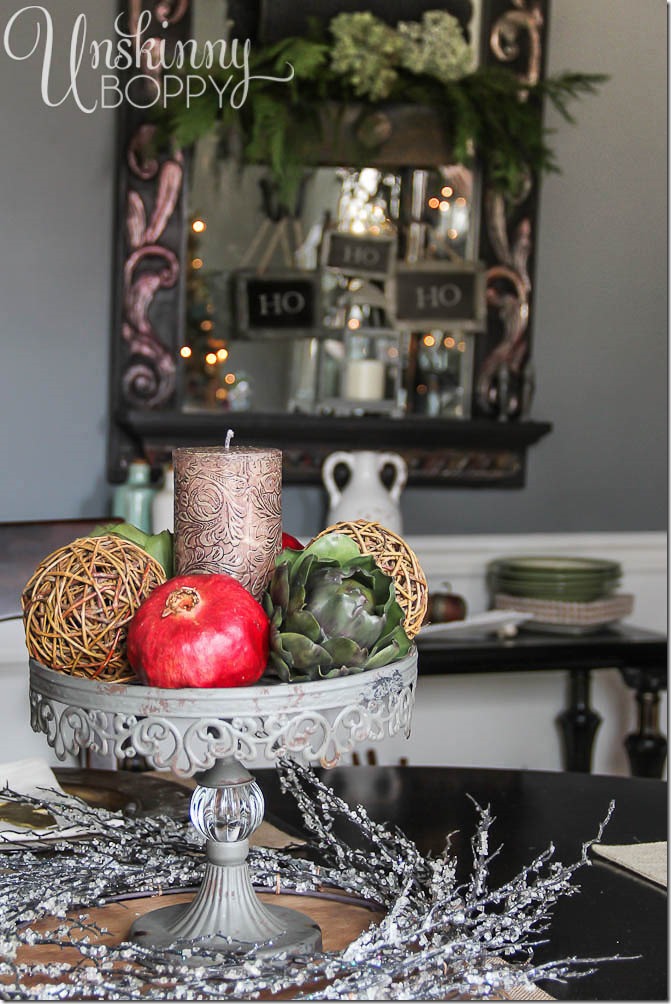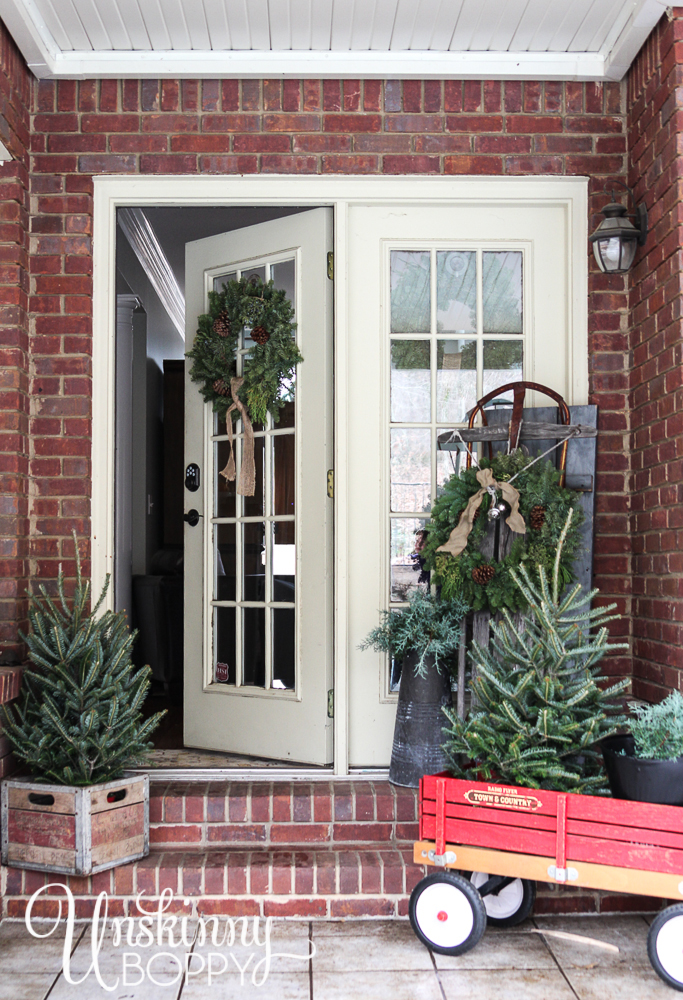 This Radio Flyer wagon belonged to my husband when he was a toddler.  It's been in our basement collecting dust, and when I saw it the other day inspiration struck.  What better way to display it than with a tiny Christmas tree and an old wooden sled?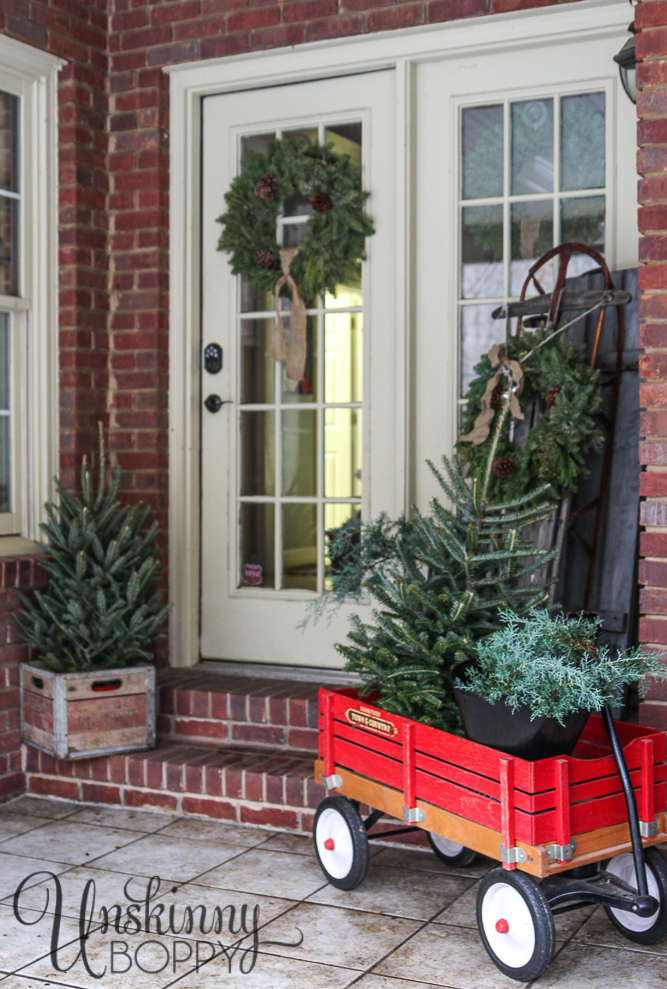 Love this fun vintage Christmas vignette on the back porch!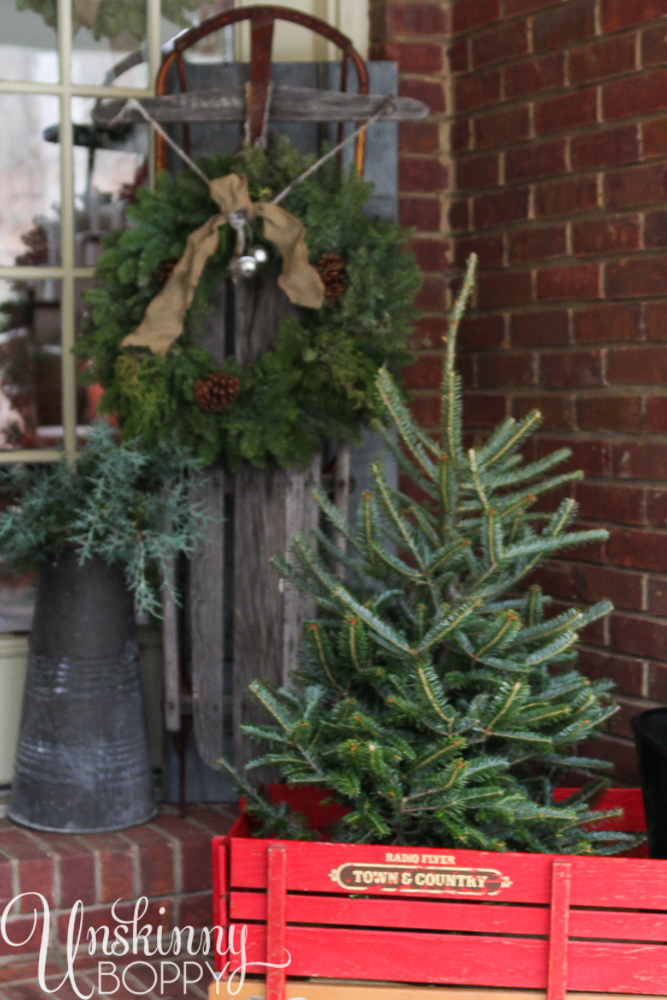 And that's where the tour comes to an end.  What a fun week this has been!  I'm so excited to see everyone's post today and finish up the Holiday House Walk 2013. 
May your days be filled with much joy and happiness this holiday season.  My JOY wooden letters came from Kari of Thistlewood Farms brother, who is raising money for his adoption by making the most beautiful reclaimed wood letters.  They make excellent gifts!  Check out the Son of Whale etsy shop for more details on where to buy reclaimed JOY letters for your holiday home.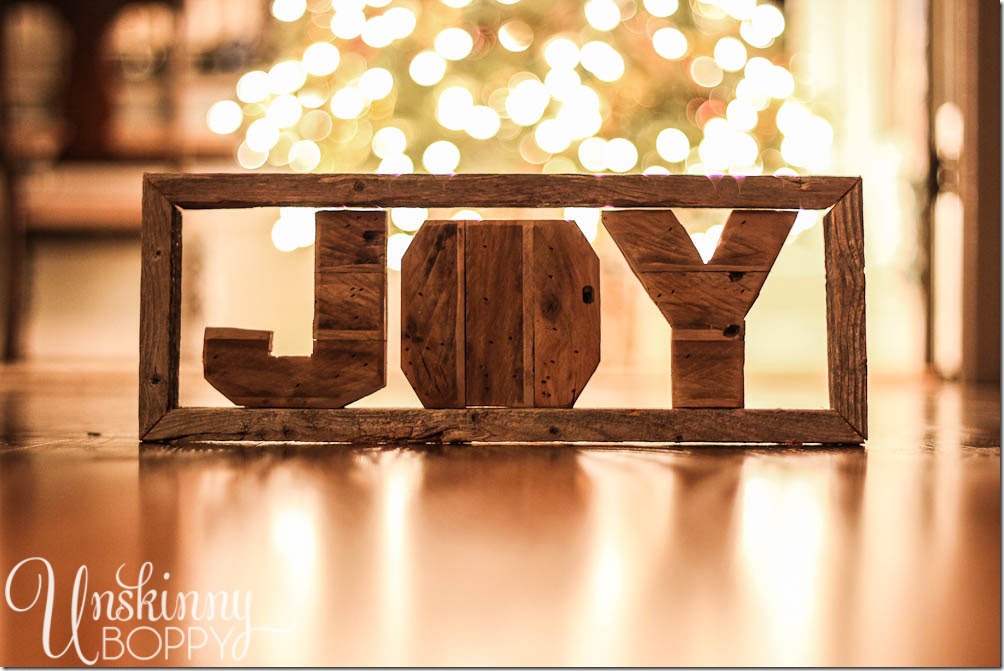 I'm so happy to introduce to you Stop#30 on the Holiday Housewalk this year is my beautiful friend Lucy of Craftberry Bush.  Lucy is hands down one of THE most talented, creative people I have ever had the pleasure of knowing, so there is no doubt in my mind her home is going to knock your socks off!  Head on over and see her, and tell her hello from me!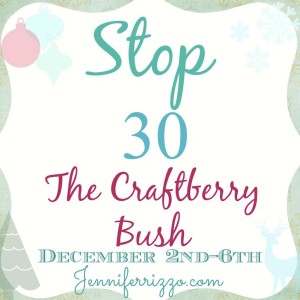 I cannot end this post without saying a huge THANK YOU to my friend Jenn Rizzo for letting me be a part of this elite group again this year.  Jennifer is so incredibly kind and talented.  Her knack for encouraging bloggers to strive to be their best is always inspiring to me.  Jennifer, you are awesome, my friend!  Thank you times a bajillion for being our fearless leader this week!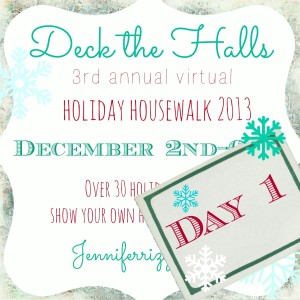 If you want TONS more Christmas decorating inspiration, click here to see Jennifer's house over at Stop #1 and work your way forward through this entire tour.  I can promise you will not be disappointed!
From my home to yours, we wish you a VERY happy Christmas and New Years!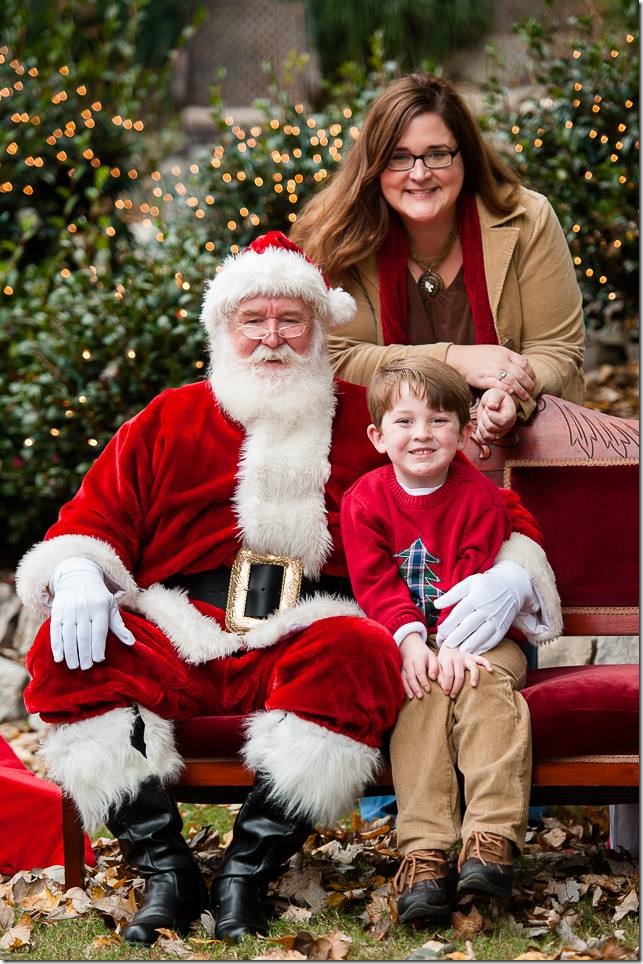 Photo by the talented Lori Gordon of Shooting Star Photography
---
If you liked this post, be sure to browse all of my Christmas decorating ideas here.