What an amazingly awesome weekend it has been!
Between all the food at our Thanksgiving dinner, Black Friday shopping and Auburn winning the Iron Bowl in the very last second of the game with a 109 yard field goal return that left me screaming so loudly I nearly passed out from glee, I feel like I need to book a weekend at a spa just to get my blood pressure to come down. I have also been working like Buddy the Elf on speed to get my house decorated for Christmas so that I can begin sharing my Christmas decorations with you this week! I'll give you more details later on what exciting posts are to come this week, but for now, let's kick things off with a Junky Christmas vignette.  I'm so happy to be teaming up with some awesome bloggers for a Junkers United Christmas Blog Hop and Link Party today!

It's not a secret that I love rusty old junk, right?  When FunkyJunk Donna asked me to join the Junkers United team I knew I had plenty of rusty, junky, decorative blog-fodder to last a lifetime.
And here is Exhibit A: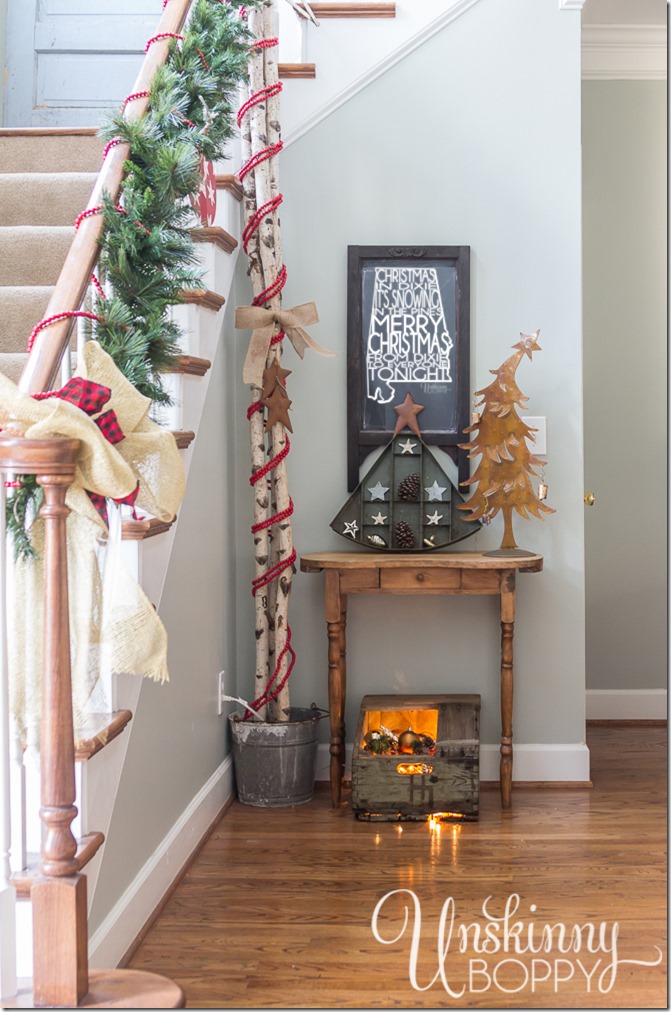 Old Chalkboard menu sign + Alabama chalkboard quote + rusty Christmas trees = trifecta of junky awesomeness.  Throw in some birch logs in an old galvanized sap bucket and I think I might pee myself just a little bit.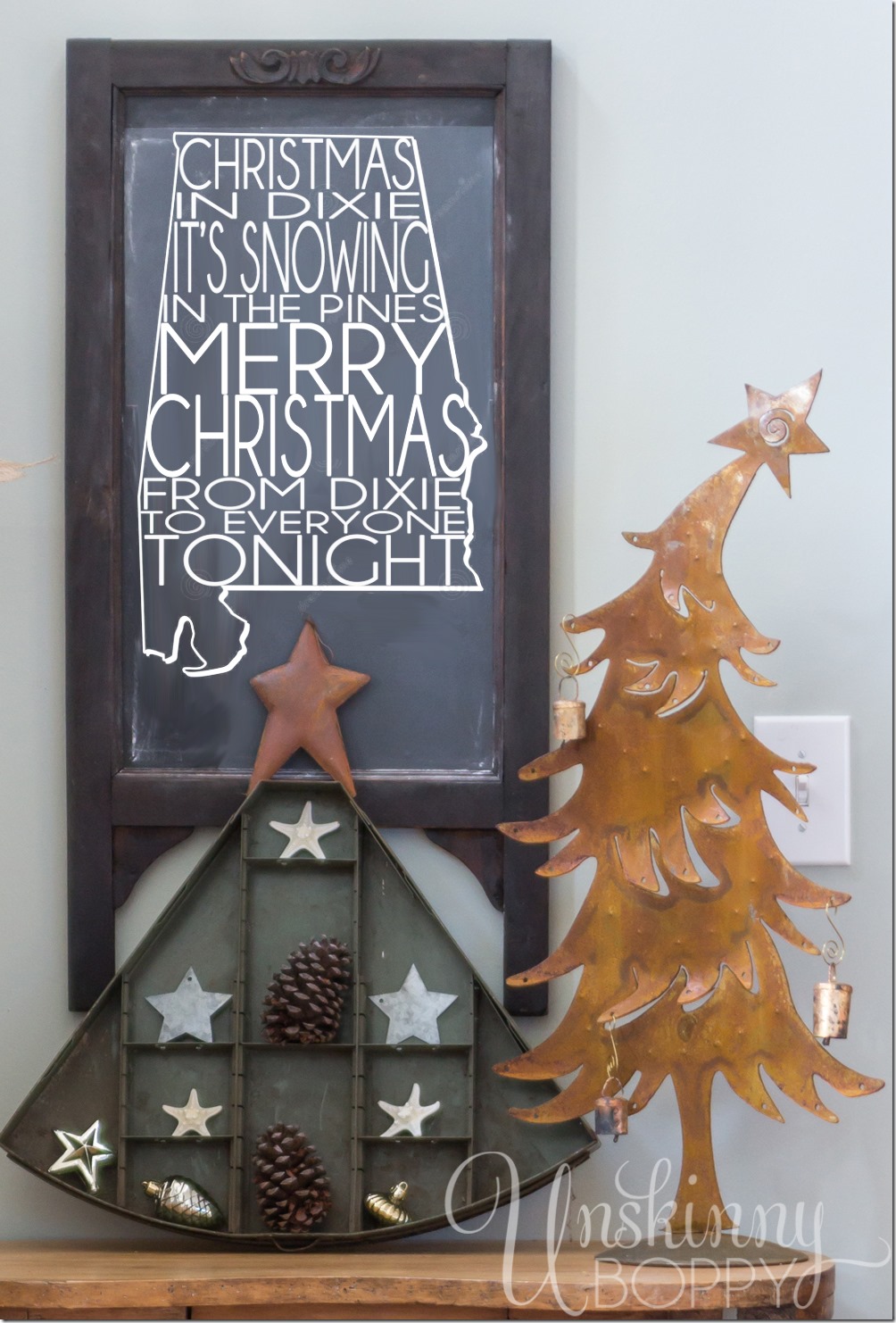 I have no idea what kind of cabinet this rounded yet triangular shaped metal drawer came from, but when we spotted it at the Country Living Fair my husband pointed out that it was in the shape of a Christmas tree. And by golly, he's right!  He always has the greatest eye when we go to vendor booths together.  I snatched up the drawer along with 2 pinecones from the Fair, then I added the galvanized stars, tiny starfish and a few Christmas ornaments and VOILA! Instant junky Christmas tree.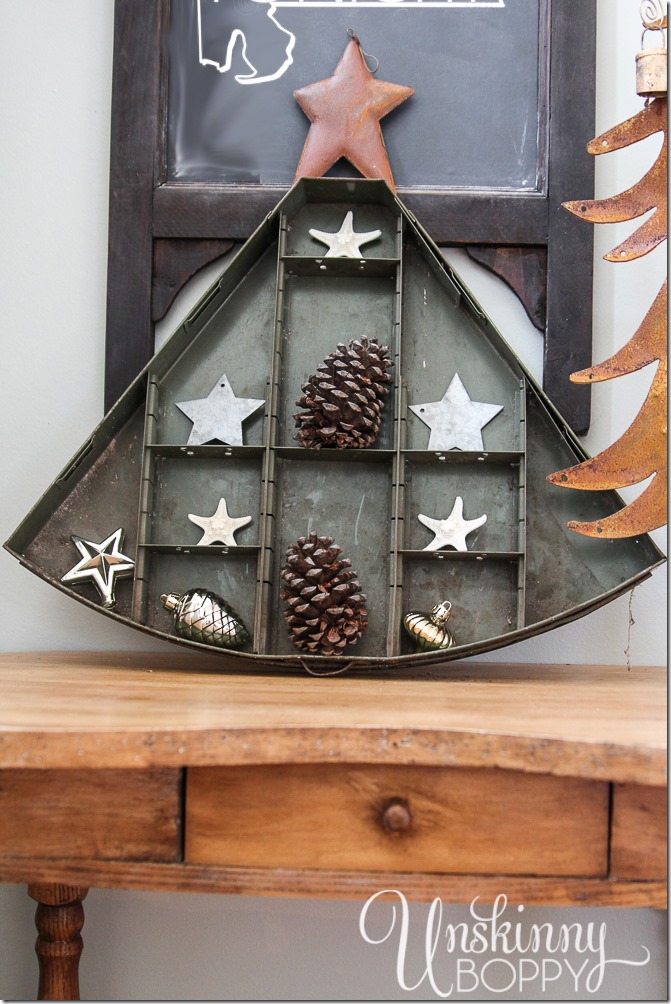 I've had this cute curved Christmas tree for a few years, but still I love it so. The star on top of the green tree and this curved tree both came from my friends at Simply Ornamental.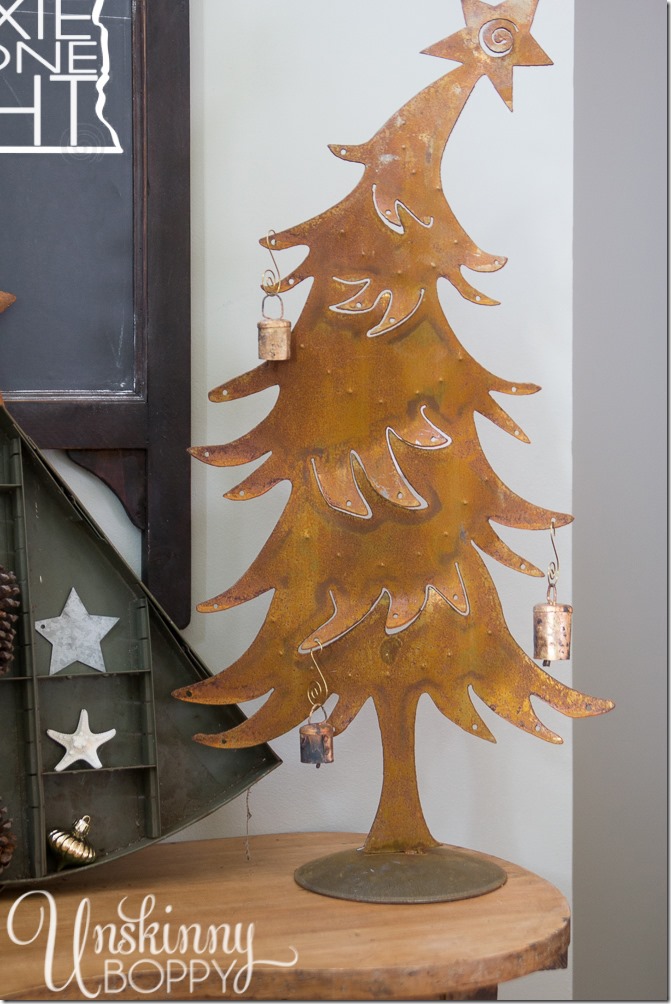 I added a few old copper bells to it for some extra bling this year.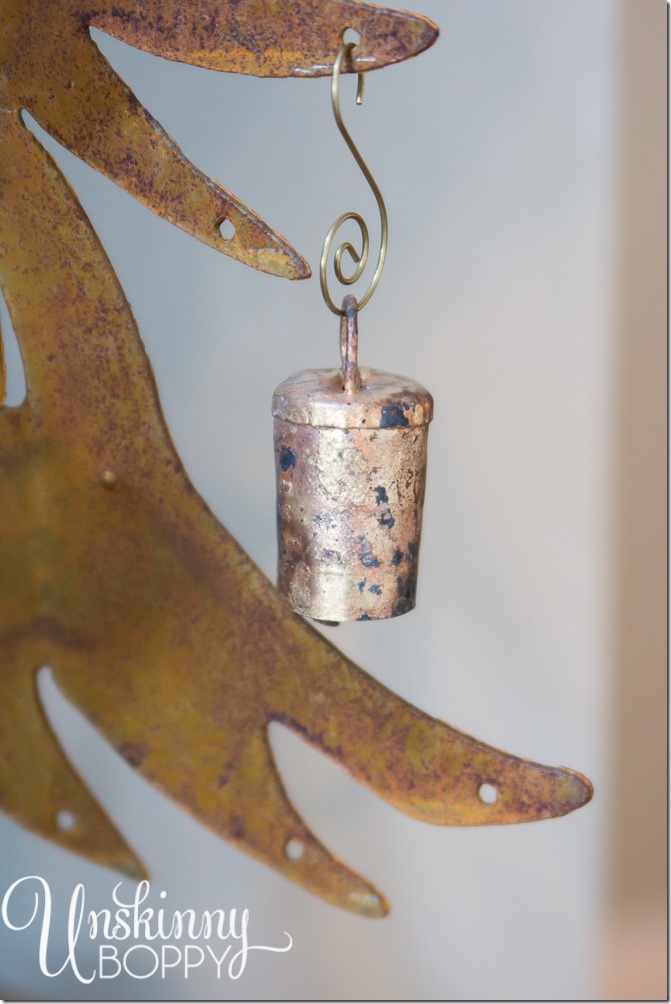 Down below you'll find another Country Living Fair find from this year.  And once again, I have NO clue what this box is or where it came from.  My husband thinks it was a shoe-shine box, since it has a handle and a place to rest your foot at an angle.  But it has a brand of some sort (H7? HL?) on the front, which makes me think it was used on a cattle farm.  If anyone has any idea what this lovely green box might have been used for in a past life, please let me know!
I took a cue from my previous Christmas décor and filled it up with ornaments, pine cones and Christmas lights for a quick and simple Christmas decorating idea.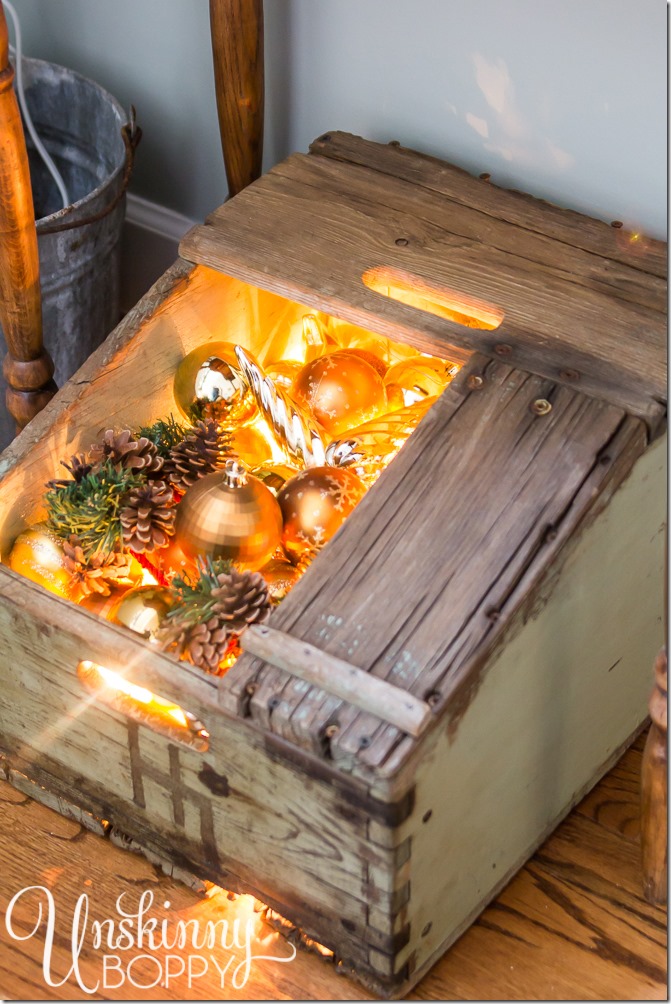 The birch logs got wrapped in faux-cranberry garland like a giant candy cane.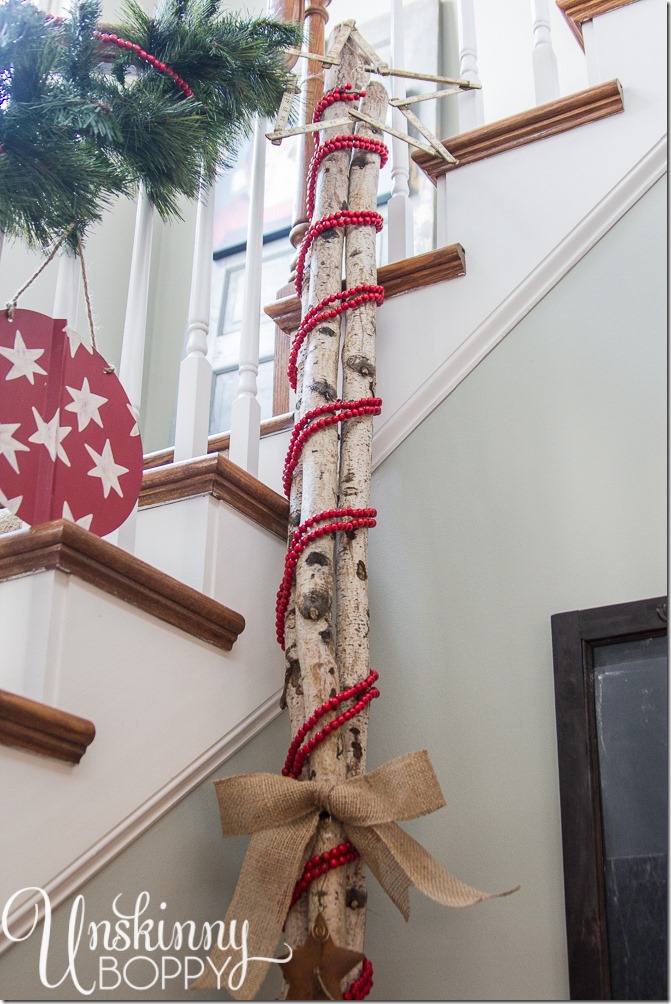 I just love how this cute vignette looks in the corner of my staircase.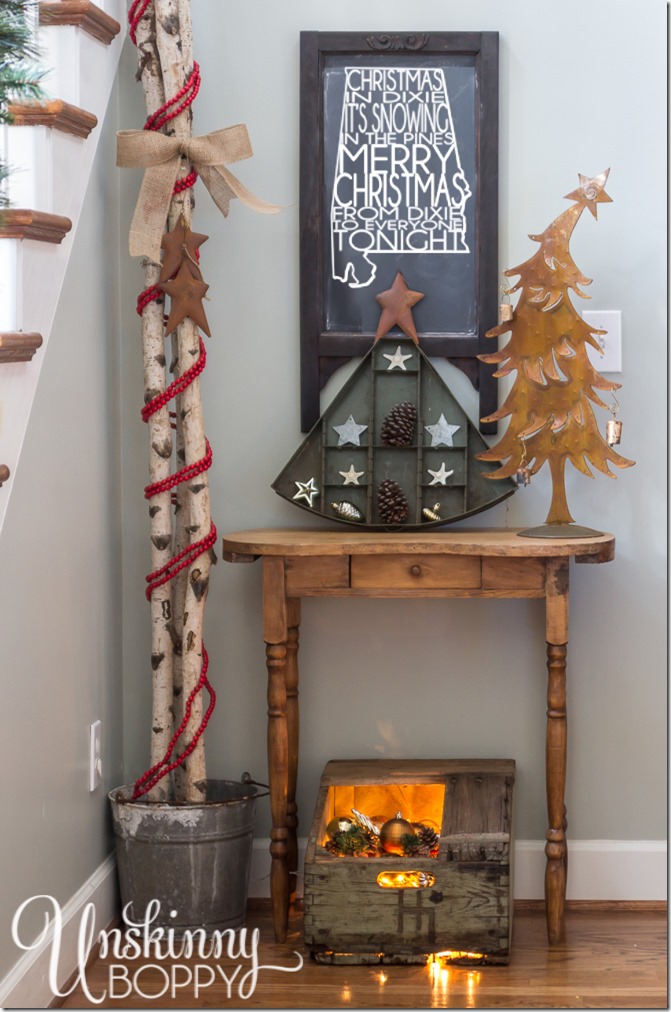 But I believe my favorite part of the whole thing is this "Christmas in Dixie" quote that I created for the chalkboard.   If you're wondering about the easiest way to make your own chalkboard artwork, check out my post on how to create chalkboard art for my tips on getting clean chalk lines.   If you want to borrow my Alabama song lyric graphic go right ahead!
Be sure to pin it for later if you can't get around to it soon!
CLICK HERE TO DOWNLOAD YOUR CHRISTMAS IN DIXIE PRINTABLE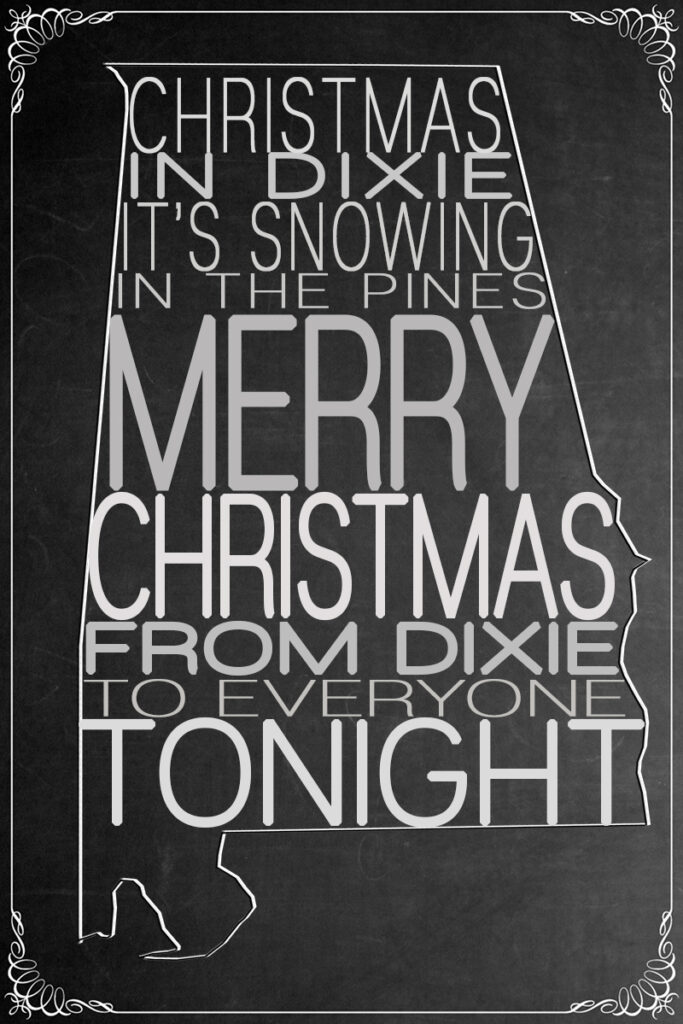 Speaking of pinning, the Junkers United gang have also created a beautiful new Christmas Junk pin board on Pinterest that you'll love!  Follow and pin from it HERE.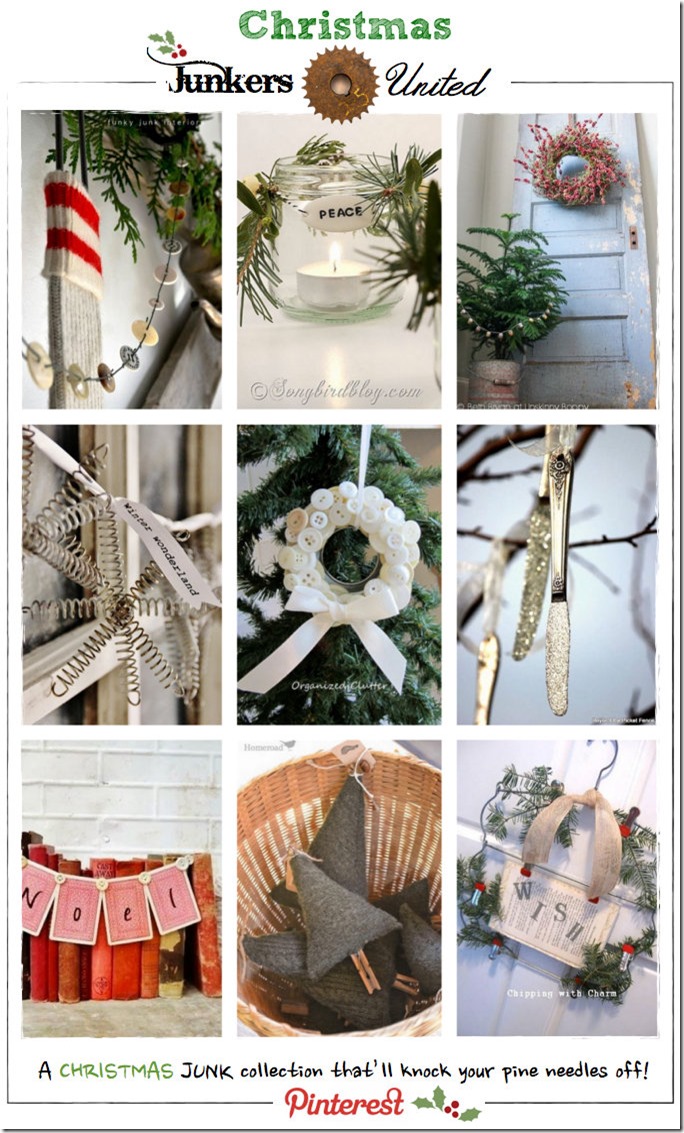 Be sure to visit the rest of the Junkers United team where you can find more great junk-filled Christmas ideas today:
Susan – Homeroad
Becky – Beyond the Picket Fence