Nearly ten years ago we purchased our very first Christmas tree together as a married couple.  I have to admit that I have always pined for a real Christmas tree with thick branches and the heady smell of evergreen filling my house, but there is one thing standing in the way of my dream.  My husband's allergies and his memories of many years spent running the Boyscout Christmas tree sale left him very jaded about putting a live tree inside the house.  So, instead of having the sap and the needles of dead Christmas trees on our hands and our carpets, we have always owned faux fir instead. 
Since we couldn't afford much when we first married, our old tree wasn't the best quality. Now, I'm not going to lie.  That old tree has seen a LOT of mileage.  But it took a ton of work to get it photo-worthy.  Every year when the tree came out of the attic I typically spent hours fluffing and coaxing it to look as real as possible.  Then I spent even more time trying to figure out where to plug in all the lights and wires and getting frustrated because entire section of the tree lights would stop working, so I would have to pile a whole bunch of excess lights on it to make it look decent.  But after ten years of fluffing and re-lighting and re-stuffing the old tree in and out of the attic, it was beginning to look more like a Charlie Brown Christmas tree than a freshly chopped forest masterpiece.   This year I decided that I wanted something new, so when the awesome ladies from At the Picket Fence asked if I would be interested in joining up with Balsam Hill for their 12 Bloggers of Christmas tour, I jumped at the opportunity!
Let me introduce you to the newest member of our holiday home… this beautiful new 6.5' prelit Shasta Fir tree from Balsam Hill.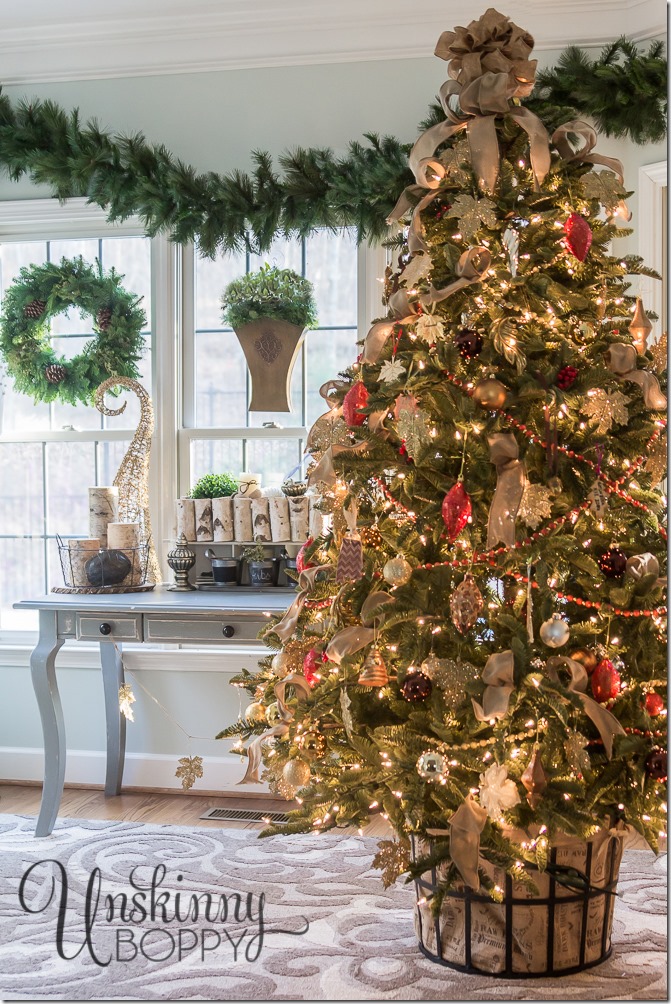 Ain't she a BEAUT, Clark?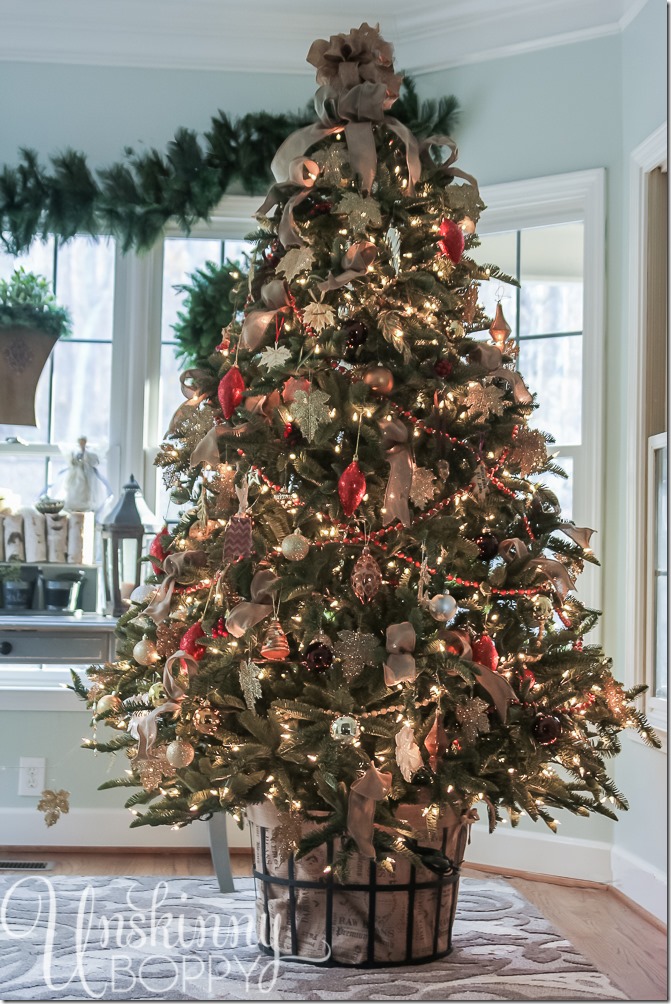 Balsam Hill partnered with several bloggers to showcase their collection of Christmas Trees this year, and I'm THRILLED to be a part of this parade of trees! 
Oh, how I love this thing!   This Balsam Hill tree is so much better than my old cheap tree.  Just let me count the ways… For one, the fluffing was extremely minimal! I spent about a quarter of the time fluffing this tree than I did my previous one, and it looks completely gorgeous.  Secondly, the prelit lights all work properly AND they are lit by an in-trunk lighting system!  Yes, you read that right.  There was no guesswork on which cord plugs into which doo-hickey, no scratching your eyeballs while digging through the tree hunting for cords to hook together…. None of that.  We just slipped the three pieces of the tree trunk together and BOOM.  Instant lights. This was the easiest plug setup I have EVER met on a Christmas tree.  It was seriously amazing.  
Then there is the foliage. It looks totally REAL, y'all! And not only does it look real–it feels real, too!  The needles are soft and bendy and not scratchy like my old trees fake greenery was.  This Balsam Hill tree looks like it is fresh out of the Vermont countryside where I chopped it down all by myself and lugged it home on my bobsled yelling "Gee! and "Haw!" to my mule team.  Except I didn't do any of that stuff. We didn't even have to break a sweat, because this was the easiest tree we've ever assembled.  I even got fancy and put it inside a burlap basket this year.  This adds to the realness, I think.  Don't you?   You'd never know there were concrete blocks hiding inside there to lift the bottom branches up above the basket rim.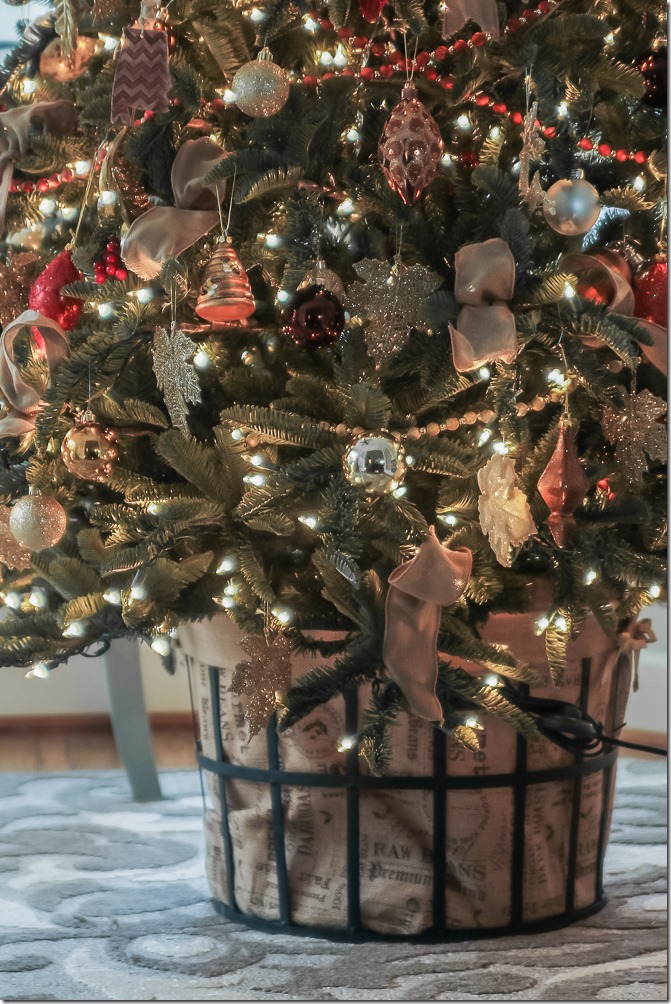 When the tree arrived I was worried that my old ornaments might not look too great, so I tried to use only my cream of the crop ornaments on this tree.  I chose to keep it all burgundy and gold with bronze and burlap accents.  I'm totally loving this color choice.  Besides, my little chevron Alabama ornament fits in great!  If you'd like one of these Alabama ornaments for your tree, you can order them from Gifted Handmade Boutique!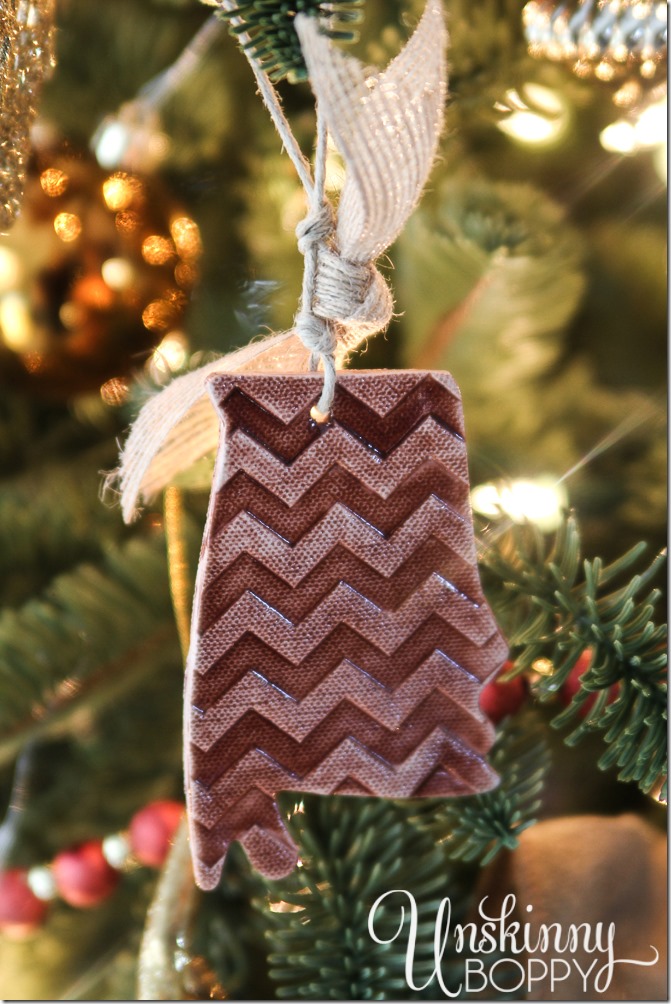 It was also the perfect opportunity to showcase all of my gold leaf ornaments that I've collected from various mountainous vacations over the years.  I have gotten quite a collection of gold leaf ornaments now!  I'm thankful for lots of fun vacations over the years to help fill my tree with Christmas ornament memories like these….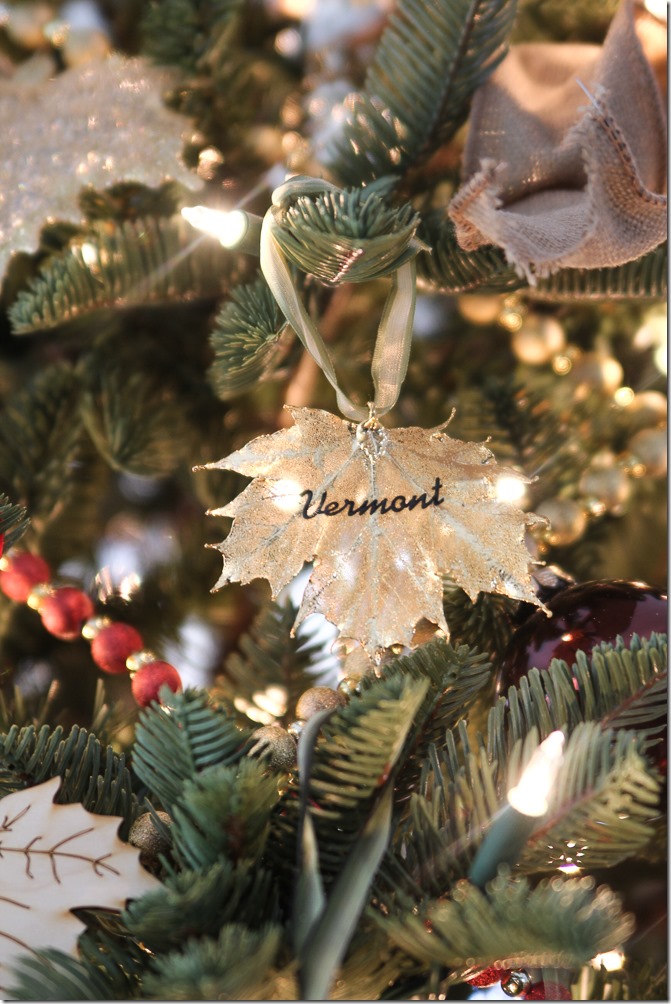 I could not be any happier with this beautiful new tree. It's seriously like my dream Christmas tree, because it looks and feels real, but it doesn't cause my husband to have sneezing fits and freezing boyscout tree lot flashbacks!  Winner, winner, chicken dinner.
Balsam Hill also makes it super easy to find exactly the tree you need with their categories page.  Shop by Level of Realism, Height, Light type, Shape and Collection to find your perfect tree. 
And guess what?? Balsam Hill wants to give away a whole BUNCH of gift cards to their website so that you can have the chance to buy one of these lovelies for yourself!!  Here is the giveaway which is live from 12/8 through 12/11/13 so go enter fast if you're visiting this week!  
Also be sure to head over and see all of the other magnificent Balsam Hill trees being featured on these blogs this week: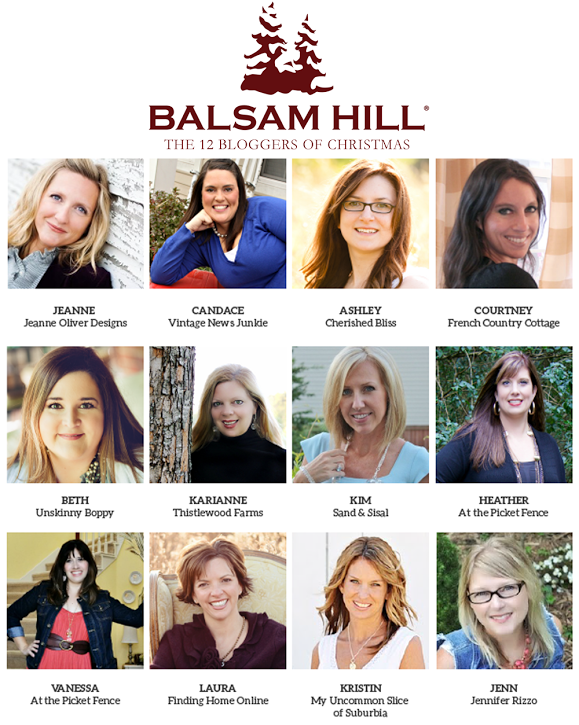 Monday December 2nd:
Vanessa (At The Picket Fence)
Ashley (Cherished Bliss)
Tuesday December 3rd:
Beth (Unskinny Boppy)
Candace (Vintage News Junkie)
Wednesday December 4th:
KariAnne (Thistlewood Farms)
Kristin (My Uncommon Slice of Suburbia)
Thursday December 5th:
Kim (Sand and Sisal)
Laura (Finding Home)
Friday December 6th:
Courtney (French Country Cottage)
Jeanne (Jeanne Oliver)
Saturday December 7th:
Jen (Jen Rizzo)
Heather (At The Picket Fence)
Be sure to stop by my friend Candace's blog (aka Vintage News Junkie) today to see her gorgeous Christmas tree!  It's awesome! Here is a little sneak peek: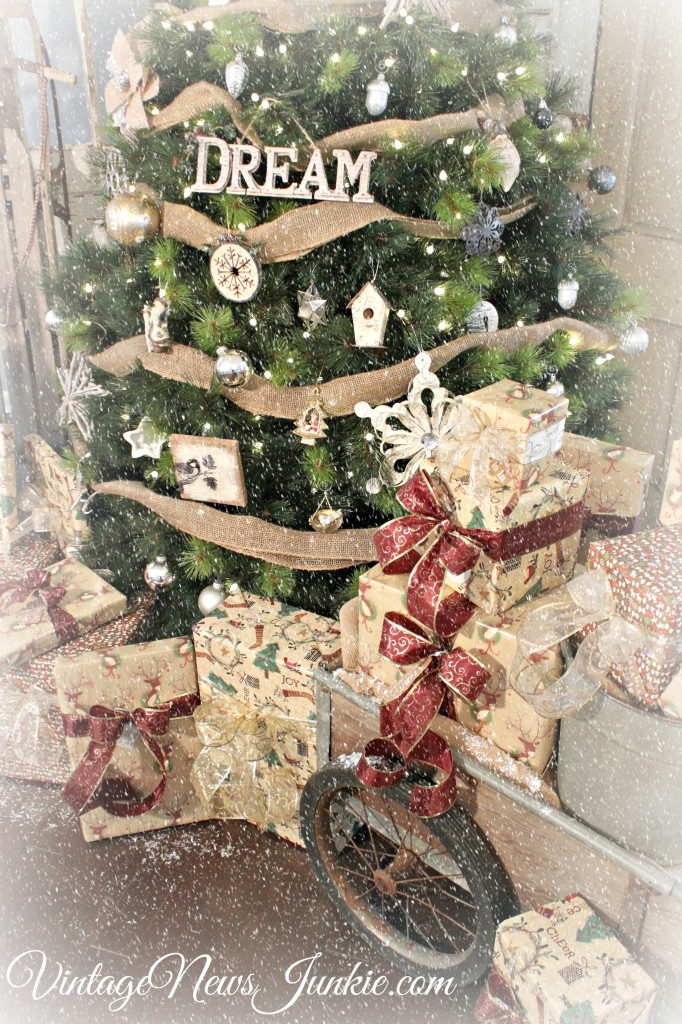 ---
Disclaimer: Balsam Hill provided me with a free Christmas tree in exchange for this blog post and promotion of their giveaway.  As usual, though, all opinions about tree sap and mule teams are my own.
PS: It's Day 2 of the Annual Holiday Housewalk featuring some amazing home tours of talented bloggers. Click here to visit Stop #1, Jenn Rizzo's house, to begin the tour!