Decorating my house is something that just comes naturally to me.  Some folks are blessed with the gift of playing music by ear, or the athletic ability to slide on their knees while rounding third base into home plate.  Some people can do math in their head without a calculator.  I have none of those abilities, but thankfully God shoved me into the creative gene pool and gave me an eye for design instead. He also granted me a husband with amazing woodworking skills.
Thank you, Lord.
Here are the end tables that my husband built.  100% from scratch…. by hand.  Without a set of plans.  Just straight out of his own head.  He started with 2 old wooden windows and magically made these two gorgeous end tables appear from the depths of our basement.  I'm so proud of him, and HIS eye for design, as well.  We make a great team.  I helped by staining the wooden tops and slapping on some paint, but aside from that my only real contribution to these end tables is making them pretty once they hit the living room.
So today I'm going to tell you all about how to decorate them, and in the next post of this end table creation series I have a BIG treat for you guys.  Next Monday's post will be a full set of detailed plans on how you can build your own set of end tables like these!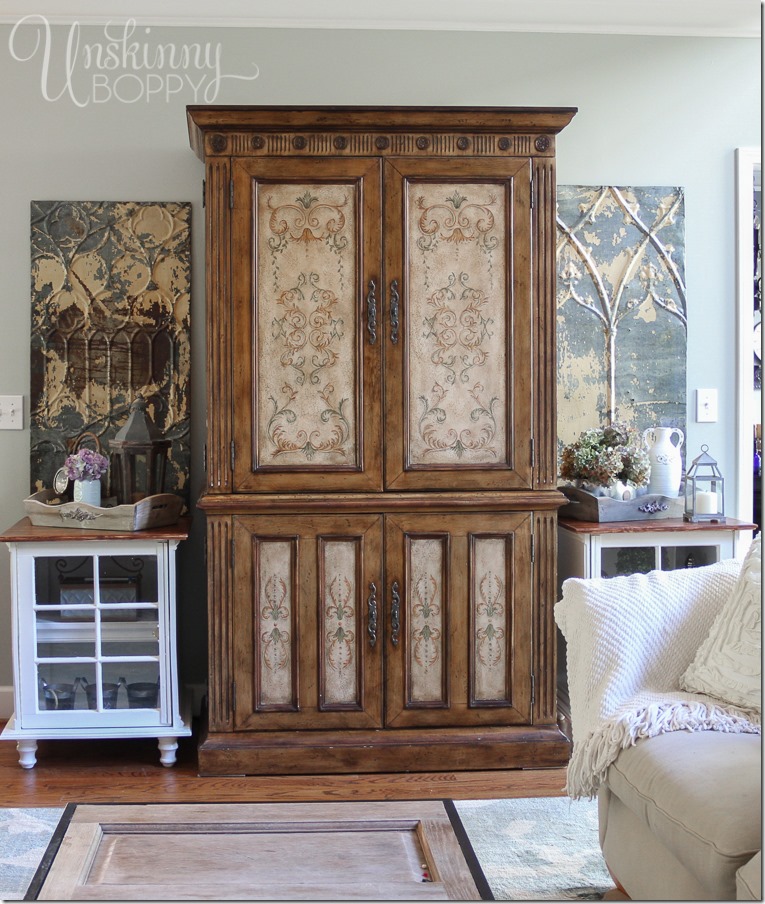 So listen up, all of you non-calculator using mathlete/athletes out there who can sit down at a piano and pound out some Mozart after sliding into home plate but have no idea how to decorate your living room.  This post is for you!  Here are my best decorating ideas to create little vignettes for pretty tablescapes.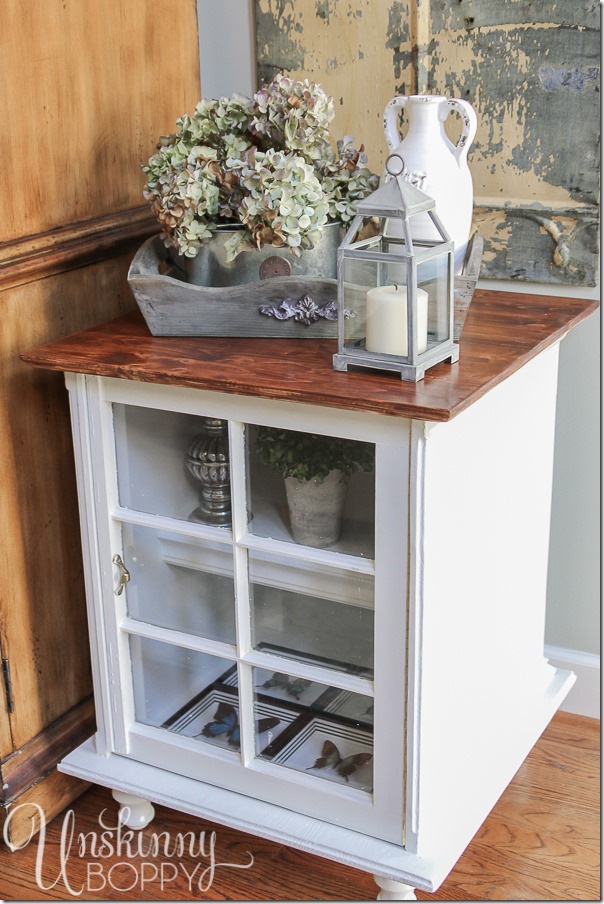 There's a method to my decorating madness, and today I'm going to share with you my top five secrets for styling an end table, bookcase, or other horizontal surfaces in your home.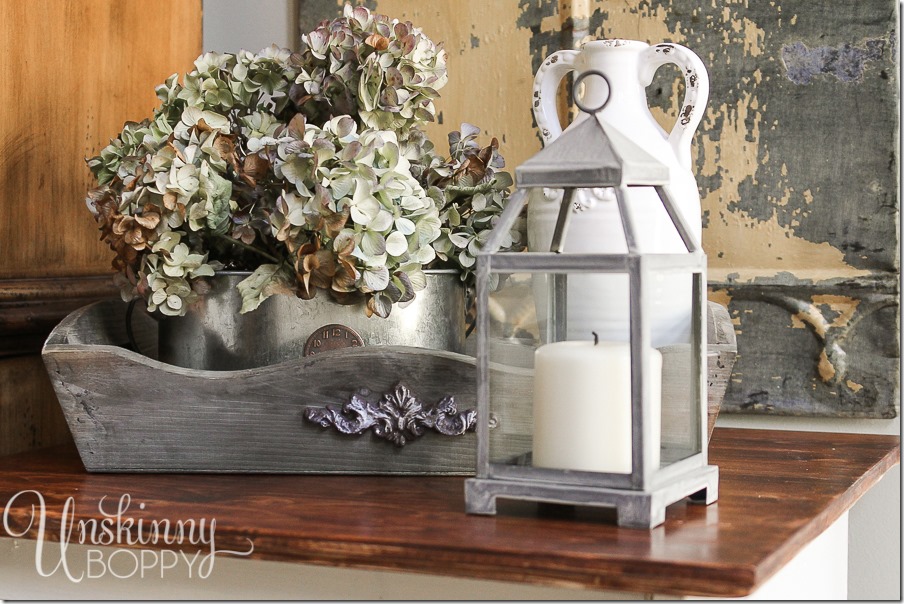 Tip 1:  Always use groups of threes.   You cannot go wrong with a grouping of three items.  I cannot explain why this works, but trust me.  It totally does.  Whether the three things are varying heights and sizes, arranged on an angle or all lined up in a row… it will work.  So, take my holy trinity of decorating advice and arrange things in groups of three for high impact, low stress decorating. You can have two things that match as long as there is a third something in the middle to be a decorating fulcrum.  Go try it!  Choose three items, shift, shift, shift them around and boom.  Done. Instant table top vignette.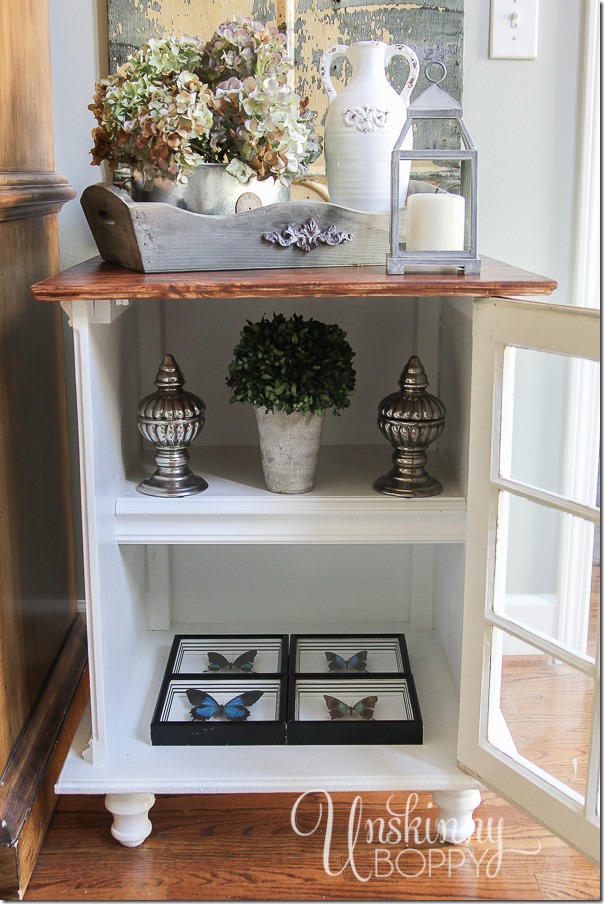 2. Always have some kind of greenery.  Even if it's the dead of winter and there is not a sprig of green to be found outside, find a way to add some to your décor.  I love dried boxwoods, whether they were in kissing balls or wreaths, they are the perfect addition to any living room in need of some greenery.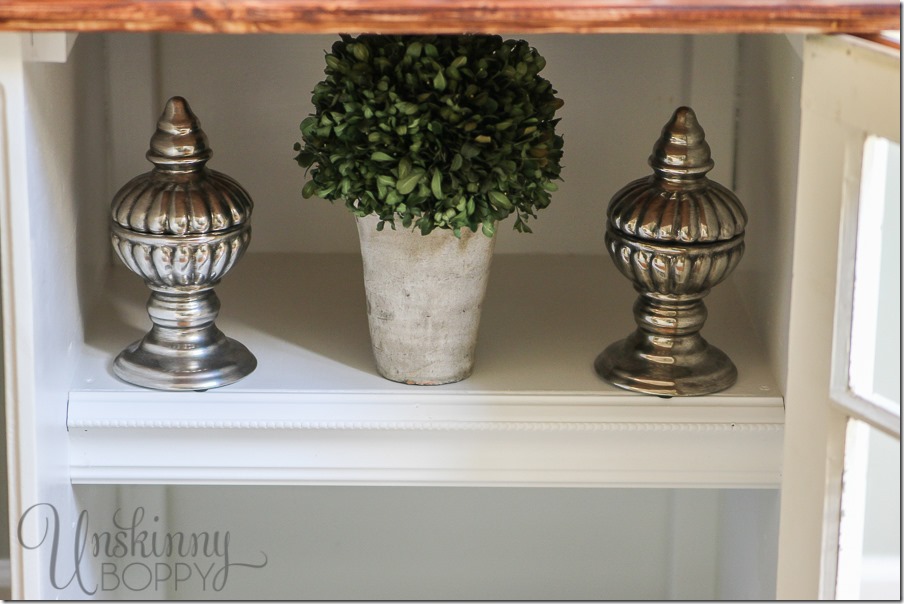 3. Display a collection in an orderly way.  These butterflies are meant to hang on the wall, but lying them flat in the bottom of this open shelf invites folks in for a closer look.  Matching black frames and mats keeps the collection neat and tidy.  Also keep in mind– the more unusual the collection, the better display they will make. My husband buys me a new framed butterfly every year for special holidays.  I love these guys so much.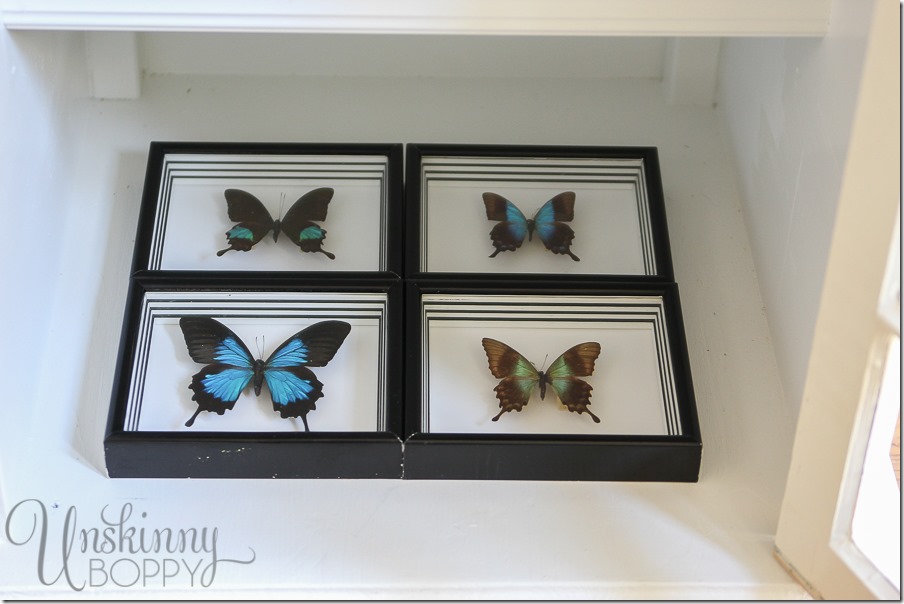 4. Decorate inside of trays.  Pretty inexpensive trays can be found at places like TJMaxx, Ross, or Marshalls for like $10-15 bucks.  Sit your grouping of three items inside a weathered old tray, and it adds instant interest to the arrangement. I like that I can pick the whole tray up and clear the entire tabletop in one swoop if I'm entertaining and need the horizontal space cleared.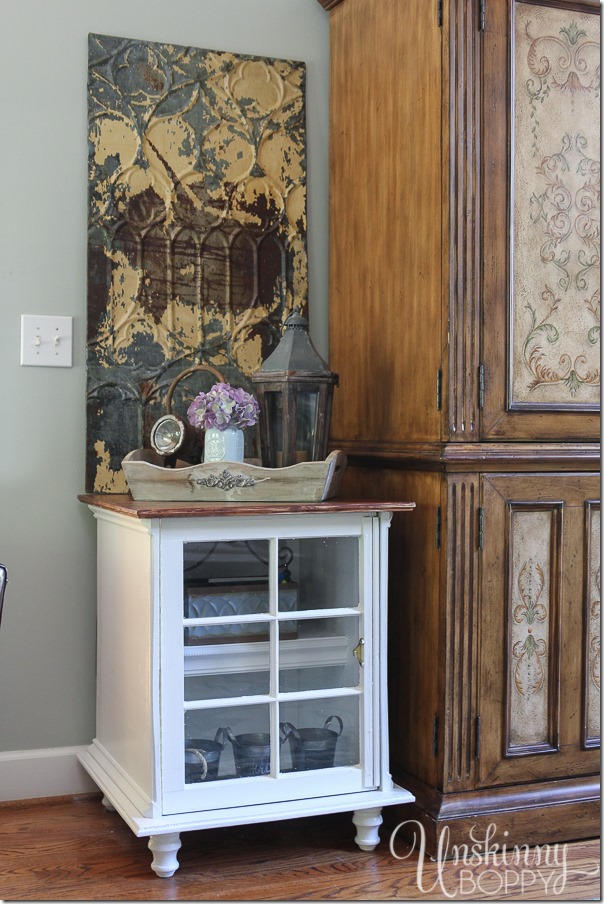 5. Stay symmetrical. Symmetry will never steer you wrong. I am a very symmetrical decorator.  Having a matching pair of tables with equal amounts of knick-knacks balances out a room and makes me feel happy inside.  Plus if you have a heavy piece of furniture like my tv armoire, it makes sense to add some big chunky statement pieces on either side of it to balance it out along the wall.  The end tables alone were kinda wimpy next to that behemoth of an armoire, but when I added the pressed tin pieces behind them on the wall?  Instant symmetrical balance.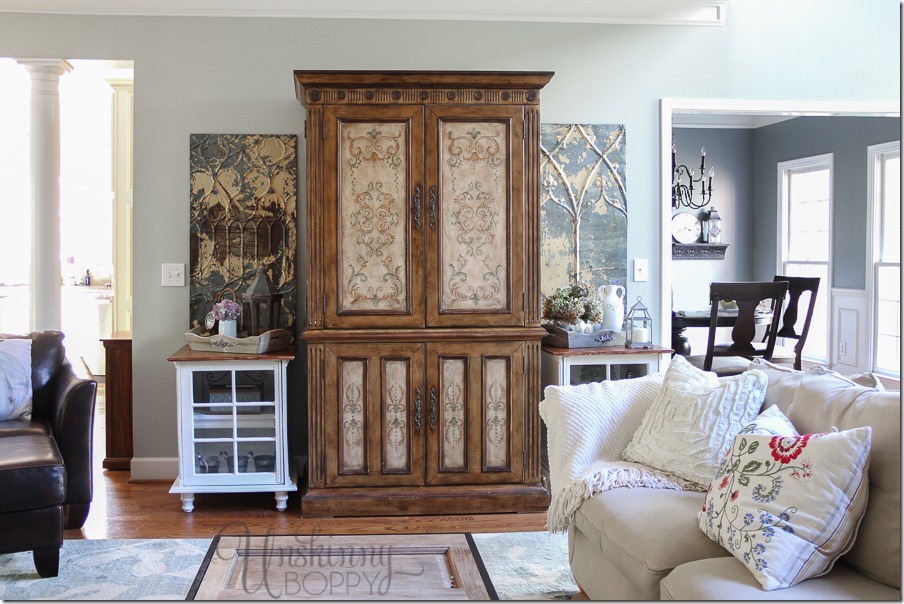 So, there you go.
Pretty simple, huh?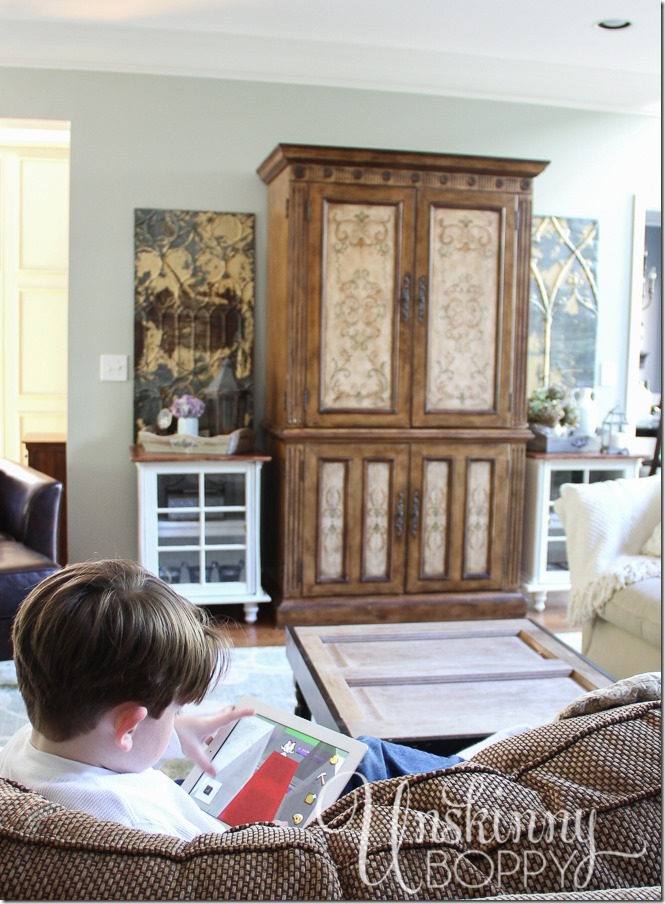 I try to keep things simple around here, so that I can get back to more important things in life, like forcing a certain little boy off the iPad and outside to enjoy the sunshine.  Lord knows we all need some Vitamin D after this long, hard winter.
Happy end table decorating, y'all!
PS: Be sure to check back here next week to get the full set of plans on how to build a set of these tables for yourself!
---
Did you enjoy this post?  Check out more of my Lazy Girl's Timesaving Tips!