The first thing you notice when you pull up to Dana Tucker's beautiful Franklin, TN home are those chartreuse double front doors.  Those suckers are spec-freakin-tacular.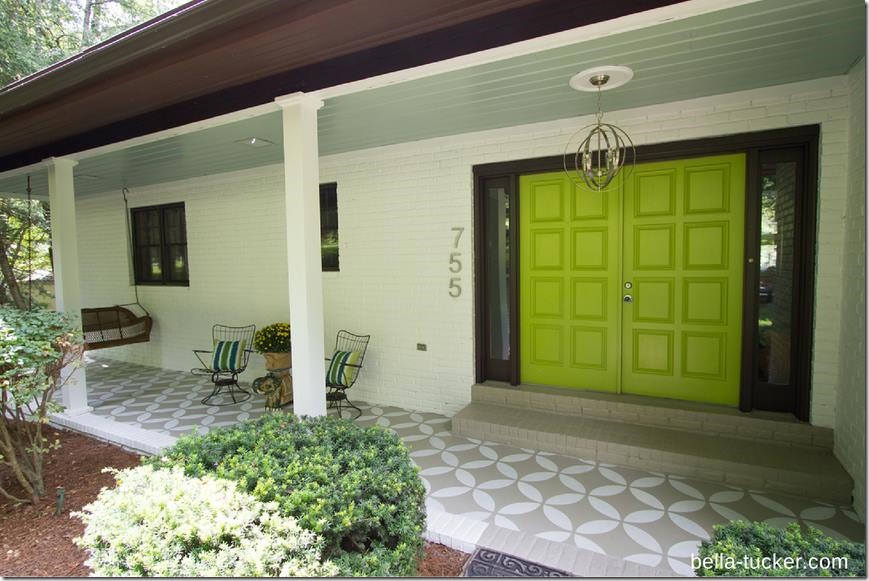 Dana, who is one half of the Dynamic Duo that make up Forest Home Media who invited us up to Nashville for a girl's weekend last week, is also a blogger.  She and her husband own Bella Tucker Decorative Finishes, a high end specialty painting company.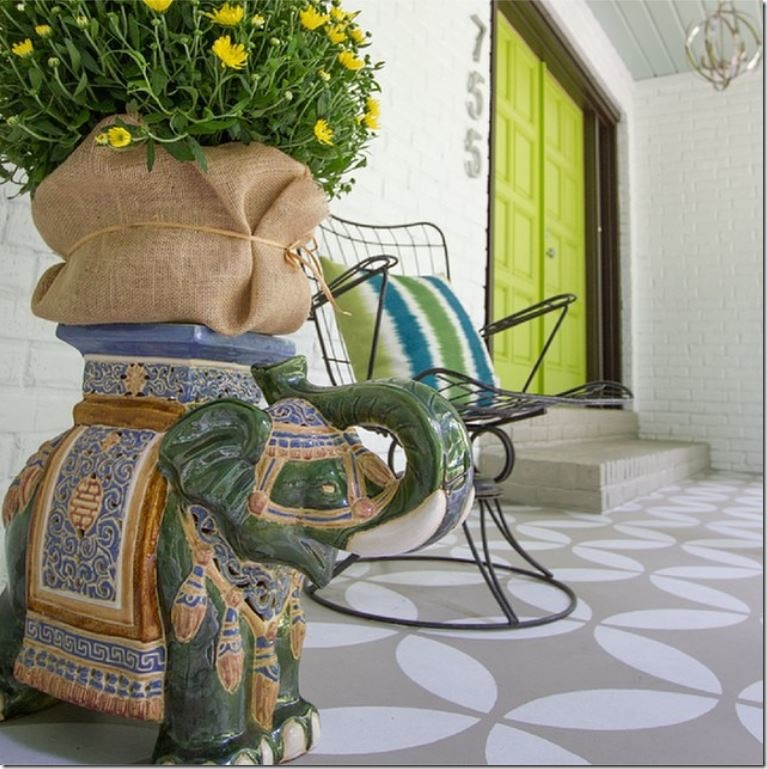 Inside Dana's beautiful home, there is eye candy on every single wall.  From the ceiling medallions to the striped walls to that amazing light fixture, Dana's house exudes warmth, creativity and style.   This house, y'all…. I need about fifty adjectives for the word "amazeballs" to describe it adequately.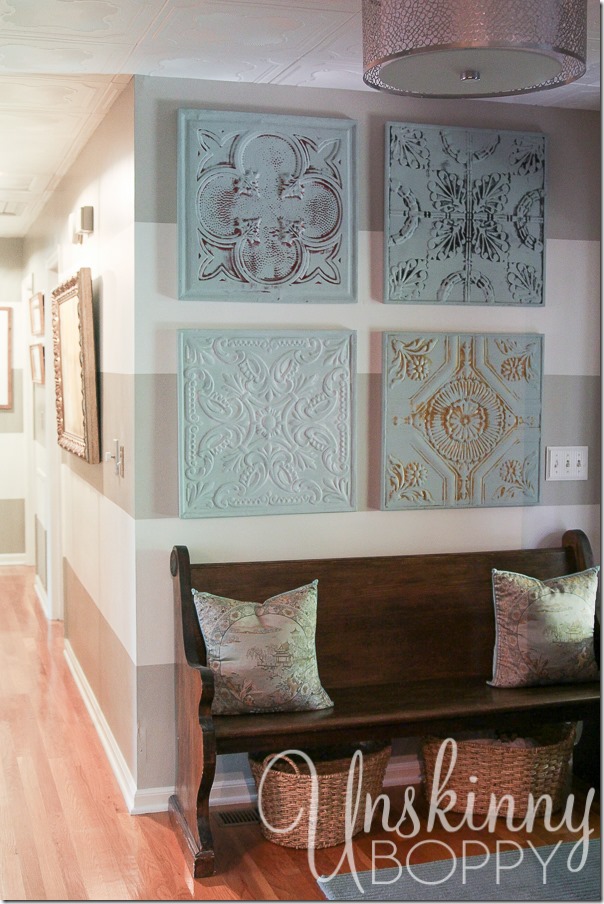 There was not much inside Dana's house that hadn't been touched by a paint brush, including this perfectly patina'ed guitar that her husband covered in Modern Masters iron reactive paint.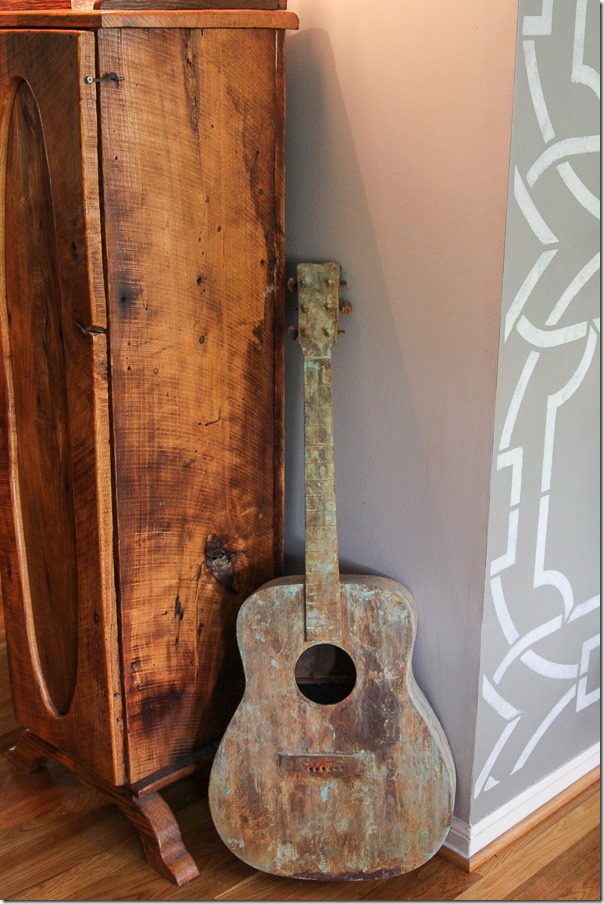 Her taste is a mixture of modern and junker, exquisitely eclectic with a little bit of something for everyone.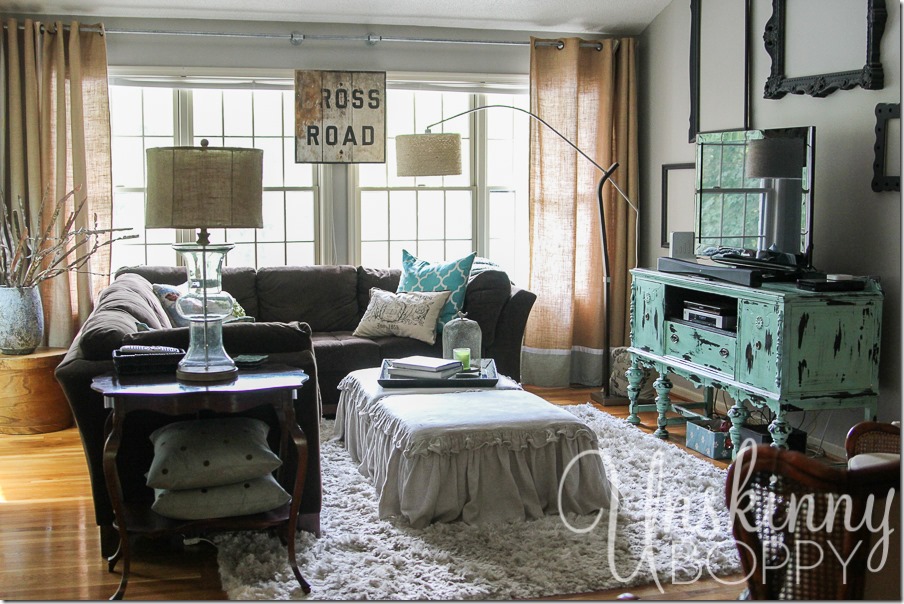 How's this for a fireplace mantel?  How do I love thee?  Let me  count the ways… The rusty corrugated tin. The perfect starfish and blue mason's.  THAT CLOCK.  I swoon.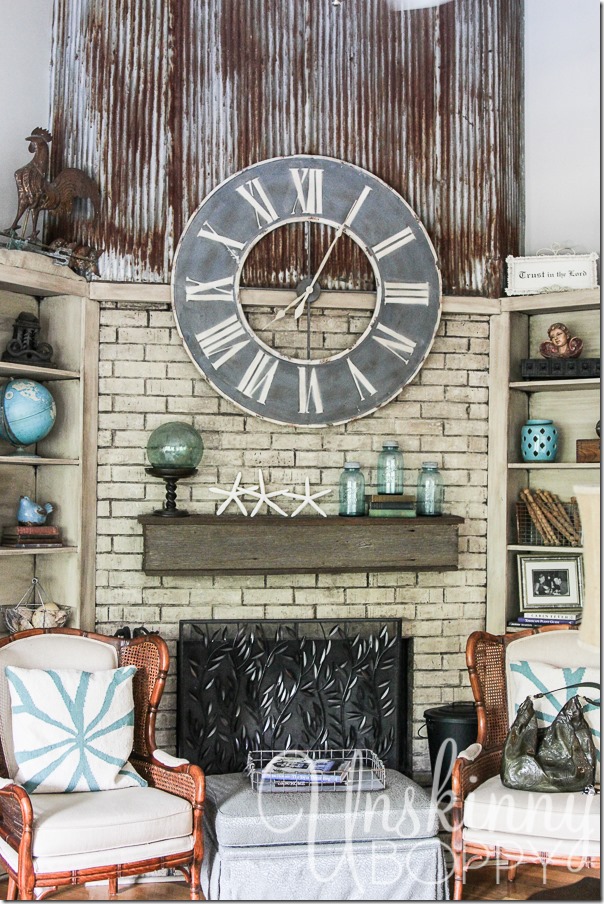 This collection of black frames was so simple yet it made such a huge impact on a blank wall with a sloped ceiling.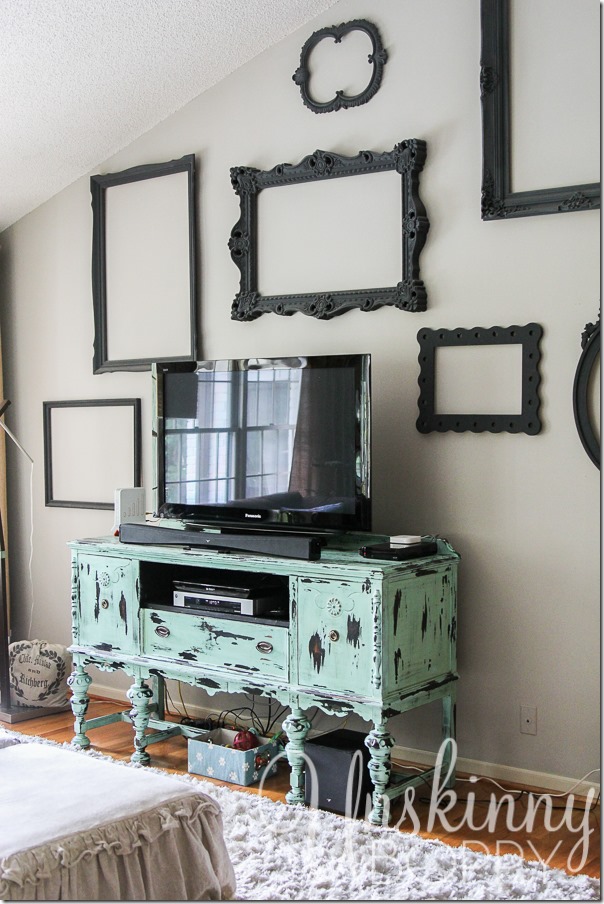 Aren't these ottoman perfection?? I just wanted to roll around on them and that rug, too.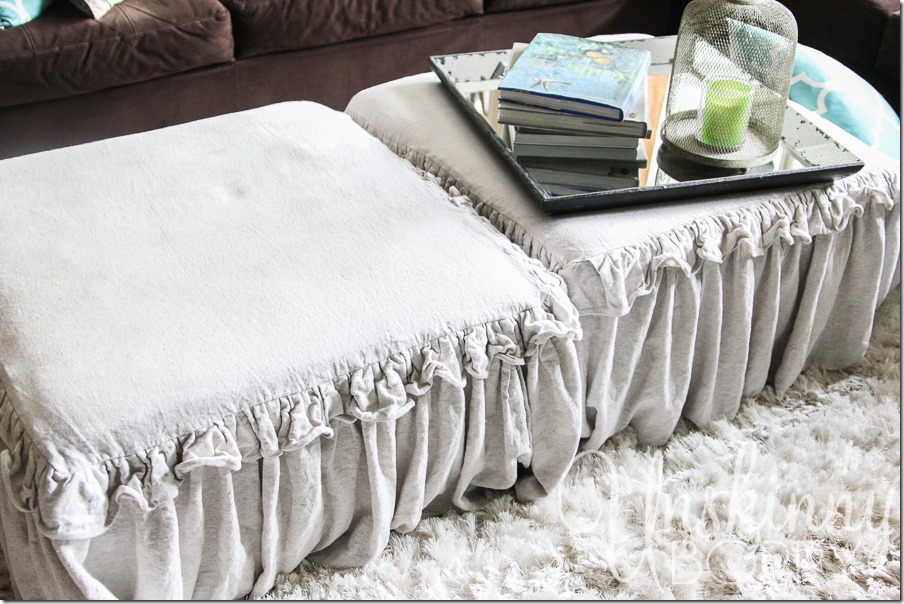 Dana works from home in this amazing light-filled office, with nothing but beautiful pops of color between her and the trees outside.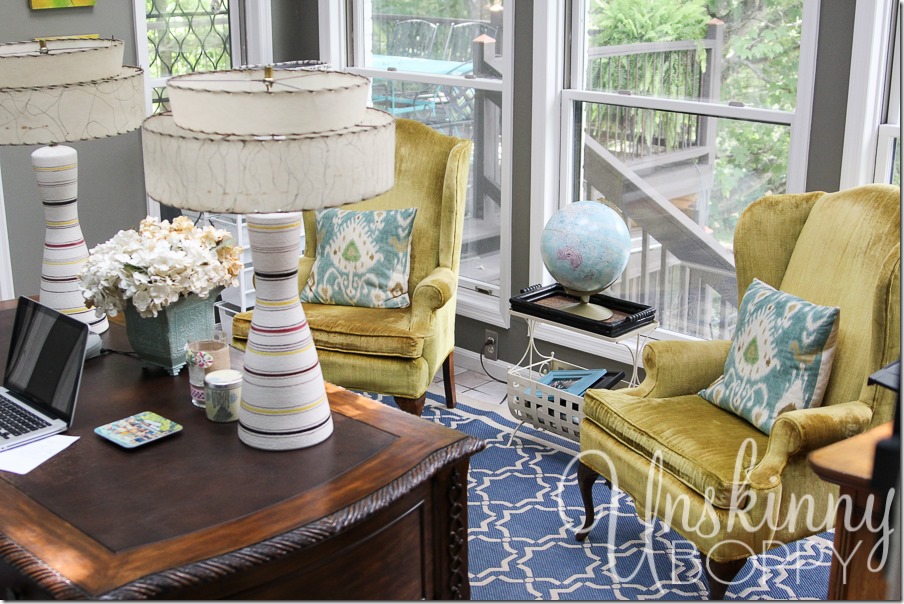 The lighting in this home is all just stunning! I cannot tell you how much I love these striped desk lamps.  Happy Happy!!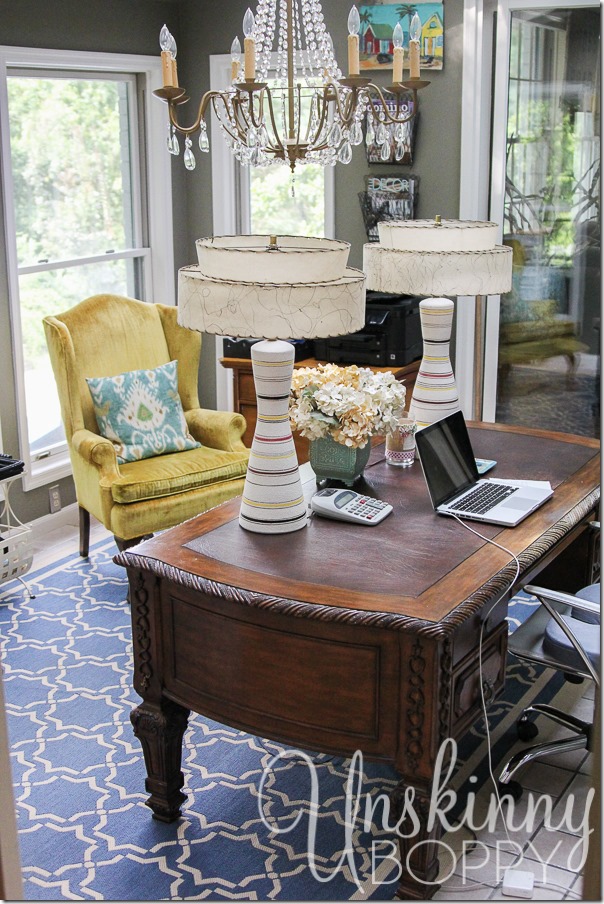 One of the things that has been at the tippy top of my  "Cool Junk to Buy" wish list has been an old church attendance sign.   How that sign didn't jump right off the wall and into my backseat I'll never know.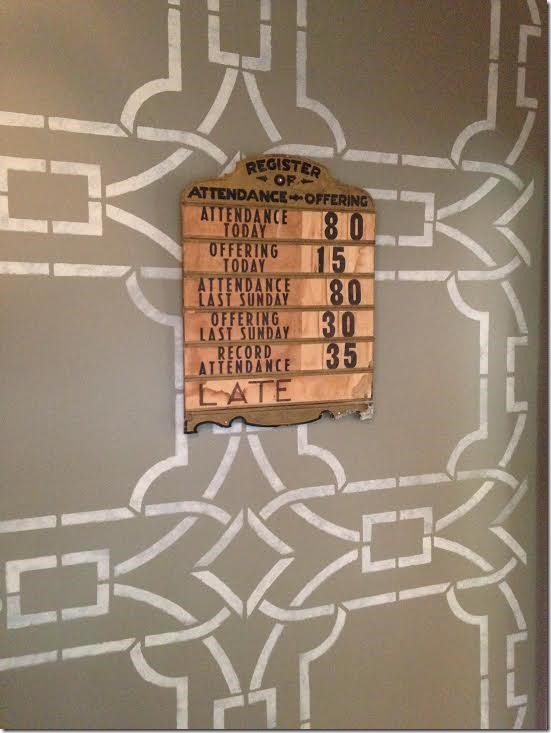 One of Bella Tucker's specialty is painting kitchen cabinetry, and their home is a showpiece for their design talents.  This chalkboard wall greets you as you enter the kitchen…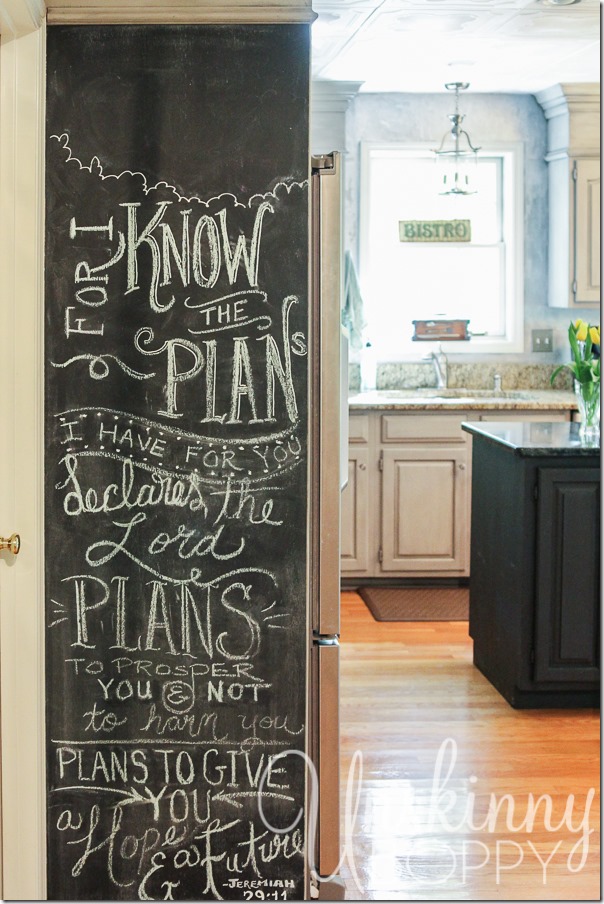 And the cabinets a mixture of dove grey and cobalt blue.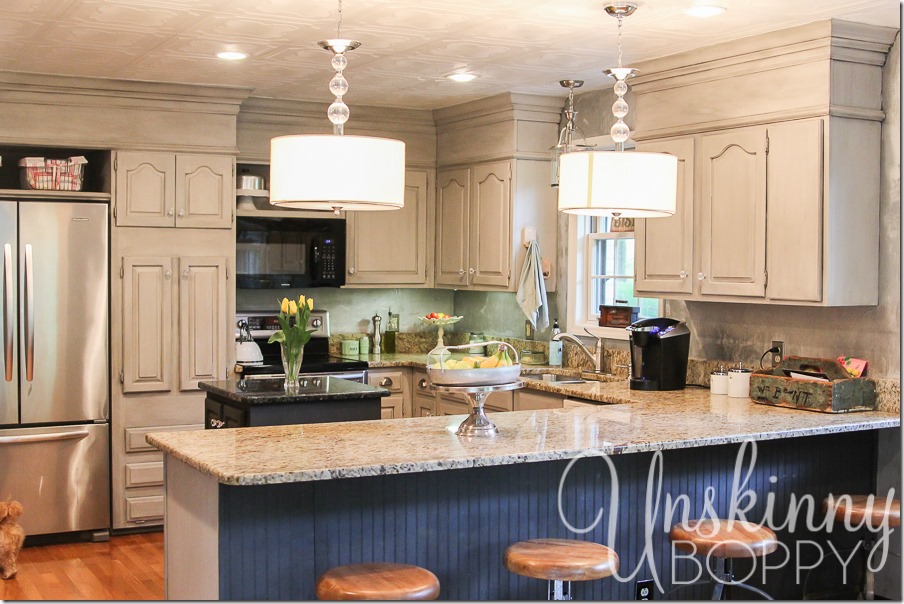 More pretty pendant lighting, combined with gorgeous ceiling tiles and those industrial bar stools makes my head want to explode from all the PRETTY!!
I knew Dana was a girl after my own heart when I saw this beautiful banquette.  Banquettes are my absolute favorite way to furnish an eat-in-kitchen area.  Why I haven't built one in my own home yet is beyond me.  Somebody remind me to get right on that, ok??  Check out that light fixture and the wall treatment.  Amazing, right?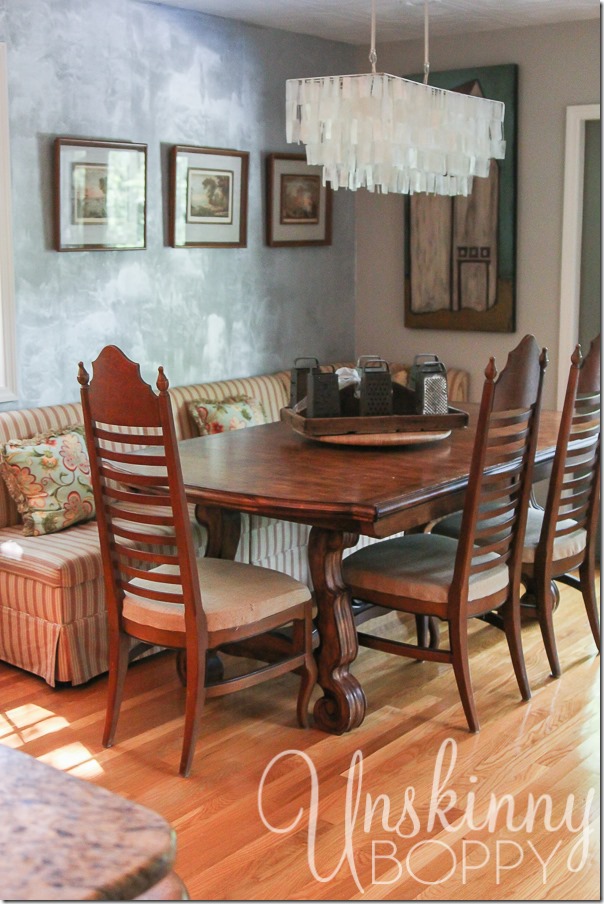 Her bedrooms are all equally as stunning.  This bed looks like the granddaddy of the Chesterfields.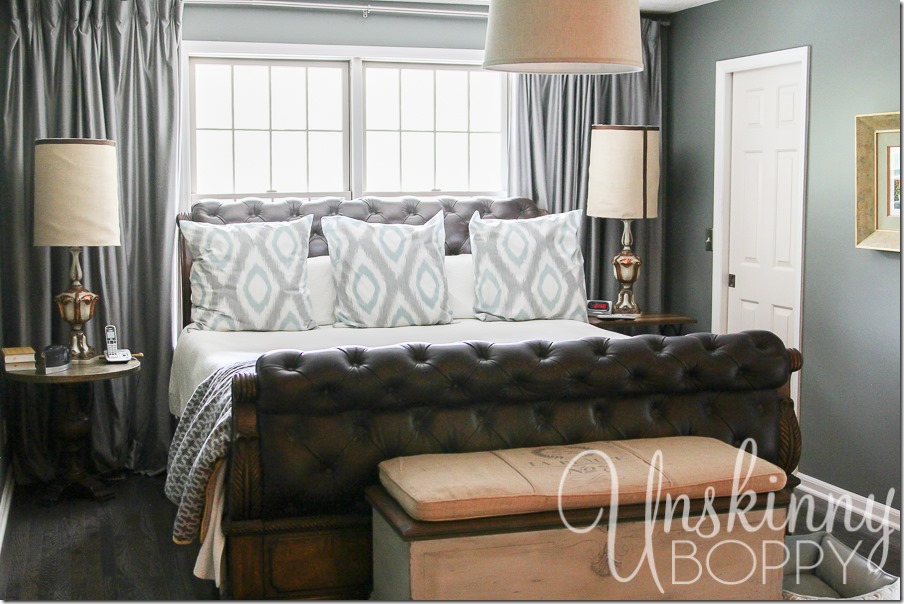 Even her Master bathroom is perfect, with this cute little display of chippy bullseyes on the wall! Loved it.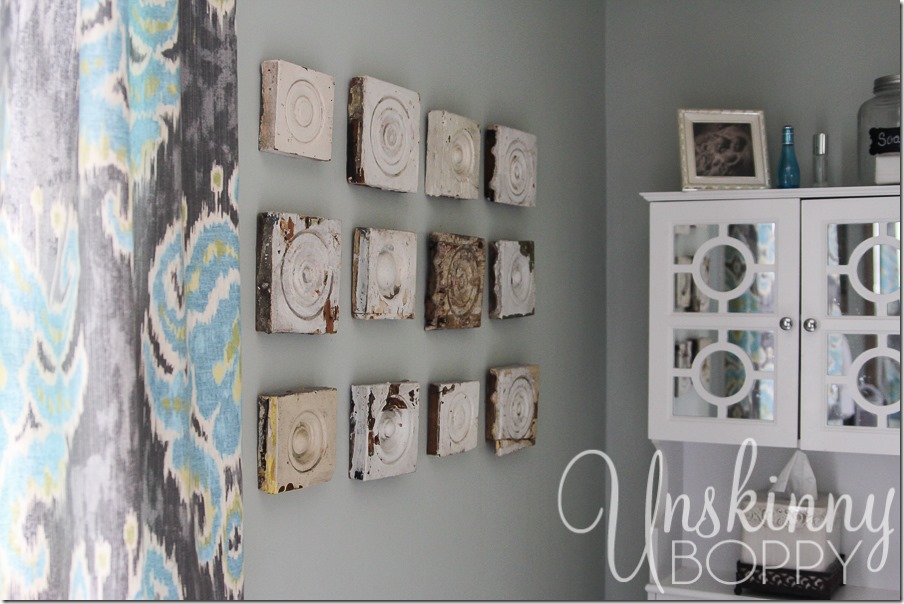 Her daughter Zoey's room could not be more girly and perfect, with pink everywhere and a gorgeous slate gray headboard that just knocks your socks off.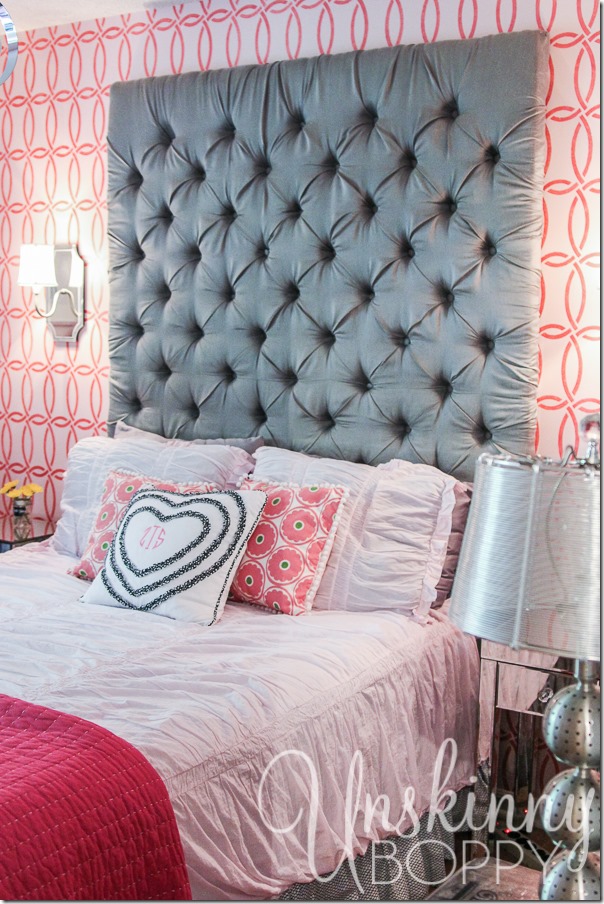 Here was my bedroom for the weekends- her son Zane's bedroom– a rustic nautical retreat with a reclaimed wood wall and galvanized wall sconces.  Be still my heart.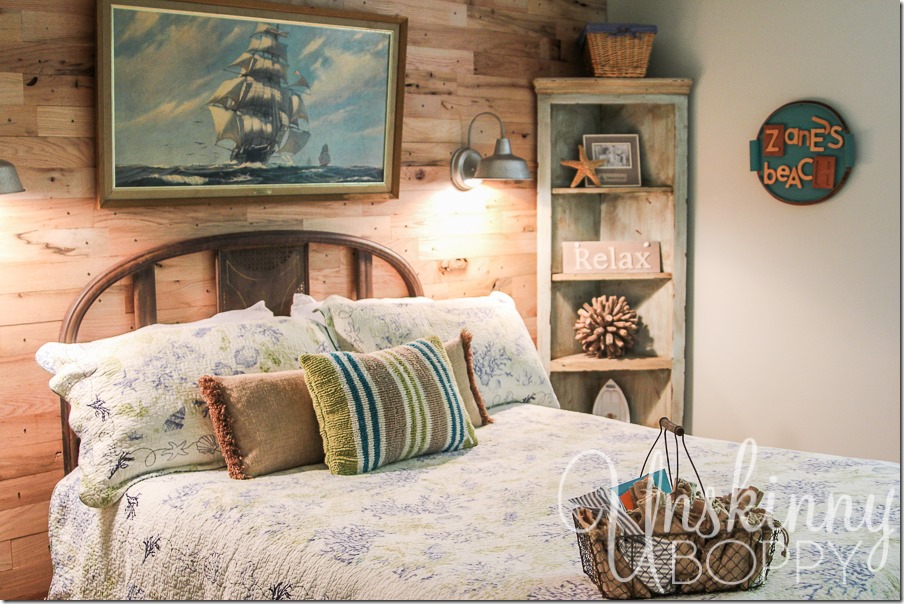 Down to her basement we go, where she has painted a pretty blue runner on her basement staircase and added vinyl letters with a spiritual touch on each stair riser.  How pretty is this??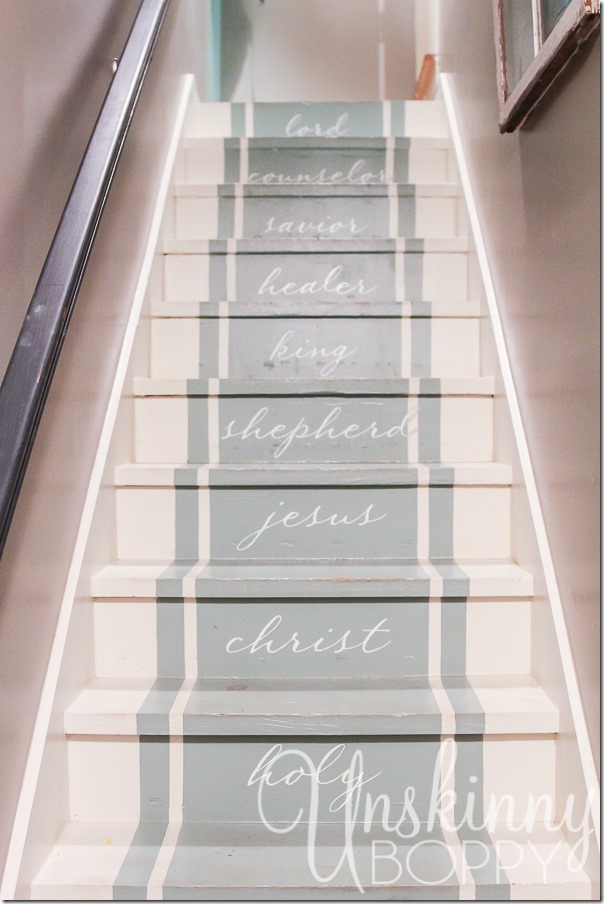 The guest room in the basement has more of that incredible metallic paint on the walls, which looks like a high-end restaurant in SoHo to me.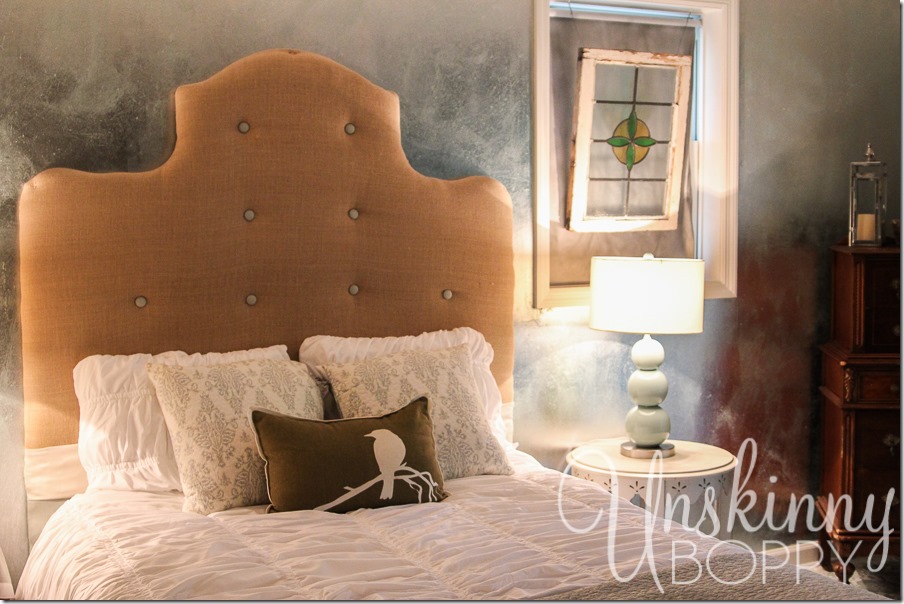 Not that I've ever BEEN to a high end restaurant in SoHo, but it's what I imagine it would be like. Also notice that stencilled concrete floor and another rockin' light fixture.  I'm going to need a source list about a mile long, Dana.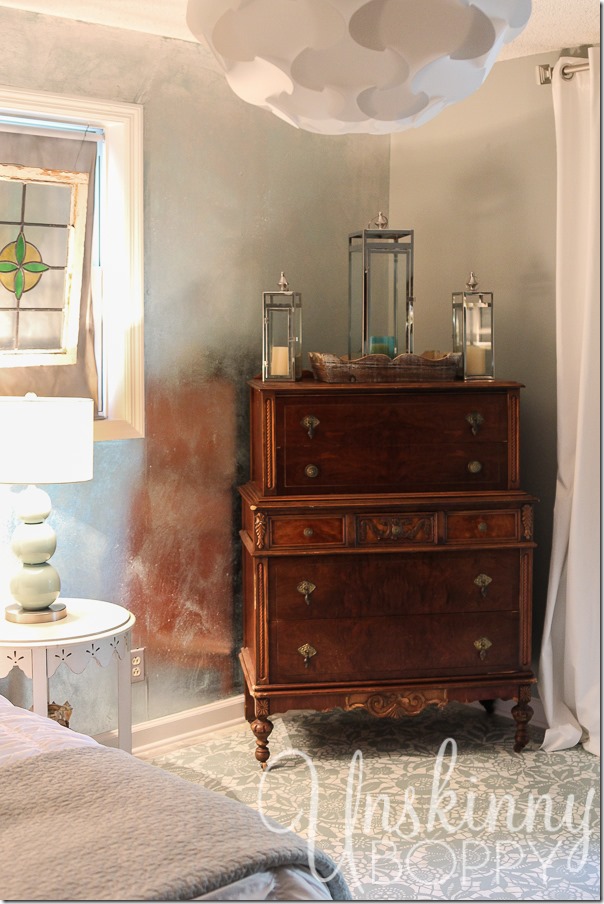 Outside is the most perfect sleeping porch retreat that I've ever SEEN!!  The hanging bed, the ropes around the chain, the blue rug… aaaaaahhhhhhhhhh….. this place was calling my NAME!  IF only it hadn't been hot as freaking pharoah's donkey outside, I might have considered sleeping out here.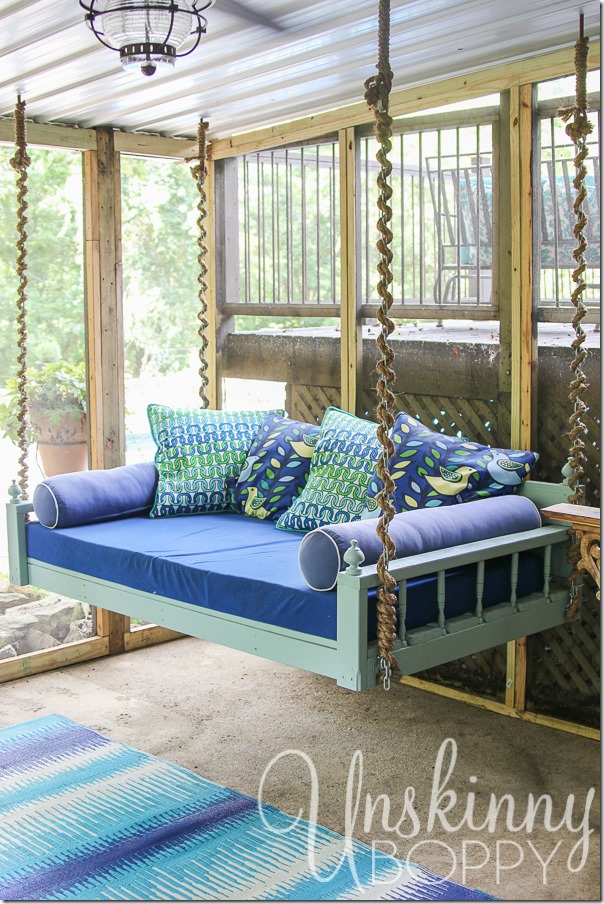 Her backyard paradise keeps going, with a beautiful pool, a gorgeous stone wall and tons of privacy.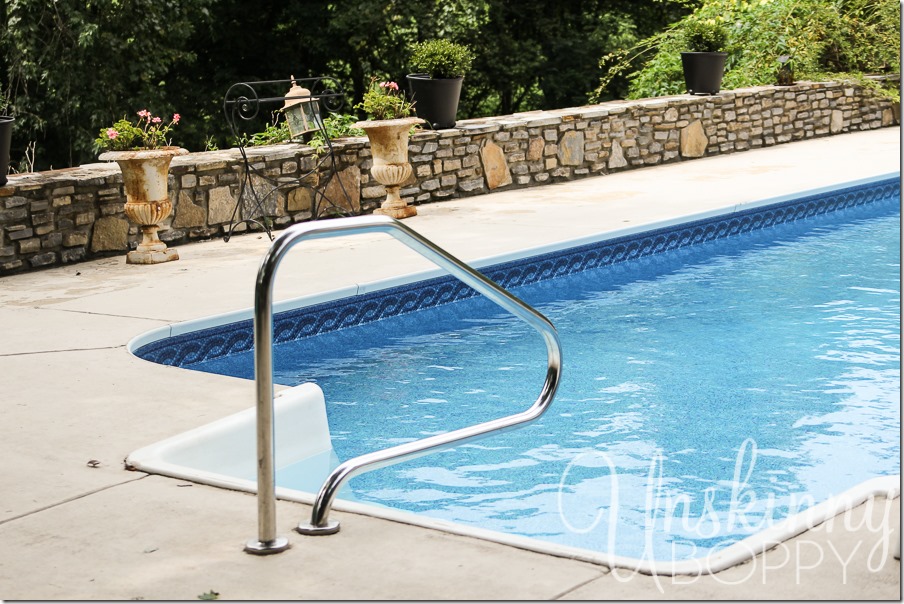 Who wouldn't want to swing from this tree under the string lights o' brilliance?  I sure would.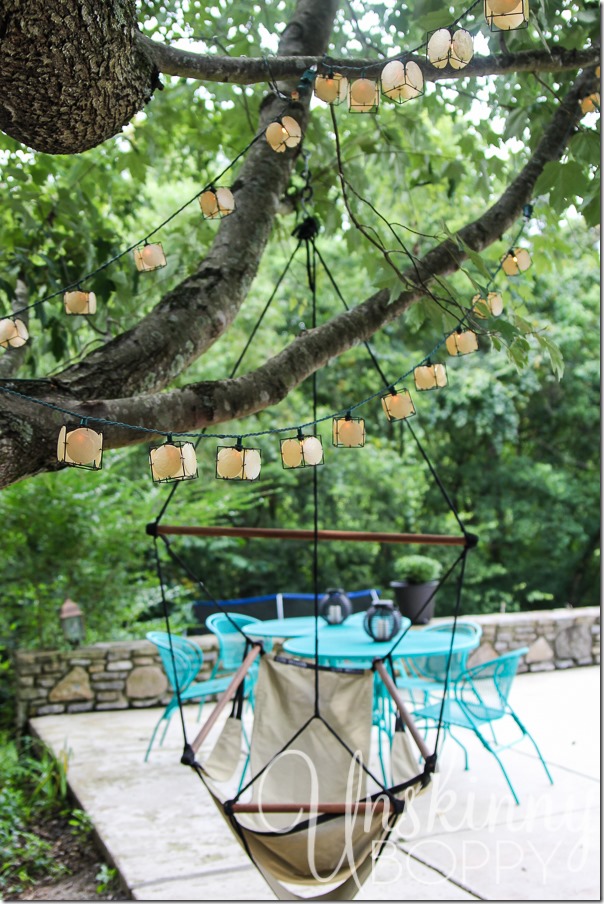 To say that I am in love with Miss Bella Tucker would be the understatement of the year.  More like infatuated.  She was so kind to allow us to stay in her home for the Nashville bloggers weekend, even after Heidi gave her a hostess gift of melted chocolate that looked like poop!  Haaa! #hostessgiftfail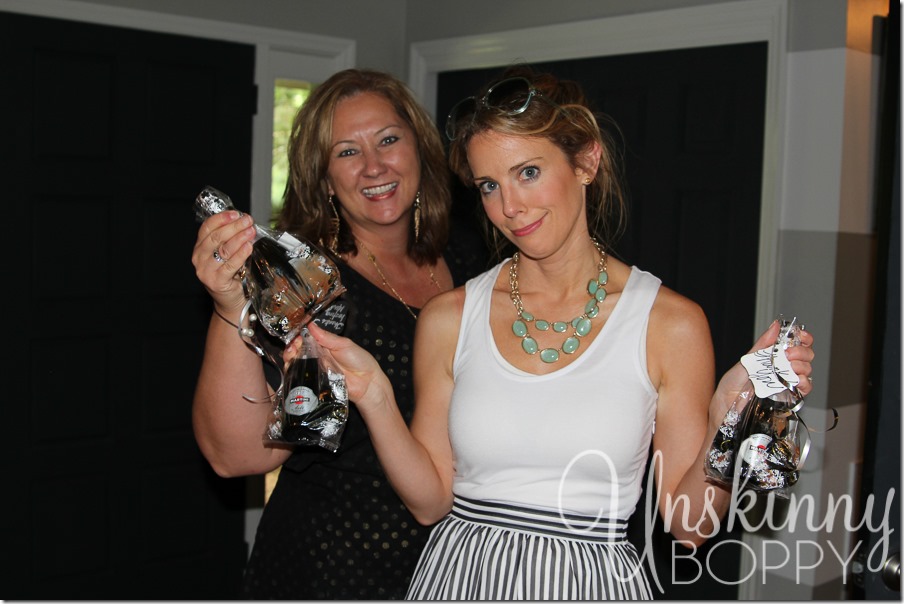 Thankfully sweet Carmen saved the day by swooping in with these beautiful containers for all of us to take home from the weekend.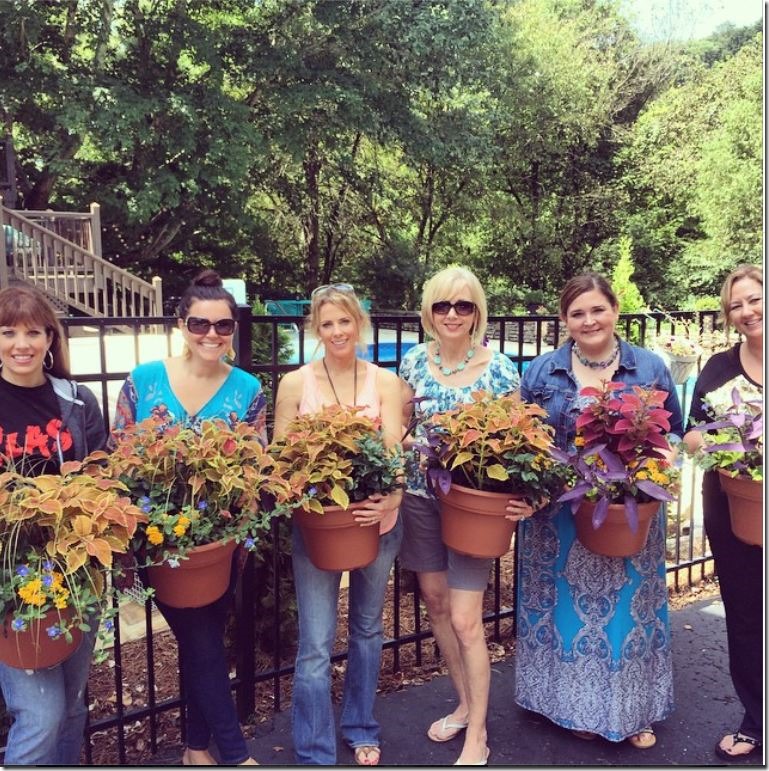 I have some amazing friends, y'all.
Go give Dana a like on facebook, or follow her on Pinterest here! You'll be happy you did!