I've got a secret that I've never shared here on my blog before.  It's one you probably won't expect coming from me.
Ready? Here it is….
I celebrated my first Christmas just eleven years ago when I was dating my husband. I never had a Christmas as a child.  I have exactly zero warm and fuzzy memories of cookies by the fire, or the anticipation of Santa Claus on Christmas Eve, or big holiday parties spent ripping open gifts and getting in fights with my family. I never had a tree or garland or a stocking in my house. I never got to go to the mall and take pictures on Santa's lap.  Growing up in the church we attended, we were not allowed to celebrate Christmas.  Or Easter.  Or Valentines Day.  I got checked out of school for all the holiday parties or sent to the library to read a book. 
But, that is a very long post for a different day. I purposefully have chosen not to talk about religion here on my blog in the past because it's obviously one of The Big Three Things that people don't like to discuss… Politics, Religion and Salaries.
Oh, and weight. Make that four things… 
I like to keep things on the lighter side here at Boppyville. But, it's a very big part of who I am today, and one of the reasons why I *might* go just a tad overboard every year when I decorate our house for Christmas.   I want my son to have all of those warm and fuzzy feelings around the Holidays that I never had as a kid.  I also find it pretty ironic that the first "viral" post on this blog was titled "How to Photograph Your Christmas Tree".
So, that long-winded secret revelation brings me to the point of this post!  
For two years now I've been honored to be a part of Jen Rizzo's Holiday Housewalk.  The all-star blogger lineup of Christmas home tours is absolutely spectacular, with holiday cheer oozing out of every Balsam Fir scented orifice each year. To give you an idea of the popularity of these posts… My 2013 Christmas home tour has been repinned 61,000 times. Yeps. Amazing.
Since Jen is officially the Queen of all things Christmasy in blogland, she has written a book called Creatively Christmas: Inspired Yuletide Décor.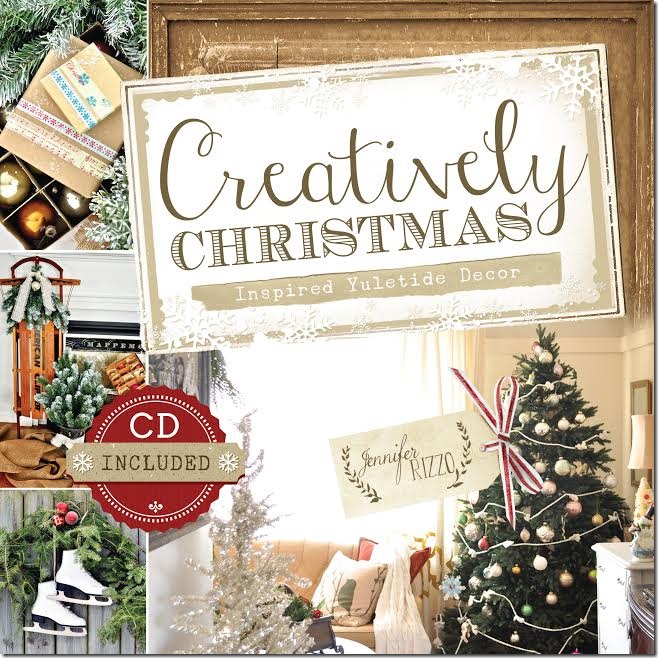 And it could not be more perfect. The book begins with her memories of her childhood Christmas dinners (which is what got me thinking about sharing all that up above with you guys.)  Jen's writing style is so fantastic I felt like I was lying right beside her in the back seat of her parent's station wagon counting the streetlights as they went by…. You really need to read it!
But, more than just for the stories.  From front to back, this book is jam-packed with creative ideas for holiday crafts, decorating, diy and more.
One of my very favorite projects was this Santa mail sack she made from a reverse transfer technique using a solvent.  I first watched Jen create awesomeness with this procedure on the 2012 Creatively Made Home e-course. It was fascinating and so surprisingly easy!  She walks you through the whole process in the book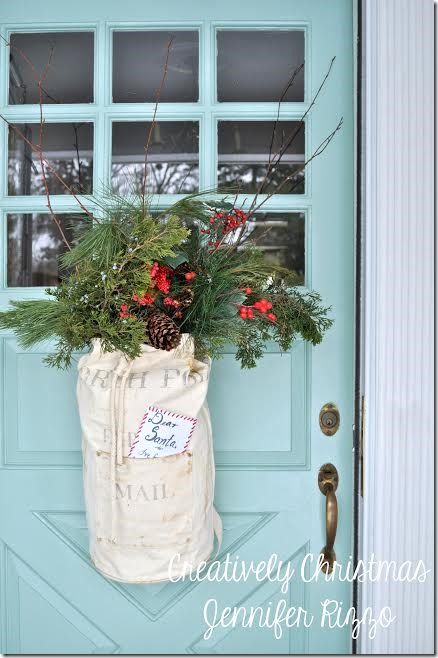 In addition to projects, there is eye candy galore throughout the entire book.  Like this.  Swoon…
Let me also say that if you're thinking this book will be filled up with pictures from your favorite bloggers that you can find anywhere on Pinterest let me guide you right over here to Exhibit A: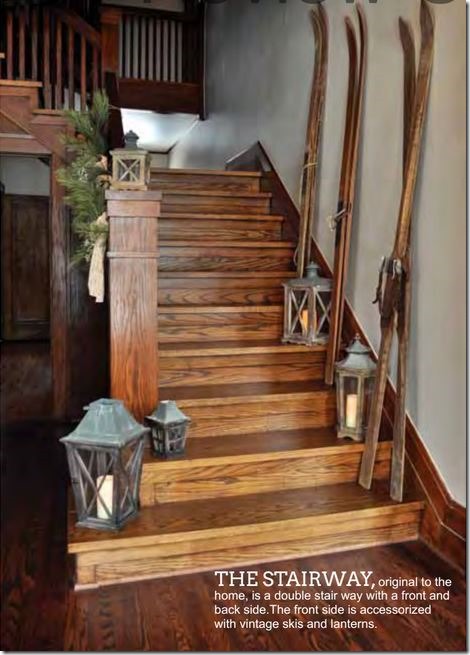 There are entire sections in the back of the book dedicated to featuring the homes of Jen's local friends and designers.  These homes are STUNNING and are the total cherry-on-top of an already spectacular book!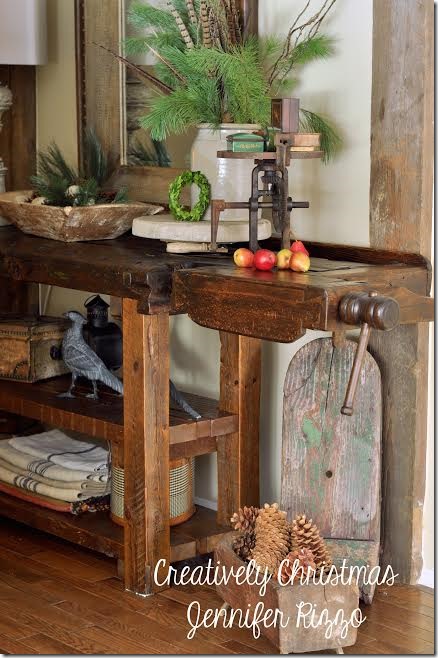 I was giddy (like, for real squueeeeeeeing) when I saw that she has even given a 2-page shoutout to all of the bloggers on the Housewalk in the book!!  Look!  That's me right there in the right hand column!  Woot!! Thanks Jen!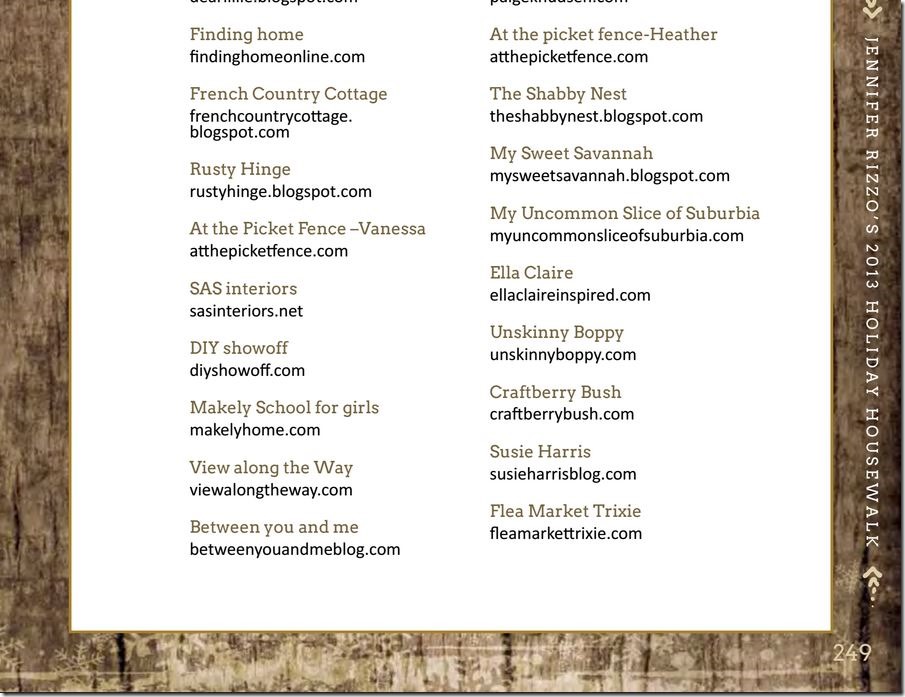 I have known Jen for many years now, and every time we meet up we are like two long, lost friends reconnecting.  From the moment I met her I felt like she was one of those soul-sisters who I just instantly loved.  We've spent two Haven Conferences together laughing, chatting and connecting with other great friends.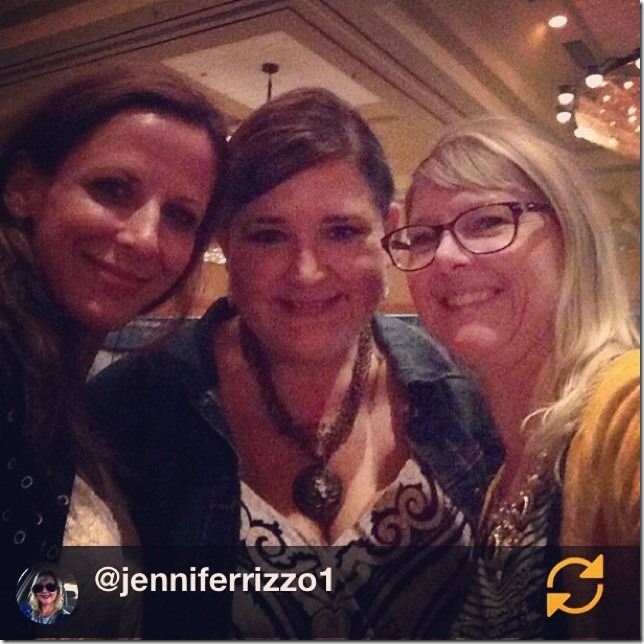 Roeshel, Me and Jen at Haven 2014
And, just this past weekend while on vacation in the woods of Wisconsin, I made my husband drive down to the Kane County Flea Market to see Jen's booth in person (and I nearly froze to death in the process). Can I just say… The girl also knows her way around a power tool or two.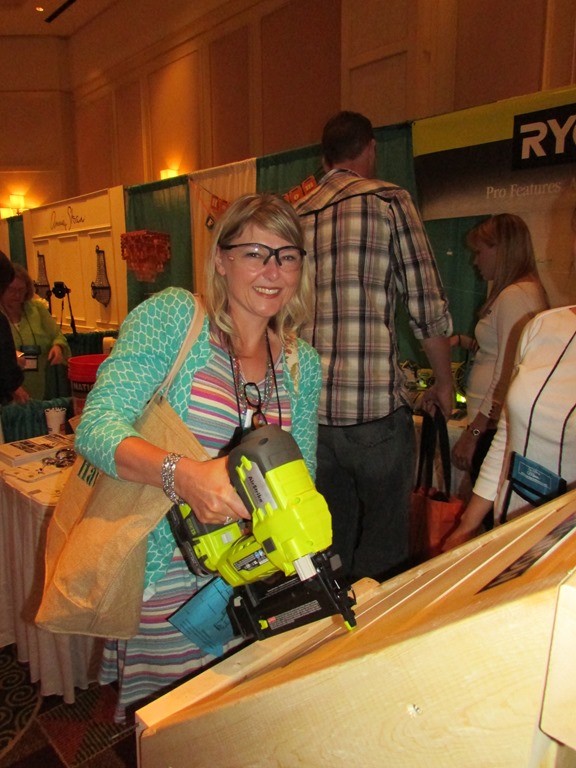 I absolutely adore this girl, and I could not be more proud of her for this amazing accomplishment of writing a fantastic Christmas decorating book!  Congratulations Jen!!  You've done a spectacular job at assembling a big ol' beautiful book filled with handmade holiday goodness. Way to go!
Y'all need to go pre-order the book right now! It's totally on my Christmas wish list.