A few weeks ago I posted a very popular post about how to make your own body butter.  I had some questions about the way I got my oils to whip up so light and fluffy, so I wanted to make you guys a video to show you exactly how I make this creamy goodness in a step-by-step video tutorial.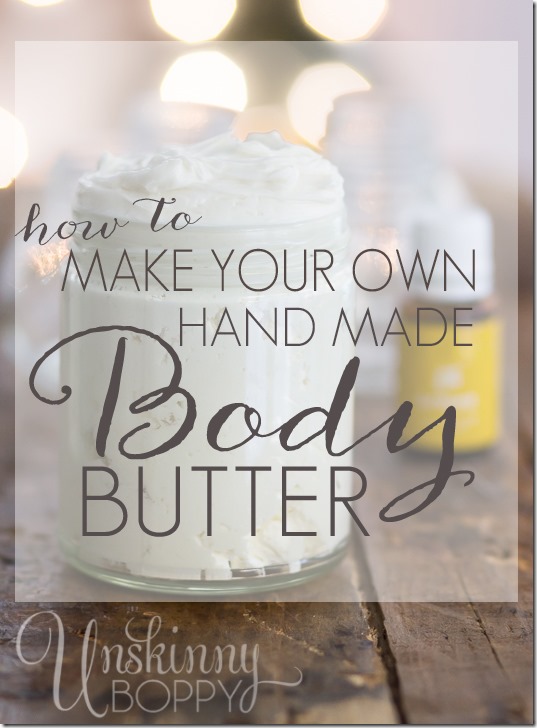 This is not my Youtube debut, but it IS the first time I've ever spliced clips of footage together and added music, so I apologize in advance for my lack of editing skills.  There is a reason I am a blogger and not a Youtuber!  Still this was a fun post to create for you guys today, and I hope you enjoy it!
Click here to play the video:
Here is the recipe I used, along with my affiliate links for the products:
HOMEMADE BODY BUTTER RECIPE
1/2 cup organic coconut oil
1/2 cup unrefined raw shea butter
4 oz of any carrier oil that is liquid at room temp (I used olive oil, you could use jojoba, sweet almond or V-6 from Young Living, etc)
About 30-40 drops of Young Living essential oils of your choice.
Directions:
Using a saucepan over low heat, melt the coconut oil and Shea butter together completely until they are liquefied. Pour into a stainless steel bowl (I used my Kitchenaid mixing bowl) then sit it in fridge. Once it starts to harden back up so that you can see your fingerprint in it (this could take anywhere from a few hours to overnight), whip it up for a few minutes with the mixer until it is light and fluffy like cake icing. Slowly add the liquid carrier oil as it is whipping, along with any essential oils you want to add.
This recipe makes about two to four cups of whipped body butter, depending on how much whipping you do! More air= more volume. My Kitchenaid whisk attachment makes mine extra-fluffy so I get a lot out of this recipe.  You can use regular hand mixer with beaters but I don't know if it will get quite so light and fluffy because it won't be as incorporated with air.
Now wasn't that simple?  I promise, it's VERY easy to make!  The end result should be a heavy whipped cream consistency that doesn't budge from the container, even when you turn it upside down and sideways….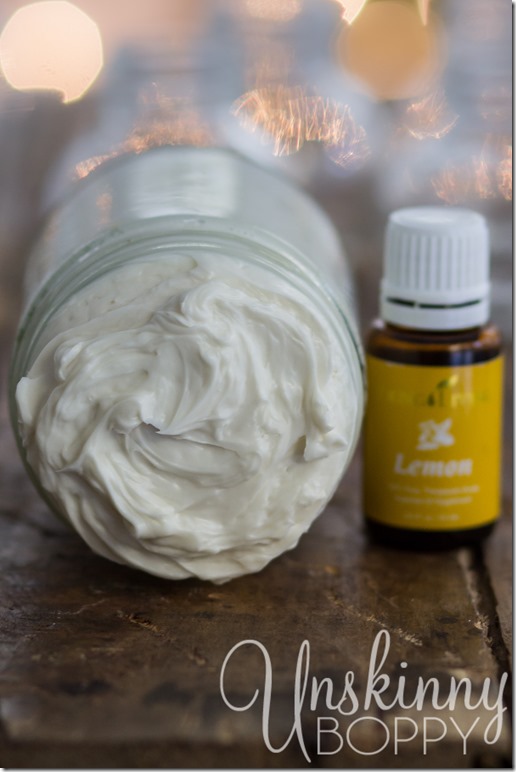 This body butter will make such a great gift for lots of folks on your Christmas list this year.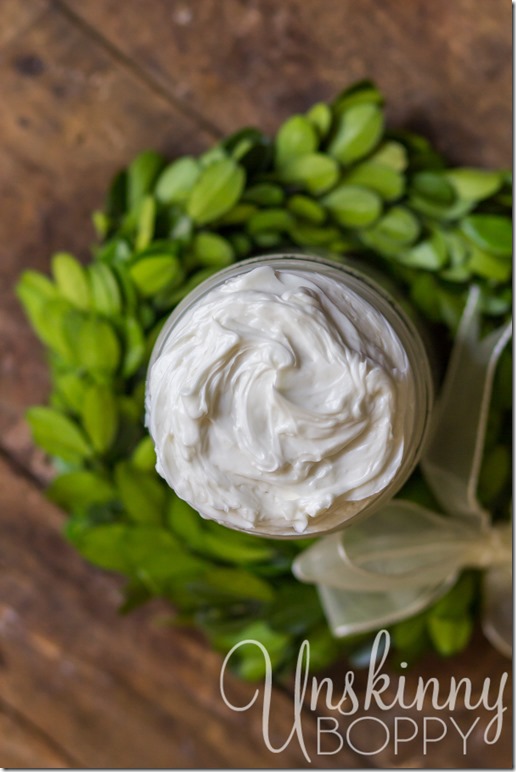 I'm kinda digging the way it looks in a plain glass jar (this is my leftover spice jar).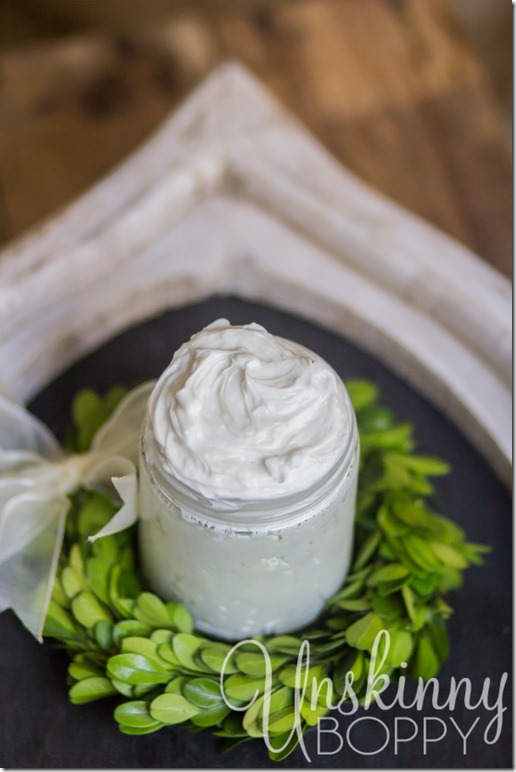 But if you're feeling festive and want to put some easy labels onto yours as gifts, just gather up some crafting supplies and get to work.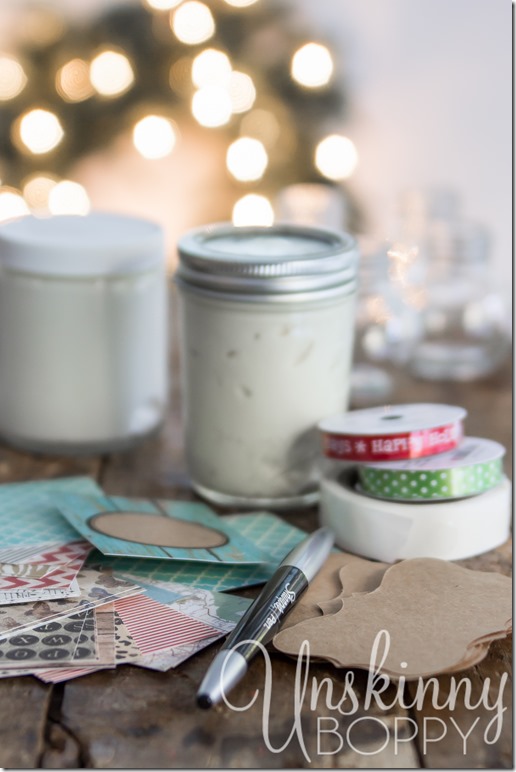 Find some fun chevron or reclaimed wood scrapbooking paper, and use glue dots to attach the paper to the jars. Add a label and some ribbon, and you've got yourself a gift!  You can print your own Avery labels on their website.  They have some super cute designs these days.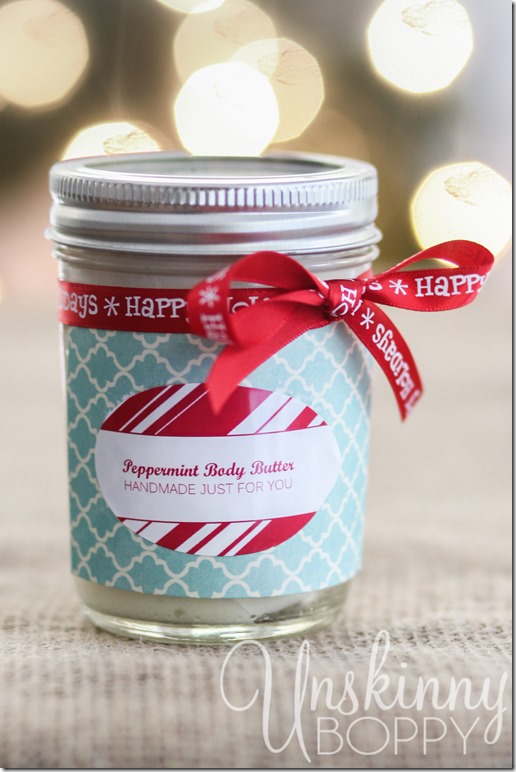 Or use a brown kraft label…

I spray painted the lid of an old jam jar for this cute peppermint body butter container.  Doesn't this scream Christmas?
So cute!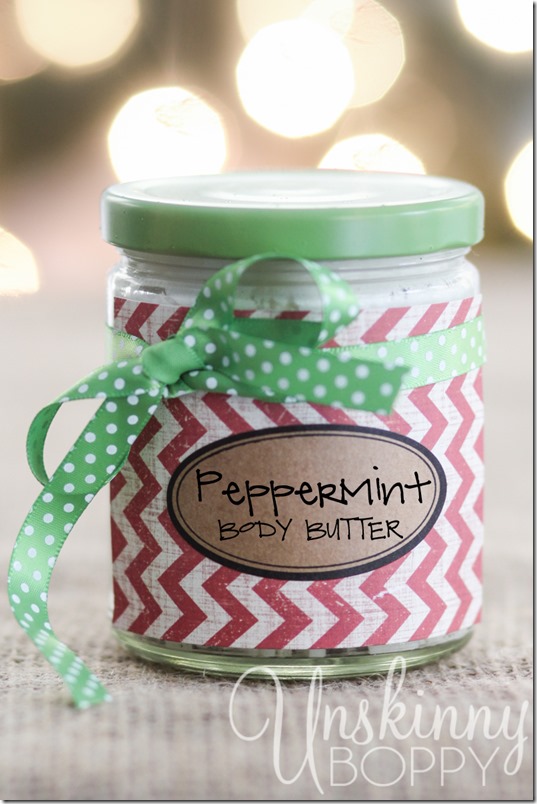 Y'all have fun making this body butter at home!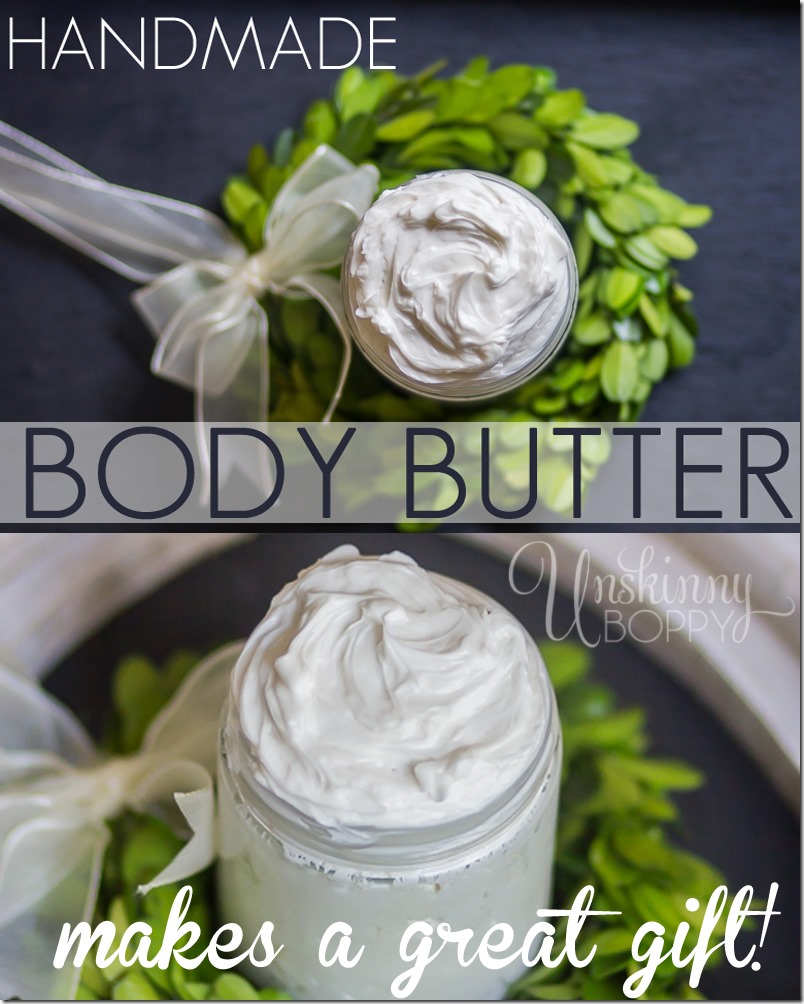 Be sure to check out the other great ideas featured at my friend's blogs today.  We've assembled a whole bunch of handmade gift ideas so please hop around to all of our blogs and check out the great gift ideas using essential oils this holiday!  I look forward to making ALL of these!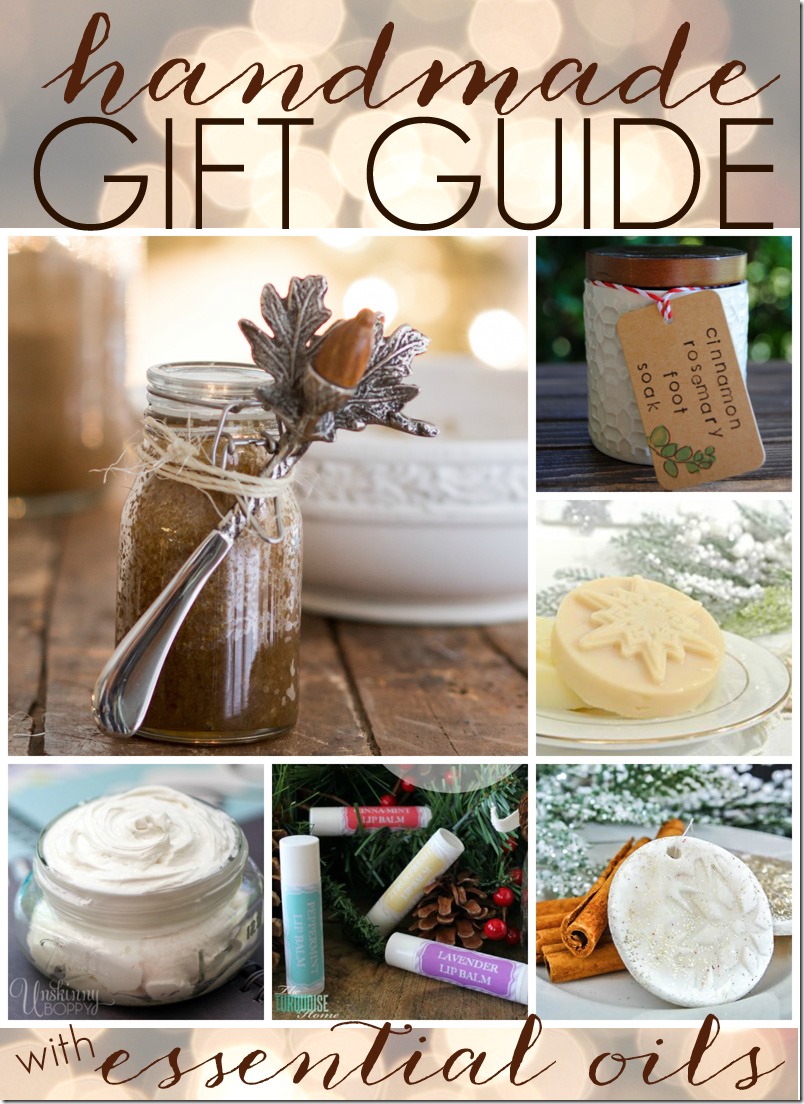 Peppermint & Lemon Body Butter
Citrus and Christmas Spirit Brown Sugar Scrub
Homemade Thieves Foaming Hand Soap
DIY Scented Christmas Ornaments
TO BUY ESSENTIAL OILS, CLICK HERE.
CLICK HERE to browse all the supplies you'll need to make your own handmade gifts at home! (This is my affiliate link.)