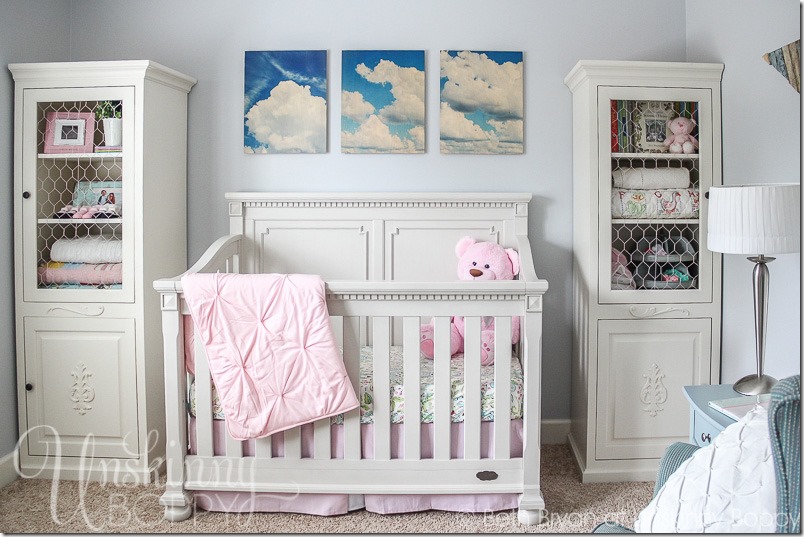 I've always loved clouds, stars, constellations and pretty much anything celestial. When I was a kid I would lie in the field beside my house and stare up at the puffy white clouds floating by. In my mind I could envision elaborate white castles with rainbow slides and cumulus cloud trampolines where I could bounce and play to my heart's content. Oh, and there were also some Care Bears hopping from cloud to cloud with me.  Because what little girl in the 80's didn't love the Care Bears?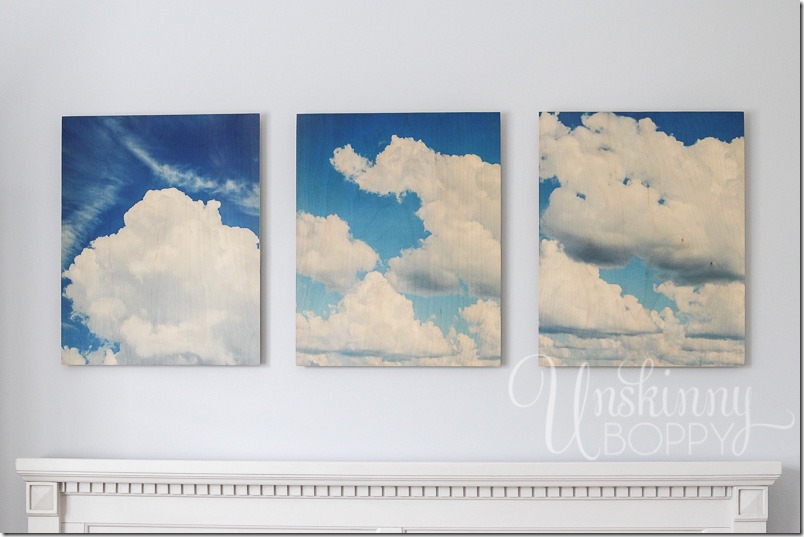 When it came time to decorate my daughter's nursery, I could not think of a better way to bring that happy part of my childhood imagination right on into this room than by hanging cloud photos above her crib. I searched around the internet but couldn't find any cloud artwork that called my name, so I decided to take it upon myself to create my own.
On a hot summer day in June, I loaded up my mom and son and drove out to the middle of a big field to shoot some Alabama summertime clouds.  The sky did not disappoint that day, and I came home with about 200 pictures of puffy cumulus clouds and some amazing memories with my mom and son. We spotted all sorts of shapes in the clouds, including the giant elephant that you see in the middle photo on the wall. My son wanted to include the T-Rex shaped cloud that we spotted as well, but I didn't want to traumatize this little girl at an early age by hanging a giant T-Rex above her head.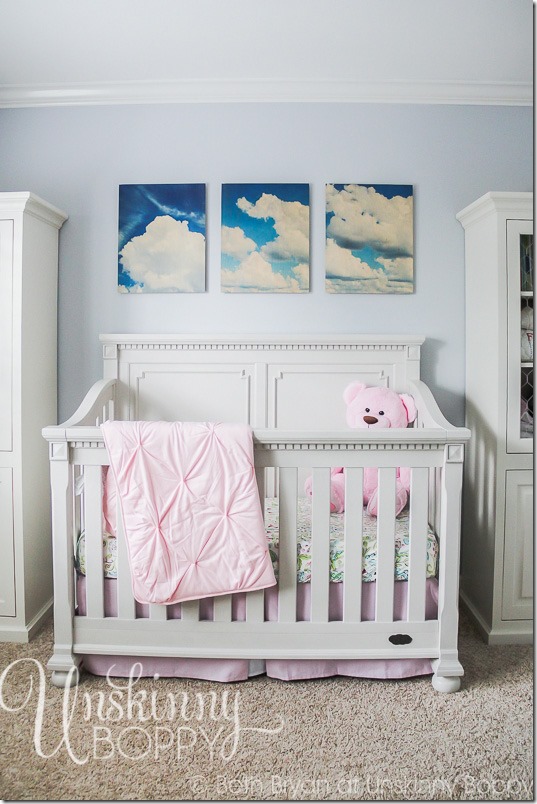 Originally I envisioned wrapped canvases above the crib, but when I took a look at all the cool options that Shutterfly offered on their new Design-A-Wall tool, I knew I wanted to take a different approach.  I fell in love with the look of the wood wall art because it was something unique that I'd never seen before.  I also LOVED the fact that they send you a template guide which makes hanging a perfectly even collage a breeze. This big poster arrived on my doorstep a few days before the artwork, so I had plenty of time to get it on the wall and "see" it in the space.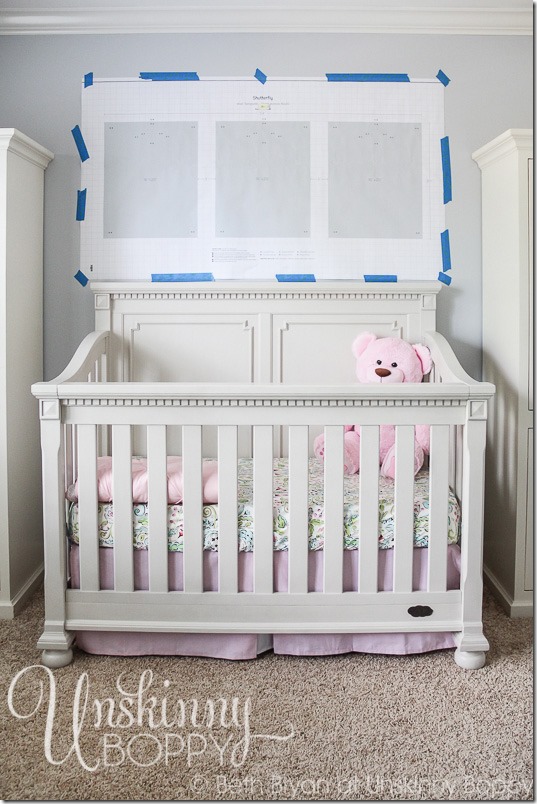 My good friend Dusty helped me hang the poster so that it was centered up perfectly between the two book cases, and from that point all I had to do was insert the anchors and screws in the wall exactly where it told me to put them.
The template comes with an alphabetical key so you just match up what type of art you are hanging with the coordinating letters.  Wood wall art = C, so I lined up my screw on top of all the "C's" and marked the wall with a small hole.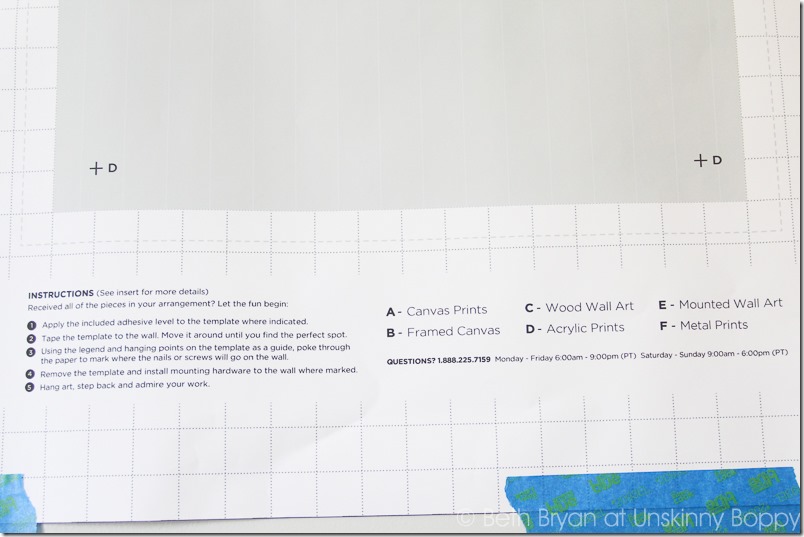 After I double checked that I had marked everything correct (because I totally don't trust my pregnancy brain) I removed the template from the wall and used the hanging kits that came in the package to install anchors and screws into the wall. Usually hanging two or more pictures in a straight line (or in a collage) is a total nightmare, but Shutterfly made this part SO easy. It could not have been any simpler to get my pictures hanging perfectly straight and symmetrical on the wall with all the things provided in the Design-A-Wall toolkit.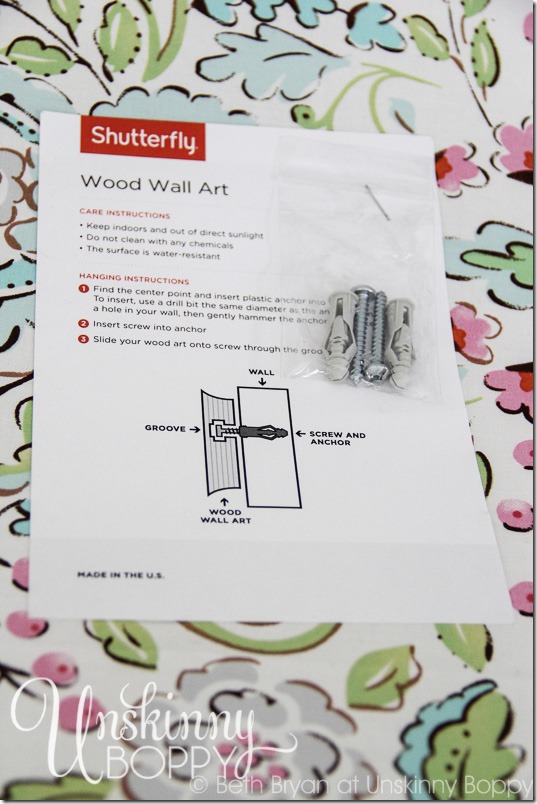 Another thing they have simplified is the hangers on the back!  Instead of trying to line up the screws with a small hanger on the back of the artwork, they simply routed out a groove that runs the entire length of the piece both vertically and horizontally so hanging them literally took NO work at all.  Well played, Shutterfly.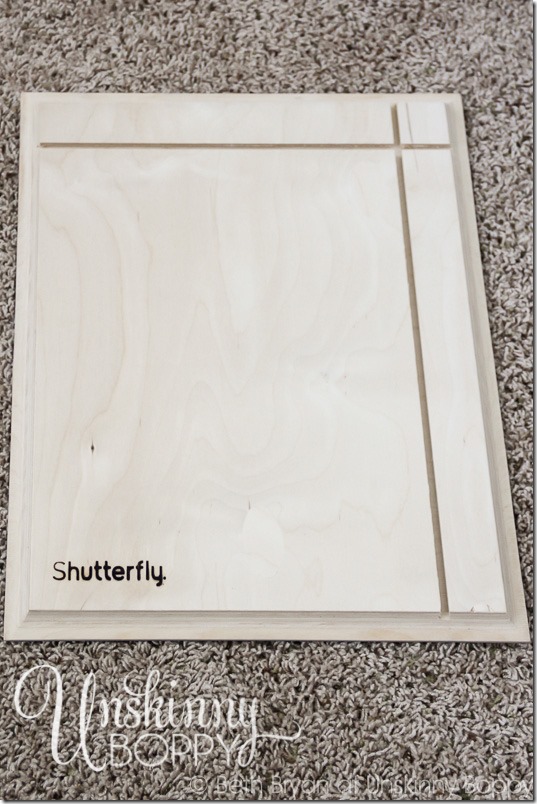 The wood wall art is a bit transparent so that the wood grain shows through the photo.  It also gives it a bit of a sepia affect since the wood has a yellowish tone to it.  I like how it makes the pictures look a little vintage, but if you are going for a clean, crisp look then you might want to go with a gallery wrapped canvas instead.  I personally love the look of the wood-grain since it's so unique!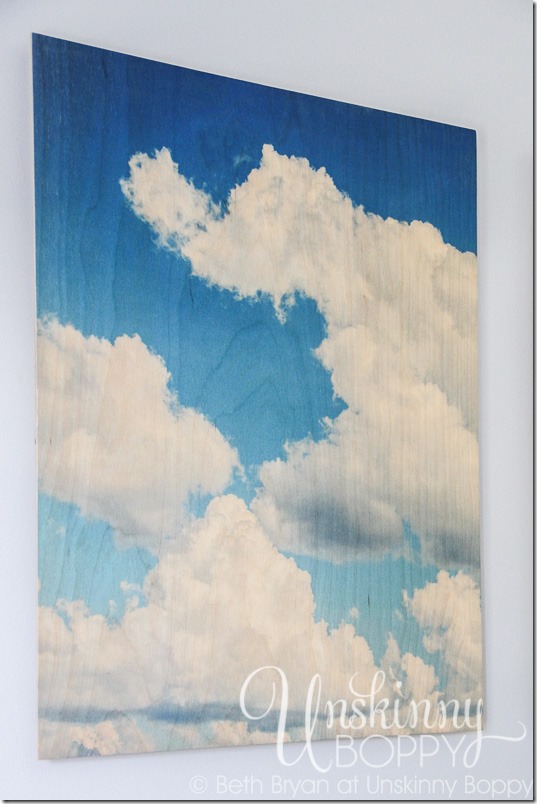 The cloud prints turned out perfectly in this little girl's nursery. This was by far the easiest artwork I have ever hung on the walls!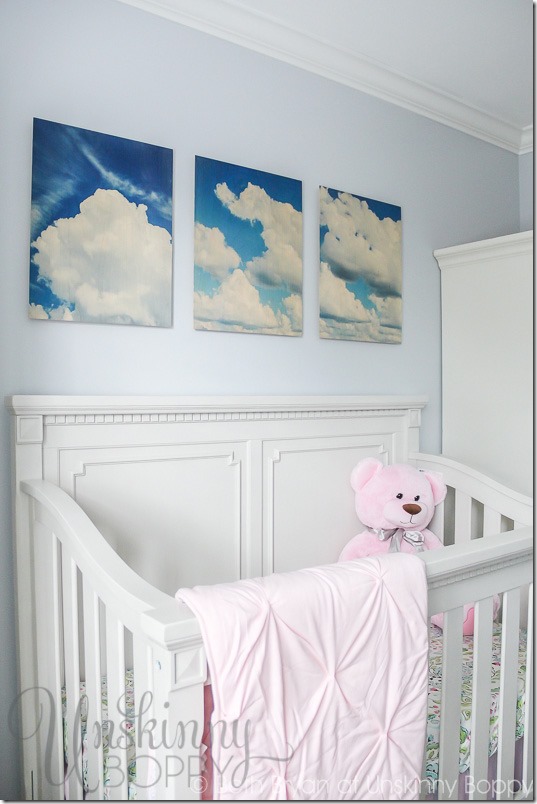 Since I have kept y'all waiting on blog posts from me about this new house, I thought I would give you a little gift for being so patient with me.  Today I'm offering free high-resolution downloads of my cloud photos!  The photos are free for you to print out however you'd like, but if I were you?  I'd upload them to Shutterfly and see what kind of artwork you can create for your own home!
CLICK HERE TO GET YOUR FREE CLOUD PHOTO DOWNLOADS

CLICK HERE TO GET YOUR FREE CLOUD PHOTO DOWNLOADS
Disclosure: This post was sponsored by Shutterfly through their partnership with POPSUGAR. While I was compensated by POPSUGAR to write a post about Shutterfly, all opinions are my own.