Our foyer, living room, kitchen and dining room (which is my home office) is one big open space in this house.  Wide open living is great, unless you have a toddler who is faster than a speeding bullet zipping around snatching and grabbing every thing she can get her hands on.
Here is a picture of our open living area BEFORE she started walking (the coffee table has since been replaced by an overstuffed ottoman that she can't chew on).
If you follow me on Instagram you probably saw this post a few weeks back.  The "Trump Toddler Wall" (aka 10 foot long baby gate) has been a life saver in my house since Caroline has learned to crawl.  She would be halfway up the stairs before I even knew she was missing.
So, we gated off the foyer and my office to keep her out of that half of the house.  It ain't pretty, but it has solved so many issues.
SO, now that the foyer is one of the only baby-free zones of my house, I've gone just a wee bit crazy decorating every corner of it.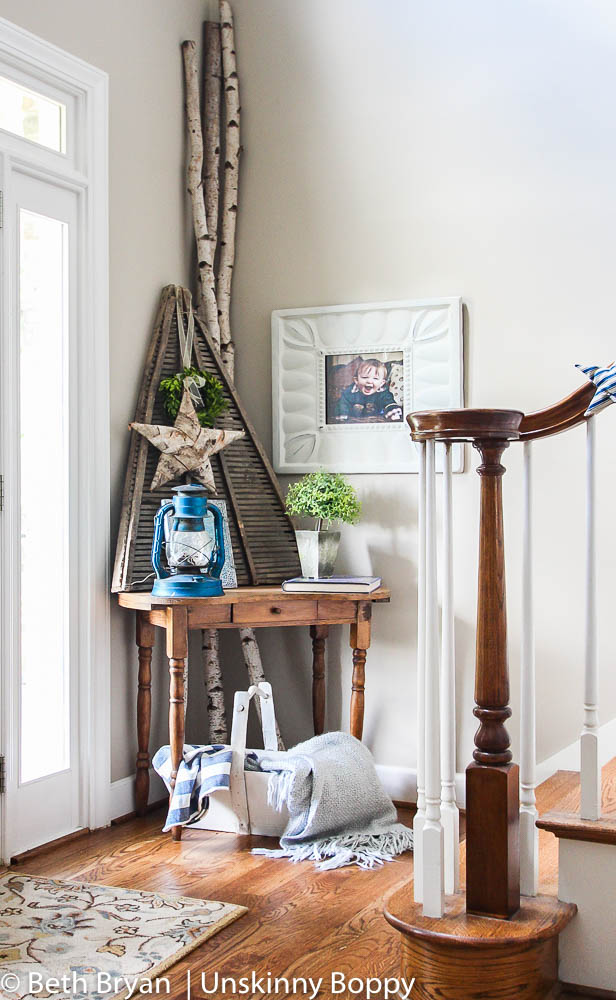 I thought I could wait until Christmas to display this vintage herb drying rack that I scored from Dreamy Whites shop a few months ago.  But nope. I couldn't stand it. I loved it so much it immediately went in my foyer where I can stare at it lustily over my computer screen.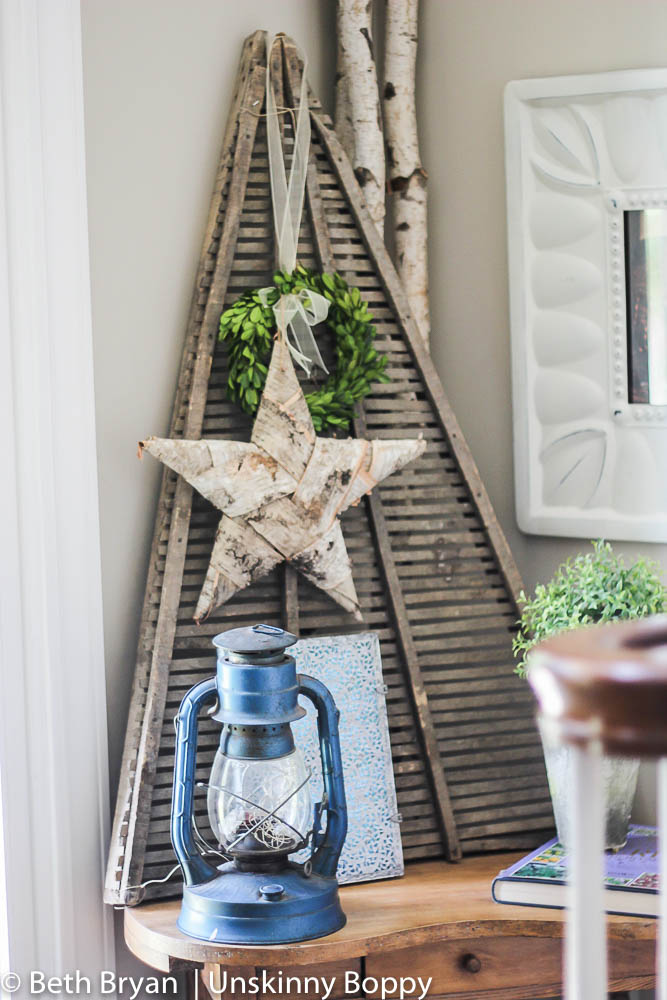 See? I told y'all every single corner is stacked full of flea market fancy junk. It's a major addiction. I might need an intervention.
My old apothecary cabinet is still standing proudly right by the front door. It's still my pride and joy.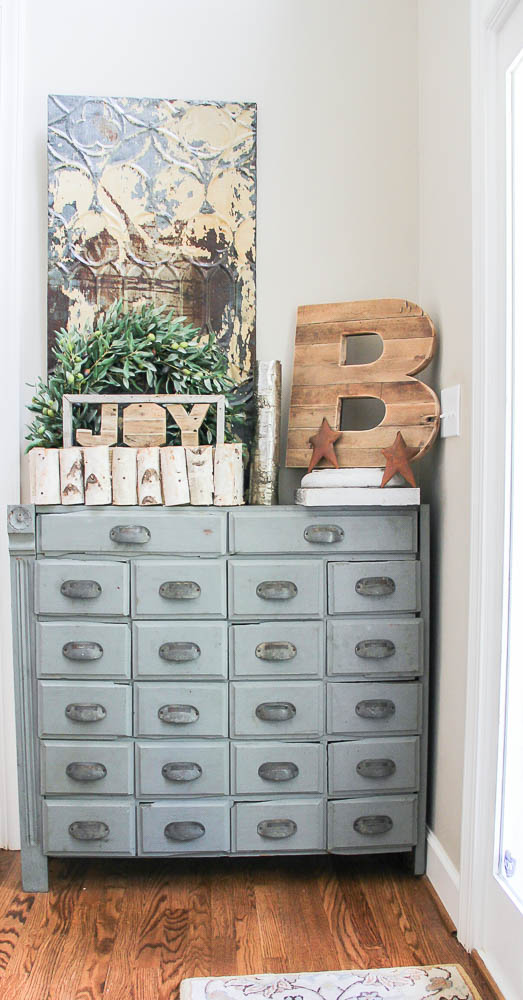 At the top of the stairs I've got another old door with baskets and bells and boxwood wreaths and an old banjo I found at the Nashville flea market.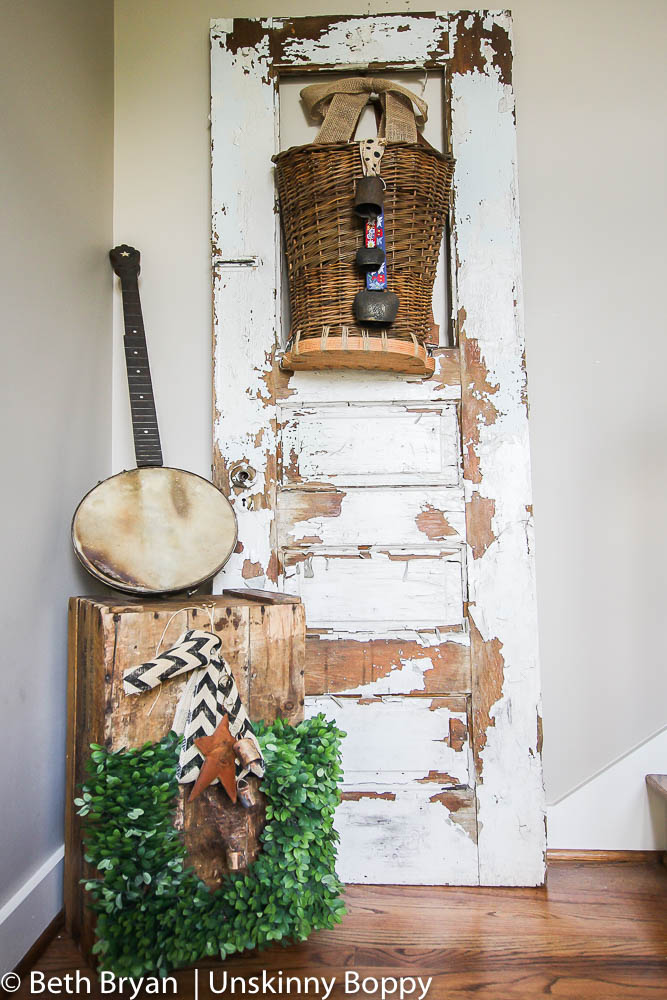 Y'all know I'm a sucker for some galvanized bunting, so when I found this metal feather garland at a local gift shop I was instantly smitten.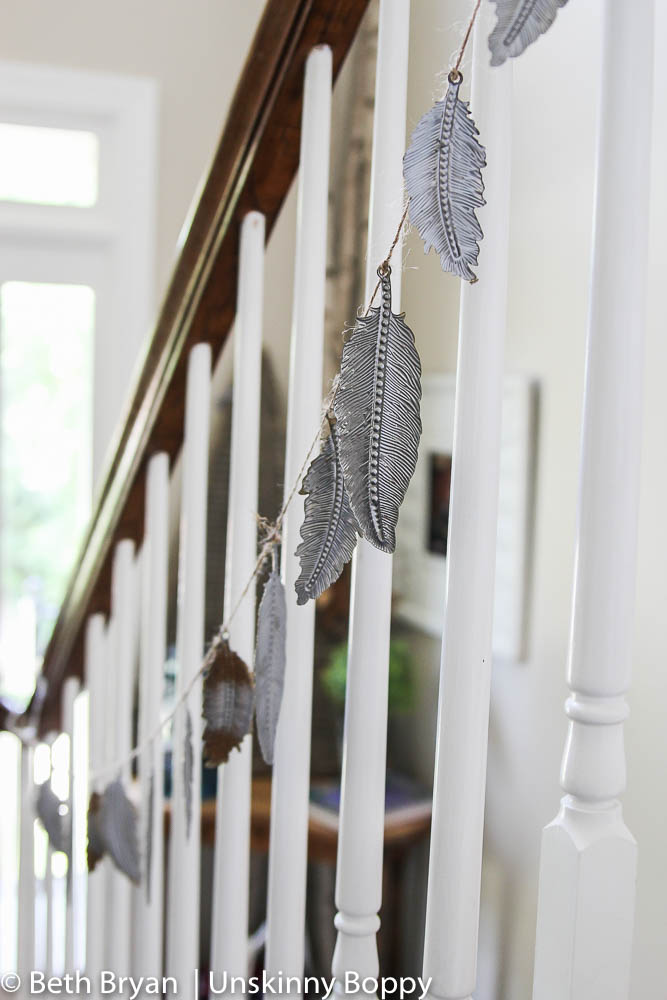 Is it overkill? Maybe.  But I'm doing it anyway.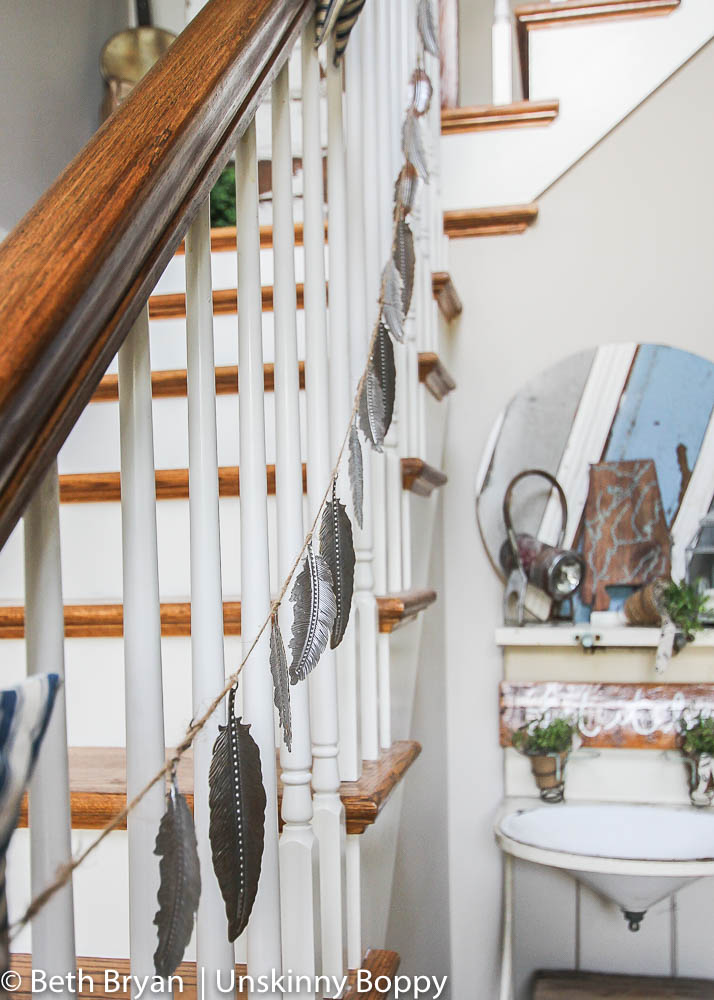 My inlaws brought me this "Sel de Mer" canvas bag as a souvenir from their recent trip to France.  They know me SO well.  I absolutely love it.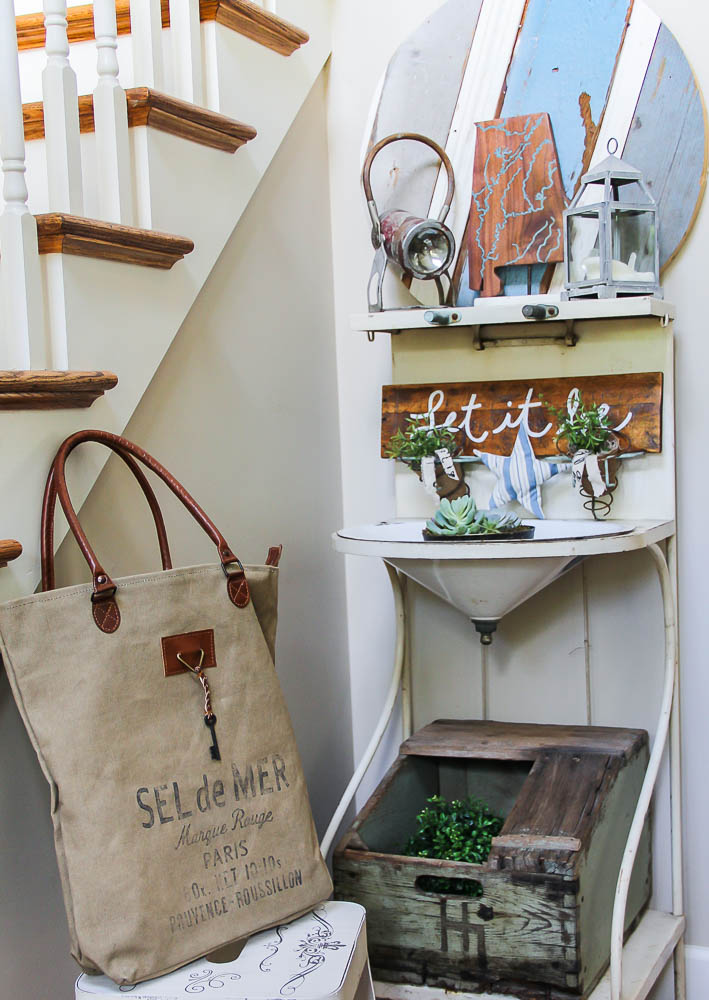 If I were a good blogger I would have some strategically placed loaves of french baguettes and bundles of dried lavender perfectly positioned inside of it. And of course it would be sitting beside a pair of perfectly positioned Wellie boots.
But, I've never claimed to be a good blogger. We all know that by now.  Instead I just threw my cute new bag in the picture to show it off.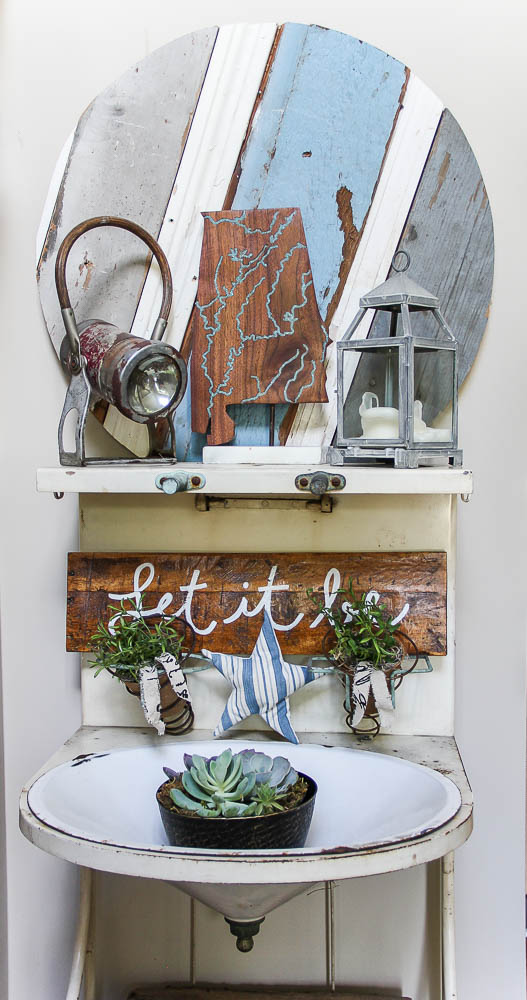 And here is the other new love of my life.
I've lusted after this thing for years, and my husband surprised me with it for Mother's Day.  My friends at Digs Design makes these Alabama-shaped wooden plaques with turquoise inlaid to represent all the rivers in the state.  I cannot even begin to say how much I LOVE THIS PIECE.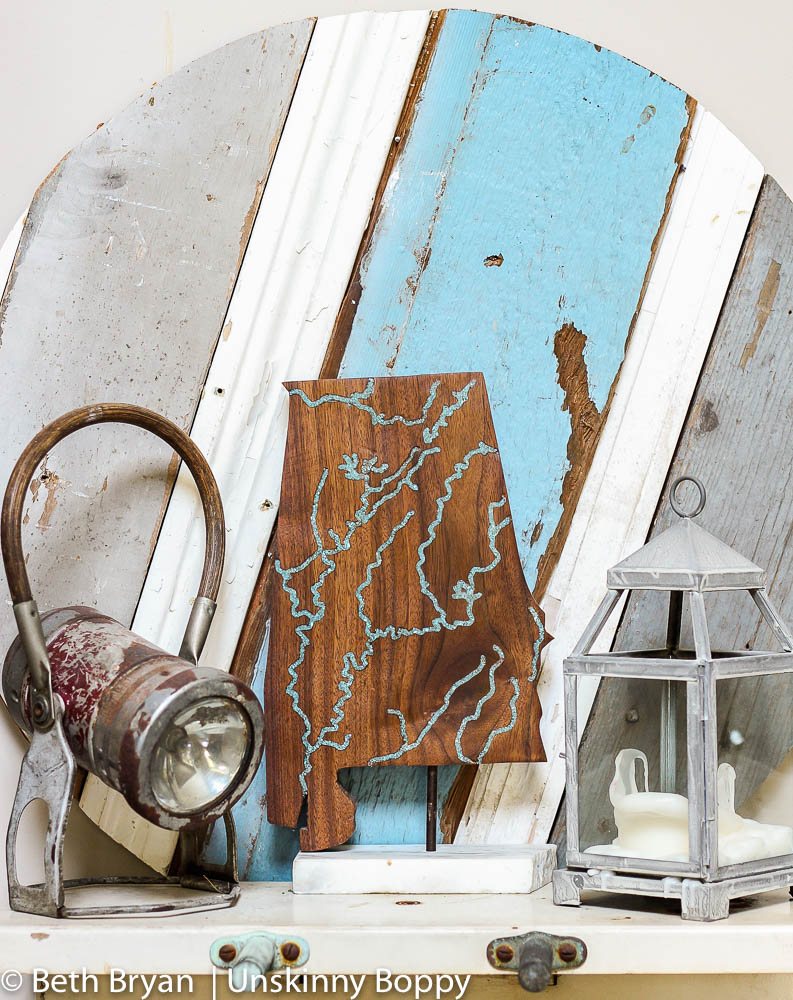 I have spent time fishing on every major lake and river in Alabama north of Montgomery, and this little piece reminds me of all the good times I've had over the years.  It's got a piece of my heart.
Just like the guy who gave it to me.