Welcome to the middle of March! Can y'all even believe we are already 3 months into 2017? The flowers are blooming, clocks have sprung forward and there's like three feet of snow on the ground in New England right now.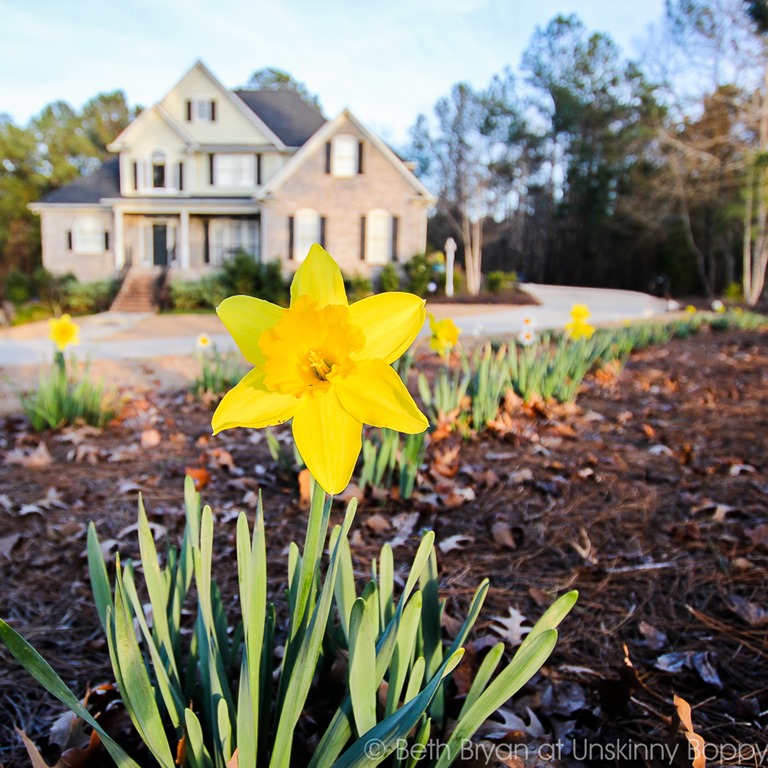 Here in Alabama, though, all signs point to SPRING up in hurrr, which is just fine by me. My bones need some sunshine and warmth again. Today I'm joining a few of my most talented blog friends along with our co-hosts Homegoods and Country Living Magazine for a cozy Spring home tour, so I have spent the last few weeks getting the house all Spring-eriffic in the middle of our attic and basement renovations.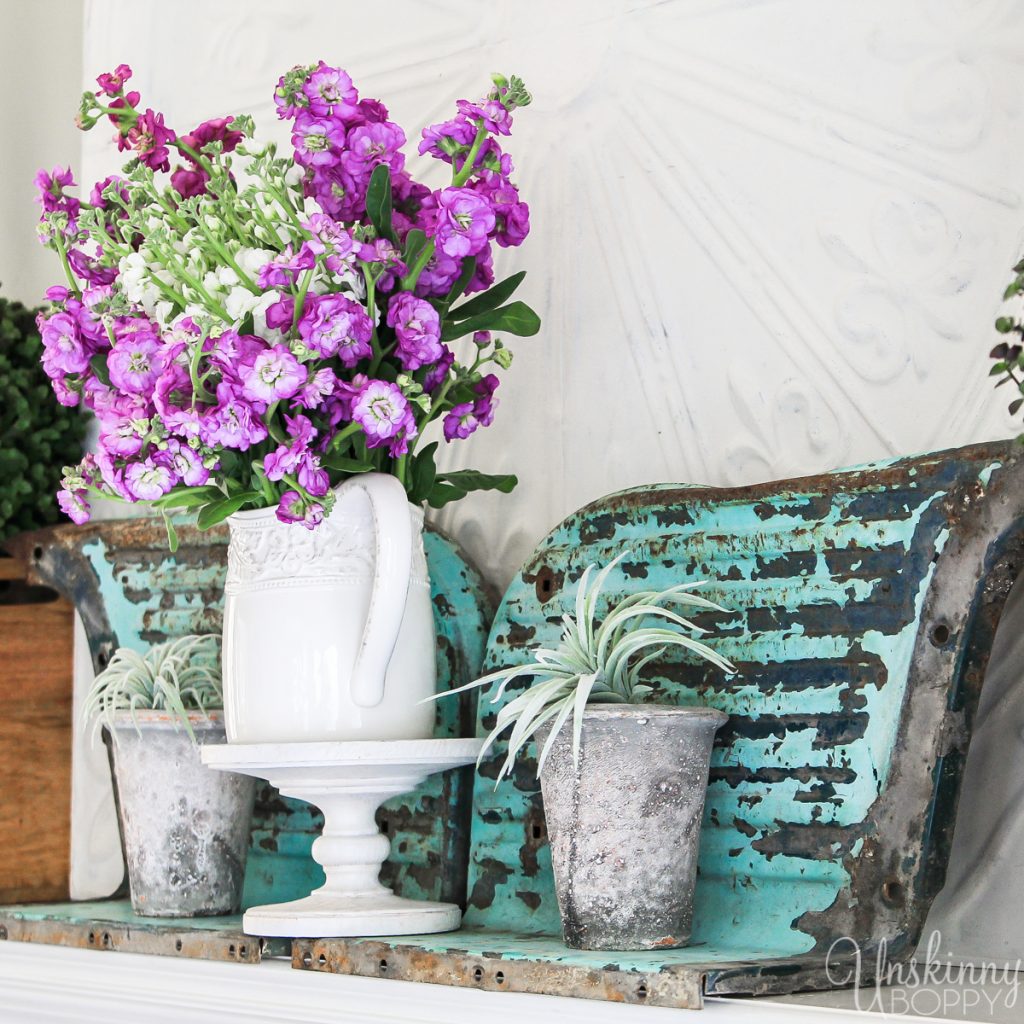 Before we get too deep in the tour, let me give you some quick advice about what NOT to do in your Spring decorating this year.
Here's the backstory… My neighbor has this beautiful pink cherry tree that is always the first one to bloom every spring. I look forward to it every year because it's this ray of pink sunshine in the dreariest of winter months. A few weeks ago I saw that not only was it in full bloom but she had also trimmed it and left the clippings just lying there on the side of the road for the trash man to pick up. I was all "WHAT!?" and screeched my car to a halt to pilfer all of her tree trimmings.
I brought these fluffy pink branches home and stuck them in some water with every intention of using them to decorate for this spring home tour. I had visions of fresh pink blossoms on my mantel and my foyer and my porch, smelling heavenly….
Here's the pink tree Proof of Life that I posted on Instagram: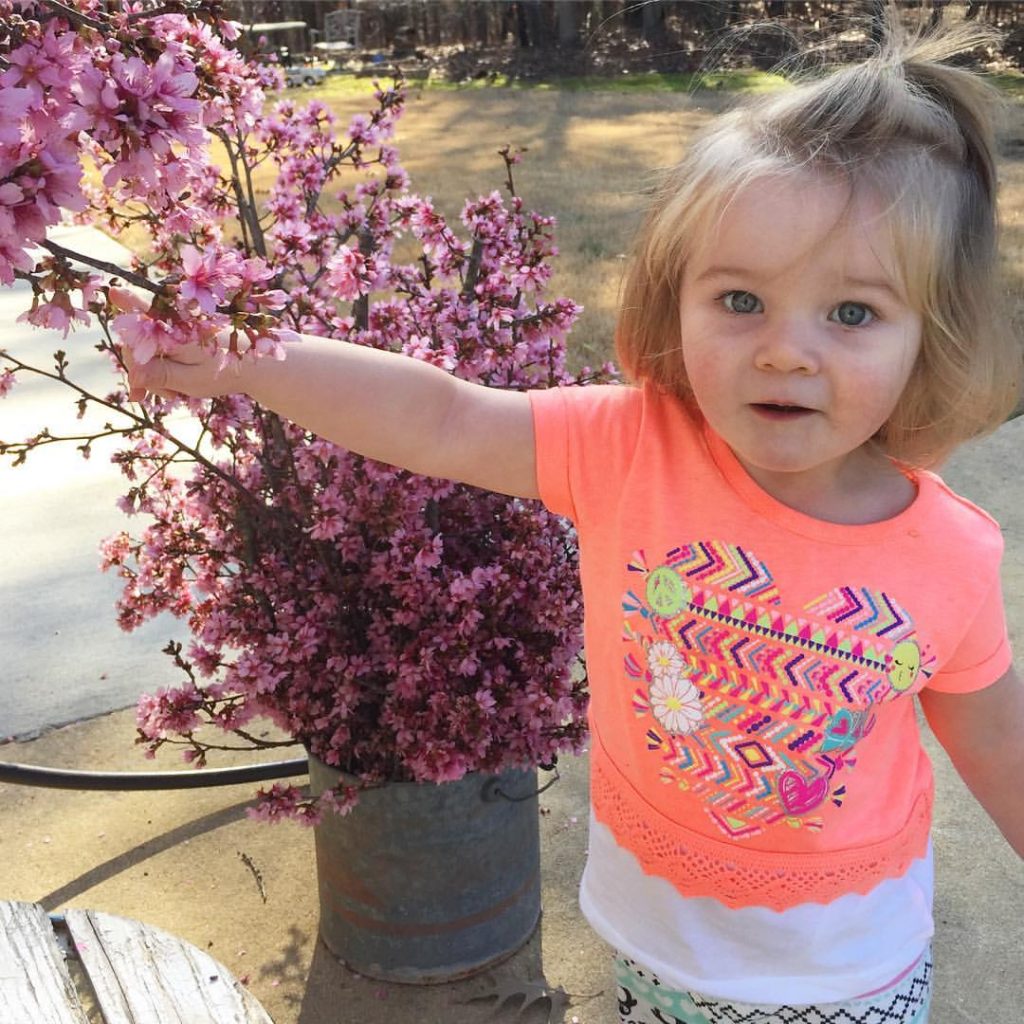 But THEN I got really busy and I went to Mardi Gras in Mobile and I got smacked in the head by a bunch of beads and Moon Pies and I TOTALLY forgot to take my home tour photos in time before all those gorgeous pink blossoms shriveled up and died.
For real. I was so sad.
So, when I finally got around to actually taking pictures for this home tour, I scoured the neighborhood in search of any tree in bloom so I could steal some fresh branches. Finally I spotted one way out in a pasture near my house, so I hiked out there in the cow pasture with my loppers and started hacking away at this tree until I got enough to fill a bucket. I have no idea what kind of tree this is, but don't let those branches fool you. They were sharp as thorns and I was scratched and bleeding by the time I made it back to the house.
And then, after all that fiasco, I was ready to take my magazine-worthy home tour shots of these beautiful blooming branches in front of my new Mora clock (because hello, Country Living). I set up the shot, making sure those branches looked just so when I got a whiff of something extremely odiferous.
I sniffed around for a minute and I realized that these blooms reeked of DEAD FISH.
If you've ever smelled a Bradford pear tree in bloom, you know exactly the smell I'm talking about. It smelled like a seafood market in the ripe summertime up in here.
After I snapped this shot, I immediately took that bucket o' stank outside and put it on the porch, where I was able to enjoy it much more. The moral of this story? Beware the white blooming trees, for they might chum up your house.
And that, my friends, is my advice on what NOT to do during your springtime decorating.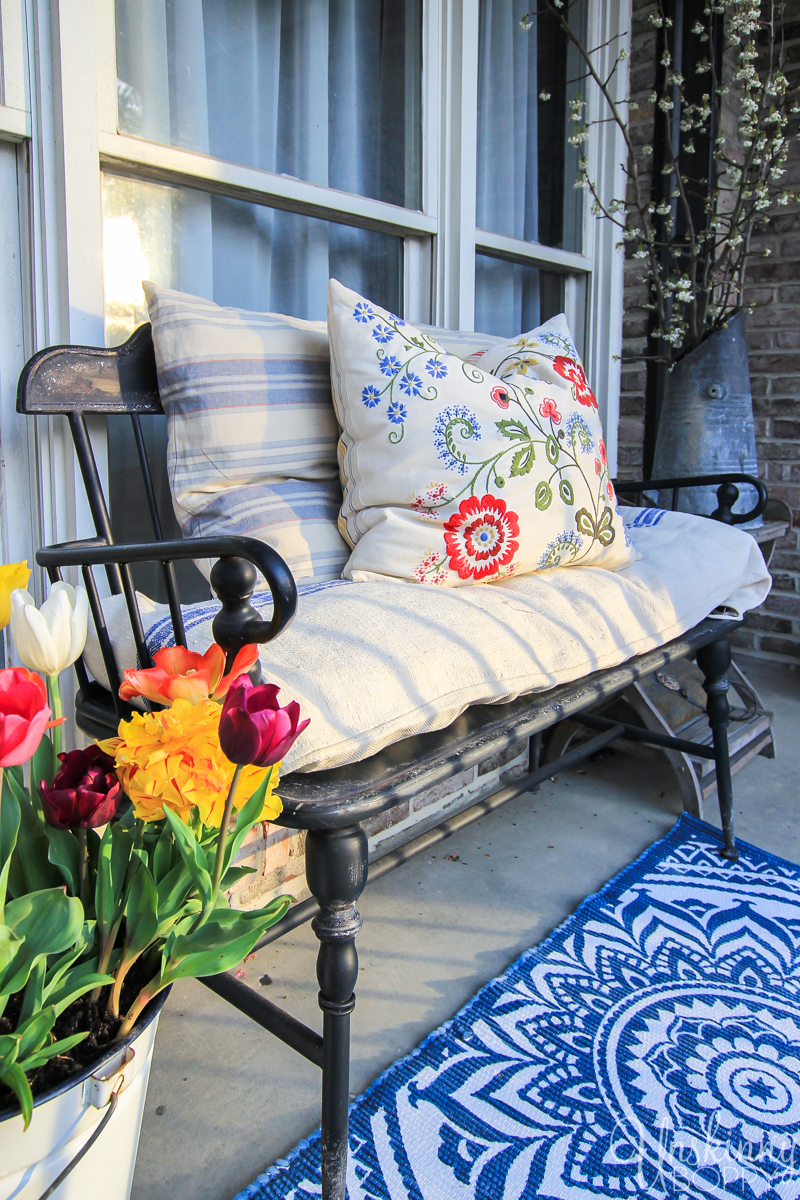 Anywhoooo… after that little story the rest of this home tour is going to be very short on the words and long on the photos.
When I was at the Young Living Silver retreat back in October I came home with a gallon Ziploc bag full of lavender straight outta the fields of Mona, Utah. Then a few months later my friend Sue at The Blu Building posted these bundles of drying lavender for sale in her shop.
I've displayed all that lavender goodness in my old apothecary jars on top of my antique apothecary cabinet so I can pretend to be Claire from Outlander every time I pass my front door. #wheresjamie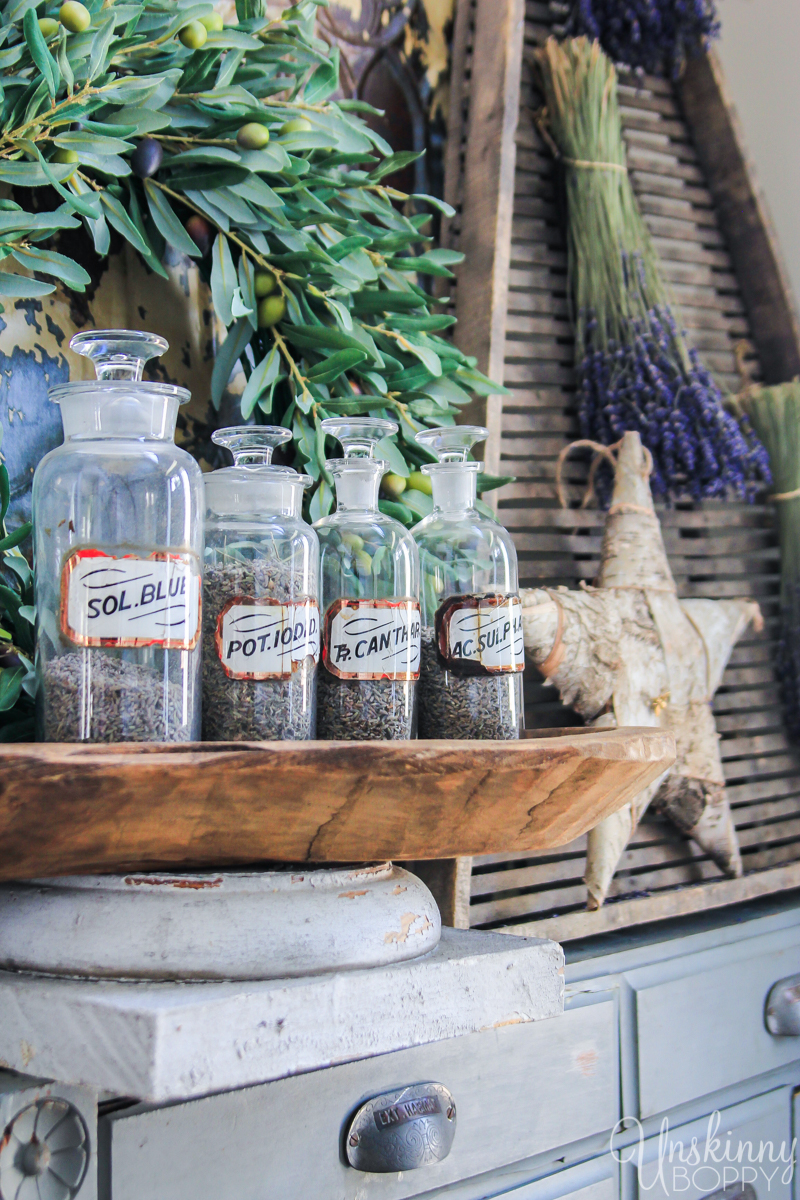 Homegoods was nice enough to sponsor this home tour for us so I picked up a few new things to freshen up the house for Spring. I'm digging my new throw pillows!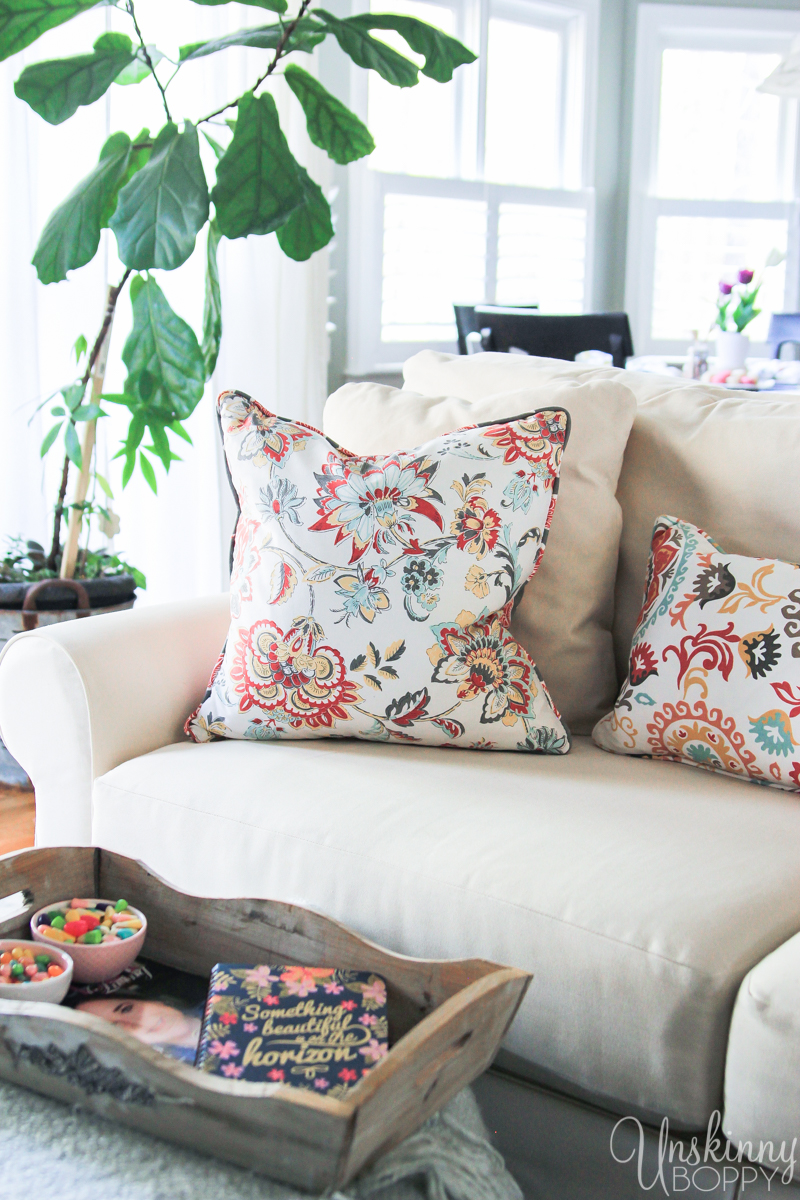 Remember the old teal truck fenders I used to have in my garden?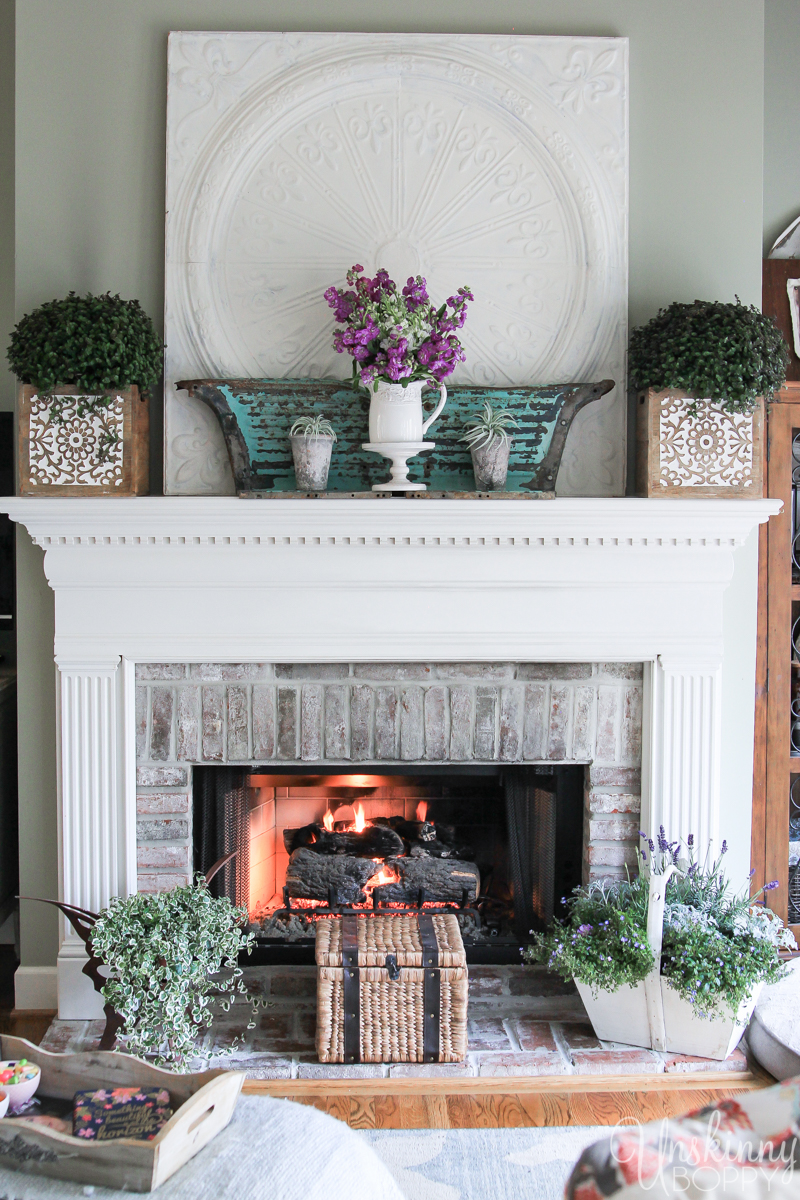 I brought the teal fenders inside to brighten up the mantel. Cuz nothing says "Spring mantel" better than some rusty junk that resembles a butterfly.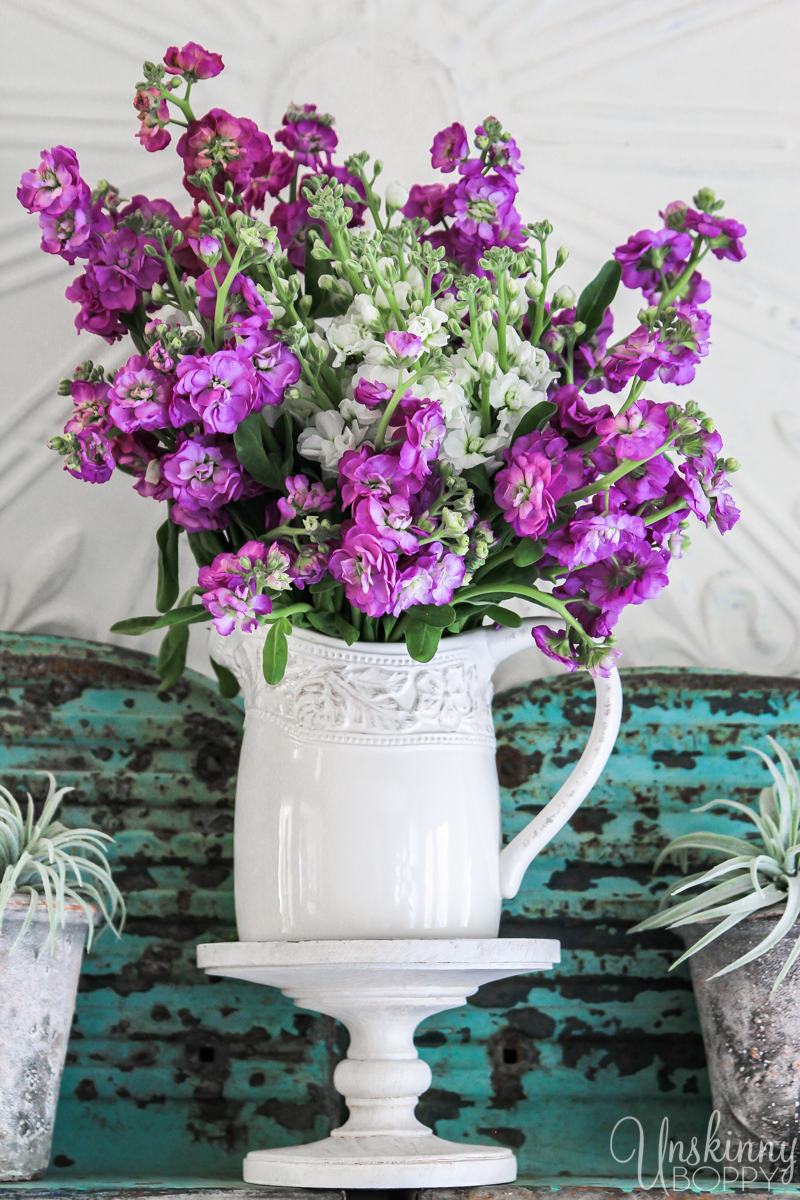 The two carved wooden boxes on either side also came from Homegoods.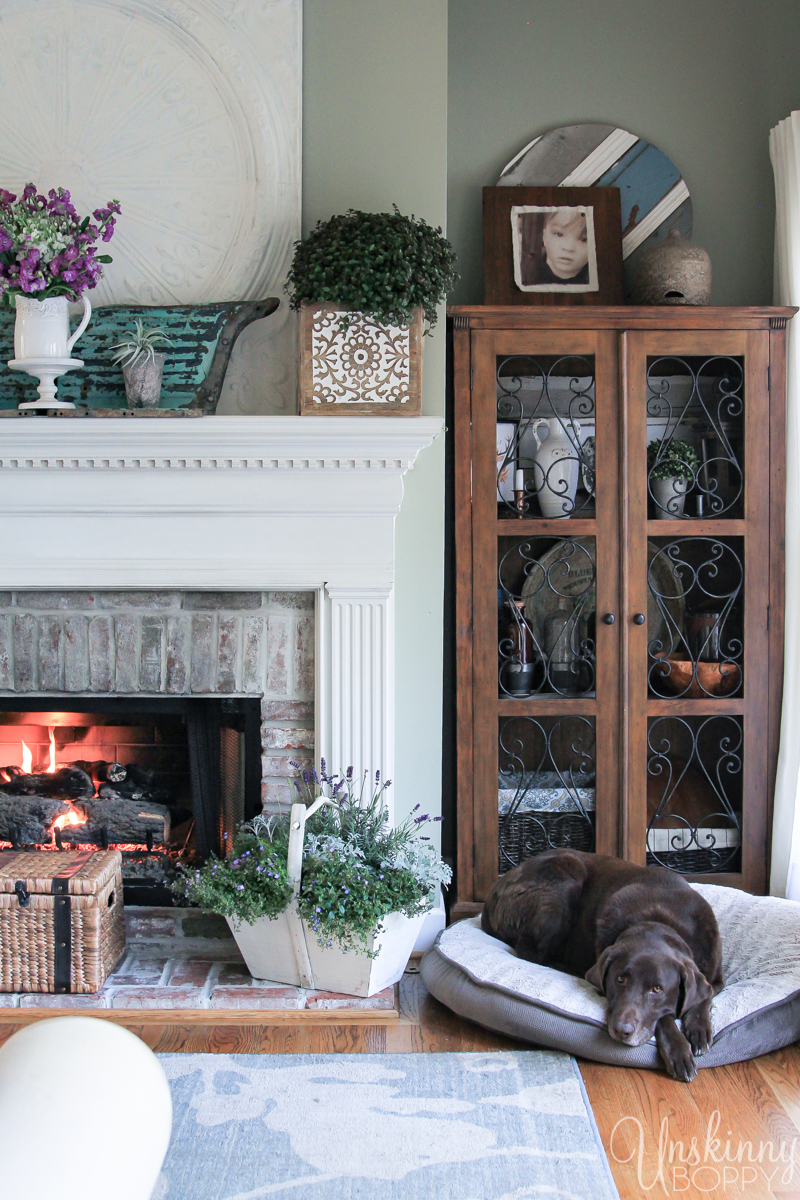 I moved this wooden cabinet next to the fireplace and assigned Woodrow a cozy spot in the corner. Woodrow approves. When he's not sleeping, anyway.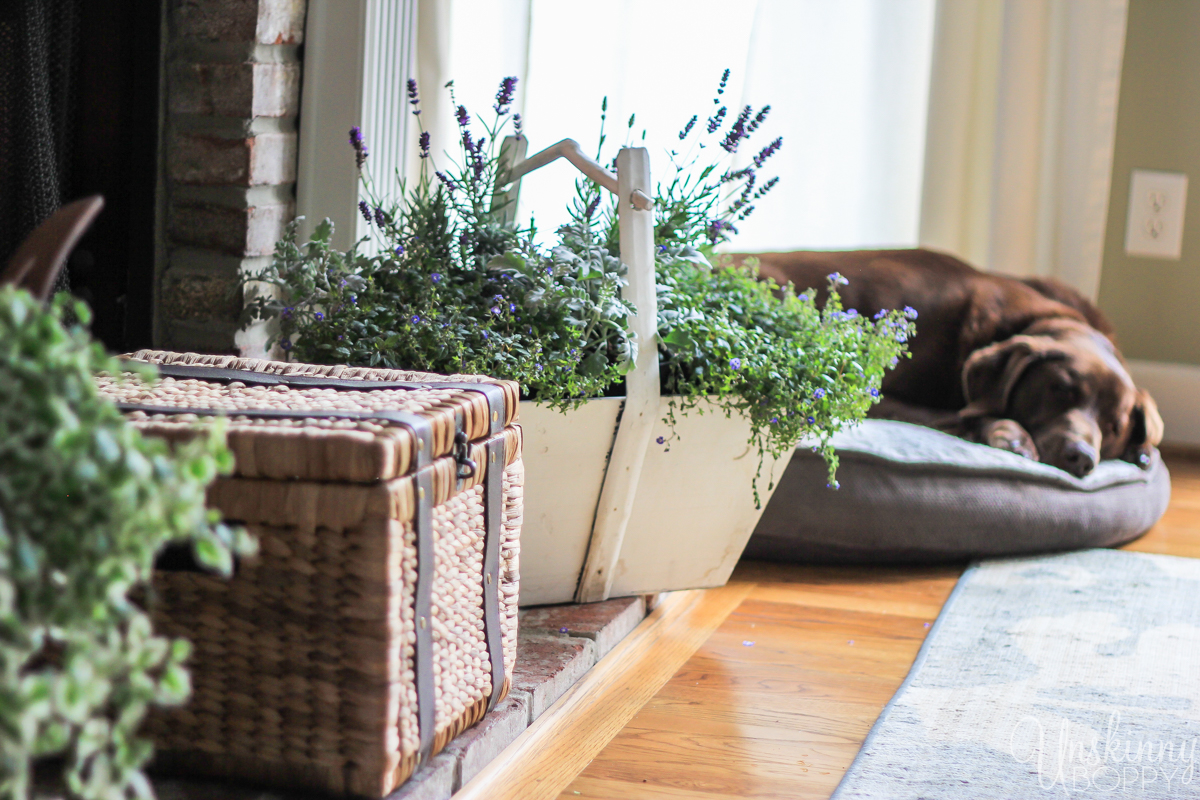 I found some new floral placemats and napkins to lighten up my dark kitchen table. And for the record–tulips season is entirely too short, if you ask me. Don't y'all wish we could have blooms like these all year round?
Since this is a home tour, I'll include the obligatory kitchen sink shot. You don't wanna see what lurks just outside the camera frame, though. Piles of sippy cups and kids artwork and diaper bags. It's a hot mess up in there.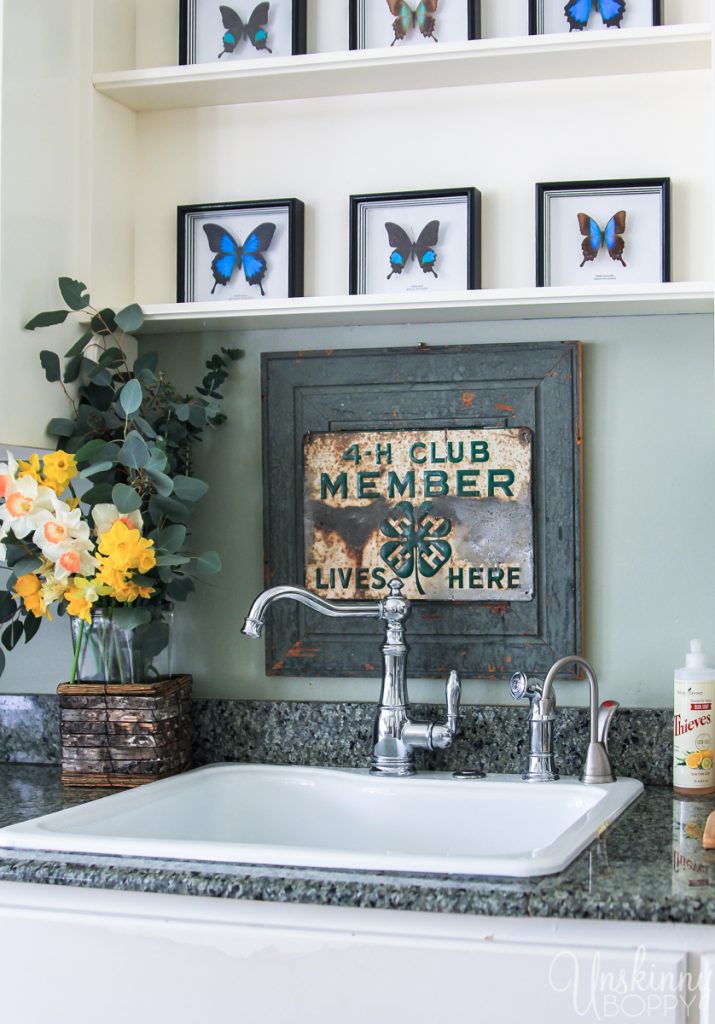 Maybe I'll get around to cleaning it all up next week because all the piles of school junk on the refrigerator tells me that Spring Break is coming! Woot!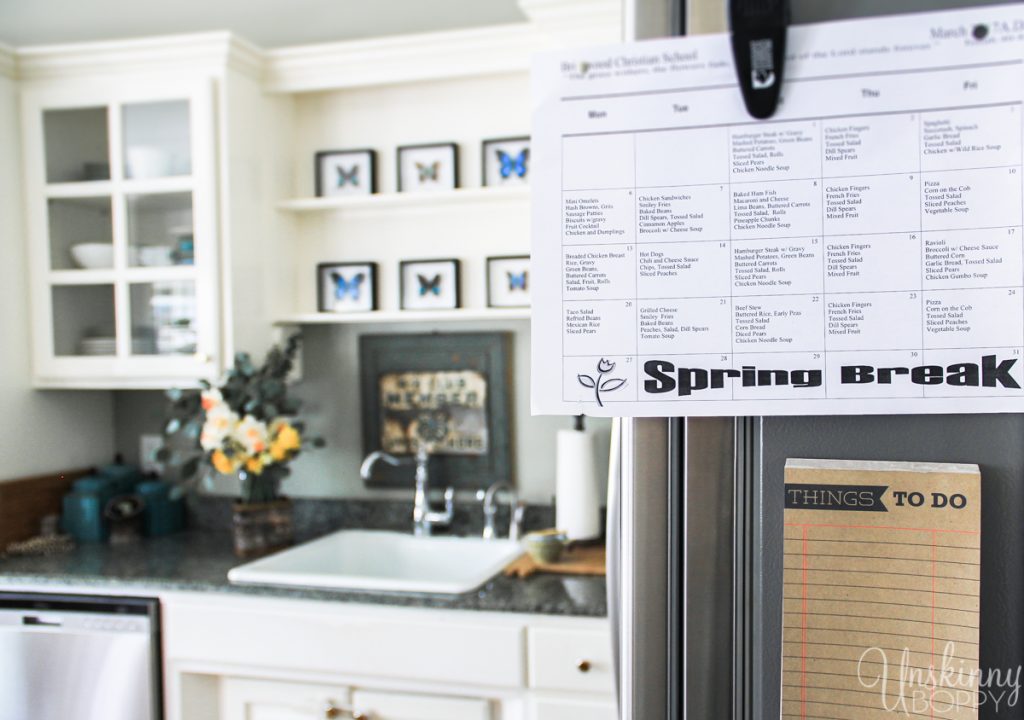 If you need us we will be stay-cationing inside the teepee in the playroom.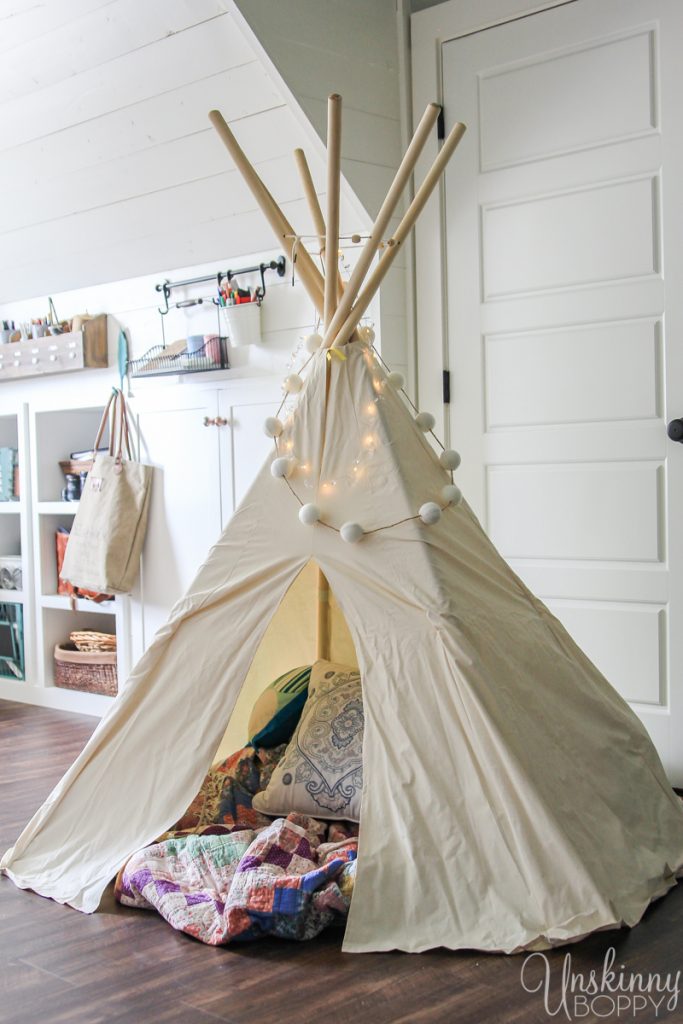 Ahhh I know y'all are probably so tired of seeing my new attic but it's like a new member of the family. I cannot help showing it off.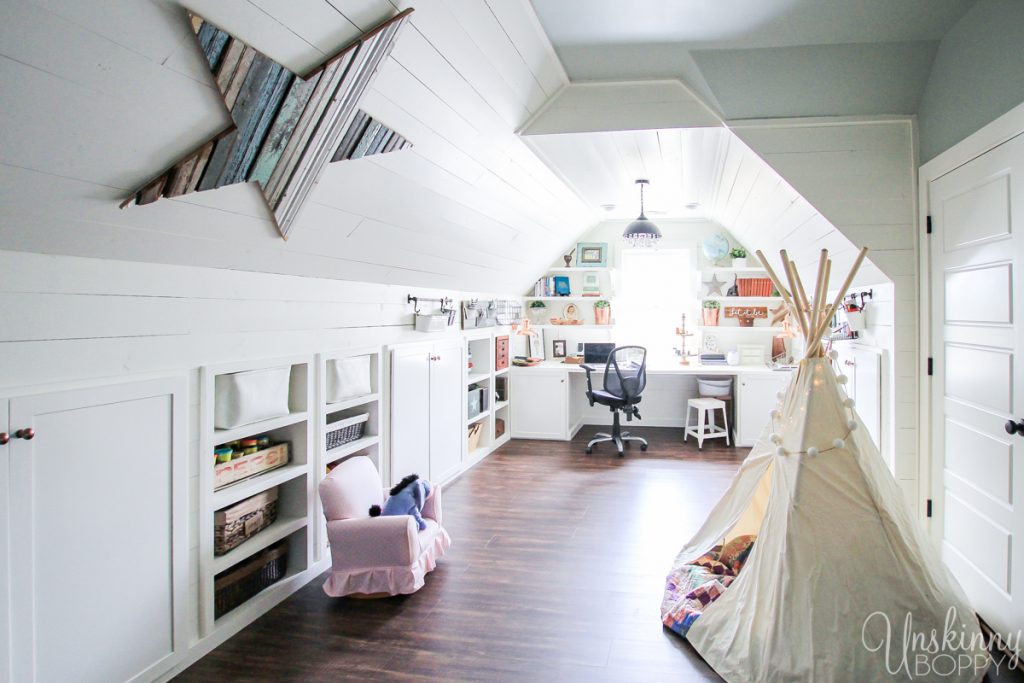 The old favorite reclaimed wood star is now hanging up here. It matches that room so well, so I just had to move it in there.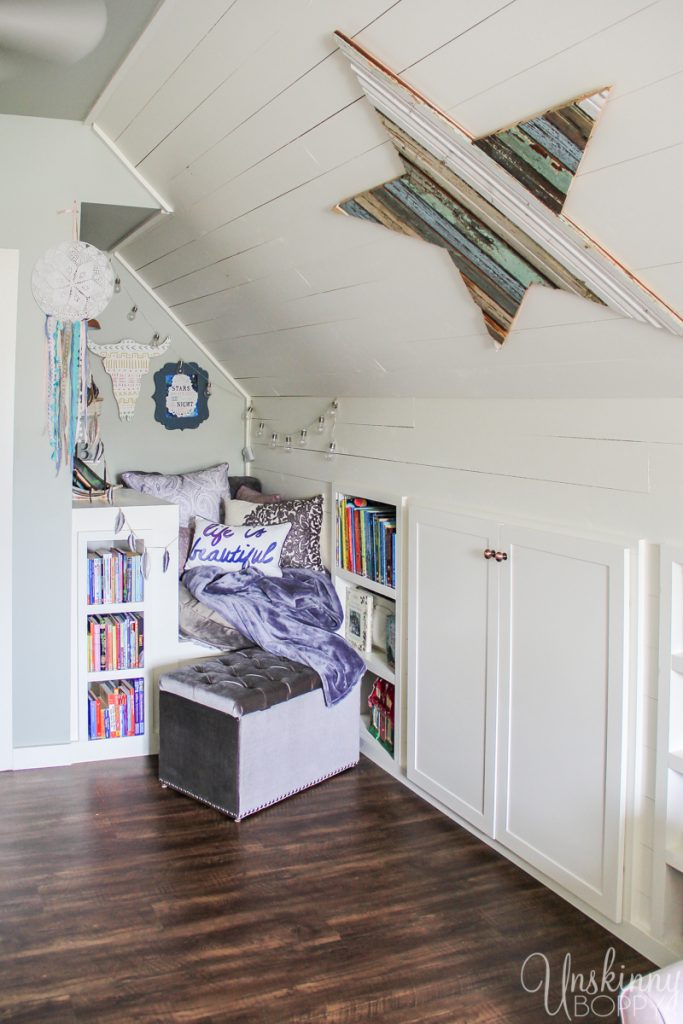 While I was at Homegoods I found the attic reading nook a new plush ottoman that matches all the pillows perfectly. Now you can lay down and stretch out your legs and it is soooooooooo super comfy in there. I cannot even put into words how amazing this book nook has been for us.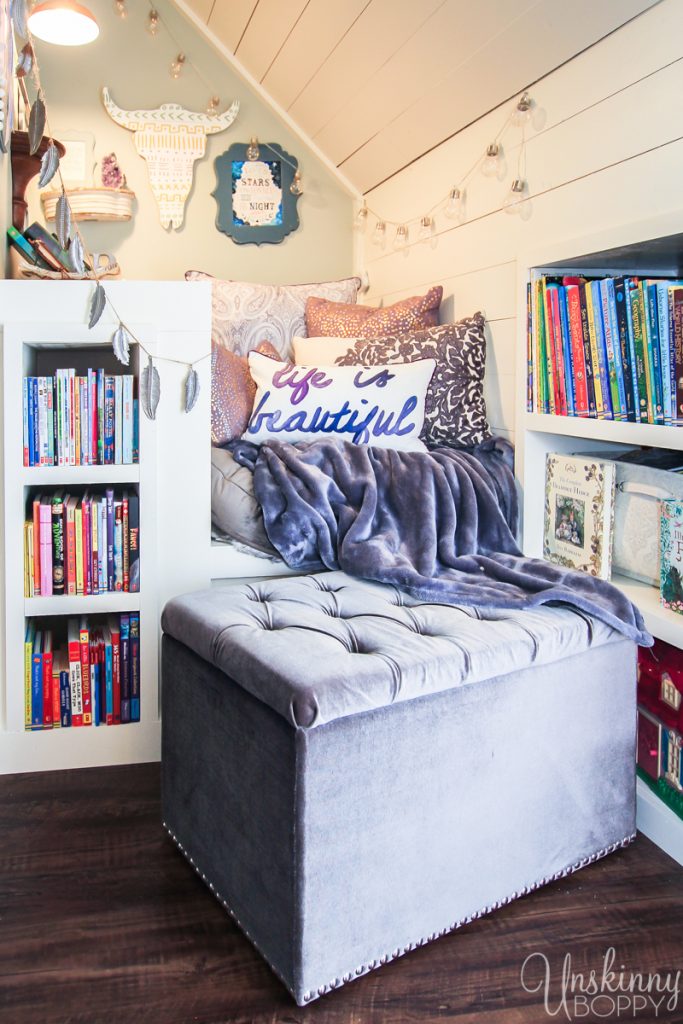 I wish you guys could all come curl up in it and read your cares away in the middle of a rainstorm. Because April showers bring lots of high quality snoozing.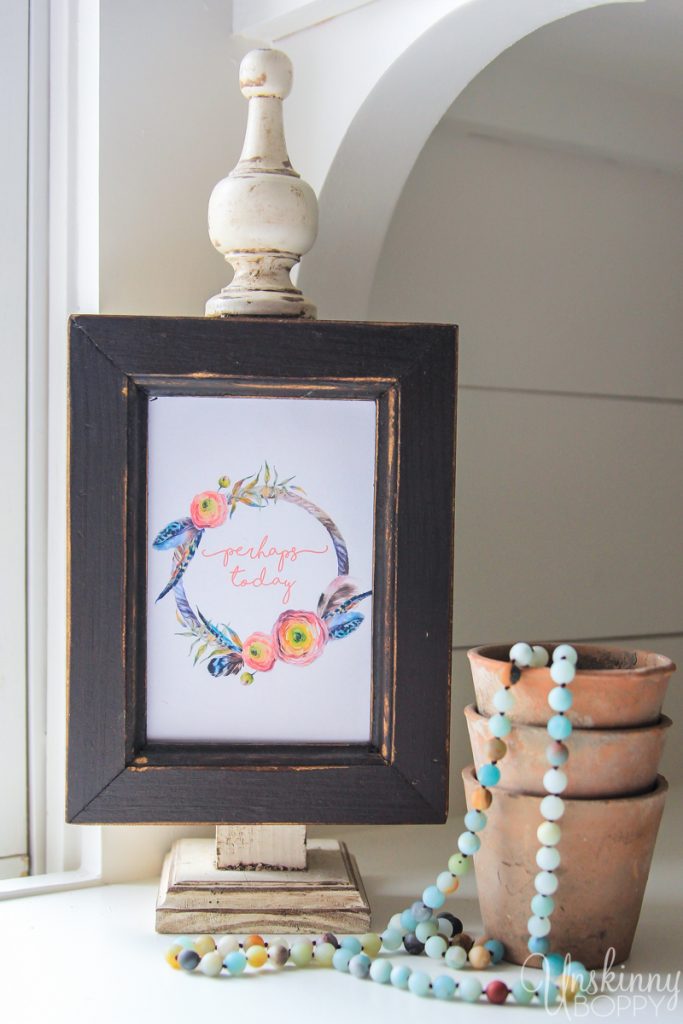 Happy Spring, everyone!
Thanks to Rachel at Shades of Blue for inviting me to this fun tour!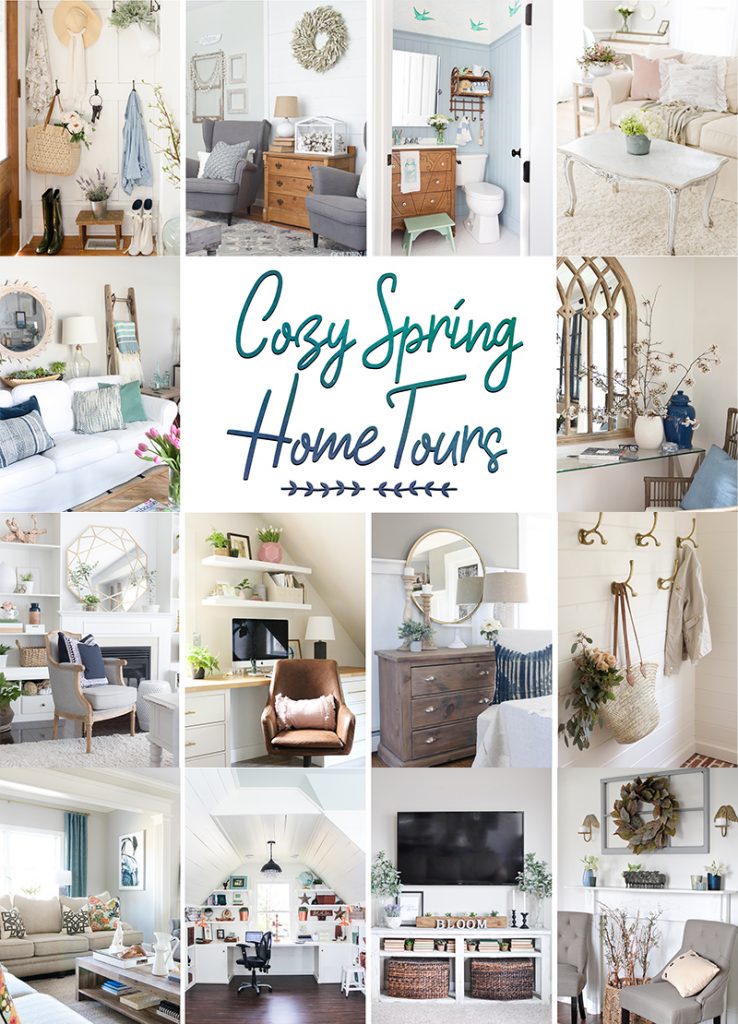 Shades of Blue Interiors — The Nesting Place
Home Stories A to Z — The Golden Sycamore — The Lettered Cottage — TIDBITS
Craftberry Bush — Jones Design Company — Rooms FOR Rent — Julie Blanner
Zevy Joy — AKA Design — So Much Better With Age — Finding Silver Pennies
The Chronicles of Home — Unskinny Boppy — Cherished Bliss — Town & Country Living
Clean & Scentsible — Maison de Pax — Ella Claire — Making Home Base
Come visit Homegoods' Pinterest board to see (and repin) pictures from the entire blog hop all in one place…
or read the Country Living Article! 22 Beautiful Ways to Decorate your Farmhouse for Spring
---
Disclosure: This post was sponsored by Homegoods. I was given free products but I was not compensated for this post. All opinions about buckets o'stank are my own.